One of the greatest benefits of having a family is taking them on incredible and memorable family vacations. Whether it's Disney, the nightlife of Miami, or the history of the gorgeous St. Augustine, Florida is the place for family vacations. 
One of the obvious reasons people are so attracted to Florida is because of its many beaches. Clearwater Beach, Miami Beach, and Venice are popular, but one of the best is Siesta Key. Siesta Key is a quaint barrier island in the Gulf of Mexico and ranks among the top beaches.
On the island, there are several resorts to choose from. Some have private beach access, some offer up adventure, and others provide the luxury of feeling like you have your own private beach house. No matter what your needs, each resort has your family covered for a great vacation.
Explore our top six picks below, and start planning your family getaway.
This beautiful resort has multiple options for you and your family to choose from. It's right on the beach and has multiple private beach access points.
Lido Beach Resort is pet-friendly and gives you the option of a studio, 1-bedroom, or 2-bedroom suite. It also has accessibility rooms containing lower countertops, a roll-in shower, and lower sinks and vanities, so it's suitable for the whole family no matter their needs.
Conveniently, Lido also has separate areas and pools for people who prefer a quieter atmosphere, meaning your kids can enjoy themselves without worrying about disturbing other guests. Clearly, Lido Beach Resort knows kids.
The resort also includes a 24-hour fitness center, payable laundry facilities, and spacious rooms with beautiful views. On-site eateries make it easy to refuel kids (and grownups), too. A kitchen and bar offer all meals, while the poolside Tiki bar will help parents relax waterside. Of course, in-room dining is also an option – one that might make your trip even more memorable for the kids.
Getting that perfect suite that is only minutes from the beach is worth the price to stay at this beautiful resort. Being able to have your furry friend accompany you on your family trip is also a bonus; Fido is welcome at Lido Beach Resort.
If your family group includes younger kiddos and furry friends, Lido Beach Resort might check every box for your next family vacation.
Tropical Beach Resort in Siesta Key is another top-rated family-friendly accommodation in the area. Located on the very famous Crescent Beach, it has an excellent reputation and even better facilities. With great views and helpful and quick employees, your family will be relaxing in comfort in no time.
The resort prides itself on clean, spacious rooms and attentive, quick service for any issue you may run across on your vacation. Not that you should expect any; the rooms are spacious, the beach is close by, and you won't have to lug your kids' beach gear across the road to get to it.
Although the beach is 150 yards away, it's worth noting that you won't have any ocean views from your room; all rooms have a garden view.
Tropical Beach Resort has on-site laundry and a vast number of rental services for anything you might need. They have heated pools and an array of quiet, shaded, private areas where you and your family can enjoy your vacation.
Plus, if you forgot any must-have vacation items, Tropical Beach Resort offers rentals on-site. What's more, there are activities for everyone to enjoy on-site. From beach yoga to spa services plus water sports and even golf, everything is easily accessible from Tropical Beach Resorts.
Siesta Key Beach Side Villas is a gorgeous resort that gives you the feeling of having your own beach house. This resort offers spacious villas with up to two bedrooms with a private patio and driveway access.
Skip multiple flights of stairs and angling for on-street parking; it's far easier to get in and out with kids and all their stuff when staying in a Siesta Key Beach Side Villa. Relaxation is far easier to come by here, but there are other more active amenities as well.
If you want your family to get active on vacation, this might be the perfect spot; they are dog-friendly plus have bike and golf cart rentals. Then again, you'll also be close to other kinds of recreational opportunities.
A short walk will lead you to various restaurant options, boutiques and shops, and even nightlife if the grownups in the group want to let loose later in the day. Numerous bars and beach clubs are nearby, and there's no driving necessary.
In terms of enjoying your days with the family, though, Siesta Key Beach Side Villas has you covered there, too. When families go on vacation, hotel rooms can often feel cramped, especially with younger children and all their necessities along for the trip.
With these villas, you get a private feel for a reasonable price without sacrificing true resort amenities. On site you'll find those complimentary bicycle rentals plus plenty of places to lounge, whether in a hammock or poolside.
If you are looking for a private beach house-style spot for the same price as a hotel, this resort might be the perfect fit. From direct beach access to private patios, a villa might be the ideal home base for a family of four (or even more) to explore the Siesta Key area.
Tropical Breeze Resort has an excellent reputation and comes with an array of amenities. It's worth noting that while the resort isn't directly on the beach, Tropical Breeze more than makes up for its location. For example, it offers and incredible level of convenience for families. The resort has its own grocery delivery service and allows guests to choose from various room options.
With three pools in the resort itself and the easy walk to shops nearby, this spot is one of the most popular resorts to spend your vacation if you want to do more than lie on the beach or adventure in the water. The grounds themselves are also gorgeous; grab a rocking chair, grill under the palm trees, or join one of the resort's kid-friendly game days or other events.
The resort is two blocks away from the beach, but it still has private shuttles for its guests to and from the resort. Tropical Breeze also has multiple partnering contracts with many companies in the area, offering discounts on kayak tours and hiking trails. Plus, families can grab necessities like strollers from partnering vendors while at the Tropical Breeze.
If your family is very active, this could be the ideal option to get everyone out of their rooms and onto the sand and sea. Or, at the very least, onto the resort's pathways and lawn areas. Should you need any additional services while visiting, Tropical Breeze Resort has your family's every need covered.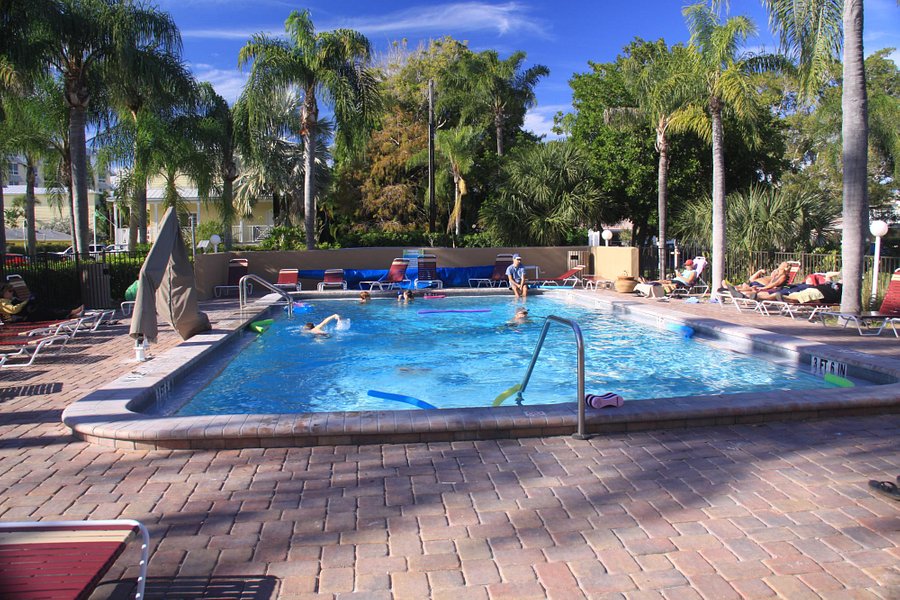 If you're looking for a five-star experience for your family in Siesta Key, the Capri at Siesta might be what you've been longing for. The property earns rave reviews from visitors and has an updated, modern feel. Now that their dust has settled, you'll see the refinished Capri is one excellent option for families.
The Capri has recently gone over a lot of remodeling, from their pool upgrades to sprucing up their courtyard area. The quiet and quaint experience of The Carpi also offers private beach access; they are only 200 feet from the sand. If you have small children, this may be the primary selling point of the Capri.
Imagine walking out of your room, taking a leisurely stroll, and winding up on a white sand beach with only the surf to concern yourself with. For parents with little ones, proximity to the hotel room can be a lifesaver.
The resort itself is significantly smaller than any other resort on this list. Capri only has ten available rooms, but with the luxury and affordability of the resort, it's worth planning in advance to reserve your accommodation.
Whether your family wants to grill out or just relax, the property offers plenty of opportunities to do both. The courtyard is a highlight, with palm trees and a water feature to enjoy, but you'll also find gas grills for guests to use.
From whipping up delicious meals to exploring Siesta to relaxing on the adjacent beach, the Capri can meet your family's every vacation need with ease. Though it's a cozy spot with few rooms available, families with young kids might find it convenient and relaxing, rather than bustling and overwhelming, for them and their tots.
A sister resort of the Capri at Siesta, Twin Palms at Siesta is a boutique resort with plenty of family-friendly perks. Here you'll find not just outdoor grilling amenities and grocery delivery (plus stores within walking distance) but also kitchenettes so families can feel at home.
While food prep might not be the highlight of your vacation, it's a necessity with kids in tow, so Twin Palms' kitchenettes are a welcome feature. It's not the only enticing selling point, though. The pricing rates are flexible, the TVs are modern and large, and the beds are "premium." What parent doesn't want all those perks?
A garden courtyard and heated pool are the icing on the cake, but you can also travel the paved footpath to the beach in mere minutes. You'll also be within walking distance to grocery stores, should the kids need a particular snack, but you can find other amenities nearby as well.
Families interested in outdoor experiences will enjoy nearby parasailing, jet skiing, and even boat tours. No matter what your family is into, you'll find it in Siesta Key, close enough to walk to from Twin Palms. 
---
When it comes to planning a family trip for you and your family, finding the right resort for your vacation can be difficult. Accommodating all your needs for the family can be tricky, and it is tough to plan for even a small party when the beach is involved.
But whether you want private beach access or a gorgeous beach view, each of these resorts can meet your vacation needs.
Sand, sun, and surf are the basics, but the best Siesta Keys Resorts for families also offer comprehensive recreation packages, walking-distance amenities, and extra touches that make your vacation feel truly relaxing and memorable.