If you've never had the chance to experience a starlit night on a beautiful sandy beach, but you're dead set on making that happen, look no further than Florida's award-winning beaches! Florida's spectacular coastline features more than 900 campgrounds. What's more, there are over 100,000 campsites. 
As you can imagine, there are so many different activities to enjoy in such a massive place that you won't have something for yourself and your loved ones to do. Check out some of the most stunning beaches to visit in the Sunshine State, and bring your gear to go camping on the beach in Florida on your next family vacation.
Best Campgrounds in Florida
Finding a great campground in Florida won't be much of a problem. However, you may have difficulty choosing which one suits you best. Continue reading to discover your options for camping on the beach in Florida, from basic to extravagant campgrounds.
1. Jetty Park (Cocoa Beach)
Jetty Park, also known as Cocoa Beach, is only a mere block away from the camping and cabin sites. You may see rockets launched from the space center while camping if you're fortunate. The RV sites have both electric and water hookups; however, only 13 have sewer hookups.
If the cabin is where you're going to be staying, they're compact and can accommodate four people. Additionally, they are replete with a grill, patio, fridge, bathroom, and A/C. Although there are no showers or kitchens, there is a central bathhouse that you can use. Cabins are around $120 with linens included.
During the off-season, primitive tent sites are about $10 less than during the in-season, and the same applies for full hookups. If you have an RV site without a sewer hookup, you can deduct $5 from the total cost.
Reservations: 321-783-7111
2. Grayton Beach State Park (Santa Rosa Beach)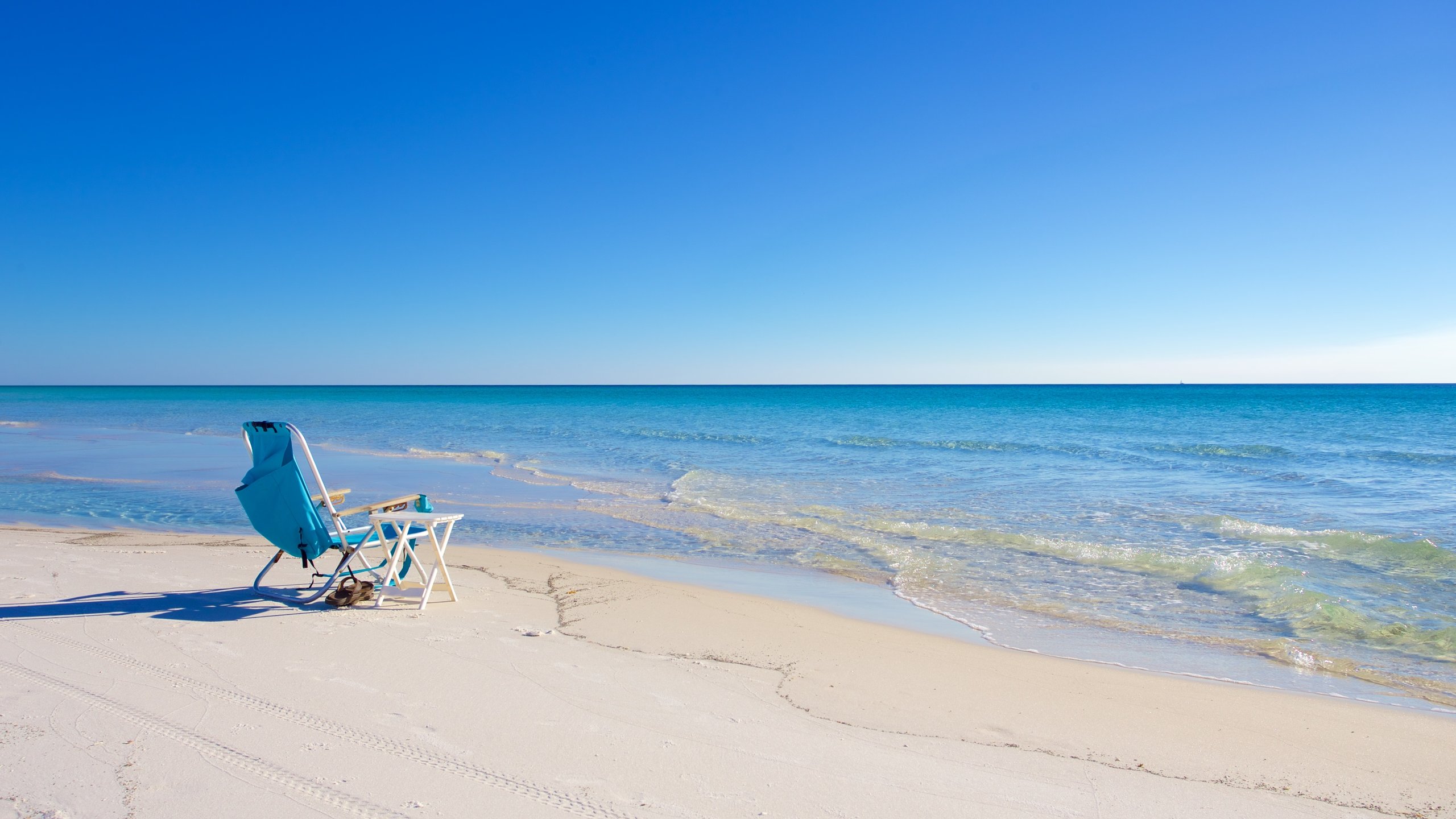 Grayton Beach State Park boasts a massive 2,000 acres of land in addition to one of the most stunning beaches in the U.S. The park has a riveting 4.5-mile biking and hiking trail for the adventurer. What's more, Western Lake has a kayak launch for paddling. Every site has grills, electric-water hookups, and picnic tables for your convenience.
Even though the camping sites are not located directly on the water, the beach is only a short walk or bike ride away. There are flush toilets, a dump station, and showers. As it relates to traditional housing, the park has 30 duplex cabins, all of which have two bedrooms and can accommodate up to six people. There's plenty of space for you, your family, friends, or both to have a blast.
There's a one-time reservation fee, and the rates work out to around $30 per night. Cabins can cost you anywhere from $110-$130 a night. Those with pets may bring them along.
Reservations: 800-326-3521
3. Turtle Beach, Sarasota (Siesta Key)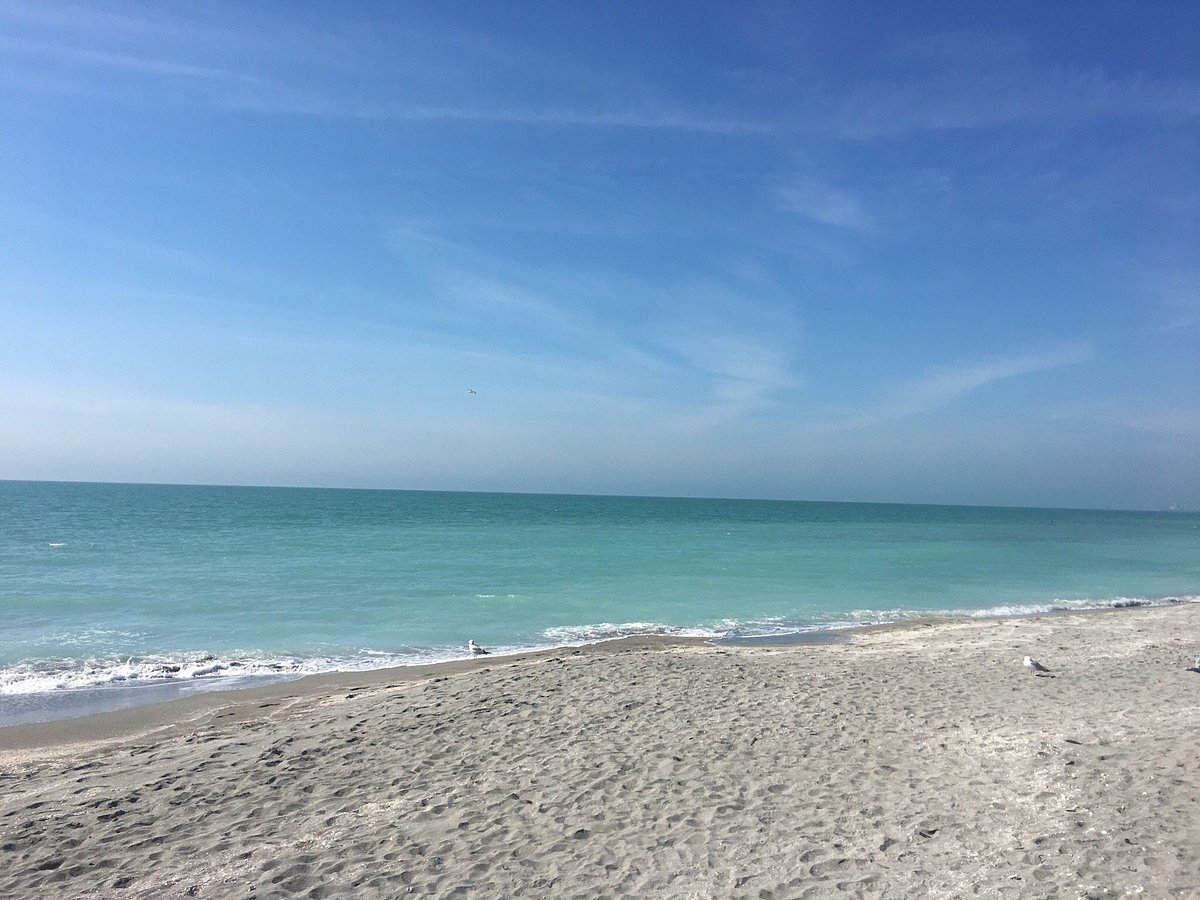 Turtle Beach is smaller than the other campgrounds, but what it lacks in space, it makes up for with charm and beauty. Here you can find 40 sites and convenient beach access as well. Because of the size, it may be more challenging to get in. Be sure to call ahead of time. The ambiance is elegant, and the beach itself is spectacular. Sarasota County runs Turtle Beach, and if you wish to go into town, the trolley will take you there for free!
Between sites, there are picturesque palm trees and mesmerizing foliage strewn about from site to site, providing much-needed shade. Each of the 40 sites has full hookups. They even offer amenities like flush toilets, WiFi, laundry, showers, a picnic area, grills, and a playground.
Reservations: 941- 955-0991
4. Fort Pickens Campground (Gulf Islands National Seashore)
Fort Pickens Campground is near Pensacola. If you're a camper who prioritizes space, then head over to Loop A, as it has a reputation for being one of the more spacious sites. Fort Pickens is a campground teeming with beautiful wildlife and excellent hiking trails, and the beach is easily accessible.
There are 200 sites to choose from, and of the 200, 136 come with electric hookups, grills, and picnic tables. One of the best features of Fort Pickens is its proximity to the beach. You can walk from your campsite and be at the beach in moments.
Reservations: 877-444-6777
5. Anclote Key Preserve (Offshore Tarpon Springs)
The 11,000-acre island of Anclote Key is three miles off the coast of Tarpon Springs, and it resembles a miniature paradise. The beaches are stunning, and there's an alluring lighthouse from 1887 that is a must-see attraction. Campers gravitate toward the north end of the island to take part in an unforgettable camping experience that includes stargazing.
However, you'll have to bring everything with you because there's no water hookup or other essentials—only a compost toilet.
Another good reason to camp here is because it's free! Campers must have their own boats because the ferry service is for day visitors only. Any kayakers should be somewhat experienced and capable of discerning weather patterns and current conditions for safety purposes.
Phone: 727-241-6106
6. Cayo Costa Island (Pine Island Sound)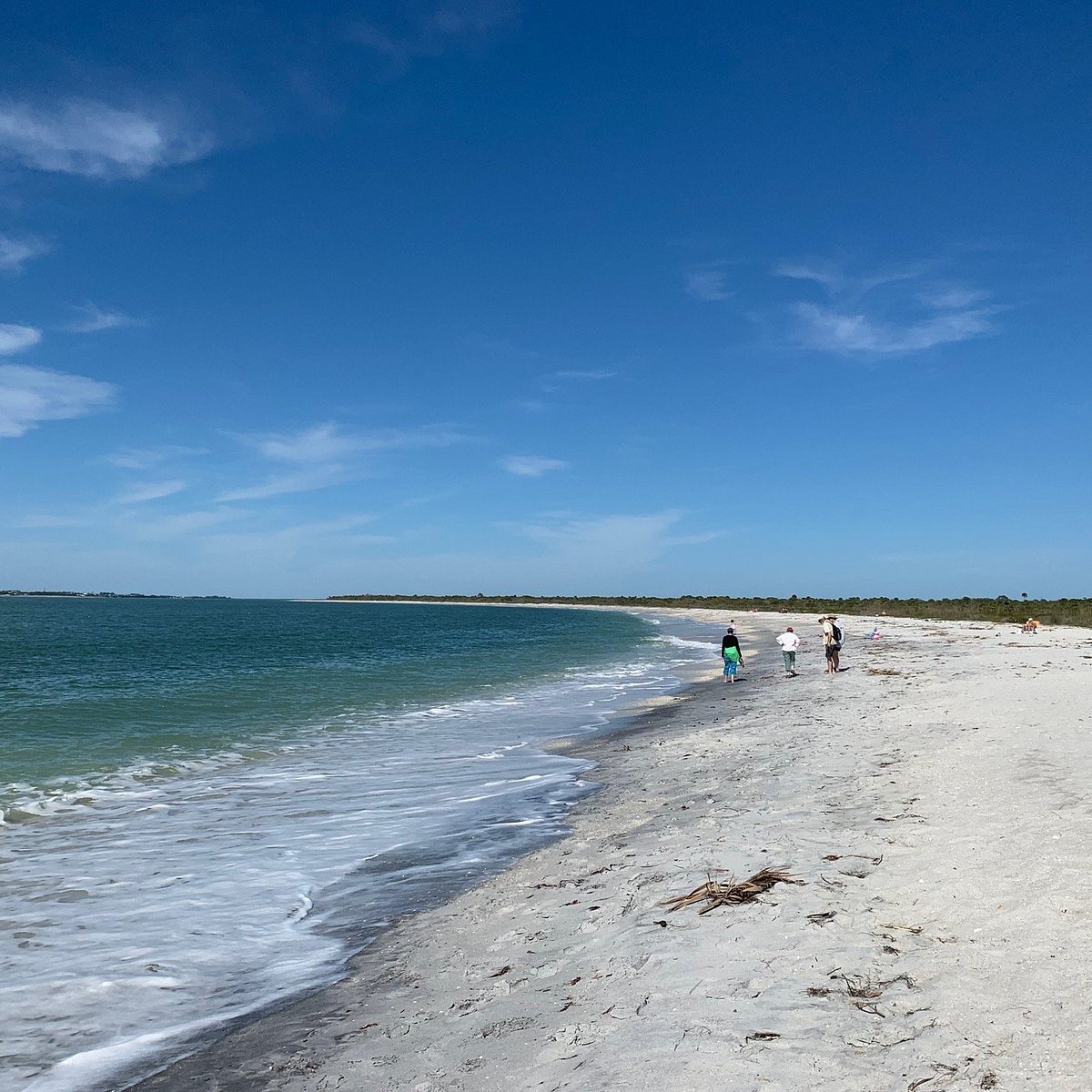 Cayo Costa Island is one place that doesn't attract crowds, even on perfect days with beautiful weather. This island is only accessible by boat. The ferry ride from Pine Island is relatively expensive and discourages one-day-only visitors.
As a result, campers virtually have this beach exclusively to themselves. Inside Cayo Costa State Park, 30 primitive tent sites are close to the beach. There, you can find potable water, picnic tables, and ground grills.
Be aware that there's no electricity available at this site. If you're looking for a cabin, there are 12 rustic cabins, all of which consist of one room. For boat camping, there are 20 slips at the park's dock.
Reservations: 800-326-3521
7. Camp Gulf (Destin)
Located in the heart of the Panhandle, Camp Gulf is a privately owned camping resort on the beautiful Gulf beach. The sites are suitable for rigs of all sizes, and they all come with electric and water hookups. You can have a honey wagon service at your disposal for an additional charge. Camp Gulf is the perfect place to stay for a couple of nights, a month, or even a season!
Pets are not allowed. There are several tent sites, but none of them are near the beach. You can expect to pay rates of about $100 more per night in the summer than during the winter. Be mindful that winters can get quite cold. The average high in January is about 60, with a good chance of reaching freezing temperatures from time to time.
Reservations: 877- 226-7485
8. Anastasia State Park (St. Augustine)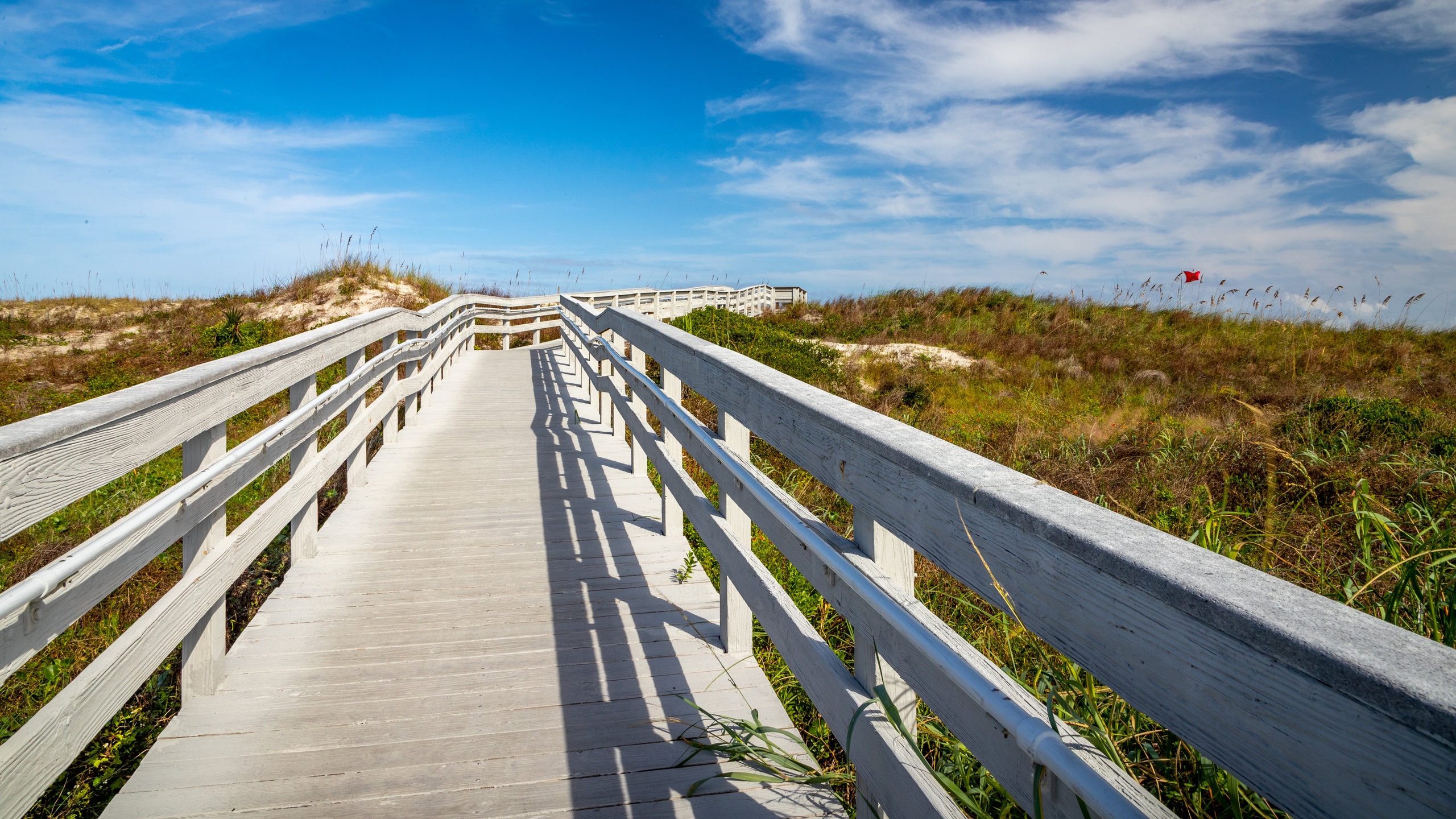 Anastasia State Park features a majestic beach that stretches for four miles. This destination acts as the ideal layover for tourists looking to visit the oldest city in the nation.
The activities that you can enjoy here include hiking through dunes, riding bikes on the beach, paddling, fishing, and sailing. This state park features 139 campsites for tents in tree hammocks and RVs. It's also just a short walk from the beach.
Between sites, the natural foliage obstructs views, providing a bit of privacy. Each site has water, electricity, a fire ring, an in-ground grill, and a picnic table. Pets are allowed. There's also a nearby dump station.
Reservations: 800-326-3521
9. Gamble Rogers State Recreation Area (Flagler Beach)
Gamble Rogers is on the smaller side as far as state parks go. However, it has an orange sand beach that stretches for 1/2-mile, and there are 34 sites, all of which are oceanfront campgrounds. On the inland side of the park, you'll find hiking trails and a boat ramp. The park is 145-acres.
Thanks to its location and other features, it is the ideal place for boats to launch and canoes and kayaks to explore all of the serene inland waterways. You'll also find a paved path for bicycles connected to the North Peninsula State Park from the A1A.
Each of the 34 campsites has electricity, water, a fire ring, and picnic tables. You can bring your pets. There's also an on-site dump station.
Reservations: 800-326-3521
10. Fort DeSoto's Tent Campground (St. Petersburg)
Fort DeSoto's campground has RV sites situated on the water. However, only the tent campground is on the beach. Feel free to ride a bike, paddle, or drive to one of the best beaches in the U.S.
The campground has 238 sites on three connected islands, and while some of the sites allow walk-ups, we recommend that you make reservations.
Reservations: 727-582-2267
11. George Island State Park (Apalachicola)
The St. George Island State Park features a breathtaking white sand beach that's nine miles long. The campground is behind a wall of dunes near the Gulf of Mexico.
All 60 sites have water and electricity, and six have concrete pads. The park has two natural launch ramps located on the bayside.
Reservations: 800-326-3521
12. John Pennekamp Coral Reef State Park (Florida Keys)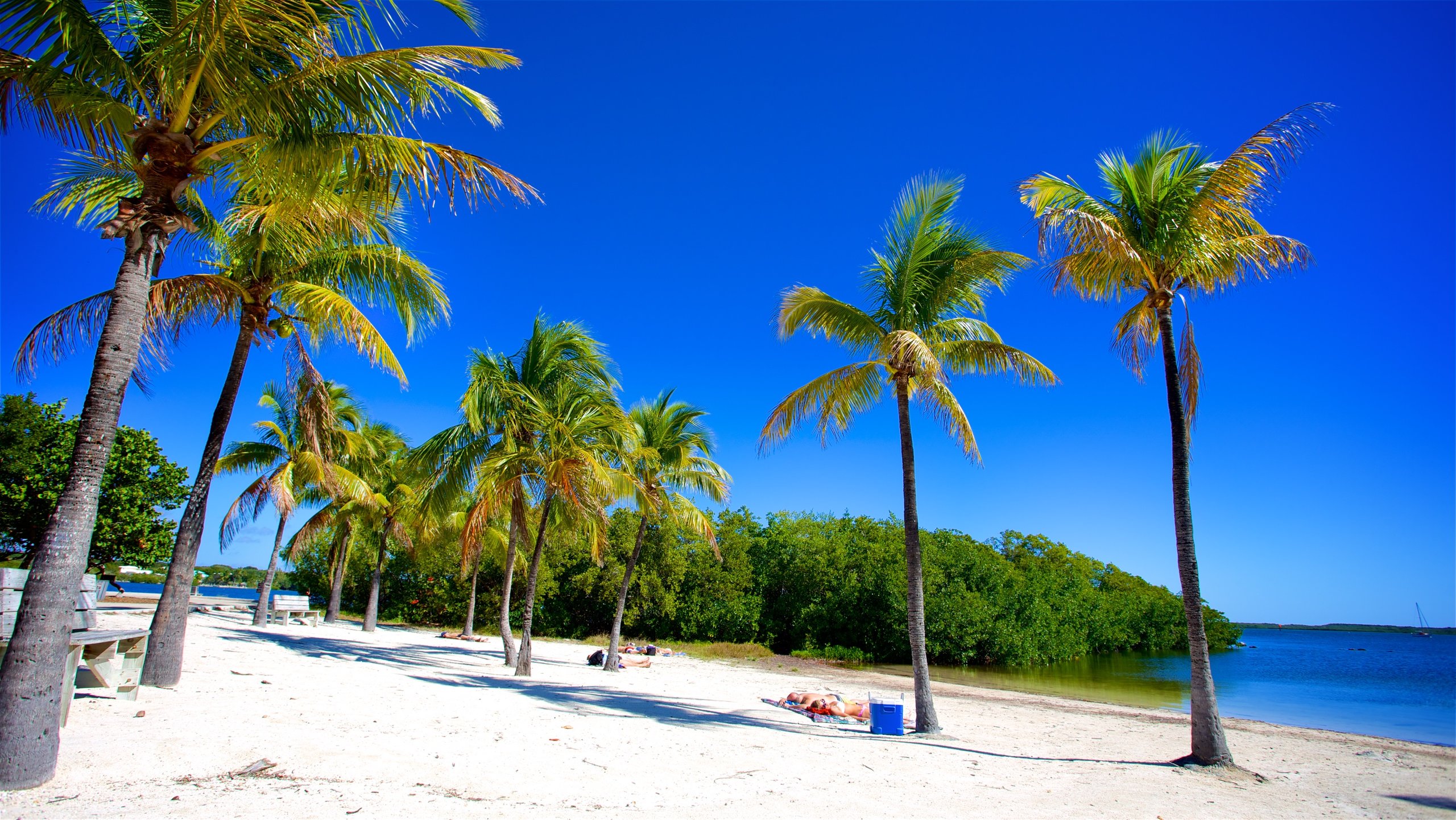 The John Pennekamp State Park is the first undersea park in the U.S. The park consists of 70 nautical square miles. Most visitors view the park's teeming marine life and beautiful coral reefs through the bottom of a glass-bottom boat tour. However, there are opportunities to look closer via snorkeling and scuba diving.
There are two beaches and 42 campground sites, all of which have access to the two beaches. All of the sites have water and electric hookups. Additionally, there are amenities such as flush toilets, potable water, a playground, showers, and picnic tables.
Reservations: 305-451-6300
13. Curry Hammock State Park (Marathon, FL)
Curry Hammock State Park is one of the best places to go camping on the beach in Florida. It is halfway between Key West and Key Largo. The park is 1,000 acres, and it is the most extensive section of uninhabited land between the keys.
The campground consists of 25 sites, all forming a loop. Curry is a smaller campground and may be difficult to get into. You can bring your pets to every campground, but they are not allowed on the beach. Every site has water and electricity hookups, showers, dump stations, flush toilets, and a playground for the children.
Reservations: 305-289-2690
14. Ho-Hum RV Park (Carrabbelle, FL)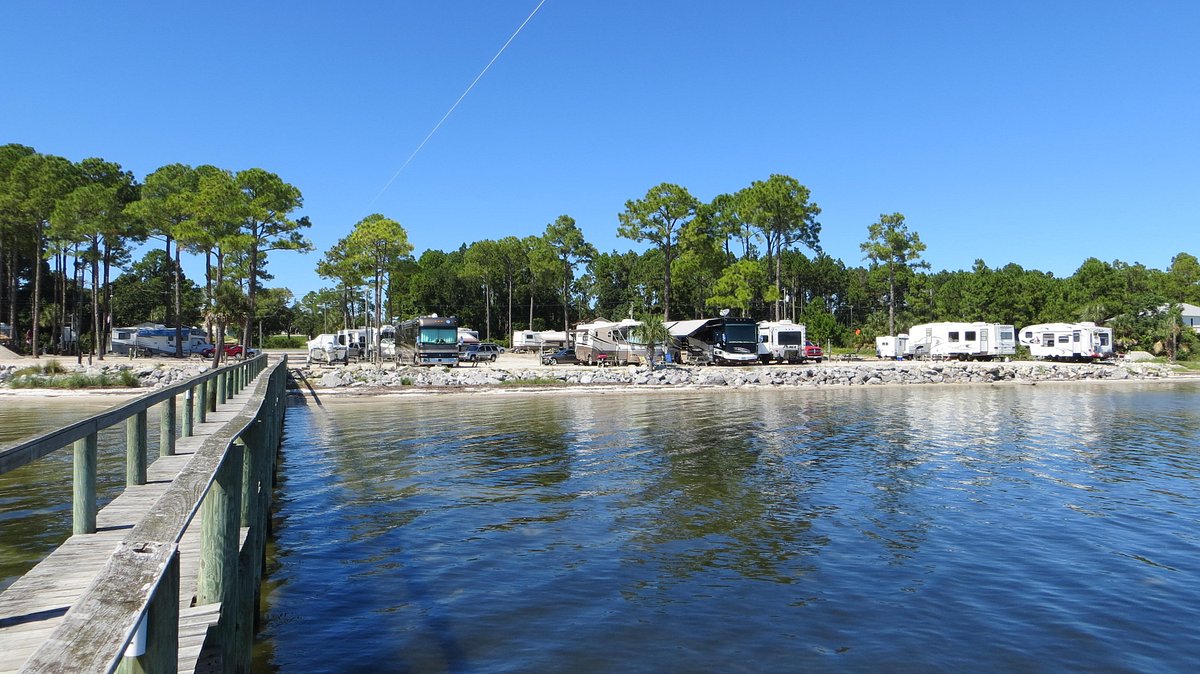 Ho-Hum RV Park is on the Gulf of Mexico, and it's a small campground. However, the views are so exquisite that the sunset over the Gulf alone makes this campground one of the best on the list.
The park features a 250-foot-long lighted fishing pier. Pets are allowed in the park, port, and beach, as long as they are on a leash. Ho-Hum is an adult-only park, so children are not allowed. You can expect to pay an extra $10 if you want a campsite on the beach.
Reservations: 850-697-3926
15. Red Coconut RV Resort (Fort Myers Beach)
If you travel to the Red Coconut RV Resort, ensure that you secure a site that's on the beach. If you can't, you'll have to go across the street to the campground, where it can get crowded. The best part of this site is the proximity to Lovers Key State Park and Fort Myers Beach.
There are four rows of sites on the beach, and all conveniently have full hookups. There's about a $20 – $30 difference between the rates for a beachside campsite and sites across the street. The Red Coconut RV Resort also offers weekly and monthly rates for extended stays.
Reservations: 888-262-6226
Are You Ready To Go Camping on the Beach in Florida?
Whether you're looking for a relaxing escape or want to spend as much time as you can in the water, don't think twice about going camping on the beach in Florida! With so many camping options available, you'll be able to try out a few of these gems, and you might even find a new favorite spot for a breakaway to the beach.
More about our TFVG Author