When you think of Orlando, you probably think of Disney World and Universal Studios. But there's much more to this area of Orlando than just the big-name theme parks.
Even though spending days at the theme parks make for a fantastic vacation, spending some time on International Drive is another way to fill your Florida vacation with fun activities the kids and you will enjoy. 
There's Something for the Whole Family on International Drive
International Drive has several activities. From museums to small-scale amusement parks and mini-golf, there's something everyone will love. There are countless things to do there, but here are 15 of the best things to do on International Drive with kids. 
Wonderworks is a unique museum that is sure to be entertaining for both kids and adults. When you walk up to the building, the first thing you'll notice is that it's upside down – or it at least appears to be. In truth, it was designed to look that way.
A tunnel that kids love going through at the entrance "turns them right side up." From there, you'll enter a space with six different zones that have over 100 hands-on activities for you and your little ones to participate in.
You and your child can work your way through the different zones, learn all about space, severe weather, and so much more. However, this museum doesn't just teach its visitors. It lets them experience some of the events themselves!
You can experience an earthquake, category one hurricane-force winds (up to 75 mph) in the severe weather zone, and even turn your hand into a lightning rod – all in a safe manner, of course.
In addition to the six educational and fun zones, there's a glow-in-the-dark ropes course your kids can do. There are 20 obstacles across three stories. If your child is interested in doing the ropes course, be sure to check with the height requirements first.
The fun doesn't stop there, though. There's laser tag and even a magic comedy dinner show you and your family can attend in the Wonderworks building.
Your kids will want to spend hours wandering through the building, and you'll love watching them learn and enjoy themselves. Plus, you can participate in most of the activities too.
Orlando isn't the only place to visit a Ripley Museum, but it's a great family activity if you need a break from the theme parks. It rains a lot in Florida, so having an indoor backup plan is a good idea.
Ripley's Believe It or Not is a museum of unique, rare, and somewhat unusual artifacts that the entire family will be amazed by. There's a little bit of everything. There are artistic, scientific, and natural oddities that you won't see anywhere else.
You and your kids will walk through 16 interactive exhibits, including one unique to this Orlando location. This exhibit is dedicated to all things weird in Florida – for example, ancient alligators.
Many museums don't allow pictures, but you're allowed to take as many photos as you want at Ripley's Believe It or Not. How else are your kids going to explain the strange and unusual things they saw while there without proof?
If you want to make your young children really happy, a visit to Monkey Joe's may be in order. Monkey Joe's is a play area with inflatable slides, obstacles, and play areas. It's an excellent place for them to make friends and burn off some of the energy little kids always seem to have.
While your little ones are playing, Monkey Joe may be wandering around the building. If he is, you can take pictures with him so remember the trip to Monkey Joe's for years to come.
Monkey Joe's may not be the place your older kids and teenagers want to spend their time, but there's an arcade that is sure to entertain them while their younger siblings are playing.
A day at Monkey Joe's is very affordable compared to some other activities in Orlando. Kids tickets cost $16.99, children under two are $9.99, and adults are free.
Fun Spot America is a family-owned theme park that has everything you could want in a theme park. It's smaller than the big-name theme parks in Orlando but still provides plenty of fun and excitement.
This small-scale amusement park combines everything you love about carnivals and theme parks. There are plenty of carnival-style games and activities such as a funhouse, Ferris wheel, and games where you can win prizes.
While Fun Spot doesn't have massive roller coasters like Universal Studios or Islands of Adventure, there are many thrilling rides.
You and your children will love riding the teacups, other thrill rides, and the only wooden roller coaster in Orlando.
One of the main attractions at Fun Spot is their multi-level go-karts. You can take your little ones for a fun ride while racing other family members, and your older children will love the thrill.
Some rides require an additional pass besides your general ticket. Whether you pay the minimum or maximum price, the tickets for Fun Spot are considerably less expensive than the larger amusement parks.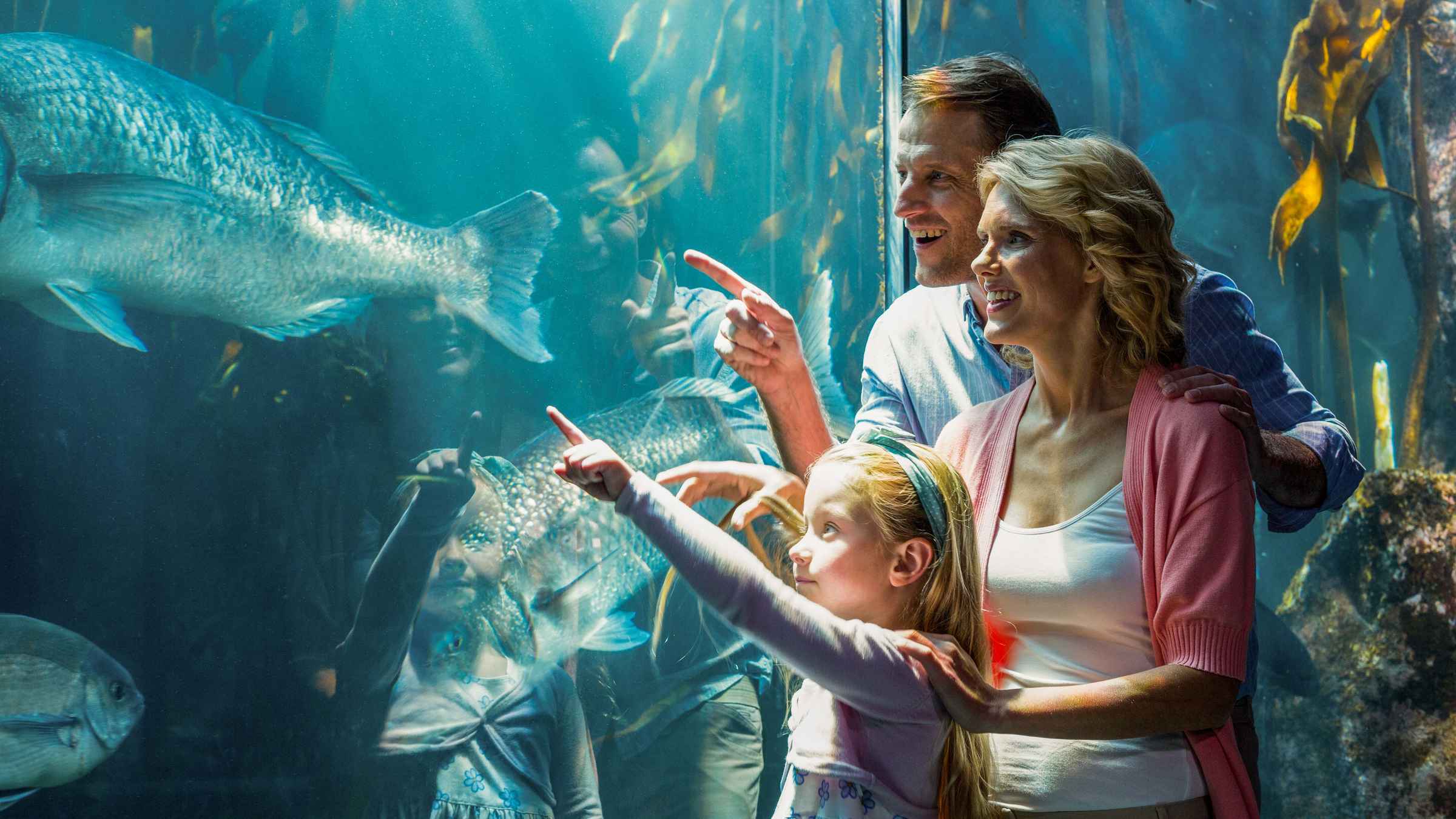 There's something about an aquarium that appeals to people of all ages. From the majestic sea creatures to the mesmerizing habitats, spending a day at the aquarium is a great way to spend time with your kids and even teach them something new.
Sea Life Aquarium is a 350,000-gallon aquarium right on International Drive in Orlando. You and your kids will be able to see over 5,000 different species of marine life, and if you let them, be able to touch a few of them in their touch tanks.
This aquarium honors creatures from the Indian, Atlantic, and Pacific oceans. You'll be able to see sharks, sea turtles, and dozens of fish.
One thing that makes the Sea Life Aquarium stand out amongst other aquariums in Florida is that it's the only one in the state with a 360-degree tunnel.
The 360-degree tunnel lets you go underwater with marine life and experience their beauty from an entirely different perspective.
As you walk around the nine aquatic exhibits, you'll see aquarium staff educating visitors about various animals, and you may even be lucky to see them feeding some of the animals.
Icon Park is where many attractions on International Drive are. This includes the famous Wheel. This Ferris wheel brings patrons 400 feet above the ground, giving them the best views of Orlando in the city.
The Wheel is not the regular Ferris wheel you see at a carnival and amusement park. The Wheel has capsules that are entirely closed and air-conditioned.
You and your family can relax and take in all the sights of Orlando. You're welcome to enjoy drinks while in the capsules. The kids can have their non-alcoholic beverage of choice, while the adults can visit the Sky Bar to grab a drink before being lifted into the air.
Tickets are under $30, and rides on The Wheel are approximately 20 minutes. This may not be the best attraction for anyone scared of heights, but it's worth doing for those that can stomach it. 
What kid doesn't love watching television or a movie while they're eating dinner? Usually, this may be something that annoys you as a parent, but while on vacation, what's the problem with a bit of show with dinner?
While there are hundreds of places to eat dinner in Orlando, the pirate's dinner show near International Drive is something you won't want to pass on. In fact, Orlando is home to some fantastic dinner shows!
This interactive dinner show has something for everyone. The show is set in the 18th century when pirates roamed the seas. The set features a lifesize pirate ship which adds to the appeal.
This pirate show has everything from comedy, drama, and some romance. The diverse storyline will appeal to both kids and adults.
As you feast on your three-course meal, you'll follow along with the pirates as they battle for treasure and fall in love.
There are several different ticket options to choose from. Regardless of the level you choose, you and your family will enjoy a three-course meal while watching the performance.
Some ticket options get you even closer to the action and include complimentary alcoholic beverages for the adults and unlimited soda refills for the kids and adults who aren't drinking.
General admission tickets are $67.95 for adults and children under 18 years old but over two years old cost $41.95.
Any children under two years old are free. If you want to ensure seating closer to the action, you'll want to look into their other tickets. But even with general admission tickets, you'll feel included in all the pirate action.
If you've never been to a dinner theater, this is something you'll want to experience. The pricing isn't terrible, and even at the bare minimum, each ticket includes a three-course meal and top-notch entertainment.
Most kids (and plenty of adults) love spending some time in an arcade. Arcade City is a large arcade on International Drive that is the perfect place for families to spend part of their day.
Arcade City is a great place for people of all ages to play all their favorite arcade games. Regardless of the game, you can play to earn tickets. The more tickets you have, the bigger the prize you can achieve when you cash them in.
Throughout Arcade City, you'll find several crane machines that have stuffed animal prizes, among other items, basketball hoops, chance games, and your favorite video games.
You'll find Arcade City right near Icon Park. Icon Park is a hub for attractions on International Drive.
Even if you don't want to spend your entire day at Arcade City, it's conveniently located near other International Drive attractions. This way, you can hit multiple attractions in one day.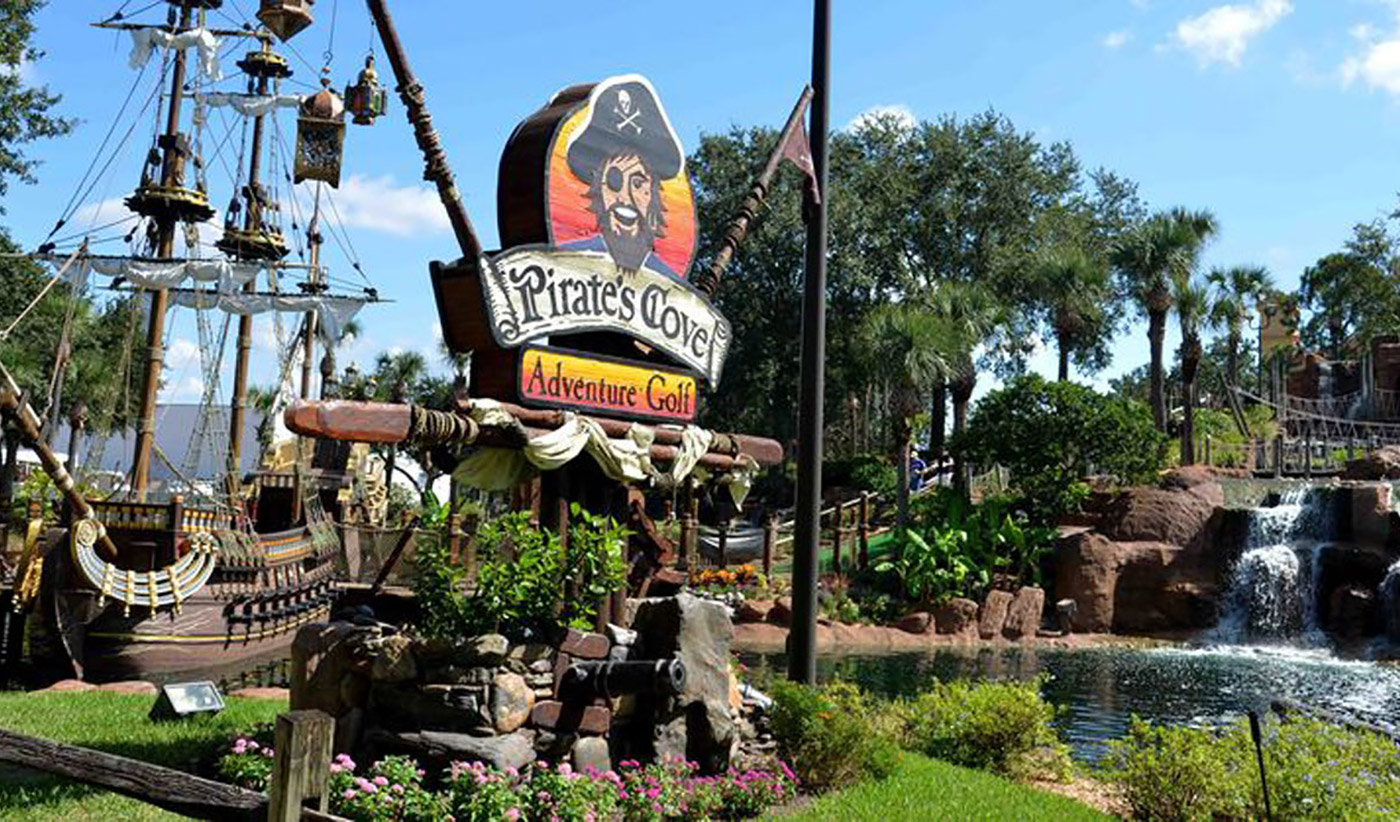 Another activity that is sure to please the whole family, especially family members who love pirates, is Pirate's Cove Mini Golf.
What originally started in Michigan has made its way to Central Florida to give mini-golf fans a unique and exhilarating mini-golf experience. 
Like the pirate dinner theater show, the Pirate's Cove Mini Golf is decorated in 18th-century pirate decor. As you make your way through the course's 18 holes, you'll encounter all the landscapes you'd think you would as if you were a pirate.
Many of the holes on this course have a pirate-themed aesthetic. The landscape mirrors the mountains, caves, waterfalls, and pirate ships a pirate would encounter during the 18th century.
Pirate's Cove Mini Golf opens at nine in the morning and is open until 11:30 at night. Whether you're visiting before venturing onto other attractions for the day or looking for a fun way to wind down for the evening, this mini-golf course is ready to entertain.
Adult tickets only cost $13.50, and children are even cheaper. This inexpensive activity is fun for everyone in the family.
It can be hard to find activities that entertain children from teenagers to younger kids, but a trip to Madame Tussauds is a great way to make everyone happy.
Madame Tussauds is a wax museum near International Drive that brings you and your family as close as you'll probably ever get to your favorite actors, musicians, and movie characters.
You'll find Madame Tussauds in Icon Park, making it a great place to stop into when you're planning on visiting other Icon Park attractions.
There are seven different zones throughout the museum. The zones depict your favorite musicians, movie and television stars, historical figures, celebrity A-listers, sports stars, and the justice league characters.
The photo opportunities are endless as you make your way through Madame Tussauds. You can take pictures with the Kardashians, Taylor Swift, Muhammed Ali, and Bradley Cooper, to name a few.
For those who love the Justice League, get ready to capture pictures with your favorites. Batman, Superman, Wonder Woman, and more are prepared to have your photo taken with them.
Since Madame Tussauds is also located at Icon Park, like many other attractions on International Drive, it's the perfect place to pop in for an hour or two.
When you purchase your tickets to this wax museum online, you have the option to bundle your tickets with other International Drive attractions.
You can purchase tickets for you and your family to the wax museum, the Sea Life Aquarium, and The Wheel for a discount if you bundle all three or two together. 
Even while on vacation, finding educational activities for the whole family may be a priority. The Skeletons Museum of Osteology showcases several skeletons for your little ones and you to look at and learn from.
In case you were wondering, Osteology is the study of the functions and structure of skeletons.
Skeletons Museum of Osteology originated in Oklahoma but has traveling exhibits that bring information regarding the skeletons of different species around the country.
As you and your family walk around the museum, you'll find various exhibits showing the skeletons of different animals. Some exhibits showcase the skeletons of reptiles, monkeys and apes, rhinos, cheetahs, and more.
The anatomy of humans can be complicated to understand, let alone the anatomy of other animals. There are exhibits where you and your kids can learn about the anatomy of humans as well as various reptiles and animals that share our planet with us.
Museums can be expensive when traveling with a family, but this traveling Skeletons museum is reasonably affordable. Adult tickets are $19.99, and children tickets are slightly less.
Congo River Adventure Golf is more than just a mini-golf course. Unlike the pirate-themed mini-golf located on International Drive, Congo River Adventure Golf is more than just mini-golf.
This attraction on International Drive will make you feel like you and your family have been transported to the Congo. The decor makes you feel as if you've immediately left Central Florida.
One of the main reasons people visit Congo River Adventure Golf is to play mini-golf. This 18 hole mini-golf course makes you feel as if you're venturing through a tropical environment with every hole.
You'll play mini-golf in tropical rainforests, caves, and near waterfalls. You may even feel like you're on your own safari.
While mini-golf is by far the main attraction at Congo River Adventure Golf, there's a little bit more to do while you're here. There's an arcade with familiar and beloved games for adults and kids to play before or after mini-golf.
They have a gem mining section where you can essentially mine and dig for your own gems. As you discover more gems, you'll be able to read all about what they are and what they mean.
If you're looking for something truly unique at Congo River Adventure Golf, you need to visit their live alligator area. Most people know that alligators are common in Florida, but you can safely feed and look at some large Florida alligators when you're here.
As with most attractions in Orlando, the gift shop isn't something you'll want to miss. While photos and your memories are the perfect souvenirs to any vacation, if you'd like a cup, magnet, or another item to remember your trip by, you won't want to miss out on the souvenir shop. 
Whether your kids have seen the movie Titanic or not, visiting the Titania Artifact Exhibition is a different activity to do while you're in Orlando.
As you and your family step into the attraction, you'll be immediately transported back in time. You'll walk through the doors to April of 1912, the year that the Titanic took its maiden and only voyage.
Each member of your family will receive an authentic boarding pass where they're given an identity of someone who was aboard the original Titanic cruise ship in 1912. The boarding pass includes their passenger's name, age, where they were from, and what class they belonged to.
You'll walk around the Titanic exhibit as if you were a passenger on board the ship. The exhibition features several rooms that mimic what the real-life Titanic looked like.
You and your family can walk through the full-scale room recreations of the Titanic's promenade, first-class suites, and of course, the grand staircase that's featured in the film and is well known. As you wander through the recreated rooms, stopping to take pictures is encouraged.
Along with feeling as if you and your family are passengers on board the Titanic, you'll be able to see more than 300 different artifacts from the Titanic. Many of these artifacts are recreations but very much resemble the real thing.
As you approach the upper decks of the makeshift Titanic, you'll be able to feel how chilly it was the night that the cruise ship sank. When you make your way to the end of the exhibit, you'll be able to search for your passenger's name and see if they survived the sinking or not.
Tickets to the Titanic Artifact Exhibit cost $21.95 for those who are 12 years of age or older and $15.75 for children under 11—as with most attractions in Orlando, purchasing your tickets online will save you a little bit of money and hassle at the doors.
The Titanic Artifact Exhibit is fun for everyone, regardless of if they've learned about the Titanic before or seen the movie.
The easiest way to please children and anyone in your family is to treat them to chocolate, and Chocolate Kingdom is all about chocolate.
Chocolate Kingdom is one of the best and most fun ways to learn all about where chocolate comes from and the process it takes to turn it into all your favorite chocolate bars.
While you and your family explore the Chocolate Kingdom, you'll learn all about the origins of cocoa, which is where chocolate comes from. You'll come to understand how cacao becomes chocolate.
Many museums and factories on International Drive allow you to walk your family around the building at your own pace. However, the Chocolate Kingdom provides you with a guided tour for a more informational experience.
For an even more engaging experience, your chocolate tour guide will partner with a prince and dragon while taking your whole family through a cacao tree greenhouse.
From there, your tour guide will take you through the chocolate museum and then to the chocolate factory, where chocolate candy bars and other treats are created.
When you've finished your tour of the factory and learned everything about chocolate, you can purchase chocolates for the family. For an extra seven dollars, you can create and customize your own chocolate bar. 
There's something for everyone on International Drive, including thrill-seekers. Roller coasters aren't the only way to get your adrenaline pumping while on vacation in Orlando.
I-Drive NASCAR Kart Racing is the perfect place to get your adrenaline-rushing while having a great time with your kids. This indoor racing track is open every day of the week and a super fun activity when it's raining or when you have an off day from the theme parks.
The facility is equipped with electric go-karts, which are the main attraction at this International Drive spot. Each go-kart can reach up to 45 miles per hour.
There are height requirements for driving and sitting passengers in the go-karts, but if some members of your family don't make that requirement, there's still something for them to do here.
At I-Drive NASCAR, there are over 60 arcade games for your kids to play. Adults and kids can partake in a game of pool on one of their three pool tables or go bowling in their four-lane bowling alley.
While your kids spend time racing around the go-kart track, you can visit the bar that offers a 180-degree view of the race track. This full-service bar has delicious food for you and the whole family to enjoy.
Once you're ready to head out for the day or are looking for a sugar rush in between games, there is a Hershey's Ice Cream shop where you can get your fix.
As with most places on International Drive, you won't want to miss stopping by the gift shop on your way out.
Final Thoughts
You don't need to spend hundreds of dollars at Disney World or Universal to enjoy your time in Orlando. Spending your vacation in Orlando visiting theme parks but spending time on International Drive can give you a balanced but memorable vacation.
There are mini amusement parks, mini-golf, and several arcades to entertain the entire family. Regardless of how you choose to spend your time in Orlando, there are plenty of family-friendly activities on International Drive.
More about our TFVG Author
A seasoned traveller, Dad, and avid sports tourist, James foundered The Family Vacation Guide to share his expert vacation experiences- especially when it comes to being a travelling family man.
Featured in Travel articles such as Travel + Leisure, TripSavvy and SFGate, you know you're reading some of the best vacation tips online.