Mini golf is an excellent activity for you and your family to do while staying in Orlando. In fact, it's one of the best things to do in Florida with kids. However, it might be overwhelming to decide which would be the most exciting to explore with several courses available.
To help you narrow down your options, here are some of the best courses to consider.
Several of these options share various elements, such as course themes, number of courses available, and affordability, however, they also have several differences that make each mini-golfing experience unique.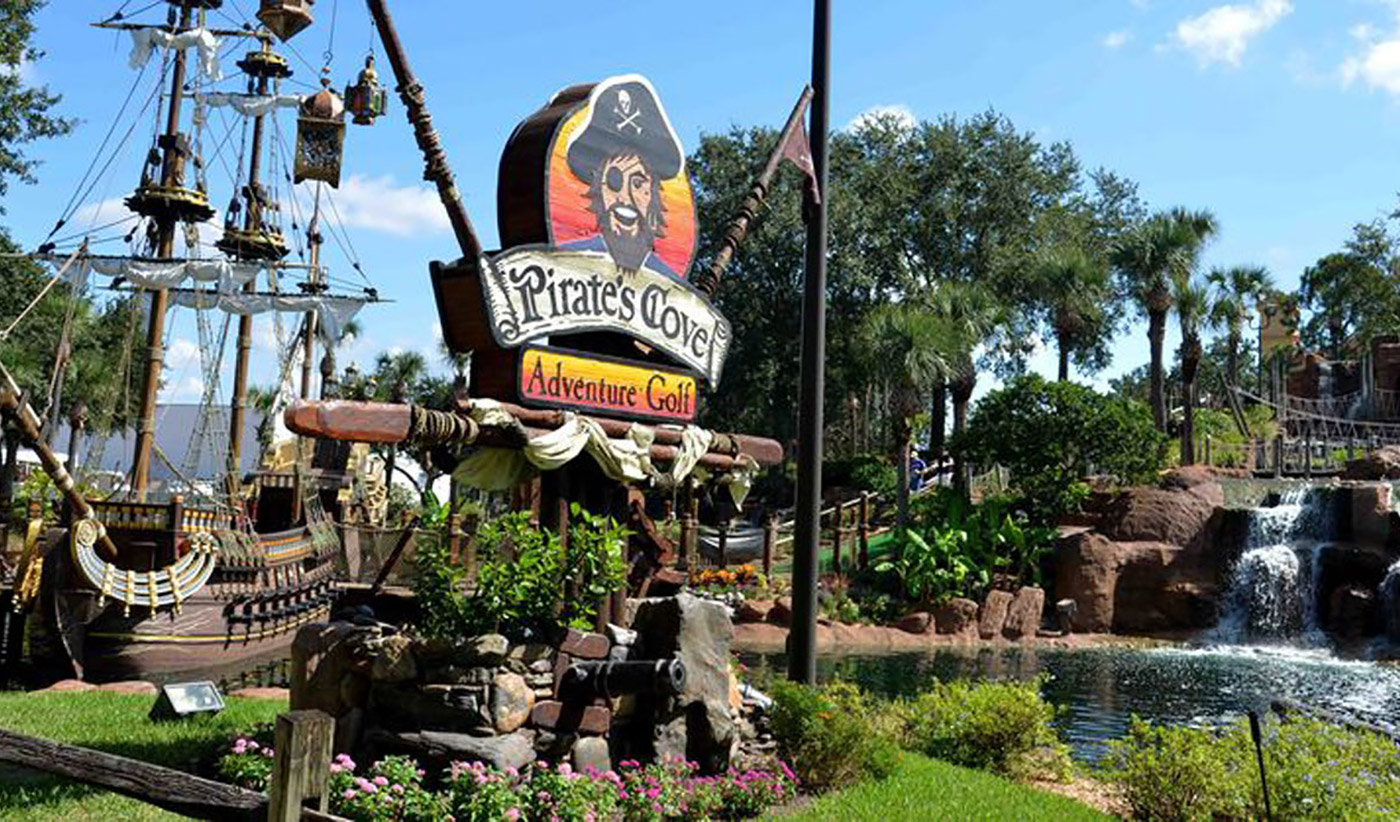 Pirate's Cove Adventure Golf has two 18-hole pirate-themed courses available for players of all ages: the Captain's Course and Blackbeard's Challenge. As you play, you can explore different landscapes, including waterfalls, bridges, plants, caves, and a pirate ship, and learn about pirate history. You can find this Orlando attraction at 8501 International Drive, close to ICON Park.
We consider this place a contender for the best adventure golf in Orlando since it's open year-round. So whether you're a Florida resident or a traveler, you can enjoy an engaging game between 9AM and 11:30PM.
The Captain's Course and Blackbeard's Challenge cost $14.50 for adults and $12.95 for kids ages 4-12, plus tax, while the 36-hole adventure costs $23.95 for adults and $21.50 for kids ages 4-12, plus tax. Replays for any of these courses cost $9.95, plus tax. Kids ages 3 or younger can play for free.
Congo River Golf has eight locations in Florida, but has two Orlando facilities located at 5901 International Drive and 12913 East Colonial Drive. Congo River Golf has two courses with varying difficulties and explorable terrains as you trek through a safari-themed environment, including caves, rainforests, and rocky cliffs, with a plane wreck as its core centerpiece. Consider using their free scorecard app to make scorekeeping easier.
It costs $13.99 for adults to play and $11.40 for kids ages 9 and under. Discounts might be available if you book a non-sameday golf game for you and your friends or family. Best of all, these online tickets are valid at any Congo River Golf location.
Congo River Golf also offers several other activities for you to experience, including birthday parties, scavenger hunts, gemstone mining, arcade games, and alligator feeding.
Hawaiian Rumble Adventure Golf, located at 13529 South Apopka Vineland Road, offers golfers an excellent mini-golfing environment with a refreshing tropical backdrop. Some notable features that make this course pop out include atmospheric music, palm trees, waterfalls, and a 50-foot volcano replica. It's open seven days a week and typically opens at 10AM.
We also consider this a contender for the best mini golf in Orlando because of its rate options. The Single Rate option costs $12.20 per person when playing one course and an additional $4.50 per person if you want to play a second course.
In contrast, the Group Rate games cost $8.25 per person for one game and an additional $3.50 for a second game. 7-day unlimited passes cost $23.95 per person if you want to play several rounds without worrying about your funds.
You can also stop by the gift shop and purchase a valuable souvenir.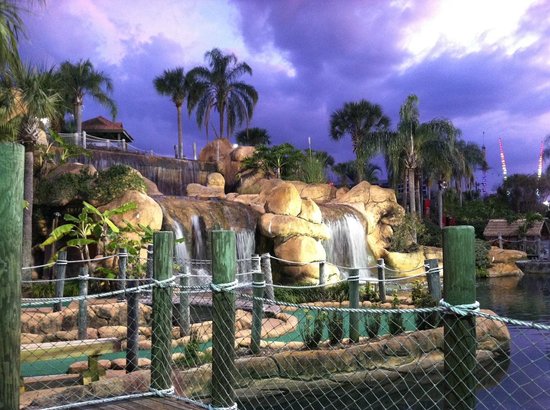 Lost Caverns Adventure Golf is another popular mini-golf course that you can find in Orlando. You can find this golf course at 6306 International Drive, close to some of the other picks in our lineup. As you play through either of the two courses, you travel through caverns and jungle environments.
The price for playing one game is $14 per adult and $12 per child, while the cost for playing both courses is $21 per adult and $18 per child, respectively.
Group rates and birthday party rates can also vary depending on the number of people participating and any additional charges for pizza and drinks. Up to six golfers can play in each group. They offer buyouts for groups exceeding 60 golfers if you want to host larger mini-golf events. You can also feed gators at $3 per bag.
Unlike most of our picks for the best mini golf in Orlando, you can find this whimsical course in the heart of the Walt Disney World Resort, at 1205 Epcot Resorts Boulevard. There are two 18-hole courses you can play; Fantasia Gardens is ideal for beginners or younger players and incorporates elements from the movie Fantasia, while Fantasia Fairways incorporates traditional golf hazards, such as sand traps, slopes, water, and rough bunkers.
Adults pay $14 to play each course, and kids ages 3-9 pay $12. They accept walk-up sessions and let you book for play sessions in advance. Due to the mass popularity of this vacation getaway, you can expect large crowds while waiting to play. However, we believe its size is worth the wait.
This course is another favorite recreational activity for avid mini golf lovers and Walt Disney World fans. You can find this course by Blizzard Beach's entrance, located at 1534 Blizzard Beach Drive, Lake Buena Vista. While both 18-hole courses incorporate a snowy Christmas theme, it's divided into two sections for golfers: Winter and Summer.
Like Fantasia Garden and Fairways, one game costs $14 for adults and $12 for kids ages 3-9. The cost of a same-day second game is half price, making it ideal for mini-golf lovers who don't want to pay a higher fee to play more. Annual Passholders are eligible for discounts.
This course is open daily from 10AM to 10PM, giving you enough time to plan your game beforehand to beat potential crowding. Other amenities include small snacks and beverages, and a storage locker for your belongings if you anticipate a longer play session.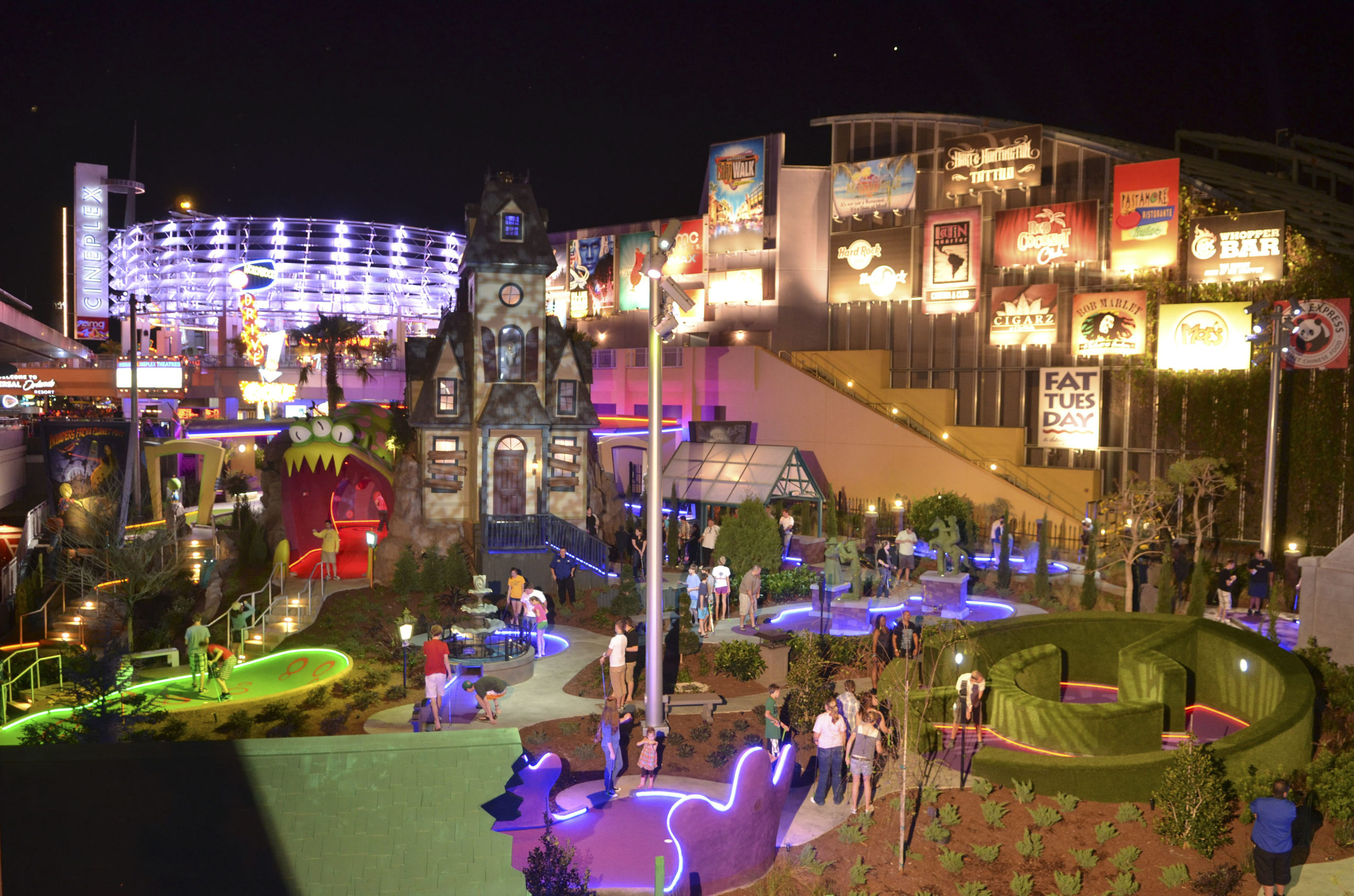 Unlike our other picks for the best mini golf in Orlando, this course trades tropics and gators for a movie-inspired atmosphere. It's a popular attraction located at Universal CityWalk and is open seven days a week.
You can choose between two golf courses if you want a simple 18-hole game. The "Haunting of Ghostly Greens" course incorporates horror, while the "Invaders from Planet Putt" incorporates sci-fi. At night, the course uses LED lights to immerse you even further; but, of course, if you're up to a challenge, you can play both courses.
An 18-hole "Single Feature" costs $17.99 for ages 10 and up and $15.99 for ages 3-9. The 36-hole "Double Feature" costs an additional $14.99 for ages 10 and up and $12.99 for ages 3-9. Special 10% and 15% discounts are also available for eligible individuals, such as military or seniors, playing a "Single Feature" session.
Housing over 200 gators, this smaller course is an ideal contender for the best adventure golf in Orlando. You can find this gator getaway on International Drive, just across from Avanti Palms Resort.
Prices range from $12.99 for adults and $9.99 for kids. If you don't want to play golf and just want to see the gators, general admission costs $5.99 for all ages. There are also additional costs for feeding or taking a photo with adult or baby gators.
For a full mini-golfing and gator experience, you can also purchase an Adult or Kids Adventure Pass for $21.99 and $19.99, respectively. It's an excellent opportunity for your kids to see gators up close and learn more about them through facts scattered throughout the golf course and live shows.
Putting Edge's indoor setting is the perfect solution for playing mini-golf, even on the stormiest days. You can find this course at Dezerland Park, on International Drive.
Their 18-hole course has glow-in-the-dark pathways and obstacles that grab your attention, including neon trees, staircase, fish, and rocks. Best of all, you can play through this course between noon and night.
The price for general admission is $13.99, plus tax. In addition, they offer online booking to help you avoid long wait times, especially when making reservations for parties or events. Refreshment options include small snacks, bottled soft drinks, and frozen beverages.
The facility also has a glow-in-the-dark arcade you play at before or after a mini-golf game, including a neon air hockey table. Although smaller than most outdoor courses, it's an excellent alternative for people who want to try something new.
Another one of Orlando's best mini golf is actually closer to Kissimmee via 7761 W US Highway 192. The facility has two 18-hole mini-golf courses you can play on: the Prospector and the Gold Nugget. These courses' themes are based on mining towns of the Old West, enhanced with high cliffs and tall waterfalls. Additionally. rivers serve as a formidable obstacle, giving players a bit of a challenge to keep them on their toes during the game.
Playing one of either courses costs $9.95, and playing both costs $13.95. Bonanza Golf also offers a 36-hole game with Cici's Buffet for $17.95 and a same-day unlimited play package for both courses for $19.95.
When you book a 1.5-hour or 3-hour birthday party, it costs between $9.95 and $15.95 for each guest; the birthday boy/girl gets in for free. The 3-hour deal provides drinks, ice cream, and pizza for all partygoers; both packages request that you bring your own cake and be responsible for cleanup, since it costs extra for the staff to do it.
This Formosa Gardens Village mini-golf course has a safari-based theme to draw in players. Its two 18-hole courses, Impenetrable Bwindi Forest and Plains of the Serengeti, incorporate African jungle and desert elements, respectively. Other landmarks include caves and waterfalls.
In addition, life-like replicas of animals, such as zebras and giraffes, and high-quality golfing turf can be found throughout the courses, creating the perfect photo opportunity for younger mini-golfers.
Playing one 18-hole course costs $9.95 plus tax for each person, and playing all 36 holes on both costs $11.95 plus tax. You can also pay $14.95 for an All-Day Adventure to play on these courses multiple times while there.
The facility also has a picnic area with chairs and tables if you want to take a break and enjoy a small snack. This amenity is ideal when booking a mini-golf birthday party. If you're in the mood for a short drive to Kissimmee, this might be an ideal mini-golf spot for you.
Stationed at 4330 W. Vine Street, Pirate's Island features two mini-golf courses to challenge you and your family. Each course takes players through caves and tropical landscapes to discover pirate treasure. As you travel to each hole, you can learn intriguing history about pirates who traversed the Caribbean, including Captain William Kidd.
The warm Florida climate complements the overall atmosphere of this pirate mini-golf, making it an excellent option for a summer outing. Its extensive size keeps you active throughout your visit; however, these courses are better suited when there isn't rain or excessive heat.
One round of mini-golf costs $12.50 for adults and $10.50 for kids. Additional rounds cost $4 extra, and their Play All Day option costs $6 extra. Children under 3 years of age can play for free. Birthday party and group rates may vary, so it would be wise to contact them in advance to determine if this is your ideal mini golf setting.
—
Choosing the best mini golf in Orlando can be a challenging process, but it narrows down to how many games you want to play, how much they cost, and what additional activities or incentives they offer. Even the surrounding cities, such as Kissimmee, have a lot to offer regarding mini-golf.
Your mini-golfing preferences may differ from other players, so it's up to you to decide how you want to play. For example, smaller one-course facilities might be ideal for players looking for a simpler playthrough, while larger ones with obstacles are ideal for challenging anyone at any age. Hopefully, this list gave you a few ideas of mini-golf courses you haven't considered.
More about our TFVG Author
A seasoned traveller, Dad, and avid sports tourist, James foundered The Family Vacation Guide to share his expert vacation experiences- especially when it comes to being a travelling family man.
Featured in Travel articles such as Travel + Leisure, TripSavvy and SFGate, you know you're reading some of the best vacation tips online.