When it comes to Orlando water parks, Volcano Bay is not to be missed. We've all heard of Universal Orlando, and Volcano Bay is one of its several theme parks.
Any visit to Volcano Bay is a lot of fun, but you can up the ante even more. How? Rent a cabana in the park. A cabana gives you and your group a private space where you can relax during your time at Volcano Bay.
What Are Volcano Bay Cabanas?
One of Universal Orlando's theme parks, Volcano Bay focuses on a water adventure. It's a water theme park with an innovative volcano theme, full of exciting treats for groups of family and friends.
Renting a cabana is a step up from just visiting the park as a regular visitor. Your cabana rental is somewhere for your and your group to kick back and relax away from the crowds.
There is an abundance of cabanas at Volcano Bay, so you have a good chance of finding one available to rent. There are both one-story and two-story cabanas on offer at Volcano Bay. 
Cabanas in Volcano Bay have a specific stylish look. They are constructed of dark wood material, and they have matching decor. Have you ever seen a tiki-hut? The cabanas here will remind you of them.
A great way to think of a Volcano Bay cabana is that it's your "home base" during your visit to the water park. It's a place to go and relax between enjoying the plethora of water rides and attractions.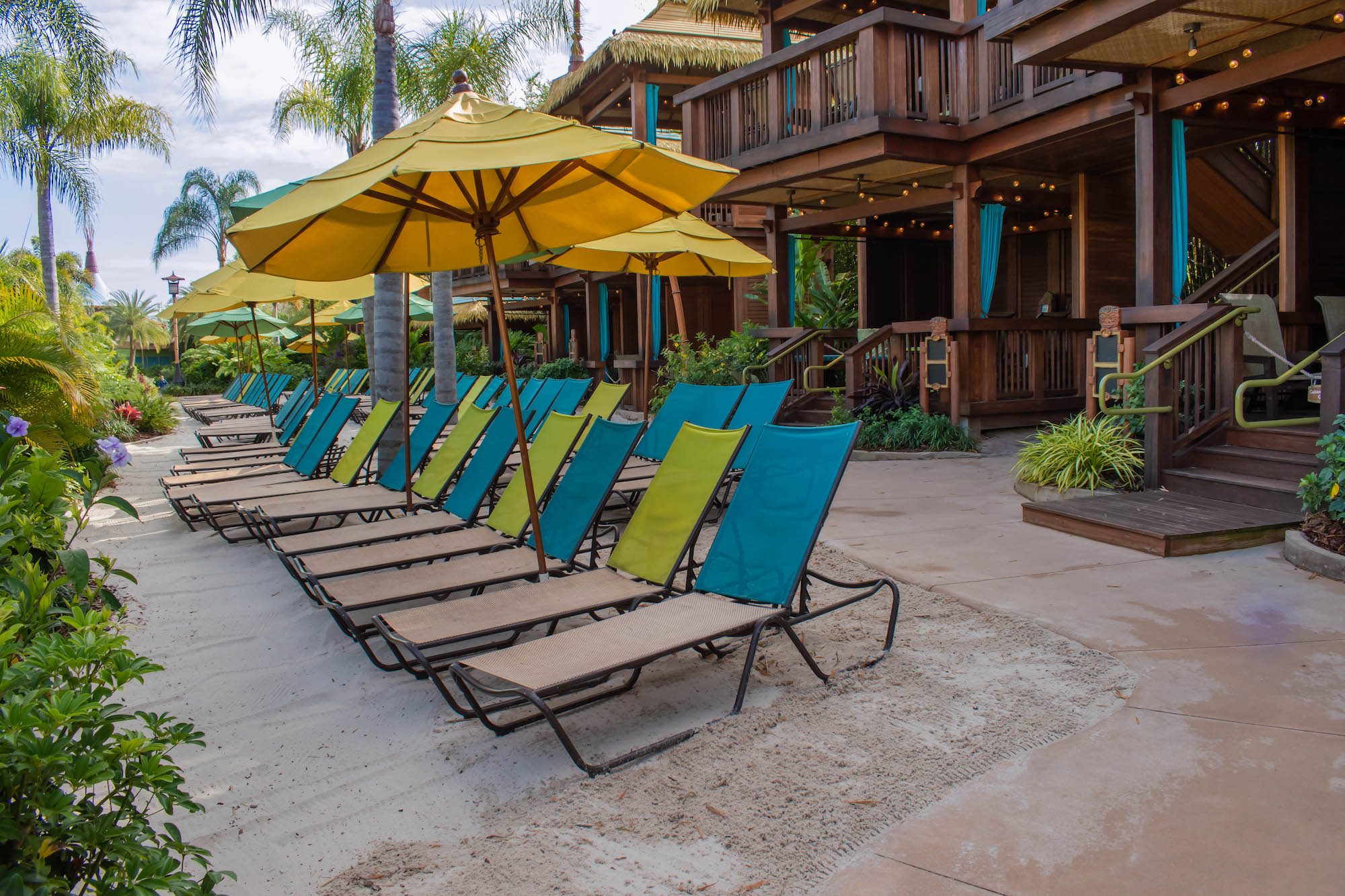 Where Are the Cabanas in Volcano Park?
There are cabanas found in several areas of the park, but they tend to be found on the perimeter. Overall, they're usually conveniently close to attractions and rides.
Waturi Beach is one of the main attractions of Volcano Bay, and there are two cabanas, both stand-alone. If you're looking for a cabana with an especially convenient location, these are great choices.
Another great location for cabanas is Puka Uli Lagoon. The cabanas here are primarily two-story. Puka Uli Lagoon features a small beach. It's also conveniently near two popular attractions, the Ohno and Ohyah drop slides.
Why You Should Want a Cabana at Volcano Bay
Renting a cabana at Volcano Bay gives you more convenience and flexibility with your visit. It also provides certain perks and amenities.
Volcano Bay Cabana Amenities
Let's explore the amenities included with your rental cabana at Volcano Bay. They include:
Privacy Curtains
The number of privacy curtains you get and where they're positioned in your cabana depends on the specific cabana you get. Privacy curtains come in especially handy when you're occupying one floor of a two-floor cabana.
Ceiling Fan
Remember, this is Florida! The weather gets hot, and you'll appreciate your cabana's ceiling fan as you sit back and enjoy some cool drinks.
Storage Locker
One of the most frustrating parts of visiting some theme parks is figuring out where to put the items that you want to have nearby. If you have a cabana at Volcano Park, you also get a storage locker.
Small Fridge
This small fridge generally comes full of bottled water, for your convenience. After all, you've got to stay hydrated! Of course, you can also put other items in the fridge.
Concierge Services
The concierge services are one of the most attractive features of having a Volcano Bay cabana. With this service, your visit to the water park starts with being greeted by a friendly and helpful concierge.
Visiting a theme park you've never been to before is always a little confusing and overwhelming. That's why your concierge is there, getting you off to a great start.
The concierge will bring you to your cabana and introduce you to all Volcano Bay has to offer. Whenever you want your concierge to come to your cabana, put up the flag. They'll explain it all to you.
Guest Experience Transformation Tablet
Every cabana comes with a Guest Experience Transformation Tablet, otherwise known as a GET. With the GET, it's much simpler and easier to make bookings for the park's fantastic attractions.
One of the best features is how you can book into Virtual Lines for attractions! This means you can stay in your cabana and relax until it's your turn.
Padded Lounge Chairs and Regular Chairs
When you have a Volcano Bay cabana, you know you'll always have constant access to a padded lounge chair. This is a major perk, as non-cabana Volcano Bay visitors have to gamble on finding a free chair. There are regular chairs that come with your cabana, too.
Checkerboard Table
As well as your chairs, you get a checkerboard table.
Towel Service
This is invaluable at a water park! You always have access to fresh, clean towels in your cabana. You get towels to use and if you need more, just contact the towel service.
Complimentary Fruit and Snack Basket
No need to bring any snacks yourself, as your cabana comes with a complimentary fruit and snack basket. Of course, you can also enjoy meals from the restaurants and food stands in the park.
The complimentary fruit and snack basket is also called the welcome basket. Your concierge or a server will bring you the basket soon after you arrive. Your basket will have different kinds of fruit as well as baked goods, like muffins, cookies, and pastries.
Cabana Server
You'll have a cabana server bring your food whenever you place orders for food and beverages. No need to trek around the park looking for food yourself. Save all your energy for the water attractions and rides!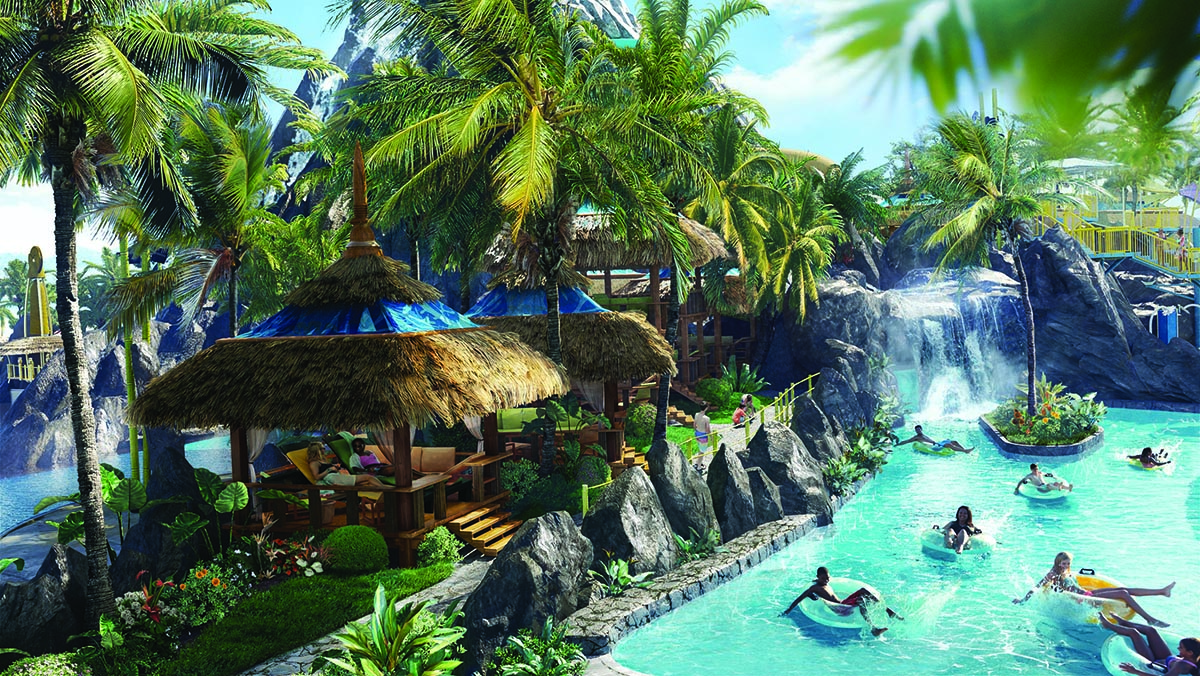 Volcano Bay Cabana Pricing
Cabana pricing changes throughout the year. It depends on supply and demand. Because of high demand in the summer, cabana prices tend to be higher during that time of year. You'll usually pay lower prices during lower-demand periods.
For single cabanas, the minimum price tends to be around $200 per day. However, depending on the exact cabana you get and if it's stand-alone, you may pay as much as an $800 daily fee.
Of course, you're going to pay more for family suite cabanas. There's a big range in possible pricing, ranging from as little as $299.00 to as much as $1200 a day.
What Cabana Types are Available at Volcano Bay?
There are two main types of cabanas you can rent at Volcano Bay. You can get a single cabana or a family suite cabana.
Single Cabana
If you're visiting with five or more other people, a single cabana is perfect for you. There are two different kinds of single cabanas: one of the floors in a two-story unit, and the other is the stand-alone cabana.
If you want privacy, go with the stand-alone cabana. Whatever kind of cabana you get, you'll enjoy the curtains that are provided for privacy and a ceiling fan to help you stay cool.
For views, though, some visitors love the upper levels of two-story cabanas.
Family Suite Cabana
The family suite cabana is perfect for large groups with as many as sixteen people. This kind of cabana is always a stand-alone building.
A big difference between single cabanas and family suite cabanas is that there are so few family suite cabanas. Volcano Bay only has two family suite cabanas in the entire park. So if you decide you want one of these cabanas, book as early as possible.
Lower Story vs. Upper Story Cabanas
Many visitors rent one story of a two-story cabana. But should you get the lower story or the upper story?
Lower Story
The main advantage of staying on the ground level is the easier access. Visitors with mobility challenges tend to need lower story cabanas. With many lower-story cabanas, you get quick access to the beach outside, which is a major advantage.
Upper Story
Some visitors prefer upper story cabanas because of the views they can afford. When you have an upper-story cabana, you get a patio. This is over the lower story. A disadvantage of having an exclusively upper story cabana is that you can only access it with stairs.
Should You Rent a Volcano Bay Cabana?
Yes, you should if you want to maximize your enjoyment of this exciting and popular waterpark. If you've ever rented a cabana elsewhere, you'll be impressed by the quality of the cabanas at Volcano Bay.
Volcano Bay cabanas offer advantages that make them worth their price. Consider renting one when planning your vacation budget.
How to Get a Cabana at Volcano Bay
You must make reservations to get a cabana in Volcano Bay. The number to call to ask about pricing and to make reservations is 1-877-801-9720.
Final Thoughts
It's time to get excited about your trip to Volcano Bay! Renting a cabana is a great way to level up your experience of this popular Orlando water park. Choose the Volcano Bay cabana that best fits your preferences and group size. 
More about our TFVG Author
A seasoned traveller, Dad, and avid sports tourist, James foundered The Family Vacation Guide to share his expert vacation experiences- especially when it comes to being a travelling family man.
Featured in Travel articles such as Travel + Leisure, TripSavvy and SFGate, you know you're reading some of the best vacation tips online.