The salty air, sun-kissed skin, and sandy beaches are only some of the luxuries of a beach vacation. If a family spring break trip or summer vacation to the beach is in your near future, you may want to consider Cocoa Beach or Daytona Beach in Florida. 
Each beach town offers everything you could ever want in a beach vacation in addition to the expansive area attractions. But you may be wondering, which is best to visit for families with kids?
If you're concerned about the atmosphere of the beach town and ensuring you select a kid-friendly beach area, we suggest you visit Cocoa Beach. Watching the seasoned surfers take on the waves along the shoreline of Florida's Surfing Capital to ocean-front dining and lodging, Cocoa Beach has it all.
While Daytona Beach offers shopping, exciting beach activities, and kid-friendly activities, the nightlife is a draw to the area that attracts the young-adult crowd. Unfortunately, this type of crowd can become loud and rowdy, which often steers families in a different direction when selecting which beach to take their kids to for vacation.
Cocoa Beach
Cocoa Beach, FL, is known for its powdery white sand beaches, impeccable surfing waves, and the famous beach shop Ron Jons. It is the closest beach to Orlando, making it a prime destination for those vacationing in central Florida who want to dig their toes into the sand.
Most attractions in Cocoa Beach are suitable for individuals of all ages, making it a family-friendly area perfect for vacation. While vacationing at Cocoa Beach, you and your family will find plenty of activities to keep you entertained while the palm trees and ocean emit tropical vibes.
Where Is Cocoa Beach?
Cocoa Beach is in the middle, far eastern part of the state, 60 miles or just over an hour outside Orlando. This popular destination for vacationers borders the open Atlantic side of the state and offers visitors breathtaking sunrises over the horizon. Port Canaveral sits along the shores of Cocoa Beach, and visitors can watch the Carnival Cruise Line Port and embark on a cruise.
Cocoa Beach is also home to the Cape Canaveral Air Force Station, making it a jack of all trades. In addition, visitors to the area will have easy access to Merritt Island and Patrick Space Force Base.
Top 5 Best Things To Do in Cocoa Beach
Cocoa Beach is never short of offering visitors things to do. Narrowing down the best things to do there isn't easy, but we've narrowed down our five favorite activities and locations. Here are some of the most popular attractions but why not check out our guide to the best things to do with kids in Cocoa Beach for more ideas?
1. Banana River Aquatic Preserve
If your trip to Cocoa Beach is centered around activities for kids, the Banana River Aquatic Preserve is a must-visit. At the preserve, guests can explore marine wildlife like diamondback terrapin turtles, alligators, and manatees.
The preserve is made up of 30,000 acres of tropical forest and marshland, making it the perfect spot for wildlife to call home. You can bring your boat and explore the area with access to the boat ramp, or you can rent a boat or a kayak for exploration.
2. Cocoa Beach Pier
The most popular attraction on Cocoa Beach is the Cocoa Beach Pier. This Pier attracts hundreds of thousands of visitors annually. What makes the pier so special? It's the expansive size of the pier and everything it offers visitors.
With 800 feet stretched out into the Atlantic Ocean, visitors can fish, shop, and dine while standing over the ocean waters. Fishermen are likely to catch anything from wahoo to snappers when they cast their line over the railing.
After shopping at the various gift shops on the pier, guests can sit down for a bit to eat at one of the many restaurants or grab a bite to eat at a pier bar. Once you experience the Cocoa Beach Pier, you will understand why it attracts so many visitors.
3. Historic Cocoa Village
You won't get the authentic Cocoa Beach experience if you don't visit Historic Cocoa Village. The township streets are lined with entertainment, shopping, and dining opportunities for visitors. The 1880 village offers tropical charm and is a must-visit if you're in Cocoa Beach.
Tropical trees line the walkways and streets as you window shop at unique boutiques or dine on a patio. Depending on the time you visit Historic Cocoa Village, you can enjoy art fairs, car shows, or Sip and Stroll events as you explore the village.
4. NASA's Kennedy Space Center Visitor Complex
Besides the pristine beaches, Cocoa Beach is most well-known for the NASA Kennedy Space Center. At the visitor complex, guests can channel their inner astronaut as historic spacecraft and space memorabilia are on display. Visitors can also visit the U.S. Astronaut Hall of Fame and experience a space shuttle launch.
There is so much to do and see at the Kennedy Space Center that you and your family could spend all day taking in the wonders of space. With various add-on ticket options, you're bound to have the ultimate space experience.
5. Ron Jon Surf School
Have you always wanted to surf? If you answered yes, Ron Jon Surf School is a must-visit while in Cocoa Beach. With origins rooting back to 19993, the 45+ years of experience teaching students to surf is enough to prove the cost is worth every penny.
Ron Jon Surf School students can choose between private or semi-private lessons with skill levels ranging from beginner to advanced surfers. The school also offers a Surf Camp for future surfers between 7 and 17 years of age, held between May and August.
Best Beaches in Cocoa Beach
The best beaches in Cocoa Beach offer visitors ample room to play in the sand or relax along the shoreline. Cocoa Beach is the perfect example of what makes Florida famous – the powdery white sand. Here are the best beaches in and around Cocoa Beach:
Playalinda Beach
Playalinda Beach is one of the best beaches in the area for surfing. It is the longest undeveloped shoreline on the east coast and stretches 24 miles. At this beach, you will enjoy leisurely ocean swimming and can witness marine wildlife like dolphins and sea turtles.
Sidney Fischer Park Beach
Sidney Fischer Park Beach is one of the highest-rated beaches for families. The coastline offers powdery sand and is bordered by a grassy lawn area. Lifeguards patrol the beach park to ensure you and your family stay safe.
Lori Wilson Park Beach
Well-maintained, family-friendly beach option in Cocoa Beach is Lori Wilson Park Beach. The gentle surf makes this beach excellent for swimming or reading a book on your beach chair. Beach equipment rentals like chairs and umbrellas are available.
Jetty Park Beach
Jetty Park Beach is the perfect beach to spend the afternoon making sandcastles or playing on the beachside playground. Visitors to this 3-acre beach have access to public showers and restrooms.
Cherie Down Park Beach
The amenities at Cherie Down Park Beach make it a popular destination for locals. While visiting this beach, you can rent boogie boards, play a game of beach volleyball, or relax and sunbathe. Private pavilions are available for larger groups.
Coconut Point Park Beach
The relatively remote location of Coconut Point Park Beach makes it the perfect spot for a private beach picnic. You and your family can enjoy the crystal clear waters without worrying about running into a large crowd.
Dining in Cocoa Beach
There is no denying that restaurants in coastal towns offer the best seafood in the country. On Cocoa Beach, you are bound to find a variety of family-friendly dining spots that will satisfy your seafood cravings.
Coconuts on the Beach is noted as being a favorite dinner spot for vacationers with kids. The menu offers land and sea dining options with a kid's menu suited to all types of eaters. Beachfront views ensure you get the whole Cocoa Beach experience.
The Tiny Turtle and Long Doggers are also notable family-friendly restaurants. Both dining facilities provide extensive menus to ensure every type of diner leaves satisfied. From traditional wings to snapper, you're in for a treat.
Daytona Beach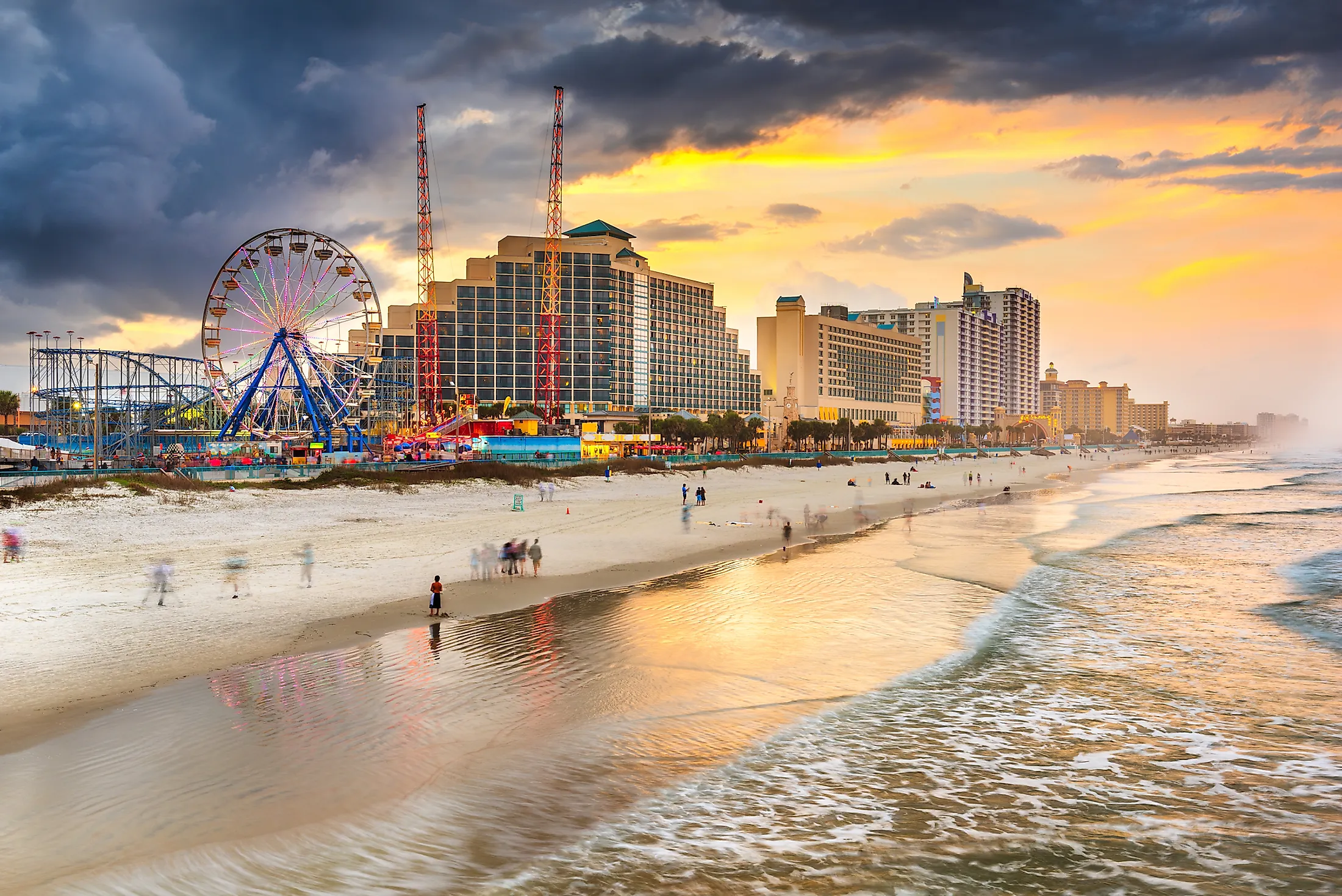 Like Cocoa Beach, Daytona Beach is a popular Florida vacation spot for its impeccable beaches and endless entertainment. In addition, Daytona Beach is home to Daytona International Speedway, making it a popular destination for NASCAR fans.
Daytona Beach offers a more extensive nightlife than Cocoa Beach, making it a popular spring break and college-age vacation destination.
Where Is Daytona Beach?
Daytona Beach is further north than Cocoa Beach along the east coast as it sits between New Smyrna Beach to the south and Ormond Beach to the North. Like Cocoa Beach, Daytona Beach is only an hour from Orlando, making it a popular beach destination for those visiting the city.
Top 5 Best Things To Do in Daytona Beach
Daytona Beach is one of the most popular beaches in the world. While the pristine beaches bring in visitors from all over, the extensive nightlife and area attractions play a role in its popularity. Here are the top 5 best things to do in Daytona Beach.
1. Daytona International Speedway
The Daytona International Speedway is what put Daytona Beach on the map. So if you're visiting the area, at the least, you will want to drive by the speedway to take in its spectacular existence. Founded in 1947, this speedway holds up to 125,000 fans, making it a sight to be seen.
If you have a NASCAR enthusiast in your vacation group, consider stopping by one of the many NASCAR memorabilia destinations near the speedway.
2. Daytona Beach Boardwalk
The center of Daytona Beach entertainment is the Daytona Beach Boardwalk. Here you will enjoy amusement entertainment like go-carts and a Ferris wheel, and shop or dine along the shoreline. At the end of the boardwalk, you will notice a stage where visitors can access free concerts.
Zeno's World's Most Famous Taffy is a must-stop if you enjoy sweet treats. Enjoy shopping along the shoreline, dining in the ocean breeze, and getting amusement park thrills at the Daytona Beach Boardwalk.
3. Daytona Beach Main Street Pier
Another must-visit waterfront attraction is the Daytona Beach Main Street Pier. A popular landmark, this pier attracts shoppers, diners, fishermen, and anyone who enjoys being out in the open air and socializing.
Choose from multiple spots to dine, shop for a souvenir, or simply walk the pier and view the marine life. This 1925 pier is a staple of Daytona Beach.
4. Ponce Inlet Lighthouse & Museum
Take in the beach's rich history when visiting Ponce Inlet Lighthouse & Museum. Stretch your legs as you climb the 213 steps to the top to overlook the vast ocean waters. Named after the Spanish explorer Ponce De Leon, the Ponce Inlet Lighthouse is a piece of history that can't wait to tell its story.
5. Tomoka State Park
A popular tourist attraction, Tomoka State Park offers visitors some of the most beautiful scenery in Florida. This natural reserve covers 2,000 acres and is home to wildlife like birds of prey, manatees, deer, alligators, bobcats, and others.
If you're wondering what the marshes and lush forests of Florida are like, consider visiting Tomoka State Park.
Best Beaches in Daytona Beach, Florida
Daytona Beach and the surrounding areas are full of pristine beaches waiting for you to explore. Whether you're looking for dog-friendly or ADA-accessible beaches, you are bound to find exactly what you are looking for in Daytona Beach. Here are the best beaches in the area:
Al Weeks Sr. North Shore Park Beach
Beach vacations with a physical disability can be challenging. Luckily, Al Weeks Sr. North Shore Park Beach offers beach vacationers ADA-accessible beaches, facilities, and picnic areas. Lifeguards also patrol the area to help ensure your safety.
Bicentennial Park Beach
If your furry friend is vacationing with you in Daytona Beach, you must check out Bicentennial Park Beach. The beach's popularity is partly due to its dog-friendly shoreline and soft sand. Enjoy a soccer game or make a sand castle for your dog while visiting Bicentennial Park Beach.
Smyrna Dunes Park Beach
The immaculate beauty of Smyrna Dunes Park Beach makes it a must-visit beach in Daytona Beach. A boardwalk allows you to walk over the Atlantic Ocean to take in the stunning views and watch the surfers test their skills.
Sun Splash Park Beach
Sun Splash Park Beach is a favorite amongst locals and visitors. This beach park has a flat shoreline and is patrolled by lifeguards, making it a family-friendly beach destination. There is also a sidewalk fountain situated next to the beach that kids enjoy running through.
Daytona Beach
If you've selected Daytona Beach as your vacation destination, you probably know that it is one of the most famous beaches in the world, which is in part due to the powdery white sand and extensive activities available along the shoreline.
Frank Rendon Park Beach
With ample amenities, outdoor facilities, and picnic areas, Frank Rendon Park Beach is one of the most famous shoreline destinations in Daytona Beach. A grassy knoll accompanies the sandy beach park to ensure you have options best suited to your needs.
New Smyrna Beach
New Smyrna Beach is the perfect spot for water activities. The strong waves create the ideal spot to enjoy boogie boarding, paddle boarding, and surfing. In addition, the area surrounding the beach offers dining and shopping options.
Dining in Daytona Beach
As previously noted, Daytona Beach is known for its nightlife. One of the most popular spots for a drink and bite to eat is Dirty Harry's Pub & Package. This main street pub offers guests your favorite land and sea dishes and is home to the famous Bike Week in Daytona.
Popular beachfront bars include the Oasis Tiki Bar & Grill and The Oyster Bar. If you want to get your country vibe on, try visiting Coyote Ugly Daytona Beach bar. At Coyote Ugly, the bartenders will serve you your favorite drinks as you line dance the night away.
Check out Ocean Deck Restaurant & Beach Bar if you're looking for a quieter dining destination. Here you can choose your favorite cocktails and enjoy a peaceful bite to eat.
Final Thoughts
Cocoa Beach and Daytona Beach are both prime beach vacation destinations. They offer powdery, white sand beaches, ample entertainment, prime dining destinations, and are only a short drive from Orlando.
While we are sure you will create lasting memories at both destinations, Cocoa Beach is the most family-friendly, especially for younger kids. Cocoa Beach offers family-friendly beaches with endless entertainment for the kids, prime beachside shopping for souvenirs, and dining options that your kids will love.
Can't decide which attractions are your favorite? Luckily, both beaches are only a little over an hour apart. If you're willing to rent a car for a day, take a ride share, or use public transportation, your options are endless!
More about our TFVG Author
A seasoned traveller, Dad, and avid sports tourist, James foundered The Family Vacation Guide to share his expert vacation experiences- especially when it comes to being a travelling family man.
Featured in Travel articles such as Travel + Leisure, TripSavvy and SFGate, you know you're reading some of the best vacation tips online.