Do you have an upcoming trip planned to Disney World? If so, you may be considering Disney's Vero Beach Resort.
This resort in Florida lives up to its name, offering you the chance to relax on the warm sand and watch your kid's plan in the sparkling blue waters. However, before booking this resort for your upcoming trip, you probably have a few questions.
Keep reading to learn everything you need to know about Disney's Vero Beach Resort.
Where is Disney's Vero Beach Resort Located?
Disney's Vero Beach Resort is located just two hours, or 90 miles, to the southeast of the Walt Disney World Resort. It is nestled in the quaint, charming community of Vero Beach, offering spacious accommodations that provide you all the comforts of home.
The most affordable way to get to Walt Disney World from this resort is to drive. This will cost around $10 to $20 (depending on your vehicle's gas mileage) and take approximately one hour and 53 minutes. Driving is also the fastest way to get to the theme park.
If you do not have your vehicle with you and don't want to rent one for your trip, consider a bus. You can take the line 56 bus, and the trip will take around four hours and 41 minutes. Taking the bus will also cost between $45 and $70 per person.
What Are the Different Accommodation Types at Disney's Vero Beach Resort?
When you begin looking at the options for Disney's Vero Beach Resort, you will quickly discover there are several room options to consider.
The Deluxe Studio
The first option is the Deluxe Studio. This room option provides you with a view of the garden, which most visitors say is breathtaking when blooming. You also receive one queen bed and one double-size sleeper sofa. This room option can sleep up to four guests.
The Deluxe Inn Room – Standard View
This option offers a standard view, which varies based on the location at the resort. It comes with two queen beds and sleeps up to four guests.
The Deluxe Inn Room – Ocean View
If your goal is to have a great view while staying at this resort, then considering a Deluxe Inn room with an ocean view is a smart option. Like the standard view option mentioned above, this room has two queen beds and can host up to four guests.
The One-Bedroom Villa
For a more spacious room, choose the one-bedroom villa. You have several view options, including the hotel, landscaping, pool, or ocean. Each one-bedroom villa has one king bed, one queen sleeper sofa, and one sleeper chair. It can accommodate up to five guests.
The Two-Bedroom Villa
The two-bedroom villas offer views of the pool or gardens. It offers one king bed, one queen bed, one queen sleeper sofa, one double sleeper sofa, and one sleeper chair. This villa can accommodate up to nine guests.
The Two-Bedroom Lock-Off Villa
If you are traveling with a large group, this is another smart room option as it can accommodate up to nine guests, too. It offers views of either the pool or garden and comes with one sleeper chair, one double sleeper sofa, one queen sleeper sofa, one queen bed, and one king bed.
The Three-Bedroom Beach Cottage
This is the largest and most spacious option at Disney's Vero Beach Resort. It provides you with one king bed, four queen beds, and one queen sleeper sofa. The room can accommodate up to 12 guests.
Dining Options at Disney's Vero Beach Resort
The dining options offered at the Vero Beach Resort are varied. You will find lounge dining, quick-service dining, casual dining, and character dining options.
Wind and Waves Grill
At Disney's Vero Beach Resort, you can visit the Wind & Waves Grill. This is a beach-themed seafood restaurant with coastal décor and an ambiance that matches. At The Grill, you can enjoy all types of American fare, focusing on locally sourced produce and Florida seafood.
This restaurant also offers a poolside bar, which will provide you with ice-cold beer and mixed drinks. Another option is the market, a quick service mart that offers speedy, grab-and-go meals that you can enjoy poolside or in the comfort of your room.
At this restaurant, you can see Goofy and pirates; just make sure to make a reservation.
Bleachers
This is the counter service option at Disney's Vero Beach Resort. This eatery is open from 11:30 AM to 9:00 PM (however, these hours may vary based on when you are visiting). Here you can enjoy casual favorites, such as salads, hot dogs, hamburgers, and sandwiches.
Bleachers also provide a pool bar, but you can't sit at the counter. Also, this is the only refillable soft drink station available at this resort.
Shutter's
This is a full-service restaurant but maintains a casual, beachy feel. Here you can get breakfast, lunch, and dinner. You can also enjoy a fun Character Breakfast some days of the week.
Sonya's
Right next to Shutter's, you will find Sonya's. This dining location is only open for Sunday brunch and dinner. This location has a slightly elevated vibe, and the brunch provides an impressive buffet with several types of meat, salads, and traditional breakfast foods, such as the famous Mickey waffles.
While the cost for Sunday brunch is $30 or higher, the price includes a Bloody Mary, sparkling wine, or a mimosa.
The Green Cabin Room
The Green Cabin Room is a lounge eating environment that is unique because you access it through a staircase from the main lobby. It is a completely self-contained room. The décor features deep, rich colors with dark wood, brass accents, and all types of nautical-themed décor.
There's a long bar in the middle of the room that has several chairs and tables on each side. During the weekend, live musicians are present. However, the real appeal of The Green Cabin Room is the balcony. Once you step outside, you'll see why – the view of the ocean from here is truly breathtaking.
While in this area, you can sip a cocktail from the extensive menu and enjoy an appetizer. This is more of a place for grown-ups, so be sure your kids have something else to do when you visit.
Things To Do at Disney's Vero Beach Resort
During your stay at Disney's Vero Beach Resort, you can enjoy fun in the sun and race down a slide into a Mickey-shaped pool or explore beautiful beaches. This resort also offers plenty of family activities, from campfire sing-a-longs and crafts to kayaking adventures and more.
There are even adult activities, such as taking a romantic evening stroll on the beautiful white sand beaches or schedule a spa massage.
Specific activities the Resort include:
Sea Turtle Conservation and Outing
Do you love Florida wildlife? At Disney's Vero Beach Resort, you can see the nesting of sea turtles on the Treasure Coast.
Anchors A-Weigh Fitness Room
There's no reason to get off your daily workout routine. You can get your burn on in the state-of-the-art fitness room at this resort.
Pools
At this resort, you can dive into several pool options. If you are feeling a bit adventurous, try out the 163-foot Pirate Plunge water slide. You can also err on the side of safety by playing in the pirate-themed splash zone.
DVD Rentals
You can choose from a huge selection of DVDs you can rent at the Island Grove Packing Company. This store is in the lobby of Disney's Vero Beach Resort.
Go Fishing
Do you and your little ones want to enjoy an afternoon fishing? If so, you can enjoy catch-and-release freshwater fishing in the resort's private lake.
Tennis Lessons
If you love tennis, you can enjoy a fun game or schedule professional lessons. All this is available on the on-site full-size tennis court.
Games, Sports, and Other Activities
You can enjoy things like two-on-two basketball, archery, bocce ball, scavenger hunts, bingo, volleyball, and more.
Port Holes Miniature Golf
Take some time out of your afternoon to challenge your family or friends to a round of pirate-themed, nine-hole miniature golf courses.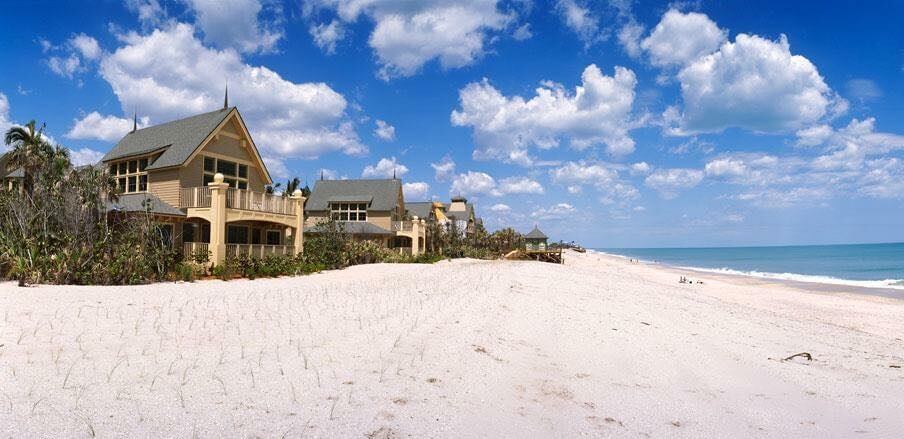 Things to Do Nearby Disney's Vero Beach Resort
Chances are you will want to venture away from the resort from time to time and explore the local area. If that's the case, you probably want to know what options you have.
Some of the best things to do near Disney's Vero Beach Resort include:
Located just 0.2 miles from Disney's Vero Beach Resort, you can find plenty of fun activities to enjoy. You can spend time sunbathing on the beach, surf, boogie board, or stroll down the piers and boardwalks.
Located in the heart of the Indian River Lagoon, the ELC is a popular destination for people visiting the area. Here, you can experience Florida's "real" side, including mangrove trails, guided kayak adventures, pontoon tours, and more than 64 acres of native fauna and flora.
Here you can enjoy several activities, including being able to see the reefs during low tide. During your visit, you can also catch a movie about the area's history and the millions of dollars of lost treasure that have been found. You can see the artifacts and ask questions to the staff during your visit.
Located just six miles from the resort, Mel Fisher's Treasures is considered the leader in historic shipwreck recovery. The history and features of this museum are going to keep everyone entertained for hours.
Popular Restaurants Outside of Disney's Vero Beach Resort
There are plenty of activities and destinations to visit beyond the resort, and there are also quite a few restaurants to try. For example, you can visit Trattoria Dario for more upscale dining. If you want to keep things casual, consider Captain Hiram's, where you can sit with your sand in the toes while enjoying tropical, live music. 
If you don't mind traveling about 30 minutes away, another highly recommended eatery is The Old Fish House, which offers waterfront dining with elevated food for an affordable price.
What Amenities are Available at Disney's Vero Beach Resort?
Everything about the Vero Beach Resort is designed to help you get that relaxed beach holiday vibe. Also, remember – it is Disney. This means that everything is extremely clean, but it isn't pretentious or fussy. This is true even for this deluxe-level resort. The staff here is readily available and friendly, but never intrusive.
Most people enjoy the beach retreat feel throughout the resort, and the "extra" touches, such as porch swings, rocking chairs, and hammocks. While the resort is located right next to the ocean, if you stay in the first or second-floor rooms, you may be surprised to learn you cannot see the water.
When it comes to amenities, this resort offers a little bit of everything. The swimming pool has a subtle Mickey Mouse shape and a water slide that is styled like a lighthouse. Throughout the year, the water is heated to keep things comfortable, and plenty of deck chairs and towels are available.
On some evenings, you can even catch a "Dive-In-Movie." A Disney movie is projected on a large screen next to the pool during this event, right after sunset. The staff dims the lights so that the atmosphere is subdued while you swim and relax in the pool.
While the resort is designed for relaxation, Walt Disney World doesn't let you rest on your laurels too long. You will find all types of auditory and visual stimuli.
Some of the other amenities that you can enjoy include the pool, play area, bicycle rentals, board games, and mini-golf. These are aimed to provide activities to guests to enjoy family time together while at the resort.
Along with relaxing at the pool, there are also daily activities scheduled. Some of the favorite options for guests include kid's crafts, campfire sing-alongs, kayak excursions, and nature talks. It's worth noting that some activities are limited to the number of guests who can participate and follow a "first-come-first-serve" sign-up basis.
Can Disney's Vero Beach Resort be Booked by Guests Who Are Not Members of Disney Vacation Club?
Even though the Vero Beach Resort is considered a Disney Vacation Club property, you don't have to be a member of the DVC to stay here. This is one of the first DVC Resorts available and offers villa-style accommodations (as described above). This includes both studios and one-, two-, and three-bedroom villas. You can also book traditional hotel rooms.
If you are a DVC member, you can use the vacation points you have accumulated to stay here. As a non-member, you can also book any available rooms, but this is based on availability.
8 Reasons Why Families Love Disney's Vero Beach Resort
It's easy to overlook Disney's Vero Beach Resort when booking your Disney vacation – after all, it's two hours away from the parks. However, it's worth the trip and if you love the beach, staying here is a must.
If you are still on the fence about staying here, learn some of the top benefits of booking a room at Disney's Vero Beach Resort.
1. Superior Relaxation Opportunities
One of the best features of this resort is the relaxation it offers. Most of the rooms here have an ocean view, which means you can wake up to the sound of the waves and sunrise. This is something that most people love and appreciate.
However, that's not all. There's a spa on-site, but it's just as relaxing to walk along the sand, around the outskirts of the resort, or lay by the pool.
2. High Levels of Service
At Disney's Vero Beach Resort, you will get the high level of service you expect from anything Disney-related. This means smiling, helpful cast members, and everything magical you could want or need.
You may even get some special treatment if a cast member finds out you are celebrating something special, such as a birthday or anniversary. It is this type of service that makes your stay here truly magical.
3. Conservation Awareness
Besides having the opportunity to see nesting sea turtles, you can learn more about how to preserve the delicate habitats of these creatures at this resort. You can even participate in the "Turtle Troop," where younger guests can learn how to identify turtles' tracks and various nesting behaviors.
This resort is found on Florida's Treasure Coast, which means it is home to many endangered animals, including manatees. During your stay here, you can experience authentic Florida wildlife, all while in a fun, Disney-themed resort.
4. Unique Activities
Besides traditional resort-style activities like sunbathing, the spa, and the pool, there are several other fun and unique activities to enjoy. For example, you can participate in the Surf School, learn how to fish in the private lake, play mini-golf, or sing-along next to a campfire.
These are activities your entire family will enjoy and still provide you with plenty of time to lay by the pool.
5. Access to Sea Turtle Nesting Grounds
When you stay at Disney's Vero Beach Resort, you can see where Loggerhead Sea Turtles make their nests. The entire design of this resort is focused on making sure the turtles are never disturbed and that their natural nesting patterns are unaffected.
Each year, the light from the moon is used to guide the recently hatched sea turtles to the ocean. This means that the beach is left in complete darkness at night, with no lights from windows or exterior lamps shining on the water. You will also find countless signs warning you to be careful when walking along the beach.
6. Get Acquainted with a Different Side of Florida
When you visit Walt Disney World and the other theme parks, you don't really see what the state of Florida has to offer. When you stay at Disney's Vero Beach Resort, this isn't the case. You can experience so much more of the natural ecosystems and oceans in Florida and can find other stops you will enjoy along the way.
If you want to avoid that so-called "Disney bubble" on your vacation, staying at Vero Beach is a great option.
7. Take a Break from the Theme Parks
If you plan to visit Disney, you are probably going to the theme parks. While this is fun, if you book your stay at Vero Beach, you get the same Disney magic without having to battle crowds, stand in lines, or figure out your Fast Pass times.
When you stay here, you are on a relaxing vacation with some of the Disney perks you want and need.
8. Plenty of Activities for the Whole Family
If you are traveling with your family, there's a good chance you have a mix of ages to appease. At Disney's Vero Beach Resort, you will quickly discover that there are more than a few activities to enjoy.
Be sure to make a list of what you want to do to fully prepare to make the most of your time on vacation.
Are You Ready to Book Your Vacation at Disney's Vero Beach Resort?
As you can see from the information here, there are more than a few reasons to consider staying at Disney's Vero Beach Resort. Take some time to get to know what it offers to see if this is a good fit for you and your family.
Chances are, with all the activities and amenities, this will be one of your most relaxing, Disney-inspired vacations ever. You may even find that you enjoy the resort vibe much more than the hustle and bustle of the theme parks. Book your stay today to see what this resort is all about and why it is such a popular destination.
There are more than a few reasons to stay here. Now is the time to see what it has to offer for yourself. Chances are, you won't be disappointed.
More about our TFVG Author
A seasoned traveller, Dad, and avid sports tourist, James foundered The Family Vacation Guide to share his expert vacation experiences- especially when it comes to being a travelling family man.
Featured in Travel articles such as Travel + Leisure, TripSavvy and SFGate, you know you're reading some of the best vacation tips online.