If the COVID-19 pandemic has taught us anything, it's that circumstances can change in the blink of an eye. Last March, millions of people were looking forward to their Walt Disney World vacation, but the parks shut down completely.
When they finally re-opened in July, everyone had to wear a mask at all times except when eating and drinking. Since then, though, the mask policy has undergone several changes.
Let's break down the current mask policy, as well as how it applies in different areas of the resort. After all, it's always better to know before you go!
What is Disney World Florida's Current Face Mask Policy?
As of this writing, Walt Disney World's mask policy is that all guests ages two and up must wear face coverings when indoors or while riding Disney transportation. The rule for transportation applies to the Skyliner, even if you're sitting in your own car.
Disney will not allow all face coverings, however. As always, Disney does not allow guests to wear costume masks in Disney Parks. In addition, neck gaiters, bandanas, and masks with valves or openings do not meet their requirements.
To be granted admission to a Disney park, your mask must completely cover your nose, mouth, and chin, fit snugly against your cheeks, and tie in the back or loop around your ears. You must wear your mask correctly at all times spent indoors; failure to do so may result in removal from the park with no refund.
The mask mandate at Walt Disney World is not government-mandated. None of the governments with jurisdiction over the region currently enforce a mask policy that applies to theme parks. Instead, Disney is working closely with the Centers for Disease Control and its sanitation and medical advisors to maintain guest safety while keeping the parks open.
At various times over the last year, Disney has changed its mask policy. For several months after reopening, the required masks throughout the parks, even outdoors. They gradually scaled back until virtually everyone was maskless but have recently increased precautions again.
For up-to-the-minute information on the current mask policy, visit Disney's reopening website.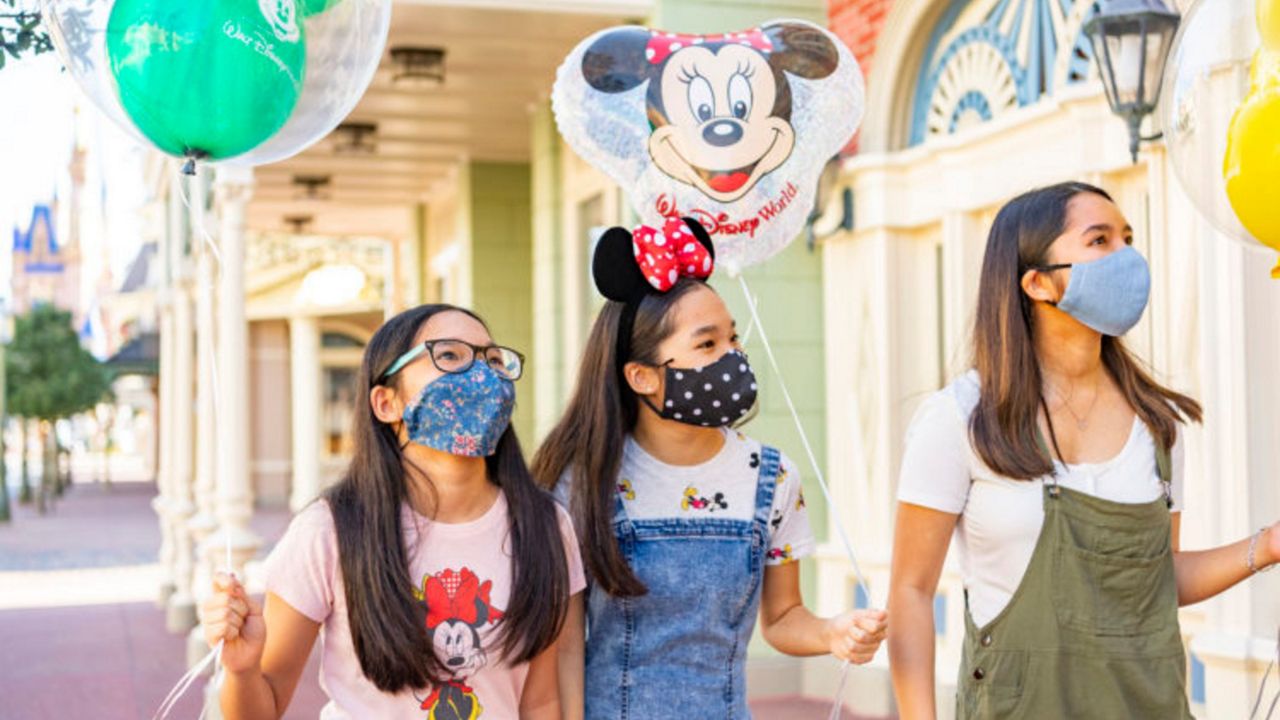 Who Has to Wear a Mask at Disney World?
Almost everyone has to wear a mask at Walt Disney World. This includes children ages two and up, as well as people who are fully vaccinated.
For clarity and emphasis, we'll repeat it: Disney requires masks even for fully vaccinated guests! There has been some confusion about that, so we want to make sure our readers understand it.
Disney is not making exceptions to their mask policy, even for medical reasons. Nor will they ever, more than likely. The Americans with Disabilities Act does not cover face masks since it's typically for public health reasons when required.
In addition, Disney will not give you a mask. Some guests have reported that a cast member (a Disney employee) gave them a disposable mask when they arrived without a mask in hand. However, Disney has not made a habit of this and certainly does not guarantee that they will have a mask available for you.
That being said, Disney sells lots of masks. The parks have some kiosks outside the main entrances, and many of them sell masks. The selection will be limited, though, so we recommend being prepared with your own mask, even if you intend to buy one while on vacation. Your current mask will get you into the park or shops, where you can choose from hundreds of options.
Where Must Masks Be Worn at Disney World?
Masks have to be worn indoors at all times. But what qualifies as indoors? Because Florida's climate is warm throughout most of the year, Disney designed a lot of their park space to be at least partially open-air.
A good rule of thumb is that you probably need to wear a mask if you had to walk through a doorway to get into the space. Another way of determining whether you need to wear a mask is if the area is air-conditioned, you're probably considered to be indoors.
Keep in mind that Disney has spent a lot of time training its staff to deal with guests. They're ready to help you navigate any confusion surrounding masks or other coronavirus protocols. Don't worry; you won't be asked to leave the park if you accidentally take your mask off in a required space!
Here is a list of some of the places where Disney requires that everyone wear masks:
Hotel lobbies, arcades, gift shops, and other public spaces
Hotel or building elevators, escalators, and staircases
Buses, the Skyliner, the Monorail, ferry boats, and other modes of transportation
Shops and stores
Restaurants, other than when you're seated at your table; if you get up to use the bathroom (or for any other reason), you must put your mask back on over your nose and mouth.
Bars, except when you're seated and actively eating or drinking
Attraction queue areas, boarding areas, and while you're on the attraction
Indoor theaters, while you're being seated and throughout the duration of the show
Do You Have to Wear Face Masks on Rides at Disney World?
Yes. Disney requires face coverings on just about all rides at Walt Disney World currently. Because even outdoor rides have some indoor portions, Disney requires you to wear masks while in line, boarding, riding and getting off attractions.
Even though you can't see cast members while you're riding, they can see you. There are many cameras throughout all of Disney's attractions for guest safety. If you remove your mask while riding an attraction, you may receive a warning from cast members when you get off. That can be embarrassing for some people. In addition, if cast members catch you removing your mask on attractions multiple times, despite being told not to, you could be asked to leave the park. That's not magical!
It's important to note that Disney has largely removed social distancing requirements in line. When those practices were in place, assessing how long the lines would take accurately was more challenging. Because everyone is closer together, mask-wearing is essential even when the lines are technically outdoors.
Do You Have to Wear Face Masks Outside at Disney World?
Face masks are optional outdoors. Outdoor space includes outdoor bridges, pathways, pedestrian roads, and other walkways between attractions or features. It also includes swimming pools and pool decks at resorts and water parks.
There are some spaces that are outdoors where masks are still required. For example, Disney usually requires masks at outdoor kiosks where you order food or pay for merchandise. In addition, the chances are good that if you're waiting in line, either for food or for an attraction, you need to have your mask on and covering your mouth and nose.
Disney strongly recommends that all of its employees and guests get vaccinated against COVID-19. If you are not vaccinated, they suggest (but do not require) that you wear masks at all times inside its parks and on Disney property (other than in your hotel room).
Do You Have to Wear Face Masks Indoors at Disney World?
Yes, Disney requires face masks in almost all indoor spaces in Walt Disney World. We provided a list of those spaces above. It includes while riding Disney transportation, in lines for and on attractions, in theaters, in shared spaces in hotels and restaurants, and more.
When in doubt, put on your mask and ask a cast member. They're ready and eager to help!
Do You Have to Wear Face Masks in Resort Hotels at Disney World?
In some spaces, you do need to wear a mask at Disney's resort hotels. Inside lobbies are one of those spaces. In addition, indoor areas such as gift shops, restaurant lobbies, bars, and other places all require masks.
Resort hotels can undoubtedly be confusing because some of them are partially outdoors. At resorts such as Saratoga Springs, Caribbean Beach, and Pop Century, guests access their rooms from outdoor breezeways. Masks aren't required in these spaces.
On the other hand, at hotels such as the Yacht Club and Animal Kingdom Lodge, you access your room from indoor, traditional hallways, so you need to wear a mask until you're inside your room. You also need to wear a mask in elevators and stairwells at all times.
If you arrive at your hotel without a mask, Disney has many mask options for sale in all of their hotel gift shops. They have many masks with their animated and live characters, funny masks, cute masks, and much more. Disney has also worked on engineering their masks to be comfortable to wear. Choosing a Disney mask that reflects your preferences and personality can be part of the fun!
Remember, wearing a mask at Walt Disney World helps protect you, your loved ones, and everyone around you. It also allows Disney to keep their gates open by preventing the spread of COVID-19 in its parks.
More about our TFVG Author
A seasoned traveller, Dad, and avid sports tourist, James foundered The Family Vacation Guide to share his expert vacation experiences- especially when it comes to being a travelling family man.
Featured in Travel articles such as Travel + Leisure, TripSavvy and SFGate, you know you're reading some of the best vacation tips online.