Are you a history buff?
Then buckle up because St. Augustine in Florida is the place to learn about this unique and special state's history. 
Whether you're into nature, history, art, or wine, the city has you covered. We've compiled a list of 11 free things to do in St. Augustine for families so you can enjoy the city without breaking the bank!
Let's get into it. 
Free Things to do In St. Augustine
1. St. Augustine Art Association
St. Augustine's rich and famous art history offers education, enlightenment, and fun for all family members.
The St. Augustine Art association began in 1924 by Nina Hawkins. She brought together writers and artists that needed art galleries to present their work.
Known as The Pens & Brush Club, this association has grown from stride to stride. Today, the association displays art in over 5,000 square feet of space. So visitors from across the globe can enjoy and experience all the city's artists have to offer.
The exhibits change to give up-and-coming artists a chance to display their work to visitors. However, there is a permanent collection with local pieces dating back to the 1930s.
The gallery is free to visit, and you and the family can stroll through, learning about St. Augustine's rich art culture. Donations are welcome if you want to contribute to keeping the gallery open. 
While art galleries and kids aren't usually two things one would put together, it's important to give your children a chance to learn about different cultures. Art is a fantastic way to do this!
One terrific way to get the kiddos involved is to take some paper, pencils, and pens along. Ask your kids to recreate a cool piece of art. Who knows? You may have a budding Picasso on your hands!
2. Fort Matanzas National Monument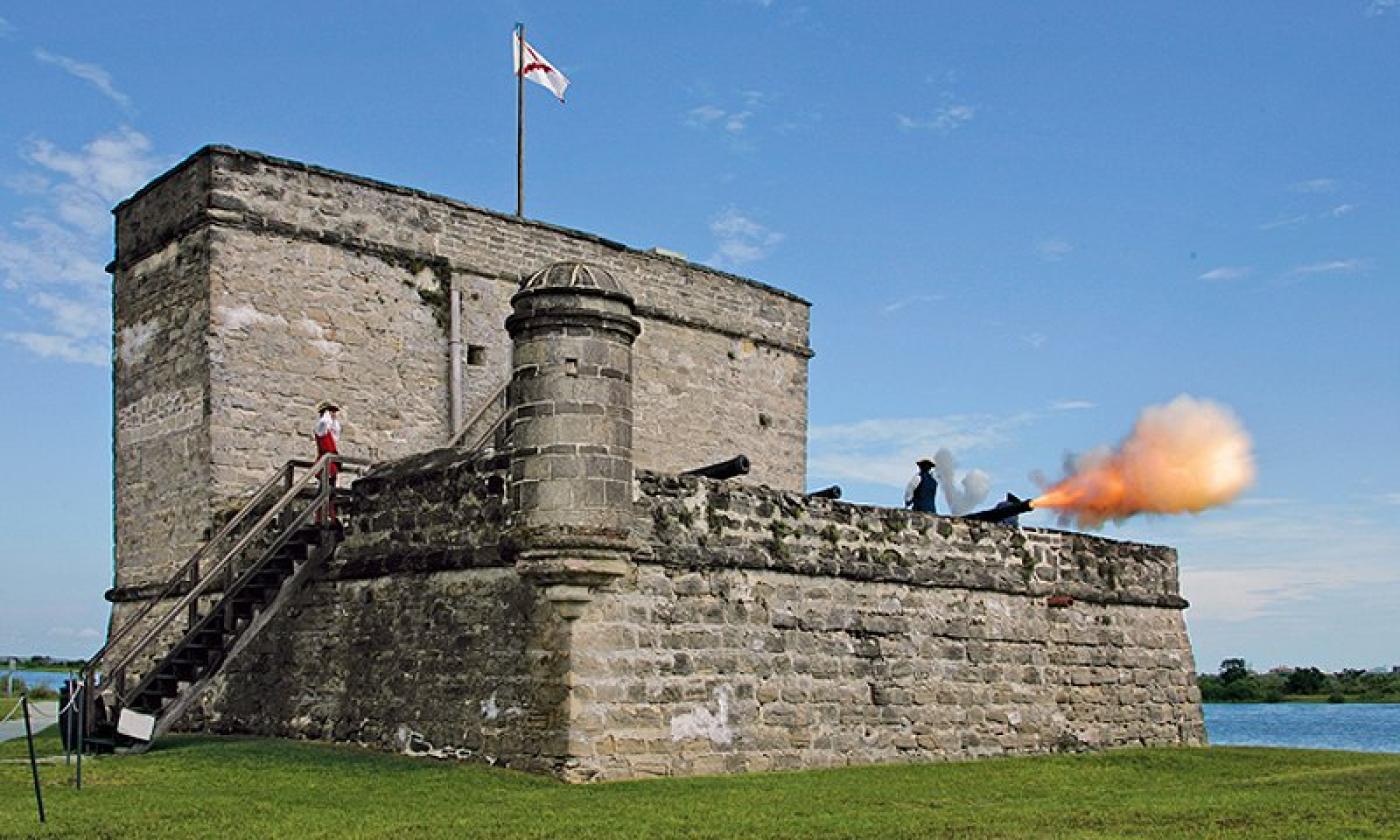 The Fort Matanzas National Monument is situated along the Matanzas River. This National Historic Landmark is massive, with a landscape spanning 220 acres and an early 1700s Spanish fort in the area.
The fort was built in 1742 by the Spanish to guard the southern mouth of the river, known as the Matanzas Inlet. This inlet provided a rear entrance to the city of St. Augustine, making it vulnerable to attack.
The fort is made from coquina, a common material used for buildings in the 1700s. It has allowed the structure to remain in place and be enjoyed by hundreds of thousands of families.
Standing 30 ft high and 50 ft long, the fort was built to house enough gunmen and soldiers to keep the inlet safe. The five canons, including an eighteen-pounder, helped to blast invaders into oblivion.
Small buildings like the Fort Matanzas National Monument remind us of the events that built St. Augustine. Taking us through what made the beautiful city what it is today.
The surrounding marshlands look out of place with the large stable fort, but it actually adds to the uniqueness of the fort.
Kids can enjoy running around the area and learning about the history of this structure. It is free and open to all. Plus, the surrounding nature trails are a great way to work off some extra kiddo energy.
3. St George Street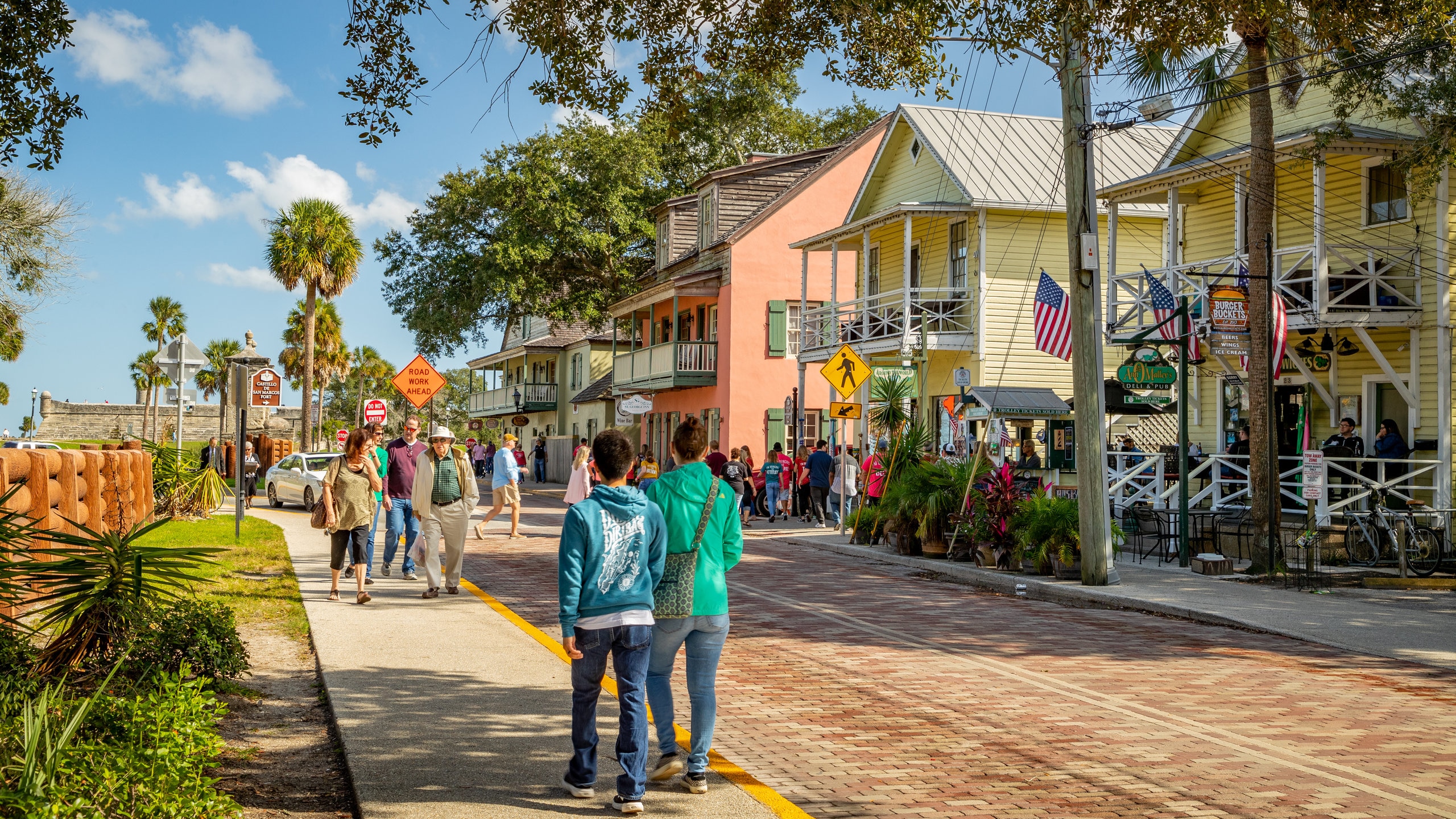 One of the most famous free things to do in St. Augustine is the historic St George Street. The street is lined with stunning boutiques, restaurants, entertainment, and free galleries.
A street mixed with kids running about is usually a parent's worst nightmare. But don't stress; the street is only for pedestrians, so kids can run around freely without cars or trucks getting in the way.
You'll find a range of tours and attractions on the street, with most families joining tour groups here.
St George Street was once the main road in St. Augustine; it has remained the heart of the city with many local attractions, restaurants, and sites.
So, you can enjoy a good hearty breakfast before heading off on your adventures for the day. If you're in the mood for something more relaxed that won't break the bank, take a stroll down this famous street and take in the architecture.
The Old City Gate is on the north end of the famous St. Augustine street. It was built to improve security in the city; it's a great photo opportunity.
The Pena Peck House is another famous attraction on St George Street in St. Augustine. Tours are free and welcome. However, there is a charge for private group tours.
4. Anastasia State Park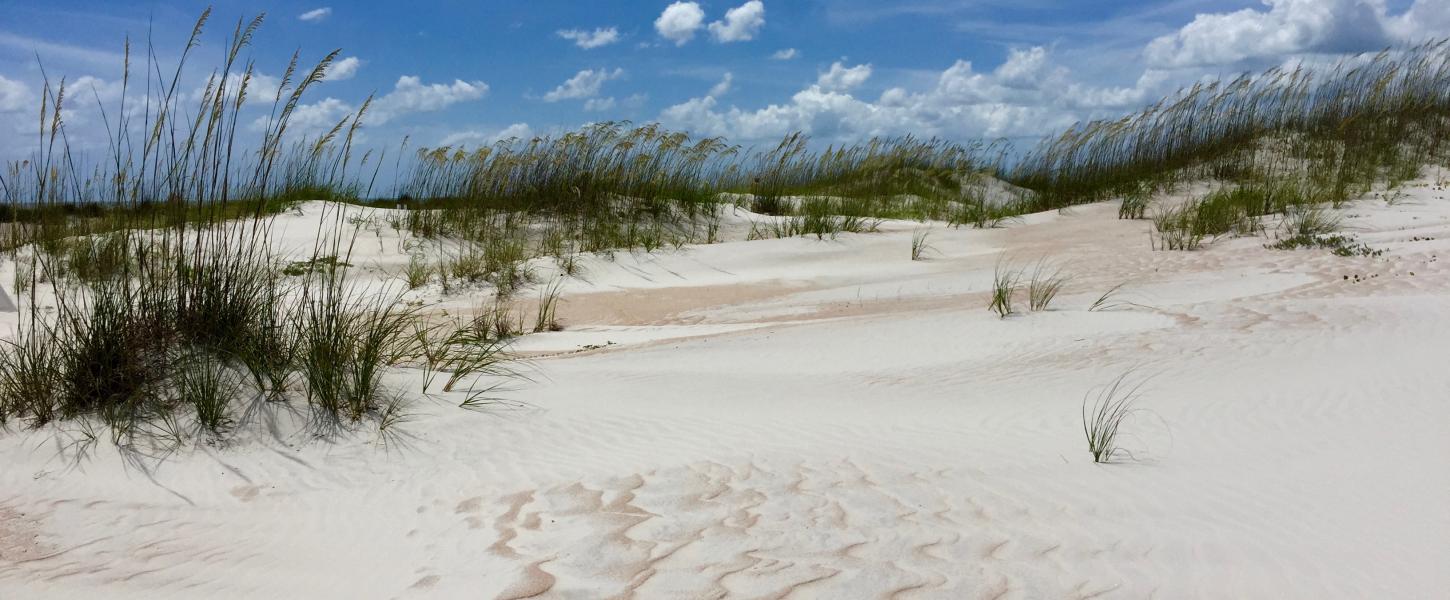 Anastasia State Park is a beautiful outdoor adventure that the entire family can enjoy in St. Augustine. The park stretches over 1,600 acres of stunning beaches, sand dunes, local wildlife, and campsites.
If your family is into birdwatching and watersports, this is the place! Plus, it's a comfortable stay with over 130 campsites to enjoy.
Some activities you and the family can enjoy include:
Bicycling
Hiking
Surfing
Wildlife Viewing
Boating
Walking and Running
Fishing
Birding
Swimming is also popular in safe areas with lifeguards on duty.
Whether you're looking for a gorgeous forest stroll or a day at the beach, Anastasia State Park has you covered. It is one of the most popular free things to do in St. Augustine. The options are truly endless!
So, grab your camping chair and look to the skies to spot some local birdlife. Alternatively, lather on the sunscreen and head to the beach for a day of swimming, kayaking, and surfing.
5. St. Augustine Beach
St. Augustine Beach is situated on Anastasia Island; it is a small beach with loads of fun and exciting things to do for everyone, young or old.
This beach has everything if you want to soak up the sun and sand. Additionally, a relaxing swim, surf, and paddle are also within reach. There are lifeguards on duty to keep the whole family safe while you enjoy the gorgeous soft sand between your toes.
You'll also find plenty of seaside restaurants to enjoy if you get a little peckish. The fishing pier is an excellent spot to grab the perfect catch if you're into getting your own food!
If you've got young kids, the beachfront park is popular with a jungle gym. Plus, the volleyball court is also super fun for those hot summer beach days. 
If you're looking to relax, there are umbrella and beach chair rentals to keep you comfortable. The free parking is a big plus.
The flat waters are a great place for little ones to enjoy the ocean safely. Additionally, it makes water sports easy to get the hang of.
St. Augustine Beach is a popular area for experienced surfers, boogie boarders, kite boarders, and skim borders. But rentals are also available for first-timers who want to dip their toes into watersports.
However, if the sand isn't your thing, the nearby St. Augustine pier is a great place to relax, enjoy a bicycle ride, and fish.
6. Frank Butler County Park West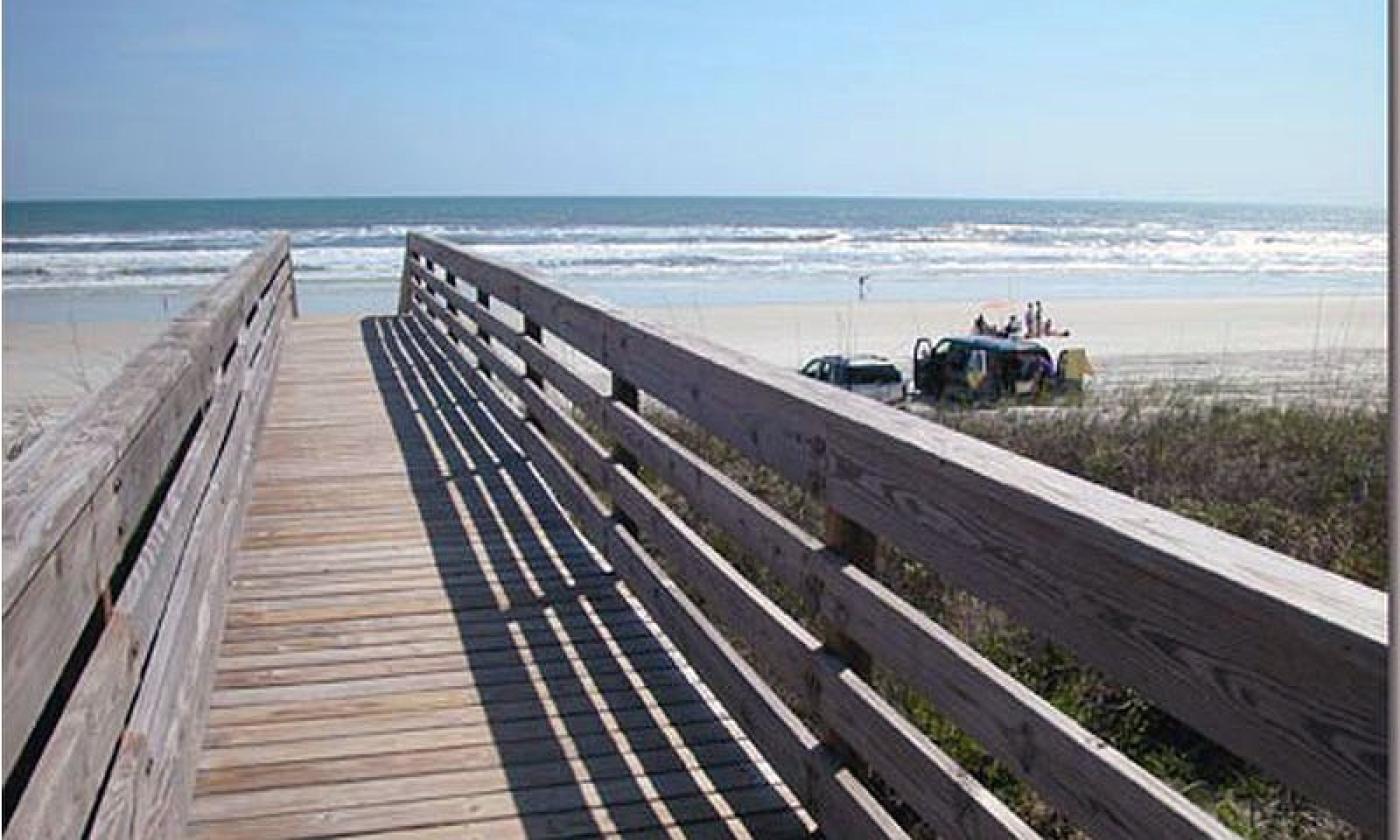 Situated on Anastasia Island in St. Augustine, Frank Butler Country Park West gives visitors a stunningly quiet beach. It's perfect for families that want a little break from the hustle and bustle of the city.
The park is protected to preserve the gorgeous sand dunes and endangered species that make this area unique and special.
Butler Beach within the park is a big part of St. Augustine's history. It got its name from the famous Frank B. Butler, an African American leader and entrepreneur in St. Augustine's civil rights movement.
The segregation of beaches led to a confrontation in June 1964 that brought Martin Luther King to the St. Augustine area. This was an influencing event in the signing of the Civil Rights Act.
So, while the beach is beautiful and relaxing, it played a massive part in St. Augustine's rich and diverse cultural history.
Now, onto why you should visit. The beach has an extensive shoreline that invites St. Augustine visitors to swim and enjoy the local sea life in a tranquil environment. The soft sand is the perfect backdrop for a family picnic. The boardwalk also offers a scenically beautiful space to enjoy a stroll or a cycle.
7. St. Johns County Ocean Pier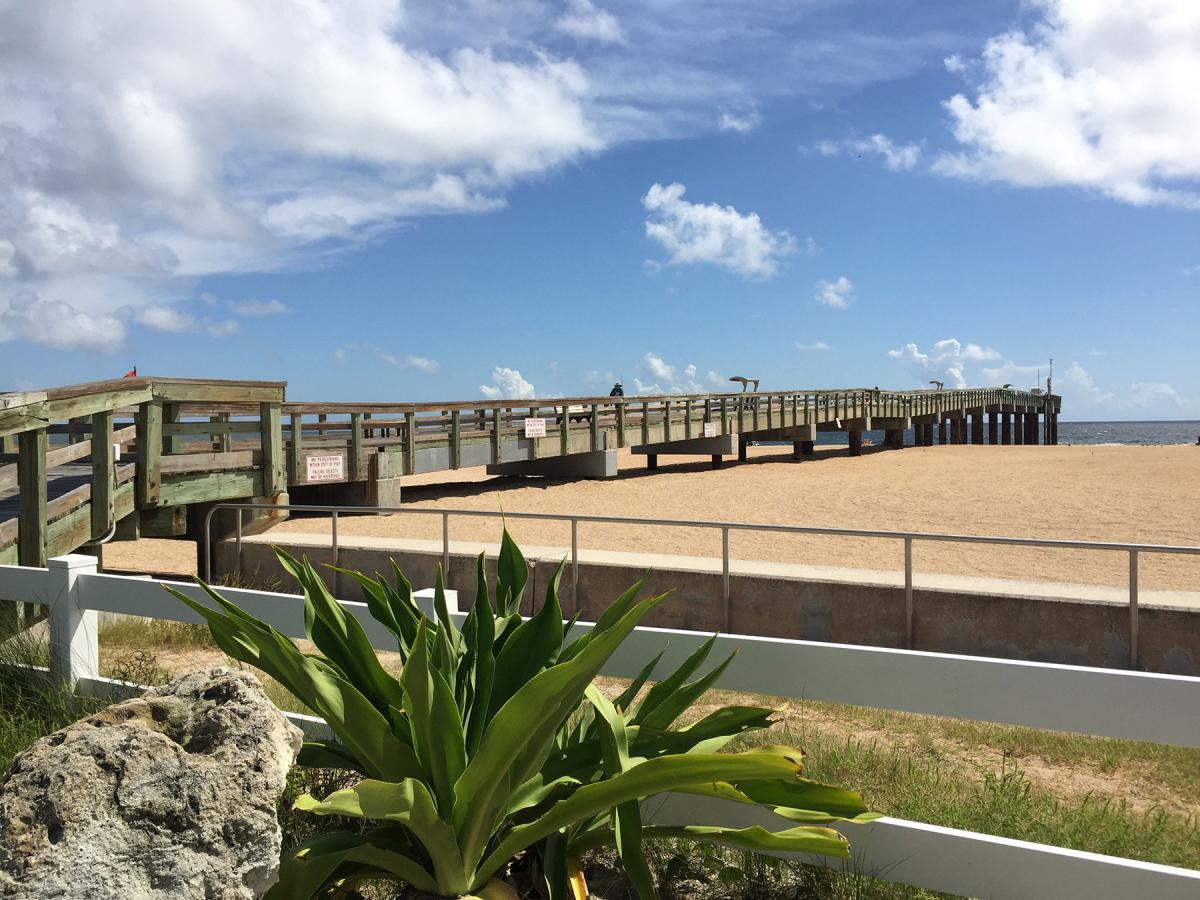 Another super popular option for free things to do in St. Augustine is St. Johns County, Ocean Pier. It's the perfect area to enjoy a range of complimentary amenities and activities for the whole family.
Accessing the pier costs $2-$8 per person, but the land activities are free. So, let's have a look at what's on offer:
Splash park: Situated between the beach and pier building, the splash park offers outdoor showers and covered tables. The fun splashes of water from the ground are a gem for little ones that can run around all day.
Playground: A fun and exciting playground is located near the splash park. It has a range of fun structures that are great on sunny days after a morning on the beach.
Sports courts: If you're into sports, this is the perfect spot. Six volleyball courts are totally free if others don't occupy them, but you can rent them if you want to secure your spot. Plus, there are two Bocce courts opposite the volleyball courts.
If you want a day at the beach, then you're in luck! The beach at this pier in St. Augustine is beautiful and offers fantastic sundown picture opportunities. There are restrooms, showers, and free parking available too.
8. San Sebastian Winery
Free wine! Where do we sign up? The San Sebastian Winery is the best spot for parents to spend a little alone time. There is nothing wrong with a break from the kids every once in a while.
But you can take the kids along if you want. Just keep those little hands away from the wine!
The San Sebastian Winery offers complimentary self-guided wine tasting and winery tours. You will learn all about the wine, how it's made, and where it comes from in your own time.
Nothing is worse than being on free tours and rushing through because of one family in a time crunch. So, the self-guided aspect is a good thing. There is an audio-visual presentation before the self-guided free tours, suitable for the whole family.
If you want to try the wine, please bring along your ID. The winery is required by law to inspect all ID documents before offering alcohol. Ensure your ID is not damaged, as this may affect whether or not you can partake in the heavenly wine on offer.
San Sebastian wines are some of Florida's best, with premium wines including:
Pinot Grigio
Cabernet Sauvignon
Sparkling wines
Port
Cream Sherry
Chardonnay
The winery has over 700 awards, so you know this is the real deal. If you get a little hungry, there is a wine bar and restaurant with light snacks.
It doesn't get better for free things to do in St. Augustine than a delightful free wine tour!
9. Augustine Distillery
Again, this activity might be best for parents looking for a fun break away from their little ones. However, kids are still welcome!
The St. Augustine Distillery started with 20 families on a mission to make some of the best spirits in the world while creating a proud legacy for future generations.
The distillery offers a self-guided tour where you can learn all about the distilling process from farm to bottle.
But the best part has to be learning how to make four of your very own signature cocktails. Now that is something to impress the family during the holiday season!
The St. Augustine distillery is located in the oldest ice plant in Florida and has grown to become the most visited craft distillery in the US.
The spirits are unique, with super distinguishable flavors that make them so sought after. Something you'll learn all about during the free tasting.
So grab your ID and head over to learn about distilling, watch the hand-bottling, and taste some unique spirits you won't find anywhere else in the world.
10. Father Miguel O'Reilly House Museum
One of the most historically rich free things to do in St. Augustine is a visit to the Father Miguel O'Reilly House Museum.
Originally part of a 1565 settlement, the museum is situated in the oldest continuously settled section of St. Augustine. The narrow streets, with small blocks, still make up part of the city today, but you'll still get that old-time feeling when making your way to the museum.
You'll learn about the house's history, which began construction in 1691. Six rooms are open to the public with the original structure and artifacts.
Additionally, the museum offers explanations of the Catholic traditions throughout St. Augustine. Don't worry; this isn't preachy, but it's interesting to learn about how catholicism came to be in the city.
You'll also learn about the St. Joseph sisters, who have been guarding the O'Reilly House since 1866.
Visiting the Father Miguel O'Reilly House Museum is free, but donations are welcome and appreciated.
All family members are welcome Wednesday-Saturday, between 10 am-3 pm. These times may change if there is bad weather, so it's always best to call and find out.
11. Peña-Peck House Museum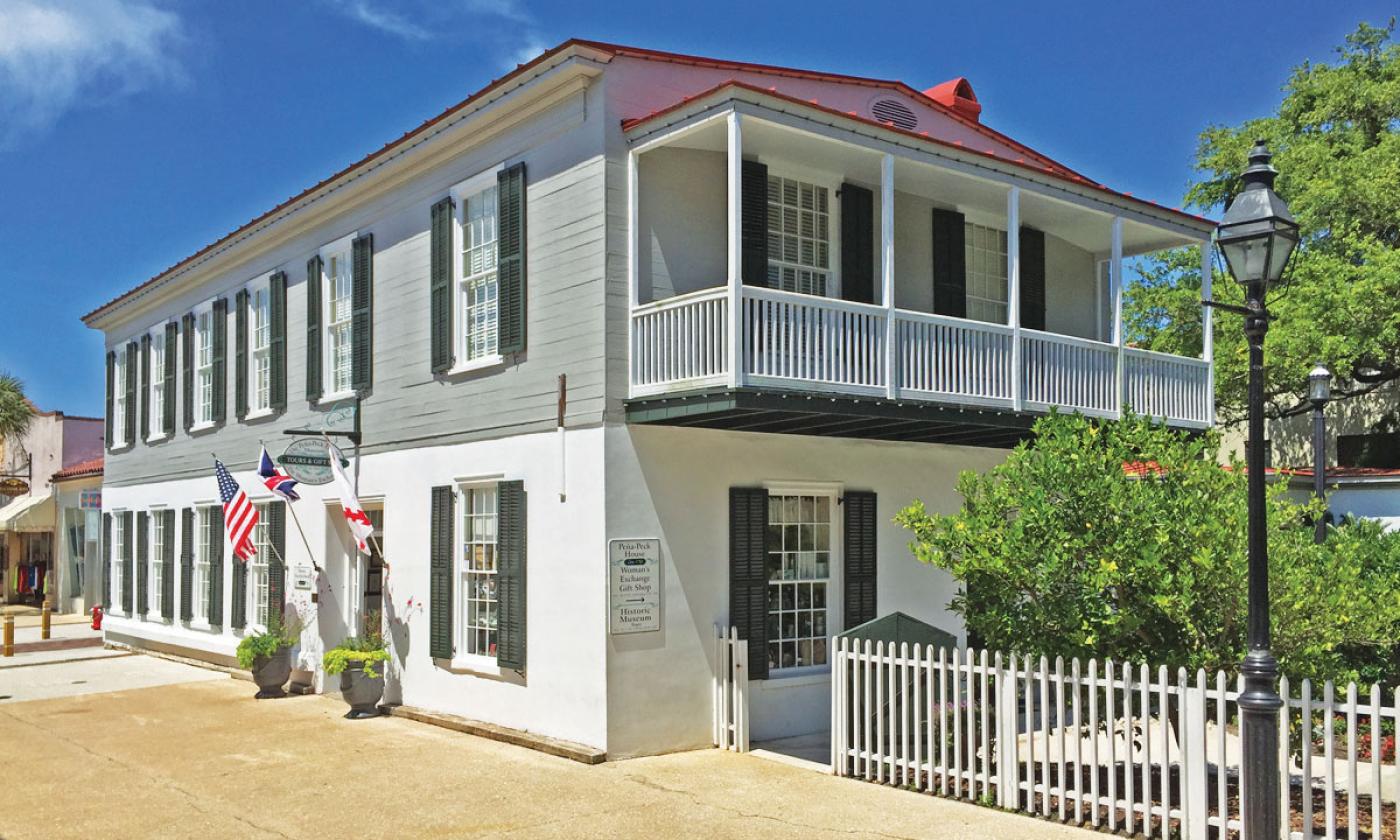 Located on St George Street, the Peña-Peck House Museum takes you on a detailed exploration of the city, dating back to the 1500s.
Residents of St. Augustine returned to the city from Anastasia Island. They hid there from violent raids in what is now known as downtown St. Augustine.
Originally built from coquina stone with unique bright green shutters, the building was once home to British and Spanish officials. It housed many important figures throughout its history.
History tells the tale of pirates coming to the city to loot the home ordered by the King of Spain. So, this is a brilliant stop if your kiddos are into pirates.
Side note, if your kids enjoy history, then a trip to the Fountain of Youth Archaeological Park is a must. It's not free, but it is well worth learning about St. Augustine's history.
The name of the museum comes from the first and last residents. Treasurer Peña was the first and the last were three generations of the Peck family. They purchased the house in 1837, donating it to the city after 94 years of residence.
Peña-Peck House Museum offers an interesting and exciting view of the history of St. Augustine and all the city has grown to be.
You can enjoy amazing artwork, stunning gardens, and fantastic historical items that make up the home, adding to its authentic feel.
The gardens feature beautiful native flora that is well-kept and unique. Some of these plants have been there for hundreds of years.
Educators in St. Augustine love doing tours of the house. Their excitement and knowledge add a wonderful feel to the tour. If you've got questions, they've got the answers!
You'll have a chance to explore the historical home, the antique furniture, and the artworks that hold their own stories.
The tours are free, but you can leave a donation. These historical treasures need all the help they can get to stay open and give us a glimpse into the past!
FAQ
What is St. Augustine known for?
St. Augustine was home to one of the very first European settlements. It has a massive cultural history with loads of sites and attractions to give visitors a chance to learn and interact with the past in a fun way.
What is the best time of year to go to St. Augustine?
Generally, spring is the most popular time to visit the ancient city. The weather is good between March and May, with some excellent cultural events. But year-round, St. Augustine is a beautiful place to visit.
Does St. Augustine have beaches?
Yes, St. Augustine has some stunning beaches along its shorelines. They offer soft white sand, with some offering fantastic sand dunes that are home to local wildlife. The calm sea in certain areas makes it perfect for swimming and watersports during summer.
What is the best way to get around St. Augustine?
Hiring a car is the easiest way to get around St. Augustine. However, Town Trolley tours are a fun way to get around the ancient city and learn its rich history. It offers guided tours of downtown, museums, St George street, free wine tasting, and stops along a self-guided walking tour.
More about our TFVG Author
A seasoned traveller, Dad, and avid sports tourist, James foundered The Family Vacation Guide to share his expert vacation experiences- especially when it comes to being a travelling family man.
Featured in Travel articles such as Travel + Leisure, TripSavvy and SFGate, you know you're reading some of the best vacation tips online.