Cocoa Beach is a beautiful destination in Florida with some of the closest beaches to Walt Disney World (WDW) and Universal Orlando theme park. There are a lot of questions surrounding how to get to WDW from Cocoa Beach, especially when it comes to the fastest and least expensive way to travel. 
In addition to telling you about the fantastic attractions that you'll find at Cocoa Beach, we'll give you directions on the best ways to connect to Walt Disney World so that you can plan your vacation accordingly. 
Where is Cocoa Beach?
Cocoa Beach is located in the heart of Brevard County, Florida; it is also uniquely known as the space coast. Its close neighbor, Cape Canaveral, houses the NASA space program, and as a result, you can see rockets being launched into space.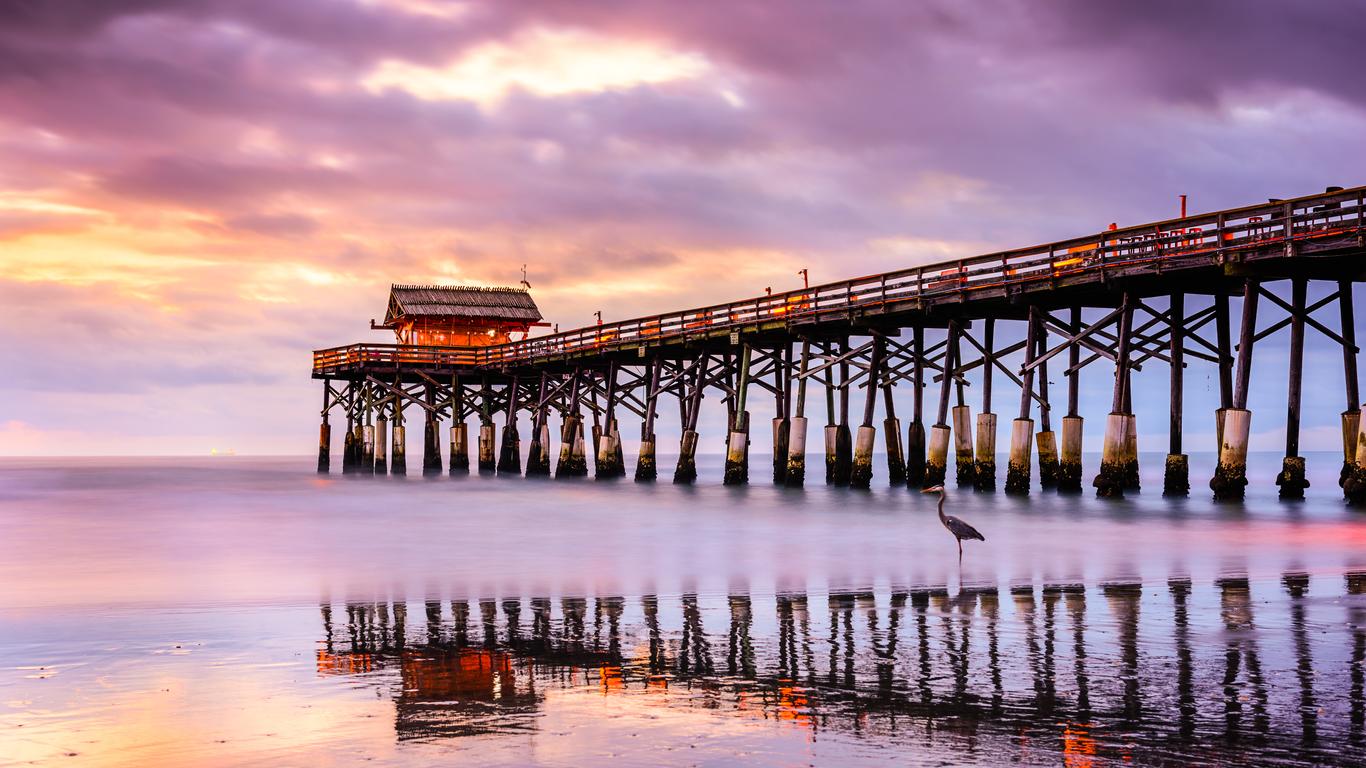 About Cocoa Beach: Things to Do and Places to See
Cocoa Beach has a phenomenal amount of space for you to soak in the sun. You can access this beach through Sidney Fischer Park, Alan Shepard Park, Robert P. Murkshe Memorial Park, and Lori Wilson Park. There's also the option to cross over a dune to the beach, where there are 40 "stub-end" streets with metered parking within the city.
There are so many activities for you to enjoy at Cocoa Beach. For starters, you can enjoy water and nature tours such as what Kayaking Adventures and Space Coast Eco Tours offer, respectively. There's even a food tour that you can embark on with Village Food Tours to learn about that food in the area and its history.
This beach has something for everyone to enjoy, such as a wide range of water sports, including boating, fishing, surfing, bicycle riding, and parasailing. Furthermore, if you're someone who enjoys surfing, drop by Ron Jon Surf Shop—the world's largest surf shop. What's more, it is open every day of the year, 24 hours a day.
Be sure to visit the Cocoa Beach Pier while you're at the beach. The Pier is 800-feet and stretches in the Atlantic Ocean, and it houses bars, restaurants, live musical adventures, and gift shops. Located near the end of the Pier is Riki Tiki Tavern, and it's a restaurant that provides a tasty variety of seafood dishes and specialty cocktails.
The Cocoa Beach Skate park is described as "sick," and it's one of their favorite places to be in all of Cocoa Beach. This park serves as an inexpensive, fun space for kids to retreat. The park features a half pike and two deep bowls. Additionally, there's a large grassy area with bleachers, a perfect place for parents to relax near their children.
This is the perfect vacation spot to visit, whether you're going for just the weekend or a week-long trip. Discover the wonders of surfing or building sandcastles with your kids. However you choose to pass the time at this paradise of a location, you are sure to have a blast!
Places to Stay in Cocoa Beach
Cape Canaveral is just a short drive away from Cocoa Beach and the exciting Kennedy Space Center. There are also beautiful beaches as well as affordable accommodation options.
Here you can find many renowned lodgings brands, including Courtyard, who boast a top beachfront hotel on their Cocoa Beach Cape Canaveral property. There are also family-friendly brands such as Embassy Suites and La Quinta.
Cocoa Beach does offer some more intimate housing. One of the most reputable spots is the Inn at Cocoa Beach, a smaller resort that features exquisite guest rooms overlooking the ocean. Moreover, you can find the same level of luxury and comfort at the Hilton Cocoa Beach Oceanfront, which boasts larger suites that are very popular with groups of friends and families. Lastly, there are the elegant Beach Place Guest Houses.
How Far is Cocoa Beach From Disney World?
Walt Disney World is approximately 65-74 miles away from Cocoa Beach; it all depends on the specific route. It takes about 1 hour and 15 minutes to 1 hour and a half to make the trip in either direction.
Below are some of the ways you can get to Disney World from Cocoa Beach. 
Cocoa Beach Shuttle
Central Florida's premier transportation company that connects you to the best attractions and theme parks in Cocoa Beach. By shuttle, you can reach Orlando Int'l Airport, Port Canaveral cruise ships, and all of the Central Florida area.
No matter if you're visiting Cocoa Beach from Universal Studios or Walt Disney or you're taking a cruise, Cocoa Beach Shuttle is well equipped to get you to your destination.
The company has more than 35 vehicles and, therefore, can accommodate small and large groups alike. Two mechanics maintain the cars to ensure safety and prevent problems from arising.
Cocoa Beach By Car
The route to Cocoa Beach from Disney World depends on which highway you take. Here is one popular course that takes just over an hour. This is perfect for those that want to spend a little time at the park and then return to Cocoa Beach in the evening.
Start heading west on North 1st street toward North Atlantic Ave for 194 feet.
Take the first right when you arrive at the 1st cross-section to N Atlantic Ave/A1A N.
Continue driving along Florida A1A N for 14 miles.
Get on FL-528 W for the next 4.6 miles.
Stay on this highway by keeping to the left on the toll road for 41.5 miles.
Get onto I-4 W (on the left) toward Tampa for 5.4 miles.
Get off on exit 65, going toward Animal Kingdom; continue for 1.5 miles.
When W Osceola Parkway comes up, merge onto this road for 0.5 miles.
Take a slight left to remain on this parkway for 0.8 miles.
Take a slight right to get on the World Drive ramp for 0.3 miles.
Stay to the left and merge onto the Walt Disney World ramp, which may not be open on various days or times.
Cocoa Beach By Bus
There isn't a direct connection between Walt Disney World and Cocoa Beach by bus, but some options are available if you do not have a car and cannot take the shuttle.
Go to the Walt Disney World Transportation & Ticket Center, and take the line 50 bus.
Arrive at Sea Harbor Dr and Central Florida Parkway, walk to Sea Harbor Dr and Grand Vacations Way; take the line 111 bus.
Arrive at the Orlando International Airport (Transfer Center).
Take the shuttle to Cocoa Beach, FL- Pilot Gas, and walk to SR 520, where you can take the line 8 bus.
Walk to Transit Center Cocoa and take the line 4 bus to Shepard Park.
Arrive at the line 9 bus and get off at Cocoa City Center.
*It takes around six hours to get there by bus.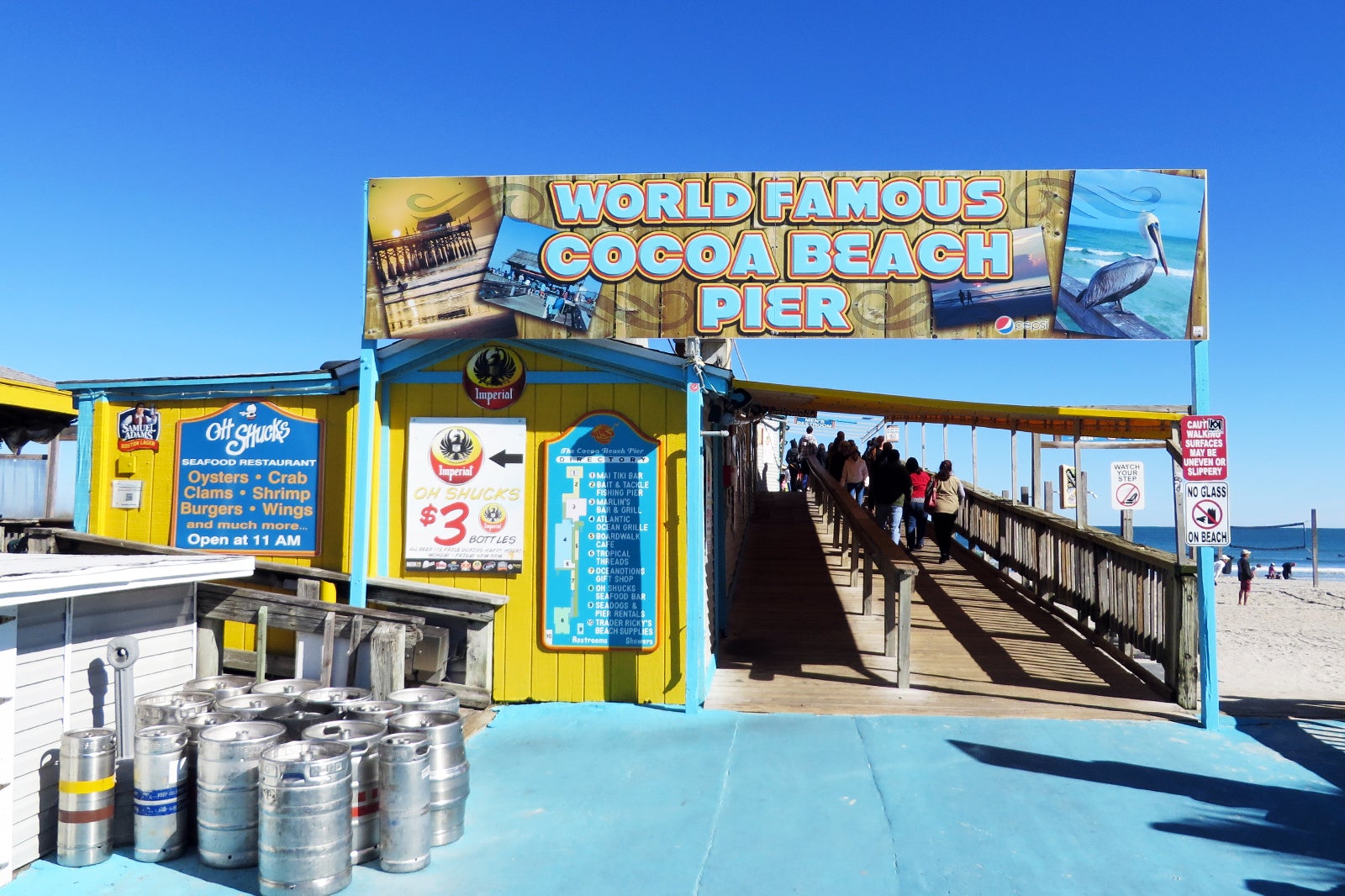 Final Thoughts
Cocoa Beach and Walt Disney World are two enjoyable locations where families can have a blast and create precious memories. There's never a dull moment at either destination as they provide so many things to do and places to see.
When trying to find the fastest route from DisneyWorld to Cocoa Beach, a car will get you there fastest, down highway 528. This is also the least expensive route because the bus takes nearly six hours and costs $60-$75, the shuttle we provided costs $95 for five people, and a ride in the car will cost $15 or less, depending on your vehicle's fuel efficiency.
The most important thing to do is to plan your trip accordingly, understand where you'll be staying, how long you want to visit the park, and all the activities in and near the beach to enjoy.
More about our TFVG Author
A seasoned traveller, Dad, and avid sports tourist, James foundered The Family Vacation Guide to share his expert vacation experiences- especially when it comes to being a travelling family man.
Featured in Travel articles such as Travel + Leisure, TripSavvy and SFGate, you know you're reading some of the best vacation tips online.