Food is one of the most significant expenses for families on vacation, no matter where you travel. This is even truer at Walt Disney World, where almost everything comes at a premium cost.
It's critical to budget for food before embarking on your Disney vacation in Florida. It helps you understand how much money you need to save. What is more, it can prevent you from becoming stressed when you see what food costs and how much you're spending. 
Generally speaking, you probably need to budget about $50 per day per adult and $35 per child for food at Walt Disney World. However, many factors can drive that figure up or down.
First, we'll look at the types of restaurants in Disney World, so you have a good understanding of your options. Then, we'll break your options down by meal, give tips for saving money on food, and then finally provide a guide for making a food budget for your Disney family vacation.
Where To Buy Food at Disney World
Disney provides many dining options for its guests. Let's look at the various categories of restaurants and eateries available to you.
Table Service Restaurants
There are dozens of table service restaurants in Walt Disney World. These are what come to mind for most people when they think about dining out: your party sits at a table where you have a server come to you to order off a menu.
As you can imagine, the prices for table service restaurants throughout Disney property vary widely. Disney breaks them down into a few categories that describe the average per-person cost of dining:
$ – $14.99 and under
$$ – $15-$34.99
$$$ – $35-$59.99
$$$$ – $60 and over
Almost all restaurants at Walt Disney World have children's menus with kid-friendly food options offered at a reduced price.
There are very few table service restaurants in the first tier and not many in the second tier. When you budget for table service meals, we recommend planning for the upper end of the price range. Once you add drinks (even nonalcoholic beverages) and tips, it almost always pushes the total.
Speaking of tipping, tips are not included in the price of your meal, which means that you need to tip your server a percentage of your total. A good tip is around 20%.
We strongly encourage you to make reservations for any table service dining you want to do. Dining reservations open online 60 days ahead at 5:45 AM eastern time, so set your alarm.
Let's look at some special categories of table service restaurants.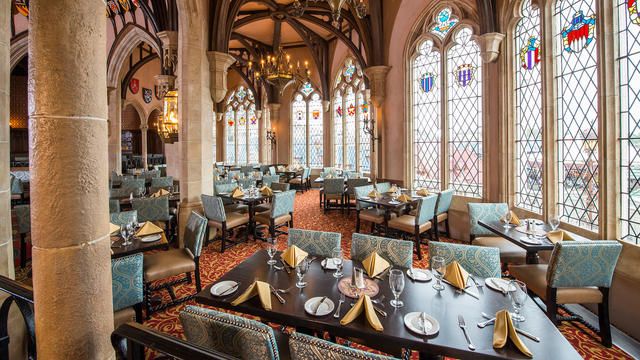 Fine Dining
Dining in Disney World can be a five-star experience. There are several fine dining options, including Tiffins in Animal Kingdom, The California Grill at the Contemporary Resort, and Morimoto Asia in Disney Springs.
Most fine dining experiences are in the upper price tier, and some even have dress codes. Reservations are almost always required.
All You Care To Enjoy
Meals at these restaurants have a fixed, per-person charge. They may be served buffet-style, such as at the Biergarten in EPCOT, or family-style with dishes brought to your table, like at 'Ohana at the Polynesian Village Resort. That makes it easy to budget for dining here, but keep in mind that the per person charge does not include drinks, taxes, or tips.
Character Dining
Character dining is a unique Disney World offering. During your meal, characters in costume appear in the restaurant and interact with guests. They come to your table to take photos, sign autographs, and more. Note that Disney has altered some character dining experiences during the Covid-19 pandemic.
Quick-Service Restaurants
Quick-service restaurants are where many guests get the majority of their meals. You order from a cashier or on your mobile app at these restaurants and then pick up your meals at a window. Most have open seating available on a first-come, first-served basis.
There is a quick-service restaurant at every resort and dozens of them throughout the parks and Disney Springs. Especially in the resorts, most are themed and offer a specific type of food. 
Food Kiosks
Kiosks are also located throughout the parks and Disney Springs. Kiosks offer minimal, specialized menus, sometimes only selling one or two food items. Most also have off-site kitchens.
Many of the items at food kiosks are small plates, especially the festival kiosks located in EPCOT. Others sell snack foods, such as pretzels, ice cream, and churros.
Shops and More
Finally, you can also buy packaged foods at shops throughout the parks. Every resort has a gift shop that sells a limited supply of grocery items, like small cereal boxes, veggies and dip, and snacks.
Most of the stores throughout the resorts also sell candy and other snacks. Some are meant to be enjoyed immediately, while others can be taken home as tasty souvenirs.
Fun fact: You cannot buy chewing gum anywhere on Disney World property. You're allowed to chew gum throughout the parks and resorts, but Disney discourages it because of the mess it leaves behind.
Budget for Breakfast at Walt Disney World
Breakfast is the most important meal of the day, and you need a good breakfast to fuel your mornings in the theme parks. You have a few options for breakfast.
All of the quick-service restaurants at the resorts serve breakfast. They have traditional breakfast options like eggs, oatmeal, Mickey waffles, and so on. If you're trying to get to the parks before eating breakfast, there will be several quick-service restaurants and kiosks offering breakfast fare. Quick service breakfasts cost around $12 for adults and $8 for kids.
You may also opt for table service at breakfast time. All of the deluxe resorts and some of the moderate resorts have table service restaurants that serve breakfast, and the parks do, as well. Breakfast tends to be the least expensive meal at restaurants—budget at least $20 for adults and $12 for children, not including beverages.
Character dining is very popular at breakfast. Some of the most beloved spots for character breakfasts are Chef Mickey's at the Contemporary Resort, Tusker House at Animal Kingdom, and Cinderella's Royal Table at the Magic Kingdom. Prices for character dining breakfasts are usually in the third pricing tier, costing between $35-$59.99 per person.
If you make a dining reservation for breakfast, be sure to leave yourself ample time to arrive at your destination. Disney transportation options (buses, boats, monorail, and so on) are usually crowded in the morning as guests make their way to the parks.
In addition, Disney doesn't provide transportation directly between the resorts, so you'll either have to arrange your own transportation or transfer. We recommend giving yourself an hour or more to get to breakfast.
You can also buy food at kiosks or shops for breakfast. There is a bakery and a Starbucks in every park. If you opt for a baked good or snack, plan to spend around $4-$8.
Alternatively, many families opt to save money on breakfast by dining in their rooms. If you stay in a Disney Vacation Club villa, you'll have a fully-equipped kitchen where you can make various breakfast dishes.
Many families also bring granola bars or breakfast pastries and other easy breakfast foods with them, which you can eat no matter what type of room you have. Many hotel rooms have small refrigerators, so you can buy milk or juice and store it safely.
The resort gift shops sell these types of food items, but they're often overpriced. You can also order them using a grocery delivery service. 
Budget for Lunch at Walt Disney World
By the time midday rolls around, you and your family will be famished from walking through the parks. That's why it's wise to have a plan in place for lunch; you don't want anyone getting "hangry" as you try to figure out where and what to eat.
Most families are in the parks around lunchtime. Sometimes, it's nice to get off your feet and relax, so you might want to consider dining reservations at a table-service restaurant. All of the parks have multiple options, so be sure to reserve well in advance.
You also have the option of leaving the parks and traveling to a nearby resort for a table-service lunch. You might have better luck if you need to walk in, but bear in mind that many resort restaurants close for lunch because so many guests are in the parks. That's something to keep in mind if you're spending the day at your hotel.
Prices for lunch at a table service restaurant vary widely. If you plan to sit down for lunch, use the upper end of Disney's pricing tiers to estimate your total cost. Kids' meals tend to be around $10-$15.
By far, the most popular option for families at lunchtime is to eat at a quick-service restaurant. All of the quick-service restaurants at the resorts are open for lunch, and there are many throughout the parks.
At lunchtime, most of the resort quick-service counters sell traditional lunchtime fare, like salads and sandwiches. In the parks, however, most of them are themed. For example, at the Yak and Yeti in Animal Kingdom, you'll find Asian-inspired dishes like Honey Chicken and Vegetable Tikka Masala.
Quick-service meals usually cost $15-$20 for adults and $9-$12 for children.
Alternatively, some people opt to "graze" throughout the day instead of having a formal lunch. Disney has many kiosks and snack options throughout the parks, so this is a fun option. You can even get meal foods at some of them, like Ronto Roasters in Hollywood Studios, which serves grilled sausages and pork sandwiches.
Small plates usually cost between $6 and $12, and most adults need at least two or three to make a meal.
The most budget-friendly option for lunch is to make and eat your own. Disney allows guests to carry food into the parks, so you can make something easy like sandwiches and bring them with you.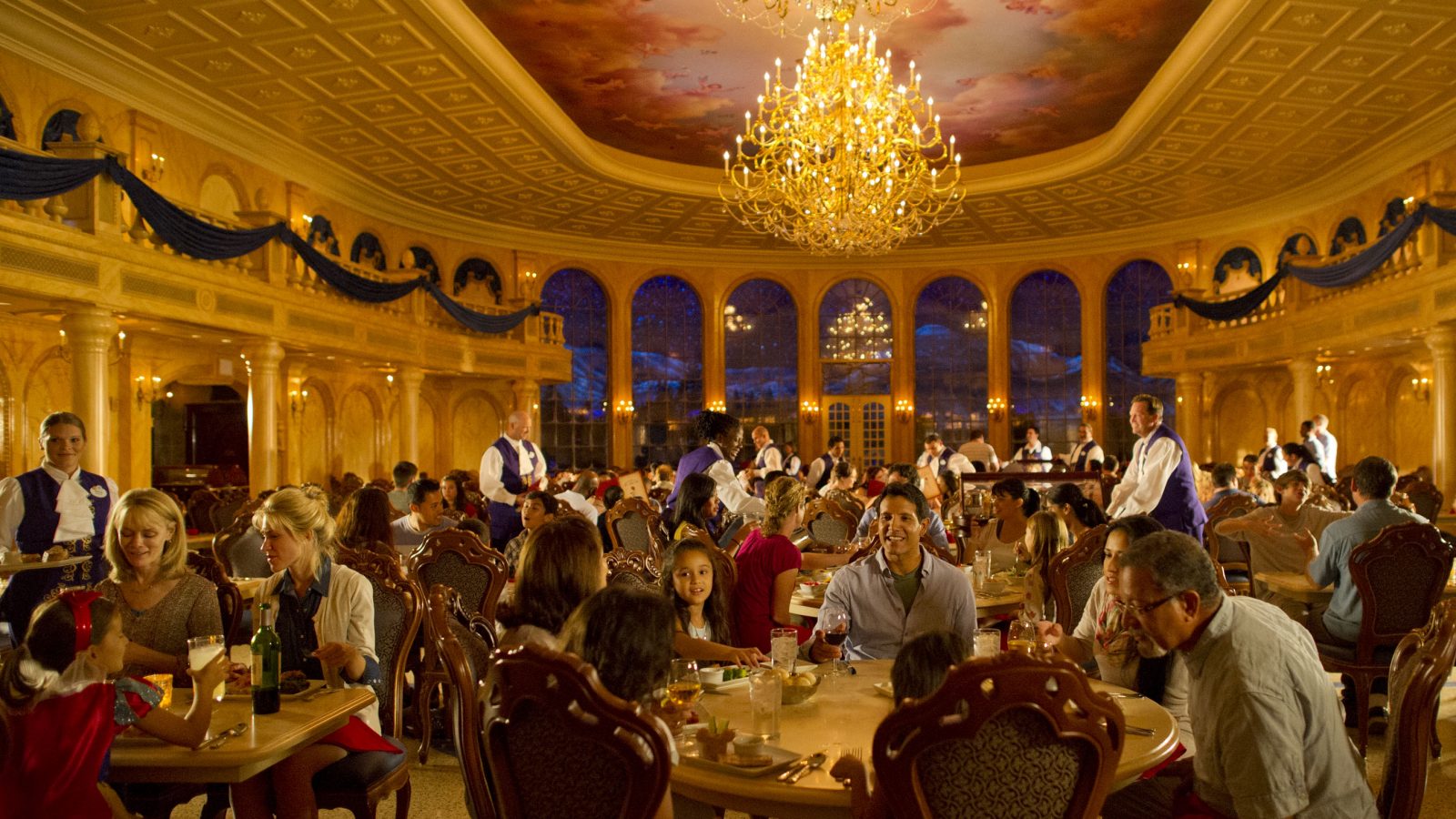 Budget for Dinner at Walt Disney World
Dinner menus at most Disney restaurants (quick-service and table service) are the same as lunch, so your budget for dinner will look very similar to lunch.
Many adults opt to wait until dinnertime to enjoy an alcoholic beverage or two. That can make it more costly. Some families also want to enjoy at least one nice table service dinner during their vacation, and Disney offers many options for that. By budgeting for it ahead of time, you can relax without worrying about its costs.
Budget for Snacks and Drinks at Walt Disney World
Even if you're not a big snack person in your day-to-day life, snacking in the parks is part of the Disney experience. Disney has many signature snacks, including churros, Mickey-shaped ice cream, turkey legs, and more.
We strongly recommend setting a flat snack or treat budget per person, per day for your vacation. After all, an important part of unwinding while traveling is indulging your senses, including your taste buds!
A reasonable snack budget is $10 per person per day if you're not substituting snacks for meals. This allows each person to get one or two special treats to enjoy in the parks.
Finally, if the adults in your party like to indulge in alcoholic beverages, expect to pay premium prices for booze. A pint of beer costs around $9, and specialty cocktails can cost $15 or more. While enjoying drinks is part of being on vacation for some adults, budget accordingly so you don't break the bank.
Tips for Saving Money on Food at Disney World
There are lots of ways to save money on food at Disney World. Here are some of our expert-approved tips and tricks:
Eat in your room as much as you can. Aim to prepare your own for one meal each day, if possible.
Carry snacks into the park with you. Easy options include granola bars and trail mix.
Never pay for water. Bring a refillable water bottle for each person, and ask for ice water from any quick-service restaurant or bar.
Limit beverages and alcoholic drinks.
Make the most of a buffet: try to eat a late breakfast or lunch and have it count for two meals.
Share meals and snacks whenever possible.
Have groceries delivered at the beginning of your trip.
Finally, keep track of what you're spending. One way to do that is by using a pre-paid card or even purchasing a Disney gift card that you'll use just for food. Load it with your budgeted amount of money and keep an eye on the balance, so you know whether or not you're staying on budget.
A Note About Disney Dining Plans
Disney Dining Plans allow families to pre-pay for meals at a fixed price. They offer several tiers and options, but Disney suspended sales of its dining plans during the Covid-19 pandemic, and it is unknown when or even if they will return.
There are many reasons to choose a dining plan, one of the biggest being that it offers families the option to pre-pay for food, eliminating that headache while on vacation. Still, dining plans aren't very flexible, and they typically aren't the most cost-effective option either.
If Disney reinstates dining plans, it's certainly worth considering. Use our guide below to make a budget for food, and see how it compares to the cost of a dining plan.
How To Make a Food Budget for Disney World
First, you should have your itinerary fairly well-set before making your food budget. Disney requires you to make park reservations, so do that first and then do your meal planning around your actual plans.
Next, be realistic. If you have little kids who are used to eating breakfast as soon as they wake up, don't expect them to wait until 10 AM. Don't expect to forego park fare for boring peanut butter sandwiches if your family loves to try new foods. There's no sense in making a plan you can't follow.
Finally, get the whole family on board and ensure everyone understands how, what, and when they'll be eating.
To make your food budget, add the following components:
Quick-service breakfasts ($12 for adults, $8 for children)
Quick-service lunches and dinners ($20 for adults, $12 for children)
Table service meals (use the upper end of Disney's pricing tier to calculate)
Snacks: plan for $10 per person, per day
Alcoholic beverages for adults
Grocery budget, if you plan to order groceries
You may want to add a small percentage on top of your total just to be safe.
How Much Do You Need to Budget for Food at Disney World?
The cost of food at Walt Disney World can vary a great deal. Some families might be more focused on rides and limit their food purchases and save money that way. For others, enjoying lots of different foods is part of the experience of traveling, and food is their splurge item.
No matter how your family likes to vacation, creating a realistic, workable food budget can help you relax and let go of financial worries. That way, you can focus on what matters: enjoying time with your loved ones.
More about our TFVG Author
A seasoned traveller, Dad, and avid sports tourist, James foundered The Family Vacation Guide to share his expert vacation experiences- especially when it comes to being a travelling family man.
Featured in Travel articles such as Travel + Leisure, TripSavvy and SFGate, you know you're reading some of the best vacation tips online.