The price of a family vacation anywhere can differ drastically depending on many factors, including the number of people, what you want to do there, and where you stay.
However, there are some features to booking a trip where you'll have to pay. If you're looking to go on a family vacation to Miami in Florida, here are some things you should consider about the price. 
Travel to Miami 
When traveling to Miami, you have a certain number of options for how you decide to get there. The most common modes of transportation are by car, plane, train, or bus.
Driving by Car
To figure out how much you will spend when you drive by car to Miami, you will need to estimate how many miles away you are from The Magic City, the price of gas, and how many miles to the gallon your vehicle can get.
So, for example, the average car sold in the United States gets about 25 miles to the gallon, and depending on the time of year, the average gallon of gas is $3.30.
With these figures, we can then estimate how much it will cost (one-way) to drive from some of America's biggest cities:
New York City – $168.43
Los Angeles – $360.62
Chicago – $182.56
Houston – $156.68
Phoenix – $311.78
Philadelphia – $156.68
Columbus – $151.93
Seattle – $439.56
Flying by Plane
The average flight costs (round trip in July per person) from some of the world's biggest cities to Miami are:
Tokyo – $1,788
Delhi – $1,250
Shanghai – $3,146
Sao Paulo – $495
Mexico City – $320
Cairo – $1,286
Istanbul – $1,150
Lagos – $1,825
Taking a Train
The average train ticket prices (one way in July per person) from some of the country's largest cities are:
New York City – $130
Los Angeles – $323
Chicago – $181
Houston – $289
Phoenix – $367
Philadelphia – $129
Columbus – $215
Seattle – $323
Taking a Bus
The average bus tickets prices (one way in July per person from some of the country's largest cities are:
New York City – $160 
Los Angeles – $260 
Chicago – $135
Houston – $155
Phoenix – $282
Philadelphia – $133
Columbus – $193 
Seattle – $244
Food in Miami
Food can be a burdensome expense to factor in, especially when you are on vacation. However, there are a few ways to figure out how much you will spend in Miami.
For example, the average price of a combo meal at Mcdonald's in Miami is $9.
Thus, if you plan on eating low-priced restaurant and fast food meals for most of your trip, you should multiply 9 (the meal) by 3 (how many times you'll eat a day).
Then, multiply that number by the number of people you have in your family and then multiply again by the number of days you'll be on your trip.
Similarly, if you want to eat for less than this amount, you can buy low-priced groceries. The best places to buy cheap groceries in Miami are:
Walmart Superstore
Milam's Market
Dollar General
Or, if you want to splurge and partake in some of Miami's best food, here are some meal prices at some of Miami's most outstanding restaurants:
Makoto – Chicken Noodle Ramen for $14
The Surf Club Restaurant – Fettuccine Alfredo for $46
Taquiza Tacos – Quesadilla for $8
Phuc Yea – Caramelized Chicken Wings for $14
El Bagel – Plain Bagel for $4.50
Hotels in Miami
Just like everything else on your vacation, how much you spend on a hotel room depends on where you want to stay and what kinds of amenities you desire.
Overall, hotel room prices for one night that fit two people in Miami range from about $55 to more than $1,100. However, if you want a room with an ocean view, you are most likely looking at more than $100.
Similarly, for one room that fits two adults and two children, you will pay at least $60.
Additionally, if you want a five-star hotel room that fits two adults and two children, you're most likely looking at least $260 to $400 a night.
Just remember that you will also have to pay fees and taxes on top of your hotel room. You can also use a home-sharing app like Airbnb, which allows you to rent an entire house for the same cost as a fancy hotel room. 
Why not take a look at our guide to the best kid-friendly hotels in Miami beach for accommodation inspiration?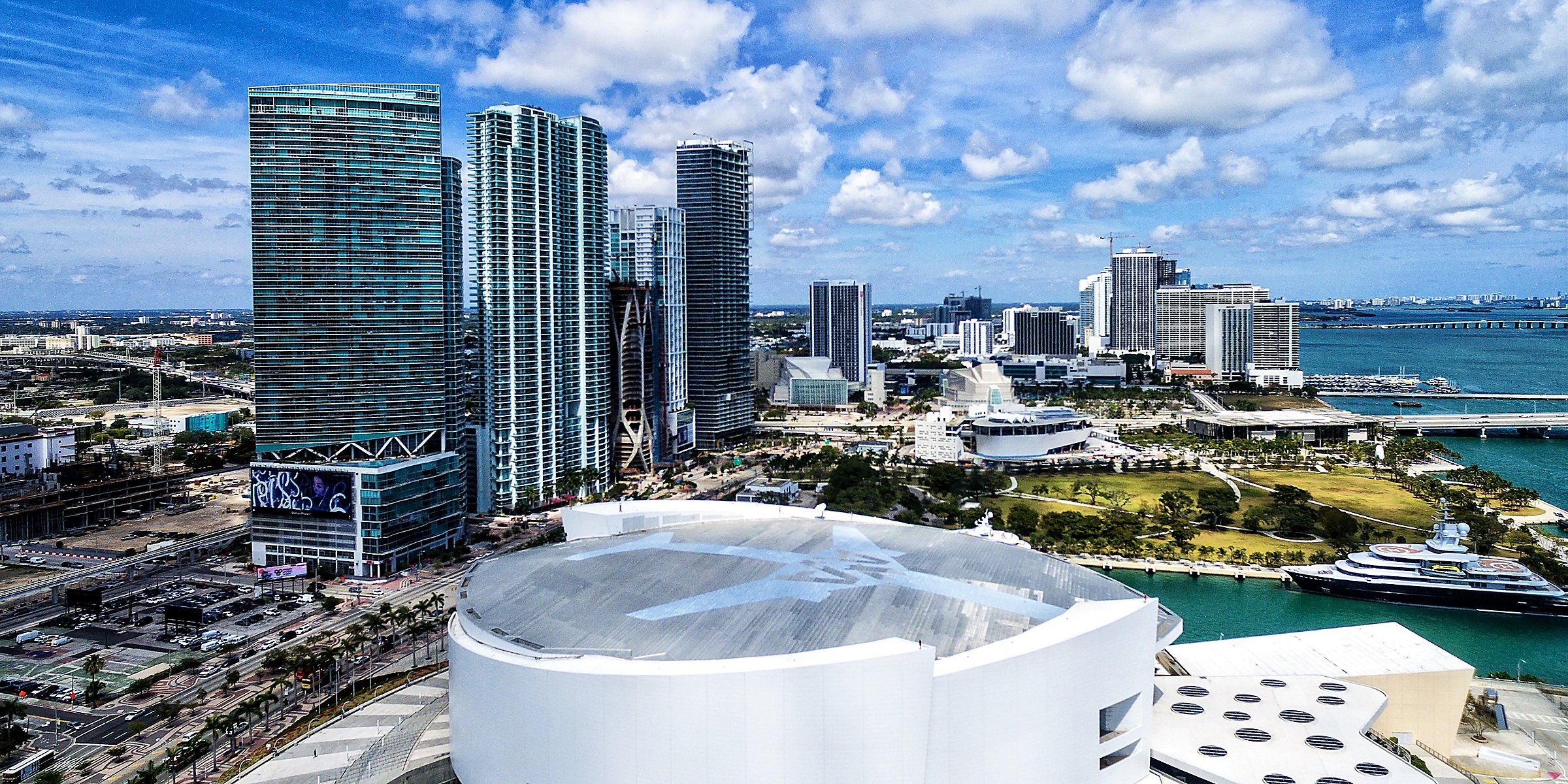 Miami's Top Attractions
Attractions are the meat of the trip, so you want to make sure that you can fit in as many attractions as you can. However, of course, some adventures are cheaper than others.
The amount you'll pay also depends on how many days you stay and how much you want to pack into each day.
Prices for the Top Attractions in Miami
Here are some of the average prices for visiting the top attractions in Miami.
Visiting Miami Beach
Of course, spending some time at the beach can be relatively cheap. Activities like swimming and tanning are entirely free. Remember that you will need to pay for parking or a bus ticket to get to the beach. Parking at the beach is generally $4 for an hour.
You can also do other free things on or near Miami Beach, like:
Walking along the Miami Beach Boardwalk
Visiting the Art Deco Historic District
Walking down Lincoln Road or Ocean Drive
If you want to splurge on other activities on the beach, then you have a few more options for a family adventure.
For example, you can take the Speedboat Sightseeing Tour of Miami, which costs about $40.34 per person ($161.36 for a four-person family). Or, you can do the Manatee Photo Safari and Miami Kayak with Paddle Board Tour for $85 per person ($340 for a four-person family).
Vizcaya Museum and Gardens
Vizcaya Museum and Gardens is a magnificent Gilded Age villa and estate which once belonged to famous businessman James Deerling. Today, you can explore the diverse and sustainable gardens and the museum containing culturally significant artifacts.
The estate costs $18 for people 13 years old and older. Children 6-12 years of age are $8, and kids five and under are free. Vizcaya is also free for active military members.
Everglades National Park
The Everglades National Park is a must-see of southern Florida. The park is the largest subtropical wilderness in the United States, where you can see American crocodiles, manatees, and panthers.
Like most of America's national parks, the price of admission is per car. For a private vehicle, the price is $30 and is suitable for seven consecutive days.
Alternatively, if you walk or bicycle into the park, you will pay $15 per person. This pass is also suitable for seven days. Those with disabilities can get into the park for free.
Little Havana
Little Havana is Miami's Cuban district, and the area is full of tourist attractions and great things to see. Seeing Little Havana can also be relatively free, and you can just walk around and discover the street-side attractions that the area has to offer.
Other fun things to do in Little Havana include visiting the Miami Dade College's Tower Theater. Here, you can watch films inside the historic theater that opened in 1926. Most tickets cost about $13, but you should also factor in the price of any snacks and drinks you may buy while you are there.
Or, you can take a tour of the historic neighborhoods, where you can learn about the history and culture of Little Havana. Tours typically cost anywhere from $35 to $65.
Zoo Miami
Miami's largest and oldest zoo is an excellent destination for animal lovers of all ages. At Zoo Miami, you can see fun animals like:
Giraffes
Gorillas
Flamingos
Rhinos
Elephants
People 13 years old and older will pay $22.95 for a ticket. Meanwhile, children from three to twelve years old are $18.95, and children two and under are free.
The zoo also has free parking to cut down on your costs.
Wynwood Walls Street Art
Wynwood Walls is a giant warehouse where some of the most significant contemporary street artists have spray-painted elaborate murals. Guests can walk throughout the area and take photos with the art.
General admission to the warehouse is $12. However, if you want a guided tour, it is an extra $5 per person. There are also certain events in the park, like yoga and live music performances. These tickets are $16 apiece.
Coral Castle
Coral Castle is one of the most exciting destinations in Miami and a great place for both kids and art fans. Coral Castle, which Latvian-American Edward Leedskalnin built between 1923 and 1951, is a vast limestone structure with fascinating statues and other creations.
Admission to the park is $18 for those 13 years old and older. Meanwhile, kids aged seven to twelve get in for $8, and children six years old and under are free. 
For more ideas, check out our guide to the best things to do with kids in Miami.
Transportation in the City of Miami
Even if you brought your car with you to Miami, you still need to think about certain costs when traveling around the city.
Paying for Gas in Miami
If you have brought your car with you on your vacation or if you are using a rental car, you will need to think about the amount you will pay in gas.
The average price of gas in Miami tends to be slightly cheaper than the rest of the country because Florida's gas prices are usually a bit below average. However, if you are used to the cost of gas in places like Texas or Mississippi, then gas might be thirty cents or more expensive per gallon than what you usually pay.
Unfortunately, you will never be able to perfectly calculate how much you will spend on gas because gas prices change from station to station, and you can't always anticipate traffic. You can still take an estimate based on:
Where you want to travel in Miami
The approximate price of gas
Your car's gas mileage
Renting a Car
If you need to rent a car when you come to Miami, you can typically find a rental car that can fit four people for between $10 and $30 a day. However, you should think about the extra fees that come with a rental car.
For example, it is a good idea to get insurance on your rental car in case of an accident or any other damage to the vehicle. You may also need to pay for fees such as processing fees, charges for young or senior drivers, and tax charges.
Taking the Metromover
If you are looking for a free way to get around Miami and the nearby Brickell area, you can use the Metromover. This free service picks people up from various parts of the city, but you may need to walk some distance to get to your destination.
Emergency Fund
As a general rule, you should bring at least $50 to $100 extra per day you will be on your vacation. This amount will help give you a cushion if you incur extra expenses.
For example, if you are driving to Miami, you may need to pay for emergency repairs to your car, such as a new tire. Or, you may need to buy medicine if someone gets sick. You may also need to spend extra money if someone forgets to bring something along.
All of these extra savings should cover you if you happen to run out of money on your trip.
In Conclusion
Overall, without travel expenses, a family of four can spend a week in Miami for as little as $1,500. However, most families will spend quite a bit more than this amount.
The average that a four-person family will pay on travel to Miami by car if they are coming from the United States is $241.03, while a trip by train averages $978.50, and bus averages $781. Meanwhile, a plane trip from out of the country to Miami for four people averages $5,630.
For food, a four-person family on a week's vacation generally ranges from $336 to $756.
Hotels can vary dramatically in price in Miami. For example, renting one room for a week can be anywhere from $385 to $7,700. For a medium-priced hotel, you'll most likely pay around $742 for the week.
Additionally, for a four-person family to do all of the top attractions that Miami has to offer, they will pay upwards of $900.
Therefore, the average four-person family will pay approximately $3,500 and $4,000 for a week's trip to Miami.
More about our TFVG Author
A seasoned traveller, Dad, and avid sports tourist, James foundered The Family Vacation Guide to share his expert vacation experiences- especially when it comes to being a travelling family man.
Featured in Travel articles such as Travel + Leisure, TripSavvy and SFGate, you know you're reading some of the best vacation tips online.