Are you visiting Florida on your vacation and some of the region's impressive state parks?
If so, you should surely visit Rainbow Springs State Park in Dunnellon, Florida. The state park here has incredible scenery, including shining blue waters, beautiful gardens, hills and valleys, and exquisite waterfalls.
The area also has plenty of activities for families and sports enthusiasts. Keep reading to plan out your trip to Rainbow Springs State Park and learn about the amenities here.
Now, let's get started!
The Scenery at Rainbow Springs State Park
Rainbow River and the waterfalls have clear water, while the crystalline springs stay warm at 72 degrees all year long. The state park also has a great beach area for families to enjoy, along with a nice swimming area for all. The blue-green waters of the river are perfect for taking a dip.
You will enjoy viewing the natural environment, including the dense mossy areas. You will love seeing the colorful and beautiful gardens.
In early spring, gorgeous azaleas start blooming. You will see impressive pinks, whites, and purples in the gardens as these flowers blossom. Further, you can hike through the trails at Rainbow Springs State Park and view all of the woodland scenery.
To ensure you have plenty of time to view all the gorgeous scenery at Rainbow Springs State Park, make sure to get there early in the morning. If you want to see the area on weekends, the park reaches capacity by the afternoon and will close to the general public.
The History of Rainbow Springs State Park
The region of Rainbow Springs State Park has a history of various cultures dating back 10,000 years. The Timucua people lived here before Europeans settled the area. In fact, the city of Ocala is named after the chief Ocale.
By 1839, pioneers settled the region around Rainbow Springs State Park. By the late 1800s, the town held 75 residents with a sawmill, stores, a hotel, a post office, and a railroad station. As the tourism at the state park grew, the locals built waterfalls using phosphate tailings and began offering glass-bottom boat tourism.
The tourism industry at Rainbow Springs State Park brought gift shops, a monorail, and a zoo for visitors to enjoy. By 1972, the U.S. Department of the Interior named Rainbow River a National Natural Landmark.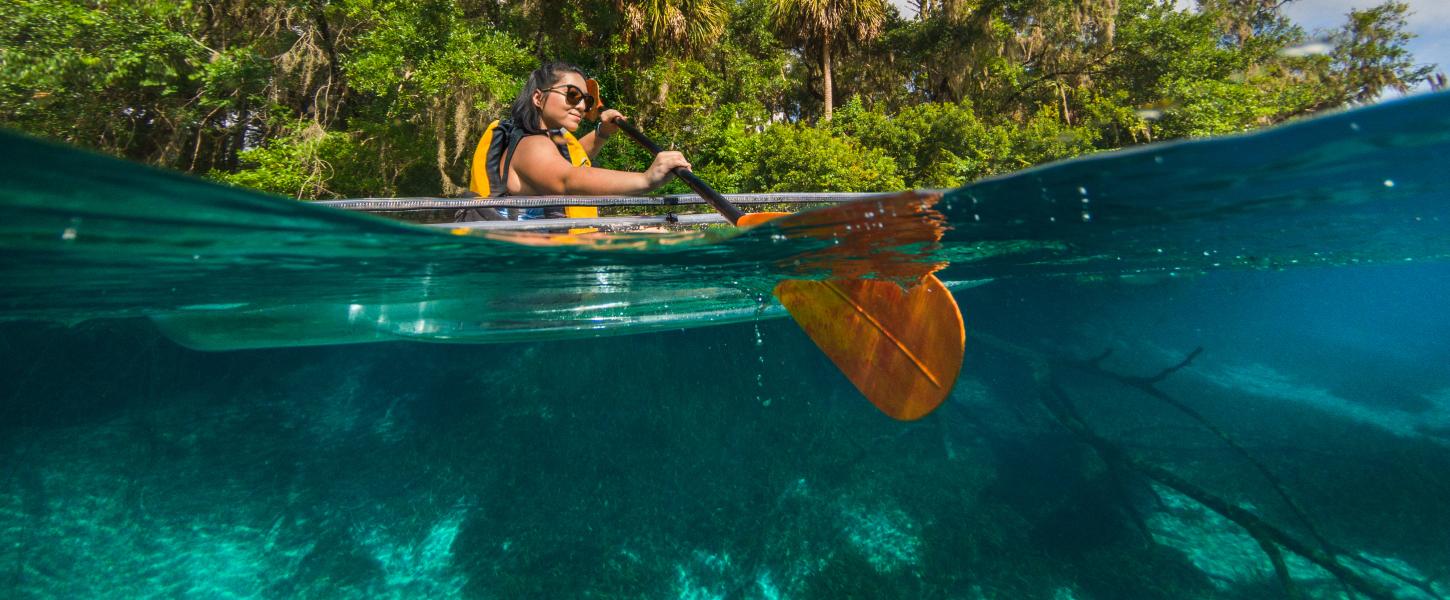 Activities at Rainbow Springs State Park
Now that you know all about the history and gorgeous scenery of Rainbow Springs State Park, it's time to plan your visit and figure out the activities you want to pursue with your friends and/or family. Some possible activities you can take part in include:
Renting kayaks and canoes
Tubing down Rainbow River
Booking a camping trip
Going out to great restaurants in the area
Trying your hand at zip lining
Visiting the Ocala Petting Zoo
Hiking and jogging on the state park trails
Renting Canoes and Kayaks
One of the most exciting things to do at Rainbow Springs State Park is to canoe or kayak down the river. You will love paddling through the waters, watching the trees and sunshine, and enjoying the breeze blowing through your hair.
You can rent a kayak or canoe at an affordable price by the river. The state park also has a canoe or kayak launch area. The green-blue waters with bright green trees overhead are quite impressive and will provide you with plenty of opportunities to take photos. You might even see some unique fish swimming by as you paddle down the river.
Going Tubing Down Rainbow River
You can go tubing at Rainbow Springs State Park, but you will need to head to the tubing entrance at Southwest 180th Avenue Road, Dunnellon, Florida. The tubing section of the park is closed from October to March. However, you can enjoy tubing down Rainbow River from 8 AM to 3:30 PM every day from Memorial Day through Labor Day.
Also, the tubing services are open on weekends from the first Saturday in April to Memorial Day and from Labor Day to the last days of September.
You can rent a tube for $20 and take a shuttle two miles upriver. Then, you will spend two hours floating back down to the entrance.
Camping
Near the Rainbow River, you will find the campground where you can book a spot and spend a week or weekend camping. Every campsite has a sewer hookup and access to water and electricity. You can bring your dogs or other pets to the campground, as long as you avoid taking them to the swimming area.
The area has 60 sites for those with RVs and standard tent campers. You can reserve the area one day before arrival or up to 11 months ahead of time.
Furthermore, the campground has plenty of extra amenities like laundry, showers, restrooms, and a store. While camping, you can try fishing for your dinner or going for a swim in the river. You can also paddle in a canoe or kayak as well as go snorkeling. So, set up your tent and have a great camping trip!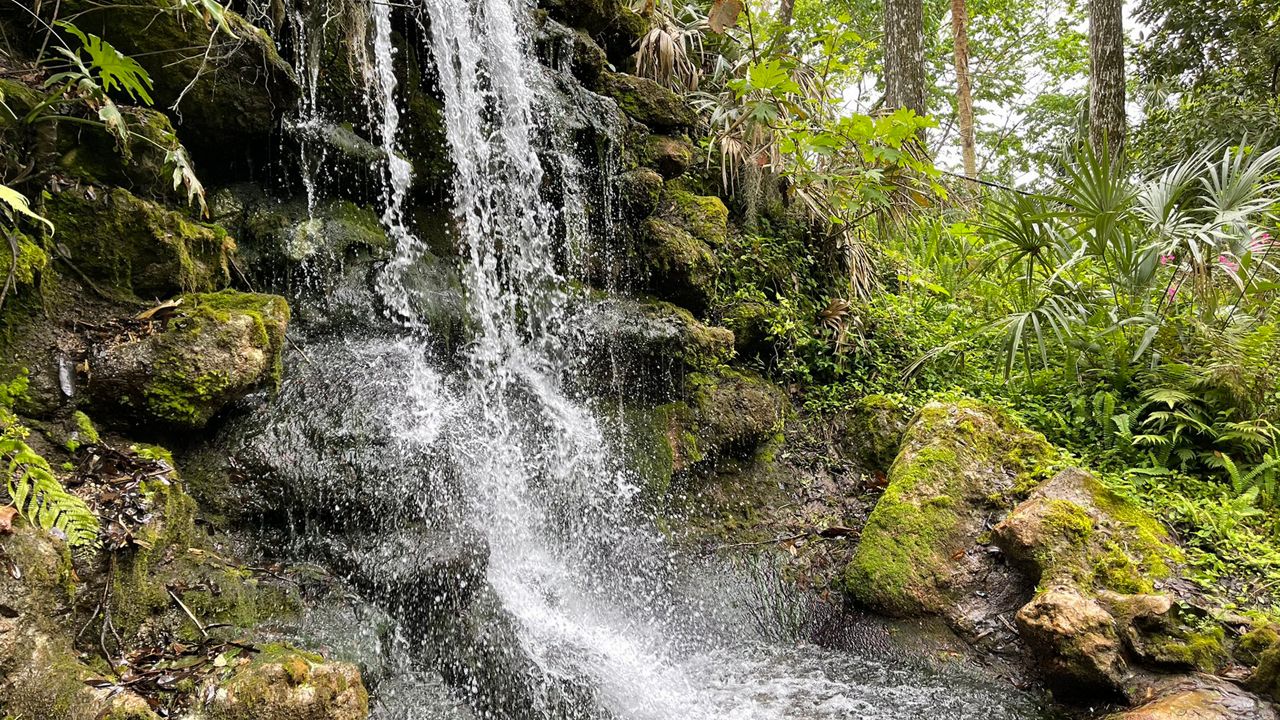 Your Dining Options
If you're wondering about the best dining options near Rainbow Springs State Park, look no further. Three of the top restaurants in Dunnellon, Florida, include:
Swampy's Bar and Grille
Blue Gator
Valentino's Pizza & Restaurant
Swampy's Bar and Grille offers outdoor dining and provides you with all types of different foods to eat. Whether you want chicken wings, shrimp, seafood gumbo, clam chowder, or a Reuben sandwich, Swampy's Bar and Grille provides all that and more.
Blue Gator is also a perfect seafood restaurant right by the docks. The eatery is only 10 minutes away. Valentino's Pizza & Restaurant is a family-owned Italian eatery that serves up delicious pizza.
The Fun of Zip Lining
If you love having adventures in the great outdoors, then you should take a trip to The Canyons Zip Line & Adventure Park. The tourist attraction involves the Big Cliff Canyon tour, where you can go on a 1,100-foot zip line adventure above Lost Spring Lake. You can also try the Sky High Tour and other zip-lining choices to fly over Gator Lake.
For more information about the multiple zip-lining adventures available, check out the website from The Canyons Zip Line & Adventure Park.
Check Out a Petting Zoo
Do you love spending time around animals and love the wildlife in state parks? Along with the wild animals in the area, you can take a visit to the Ocala Petting Zoo and spend the day hanging out around cute farm animals.
The petting zoo is only about 15 minutes away from the entrance of the KP Hole launch area. You can enjoy petting and feeding animals, including camels, ducks, donkeys, peacocks, emus, lemurs, and llamas. The petting zoo is open from 10 AM to 4 PM on the weekdays and closes at 5 PM on weekends.
Hiking the Trails
Another great activity at Rainbow Springs State Park involves hiking and running across the trails and checking out the views of the forest. You will enjoy the natural surroundings when out on a hike. For instance, you can try birdwatching and look at all the wildlife. You might see owls, woodpeckers, songbirds, and more.
Further, you can have a picnic at one of the many picnic benches. You can even visit a waterfall and walk by crystal clear waters when hiking the trails. The activity is rather peaceful, and you can bring your dog along as well.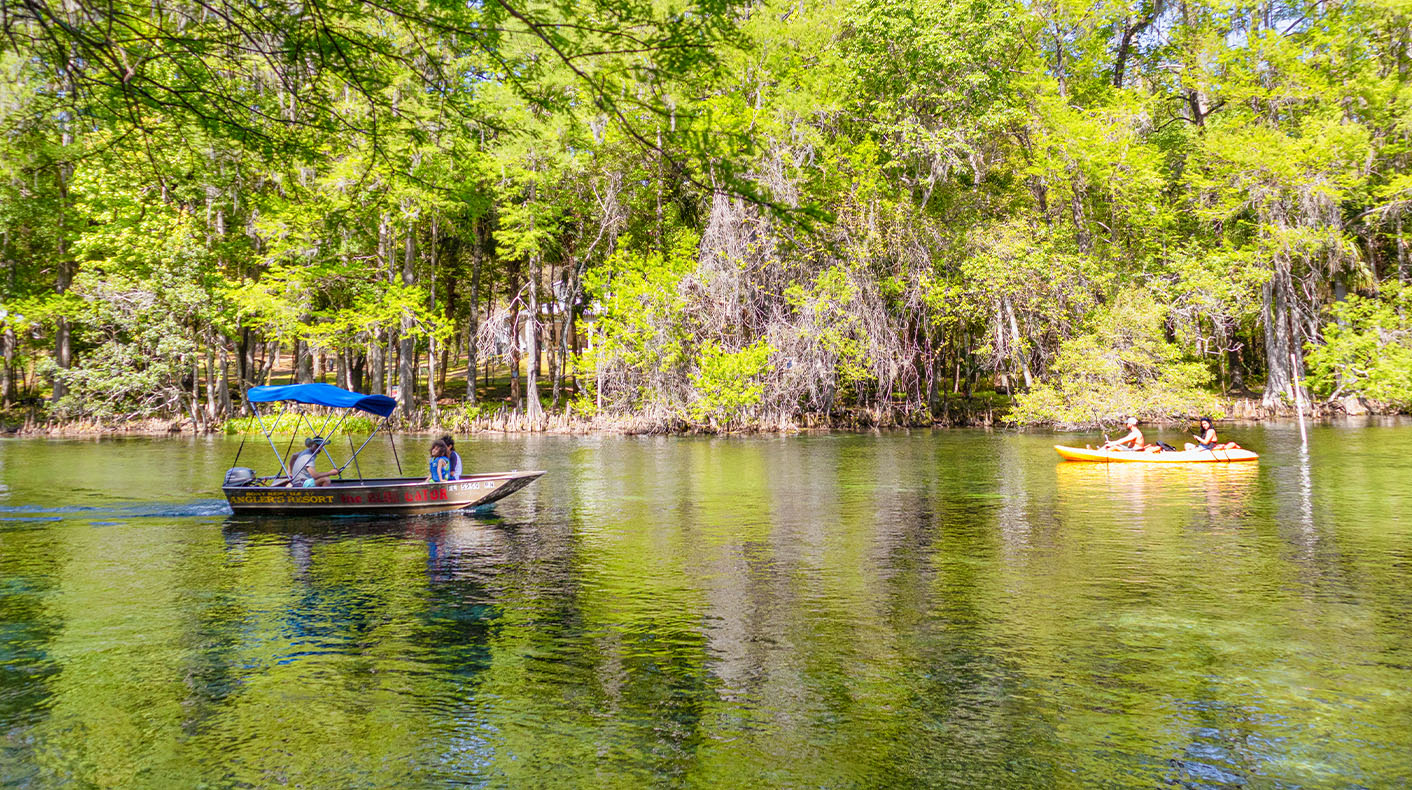 The Rules To Remember When Visiting Rainbow Springs State Park
You will need to pay attention to specific rules and guidelines at Rainbow Springs State Park when visiting the area. For instance, the park only opens at 8:00 AM, and you will need to leave these woods by sunset.
To enter the state park, you will need to pay a $2 entrance fee per person. One major rule is that you cannot collect, disturb, or destroy any plants, animals, or any of the property in the state park. If you bring your dog, you will have to keep it on a six-foot leash at all times, and there are only specific areas for dogs.
You will need a Florida fishing license, and only registered campers can fish in the waters of Rainbow Springs State Park. Lastly, you cannot bring or set off fireworks at the state park or go hunting.
Directions
To get to Rainbow Springs State Park, you have specific directions to follow. If you are on I-75, you will need to take the second exit and continue on State Road 40. Drive west until you hit U.S. 41. Turn left, and then you will find the park entrance on the left side.
If you are driving from Tampa, then drive through State Road 19 to U.S. 41 North. Finally, you will go through Dunnellon and find the state park on the right-hand side. Essentially, you will need to travel 2.5 miles north of the town.
You may also want to travel from U.S. 41 through the town of Williston, which will take you to the state park.
Extra Amenities at the State Park
You will find various amenities at the campgrounds of Rainbow Springs State Park. Here, you will have access to a camp store, nature trails, a visitor center, a gift shop, and a food concession stand.
You can also have access to picnic pavilions, which are large enough for hosting family reunions and large parties. Also, the state park holds ranger-guided programs and trips via canoes. You can also rent kayaks and canoes to go paddling on your own.
Frequently Asked Questions
Below, we have answered several popular questions about Rainbow Springs State Park.
Does Rainbow Springs have a waterfall?
Rainbow Springs does have numerous man-made waterfalls. However, as of March 4, 2022, only one waterfall is open for viewing at Rainbow Springs State Park. The staff is attempting to restore the waterfalls at the state park quickly and effectively.
Before you know it, you will likely get to experience numerous of the waterfalls available at Rainbow Springs. You'll love watching the white waters flowing down over the large rocks with greenery on all sides. When planning your visit to Rainbow Springs State Park, make sure to see at least one of the beautiful waterfalls here.
Are there alligators at Rainbow Springs?
You can find alligators at Rainbow Springs State Park. Yet, you will have little to worry about. The swimming areas do not have any alligators around. However, you might get a view of an alligator if you paddle down the river in a kayak or canoe. You can rent one of these boats and take it down a river to check out the wildlife.
Generally, you won't need to stress if you see an alligator nearby since they aren't located in the designated swimming parts of the state park.
How much does it cost to get into Rainbow Springs State Park?
It only costs $2 as an entrance fee to get into Rainbow Springs State Park. However, if you have children under 6 years of age, the entrance fee is waived for them. If you want to go tubing, you will also need to pay $20 to rent a tube and then cover the cost of the shuttle. The shuttle will bring you upriver, where you can float down for a couple of hours.
Before You Go
Did you get a better idea about how to plan out your trip to Rainbow Springs State Park? The overview above should have provided you with the information you need to figure out how to get to the state park and what activities to enjoy.
Before you know it, you will spend the day hiking the trails, swimming and kayaking through the river, and even going on a zip-lining adventure. Enjoy your vacation at this gorgeous state park!
More about our TFVG Author
A seasoned traveller, Dad, and avid sports tourist, James foundered The Family Vacation Guide to share his expert vacation experiences- especially when it comes to being a travelling family man.
Featured in Travel articles such as Travel + Leisure, TripSavvy and SFGate, you know you're reading some of the best vacation tips online.