Visiting Disney World is every child's dream. Even some adults out there dream of the day they can see the Magic Kingdom and relish in the beauty, the nostalgia, and the great Florida sun. 
For over 50 years, Disney World has been one of the top destinations for visitors of all ages. It is the Magic Kingdom, after all. Who's to say when you're too old to experience a little bit of magic? There is no wrong time to pack a bag and head to Orlando.
Taking the kids to Disney World is an undoubtedly memorable experience that requires lots of walking. Since most people visit with small children, having an easy way to transport them will make your life much easier. Researching stroller rental at Disney World before you go might be helpful in the long run.
Visit Disney World
Visiting Disney World is the sort of thing people either do once in a lifetime, or they do it consistently every single year. It seems there is no happy medium between the two extremes. But that's OK because Disney World is a great vacation no matter which way you slice it.
If you're traveling to Disney World for the first time, especially with young kids, there are a few essential things you'll want to keep in mind before you go:
Know the maps and where to go beforehand
Make sure you get plenty of rest
Pack lots of snacks to save time and money
Be prepared to entertain your child in long lines
Act excited to encourage excitement
Stay as close to Disney World as possible
Take advantage of the kingdom's amenities for children
Set all your plans before you leave for Disney
Use a stroller
The last point is particularly important and is likely why you're here. Traveling with children can sometimes feel like such a hassle, and the preparation is exhausting. There's no getting around the fact that it takes planning, forethought, and mountains of energy to get kids ready for a big trip.
But children will build memories that they can't make anywhere else when you take them on vacation. Even at a young age, seeing something like Disney World leaves an impression that no amount of fussing can erase.
One of the most beautiful things about traveling with children is getting to experience things through their eyes, through their reactions. A magical place like Disney World is fun enough as it is: with little kids hemming and hawing over everything, it's even better.
So pack up your kiddos and get them ready for the ride of a lifetime. Pushing them around Disney World might wear out your arms, but it will only grow your heart. 
Disney World Stroller Rules
Disney World has specific stroller regulations that you need to follow when traveling with your family. If you note all stroller rules before leaving, you can prepare for your trip. The trick is planning to make the trip as enjoyable as possible.
Disney World offers specific regulations, making it easy to see what is allowed and not for your stroller. They specify that strollers may not be larger than 31 inches wide and 52 inches long. Anything bigger than this is not permitted.
There was a time when you could take larger strollers to Disney World. The size permitted strollers had to decrease to ease guest flow and make the experience better for all visitors. However, management is constantly adjusting expectations based on research and annual reviews.
The good news is that it's not hard to find decent strollers that fit these parameters. With so many different stroller options available, you should have no trouble finding the right stroller for your family trip to Disney World.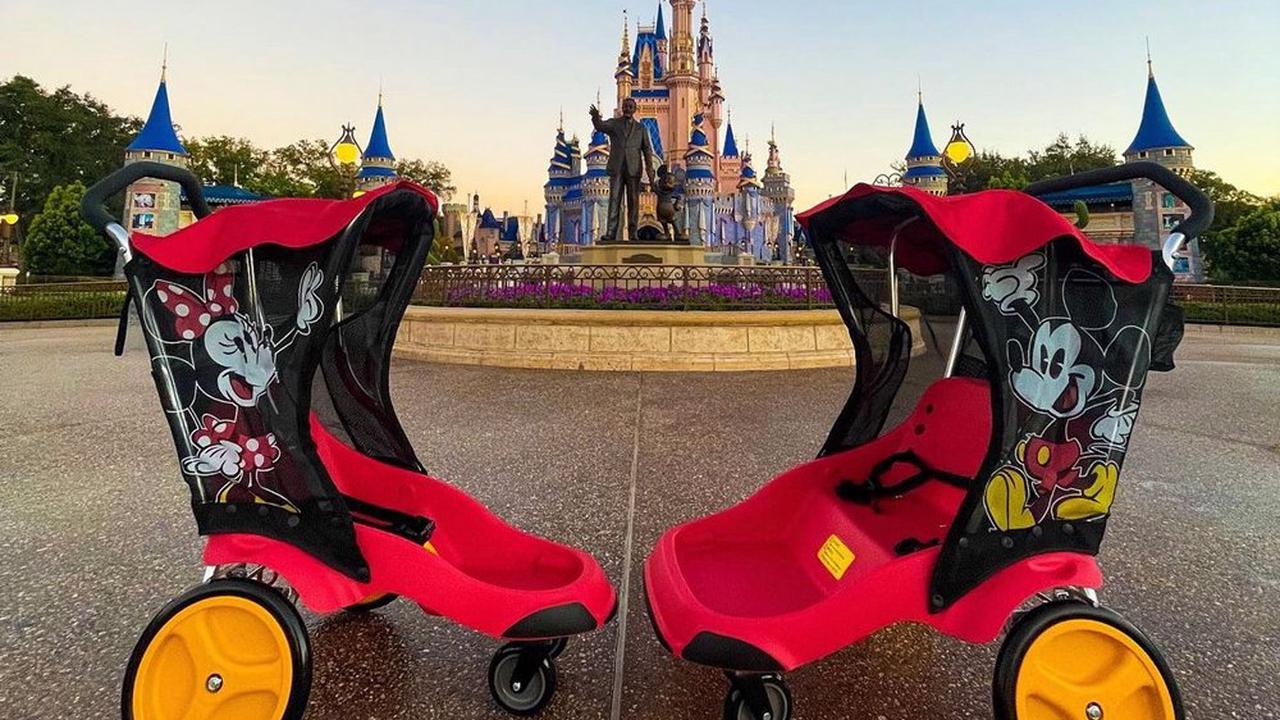 Renting a Stroller at Disney World
If you don't own the right stroller size, you can always rent one from Disney World. The magical world of Disney is no stranger to parents who forget things or don't have time to find the right items before coming.
Guest services at Disney World strive to give every visitor a world-class experience. There is no place as welcoming as Disney World, which is due largely to the friendly staff that strives to make your visit as magical as possible.
Depending on your needs, you can rent a single or a double stroller. You can rent a single stroller for $15 a day or $13 a day if you choose the multi-day package. There's also a double stroller option that costs around $31 a day or $27 for multi-day use.
If you choose the multi-day option, you can prepay for the number of days that you expect to stay and save money over the entire package. This doesn't mean you have to hold onto the stroller the entire time but can present a receipt at different locations to receive a stroller for the day.
There are certain liability expectations if you misplace or break a Disney stroller, but the staff at Disney is known for their hospitality and generosity. You may have to place a deposit on the stroller when you rent it, but that usually costs no more than $100.
Renting Around Disney World
Renting a stroller at Disney World isn't your only option. If you find yourself needing to rent a stroller, there are plenty of stores around the Orlando area where you can find one that fits your needs.
Renting from one of the local stores around Disney World is a great option if you plan a longer trip and want to save some money. Whether you forgot to pack your stroller, didn't think you needed it, or just didn't want to haul it to Orlando, there are plenty of stroller rentals available to make your life easier.
Disney's stroller rental guidelines might seem stringent, but most Orlando-based stroller rentals can meet those guidelines and provide clients with completely compliant options. In fact, many in the area even offer discounts for Disney visitors.
You can find compliant stroller options at places like Magic Strollers, Kingdom Strollers, or Orlando Stroller Rental. Each company provides plenty of options for you to choose from, whether you need a single, double, jogger, or some other type of stroller.
Renting from a company near Disney World is just as convenient as renting from Disney World itself. You'll be close by if you need to return the stroller unexpectedly or if you need to make changes or upgrades to your stroller choice.
Bring Your Stroller to Disney World
The final option for having a stroller at Disney World is to bring your own stroller with you. If you don't mind packing it up for the drive or paying for its place on an airplane, you should have no problems bringing your stroller along.
If your stroller meets Disney World's requirements for size, bringing your own stroller might be the best option. Apart from the cost of travel, it doesn't cost anything. So it's a cheaper option than renting from Disney or a nearby store.
When you bring your stroller, you have the advantage of knowing how it works, how you like to use it, and how comfortable your child is in it. If your child doesn't have to get used to a new stroller, they'll likely have a much better time at Disney World.
Disney World does not have any restrictions on bringing your stroller, apart from the size requirements we've already addressed. As long as you have a standard stroller that fits the size restrictions, you'll have no trouble packing up your own stroller and heading to Disney World.
Frequently Asked Questions
Now that you know a little bit more about stroller regulations at Disney World, it will be easier to make important decisions for your travels. Now we can look at some of the other important questions you'll need to be answered before you take off on your great adventure.
Stroller Wagons at Disney World?
The stroller wagon is one of those classy inventions that looks old but has all the accouterments of something modern. Stroller wagons are a convenient tool, allowing you to push your children along in style. It's especially helpful for newborns or two little kids who don't like regular strollers.
Unfortunately, you can't bring your stroller wagon to Disney World. Whether they are pushed or pulled, they are not allowed at theme parks or water parks. They are also restricted at indoor venues like the ESPN Wide World of Sports Complex.
You'll have to leave your stroller wagons at home when you go to Disney World. But that shouldn't limit your fun. You can still find a good stroller that will get your kiddos around with ease and allow you to enjoy the Disney experience.
Can You Take a Stroller on the Skyliner?
The Disney Skyliner is of the most fascinating and breathtaking features of the wonderful world of Walt Disney. The aerial gondola will take you all around the park, allowing you to see the sights from up high. There's no better way to experience the magical land than from high up above it all.
Disney World has no regulations that prevent you from taking your kids and strollers on the Skyliner. You may have to fold the stroller to make sure everyone can fit, but as long as you don't mind holding your child for the ride, that should be simple enough. And your kiddos can experience the wonder of the Skyliner as well.
Are Double Strollers Allowed at Disney World?
Any parent with more than one kid knows how great it is to push multiple children around in one stroller. Strollers are useful tools in and of themselves, but they're even better when they can hold the entire crew with ease.
Double strollers are fantastic inventions that make life with kids easier and much more convenient. And at Disney World, you can enjoy your double stroller with no problems. The same measurement restrictions apply to double strollers, but it's still relatively to find something that works within those parameters.
It doesn't matter so much whether you use a single or double stroller at Disney World. The biggest concern from Disney is whether or not your stroller is too big. Now, double strollers can be much larger than a single stroller. However, there are plenty of double stroller models that fit the requirements with room to spare.
How Old Is Too Old for Strollers at Disney World?
Pushing a baby around in a stroller is no big deal. Everybody does it, no one has a problem with it, and no one is going to look at you funny for doing it. The older your child gets, the more you'll have to deal with judgemental people who think your kid should be walking on their own.
Kids as old as five can be pushed in a stroller, even when the family is not on vacation. Sometimes it's easier to keep your kiddos in plain sight when they're strapped into a stroller. Other times you need to move fast, and their little legs just can't keep up. Whatever the reason, you have the right to let your kids ride in the stroller if you want.
At a place like Disney World, this is especially true. It's busy and fast-paced and crowded. If you have kids who are under the age of five, there's no reason for them to be running around on their own.
Now, they might not need a stroller if they're pretty competent on their feet. But if you feel more comfortable keeping them in a stroller while you walk the magical land of Disney, then you should definitely take your stroller with you.
Final Thoughts: Strollers in Disney World
There are plenty of reasons to go to Disney World. It's a truly magical place, with lots of fun things to experience and memories to be made. Having little kids shouldn't stop you from enjoying the kingdom of Walt Disney.
As long as you have the right size of stroller, you'll have no problem getting from one place to another and keeping your family safe in the process.
More about our TFVG Author
A seasoned traveller, Dad, and avid sports tourist, James foundered The Family Vacation Guide to share his expert vacation experiences- especially when it comes to being a travelling family man.
Featured in Travel articles such as Travel + Leisure, TripSavvy and SFGate, you know you're reading some of the best vacation tips online.