Deciding on a family destination vacation can prove challenging. Everyone has a different interpretation of what fun means.
One destination can help families cross that hurdle–Universal Studios Florida. While millions flock to Disney World, a mere nine miles away, Universal Studios is a prime hub for thrilling rides.
Universal Orlando Resort is the mothership of fun and opened to the public in 1990. Although the movie industry didn't take advantage of filming on set, people showed a keen interest.
Since its opening, Universal Orlando Resort expanded to include Universal's Island of Adventure in 1999. In 2017, Volcano Bay welcomed the crowds. The grounds also include Universal City Walk.
The biggest problem for the theme park guests is deciding which thrilling and fastest rides at Universal Studios Orlando to try first. Don't worry; there's plenty of fun for little ones too.
To know what you're up against, scaredy-pants, we've compiled a list of the fastest rides for you.
Top 11 Fastest and Scariest Rides at Universal Studios Orlando
Before you strap in, know that the Universal staff has your family's safety in mind. For that reason, there are specific height requirements for each ride.
Further, each ride has designated precautions posted at the entrance. While Universal staff does its utmost to keep everyone safe, you are just as responsible for your safety.
Here are a few tips to consider before arriving at Universal. Especially for children, all the excitement and activity can be overwhelming. Make a pre-vacation plan and have meaningful conversations with your children about what to expect.
Make a plan of which rides to visit first
Study and know the park's layout; its size is intimidating
Plan your route to avoid unnecessary walking
Wear solid shoes, comfortable, cool clothing
Know what items you can bring into the park
Designate a meeting point for all family members
Find the meeting point to avoid unnecessary panic
Pack lightly; only bring essential items
Wear protective sunscreen
Have fun!
Without further ado, the scariest and fastest rides at Universal Studios Orlando are here. And, yes, you will 100% scream and have 'that' face you see advertised on the posters.
Rides are in reverse order of thrill.
Transformers: The Ride 3D
Location: 6000 Universal Blvd
Transformer: The Ride 3D details:
Thrill drill: Great for beginners
Transformer fans will experience the epic battle between Megatron and his evil Decepticons in formidable battle. Guest will board a N*E*S*T, team up alongside Optimus Prime and Bumblebee, and engage in a fierce fight for control while immersed in 3-D reality moving at breakneck speed.
The battle vessels raise and lower on an elevator base and help the would-be Transformers destroy the enemy.
This fantastic ride is the perfect way to start the day. Ideal for younger Transformer fans and those old enough to remember 1984 when the franchise first launched.
The Amazing Adventures of Spider-Man
Location: 6000 Universal Blvd, Marvel Super Hero Island
The Amazing Adventures of Spider-Man details
Thrill drill: Great for beginners
Spider-Man does what a Spider-Man does and takes his guests on a thrilling adventure that dips from 3-D elements into the uncharted fourth dimension. The famous web-slinger does his high-flying trapeze act to capture the villains who've stolen the Statue of Liberty (how daring and how could they?).
Guests of Spider-Man will face many Marvel Superheros as you swing from breathtaking skyscraper heights to the battlefield. There's nothing to worry about other than the 400-foot freefall in the arms of a comic strip character.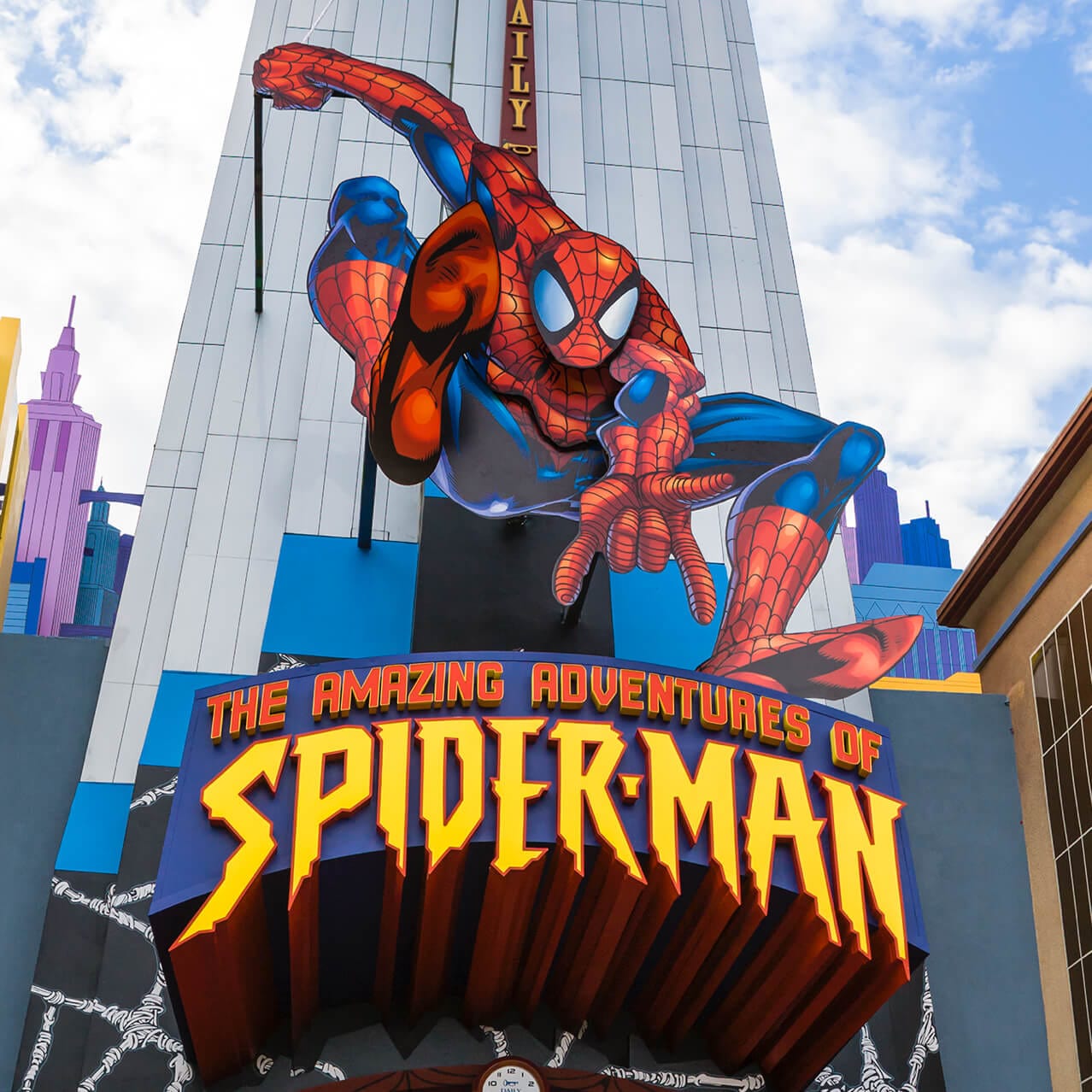 Harry Potter and the Escape From Gringotts
Location: 6000 Universal Blvd and Diagon Alley™, under the fire-breathing dragon
Harry Potter and the Escape from Gringotts
Thrill drill: Nailbiter
Be very afraid. First, you must make it past the fire-breathing dragon as you venture into the depths of a mysterious underground world. This ride takes muggles and future Hogwart students through 3-D dimensions until they reach the seemingly impenetrable fourth dimension.
Harry, Ron, and Hermione will guide you, but they can't save everyone from the villainous Voldemort™, an army of trolls, and worse, the death eater Bellatrix. To exit, you must find your path back to Diagon Alley™, or else.
All this takes place on a rollercoaster and is not for the timid bookworm. If you're still not scared, think about this: the dragon's breath is a balmy 3560℉. It might melt your ice cream cone.
Jurassic Park River Adventure
Location: 6000 Universal Blvd, and the intersection of 165 million years ago
Thrill drill: Teeth clenching
Don't be fooled by the tranquil setting or adorable chirping noises. Dinosaurs aren't cuddly. They bite. So don't bother packing a lunch; you'll be lunch. It explains the remnant bone bits.
Although you might think it's a pleasure raft, it's just a giant spoon that feeds you directly into the open mouth of a T-Rex.
Prepare to get wet; it's how they season you for these magnificent monsters to eat you faster. T-Rex doesn't need to see a dentist, her razor-sharp teeth are just the gateway before you, and the entire raft gets pitched into darkness.
Eyes wide open or tightly shut, you'll plunge 85 feet to your, well, it just feels like death when you enter the raptor containment area.
Dudley Do-Right's Ripsaw Falls
Location: 6000 Universal Blvd, Toon Lagoon™ in Universal's Islands of Adventure
Dudley Do-Right's Ripsaw Falls
Thrill drill: teeth chattering
For this ride, you don't need to pack your passport to enter Canadian territory patrolled by the adorable Royal Canadian Mountie in his red coat and weird hat. But don't be misled.
This tame log ride is anything even if the backdrop is cartoonish. While Dudley Do-Right might have all your attention, you're en route to a massive 75-foot drop.
Engineering makes it look like your log is hitting the water and submerging your entire crew underwater. This entertaining ride is perfect for tweens just getting their feet wet.
Ideal for scorching hot days, it will cool you off and get you soaked.
Harry Potter and the Forbidden Journey
Location: 6000 Universal Blvd, Hogsmeade Island of Adventure
Harry Potter and the Forbidden Journey
Thrill drill: Magical
Never before did a children's story capture an audience like the Harry Potter™ series. On this epic ride, passengers transition from ordinary muggles to becoming a student of Hogwarts.
As you enter through the looming castle gates, weary of every shadow creeping around you, you'll advance through the intricate passageways into the bowels of Hogwarts.
Before you can blink, magic happens quickly; you'll accompany Harry, and his friends, on a hair-raising flight above the castle.
This motion-simulated 3-D ride takes its guests into the realm of 4-D using advanced technology (often mistaken for magic) and a riveting experience. There isn't another ride like it.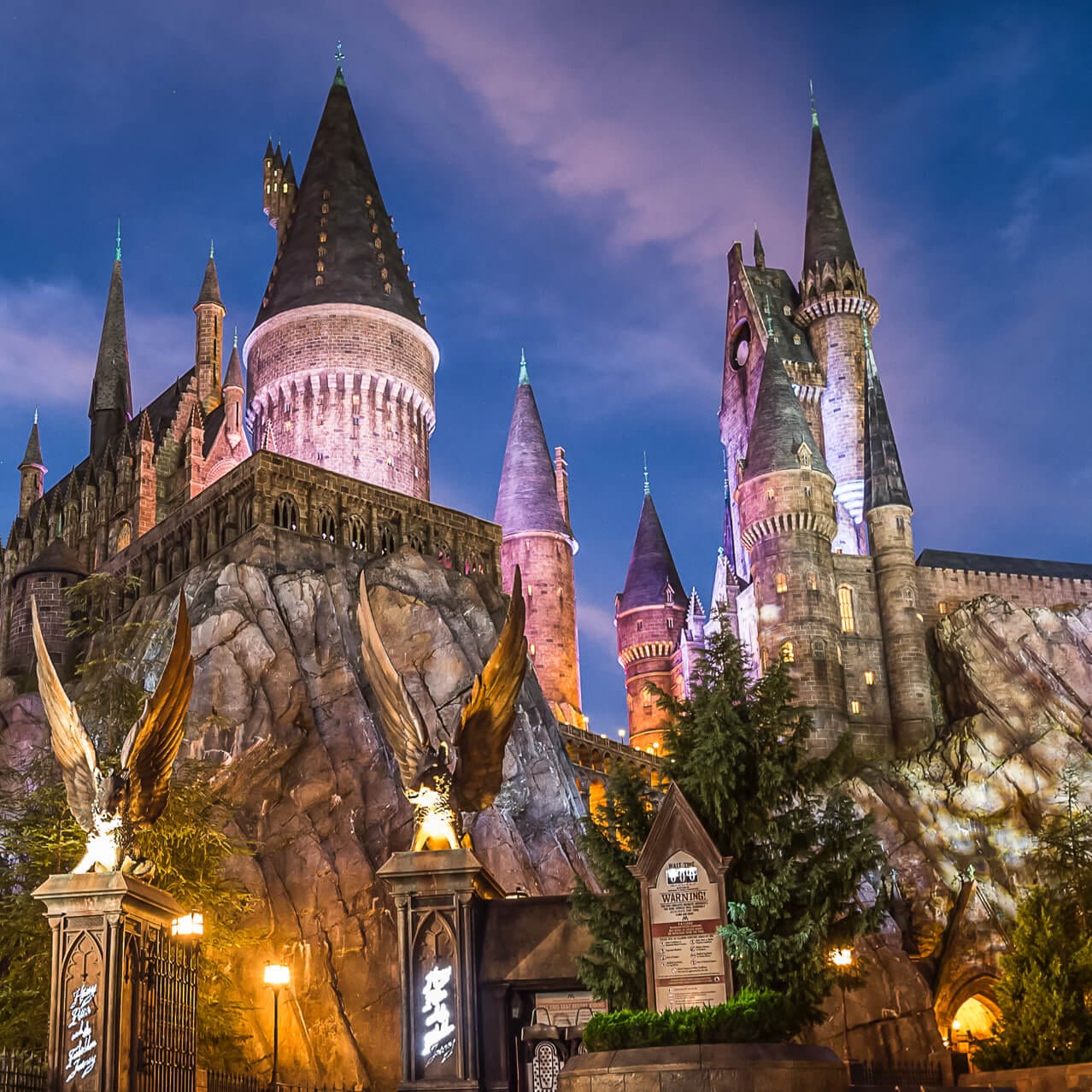 Doctor Doom's Fearful
Location 6000 Universal Blvd, and Hell Street
Thrill drill: Be afraid
Doctor Doom's Fearful ride will test anyone's fear-factor aptitude. In case you've forgotten, Doctor Doom has evil plans. He designed his latest invention to harvest human fear and use its power to destroy the Fantastic Four.
When you enter the tower, his team of evil henchmen will bind you to the seat, and before you know it, they blast you into the universe at incredible speeds. Not even the Space Shuttle can catch you.
While you're screaming on your way up, gravity latches on and snaps you at G-force speeds back down to earth. Dare your family and friends to watch your skin melt while gravitational forces hurl you to the ground.
No one but the most experienced scientists knows what happens to your stomach while in transit on Doctor Doom's Fearful ride.
Revenge of the Mummy
Location: 6000 Universal Blvd, and the corner of Egypt
Thrill scale: Timeless
People have an irrational fear of Mummies. Despite that, they're dead and not real until you board this ride. Oh, sorry, they're very real, and this high-speed roller coaster proves just how scary they are.
No one gets off this ride without clenching their fingers onto something hard and solid. As you get on the ride, speed propels you as you try to escape the dangers of Mummy Imhotep's evil grasp.
Within seconds you'll feel you've reached safety, and you'll barely have time to catch your breath as the velocity thrusts you into a chasm of unexplored darkness.
You'll face your biggest fears. Will you ever see your loved ones again? (Although they're sitting right beside you.) And what curse will you have to break to escape this evil kingdom of mummies?
The good news, this rollercoaster is scary enough without doing tumultuous inversions.
Hagrid's Magical Creatures Motorbike Adventure
Location: 6000 Universal Blvd, next to Hogwarts, and beyond the grounds
Hagrid's Magical Creatures Motorbike Adventure
Thrill drill: pack a change of clothing
Animatronics, you say to yourself, how bad can they be? And wasn't Hagrid a likable character in Harry Potter? What you've forgotten is the darkness. This adventure ride is a mind-blowing dark ride.
Hagrid takes his passengers into the folds of the forbidden forest and plummets amidst the world's forgotten magical creatures. This roller coaster is hailed as the most immersive coaster, meaning passengers experience the journey hand's on and in full detail.
When you think you've regained your senses, the ride sets off in reverse motion, does a vertical drop, and navigates a 65-foot spike. This adventure ride is visually stunning, even if you get tangled in the devil's snare. Remember to duck the dragon's fire.
Hollywood Rip Ride Rockit
Location 6000 Universal Blvd, next to the bank of toilets
Thrill drill: it's okay to cry
Traveling at 65 mph in a car may seem like child's play, but in a roller coaster with a 17-story incline, it feels just a tad less so. The track twists like a pretzel and does that minor little twist called an inversion that will clear your sinuses and pockets.
Math students will remember the lesson about angles and 90 degrees of insurmountable fear. The roaring music will drown out everyone's fever-pitch screams, and the adrenaline rush will make your heart thunder in your chest like a trombone.
The good news is that this ride doesn't tease. It's all a death-defying fast-paced ride from start to finish. Don't worry; every passenger exits on wobbly legs and with watery eyes.
The Incredible Hulk
Location: 6000 Universal Blvd, Island of Adventure
Thrill drill: Screamer
Make no mistake; you will turn a lovely shade of green from the moment the Gamma Force Accelerator powers up the engine. Within seconds you'll regret getting on board. The gamma radiation you volunteered to be a part of will never work.
However, if you're one of 'those' who enjoy traveling upside in the inversion position at 67 mph, this is the ticket for you. When you're done and walking upright again, you can explain that zero-gravity roll experience to your friends.
This roller coaster makes riders feel like they're being launched into space, as they realize hanging on for dear life is futile.
The Incredible Hulk is a masterful thrilling theme park ride for speed enthusiasts.
Jurassic World VelociCoaster
Location: Island of Adventure, where all the screaming goes on
Thrill drill: Begging for mommy
When passengers board the VelociCoaster, they feel the adrenaline surge in their veins. After all, the anticipation of traveling at 70 mph is a sure way to get the heart to pump faster.
In this new addition to the park, passengers zoom through the dense jungle, high enough to witness the terrifying animal kingdom below. This ride is not the panda bear exhibit; you're entering the raptor paddock.
While screaming at the top of your lungs, you mutate and become a raptor on the hunt. Magnetic launchers catapult the carriages to reach maximum speed and mount a 155-foot precipice that plunges and inverts.
If dangerous twists, unbelievable speed, jerking from side to side, or diving toward solid ground or water is your thing, this ride is for you.
Change of underwear, not included.
Conclusion
Theme parks are an excellent family travel destination. Universal Studio's Orlando is as successful as they understand their guests' expectations.
Safety, cleanliness, and quick-moving lines make Universal a universal favorite. Although for death-defying thrill seekers there are faster roller coasters.
It's always wise to plan ahead. Knowing what you and your family want to enjoy takes effort, but it's a time-saver and guarantees fun.
More about our TFVG Author
A seasoned traveller, Dad, and avid sports tourist, James foundered The Family Vacation Guide to share his expert vacation experiences- especially when it comes to being a travelling family man.
Featured in Travel articles such as Travel + Leisure, TripSavvy and SFGate, you know you're reading some of the best vacation tips online.