The world of Toy Story has been enchanting and delighting fans for generations. What if your toys came to life when you weren't around? What if you were a toy? What if you could hang out with Woody, Buzz, Jessie, and the rest of the gang?
Toy Story Mania at Disney's Hollywood Studios is one of the most popular attractions in Toy Story Land. If you're wondering if the ride is worth all the hype, or you'd like to know how to make sure you get to ride it without spending hours in line, you've come to the right place.
Keep reading our guide to learn everything you need to know about Toy Story Mania at Disney's Hollywood Studios.
What Is Toy Story Mania?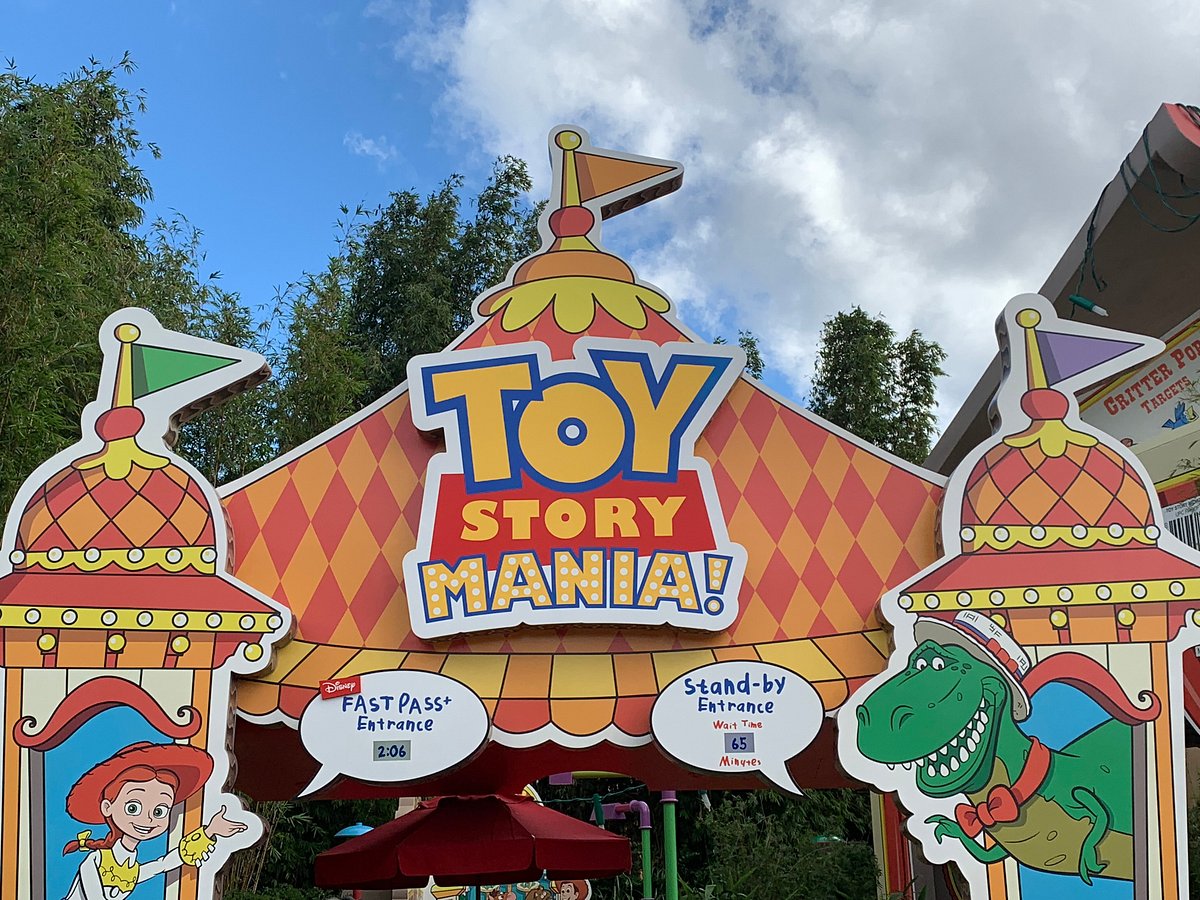 In Toy Story Mania, you get to step into Andy's room, where you discover that you are now the size of a toy. From there, you'll board an open "Midway Games" playset. Climb into one of the ride cars and head into the playset.
Toy Story Mania is a 4D carnival-style shooting game. The ride car will take you through five shooting games, about 30 seconds each. With your spring-action shooter, the goal is to rack up the highest possible score. You may also unlock some Easter eggs along the way!
Toy Stoy Mania opened in 2008, and at the time, it was the most technically complex ride the Imagineers at Disney had ever created. The ride cost around $80 million to design and build.
Toy Story Mania has 56 game screens and 150 computers communicating with each other over different networks. It was also the first ride where Imagineers wore 3-D glasses while painting the black-light elements to ensure they looked just right.
Where Is Toy Story Mania Located?
You can find Toy Story Mania in Disney World's Hollywood Studios in Toy Story Land. Upon entering the park, walk straight ahead to the hub. Facing the Chinese theater, head off to the right. Before you enter Toy Story Land, you will see a giant Woody next to a sign announcing, "Toy Story Land."
Once in Toy Story Land, you'll see Slinky Dog Dash to your right and Toy Story Mania to your left.
Everything You Need To Know To Ride Toy Story Mania
Toy Story Mania is a popular ride at Disney's Hollywood Studios. It's also all-ages friendly and has more accessibility for disabilities than many other attractions. Here are some rules, restrictions, and things you should know before you head out onto the midway.
Restrictions
There are no height or age restrictions for riding Toy Story Mania at Hollywood Studios. Small children can even ride on their parent's lap. However, someone 14 or older must accompany any children under the age of seven.
The queue can accommodate wheelchairs and ECVs. The ride does have wheelchair-accessible cars. Anyone using an ECV will have to transfer to a standard wheelchair. The accessible cars have a separate loading zone. Push button shooters are available for those who are unable to use the string-pull shooter.
Closed-captioning is available, and service animals may be able to come on the ride. You should check with a Cast Member for more information or visit the Disney site for a complete list of their accessibility rules.
Toy Story Mania is in no way an intense ride. However, the cars spin, and the ride may be uncomfortable for anyone prone to motion sickness. It is also a ride that uses 3D glasses, so be advised if you have trouble with 3D or suffer from headaches after using 3D glasses.
Flash photography is not allowed on Toy Story Mania.
Ride Queue
The entrance for Toy Story Mania looks like a giant, retro toybox! Most of the line is inside, so it is an excellent choice for a mid-afternoon wait that will keep you out of the sun or a place to stay out of unexpected rain.
Once you enter the Toy Story Mania queue, it will appear as though you have shrunk to the size of a toy. You can see giant playthings, including huge Tinkertoys, gargantuan crayons, humongous books, oversized board game pieces, and a giant Viewmaster.
The best part of the standby line is an animatronic Mr. Potato Head dressed like a carnival barker. Mr. Potato Head tells jokes, sings, and can pick out guests and interact with them. He is a highly sophisticated animatronic with extensive programming, lips that look like they're forming words, and an absolute delight to experience.
The wait time for the standby queue is typically 45-90 minutes, though Lightning Lane access is available with the purchase of Disney's Genie+. There is no Single Rider line for Toy Story Mania and Rider Switch is unavailable.
Ride Experience
Once you get through the queue, you'll pick up your 3D glasses and step into Andy's room, where you board the Toy Story Mania ride.
Each car fits four people, two on either side of a tall partition. Each seat has a lap bar, shooter, and onboard scoring display. The shooter uses a pull string, which you must fully pull back before you can take another shot.
The ride takes you on a spinning journey through the midway playset where you shoot at targets on the screen. Compete with your companion or work together to get the highest possible store. Expect some 4D effects, like a puff of air against your face.
The first screen you'll come to, Pie Throw, stars Buzz and Jessie and is a practice game. Pie Shooter helps you get a handle on how to aim and shoot your shooter. There are no points accumulated for this one, but there are five more games in Toy Story Mania, giving you plenty of chances to rack up some major points.
The first game, Hamm and Eggs, stars Hamm and Buttercup. Use your shooter to lob eggs at barnyard targets to knock them down.
The second game is Rex and Trixie's Dino Darts, where your shooter throws virtual darts at balloon targets. Careful, this "world" is filled with volcanoes and lava-stuffed balloons!
Next is Green Army Men Shoot Camp. In this game, your shooter throws balls at bouncing, moving plates. Try to break as many as you can.
The fourth game, Buzz Lightyear's Flying Tossers, is a ringtoss game starring Buzz and the adorable green aliens from Pizza Planet. To play this game, you'll toss your rings over the aliens and their ships.
The last game is Woody's Rootin' Shootin' Gallery, starring Woody and Jessie, where you throw suction cups at targets. There is a bonus game right after that, Woody's Bonus Roundup. Shoot moving targets on mine carts. Fire as quickly as you can at the final stationary target.
The ride vehicle spins around as it moves from one game to the next. You have 30 seconds to score in each game and can keep track of your score on the display in front of you. The ride lasts for about five and a half minutes.
When it's over, check your score. Take a picture of it with your phone if you want bragging rights. After disembarking, you'll exit through the gift shop, where you can pick up merchandise of your favorite Toy Story characters.
Tips for High Scores
Here are some tips to help you get the highest scores in Toy Story Mania.
Don't tire yourself out on the Pie Throw Practice round. Get your bearings, but save your energy for the games with points.
Targets that are harder to hit are worth more points. Look out for quickly moving targets and targets on the top of the screen. There are also high point targets on the bottom of the screen that will be in the eye-line of the smaller riders.
Work together. Even if you're competing with your partner, there are cool, high-point Easter eggs neither of you will be able to unlock alone.
Each game has a hidden secret that will help you rack up a ton of points. While a lot happening in front of you, keep your eye out. Sometimes you have to shoot a special target for the surprise to unlock.
Dining, Shopping, and Characters Near Toy Story Mania
If you're hungry before or after riding Toy Story Mania, check out Woody's Lunchbox for sandwiches, "totchos", and delicious lunch box tarts at affordable prices.
For your Toy Story, Toy Story Land, and ride-specific souvenirs that are difficult or impossible to find elsewhere take a look at Jessie's Trading Post at the exit of Toy Story Mania. There are also a couple of merchandise kiosks around Toy Story Land to keep your eye out for.
Character meet-and-greets are always special, and there's a character area right next to the entrance of Toy Story Mania where Woody and Bo Peep hang out throughout the day. If you walk around Toy Story Land, you might also come across Buzz, Jessie, and maybe even some green army men!
Final Thoughts
Toy Story Mania at Disney's Hollywood Studios is an absolute must for any Toy Story fan. And even if you're not the biggest fan of the movies, the ride is a competitive, fast, and fun experience for the whole family.
If the long lines have scared you in the past, don't let that stop you! All you need is a little knowledge and a little planning to have the ideal day and rack up big points with the family.
More about our TFVG Author