Disney World's Hollywood Studios, located in Orlando, Florida, not only offers unique attractions and fabulous theming but also delivers some of the best quick-service restaurants found in the Walt Disney World Resort area. 
Whether you are starving and thinking, "This is the perfect time to panic!" or you just need to rest and reboot because your little ones are screaming, "There's a snake in my boots!" Woody's Lunch Box, nestled in Disney's Hollywood Studios, is the ideal place to lasso some fabulous food and a brief seat.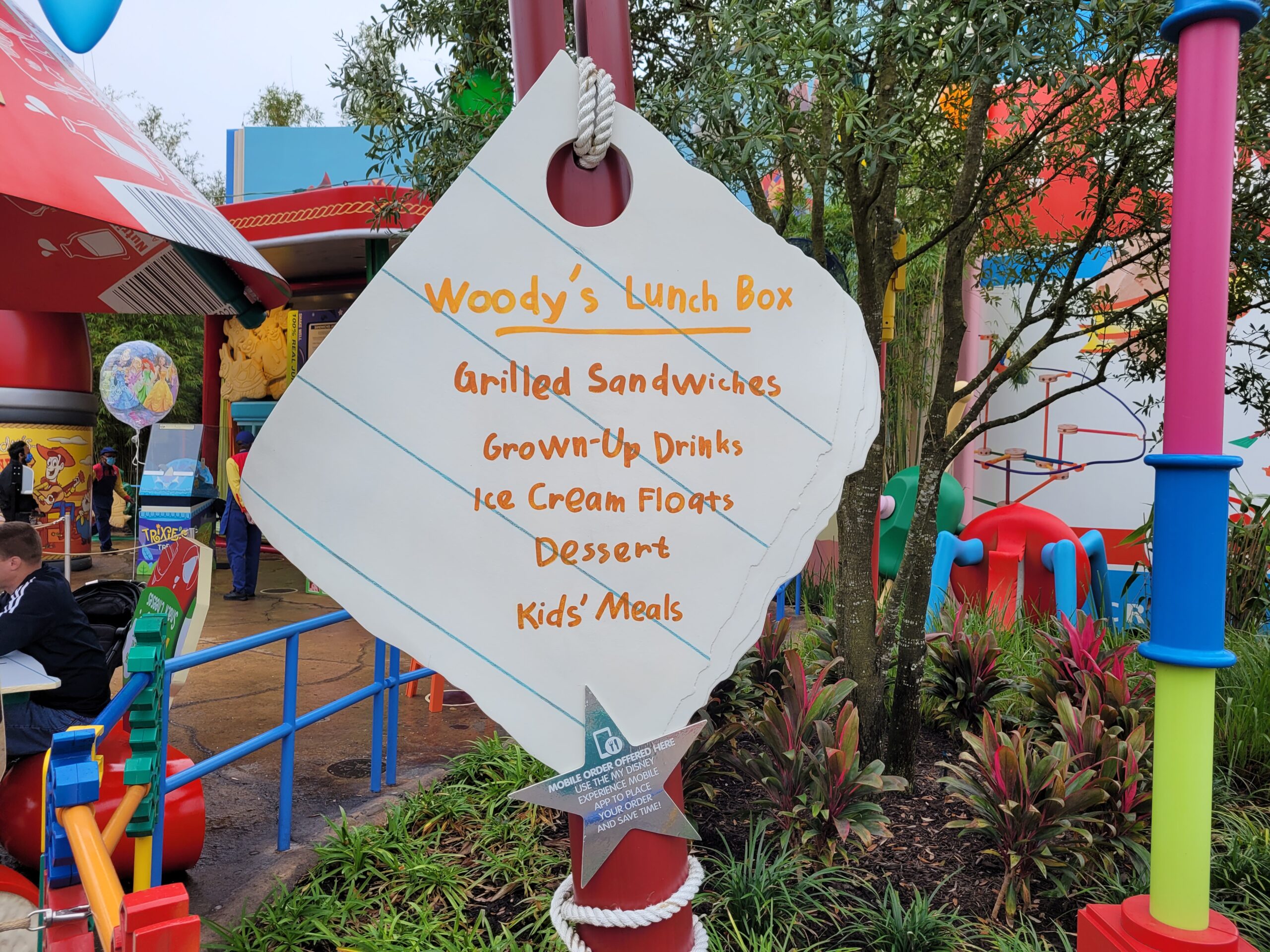 Location and Atmosphere
Round up all your family and friends and head over to Toy Story Land, located on the left side of Hollywood Studios. Once you round the corner past the always popular Toy Story Mania attraction, you will see Woody's Lunch Box. It is hard to overlook.
This quick-service restaurant is charming and adorable, with incredible Disney touches added throughout the theming to reflect the nuances of the Toy Story franchise.
For example, you will find oversized Babybel cheese-shaped chairs, enormous juice boxes that are trash cans, and precious old fashion tinker toys utilized to construct umbrellas. 
Since this is a quick-service restaurant, you will queue to either order your food or pick up your mobile order at the counter. As per Disney style, nothing eludes the theming magic of the Imagineers.
The counter is the inside of Woody's Lunch Box! How cute is that? Even a giant thermos, featuring the sassy character Jessie, serves as one of the posts for holding up the lunch box lid.
Whether you are in the mood for breakfast, lunch, or dinner, Woody's Lunch Box in Disney's Hollywood Studios manages to deliver you incredible quick-service food in an unforgettable setting. 
What not to miss on the menu
Woody's Lunch Box furnishes an assortment of quick-service menu choices that will satisfy the hungriest toy in the toy box.
For breakfast, be sure to check out the specialty Lunch Box Tarts- as my son calls them, a more sophisticated version of a toaster pie.
The Raspberry Lunch Box Tart will knock your cowboy boots off with its raspberry marmalade stuffing that is not excessively sweet and even has a tiny bit of tang.
Plus, the strawberry icing and crispy pearls on top make it the perfect breakfast goody. When lunchtime rolls around, order the mouthwatering BBQ Brisket Melt.
This sandwich, covered in melty ooey-gooey cheese on top of grilled sourdough bread, will have you whistling YEE HAW!
You can also enjoy a Woody Lunch Box specialty of Totchos, Woody's version of loaded french fries, which are undoubtedly not to be skipped.
Woody's Lunch Box also offers a tremendous selection of drinks. Besides the standard milk, water, and soda options, the young buckaroos can try the Mystic Portal Punch (a combination of PowerAde Mountain Berry Blast, lemon-lime, and orange flavors).
For the young-at-heart cowhands, be sure to indulge in the Grown Up's Lemonade created with cherry-flavored vodka, Odwalla Lemonade, and black cherry purée.
Extra bites of information
Remember that Woody's Lunch Box is a quick-service restaurant, so they do not accept reservations. The restaurant also participates in mobile ordering, so you can place your meal order early and just let them know when you are ready to pick it up on the My Disney Experience (MDE) app.
Menu items range in price from under $16.99. Woody's Lunch Box is open during Hollywood Studios' park hours, and a park reservation is needed. Prices and menu items are subject to change.
Current Menu and Pricing
Breakfast Specialties
Breakfast BowlHearty portion of Potato Barrels smothered in Smoked Brisket Country Gravy, Scrambled Eggs, and a sprinkling of Green Onions
$8.79
Kids' Breakfast BowlPotato Barrels smothered in Smoked Brisket Country Gravy, Scrambled Eggs and a sprinkling of Green Onions served with a Cuties® Mandarin and Potato Barrels with your choice of Beverage
$5.99

Lunch and Dinner Offerings
BBQ Brisket MeltShredded Smoked Brisket, Pickles, and Tangy Barbecue Sauce between Melted Cheddar and Monterey Jack on Grilled Sourdough Bread
$13.29
Smoked Turkey SandwichThick-sliced Smoked Turkey Breast, Lettuce, and Tomato with Dijonnaise spread served chilled on Multigrain
$10.79
Grilled Three-Cheese SandwichMelted Provolone, Cheddar, and American on Grilled Sourdough Bread
$9.99
"Totchos"Potato Barrels coated with Beef and Bean Chili, Shredded Cheese and signature Queso with Tomatoes and Corn Chips finished with Sour Cream and a sprinkle of Green Onions
$9.99
Chicken Salad SandwichChicken Salad, Lettuce, and Tomato with Dijonnaise Spread served chilled on Sunflower Multigrain Bread
$10.79

Plant-Based Options
Plant-based Totchos"Chili", "Cheese", Green Onions, and Corn Chips served over Potato Barrels
$9.99
Plant-based Toasted Cheddar SandwichMelted "Cheddar" on Toasted Sourdough Bread (Plant-based)
$9.99

Kid's Meals
Grilled CheeseHalf-Sandwich with Melted Provolone, Cheddar, and American on Grilled Sourdough Bread served with a Cuties® Mandarin, Potato Barrels, and your choice of Beverage
$6.99
Chicken Salad SandwichHalf-Sandwich with Chicken Salad, Lettuce, and Tomato with Dijonnaise Spread served chilled on Sunflower Multigrain Bread served with a Cuties® Mandarin, Potato Barrels, and your choice of Beverage. Meets Disney Nutrition Guidelines for Complete Meals without substitutions
$7.79

Sides
Tomato-basil Soup
$3.99
Potato Barrels
$3.49
Mini Babybel® Snack CheeseThree individually packaged 100% natural semi-soft Original Flavor Cheese
$3.49
A Cuties® Mandarin
$1.99
Cheese Sauce
$1.00

Daily Lunch Box Tarts
Chocolate-Hazelnut Lunch Box TartChocolate-Hazelnut stuffed Pastry coated in Maple Fondant and Candied Bacon
$4.49
Lemon-Blueberry Lunch Box TartLunch Box Tart with Blueberry Filling, Frosting, and a taste of Lemon
$4.49
Raspberry Lunch Box TartRaspberry Marmalade stuffed Pastry coated in a Strawberry Fondant and Crispy Pearls
$4.49

Drinks
Frozen Mystic Portal Punch in an Alien SipperPOWERade® Mountain Berry Blast with flavors of Lemon-Lime and Tangerine served in a Souvenir Alien Sipper
$16.49
Ice Cream Float with Barq's® Root Beer made with Vanilla Soft Serve Ice Cream
$5.99
Alien SipperServed with your choice of Assorted Coca-Cola® Offerings
$14.99
Assorted Fountain Beverages Coca-Cola® Offerings
$4.29
DASANI® Bottled Water
$3.75
smartwater®
$5.75
Simply® Orange
$4.99
Minute Maid® Apple Juice
$3.79
Freshly Brewed Joffrey's Coffee™ Regular
$3.49
Freshly Brewed Joffrey's Coffee™ Decaf
$3.49
Hot Cocoa
$3.49
Twinings London® Hot Tea
$3.49
NESQUIK® Chocolate Milk
$4.19
Low Fat Milk
$1.99
Small Chocolate Milk
$1.99

Beverages with Alcohol
Grown-Up's LemonadeCherry Vodka, Minute Maid® Premium Lemonade, and Black Cherry Purée
$13.50
Blue Moon Belgian White Ale – Golden, CODraft Beer 22 oz – easy and refreshing with light notes of Citrus and Spice with low bitterness
$9.75
Bud Light Lager – St. Louis, MODraft Beer 22 oz – golden colored with flavours that are dry, clean, crisp and refreshing with subtle bitterness
$9.25
Angry Orchard Crisp Apple Hard Cider – Cincinnati, OHDraft 22 oz – sweet and refreshing, a favorite since Colonial times
$10.50

Allergy-Friendly
BBQ Brisket Melt – Gluten/Wheat, Fish/Shellfish, Milk Egg, Peanut/Tree Nut, Soy Allergy-FriendlyShredded Smoked Brisket, Pickles, and Tangy Barbecue Sauce between Melted Cheddar and Monterey Jack on Grilled Allergy-Friendly Bread
$13.29
Smoked Turkey Sandwich – Gluten/Wheat, Fish/Shellfish, Milk, Egg, Peanut/Tree Nut, Soy Allergy-FriendlyThick-sliced Smoked Turkey Breast, Lettuce, and Tomato with Dijonnaise Spread served chilled on Allergy-Friendly Bread
$10.79
Grilled Three-Cheese Sandwich – Gluten/Wheat, Egg, Peanut/Tree Nut Allergy-FriendlyMelted Provolone, Cheddar, and American Cheese on Allergy-Friendly Bread
$9.99
Kids' Turkey Sandwich – Gluten/Wheat, Fish/Shellfish, Milk, Egg, Peanut/Tree Nut, Soy Allergy-FriendlyHalf-Sandwich with Smoked Turkey, Lettuce, and Tomato served chilled on Allergy-Friendly Bread served with a Cuties® Mandarin, Potato Barrels, and your choice of Beverage
$7.79
Kids' Grilled Cheese – Gluten/Wheat, Fish/Shellfish, Egg, Peanut/Tree Nut Allergy-FriendlyHalf Sandwich with Melted Provolone, Cheddar, and American Cheese on Allergy-Friendly Bread served with a Cuties® Mandarin, Potato Barrels, and your choice of Beverage
$6.99
Tomato-Basil Soup – Gluten/Wheat, Fish/Shellfish, Egg,Peanut/Tree Nut, Soy Allergy-Friendly
$3.99
Mini Babybel® Snack Cheese – Gluten/Wheat, Fish/Shellfish, Egg, Soy Peanut/Tree Nut Allergy-Friendly
$3.49
Potato Barrels – Gluten/Wheat, Fish/Shellfish, Milk, Egg, Peanut/Tree Nut , Soy Allergy-Friendly
$3.49
Cuties® Mandarin – Gluten/Wheat, Fish/Shellfish, Milk, Egg, Peanut/Tree Nut, Soy Allergy-Friendly
$1.99
Plant-based Toasted Cheddar Sandwich – Milk, Fish/Shellfish Allergy-FriendlyMelted "Cheddar" on Toasted Sourdough Bread (Plant-based)
$9.99
Kids' Plant-based Grilled "Cheese" Half Sandwich Meal – Milk Allergy-FriendlyMelted "Cheddar" on Toasted Sourdough Bread served with a Cuties® Mandarin, Potato Barrels, and your choice of Beverage
$6.99

Holiday Exclusives
Hot Cocoa Lunch Box TartChocolate Fudge Filling, Hot Cocoa-Marshmallow Fondant, and Mini Marshmallows
$4.49