Dining at Walt Disney World in Florida can quickly rack up the bill to unmanageable amounts. Although the dining experience is unique, finding ways to save on costs is critical. Carrying snacks goes a long way in cutting back on costs, but not many people want the hassle of bringing food when visiting the Magical Place.
Luckily, there are cheap restaurants at Walt Disney World, and by cheap, we mean spending a little over $10 per plate. The food is just as savory as that served in high-end restaurants at Walt Disney World, and you get to save a great deal.
If you're a first-time visitor, finding the cheapest restaurants at Walt Disney World can be daunting, so we've prepared this guide to help you find the cheapest restaurants in the parks. Since Disney has four theme parks, the guide highlights restaurants you can find in each park.
Cheapest Restaurants at Magic Kingdom
After exploring Magic Kingdom's numerous attractions, you want to sit, relax, and enjoy your favorite food. Here are affordable restaurants you should consider when visiting this theme park:
Casey's Corner
Casey's Corner is one of the cheapest joints to enjoy corn dog nuggets, hot dogs, and the classic plastic cheese. An all-beef Hot Dog, a favorite for many visitors, is the most affordable for regular sizes, but if you want specialty hot dogs like the chili-cheese dogs, plant-based hot dogs, and foot-long hot dogs, you may need to add a dollar or two.
It might seem a lot for one person, but if visiting with family, you could split the foot-long hot dog meal to reduce the cost. Each hot dog comes with a side of French fries or a Cuties mandarin and is topped with your favorite condiments.
Casey's Corner is famous for its affordable hot dogs, quick service, and unique baseball theme. Since getting a spot is challenging during peak hours, it would help to book a table before ordering food.
Sleepy Hollow
This is another cheap restaurant at Magic Kingdom. It doesn't have many food options but offers various snacks to satisfy your sugar cravings. Most snacks are inspired by a holiday, season, or an after-hours party.
In case of party-inspired treats, guests can choose Christmas cookies, served with hot chocolate, or a Hocus Pocus dessert for Halloween-inspired snacks. Besides party-inspired treats, Sleepy Hollow offers regular treats.
The Fresh Fruit Waffle Sandwich topped with chocolate hazelnut is a favorite because it's affordable and large enough to feed two people. The only caveat is that you must arrive early (11:00 a.m.). Other affordable snack options are the funnel cakes topped with strawberries, the sweet and spicy Chicken Waffle Sandwich (served with chips), hand-dipped Corn Dog, and the Mickey waffle with whipped cream spread and powdered sugar.
Sleepy Hollow restaurant also has spectacular views. On the opposite side of the restaurant is a seating area lined with tables leading to Fantasyland. A beautiful view of the Cinderella Castle reflected in the moat offers a stunning backdrop for taking photos.
Pecos Bill Tall Inn Tale Inn and Café
If you want to try Mexican-inspired cuisines, head to Pecos Bill Tall Inn Tale Inn and Café. Located in the Frontierland, the Café has various food options, including chicken fajitas, burgers, and southwest salads.
Entrees like the Sun Bonnet Trio Strawberry Salad and the Veggie Rice Bowl are budget-friendly, and you can choose your favorite topping from various options. You can pile on cheese, onions, salsa, sour cream, roasted corn, and more.
Previously, Pecos Bill offered buffets, but they have been transformed into affordable family-style offerings. The restaurant is pretty busy during the day, so if you want to enjoy the tranquility of the Old West, dine late at night or head to the outdoor seating area, which is quieter throughout the day.
Besides the affordable food options, Pecos Bill is adjacent to some Disney World attractions. It also has tie-ins to the cultural landmark and national treasures, which are huge pluses for one of the cheapest restaurants at Disney World.
Columbia Harbor House
Craving for seafood cuisines at reasonable rates? Head to Columbia Harbor House. Located at the intersection of Liberty Square and Fantasyland, it makes a convenient place to stop for a bite when touring the Magic Kingdom.
The theme here outdoes many restaurants at Magic Kingdom. Columbia Harbor House features a nautical theme to pay homage to the old schooner Columbia and items all around denote historical sailing ships. The menu items are pretty affordable for the food served here.
The lobster roll, for example, costs less than $20, which is a steal. The Trio Platter is another favorite for many visitors as it can feed two people. It consists of breaded chicken strips, fried shrimp, and battered fish.
If you don't want French fries, you may order an extra side of green beans. Disney's 50th anniversary saw Columbia Harbor House introduce new menu items like the Spoon for One More, which consists of black sourdough bread served with New England clam chowder for less than $10 (at the time).
Cheapest Restaurants at Animal Kingdom
Whether you're here to explore the park's day or nightly experiences, there are plenty of restaurants to wine and dine at the Animal Kingdom. These five have the most affordable menu items:
Flame Tree Barbecue
Flame Tree Barbecue restaurant is a great place to grab dinner after a long day at Dinoland or Pandora. It has unique meal options, different from the usual burgers, fries, hot dogs, and pizzas served in most fast food eateries at Disney World. It has amazing barbecue options, including roast chicken, St Louis ribs, smoked pulled pork sandwiches with sides like French fries, baked beans, and coleslaw.
You'd assume that the high-quality food and quick table service mean smaller portions or high prices, but it couldn't be further from the truth. Flame Tree Barbecue restaurant offers generous portions you can share with a friend, and the prices are pretty affordable. To top it all, each entrée comes with a delicious barbecue sauce.
Kusafiri Coffee Shop & Bakery
There's no better place to satisfy your sweet tooth cravings than the Kusafiri Coffe Shop & Bakery. It's one of the best places with creative pastries and cupcakes in Walt Disney World.
Nestled between Kilimanjaro Safaris and Tusker House Restaurant, it's the best place to have coffee and delectable treats. There's a variety of value items, too, whether you're ordering breakfast, lunch, or dinner.
The cupcake variety is the most popular, as you can choose from the insanely tasty Paw Print Brownie, the White Elephant Cupcake, and the Zebra Cupcake topped with zebra stripes of white and dark chocolate. The only downside to dining here is there isn't much seating space. You may need to walk up to Tamu Tamu to find a table.
Pizzafari
If you're looking for an affordable Caesar salad, pop in at the Pizzafari restaurant. Located at Discovery Island on your way to Safari, the restaurant boasts a family-themed dining area with brightly-lit rooms. Pizzafari has plenty of seating inside, but if you like the outdoors, there's plenty of seating space too.
Pizzafari's menu items comprise American favorites like pizza, desserts, and salads, with the Pepperoni pizza, Caesar salad, and chicken parmesan sandwich being the most affordable. There are also dairy-free and gluten-free menu items at no extra cost.
Besides the affordable food, Pizzafari is one of the cheapest restaurants with the quickest service. Whether you order food over the counter or via Disney's new Genie Plus, you hardly waste time in long queues.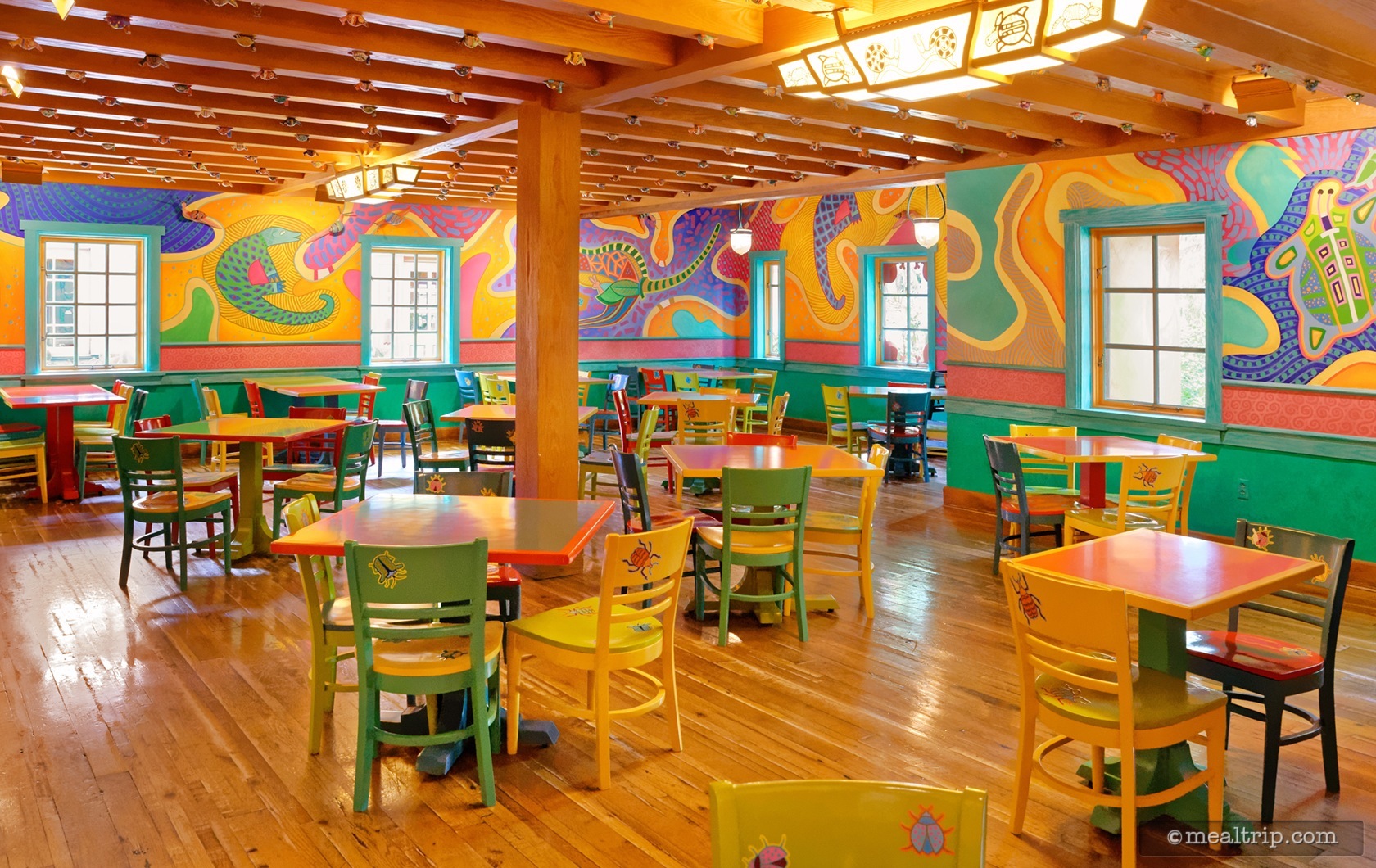 Restaurantosaurus
The restaurant makes an excellent kiddie eatery thanks to its kitschy theming and tons of seating space. Restaurantosaurus is characterized by quirky details consisting of dinosaur puns, fossils, a jukebox, and other items. You'll also love the restaurant's vast seating space available indoors, unlike other Walt Disney World restaurants with few seats (usually outdoors).
As for the food, the restaurant offers the classic American burger and chicken nuggets which is pretty cheap. A popular value item is the eight-piece chicken breast nuggets usually served with fries which can feed an entire family. The foot-long hot dog option is another cheap entrée because it can feed two people and comes with fries.
Eight Spoon Café
This small eatery is easy to walk past but sure makes a great place to stop for a quick snack. Nestled between the bridge into Asia and the entrance to It's Tough to be a Bug, this red and blue kiosk serves the most delicious and affordable mac and cheese.
You may add pulled pork for a few more bucks. Since the café isn't always open, it's best to get in line as soon as you see the open sign. Also, Eight Spoon Café has few tables and chairs, so you must be prepared to order and eat on the go.
Cheapest Restaurants at EPCOT
Epcot is the liveliest part of Disney World, thanks to the numerous festivals held here. Four of them stand out. They include the International Flower and Garden Festival, the Festival of Holidays, the International Food and Wine Festival, and the International Festival of Arts. You'll find affordable menu options during the festivals, with some plate offerings costing as low as $7. Here are some of the cheapest restaurants in EPCOT:
Sommerfest
If you want to experience some bit of German flair, head to the Sommerfest Restaurant. Its counter-service menu features traditional German favorites like frankfurters, Nudel Gratin, bratwurst, German desserts, beers, and wines.
The beer here is affordable, and you have a variety to choose from, including Warsteiner Dunkel, Redbridge Lager, Beck's Pilsner, and Schofferhofer Pink Grapefruit Hefeweizen. Be sure to try the Bratwurst meal, usually served on a roll with house-made paprika chips and sauerkraut. The tables outside the restaurant make the perfect place to take a beer while gazing at the statue of St. George killing a dragon.
Yorkshire County Fish Shop
The themed sections at Walt Disney create the illusion of visiting various countries around the world without actually setting foot. The Yorkshire County Fish shop is one such place that mimics a quaint British hotel. It's a quick grab-and-go eatery for guests visiting the World Showcase Lagoon.
Fish and chips is the main meal here and it's pretty affordable. Since there aren't many meal options, ordering is simple and fast. Be sure to grab a seat at the nearby waterside tables to enjoy the delicacy while viewing the beautiful World Showcase. It's also a great place to view EPCOT's spectacular nighttime.
Kringla Bakeri Og Kafe
A visit to EPCOT isn't complete without stopping at this café. Kringla Bakeri Og Kafe is a Norwegian bakery with budget-friendly menu items mainly consisting of drinks and Norwegian specialties like the sweet lefse flatbread, kringla sweet pretzels, and the famous school bread.
The traditional Norwegian School Bread is a favorite for most guests because it's savory and affordable. It mainly consists of a sweet roll with custard fillings dipped in coconut to create the sweet-sour flavor.
The Verden's Beste Kake is another hit. It's a light, tarty bread with a meringue top and scattered almond that creates crunch and earthiness. Be sure to try a Gideon's Bakehouse cookie, which isn't your average Triple chocolate chip cookie. It's rich with dark, sweet chocolate chips and salt sea.
Via Napoli
If you want to try Italian pizza, pasta and cuisines, head to Via Napoli. Located at the back of the Italy Pavilion, it serves the best Italian pizzas in Disney World. It has a vast indoor dining spread with lots of seating space, but if you prefer the outdoors, head to the terrace. Pizzas are a little pricey here, but the portions are large enough to feed a family or group of four or five if you agree on the toppings.
For example, the large Mezzo Metro pizza costs $50-$55 and can feed four people, reducing the cost significantly. The restaurant also offers a range of appetizers. The Fritto di Verdura which consists of crisp fried veggies and is served with marinara picante, is an excellent value buy. You may also try the Arancini, mainly made of fried risotto balls with meat ragu and mozzarella.
Cheapest Restaurants at Hollywood Studios
The pandemic saw many restaurants close, but most have resumed operations two years later. Many have scaled-back menus, but the portions are enough to keep you energized for the day. Here are the cheapest restaurants if visiting areas around Hollywood Studios:
PizzeRizzo
The relatively new eatery gives Via Napoli a run for its money. PizzeRizzo is a family-themed restaurant selling pizzas. What sets it apart is the wide variety of pizzas here. If visiting alone, you can order a personal-sized pizza in four small sizes which comes with a cup-sized Caesar salad.
The entrees are budget-friendly and there are meal options for kids too. You can choose macaroni and cheese or cheese pizza which comes with oranges, yogurt smoothies, and a drink of your choice. The drink variety here beats other restaurants in Walt Disney World hands-down.
Non-alcoholic drinks comprise hot tea, fountain sodas, a Peach Bellini, coffee, and hot cocoa. But if you're a fan of alcoholic drinks, you can order the Bud Light, Frozen Italian Margarita, the Italian-based Peroni, or the Opici Family Sangria.
Woody's Lunch Box
Based on an old story about a lunch box, every detail in the restaurant echoes this story. Woody's Lunch Box is located in Toy Story Land and is one of the cheapest restaurants here.
The Breakfast Bowl is pretty affordable, as are lunch menu items like the Totchos (potato barrels piled with shredded cheese, chili, tomatoes, queso, green onions, and corn chips) and grilled three-cheese sandwich. If in a hurry, you can choose from various grab-and-go options.
Ronto Roasters
If you're heading to Batuu, make a quick stop at Ronto Roasters. The Star Wars-themed restaurant has the most delicious breakfast and lunch menu items. The Zucchini Wrap, Ronto Wrap, Triple Suns Breakfast Wrap, and the Ronto Morning Wrap are the most affordable and come in shareable portions. Overnight Oats are a great breakfast treat, usually served during morning hours.
Backlot Express
This is another quick-serve restaurant at Hollywood Studios. It's known for its unique décor and props, which characterizes the historical inner workings of the filming industry. Not many props remain, but the décor here still resonates with the 1989 MGM.
The menu items are typical of the American food scene. You can order sandwiches, burgers, salads served with unique toppings like Pepper Jack Cheese. Affordable food options include chicken strips which come with a side of fries, and cheeseburgers with fries.
Salads are also filling and consist of diced tomatoes, jalapeno-lime ranch dressing, tomatoes, roasted corn relish, cheese, and pickled red onions. Be sure to try out Backlot Express signature Backlot Burger, which is bigger than regular Disney quick service burgers, and the Angus beef burger loaded with pepper jack cheese, tomatoes, lettuce, and barbecued pulled pork.
So, What's the Cheapest Restaurant at Walt Disney?
With this guide, you never have to spend an arm and a leg when dining at Walt Disney Word.
You can find cheap restaurants regardless of the theme park you want to visit. Overall, Casey's Corner is one of the cheapest restaurants at Walt Disney but if not exploring the Magic Kingdom theme park, check out the other options discussed.
More about our TFVG Author
A seasoned traveller, Dad, and avid sports tourist, James foundered The Family Vacation Guide to share his expert vacation experiences- especially when it comes to being a travelling family man.
Featured in Travel articles such as Travel + Leisure, TripSavvy and SFGate, you know you're reading some of the best vacation tips online.