Here's everything you need to know about where you can meet Pocahontas at Walt Disney World ahead of your trip to the happiest place on Earth.
Nobody loves Disney World more than, well, everybody! It's a magical adventure where anything is possible and dreams really do come true. 
Are you planning a trip to Disney World in Florida with little ones who adore Pocahontas? Can they sing along with the movie and paint "with all the colors of the wind"? Perhaps she is your favorite, even as an adult? At Walt Disney World, it's possible to catch a glimpse of your favorite Disney character and meet her. 
So where can you meet Pocahontas at Disney World? Let's see where, when, and how you and your entourage can meet your beloved princess.
Where Can You Find Pocahontas at Disney World?
Disney released the movie Pocahontas in 1995, with Irene Bedard as Pocahontas and Mel Gibson as John Smith. Pocahontas, also known as Matoaka, is a Powhatan Native American princess.
The beautifully animated story tells a version of the life of Pocahontas that isn't quite realistic. Nevertheless, the princess has a prominent place in history, and many children and adults admire her character and consider her their favorite. 
An adventure at Walt Disney World wouldn't be complete unless you meet your favorite character, and kids and parents can meet Pocahontas in Disney's Animal Kingdom.
But where about will you find her?
Discovery River Character Cruises
The Discovery River winds through the Animal Kingdom theme park, and the main walkways circle the outer edges of the river. The character cruises around the Discovery River at various times throughout the day. One of the character cruises features Pocahontas and Meeko waving to the parkgoers.
If you want to see a character cruise, listen for the accompanying music and head to the water. Suppose you look over the side of the bridge to Pandora, the bridge between Finding Nemo and Expedition Everest, the bridge in Dinoland, or the bridge from Africa to Asia. In that case, you will likely catch one of the character cruises as they float by.
Be mindful of the weather if you want to see Pocahontas. Storms and rain will keep these water activities closed until the imminent weather passes. 
Discovery Island Character Landing
Waving to Pocahontas from one of the many Animal Kingdom bridges isn't the same as meeting her in person, right? Head to Discovery Island to the Character Landing.
When the character cruises finish their rounds around the park on Discovery River, they head to meet and greet sessions to meet fans, both big and small. Photo opportunities keep the memory for years to come.
The best time to meet Pocahontas at the Character Landing is early in the morning or just before the park closes. She is a very popular character, and lines can form quickly. Also, remember that Animal Kingdom closes earlier than any other Disney World park, so plan accordingly.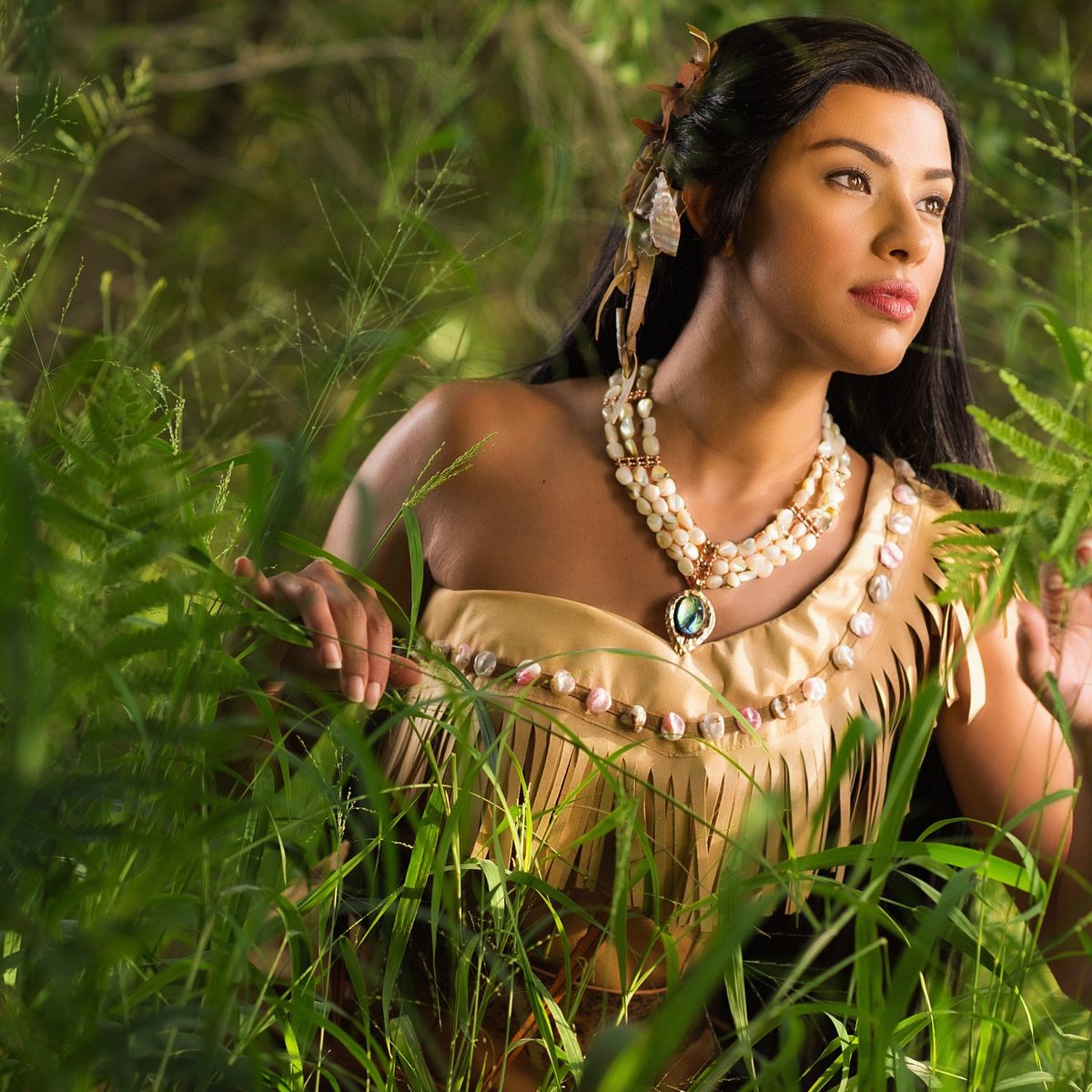 Did You Miss Meeting Pocahontas?
The Disney cast wants your day to be perfect and your vacation to be a memorable one for years to come.
If you missed Pocahontas at the Character Landing, all might not be lost. Stop by the Animal Kingdom main entry gate and ask how your and your family can meet her. There are often special times that characters get together for a parade or event, and Disney cast members can find out if and when those might happen.
If you are staying at one of the Disney World resorts, ask the reception desk if they can assist you. Guests are often provided with perks such as early entrance, which may make planning your day easier and the chance to meet Pocahontas a reality. 
Final Thoughts
So where can you meet Pocahontas at Disney World?
You can meet this princess at the Discovery Island Character Landing and see her during the Discovery River Character Cruises in Animal Kingdom. You may also get a glance at her during parades.
More about our TFVG Author
A seasoned traveller, Dad, and avid sports tourist, James foundered The Family Vacation Guide to share his expert vacation experiences- especially when it comes to being a travelling family man.
Featured in Travel articles such as Travel + Leisure, TripSavvy and SFGate, you know you're reading some of the best vacation tips online.