Whether traveling to Miami from Atlanta for business or pleasure, it's a good idea to know a little about the flight because there are various carriers, flights, and prices to consider.
Learning more about the flight makes it easier to plan your trip. After all, you don't want to miss a meeting or fun scheduled event because you didn't plan for flight time or layovers.
Here's everything you need to know about how long it takes to fly to Miami, Florida from Atlanta, Georgia.
Direct Flights from Atlanta to Miami
Delta and Southwest airlines currently boost the fastest flight times between Atlanta and Miami. A non-stop flight from Hartsfield-Jackson Atlanta International Airport (ATL) to Miami International Airport (MIA) averages around one hour and 49 minutes.
While Delta and Southwest have the shortest flight times, they are also not the only carrier offering direct flights to Miami from Atlanta.
A direct flight on American Airlines averages one hour and 52 minutes. Your flight is a couple of minutes longer if you choose Frontier Airlines, as their Atlanta to Miami flights average around two hours. The same is also true for another budget carrier, Spirit.
The time you spend in the air only varies by a few minutes with either of these carriers. It's not enough to make much of a difference in your itinerary. However, ticket prices can vary depending on who you choose to fly with, so it's a good idea to compare the different rates.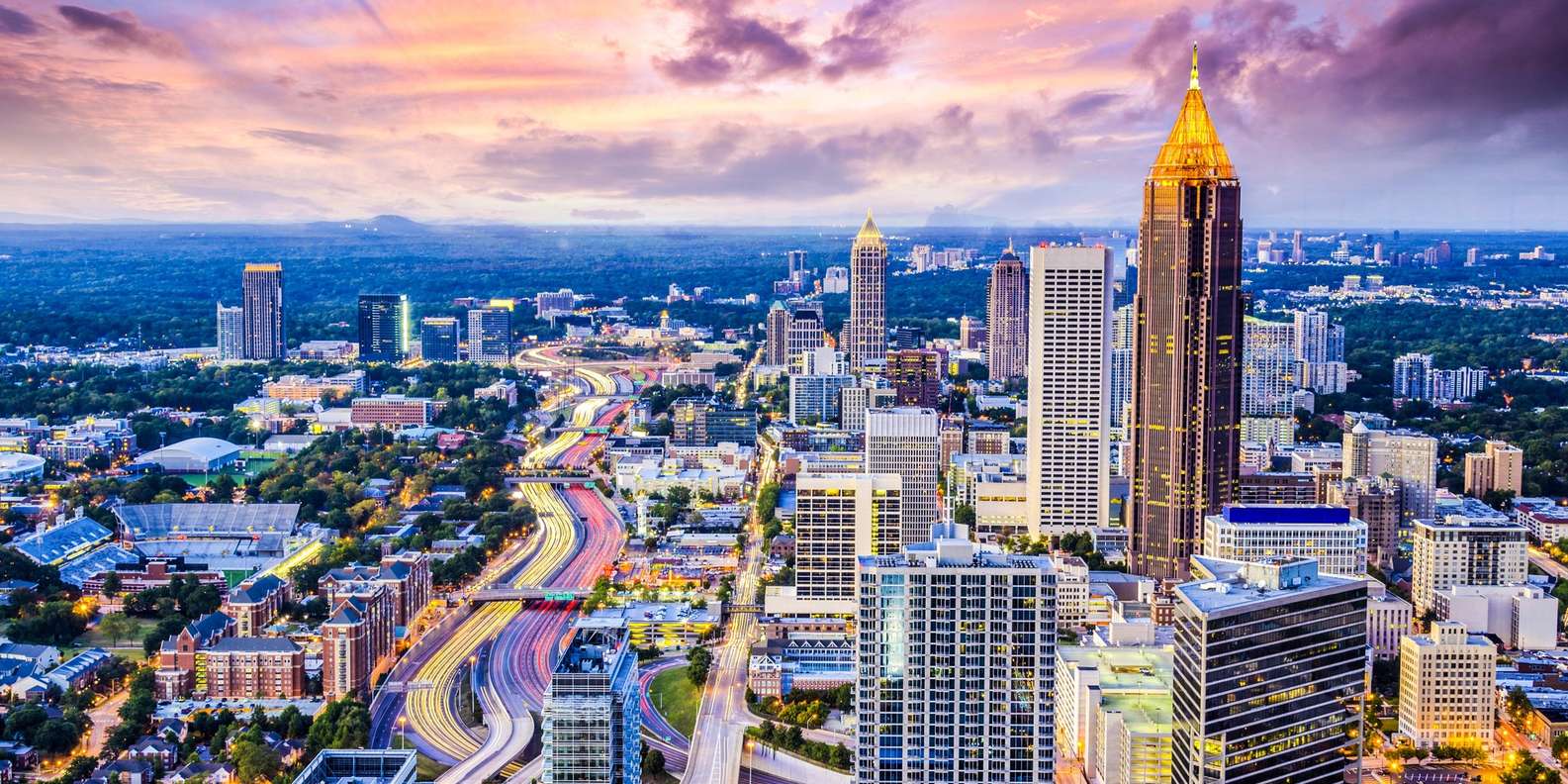 Flights with Layovers from Atlanta to Miami
Direct flights will get you to Miami faster than ones with layovers, but there's a good reason why you might want a longer flight.
Flights with layovers are often cheaper. You may also have better luck reserving your preferred seat on these flights.
One-stop flights originate in Atlanta at the Hartsfield-Jackson International Airport. From there, you fly to New York's La Guardia airport for an extended layover. It's a good idea to pay attention to the length of your layover. A one-stop flight from Atlanta to Miami can have layovers ranging from under one hour to 13 hours.
If you have a longer layover, you may want to pack a book or some other form of entertainment to keep yourself occupied at the airport.
The last leg of the flight from La Guardia to Miami International Airport averages a short three hours and eleven minutes. After a several-hour layover, the last part of the trip flies by. You'll be on the ground in Miami before you have time to take a good nap.
Flight Times From Atlanta to Airports Near Miami
Sometimes airline ticket prices are slightly lower when you fly to a smaller airport. You have several to choose from close to Miami, but you also want to factor in rental car rates.
Almost all airports, especially larger, metropolitan ones offer shuttles to nearby hotels, so renting a car isn't always necessary. Rental rates typically depend on the company, type of vehicle, and length of time you have the car.
There are five airports near Miami, with flight times from Atlanta ranging from around 90 minutes to two hours. Atlanta to Orlando has the shortest flight time, and you are in the air the longest flying to Key West.
A shorter flight without layovers is always appealing, but don't forget the associated costs of getting from the airport to Miami. You may pay more in the long run, even with the cheaper airline ticket.
FAQ About Flight Times From Atlanta to Miami
You want to know as much as possible about your upcoming flight. It helps ensure you are at the gate on time.
Here are some of the most frequently asked questions by passengers flying to Miami out of Atlanta.
How far is Atlanta from Miami?
Airlines measure the distance between two cities using a straight line. Think of it as measuring distance by how a crow flies.
A direct line from Atlanta to Miami is 594 miles. It's also the route most airlines take flying between the two cities.
Can you fly to Miami out of Savannah-Hilton Head International Airport?
Savannah-Hilton Head International Airport offers flights throughout the week to Miami. You can choose from several carriers, including United, American, and Delta. Silver Airways also offers budget-friendly service to Miami. Compare rates between the various carriers to ensure you get the best ticket price.
Flying with American and Delta means you have a layover. These flights can take over six hours between air and wait times. United and Silver Airways have direct flights averaging around two hours.
What airlines fly out of Atlanta to Miami?
The Hartsfield-Jackson International Airport is a busy hub with several carriers operating fleets daily.
Along with the major carriers like Delta, American, and Southwest Airlines, the airport is also home to several budget companies. Spirit and Frontier often offer lower-priced tickets on their flights to Miami. You may have to give up some of the amenities you expect on the larger carriers, but for cheaper airfare, it's often worth any small sacrifice.
If you don't mind driving the distance to Savannah, you can book a flight to Miami on the same carriers, along with United Airlines and Silver Airways.
How many flights are there from Atlanta to Miami?
On average, the various airlines make approximately 136 flights to Miami from Atlanta per week. You have plenty of options when choosing the flight day and time. It makes it easier to find a flight that works with your travel plans.
Bottom Line
Getting to Miami from Atlanta by air only takes around two hours on a direct flight. If you have a layover, you can expect to spend anywhere from three to sixteen plus hours flying and waiting in airports.
Flights with layovers are less pricey, but sometimes the savings aren't worth the long waits at the airport. Consider your travel plans and compare rates between the different carriers before booking your ticket. It will help ensure you get the most out of your trip.
More about our TFVG Author
A seasoned traveller, Dad, and avid sports tourist, James foundered The Family Vacation Guide to share his expert vacation experiences- especially when it comes to being a travelling family man.
Featured in Travel articles such as Travel + Leisure, TripSavvy and SFGate, you know you're reading some of the best vacation tips online.