If you plan to make Atlanta your next travel destination, you qualify for a chance to explore the Martin Luther King Jr. National Historic Site, Centennial Olympic Park, and other notable attractions in the Georgia State Capitol.
However, like any other destination in the Southeastern region of the United States, Atlanta can become extremely hot during summer.
With that in mind, you want to ensure that your outdoor space features numerous amusements and a water park to enable you to beat the sun's sweltering heat. Below are the best water parks in Atlanta, where you can stop for splish-splash fun while getting some relief from the warm weather.
1. Six Flags White Water – Marietta, GA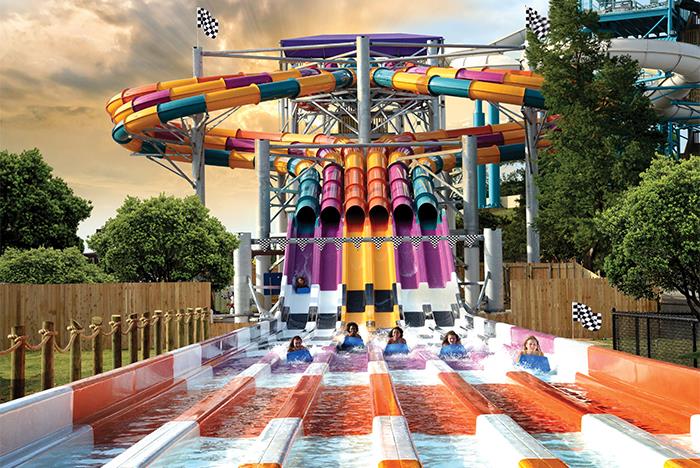 With more than 50 attractions, the Six Flags White Water Park is your go-to place if you are looking for a getaway location where you can cool off, grab a great bite, or have a blast for the whole day. Its tranquil location lies in the northwestern region of Atlanta, Marrieta City, Georgia.
If you are lucky to tour this 69-acre park, you can head straight to the Atlanta Ocean Wave Pool and enjoy getting tossed around by the big ocean waves without having to worry about sharks.
If you or your group members can't cope with the strong currents at the ocean wave pool, you can set out for white water sliding at the Bahamas Bob Slide. The good thing about this slide is that it features Jumbo-sized rafts, which can accommodate your entire crew and give them a thrilling ride as they maneuver down the six-story tall white water river.
Another attraction worth your time with your kids is the Captain Kid's Cove in the flash flood canyon. Here, you will delight in watching your kids play any of the playground's 100 plus interactive games for kids.
The park's Skull Island has you covered if you need a water park where you can play along with your kids. It features spraying waterfalls, pint-sized water slides, water spray guns, four waterslides, and more than 40 interactive water features, among other amenities.
After exploring the amusements in the park, do not leave without tasting what its eateries have to offer. After all, you need some food or drinks to re-energize after a day full of activity.
Why not also check out our guide to all of the Six Flags locations in the US?
2. Margaritaville at Lanier Islands
Margaritaville is also among the best water parks in Atlanta for thrill-seeking souls. It lies along the shores of Lanier Lake, close to the Georgia Aquarium, College Football Hall of Fame, and the World of Coca-Cola.
Touring this park gives you access to its fun zone, which features mini water slides, where you can delight in observing your kids as they drop down the slide. The park's fun zone also includes a wild wave pool for juniors, where your kids can enjoy being tossed by the strong waves or floating on a tube as they explore the beautiful view of the island and Lanier lake.
If your kids are not interested in the activities at the fun zone, you can take them for a sliding course in the park's raging river. Or, head to the park's double-lane slide for a family sliding competition.
After exploring water amusements, take your team to the park's thunderbolt triple zip, where every member of your crew will enjoy the panoramic view of the Lanier islands as they slide down the zip line.
Suppose you've already explored all the amenities at the Margaritaville and time permits. In that case, you can take your family to Lanier Lake, where they can utilize various lakeside amenities like a golf course and the white sandy beaches.
If you love water exploration, hire a tritoon boat and explore the 38,000 acres of Lanier lake as you drive yourself across the lake.
Lastly, Margaritaville Park hosts world-class hotels and resorts where you can book your home away from home. Do not leave the park without tasting the different cuisines offered at the onsite restaurants.
3. Helen Tubing and Waterpark
The Helen Tubing and Waterpark is your perfect destination if you are looking for a place to cool down and have fun with your family. It's in White County, in the northeastern region of Atlanta, Georgia.
Once you land at the park, you can set out for a three hours tubing ride down the Chattahoochee River and enjoy the gentle flow of water and the energetic breeze from the water.
The park's team will issue you free tubing supplies once you pay for your Waterpark pass. What's more, the park also offers free shuttle rides to take you back to the starting point so that you can easily access your vehicle.
If you don't feel like floating on the tubes, you can set out for a leisure walk along the river banks or try out fishing. Remember to record videos of your activity in the park environs for memory purposes.
The other amusements within the Helen Tubing and Waterpark include:
The Zipline Course
The zipline course features four ziplines and two aerial bridges, which give a great experience to persons of all experience levels. There are also guides to acquaint you with the ziplining best practices and help you out should you face any challenge while sliding on the line.
Adventure Courses
The park features little adventure, big adventure, and extreme adventure courses to offer something to every member of your family. For instance, the miniature adventure course is full of kid-friendly amenities like the leaning rock wall, rapid run, taco net, etc., to offer all sorts of fun to your kids.
The Climbing Wall
The climbing wall is the newest amenity in the park. It features four lanes of different difficulty levels to give a real climbing experience to mountain climbers of all experience levels.
4. Buccaneer Cove at Malibu Grand Prix Norcross
Buccaneer Cove is among the best water parks in Atlanta to beat the summer heat, with acres of family fun and unique amenities such as the four water slides, spray cannons, the giant spray bucket to offer something to persons of all ages. You'll find it at Malibu Grand Prix Norcross at 5400 Brook Hollow Pkwy, Norcross, Georgia 30071.
As you can see, the park has a strategic location at the center of other amusements at the Malibu Grand Prix Norcross. So, after a day packed full of water fun at the Buccaneer Cove, you can extend some love to other amenities at the Malibu Grand Prix.
You can take your family out for go-kart racing at the Malibu go-kart racing grounds and enjoy passing your friends as you beat the raceway's hairpin turns, straightaways, and banked curves.
If you are not the racing type, head to the park's water play area (buccaneer cove) and enjoy riding on bumper boats or just floating on water. The good thing about the bumper boats is that they are highly stable to accommodate everyone, including the smallest member of your family. The other activities you can enjoy at the Malibu Grand Prix include:
Golfing with your family at the park's miniature golf courses
Dancing, horseback racing, and other featured games at Malibu Grand Prix's game room
Do not leave Malibu Grand Prix without tasting the cotton candy, all-white meat chicken tenders, 100% pure beef hotdogs, and other food offerings at Malibu Café.
Contact the customer care team for Malibu Narcoss to get more information about the available amenities and booking fees.
5. Hurricane Harbor at Six Flags
After hours of play in the park, Hurricane Harbor is a great place to cool. It is located at Six Flags, at route 275, along Riverside Pkwy, Austell, GA 30168.
Once you land at the park, locate the lightning falls where you will find the tornado tube, typhoon tube, and thunder trough courses eagerly waiting to give you thrilling slides down into a pool.
Don't waste your time waiting for long queues at the lightning falls. Instead, move straight to Tiki Falls, where you can test your courage by sliding through one of three horrific and watery courses and coming out through the mouths of the giant tiki heads.
If your kids are afraid of exploring the Tiki Falls, take them to Splash Island, located in the park near the Tradewind Treats.
The kids can enjoy various amusements here, including pint-sized water slides, rain curtain waterfalls, squirting water, brightly-colored slides, and huge spraying water fountains. You can join the kids in the play or rest in the featured lounge chairs with your partner as you keep a safe eye on the kids.
If your team members are tired of exploring the different amenities in the hurricane harbor, you can take them for a cruise in the lazy river that weaves throughout the park. During the slow ride, your team will have a pleasurable time exploring the river's impressive archways and get spectacular views of the Castaway Cove, Splash Island, and other amenities in the park.
6. Robin Lake Beach at Callaway Gardens
Robin Lake Beach is the best place to beat the scorching summer heat with swimming pools, sandy beaches, and plenty of amusements for all ages.
If you happen to land in this hidden gem with your family, do not fail to attend the summer family adventure. The summer family adventure is a four to seven-night vacation that offers numerous amusements for youngsters and adults led by counselors in the park.
Suppose your family isn't interested in the summer family adventure. In that case, you can take them to Cecil B. Day Butterfly Center, where your kids will delight in seeing more than 1,000 butterfly species kept in the center.
From Cecil B. Day Butterfly Center, you can explore the beautiful landscape and amenities occupying the 2,500-acre park on a bike or foot.
After a day full of activities in the sun, you can cool off by swimming, kayaking, and paddle boarding on Robin Lake.
If you still have some more time in the park, take your kids to the Discovery Center, where they can enjoy learning more about nurturing different bird species, their life expectancy, and their relationship with humans and other creatures.
If you feel drained from the day's activities, you can break out for a hearty meal in one of the park's dining areas, including the country kitchen, 52 restaurants and bar spirit, and the cabana bar grill, among others.
7. Bethesda Park Aquatic Center
The Bethesda Park Aquatic Center is on Route 225, Bethesda Church Road, Lawrenceville 30044, Georgia. The Aquatic Center is among the best water parks in Atlanta because it offers you exceptional amenities like the indoor leisure pool, giant water slides, river channels, ceiling spray, water vortex.
If you are new to water-based amenities in the park, you can enroll in their wet training classes to learn more about best practices while using the facility.
This park also features hydrotherapy benches where you can always get water-based massages where you can spend some time while on your way to swimming lessons or if you're recovering from an injury.
If you don't feel like engaging in strenuous water activities, you can visit nearby restaurants to take your favorite meal or drink.
Explore the Best Water Parks in Atlanta
Water parks offer the best way to cool down as you have fun under the sun. So if you want to make Atlanta your next getaway location during summer, you can set out for cooling at Six Flags White Water, Margaritaville at Lanier Islands, or any other water park we have discussed in the article.
The good thing about our top selections of the best water parks in Atlanta is that they offer cooling amenities and other amusements to provide something for everyone. So, you should not hesitate to pick any of the water parks on our list.
Are you looking for more fun travel ideas for your group or family? Then, check out our family travel guides to identify your next dream vacation.
More about our TFVG Author
A seasoned traveller, Dad, and avid sports tourist, James foundered The Family Vacation Guide to share his expert vacation experiences- especially when it comes to being a travelling family man.
Featured in Travel articles such as Travel + Leisure, TripSavvy and SFGate, you know you're reading some of the best vacation tips online.