Look no further than Six Flags Over Georgia if you're looking for the most exciting and thrilling theme park in the Southeast USA. Six Flags Over Georgia has an amazing collection of live shows, iconic roller coasters, and a glut of attractions and eateries spread out across 300 acres of fun!
Six Flags isn't exclusively for the bold and daring; there are 1,001 activities for the less adventurous folks. You'll love the various water park activities, including classic carousels and a thrilling voyage through the Thunder River.
Without wasting your time, let's look at everything you need to know before visiting this world-class theme park.

Whilst you're looking at visiting Georgia, take a look at our article revealing the best places to vacation in Georgia with kids.
Considerations Before Visiting: Six Flags Over Georgia
We recommend checking out the park's Park Policies before heading out for your visit.
Book Ahead
Before you book a visit to this top destination, ensure that you know the dates and hours of operation, as certain events are only open at specific times.
For instance, Hurricane Harbor has different operating hours from the main park. However, you can be sure to make it available anytime from Memorial Day to Labor Day.
You must buy tickets before visiting this attraction. Members and season pass holders must make an online reservation before visiting the park. Note that you can't enter before the time stamp on your ticket, but you can see the park any time after.
Six Flags Over Georgia makes it compulsory to be healthy for 14 days before visiting. Prepare to undergo a temperature check once granted entry. Face masks aren't mandatory, but you may need to wear one if you don't have COVID-19 vaccination.
No Cash Payment
Six Flags Over Georgia doesn't accept cash payments at stores, ticket booths, game areas, or restaurants. Mobile payments and cards are the two accepted forms of payment. The theme park also encourages prepaid parking.
Six Flags Over Georgia offer three ticket types, which are:
One-Day Pass
A one-day pass gives you a one-time entry into the theme park on the day you choose. You must select your entry date and time before getting permission to enter. The normal admission fee applies, while entry is free for guests two and younger.
Season Pass
Individuals with seasonal passes can visit Six Flags Over Georgia anytime they want – provided they make a reservation in advance. Some seasonal passes offer exclusive discounts and benefits for rides, food, and drinks.
Membership
Four membership categories include unlimited admission, priority entry, parking, exclusive discounts, and other benefits depending on your selected plan.
Some memberships grant you anytime access to Six Flags Over Georgia. In contrast, others give you unlimited access to all Six Flag chains across the United States.
Six Flags Over Georgia is unquestionably one of the oldest theme parks worldwide. It has 40 rides, including an enviable collection of roller coasters and water slides.
These rides range in size and intensity, offering various options for adults and kids. Below are some of the best Six Flag Over Georgia:
Superman: Ultimate Flight opened to the public in April 2002. It was the second flying coaster worldwide and would have been the first, but it was given to the Galactica at Alton Towers, which made its debut in March of that same year.
Ultimate Flight breaks all the rules of coaster building, and you only understand the uniqueness of this coaster when your ankle locks in. The surreal feeling of zooming headfirst at 60 mph as you zip through tunnels in a hair-raising fashion.
The coaster's 10-story drop and inverted loop are the highlights of this ride. Superman: Ultimate Flight is the ultimate flying experience that's worth the long queue it creates.
Pro tip: Visit this coaster first because it takes a long time to load!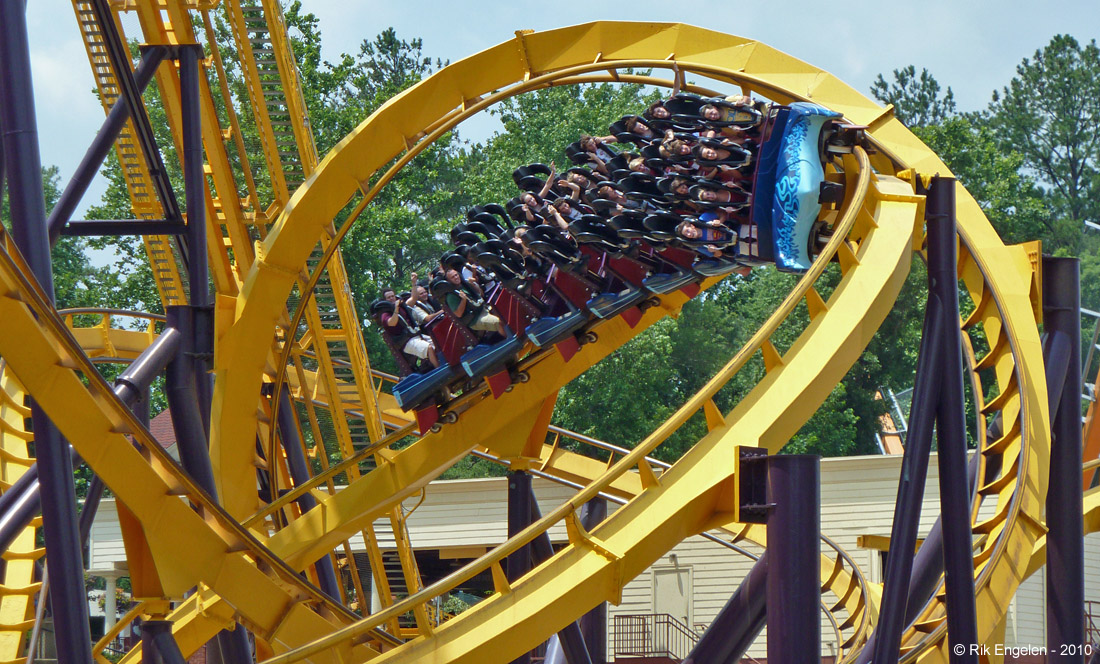 Georgia Scorcher is 115 feet high and opened to the public in 1999. It's the first coaster you see as you enter the park from the parking area.
Georgia Scorcher is one of the few standing coasters with a reputation for a surprisingly smooth experience, unlike its headbanging cousins. Georgia Scorcher has a 54 mph top speed, making it one of the fastest.
The twisted layout that includes corkscrews and vertical loops is an exciting element of this ride. Georgia Scorcher isn't the tallest ride at Six Flags Over Georgia.
Still, it maintains the momentum from the moment you get on the ride up to the finish line.
Mindbender opened in 1978, and even though it's older than many rides in the park, it's still a fan favorite for most visitors. It holds the record for the world's first triple-loop coaster.
Interestingly, the final loop isn't a real loop but a helix that you take at a 45-degree angle, giving the impression of going in a circle.
It had the highest top speed at 50 mph during its heyday, although there are faster coasters in the park today.
You need a minimum of 42 inches to access The Riddler Mindbender, and it's an excellent starter coaster for young thrill seekers. The feeling of going upside down, not once but thrice, is an experience of a lifetime.
The Great American Scream Machine is one of the few wooden coasters that offers an amazing thrill to visitors every year at Six Flags. This wooden beast is an American classic that provides a series of steep drops that will leave your heart in your mouth!
Moreover, the park often changes the setup, and if you're lucky, you can experience the cart going backward!
The Great American Scream Machine is one iconic coaster that makes you relive the historical moments of the American theme park experience.
Also known as the Georgia Cyclone, this giant behemoth stands at 100 feet and reaches speeds up to 50 mph. It's only 2,600 feet, but it uses every inch to provide amazing thrills to guests.
The pre-lift section even has some hops and outward-banked turns that give you a taste of what's to come. The 75-degree drop and double-inversion cobra roll will leave your head spinning on its axis.
Besides, a series of airtime falls and zero-G rolls will make you come back for more. More importantly, there isn't much queue on this coaster, making it even more worth trying out. Twisted Cyclone opened in 1990 and still offers an incredible experience to date.
The Goliath is called Goliath for a good reason – it's 200 feet tall! It's one of the first hyper-coasters in the Southeast, with a speed of 70 mph.
The Goliath was built in 2006 and is one of the largest coasters in Georgia. A significant portion of its tracks is situated outside the park's boundaries. It's undoubtedly the fastest track at Six Flags Over Georgia, and areas like The Lift Hill offer panoramic views of the Atlanta Skyline.
In addition to unrelenting airtime hills, there's a world-famous 540-degree steeping helix that signifies a B&M coaster. It's still one of the best hyper-coasters worldwide and has won numerous national and international awards.
Batman: The Ride opened in 1997 and is one of North America's best-inverted steel roller coasters. Interestingly, this version coincided with the Batman & Robin release in 1997 and was the last of its kind to be themed after a Batman movie.
It isn't the tallest at 100 feet or the fastest at 50 mph. Still, it offers a different thrill than many other coasters at Six Flags Over Georgia.
Thematically, it's only logical that this ride has a short, frantic, and frenetic pace. Superman Ultimate Flight gives you the feeling of being in control which makes sense because Superman has the power to fly.
Batman can't fly, but he uses his tools to glide, giving him less air control. A frantic short ride that's almost violent makes this ride so unique!
For the best experience, arrive at the park at the earliest possible time and start from the back – go to Superman Ultimate Flight first and just work your way to the front for shorter queues!
Hurricane Harbor features various water slides, pools, and rides in this seven-acre water park. Some of these attractions include:
Bonzai Pipelines is a series of plunges and sharp turns that put your courage to the test with a four-story drop.
The enclosed tunnels take you through various steep curves, including 360-degree twists, before splashing into the pool at the grand finale. However, you'll need to be 42 inches to get the chance to scream "Bonzai!"
The Calypso Bay Wave Pool is designed for people who'd like to enjoy the beach in the confines of a park. It's 38,000 feet with a world-class wave system that can continuously simulate four-foot waves all day!
The wave pool offers various thrills for pros and newbies. You can surf the crest or swim to the deep end. Families with young kids can relax in the ripples section, which offers children the chance to surf small-sized waves.
Paradise Island is an interactive playground with hundreds of exciting elements for kids and adults. The 2,000-square-feet island features six incredible waterslides.
Still, the highlight is a colossal water bucket that will drench you when it's full. This activity is fun for everyone, and you can allow the little ones to play by themselves.
Paradise Island is best enjoyed during summer, with lots of water to keep temperatures cool on hot days.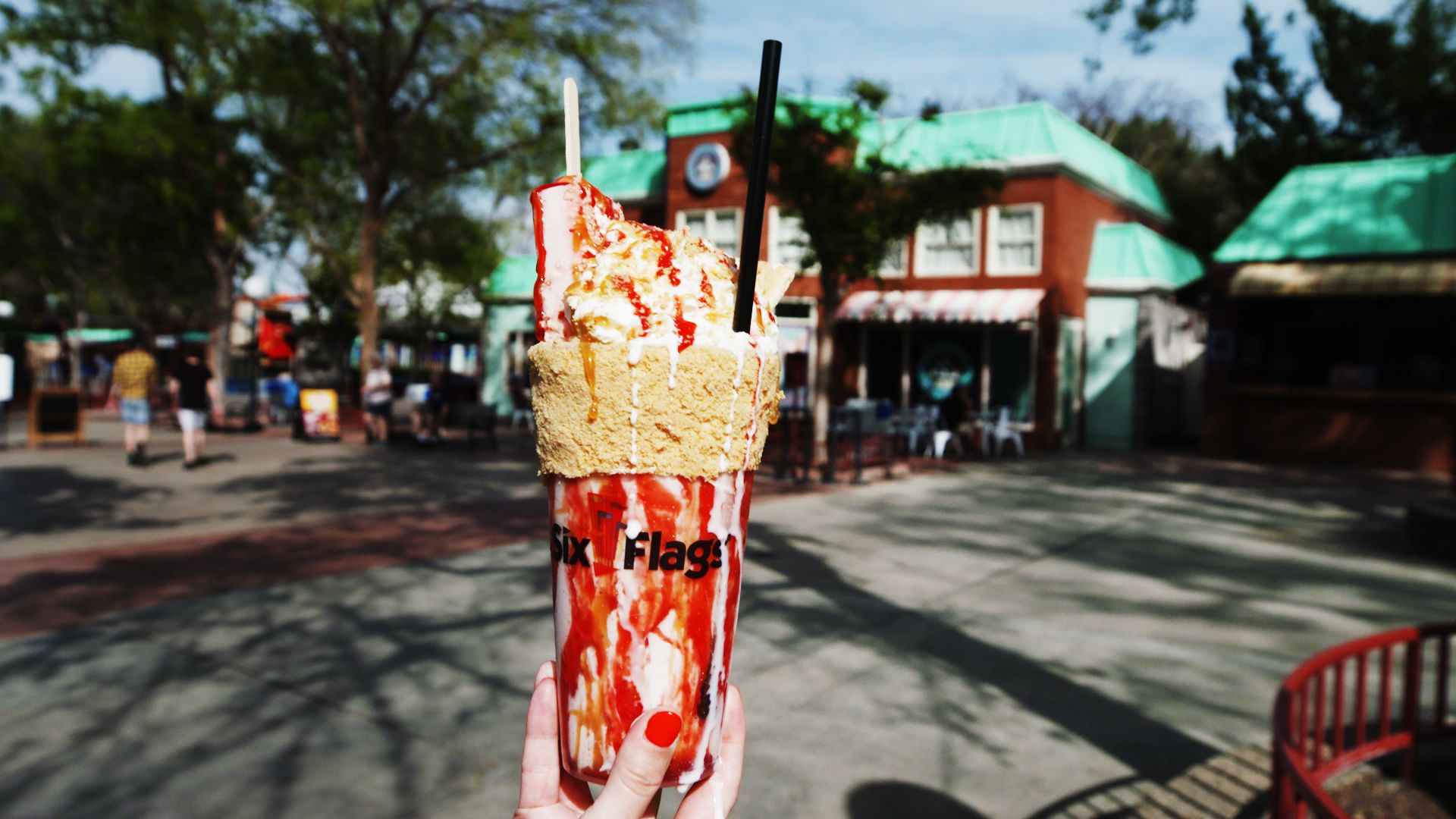 It's impossible to go on adventures without food. Enjoying a meal with loved ones makes your trip to this destination even more magical.
The great thing about Six Flags Over Georgia is the numerous food stands in every park section. Whether you want burgers or steak, there's something for everyone.
Don't hesitate to head over to the Lickskillet section, which has the most restaurant options in the park.
The Pizzaria's Family Combo offers exceptional value for families, and the concession stands near Sky Buckets offer cheddar ranch waffle fries that are finger-licking delicious!
Families tightening the belt can save money by packing a picnic in the vehicle and ensuring to receive a re-entry stamp.
Six Flags Over Georgia has many adult activities, but the kids aren't left out either. Bugs Bunny Boomtown is an awesome place for kids and features various rides where guardians and little ones ride together.
You'll also love DC Super Friends and Carousel Hill with an array of smaller rides. The Six Flags Railroad is accessible to individuals of all ages to enjoy.
Moreover, older kids can experience the thrill of the Dahlonega Mine Train – one of the few coasters in the park that doesn't turn upside down.
Follow these tips to save money and have a fun-filled blast!
Go Early!
The best time to get to this destination is 11 am. The queues aren't terrible at this time, and it will help you fight the urge to purchase Flash Pass, which costs hundreds of dollars. The lines get ridiculously long as the day gets older.
In addition to this article, a map will help you identify the top rides to get on first. You'll get the best experiences and leave the park satisfied.
Wear Comfy Shoes and Clothing
Sneakers are the best choice here because you'll be standing for an extended time – thanks to the long queues!
Water Rides First
Go for the water rides first if you can help it. It's an excellent way to cool off on a hot day, and the coaster rides will get you dry in a quick time.
Take Pictures
Taking selfies with Bugs Bunny and Daffy Duck will prove you were at Six Flags Over Georgia. Moreover, you can stop by for a show, which gives you the time to cool off or get a bite to eat.
Final Thoughts
Six Flags Over Georgia continues to provide the most fantastic memories and thrills for visitors. Little wonder the park is high on the list of Atlanta's best things to do.