If you've got kids, you'll know how tricky it can be to book a family vacation. You're forever trying to find a hotel that will please everyone, and that can be much easier said than done. But don't worry, if you're looking to book a family getaway in Waikiki, Honolulu, you're in the right place.
In this guide, our aim is to show you twelve of the best hotels in Waikiki for the perfect vacation in Hawaii for families – so you can have the best possible vacation. We've picked out a range of different hotels, so whatever your budget is, you're sure to find the perfect accommodation that will suit the whole family.
From the swanky Hilton Hawaiian Village Waikiki hotel to the budget-friendly Illma hotel, we've got something for everyone. Want to know more? Of course you do!
Read on, browse our selection of stunning hotel picks, and start planning your epic family vacation in beautiful Waikiki!
Why not also take a look at our guide to the best family hotels in Honolulu for more ideas for where to stay on Oahu?
Kicking off our top twelve Waikiki hotels is the Hilton Hawaiian Village Waikiki Beach Resort. Located on the widest beach stretch in Waikiki, it's the perfect base for a luxury vacation.
At the Hilton Hawaiian Village resort, you're free to do as much or as little as you want. Want to unwind and sunbathe? You'll have five stunning swimming pools to choose from, including the impressive 10,000 sq foot Super Pool and the Paradise Pool that boasts the only water slide in Waikiki.
For those who want to get their sweat on, the Mandara Spa and Fitness Center awaits! With everything you'll need for a successful workout session, the on-site fitness center is a fitness fanatics' dream. You can expect everything from free weights and treadmills, to elliptical machines and stretching rooms.
For the kids, Camp Penguin is the on-site children's program at the Hilton Waikiki Beach Resort. Designed for children aged 5 to 12, the camp is situated in the Diamond Head Tower where you'll find an activities room full of bean bags, beautiful wall murals, soft carpets, and even computers.
The hotel's trained camp counselors will lead the children in lots of fun but educational activities, as well as arts and crafts based on Hawaiian culture. There will also be lei-making sessions, storytelling, and excursions to the Honolulu Zoo, the Children's Discovery Centre, and the Waikiki Aquarium.
You'll find the Sheraton Princess Kaiulani in the heart of Waikiki, only a short walking distance from the beach. This beautiful but affordable Honolulu hotel is one of many popular family hotels in the area, offering guests the chance to experience the spirit of aloha, along with cultural activities each day.
As well as that, you can enjoy delicious local dishes at the Splash Bar breakfast and dinner buffets. Choose from a range of comfortable rooms with either skyline or ocean views. Enjoy complimentary wireless internet access as well as room amenities including spa products, a mini-refrigerator, and a flat-screen TV to keep the kids entertained on rainy days!
The Sheraton, Waikiki is conveniently located close to many activities including golf, swimming, hiking, and spa treatments. You'll also find plenty of children and family-friendly activities too including Glow Putt Mini Golf and Adventure VR.
With its impeccably furnished and cozy guestrooms, the Prince Waikiki hotel has become a favorite with tourists. Each guest room is spacious, comfortable, and stylishly decorated. You can expect Wi-Fi access, a Smart TV, and a minifridge. You can also enjoy the beautiful ocean view thanks to it being an ocean-front hotel.
The Prince Waikiki is also conveniently situated to local activities, including the Ala Moana Center. Even better, the hotel will provide a shuttle service to the beach. The on-site facilities at the Prince Waikiki hotel are also second to none and include a saltwater pool and a relaxing spa.
If you decide to stay at the Prince Waikiki hotel, you can expect a range of on-site restaurants, including authentic Hawaiian and Japanese cuisine. There's also an on-site gym and a library in case you want to relax or do some remote work. Choose from either HP or Mac computers as well as printers in case you need to print off your boarding passes.
Situated just two blocks from the Waikiki beach, the 'Ilima Hotel is one of the most popular family hotels in Waikiki. This is thanks to its close proximity to local activities including shops and restaurants, and anything else you'd need for an enjoyable family break.
The family-friendly 'Ilima Hotel is also close to Honolulu Zoo and the Kapi'olani Park, perfect for a day trip with the kids. You can also enjoy free parking and Wi-Fi.
Even better, you can choose from a range of room options, from studio rooms to two-bedroom family suites and even penthouses. All of the rooms in this hotel have full kitchens, which will certainly make life easier when you're traveling with children.
The 'Ilima Hotel is the perfect place to experience true Hawaiian culture, with its rich Koa wood and dramatic Hawaiian paintings.
If you want to relax and unwind by Waikiki Beach, the DoubleTree hotel is a perfect choice. This newly refurbished boutique hotel is situated at the Waikiki entrance in Honolulu. Just a short walk from the ocean, it's also one of the closest accommodations to the Ala Moana Shopping Center if you're in the mood for some retail therapy.
The hotel was given a huge redesign and all of the rooms now feature luxury walk-in glass showers with rainfall showerheads, for an incredibly relaxing shower experience at the end of a busy day. You can also expect state-of-the-art HD flat-screen TVs, ergonomic workstations, and many outlets for charging your electronic devices.
You can choose from either complimentary wired or wireless internet in your room and in the lobby area. If you've had a long and busy day entertaining the kids you'll be pleased to know there's an in-room coffee maker, so you can relax and chill out with a delicious beverage. There are also kid-friendly and on-demand movies for the little ones to watch before bedtime.
All the rooms feature comfortable and cozy king or queen beds complete with a balcony where you can watch the sunset and enjoy the stunning views.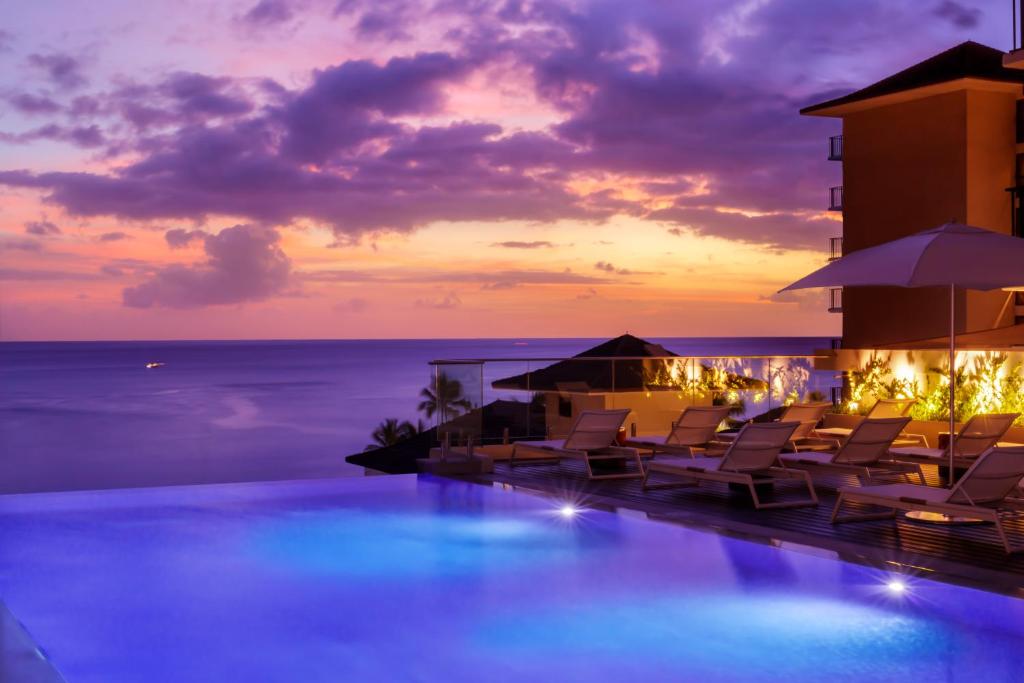 If you're looking for a hotel a bit further inland but still close to Waikiki Beach, the Halepuna Waikiki by Halekulani is for you. Tucked away in the heart of Waikiki, the Halepuna hotel is a serene and peaceful location, ideal for families with older children.
The Halepuna Waikiki hotel offers impeccable attention to detail and a warm and friendly welcome. A real home from home, you can enjoy an unparalleled experience in the middle of Waikiki. Enjoy elegantly stylish rooms decorated in shades of grey, beige, white, and ocean blue, to match the beautiful views of the Pacific Ocean.
As a Halepuna guest, you'll be able to enjoy the locally inspired menus and even a chocolate viewing kitchen from the Halekulani Bakery and Restaurant. With light and healthy dishes, you can be sure the whole family will be kept satisfied.
The hotel also has many modern amenities that will make your family break easier and more enjoyable, including an amazing sun deck, an infinity pool, and a gym.
If you and your family want to explore Hawaiian landmarks and culture around Waikiki Beach, the Hyatt Place hotel is the perfect base. Conveniently situated near shops and golf courses, as well as popular attractions including Diamond Head, Honolulu Zoo, and the Bishop Museum.
Why not get into the true Hawaiian spirit by taking a surfing lesson and catching waves at the amazing Waikiki beach. Treat the kids to a delicious breakfast each morning in the guest kitchen. Choose from freshly made breakfast waffles, sandwiches, pancakes, oatmeal, or french toast.
Keep yourself refreshed with a choice of beverages created with espresso roast from Starbucks, as well as a wide range of premium wines, beers, and delicious cocktails.
The Hyatt Place Waikiki hotel offers affordable and spacious rooms with amazing views of Waikiki, either mountains or the ocean. Every room has a no smoking policy as well as being kitted out with a Cozy Corner, consisting of a sofa-sleeper, 42″ flat-screen swiveling HD TV, hot drinks maker, and a workstation. You can also expect a Hyatt Grand Bed, giving you a home-from-home feeling.
Even better, you can relax at the end of the day on your private balcony and take in the beautiful scenery that Waikiki has to offer.
If you choose to stay at the Royal Hawaiian hotel, you won't have much trouble finding it. The bubblegum pink hotel has been one of the main focal points of the Waikiki shoreline for nearly 100 years.
The hotel rooms boast splashes of red and colorful patterns with amenities such as flat-screen televisions, high-speed Wi-Fi, and in-room coffee machines. You can also enjoy room service if you want a night in. Even better, this Waikiki beach resort is super close to some of the best stretches of beaches in Waikiki.
This beautiful establishment also boasts the Abhasa Spa, where you can enjoy a range of treatments before you sample the fresh seafood in the stylish Azure restaurant. For the kids, there are Hawaiian-themed indoor and outdoor activities, as well as kids' menus in all of the hotel restaurants.
The Waikiki Beach Marriott Resort & Spa is a beachfront hotel, fronting the best stretch of the Waikiki Beach in Honolulu. Perfectly situated close to many amenities, this Waikiki beach resort offers fully refurbished suites and rooms all with spectacular views of the famous Diamond Head beach.
You won't need to worry about feeding the family, either! The Kuhio Grill offers tasty Pacific Rim cuisine, with the Arancino di Mare providing delicious Italian dishes. With other restaurants to choose from, there's also a newly refurnished Moana terrace which showcases live Hawaiian entertainment each night for an exciting family evening.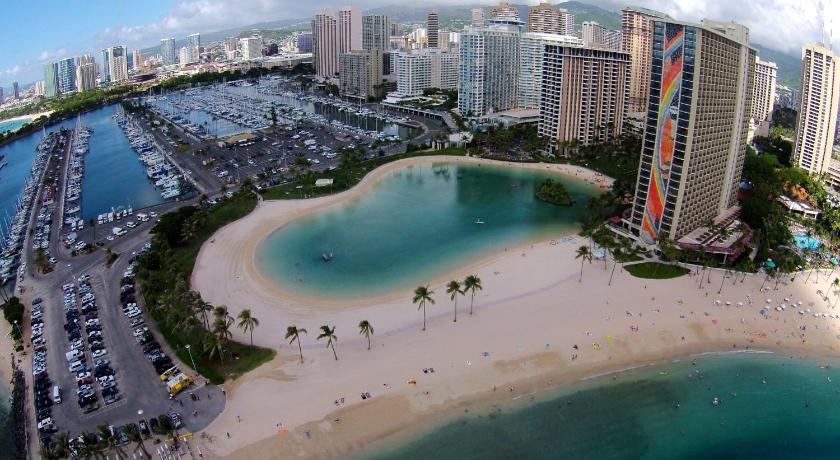 Aqua Palms is one of the popular Waikiki family resorts boasting close proximity to vacation attractions including Fort DeRussy, and the Duke Kahanamoku Lagoon. Aqua Palms is a bustling boutique hotel with newly renovated rooms for an even better stay.
A friendly and welcoming hotel, you can enjoy relaxing on-site amenities including a pool and sun deck area, a fitness room, and Wi-Fi access, all designed to give you and your family a more pleasant break.
You can also take advantage of the discounts for admission to the Honolulu Museum of Art and the Bishop Museum, as well as the IHOP restaurant, which the hotel will provide.
If you're on a budget, but you still want to treat your family to a stay in one of the best family beach resorts in Waikiki, the Aston Waikiki Beach Hotel is the perfect option. This oceanfront hotel offers a range of one and two-bedroom condos complete with full kitchens, making them perfect for families who want that homely feel on vacation.
One of the best things about this hotel is that children can stay for free! So it's perfect for those who are on strict budgets, but who still need a break from the stresses of life.
Many of the rooms have beautiful views of the ocean, which need to be seen to be appreciated! There's also a great swimming pool as well as a fun wading pool for the children.
The Hilton Garden Inn Waikiki Beach hotel is just minutes away from the beautiful beach in Waikiki, plus the many thrilling attractions in Hawaii. You could take a stroll to the beach and do a spot of surfboarding as well as many other exciting activities.
The suites and guestrooms are all available with either king or queen beds, as well as microwaves, HD TVs, and complimentary Wi-Fi. All the rooms provide either a stunning city or beach view, as well as a balcony complete with seating where you can take in the breathtaking Hawaiian city skyline.
In Summary
Hopefully, our guide has given you some inspiration for your next Hawaii vacation. As our list proves, it's perfectly possible to take a break in this beautiful part of the world, whatever your budget.
From the luxury Hilton hotel to the affordable Aston Waikiki where children can stay for free, there's something for everyone!
More about our TFVG Author
A seasoned traveller, Dad, and avid sports tourist, James foundered The Family Vacation Guide to share his expert vacation experiences- especially when it comes to being a travelling family man.
Featured in Travel articles such as Travel + Leisure, TripSavvy and SFGate, you know you're reading some of the best vacation tips online.