Family vacations are some of the memories your kids will treasure most. And they're never too young to experience and appreciate wildlife from a perspective that can impact them for life.
Hawaii is full of unique outdoor experiences that provide lots of fun and teach kids about the importance of respecting the world around them. 
For your next family trip, here are 16 of the best kid-friendly trails in Hawaii to make your vacation a wonderful experience that you can treasure for years to come.
Kid-Friendly Trails on Oahu
While many Hawaiian islands are kid-friendly, Oahu boasts an astonishing amount of reasonably priced activities and amenities that make staying here a dream for families. Here are some of the best trails to help your kids get out some energy while enjoying the great outdoors.
Lanikai Pillbox Hike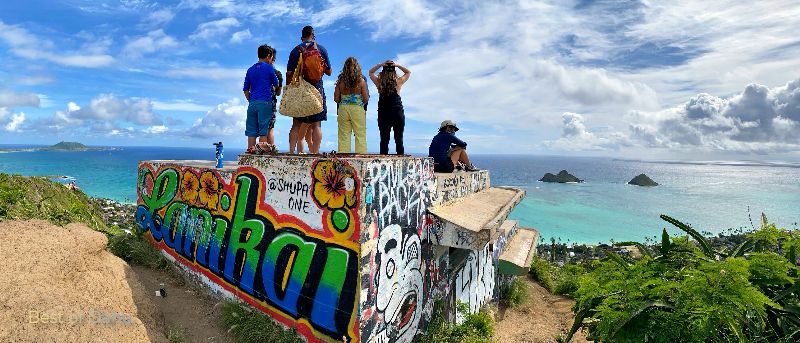 This is a short, moderate-intensity hike that is a feast for the senses. Because it's a very popular hike along the Kaiwa Ridge, you're likely to be sharing the narrow path with other visitors.
However, the panoramic views of Lanikai and Kailua are breathtaking. When you're not marveling at the view of the shore, there are also plenty of wildflowers and other beautiful sights related to the unique setting.
Along the way, there are also two military bunkers and a host of imagination-grabbing excitements.
Many rate this trail as somewhat steep initially, with some rocky technical parts. Depending on the time of day, the trail may be less shaded. For older children or families who hike often, this will likely be an easier trail.
It's about 1.8 miles from start to finish, with an overall elevation gain of 649 feet.
Diamond Head Hike
This is another somewhat short hike, clocking in at 1.8 miles out and back. Located near the capital of Honolulu, this is a great trail to take as part of a nature hike and is accessible the entire year.
This trail takes you right to the summit of Diamond Head, or Le'ahi. Because of this, many find it to be a steep climb. Still, it's one of the most popular trails to hike in the area.
It starts at the historic Diamond Head Crater, part of Hawaii's ancient (yet dormant) volcano chain. This trail is also host to a military bunker as another part of the old coastal defense system.
You'll encounter paved areas, stairs, switchbacks, and tunnels before reaching the summit, where you'll enjoy a complete view of the entire island below. Many hikers say that morning is the best time to go to avoid extreme heat and crowds.
While the incline can be challenging going up, the way back is mostly downhill, making it a balanced trip that's definitely worth it!
Waimea Valley Botanical Gardens Trail
For families with small children, this trail is a lower intensity option that is somewhat stroller-friendly. Without as much incline as other trails, this trail is more a walk than a hike and offers beautiful views as it passes through Waimea Valley's beautiful Botanical Gardens.
At 1.9 miles out and back, you can take this heavily trafficked trail at your own pace to enjoy the views. You'll encounter unique tropical flora and fauna as well as lots of Hawaiian history along the way to keep parents intrigued as well.
The trail ends at Waimea Falls, where visitors can often swim in the falls if they wish. Take note that there is an entry fee. However, visitors are provided with a life jacket and can take a dip at the end of the hike.
The majority of the trail is paved, although it can stay wet and might be slippery on some days, while on others, it can be very hot due to the sun exposure.
Makapu'u Point Lighthouse Trail
This shoreline trail offers breathtaking views of the ocean, of Koko Crater, and of course, the lighthouse. The rocky outcropping along the shore provides a refuge for a wide variety of marine wildlife visible during the hike.
This trail is two miles out and back and is of moderate intensity, with an elevation gain of 500 feet. It's also pretty exposed, and without shade, so sunscreen and protective clothing are a must. As it's steeper at the beginning, it's a better trail for older children.
However, this trail immerses you in the ecosystem of Oahu's diverse coastline as a part of the Kaiwi State Scenic Shoreline. Bring along your binoculars during the appropriate seasons, and you're likely to see humpback whales, beautiful tropical seabirds, and native flora.
Although the lighthouse itself is off-limits, its distinctive red roof is striking against the blue ocean and makes a great destination for a couple of hours' worth of trail hiking.
Kid-Friendly Trails on Maui
Maui is known for its diverse ecosystems and beautiful natural environments. This is a great island for exposing your kids to culture and teaching them to respect and appreciate the world around them.
Sliding Sands Trail
If you have older children who are experienced hikers, Sliding Sands Trail is a great introduction to the beautiful, striking Maui landscape.
At about 11 miles out and back, this trail within Haleakala National Park is very popular and showcases the wide variety of landscapes of the island.
The trail starts easy, but don't be fooled: this trail is for experienced hikers. The incline is intense, and the temperature can vary on the trail throughout the day, as it's exposed to the elements but can be chilly at the summit of the crater.
There are many views of beautiful wildflowers, but the most striking feature is the landscape, which can resemble satellite photos of Mars!
Despite the intensity of this trail, which is primarily due to switchbacks and inclines, taking it at your own pace can help make the experience more enjoyable for less-skilled hikers.
Pipiwai Trail
Experience the beauty of Hawaii's national park system on this easily accessible, beautiful trail. For those looking for a more leisurely experience, try out Pipiwai Trail. At 1.8 miles out and back, there are plenty of beautiful, lush sights to appreciate along the way.
This trail showcases the dramatic beauty of the rainforest; along the way, you'll see multiple pristine pools, a bamboo forest, and the stunning Waimoku Falls at the end. The water rushing over the sheer cliff edge is a worthy destination for this trail.
Overall, the trail is safe and moderately easy. There is a steeper incline at the beginning, although it evens out afterward. The paths are maintained well, and boardwalks and stepping stones help to bridge more challenging or muddy landscapes.
As with other rainforest locations, be aware that the paths could be wet or slippery, and pay attention to weather warnings in the area, as these locations can be prone to flash floods.
Twin Falls
Twin Falls is a great option for a beautiful trail packed with pools, jungle vibes, and an abundance of natural sights and wonders. It's easily accessible but also very popular, so visiting less popular sites may be more favorable depending on when you are vacationing.
However, if you make your trip on a less crowded day, you'll be greeted with an uphill hike on well-maintained paths that are kid-friendly. Although the paths can be narrow, they lead along beautiful streams, multiple small waterfalls, and old rock structures that used to function for irrigation.
At the larger waterfall spot, swimming is allowed, and it's an ideal spot to take a break. There are also small rock walls overlooking pools that can be a great place for supervised rock jumping.
There is a snack stand right in the parking lot to further enrich the experience. Make sure to wear clothes you don't mind getting dirty, as Twin Falls is an immersive experience that can take all day to properly enjoy.
Hosmer Grove & Supply Trails
This trail range inside the Haleakala National Park is a sharp departure from the environment you'll find on the Haleakala summit. Whereas the mountain provides barren and dry views that feel extra-planetary, the Hosmer Grove trails are more familiar.
These feature non-native trees like pine, cedar, spruce, and even eucalyptus. These non-native plants are kept inside the grove to prevent invasive results. However, beyond that nature trail, the area also features native plants, like Hawaii's famous sandalwood trees.
The Supply Trail initially leads to this grove, which functions as a nature preserve where you can see lots of native birds. But continue onward, and the Supply Trail will grow steeper and rockier and connect to other trails to lead you throughout the park and up to the famous crater.
Depending on which trail you take, they can also be exposed to the elements, so dress appropriately and bring sun protection.
Kid-Friendly Trails on The Big Island
The Island of Hawaii, or the Big Island, is a great destination for families because it can be a little more exclusive and therefore less crowded. Try some of these beautiful trails for a more secluded experience that your family will cherish.
Kilauea'iki Trail
This 3.3 mile-long trail is a great all-day affair for the family. For kids who love volcanoes, this is the perfect destination. You'll travel through lush rainforest areas as well as a lava-worn area that used to be a lava lake. 
From traversing across the dried-up crater to viewing an area of previous eruptions, the overlook trail can take around two to three hours, so plan for plenty of time to stop and appreciate the science and history of the area.
It's important to note for crater hikes that volcanic rocks should not be removed from the area, as sometimes the face of the crater can be unstable and experience cracks and splits. Make sure to check weather forecasts and other area news before planning your trip.
Although hiking around a crater may seem crazy, it's overall a very safe experience that's great for the whole family and can be both relaxing and educational.
Waipi'o Valley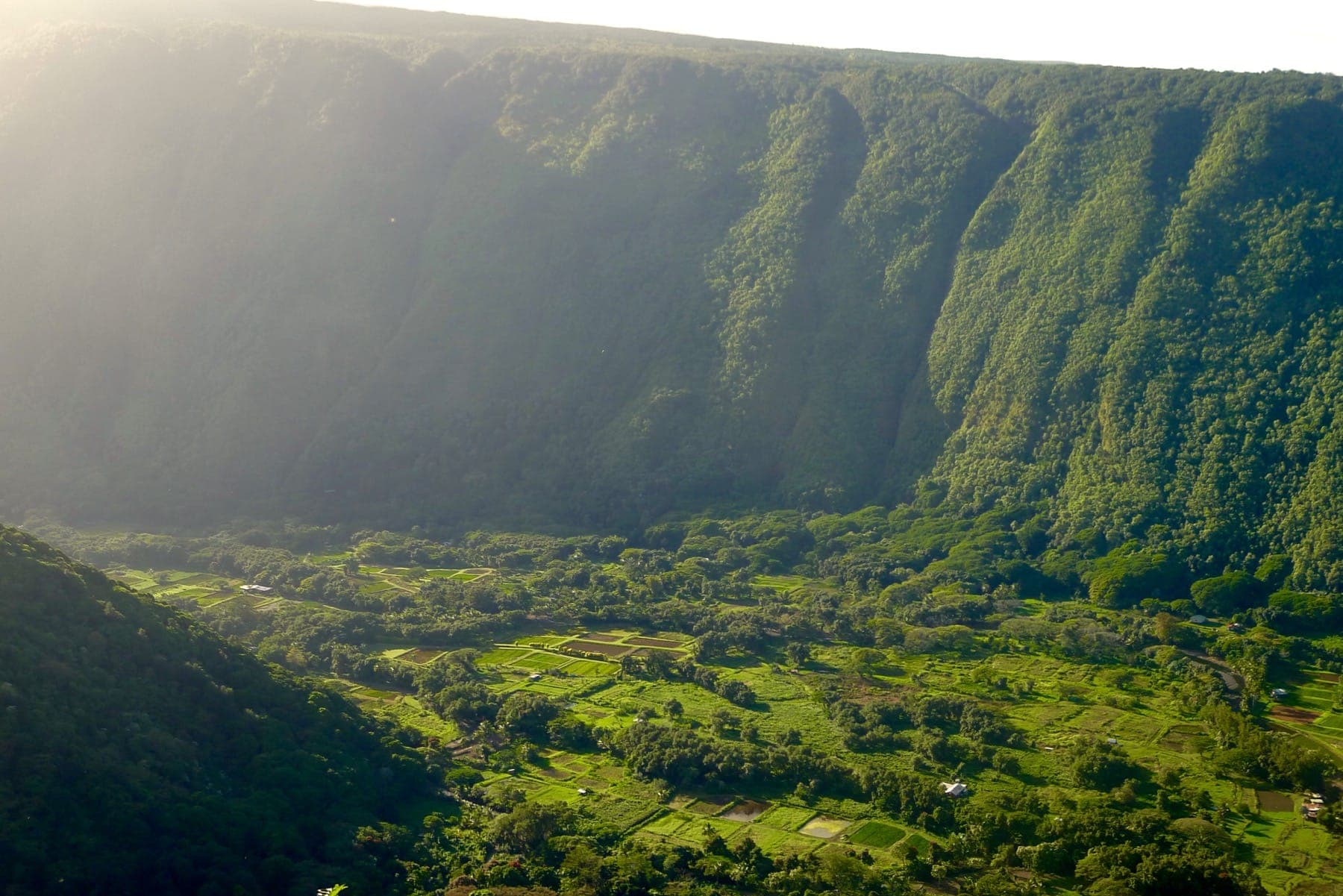 This area along the Kohala mountain is steeped in history and beautiful views. The mountain was the traditional home of the Hawaiian royalty, and the valley's name means "Valley of the Kings."
The valley hike traverses from the beach below to the overlook of the mountain. Although other trails are available in the surrounding area, this is the shortest one, at 4.7 miles out and back. Accessible year-round, it's a moderate intensity hike that can be enjoyed by older children as well.
As it overlooks the coast, there are plenty of beautiful views of the ocean but also of several waterfalls, pools, and even the river, which is crossed in the progression of the trail. So make sure to keep an eye on the tides and pick a low-tide time to hike.
Wildlife is also often seen from the trails, as wild pigs and horses frequent the beach below. However, the trail is mostly inclined and is exposed to the sun and elements. Thus, experienced hikers will find this trail a little easier than those who are unskilled.
Pololu Valley
This is a steep but moderate-intensity trail that can be hiked in as little as 30 minutes. It's less than a mile long out and back but packs lots of beautiful landscape into that short distance.
The rocky trail overlooks black sand beaches and the coast, and although there are no waterfalls, the trail stays drier than other coastal trails. Another unique aspect of this trail is that the first leg is easier than the last.
The steep drops that overlook the ocean are worth the trip, and since it's a very short trail, many hikers say they can complete it easily. Make sure to wear proper footwear, as the trails can sometimes feature loose stones as well as ancient cobblestone.
Hawaii Tropical Botanical Gardens
This beautiful area on the Big Island is teeming with natural flora and fauna that make any hike an exciting and memorable experience. Within the gardens, there are multiple trails to choose from, so be sure to get a trail map and plan out your hike.
Donkey Trail Loop, in particular, is a popular trail here that is very easy and good for hikers of all skill levels. On it, you'll be treated to views of waterfalls, lava rock, cliffs, and lush gardens that feel like jungles.
Together, the trails add up to about a mile in length, but the gardens make the most of the short distance. The area is full of wildlife and nature that, in many cases, are rare or endangered, making this a great destination for appreciating the wildlife but also learning about its value.
Home to over 2000 species, this Bioreserve area is dedicated to education and partners with scientists and botanists to help reach the UN's Sustainable Development Goals as it pertains to preserving the ecosystem.
Once out of the lush rainforests, you'll also enjoy a breathtaking view of the surrounding Onomea Bay on the eastern side of the island. Definitely plan a day trip to get the most out of this enriching destination.
Kid-Friendly Trails on Kauai
This small island is full of kid-friendly adventures. It's the lush, idyllic place you imagine when thinking of Hawaii, and it's the perfect way to introduce kids to the wonders of different natural environments and ecosystems.
Kalalau Trail
This 11-mile trail runs right along the coastline as part of the Napali Coast State Wilderness Park. Many beaches in Hawaii are developed and maintained for tourists, but this coastline perfectly represents a natural, rugged environment untouched by man.
As a matter of fact, this trail is the only way to access this part of the coast, and it's worth it. It's a great place to reconnect with the sheer wildness of nature, crossing multiple valleys and cliffs overlooking the sea.
Because of the rugged landscape, the path is rarely level, and the trail in its entirety can take from two to five days to hike. Camping is an option if you can get a permit, but portions of the trail can be hiked on their own up to the Hanakapiai Beach area for shorter day trips.
Kuilau Ridge Trail
This moderate intensity trail is 3.6 miles out and back and is popular for walking, running, biking, and even horseback riding.
Unlike many other trails, this one winds mostly through dense forest, so while sun exposure isn't a great concern, make sure to wear proper footwear should you encounter mud.
Despite the mud and occasional slipperiness, the trail itself is incredibly straightforward and a great path for beginners. The payoff is the beautiful panoramic view from the top of the Kuilau Ridge.
Along the way, you'll see a waterfall and appreciate the lush rainforest vegetation leading up the side of the mountain. It is on a definite incline with an elevation gain of 666 feet, but the path is steady and easy to manage.
Queen's Bath
As a short 0.8 mile hike, this very popular and heavily trafficked trail features an elevation of 98 feet but is certainly not for beginners. This trail is challenging because the area is prone to dangerous weather events that can be risky for hikers.
However, the main concern is high tide, which can be predicted by looking at weather reports. Visitors are asked to stay away from the trail when the gates at the trailhead are closed.
When you visit the trail on a good, low-tide day, you'll be able to explore a beautiful tidal pool surrounded by volcanic rock that is shrouded in local legends and lots of history. Just like its name suggests, it was at one time an area that was restricted as a bathing pool for royals only.
Now, it's a great place to visit and appreciate when the weather permits. Although the tide situations are not to be taken lightly, it's a wonderful place to visit that's family-friendly on the days that the weather is permitting.
Pihea Trail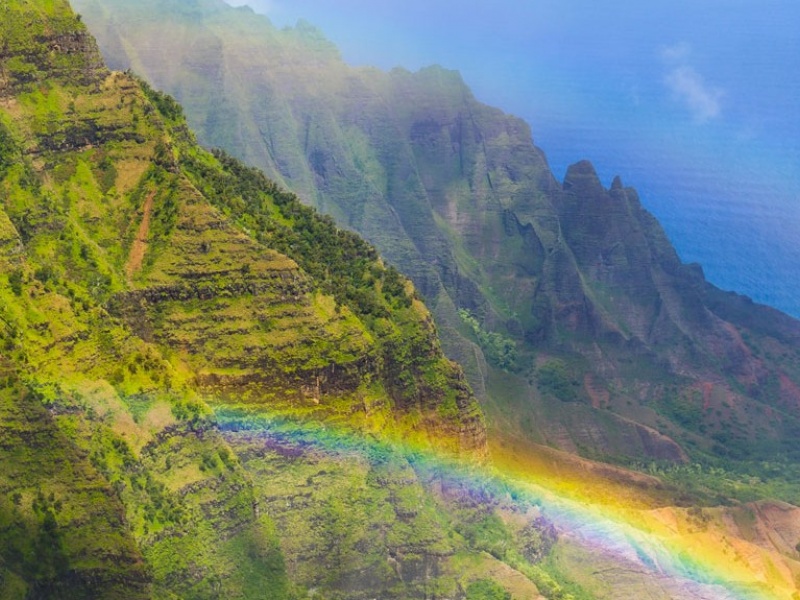 This 7.7-mile trail winds from a beautiful coastal view to a striking inland swamp area that leads through beautiful and unique natural environments you're not likely to have ever experienced before.
The swamp itself is traversable thanks to wood-planked trails that make one feel like an explorer. But, as a word of caution, prepare to get muddy! This trail can be slippery and muddy to hike at many times of the year.
The trail itself can take upwards of five hours to hike, so plan to make a day trip out of it or mark off a small portion of the trail to enjoy at one time with the whole family.
If you want to take one trail to see multiple parts of the island's ecosystem, then this is a great choice. From more sparse coastal views to overgrown, dense rainforest, this trail exposes you to all Kauai has to offer and is sure to ignite young imaginations.
Final Thoughts
When planning a family-friendly trail hike for your Hawaii trip, there are several important things to keep in mind.
Many trails across the islands are either exposed to the sun and the elements during certain times of the day or are subjected to time-sensitive weather events. Research these beforehand to make an informed plan to avoid overly hot or high-tide times of the day.
Also, make sure to be prepared for your trip. Bring lots of water, food if necessary, sun protection, and the proper gear for the terrain you'll be facing.
Many of the best trails can be long and too intense for young children, but with the proper planning and by mapping off a smaller trail section, the whole family can still enjoy the trail and everything it has to offer.
With so many beautiful, diverse ecosystems throughout Hawaii, planning a kid-friendly trail hike can be the perfect way to expose your kids to new surroundings and help them appreciate nature in a whole new way.
More about our TFVG Author
A seasoned traveller, Dad, and avid sports tourist, James foundered The Family Vacation Guide to share his expert vacation experiences- especially when it comes to being a travelling family man.
Featured in Travel articles such as Travel + Leisure, TripSavvy and SFGate, you know you're reading some of the best vacation tips online.