The state capital of Hawaii, Honolulu, is on Oahu, along with iconic Waikiki Beach and the sobering USS Arizona Memorial at Pearl Harbor.
The island of Oahu is also where you find the North Shore, a hotspot for amateur and professional surfers.
Known as "The Gathering Place", Oahu is a place for friends and family to relax and have some fun together.
Just like you won't run out of fun and exciting things to do on the Hawaiian island, you also have plenty of options when you are looking for a resort.
Get ready to enjoy gorgeous beach views and all of the amenities that make you feel at home at any of these Oahu family resorts.
Why not also check out our guides to the best family resorts in Hawaii (including Maui and Kauai) and the best family beaches in Hawaii whilst you're here? We've also offered our recommendations on which Hawaiian island you should visit for a family vacation if you've still not made up your mind.
Hilton Hawaiian Village
With rooms overlooking the Pacific Ocean and Waikiki Beach, the Hilton Hawaiian Village is an all-inclusive resort catering to families. Stay at the Ali'l beachfront boutique or the Rainbow Tower. If you are looking for elegance and inspiring views, the Tapa Collection is a peaceful retreat on the property with spacious rooms.
The Tapa or rooftop pool is an excellent place for families to enjoy some time in the water and feel like they are in a private tropical paradise. The Super Pool boasts 10,000 square feet of crystal water, and you can't forget to stop by Paradise Pool – a 5,000 square foot activity pool geared for family fun. It also has one of the only waterslides on Waikiki.
Alongside the fun water activities, guests at the Hilton Hawaiian Village can also enjoy a starlight luau on the beach. Yoga classes are also offered, and families can spend a few hours learning how to make leis. With deals on room packages, families can enjoy all Oahu has to offer.
Hilton Hawaiian Village is located at 2005 Kalia Road, Honolulu, Hawaii, 96815, USA.
Alohilani Resort
Only steps away from Alohilani Beach are the twinkling lights of the Alohilani Resort. With deals on vacation packages and military discounts, the resort is open and welcoming to visitors. Choose from rooms or suites overlooking the Pacific Ocean or with views of the tropical resort.
Along with its public spaces that include the pool and walking trails throughout the lush property, guests can access the exclusive Longboard Club. Choose a room with club access and enjoy a more private setting complete with curated daily specials designed to enhance your stay. You can enjoy specially crafted beers and wines. Personalized service adds a special touch to your visit, and the club also offers culinary delights both local and global.
Stroll through the resort's gallery or spend some time in the luxury shops. Relax in the O Bar and Oceanarium or at the daytime infinity pool for some stunning views of the ocean. On-site restaurants with world-renowned chefs ensure everyone will find a new favorite dish.
Whether you get a room with views of the Pacific Ocean or the volcanic Diamond Head, your stay at the Alohilani Resort will be one you always remember.
Alohilani Resort is located at 2490 Kalakaua Ave, Honolulu, Hawaii.
Sheraton Waikiki
Situated on Waikiki Beach, staying at Sheraton Waikiki means that you are only moments away from the sand and warm waters of the Pacific Ocean. The Sheraton Waikiki is next to Diamond Head Crater, shops, and the island's top attractions.
Perfect for hosting family vacations, visitors can relax in one of the resort's fabulous poots or take a break at the spa. The resort was voted as having the best hotel pools in the nation by a USA Today poll for 2019.
The Edge Infinity pool gives you stunning ocean views, and the Helumoa Playground pool is designed for family fun. It comes complete with an interactive fountain area, two whirlpools, and a waterslide. You can even enjoy a meal at the pool, with food and beverage services being offered poolside.
Along with several resort restaurants serving up everything from pizza to locally-inspired cuisine, guests can also enjoy dining at one of the eateries close to the resort. Most locations offer outdoor seating, meaning that you can enjoy the tropical view.
Sheraton Waikiki is located at 2255 Kalakaua Ave, Honolulu, Hawaii.
Royal Hawaiian Hotel
The historic Royal Hawaiian Hotel can be found on Waikiki Beach. Take a few steps outside of your room to start really feeling like you are in paradise. Guests can choose between rooms and suites overlooking the ocean or the resort's lush tropical gardens.
Stay in the Mailani Tower with a private lanai or the elegant and luxurious historic wing. The hotel also has four suites, with one sleeping up to six people.
Have breakfast at the Royal Hawaiian Bakery and dinner at the Mai Tai beachside bar. The Azure restaurant provides dinners with local dishes and gorgeous ocean views. On Monday and Thursday evenings, you can experience Hawaiian culture at the Aha'Aina Luau.
The resort's beachside location ensures you won't miss out on any water activities. Waikiki Beach offers everything from swimming and surfing to snorkeling and parasailing. Guests at the resort can also rent bicycles and spend the day exploring the tropical island.
The Royal Hawaiian Hotel is located at 2259 Kalakaua Ave, Honolulu, Hawaii.
Aulani Disney Resort & Spa
Disney and memorable family vacations are synonymous, and you'll undoubtedly be enjoying the latter when you stay at the Aulani Disney Resort & Spa. The resort offers something for family members of all ages, along with fun activities you can do together. You'll create plenty of magical memories when you stay at this Hawaiian resort.
Stay in a room, suite, or family villa with up to three bedrooms. All accommodations offer stunning views of the resort and the Pacific Ocean. Along with ocean and beach activities, the resort also offers plenty of fun events for families, with most being included with your stay.
Spend the day splashing and relaxing at Ko Olina Lagoon, or spend some time with Mickey Mouse and your other Disney friends. Enjoy live entertainment and participate in a scavenger hunt.
Parents can take some time for themselves at the resort's spa while the kids play at the well-supervised Aunty's Beach House. When it comes to dining, guests have their choice of Hawaiian, American, or international dishes.
Aulani Disney Resort is located at 92-1185 Ali'inui Dr, Kapolei, Hawaii.
Marriott's Ko Olina Beach Club
Ko Olina Beach Club sits on Waianae Coast, overlooking tropical greenery and sparkling blue lagoons. It is the perfect getaway for busy families looking to relax and spend some quality time together. Stay in one, two, or three-bedroom villas and discover all the resort has to offer.
You'll find plenty to do as a family or by yourself. Take a walk along the beach or dive into a refreshing lagoon. A championship golf course is on the property, and kids play free after 3 pm.
Charter a fishing or sailboat from the resort's full-service marina. You'll also find slips if you decide to sail to the resort. The possibilities for adventure are endless.
Ko Olina Station and Center are where you can find restaurants and shopping outlets. The resort's spas offer a variety of treatments designed to relax and pamper your mind and body.
If you want to experience the island's extensive history or nightlife, downtown Honolulu is a short 17-mile drive away. With four lagoons, nature trails, and luxurious amenities, Marriott's Ko Olina Beach Club offers the perfect family getaway.
Marriott's Ko Olina Beach Club is located at 92-161 Waipahe Place Oahu, Hawaii.
Turtle Bay Resort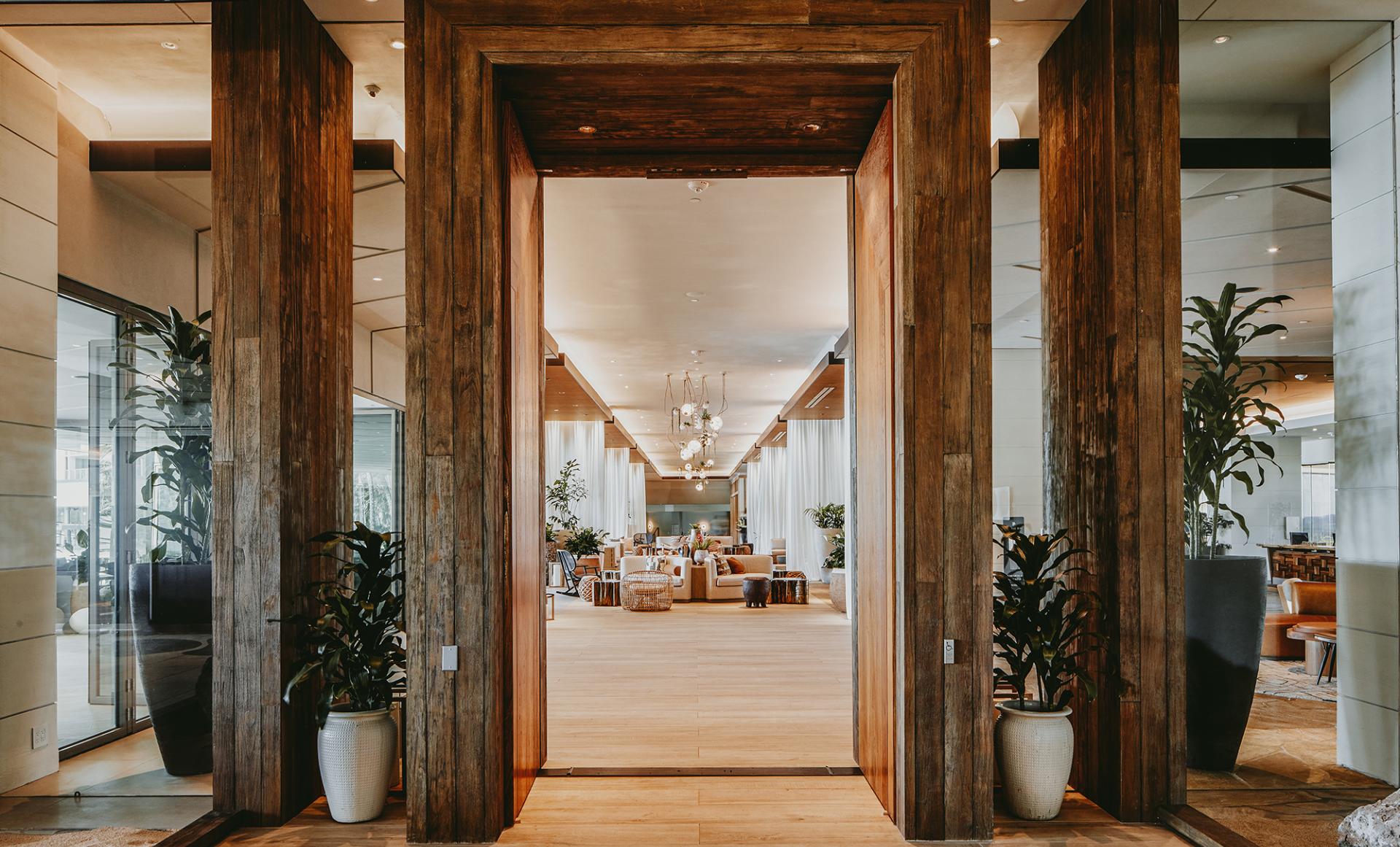 Located on the North Shore, Turtle Bay Resort is a destination getaway where families can discover the history of Oahu and connect with the area's natural splendor.
Stay in a spacious ocean villa or bungalow. You get ocean views and the privacy you need to recharge and concentrate on spending time with your family. The resort also offers guest rooms and suites complete with all of the amenities you need to feel at home.
Horseback riding, tennis, and golf are some of the activities you can enjoy at the resort. Surfers will relish the powerful North Shore waves, and adventurous guests can come face-to-face with sharks. See the beauty of Oahu from a helicopter, and toast to your well-being on the Moloka'i sea cliffs. Resort guests can also enjoy a picnic by a cascading waterfall.
Dining is an experience at Turtle Bay Resort. Guests have several options, with many restaurants highlighting the flavors of the island. Enjoy freshly caught seafood and sustainably sourced fruits and vegetables.
Families can also enjoy an authentic Hawaiian luau. Dine on stone-fire roasted Kalua pork, sweet pineapple, and poi amidst hibiscus blossoms, palms, waterfalls, and lagoons.
Turtle Bay Resort is located at 57-091 Kamehameha Highway, Kahuku, Hawaii.
Four Seasons Ko Olina
Families enjoy laidback luxury at the Four Seasons Ko Olina resort. Located on the western coast of Oahu, guests can take advantage of the wild and natural landscape. Ocean views are the standard with the rooms and suites.
For an authentic taste of luxury, try the 17th-floor penthouse suite. There is plenty of room for your family in the two-bedroom suite, and the private terrace gives you unending ocean views.
Enjoy a round of golf and marvel at the waterfalls as you are playing through the course. The Naupaka Spa & Wellness Center will help you relax and recharge. A white sandy beach entices visitors to spend the day outside. You can also rent an outrigger canoe and explore the surrounding shoreline. When adults want to get away, spend some time in the resort's infinity pool.
Alongside the resort pools, you'll find several casual dining places. A Hawaiian fish house offers stunning sunset views during dinner. Sample creative cocktails at Dr. Mai Tai's after the kids have gone to bed.
Guests can also take advantage of in-room dining. Any time of the day or night, you can order from the extensive menu. If you forgot anything at home, you are sure to find it in one of the resort's two exclusive shops.
Four Seasons Ko Olina is located at 92-1001 Olani Street, Kapolei, Hawaii.
The Grand Waikikian by Hilton Grand Vacations
Situated on 22 acres, the Grand Waikikian Resort is close to the beaches, airport, and downtown Honolulu. The Hawaiian Resort Village offers something for everyone in your family. Enjoy any of the four pools in the resort, and children can spend a fun-filled day at one of the Grand Waikikian's kids' camps.
The non-smoking rooms give guests a view of the Pacific Ocean, along with the resort's lush tropical gardens. Private beach access for hotel guests is included in your stay. Upgraded suites feature large balconies overlooking the ocean. There is plenty of room for your family with one, two, and three-bedroom suites to choose from.
Resort amenities include a fitness center and a convenience store. When you don't feel like going into Honolulu, you can dine at one of the resort's two restaurants. Enjoy outdoor seating with ocean views at the grill or a casual dining restaurant. Sample local Hawaiian dishes, along with traditional American cuisine.
Grand Waikikian by Hilton Grand Adventures is located at 1811 Ala Moana Blvd, Honolulu, Hawaii.
The Waikiki Beach Marriott Resort & Spa
Sitting on 5.2 beautifully landscaped acres on Waikiki Beach, the Waikiki Beach Marriott Resort & Spa provides guests with a luxurious getaway. Following in the footsteps of Queen Lili'uokalani, the resort is an example of Hawaiian hospitality.
The guestrooms are a blend of indoor and outdoor living spaces with stunning views of the Pacific Ocean. Floor-to-ceiling windows are standard in the rooms, ensuring you don't miss a spectacular sunrise or sunset.
Echoing the meaning of Oahu, the Nanea open-air lobby is a beautiful gathering place in the resort. Modern seating and art by Ka Maka Hinu make the lobby an enchanting place that you would not want to miss.
The resort's central location places you close to the beaches and Waikiki Aquarium. Pearl Harbor is also close by, along with the Waikiki Zoo. The only bourbon lounge on Waikiki is at the resort. Overlooking the beach, Kuhio Beach and Grill is famous for its craft cocktails and prime rib dinner buffet. When it's time to treat yourself, make an appointment at the Royal Kaila Spa.
Waikiki Beach Marriott Resort & Spa is located at 2552 Kalakaua Avenue, Honolulu, Hawaii.
The Kahala Hotel & Resort
Luxurious comfort is the specialty of the Kahala Hotel & Resort. Near downtown Honolulu and Waikiki Beach, the resort provides guests with memorable experiences. Spend the day being pampered in the hotel's wellness spa or on the manicured lawn for a CHI fitness class.
Kids and parents will love swimming with the Bottlenose dolphins that live in the resort's natural 26,000 square foot lagoon. The Kahala Shopping Gallery offers everything from swimsuits and high fashion to car rentals and jewelry.
After a day on the beach or at the resort pool, stop in for a bit at the hotel's open-air restaurant. Hotel rooms and suites boast ocean views and plenty of room for a family. First responders and guests over 65 are eligible for special rates.
The Kahala Hotel & Resort is located at 5000 Kahala Avenue, Honolulu, Hawaii.
The Aston Waikiki Beach Hotel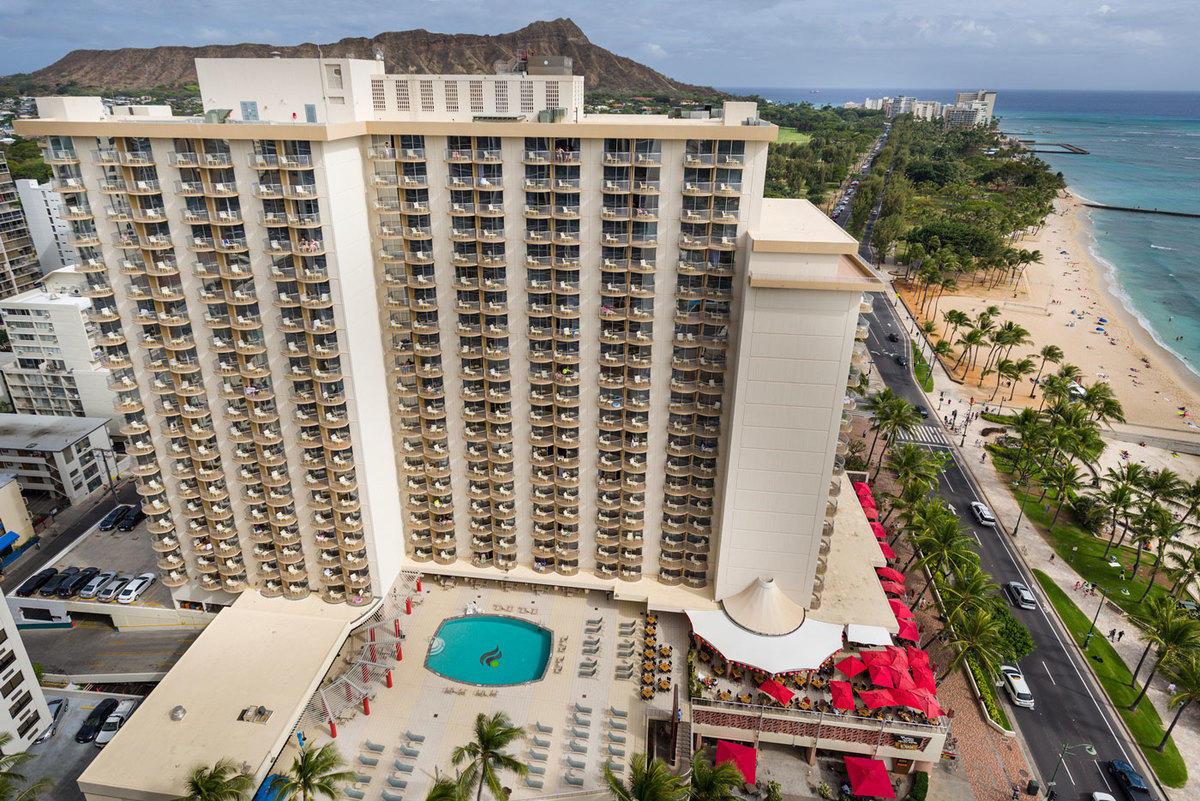 The Aston Waikiki Beach Hotel is across from Kuhio Beach Park. The calm water is ideal for young swimmers and adults looking to relax. The waves grow higher on the other side of the reef, creating the perfect area for surfers to hang out. On the same side of the island as Diamond Head, you can enjoy all the site has to offer without the crowds.
The Honolulu Zoo, Kapiolani Park, and Waikiki Aquarium are a short distance away, along with a variety of local cafes and restaurants. The beach hotel has several on-site eateries serving everything from breakfast and dinner to exotic handcrafted drinks offering an excellent alternative for those moments when you don't want to go out.
Most of the rooms and suites have partial or complete views of Waikiki Beach. Floor-to-ceiling windows give you an unobstructed view of the water and the hotel's landscaped greenery. Kitchens, living areas, and ocean-side terraces are some of the amenities you can expect in one of the hotel's suites.
Aston Waikiki Beach Hotel is located at 2570 Kalakaua Avenue, Honolulu, Hawaii.
The Embassy Suites Waikiki Beach Walk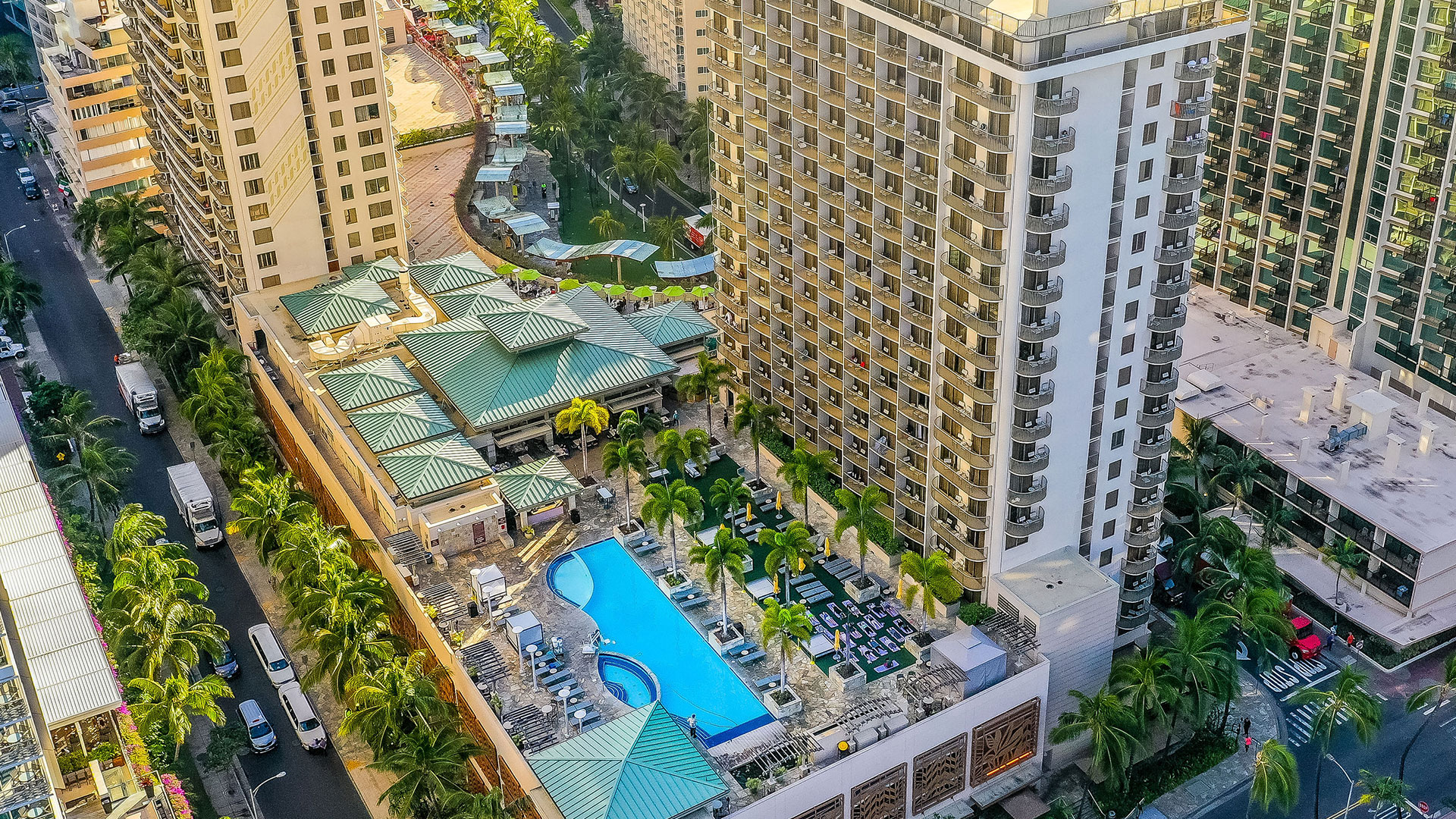 You are only seconds away from Waikiki Beach at the Embassy Suites Waikiki Beach Walk Resort Hotel. The hotel features a variety of suites, ensuring you have room for your family. Choose from one, and two-bedroom suites, all with living areas, kitchens, and ocean-side views. A made-to-order breakfast each day of your stay is also included with your stay.
Enjoy an evening reception with other guests at the pool or take in the Hawaiian spirit with a walk on Waikiki Beach. You'll find restaurants, unique shops, and live local music. Hula lessons and sunrise yoga classes are offered at the resort hotel, and you can relax afterward at the outdoor Pakini Bar and Lounge on the Grand Lanai, above the outdoor pool.
Daybeds and cabanas are close to the pool, allowing you to relax and enjoy the warm Hawaiian breeze. On the Grand Lanai, you'll find a sundeck, spa, and children's pool.
Embassy Suites Waikiki Beach is located at 201 Beachwalk Street, Honolulu, Hawaii.
The Hyatt Regency Waikiki Beach Resort & Spa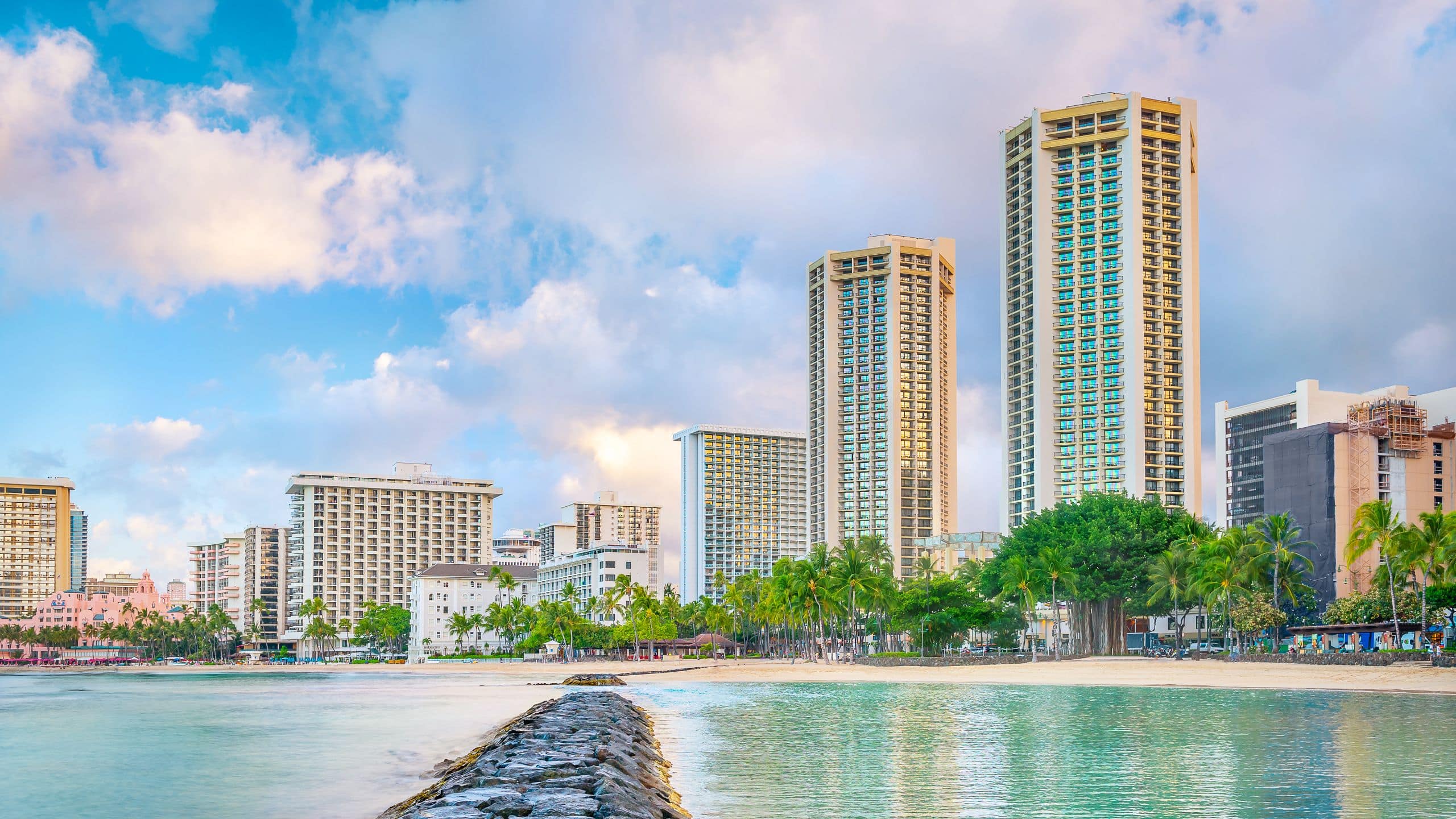 Connect with the island's spirit at the Hyatt Regency Waikiki Beach Resort & Spa. Close to Diamond Head Crater and across from the iconic Duke Kahanamoku Statue, the resort is a few feet away from the blue waters of Waikiki Beach.
Spend the day at Na Ho 'ola Spa rejuvenating your spirit and pampering your body. The expansive atrium is home to Pualeilani Shops, where you can browse through Urban Outfitters, Billabong, and several others.
Take a break and enjoy a treat at Honolulu Cookie, located on the 11th floor. It is close to Hawaii Tradition Gold, where you can find unique jewelry from local artisans. Tucked in among the shops you'll also find restaurants and cafes.
Find rooms and suites to fit every family's needs at the resort. Rooms are available with ADA showers, and you can choose from a beach or city view. The suites are ideal for families. Private lanais give you an exclusive view from your guest room or suite. Add Regency Club Access and enjoy breakfast and evening hors d'oeuvres during your stay.
Hyatt Regency Waikiki Beach Resort & Spa is located at 2424 Kalakaua Avenue, Honolulu, Hawaii.
Ka'anapali Beach Hotel
Enjoy all that the island has to offer at Ka'anapali Beach Hotel. Just feet away from the beach and ocean, the hotel offers stunning views of the ocean, courtyard, or gardens from its rooms. In the Molokai Wing, the Ocean Front Family Suite is ideal for families of four or five. Spend time on the private terrace and relax in the living area.
Your family won't run out of fun activities at the beach hotel. Sign-up for a SUP lesson and paddle around the shoreline. The hotel's experienced water guides often take guests snorkeling to Pu'u Keka'a. The island's famous black rock. Rent an outrigger canoe or take a guided tour with a hotel instructor.
When you are ready to relax on the beach, rent a semi-private cabana and enjoy a tropical drink. Several cultural activities are also offered for kids and adults, including hula and lei-making lessons. You can also learn about Hawaiian history, music, and art.
Before you head out for an exciting day on the beach, stop in at the Grab n Go in the hotel lobby. Get a cup of fresh-brewed Hawaiian coffee and snacks to power you through your day. Welowelo serves classic poolside cuisine in a relaxed atmosphere. Kids can enjoy burgers and pizza while adults sip on handcrafted drinks. Enjoy an ocean view and a culinary experience at Huihui. The open-air restaurant is open for breakfast, lunch, and dinner serving Hawaiian cuisine made from locally sourced ingredients.
Ka'anapali Beach Hotel is located at 2525 Ka'anapali Parkway, Lahaina, Maui, Hawaii.
More about our TFVG Author
A seasoned traveller, Dad, and avid sports tourist, James foundered The Family Vacation Guide to share his expert vacation experiences- especially when it comes to being a travelling family man.
Featured in Travel articles such as Travel + Leisure, TripSavvy and SFGate, you know you're reading some of the best vacation tips online.