Each of the eight islands that make up Hawaii has its distinct appeal to visitors. The islands aren't simply tourist destinations but have evolved into a dream destination for most travelers.
Hawaii's natural splendor is unparalleled. It's not surprising that you would desire to visit, given the region's breathtaking beaches, stunning volcanic scenery, and plenty of native wildlife, such as sea turtles.
Your next step will be to figure out where to stay in Hawaii. Read on to learn about the best places to stay in Hawaii.
1. Hawaii (Big Island)
The "Big Island" is so enormous that it will still overshadow the others merged into one. The island is your gateway to 11 climate zones. They include sandy beaches along the shoreline, dense rainforests, and inland icy tundras.
Whereas the Big Island might appear to be nothing but a never-ending stretch of beach on TV, there's much more to explore on the island. It's referred to as "the Island of Discovery" for a good cause. There are two key zones you need to consider if you opt to make the island your adventure's starting point.
The Kona region often referred to as the Kailua-Kona region, takes up most of the island's western side.
A trip to Kona will present you with an experience similar to Hawaii's depictions you've seen in movies and television. The area is mainly volcanic, rendering the soil exceptionally fertile and verdant. It's among the regions where you will find the world-famous Hawaii coffee beans.
Furthermore, you'll find some of the finest Hawaii beaches in Kona. Nevertheless, a large portion of the interior region isn't entirely natural. Although the volcanic landscapes are beautiful, they don't offer the postcard-perfect scene many Hawaii visitors hope to find.
From a strategic standpoint, you'll likely spend some time in the Kailua-Kona area. Since it's home to Hawaii's largest airport, a stopover is unavoidable.
Irrespective of your budget, it's advisable to stick around for a short while. Although Kona features some of the Pacific's largest and most luxurious resorts, there are also reasonably priced condos for rent.
If your budget is reasonable, you should head to Gold Coast. The shoreline's stretch has some of the nicest beaches, opulent resorts, and expensive lodgings.
The island's western region is a good choice for vacationers who want to avoid overly touristy areas. The Hilo area receives less tourist traffic due to a wetter climate, but it still has a lot to offer the adventurous traveler.
The area's primary attraction is the rainforests. You don't have to travel very far from the major cities to reach stunning expanses of wilderness and magnificent hidden waterfalls.
You can also visit Hawaii Volcanoes National Park, but you'll need to devote two days to that, given its sheer size. Here, you'll find two active volcanoes encircled by a breathtakingly beautiful and dense stretch of rainforest.
That doesn't mean there are no lovely beaches in Hilo; it's just that they aren't well-suited for swimming. However, places like Waipio Valley Lookout's rocky coastlines and towering peaks offer a unique and pristine sense of beauty.
If you wish to experience Hawaii like a local without fighting through thousands of visitors, Hilo is among the finest places to stay. Although it's not the most affluent metropolis on the islands, it offers a bohemian tropical vibe for being the home ground to many singers and artists.
Volcano Town is a great place to stay if your main interest in Hilo is Hawaii Volcanoes National Park. Its convenient location makes it an excellent starting point for an expedition into the wilderness.
You shouldn't miss visiting Mauna Kea, Hawaii's highest mountain. The mountain has lush vegetation, and you'll need a 4WD vehicle to reach the peak. The peak is typically chilly and covered in snow throughout the winter.
The Mauna Kea Observatory, an active research center, opens its doors to visitors during daytime hours. The six-mile trek begins at the Visitor Information Station and stretches 13,800 feet. Only experienced hikers should try to reach the peak.
It's very likely that, among all the islands, you'll prefer to spend most of your time on this island. One week on the island is barely enough time to see what it offers. You may spend 2 or 3 weeks on the island without running short of activities or attractions.
If you've never been to Hawaii, you can spend your entire trip here without feeling like you missed out on anything. However, if you plan on venturing out to other areas, it's advisable to make the Big Island your vacation's focal point, either at the beginning or the end.
2. Kauai Island
Of all Hawaii's islands, Kauai has the most stunning scenery. The "Garden Isle" is a paradise for outdoor enthusiasts and hikers because it's home to many natural vistas only accessible by foot.
Kauai's hiking trails, which include treks through verdant gorges and forested mountains, evoke scenes from Jurassic Park without the creatures.
Surprisingly, Jurassic Park's filming was done in Kauai. The island has also been a filming ground for other movies like Fast & Furious and Pirates of the Caribbean. Hollywood has, for a long time, known about the island's mystical allure.
There are many places to explore while you aren't out looking for filming locations. But whether to go north or south is up to you.
The Halelea Forest Reserve and the Na Pali Coast State Wilderness Park encircle the island's north coast. It's full of lush vegetation and offers a sense of seclusion. Kalihiwai and Princeville are the most well-known cities if you head in that direction.
The southern coast is where you'll find more people and some of the most beautiful beaches in Hawaii. Poipu Beach is a popular destination for tourists who want to sunbathe by the water. There are also easily accessible attractions, such as Allerton Garden.
If visiting beaches is on your bucket list, consider staying on the south coast since it receives less rainfall than the north.
So, what are the top attractions in Kauai? Na Pali Coast State Park should be your first stop. The park is home to well-known peaks. You can take in the peaks' beauty from designated vantage points.
You'll need at least half a day to trek the Kalalau Trail via Na Pali Coast State Park. Spending the night in a tent will render your multi-day trip even more exciting.
You can also take in Na Pali Coast State Park's beauty by air or water. If you wish to cut down on walking and get an overhead viewpoint, consider spending on a helicopter trip.
You can also embark on a boat excursion around the coast, which entails snorkeling and an opportunity to see dolphins.
Another scenic attraction is Wailua Falls. The 173-foot waterfall drops into an enclosed rainforest lagoon at the base of a cliff. The travel distance is only a half mile, but you should be ready for some climbing along the way.
The excursion is quick and takes only half a day to complete. Bring your swimming attire if you're courageous enough to dive in the plunge pool.
Waimea Canyon is also a must-see natural landmark. Once more, you'll have to hike to get the best vantage point. Nevertheless, the travel distance is short and requires 2 to 3 hours.
Waimea Canyon is about 10 miles long and 3,000 feet deep and has a stunning burnt red color. It's among the island's most striking landmarks.
If you get tired of exploring Kauai by foot, you can always kick back and relax on one of the island's many stunning beaches. Poipu Beach is a favorite to many since it allows visitors to get up close with monk seals and sea turtles.
3. Oahu Island
Oahu is the most populated and urbanized island in Hawaii. It's also home to the state capital and largest city, Honolulu. The island is known for its multicultural lifestyle and beautiful beaches and is a popular destination for surfers worldwide.
Oahu's metropolitan layout provides visitors with many lodging options. So, how do you make your choice? First, you'll need to decide whether or not you wish to stay in Honolulu.
If you're okay staying in the city's outskirts, Diamond Head is the most picturesque area. The area is well-known for the volcanic crater that sits among high-end hotels and villas. You can reach the footpath leading to the crater from the CBD in half a day.
Though strenuous, the 45-minute round-trip to Diamond Head's summit is worthwhile because of the breathtaking vistas. If you're tired of volcano hikes and beach sunbathing, you should head out to Waikiki.
Waikiki is Hawaii's best argument for a world-class city. There are hundreds of eateries serving local and international cuisines. It also has a vibrant nightlife scene.
The Waikiki Beach Walk has adorable boutique stores and is a great place to relax while enjoying the sun. High-end shopping alternatives include Luxury Row and the International Market Place.
However, if you'd instead visit museums and historical sites, consider staying in the CBD. It overlooks the waterfront and offers an authentic city experience, complete with proximity to museums and galleries.
Furthermore, it's possible to explore Oahu without a rental car or a guide, making it a rarity among the Hawaiian Islands. The city's transportation network is extensive, but strolling around on foot or riding a bike is equally fun.
If you don't wish to stay in Honolulu, consider visiting the North Shore. The region is home to some of the best surfing in the world and chill surfer cities where you can immerse yourself in the Hawaiian coastal lifestyle.
Whether a solo adventurer or traveling with kids, you'll enjoy the region's welcoming atmosphere.
Although Oahu Island's nightlife is one of the reasons why tourists flock here, it has a lot more to offer. After experiencing the island's fun side, you can take some time to study its rich history.
The Pearl Harbor attacks during World War II gravely affected Oahu. There are numerous museums, giving you a chance to gain insight into the tragedy's impact. You may opt to explore the island's many attractions on a self-guided tour or pay for a guided tour.
You can also pay a visit to the Hanauma Bay Nature Preserve. Hanauma Bay is a one-of-a-kind preserved bay and a favorite destination for snorkeling diehards.
Overuse has resulted in damage and pollution of the sensitive marine environment. However, the bay is back to its former glory and is once more accessible to tourists.
The Hanauma Bay Education Center is an excellent resource for those seeking to learn more about the bay. You'll also have access to many snorkeling rental shops offering lessons to help you get up close to the bay's spectacular reef system.
Feeding frozen peas to tropical fish was once a popular tourist activity, but the authorities no longer permit it for safety reasons. If it's your first visit, you'll be required to watch a nine-minute movie on the local marine ecosystem, safety procedures, and preservation efforts.
Although the island's western region is not very famous, it's equally stunning as the northern region. The water here is among the clearest you'll find anywhere in the Hawaiian Islands. It's also one of the top locations to visit if you want to witness sea turtles in their natural environment.
Another exciting attraction in Oahu is the Polynesian Cultural Center. Here, you'll learn about Polynesian islanders' culture in Hawaii, Tahiti, the Marquesas Islands, Tonga, Samoa, Fiji, and the Maoris in New Zealand through games, dances, music, and crafts.
The center has wings representing the different places. In addition, the place offers an authentic experience since most performers are natives of the locations they're portraying. The venue is open for tours during the day, and you can attend the performances at night.
Oahu should be on your to-do list if you're seeking a place to stay in Hawaii that offers both cultural experiences and natural splendor.
4. Molokai Island
Among the six islands on our list, Molokai receives the fewest visitors, making it an ideal destination for individuals seeking a genuine Hawaiian experience away from the huge crowds.
Kaunakakai is the most populous settlement on the island. Surprisingly, a leper colony serves as one of the most popular tourist attractions in Molokai. That's unusual in most locations across the world.
Following a serious leprosy outbreak in the late 19th century, Molokai served as a leppers' sanctuary for a long time. The colony is still in existence, and you can make arrangements with local travel agencies to visit the area. It lies in a beautiful but secluded place on the island's northern side.
The most affordable lodging option in Molokai is renting a cottage or an apartment. There aren't many resorts here, and if you rent an apartment, you'll have the freedom to cook your meals. That's mainly an excellent alternative when traveling with kids.
Though it receives few tourists, Molokai boasts stunning beaches and landscapes. If you visit the island's western coast, you'll find the legendary Papohaku and Kapukahehu beaches.
On the eastern coast, you can visit Kumimi and Halawa beaches, while the south coast is home to One Alii Beach, a former retreat for Hawaiian nobles.
You'll find the world's highest sea cliffs and the longest continuous fringing reef in Molokai. Other stunning sceneries include the Halawa Valley and Kalaupapa National Historical Park.
The 4.3-mile Pali trail, stretching 1,700 feet, is a tough but worthwhile trek. Ensure you check local access permit requirements beforehand.
Campers, hikers, and picnickers enjoy the island's many parks, such as Malama Park and Kapuaiwa Coconut Grove. Furthermore, the Palaau State Park offers stunning views of the Pacific and towering ocean cliffs. There are also winding trails through a dense forest of eucalyptus and ironwood trees.
Another attraction you don't want to miss is the Kamakou Preserve. The 2,774-acre pristine preserve is on the flanks of Kamakou, the tallest peak on Molokai.
During the excursion, you can listen to the charming melodies of native birds like the rare oloma'o (Molokai thrush) and kakawahie (Molokai creeper) or gaze at the beautiful, banded tree snails.
If you love riding, you can book a guided horse tour from Kualapuu, which stretches 1,700 feet along Molokai's enormous sea cliffs to Kalaupapa village. The ride starts with acquittance to the horses and riding directions.
Then, a seasoned tour guide takes the lead on the 2.9-mile journey. You'll have an opportunity to witness spectacular vistas and learn about the region's history.
Your visit to the island would be incomplete without a visit to Molokai's Plumeria Farm. It's a 10-acre farm where visitors can stroll while selecting flowers for a custom necklace. You participate in a guided workshop and learn how to make a lei necklace or purchase ready-made.
The only airport on the island's center offers direct flights from Honolulu and Maui. In addition, ferries go to and from Molokai twice every day. If you don't have a host family, consider making arrangements for a rental car.
If you wish to visit Molokai, ensure that you have everything planned out, including where to stay and how to get there before leaving. The locals here are wary of the tourism industry, but that doesn't imply they're unwelcoming. You need to put in a little more effort to have them open up.
In exchange for a day's work, several farms in Molokai will give visitors free accommodation. Whereas that might seem the opposite of holidaying to some tourists, it's an immersive experience and a practical solution if you're on a tight budget.
Furthermore, interacting with the residents is the best approach to finding out what to do on the island. The island's magical attractions rarely receive any, but if you make friends with the locals, they'll show you these hidden gems.
It would be best to consider participating in a cultural exchange or a volunteering program. One such initiative is the Molokai Land Trust, which champions the preservation of Hawaiian land management practices. You can choose how much time you want to devote to volunteering.
Moreover, you can't leave Molokai without buying a unique gift to send back home. Instead of a greeting card, the Molokai post office offers painted coconuts.
You have the option of purchasing a pre-decorated coconut or getting creative yourself. If you're looking for an exciting thing to do, posting a coconut has to be one of the unusual ways to pass the time.
5. Lanai Island
Lanai is only nine miles from Maui's shores, but it often seems like a world away. It's the tiniest and the most remote island in Hawaii. The island allows visitors to experience more of the local culture.
Its smaller size does not imply it's inaccessible. The island is not ideal for couples only. The secluded, private atmosphere is also perfect for lone travelers and families.
Excursion tours allow visitors to explore the island in small, intimate groups while interacting directly with their guides. It's the perfect place to stay if you want a taste of Hawaii's quiet and private atmosphere.
Most people's favorite scenic landmark is the Garden of the Gods. Also referred to as Keahiakawelo, the preserved region is renowned for its mystical, moonlike beauty.
The rock garden within Keahiakawelo is the most eye-catching area of the attraction. Check into guided tours or car rentals and ensure the vehicle you rent is a four-wheel drive and preferably a jeep if you want to have an easy time exploring with your family.
For the more daring among your family, horseback riding is another option. The stables at Four Seasons Resort are open to anyone who wishes to visit or schedule a riding session.
Beginners can take part in a stroll across Lanai's rocky and windswept landscape. Ardent riders can choose a more action-packed adventure and may even have the opportunity to ride on one of Lanai's stunning beaches.
When you feel like leaving the land and venturing into the Pacific, Lanai's underwater offers abundant adventures.
The Lanai Cathedrals are unique lava tubes and the island's most famous location for scuba diving.
The tubes feature burnt holes, which permit light to shine from above, creating an effect similar to sunlight filtering through stained-glass windows in a cathedral. You should go on a dive excursion to the Lanai Cathedrals if you have your PADI certification.
Polihua Beach should be your first choice if you're seeking a quiet beach where you won't encounter any crowds. It's a 2-mile stretch of immaculate gold sand beach.
The island's pristine region offers endless opportunities for sunbathing and beachcombing. However, swimming is not advisable due to the ocean's harsh waves and powerful riptides.
The Shipwreck Beach (Kaiolohia) is a favorite stop for tourists in Lanai. The place offers an authentic Pirates of the Caribbean scene experience. Over a dozen ships have found their ultimate resting place on this 6-mile stretch beach, some dumped on purpose, whereas others ran aground by mistake.
The Fisherman's Trail will take you on a trek along the breathtaking Four Seasons coast, where you will see the ruins of ancient homes and temples. You'll witness picturesque ocean views, crashing waves, and rough shorelines.
The Koloiki Ridge Trail is another excellent trek that promises spectacular island views. The moderate 5-mile circular trail leads through dense forests and up into lush highlands. You'll enjoy the panoramic ocean beauty and observe distant vistas of the Maui and Molokai islands.
Lanai is the place to stay in Hawaii if you want a more secluded and luxurious experience. Compared to other Hawaii islands, it's the most easily accessible private island.
Moreover, Lanai is more serene and opulent since private companies own it. Oracle founder Larry Ellison owns ninety-eight percent of the island. The remaining two percent are private homes. Thus, visitors must dig deeper into their pockets for accommodation.
It will cost you around $140 a night to stay on the island and close to $200 to get there. And you don't have many alternatives either. There are only a few hotels to keep up with the island's private status.
Because of the owner's unwavering commitment to fostering a more environmentally conscious lifestyle, a large portion of the island is yet to see significant development. That's where Lanai's allure stems from.
Another place of interest is the Lanai cat sanctuary. The sanctuary provides a haven for many domesticated cats rescued from the wild or shelters. It's open to the public and runs on donations, so a small contribution can make a difference. Consider volunteering time there in different activities that include:
Mowing grass
Decorating
Grooming
After spending the whole day sunbathing and hiking, you'll need some time to unwind. Hale Keaka, Lanai's movie theater, invites you to get some popcorn and relax while watching a new release.
6. Maui Island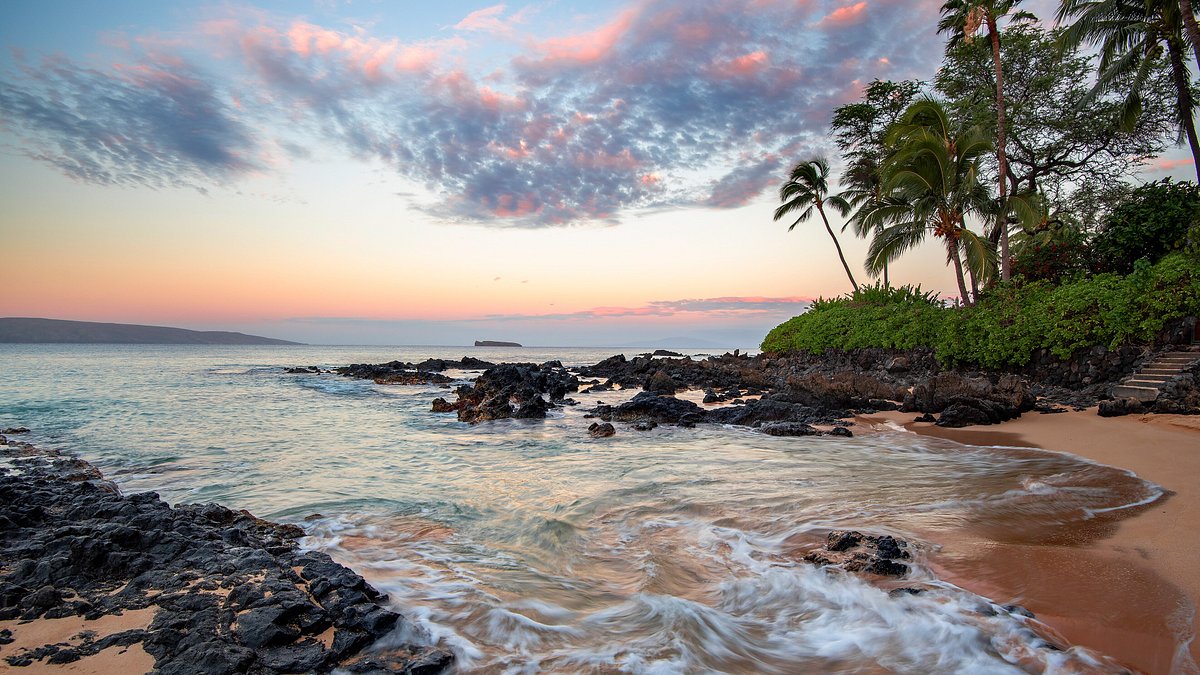 As one of the best places to stay in Hawaii, Maui Island is well-known for its low, picturesque terrain between two volcanoes. Haleakala, the island's central volcano, is the highest point. You'll explore the island's stunning landscapes, including breathtaking national parks, secret waterfalls, and beautiful beaches.
The island has a reputation for being somewhat of a "package deal," offering a range of unique attributes besides the lovely, pristine appearance to draw tourists.
Conde Nast readers have picked Maui as the "best island in the US" for twenty years straight. It's also the most recommended destination for people traveling to Hawaii for the first time.
Although Maui is the second-biggest island in Hawaii, it's nothing compared to the big island's size. There are good options to keep you active for at least a week, if not longer.
South Maui receives the highest number of tourists due to its convenient position and easy beach access. It's the perfect place to stay in Hawaii for a laid-back vacation.
West Maui is remote and full of golf courses and nature reserves. If you're looking for privacy on your Maui vacation and don't have a problem using a rental car abroad, you should head to West Maui.
The eastern part of Maui is just as secluded and lush as the west. Since most visitors to this area are simply passing through, a more extended stay will be to your advantage. Most travelers stay along the road to Hana since forest reserves surround it.
Maui's upcountry, located in the island's center, is the most remote area. If you're on a tighter budget or prefer a homestay's intimacy, this is the place for you.
A road trip to Hana should be on your to-do list because it offers many exploration opportunities. The road offers views of a luscious landscape, breathtaking waterfalls, and towering cliffsides.
The trip is 65 miles, so you'll have to allocate a whole day. Ensure you stop at Honokalani Beach, Upper Waikani Falls, and Hana Lava Tube.
It would help if you didn't forget to include a visit to the Garden of Eden on your itinerary. Although it has a righteous name, you won't be able to deny its beauty after seeing it.
Remember that you'll pay to get in, but it's worth every cent. You will get an opportunity to see Hawaii's native flora in this 26-acre garden.
After a tiring car ride, you will likely need to stretch your legs. Exploring Haleakala Crater on foot is one of the most rewarding experiences, especially if you've never been so close to a volcano in the past.
The hike up the volcano takes about 2 hours, meaning you'll have to spare at least half a day to finish the round-trip hike to the peak. You may climb to the crater's summit at dawn if you're in the mood for more adventure. Don't forget heavy clothes and a flashlight.
Central Maui is a must-see regardless of where you stay on the island. You may learn about the process of producing Hawaii's signature coffee bean by visiting Maui Coffee Roasters in the upcountry. At Ulupalakua Vineyard, you'll get the opportunity to participate in wine tasting.
The Maui Ocean Center allows you to see underwater creatures and discover Hawaii's distinct aquatic life and habitats. The enormous Living Reef is the center's highlight, housing over 40 Pacific coral species and thousands of fish.
Furthermore, the 750,000-gallon open ocean allows guests to go through an underground tunnel inhabited by various species of marine life, such as sharks and stingrays. Visitors can also schedule exclusive, behind-the-scenes turtle feeding visits in the center's Turtle Lagoon.
Although Maui has a lavish reputation, you need not have a million dollars to have an excellent time. Whereas luxury hotels are the norm here, you can find affordable options, including hostels and condos, if you're traveling on a budget. The most important decision you'll have to make is which town you wish to stay in.
The island is home to four population centers, each offering a distinct atmosphere. Where you opt to stay might also significantly affect your budget.
Kahului is the island's most bustling city, though it doesn't meet the criteria for a major metropolitan in most parts of the world. Less than 30,000 people are living there, but it's the perfect spot if you want a break from nature.
You'll also find shopping complexes, dining zones, and lounges in Kahului. So, if you're hoping to go on a shopping binge or get a taste of the local nightlife, this is your best bet.
When compared to Kahului, Lahaina is a striking contrast. Unlike other regions on the island, the town offers a laid-back beach atmosphere and an endearing uniqueness.
The other two major population centers are Kihei and the upcountry area. Kihei is a popular tourist destination because of its strategic location along the island's south coast.
Breathtaking sceneries and an array of quaint villages primarily characterize the upcountry. You will not find as many luxuries here, but if you want to explore the wilderness, it's a terrific place to camp.
If you want to explore Hawaii fully, you should consider planning your Maui and Lanai tours back-to-back. Both islands are close to each other, and year-round boat service allows for easy travel between them.
For instance, you may base yourself on Maui and visit Lanai on the weekends or for a day excursion. However, because both islands offer a lot, it's possible to spend most of your time on either one.
Final Thoughts
It's impossible to dispute the breathtaking nature of Hawaii's islands. It's a lot of work trying to figure out the best places to stay in Hawaii, considering all the fantastic alternatives at your disposal. Hawaii is a popular tourist destination because of its diverse landscapes, hiking opportunities, and scenic natural wonders.
Furthermore, there isn't a single island without a beach. That means that no matter where you head, you can be sure to enjoy some sunbathing.
Now that you know everything there's to know about Hawaii's wonders and thrill, there's no doubt you're considering visiting the island. We wish you the best of times in Hawaii, regardless of the place you choose to stay.
More about our TFVG Author