Maui is truly the perfect holiday destination for hosts of people. Its expansive mountains, dipping valleys, and photogenic coastlines make it a dream holiday for every family.
The Valley Isle is the second biggest Hawaiian island. It is an ideal place to escape and enjoy the natural splendor of your surroundings. It'll seem far away from the frenetic commercial feel of places like Honolulu. Maui is your ideal destination if you want the great outdoors and prefer peace and tranquility during your Hawaiian Islands vacation.
Don't get us wrong, Maui still has all the amenities needed for a 5-star quality holiday while maintaining Hawaii's exotic beauty. This incredible beauty puts Hawaii and Maui high on destination lists and many bucket lists of visitors.
We realize that budgets can be limited at times. Instead of declining the chance for top-class accommodation and the associated pampering, perhaps consider limiting some of your costly sightseeing. Taking in some of the free things to do in Maui still creates vacation memories that stay with you and your family.
There is plenty to do on the island that won't cost an arm and a leg. We'll run through several of these during this article. Hopefully, you'll be able to find some activities that you'll find enjoyable and memorable without burning a hole in your pocket.
Visit Lahaina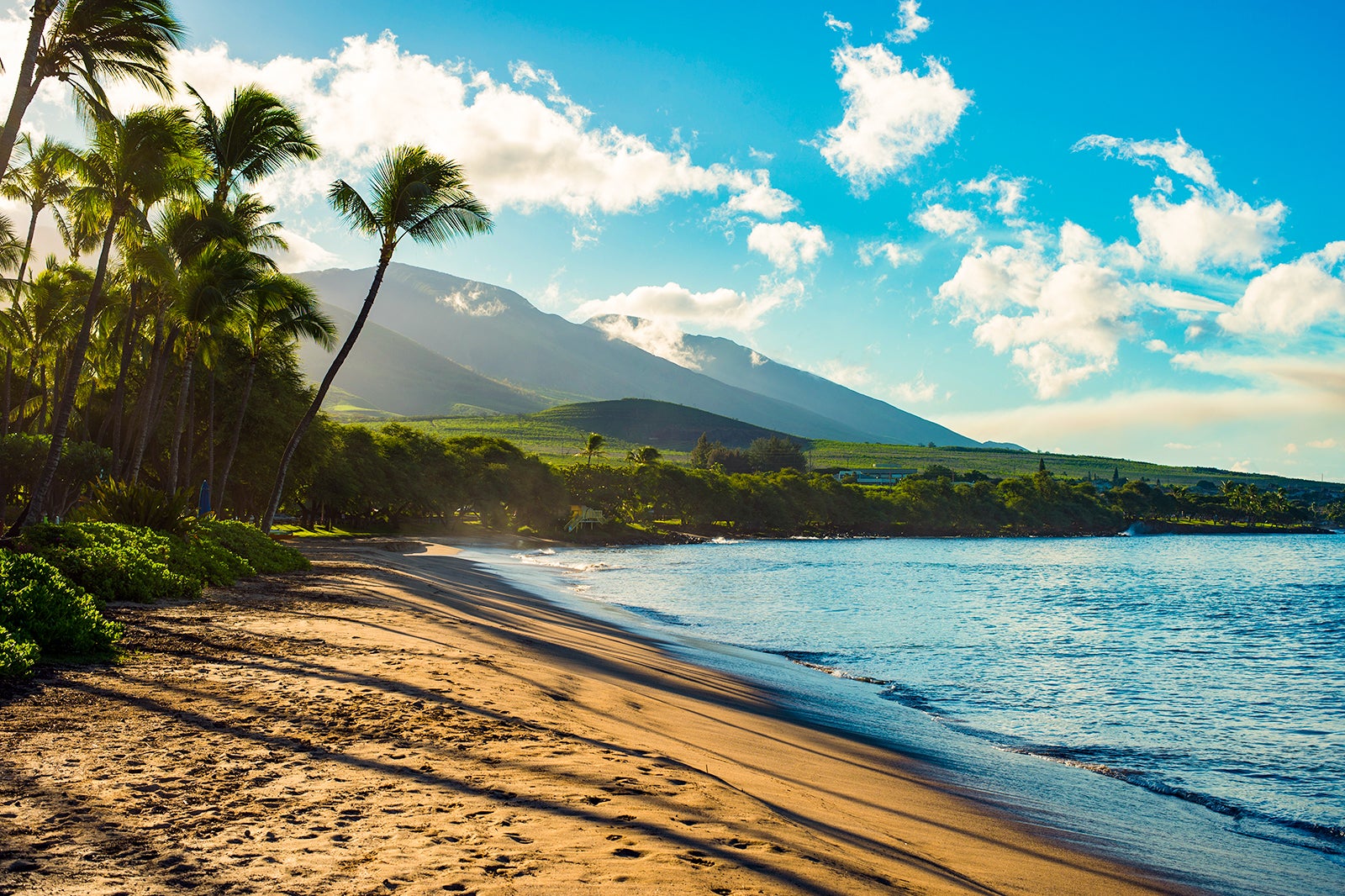 Lahaina Historic Trail
Lahaina town in West Maui was the first capital of the Kingdom of Hawaii and still holds much historical state significance. It was a busy plantation settlement with a bustling whaling port, and in tribute, the Lahaina Historic Trail takes visitors on a journey through the town's past. The town's self-guided tour takes you through 55 acres of Lahaina history.
You'll learn about missionaries to the town, the plantation life of immigrants, and the whaling era. Landmarks include the Wo Hing Temple and the Jodo Mission, thick with Eastern influence. The Hale Paʻahao, or stuck-in-irons house, is where they locked up 1850's sailors to sober up.
In all, there are 62 historic sites included. For further information on what to look for, you can reach out to the Lahaina Visitor Center housed at the Old Lahaina Courthouse in Lahaina town. You'll find the You'llouse situated between Lahaina Harbor and the Banyan Tree.
The Banyan Tree
The Banyan Tree of Lahaina stands at over 60 feet in height, with its 12 trunks giving the impression that many trees are growing close together. There aren't. This tree covers over 200 feet and provides more than two-thirds of an acre of shade. Your kids will marvel at the sheer expanse of this West Maui marvel!
Planted way back in 1873, this famous tree is one of Maui's cultural jewels. There are benches under the tree's expansive overhang, providing the perfect place for memorable family holiday selfies. The Banyan Tree of Lahaina is an incredible example of how fascinating some of the free things to do in Maui can be.
It's not unheard of for a free event or festival to happen under the boughs of the Banyan Tree, so check the local listings while you're on the island.
Baldwin Home Museum
The two-story Baldwin Home Museum housed Protestant missionaries in the 1830s. It also forms part of the Lahaina Historic Trail. The lawn of the Baldwin Home Museum hosts a free Hawaiian music concert on the last Thursday evening of each month. Guests are invited to bring a low chair, mat, or blanket for comfort, with the concert starting at 6 pm.
Free Hula and Ukelele Lessons
Of all the free things to do in Maui, few require your ability to learn a skill physically. This makes taking some free hula classes somewhat challenging but fun. Enlist your family members to join you at the Lahaina Cannery Mall for introductory lessons on the art of hula dancing.
The locals offer these classes every Thursday at 5 pm, so go on, get up there and move that body! If you lack coordination and really don't want to try, perhaps the free hula shows performed each Saturday and Sunday will be more to your liking. Watch the professionals dance to popular Hawaiian music from 1 pm.
Some of us play music better than we move to it. The stage area at the mall hosts free ukelele classes every Tuesday at 5.30 pm. So grab your musical children and head out for a chance to encourage their inherent abilities at no cost!
Visit Makawao
Makawao town
Makawao makes for a relaxing and cool getaway (the temperature is lower in Makawao than in most of Maui) to Upcountry Maui. It is a perfect destination if you're looking for a chance to mingle with the accommodating locals in a slow-paced environment. Makawao is a small artsy town filled with exciting things to do.
Makawao has become quite a trendy spot for tourists to spend time in recent years. With a little of the "Old West" feel, restaurants, boutiques, classy shops, and appealing art galleries to browse fill Makawao. The local vendors are exceptionally friendly, with their stores emitting an authentic aura.
Makawao is the perfect place to chill without spending a fortune.
Makawao Park Eddie Tam Center
Known as Eddie Tam by locals, this center has the facilities for all manner of free outdoor recreational and sporting activities. There is a basketball court for you and your kids to shoot hoops, two tennis courts, four baseball diamonds, and two soccer fields. Ask any local about the "hill" where you have a cardboard slide with your youngsters.
If you're craving those fitness sessions, Eddie Tam also has a fully-functional gym, but you might have to pull out some money to utilize the facility.
The park is also pet-friendly. If you've brought your fur child along on vacation, you'll also find an adjoining dog park where your large or small animals can run around. Hoses and water fountains are available to clean your dog off after exercise, and there are many places to picnic. A playground on-site makes it a beautiful place to spend part of your day with your young ones.
Visit Kula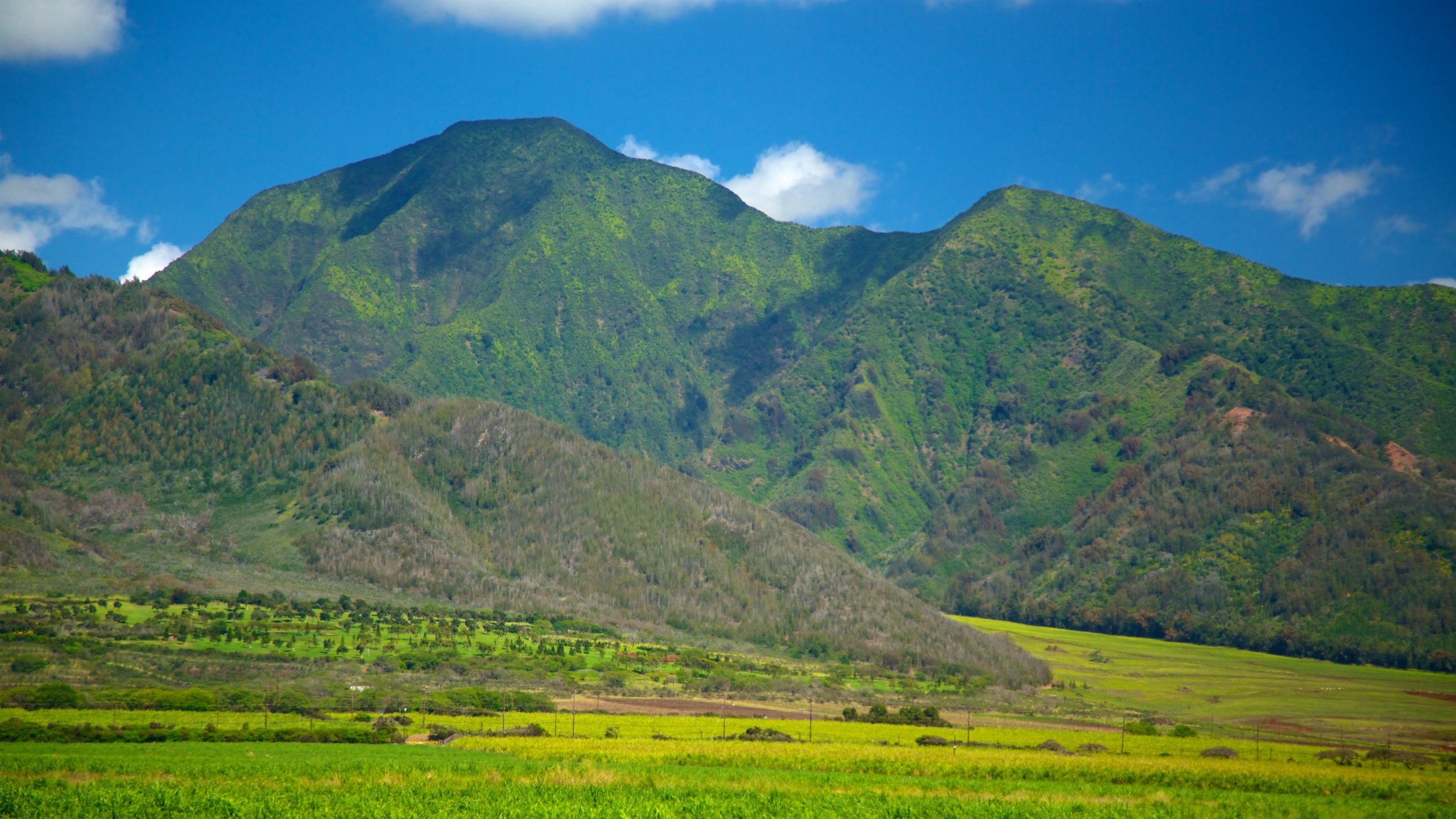 Haleakala National Park
About 15 miles from Kula is the Haleakala National Park. Taking a day trip to the park in South Maui is one of the most fun free things to do in Maui. There are two dormant volcanos on the island, and Haleakala is home to one.
There are several hiking trails for visitors, with some spectacular views for hikers. And who knows, you might even find some old archaeological digs while hiking!
If you arrive early enough and the weather plays its part, you'll be able to show your family something genuinely spectacular. From the Haleakala viewing point, you can witness the sun rising. As the mount's summit sits above them, you'll see a blanket of clouds and catch the sun making its appearance, pushing its rays out over the cloud layer.
Alternatively, you can wait until dusk and witness the opposite effect as the sun sets. It truly is a majestic experience that will stay in the memories of both young and old. You'll have to book beforehand for the privilege, though, as it is one of the trendy free things to do in Maui.
Harold Rice Park and Kula Country Farms
Halfway up Haleakala, you'll find Harold Rice Park, known as plain "Rice Park" to the locals. For a spot of sightseeing, Rice Park is perfectly positioned. It's not about activity at Rice Park, as there's not a lot to do, but the views are some of the best on Maui. The kids can run freely in the park's grassy expanse, and there are benches to sit on.
If you're able, cart a few old pieces of cardboard with you, as there's quite a slope to the park, and you can take a fun ride to work off preteen energy! The climb on the way back up will allow you to work off some of your own too!
Kula Country Farms is located across from Harold Rice Farm. The farms are family-run and provide organic products to local Hawaiian businesses. Fresh fruit and vegetables are everywhere, and it's the one place in Maui where you can pick your own strawberries.
The whole farm transforms into a pumpkin patch in the Fall. Watching the kids running between the patches in search of that perfect pumpkin to carve up for Halloween is a joy! You may have to pay for your fresh produce, but the views and the enjoyment gained from watching your children make this one of the wonderful (almost) free things to do in Maui.
Visit Hana
Ho'okipa Beach Park
On the road to Hana, about 40 miles from the town, you may find yourself in a paradise within the Maui paradise itself. Ho'okipa Beach Park is renowned for its wind and massive waves. It's thus a prime destination for experienced surfers, kitesurfers, and windsurfers. Don't try itself unless you're on a pro level, though!
This haven for watersports is so popular due to the extended reef that creates large, perfectly-shaped waves. With constant winds, this north shore destination is world-famous for windsurfing.
Although Ho'okipa translates as "hospitality" in English, the waves certainly aren't. If you're an experienced wave rider but a first-time visitor to the beach, instead find a local to take you out than go it alone.
Sometimes watching the action is better. And safer! There is a watching deck and several picnic tables to observe the action. You'll find a couple of food trucks near the beach, allowing you to share the tastes of Ho'okipa with the family. There are always coconuts available to sample!
You may bump into a monk seal or sea turtle on the beach – keep your distance if you do. This isn't a beach to enjoy a relaxing soak – it's all about watching the professionals at work in the water. Trust us, it's an all-action experience just watching the moves and stunts, so it's worth stopping on the way to Hana. It's another of the free things worth experiencing!
Honokalani Black Sand Beach
Maui's Honokalani black sand beach is found in the Waianapanapa State Park by traveling north on the Hana highway for three miles from the town. Honokalani is more than a beach, holding important historical and sacred sentiments for many Hawaiians. It has a place in Hawaiian legend and folklore.
The black sand beach is sheltered in a secluded cove, with the sand's jet-black granules sparkling in the sun's rays. Eons ago, the turbulent surf crashed continually into an erupting Haleakala's fresh lava flowing from the mountain. Over millennia the waves pulverized this lava, eventually resulting in the beach we see today.
Nowadays, the beach is lovely for sunbathing, as long as you take time to cool your feet in the ocean, as the black sand gets hot! Honokalani provides a perfect photo opportunity for its visitors. You'll have a chance to create more family memories free of charge.
Visit Wailea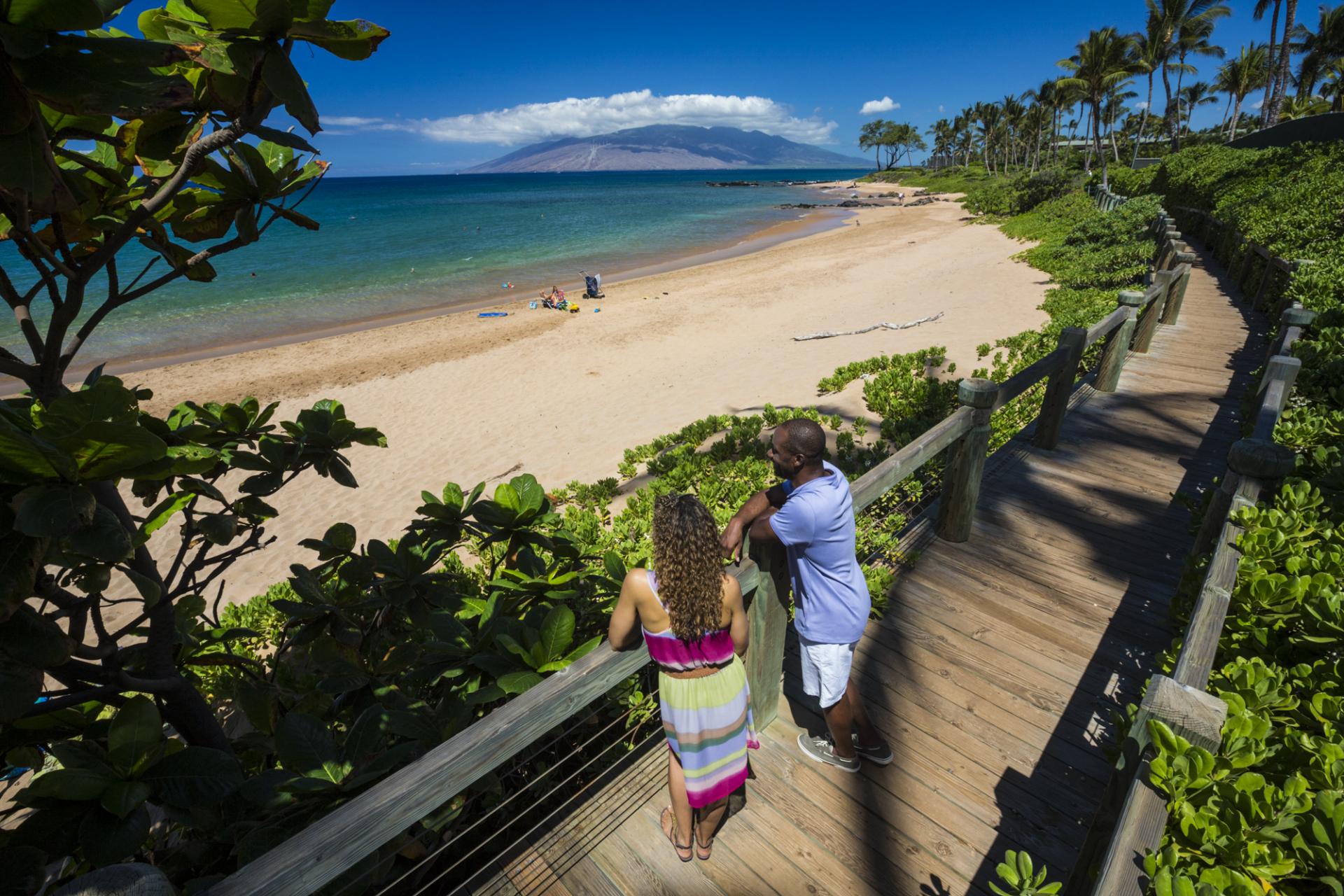 La Perouse Bay and the King's Trail
If you're an early riser, a quarter of an hour trip south from Wailea in South Maui will find you at La Perouse Bay in time to catch the Spinner Dolphins jumping and playing. La Perouse Bay without the dolphins is still worth the trip, as the last volcanic activity occurred in 1600.
To the North of Le Perouse Bay is the Ahiki-Kinau Natural Area Reserve, where you can see more than only dolphins. Visitors to this prevalent scuba and snorkeling spot can expect to see several marine mammals. There are also Hawaiian green sea turtles and a wide variety of tropical fish.
La Perouse Bay, or Keone'o'io in old Hawaiian, forms one end of Maui's King's Trail. If you decide to watch the dolphins, plan your family's day to include a hike along the trail. In the 16th century, Maui's King Pi'ilani ordered his subjects to build this lava rock path to assist with unifying chiefdoms on the island.
The Hoapili Trail, as it's locally known, is a trip into Maui's past and what it looked like. It is filled with coral and lava rock formations, and you'll likely bump into some wild goats on your journey. It's not an easy hike. At more than 10 miles in length, and with your family in tow, it may make sense to hike as far as Kanaio Beach before turning around.
Wailea Beach Walk
A visit to Wailea wouldn't be complete without taking a saunter down the well-known beach path with your family. The beach path is about 1.5 miles long in one direction, so you're looking at a total mileage of just over three miles there and back. Of course, if the kids are tired, you don't have to walk the whole way to Makena.
Wailea's best beaches line the path as you walk. Wailea Beach is sandwiched between Ulua Beach to the North and Polo Beach to the South. All three beaches are welcoming and picturesque, so pack your bathing suits in case you find a place to pause and cool off on the way. The Ulua and Polo beaches will typically be less populated than Wailea.
Visit Kapalua
Kapalua Beach
Kapalua Beach is the beach area of Kapalua Bay, a cozy cove in North Maui, a little way north of the town of Lahaina. This small public beach has sheltered bathing, swimming, and snorkeling, making it an excellent destination for families looking to soak up the sun and frolic in the surf.
The beach is an excellent place to go if you're looking for free things to do in Maui. It'll do you no harm to visit the beautiful Kapalua resort before or after settling into your beach activities. The tiny village of Kapalua has a local occupancy of under 500 people, but there are several stalls, shops, and restaurants to visit. That's if you choose to spend a little money on your trip.
Visit Kaanapali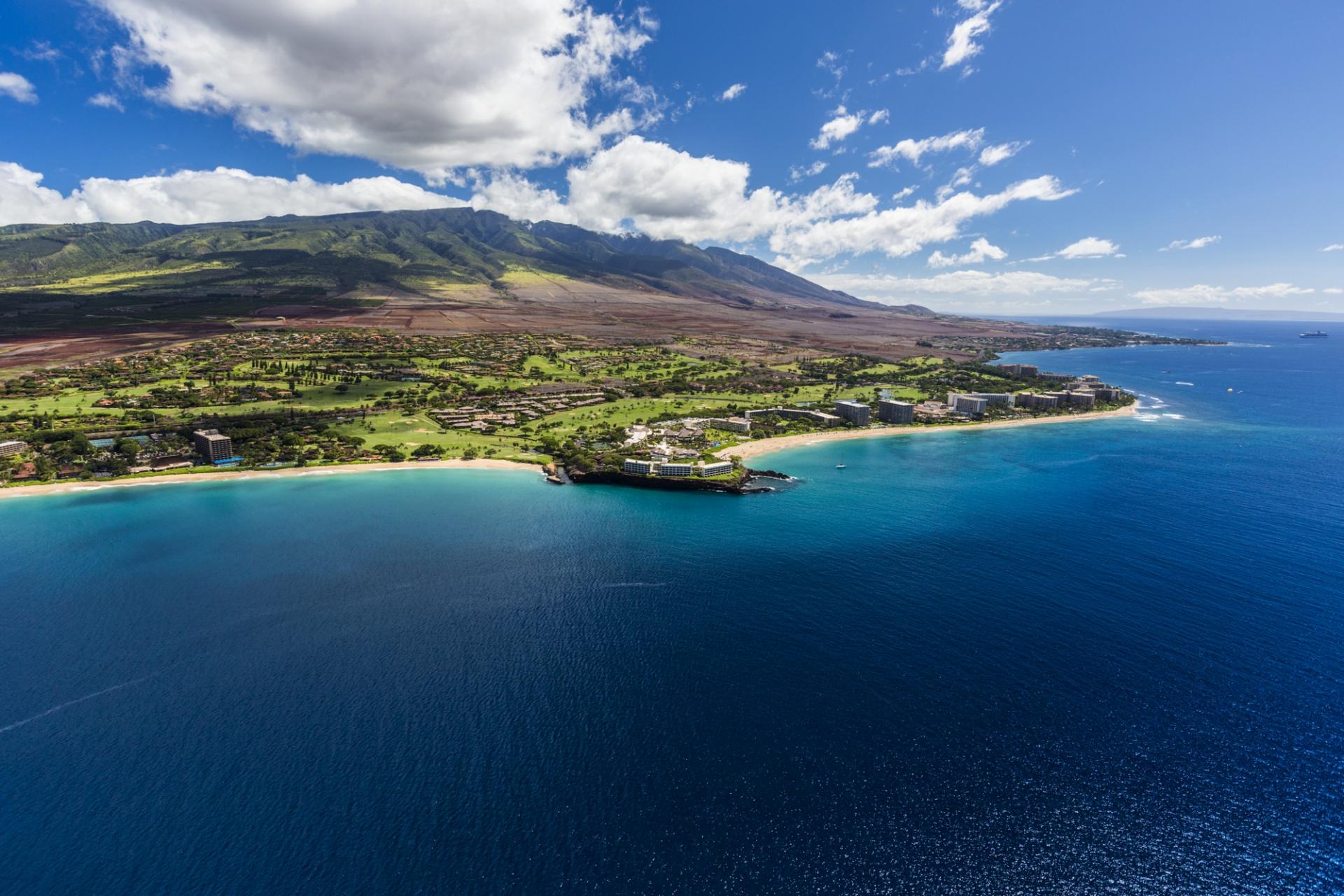 Kaanapali Beach
When you visit Kaanapali, one attraction overshadows everything else. Kaanapali Beach is 3 miles long, made up of seemingly-endless golden sand, with a reputation that almost matches its beauty. Almost. The beach borders several high-end resorts. It's also home to excellent shopping venues and restaurants with exquisite ocean views..
Large sections of the beach are entirely free. This makes it one of the free things to do in Maui that you should make a note of before your family even boards the plane for Hawaii! It's easy to swim in this ocean. There's not much reef, and the slope to the sea isn't sloped, so your little ones won't have much trouble reaching the water or getting back safely to mom and dad.
To the North end of the beach, you'll find Black Rock. If you want to spend a little money, you can cliff jump, but you're free to snorkel in front of the rock at no cost. Just watch out for divebombing tourists from above! If you're looking for completely free things, you can do much worse than snorkeling in these spectacular waters.
Tiki Torch Lighting and Lele Kawa
Dusk in Kaanapali allows visitors to witness the traditional Lele Kawa cliff diving ceremony hosted by the Sheraton Maui. Hawaiian legend tells of Kahekili, the last Maui chief proving his strength by jumping from Black Rock, known in Maui as Pu'u Keka'a.
Pu'u Keka'a is a sacred place to Hawaiians, being one of only three places on Maui where the Leina, or "leap of the Gods," takes place. According to legend, people leap from one of these places into the afterworld when they die. It would be best if you regarded witnessing this ritual as an honor. The Lele Kawa takes place every day in the setting sun.
A local will blow a conch horn toward all four primary compass points. While chanting, the Hawaiian lights a row of Tiki torches before finishing the ceremony by diving off Pu'u Keka'a into the deep ocean below. This ceremony is one of the deepest in Hawaiian tradition and certainly one of the most treasured free things to do in Maui.
FAQs
What are some free things to do in Kahului, Central Maui?
If you're an animal lover, the Kanaha Pond State Wildlife Sanctuary in Kahului, Central Maui, is a perfect place to start. The Kanaha Beach Park is a fantastic place to relax and watch the waves reaching the beach while breathing in the crisp ocean air. Finally, Maui Nui Botanical Gardens provides some incredible botanical and floral displays.
Is Makena Beach State Park free?
Visiting Makena Beach State Park is one of the free things you can do while on a Maui vacation. Makena Beach divides into two beaches, Big Beach and Little Beach. Big Beach is a quieter alternative to Kaanapali and Lahaina. Little Beach is genuinely rustic, with no lifeguard or amenities on site.
What free things can we do on the road to Hana?
There is much you can do if you're traveling North on the road to Hana. If you fancy a quick hike and some sightseeing, stop and hike to Twin Falls. You can swim near these exquisite waterfalls too. The Pua'a Kaa State Wayside Park rest stop means a short hike to a freshwater waterfall and pool for a cool-off. There's also a picnic zone and restrooms.
What free art galleries will we find in Maui?
The Village art galleries in Lahaina and Kapalua have shown Hawaiian artists since 1970. Renowned artist Shane Robinson hosts his own contemporary art exhibition at Wailea's Andaz Maui resort. You'll find the Hui No'eau gallery inside an estate between Makawao and Paia. It offers space for classes, studios, exhibitions, and a gift shop.
More about our TFVG Author
A seasoned traveller, Dad, and avid sports tourist, James foundered The Family Vacation Guide to share his expert vacation experiences- especially when it comes to being a travelling family man.
Featured in Travel articles such as Travel + Leisure, TripSavvy and SFGate, you know you're reading some of the best vacation tips online.