Hawaii is a tropical vacation destination that attracts millions of visitors each year.
Known for its gorgeous beaches, misty mountains, and thick jungles, the Hawaiian Islands are home to a surprisingly low number of all-inclusive resorts.
Still, if you're looking for some top-notch all inclusive family resorts in Hawaii for your next family vacation, you have a solid set of destinations from which to choose. Each one has its own unique advantages and features, so you'll want to take your time when choosing the best option for you and your loved ones.
Why Choose All Inclusive For Your Next Family Vacation?
Going on vacation is an excellent way to recharge your batteries and put away your troubles. But upon returning home, you might find yourself immediately re-stressing after seeing your bills and travel expenses.
All-inclusive resorts offer a unique solution to overspending while on vacation. Instead of paying for each drink, meal, and activity, you could pay a single price and gain access to all of it! This option can significantly lower overall spending while out traveling the world.
If you have children, sticking to a budget is particularly essential and challenging. Choosing an all-inclusive resort for your next family vacation is a smart way to reduce expenses and keep your family on budget.
Remember, the last thing you should be worrying about while on vacation is your bank account. Choosing one of the following all inclusive family resorts in Hawaii can help you enjoy the peace of mind you need to truly relax and enjoy your vacation. If you're heading to Hawaii, you won't want to miss a moment of paradise!
If you're looking for other suggestions, check out our guide to the best family resorts in Hawaii.
1. Aulani, A Disney Resort & Spa – Oahu, Hawaii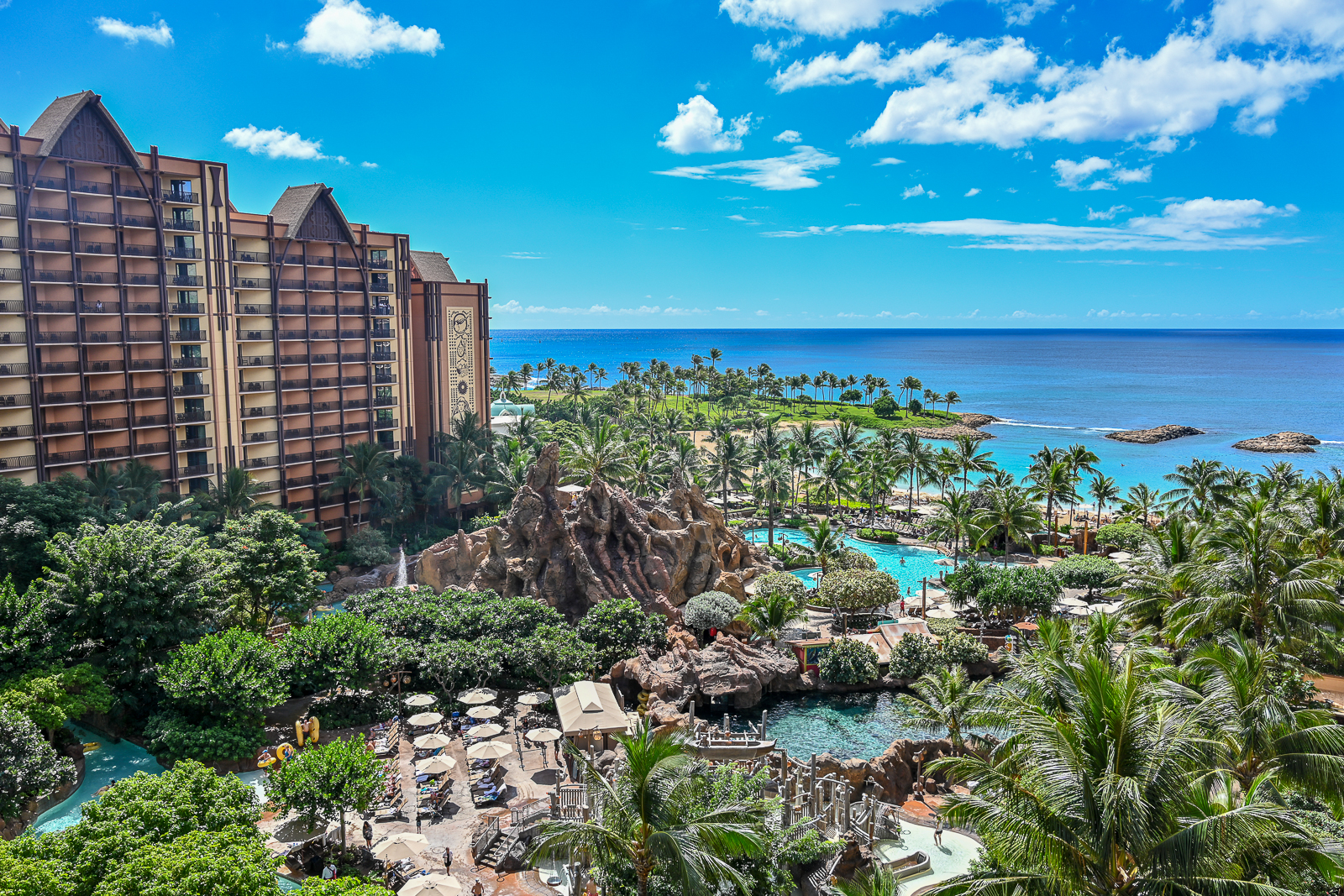 Disney destinations are known for being family-friendly and unforgettable. If you and your family are fans of Disney, you're bound to enjoy the comfort, security, and style of Aulani, Disney's Hawaiian resort and spa.
Still, inclusive packages typically don't include meal plans or shopping deals, so be prepared to bring extra spending cash for dining experiences and souvenirs. That said, dozens of resort activities are included in the cost of your package, so choosing Aulani could be a smart option for both adults hoping to have just as much fun as their kids.
Room Types
There are three major room types that guests at Aulani can choose from: Standard resort rooms, deluxe studios, or villas. As you might imagine, standard resort rooms tend to be the smallest and most affordable options, while villas are often the priciest.
Still, you can choose a standard room with gorgeous views of the ocean or poolside gardens. But families, especially those with multiple children, may be better off upgrading to a villa. These are essentially rentable apartments with separate bedrooms, kitchen areas, and onsite laundry facilities.
Dining Options
When you choose to stay at Aulani, you're also choosing to enjoy its many dining experiences. This Disney resort has no less than eight restaurants, bars, kiosks, and convenience stops. This ensures that a snack, drink, or meal is always within walking distance.
Families may want to take special note of Makahiki, the resort's family-friendly sit-down restaurant that serves delectable and locally-sourced three-course meals. Of course, while the kids are away, the adults can play.
If you'd like to enjoy some private time with your partner, you can head over to The 'Ōlelo Room, a lounge and bar that serves specialty cocktails in a distinctly Hawaiian atmosphere. When you're ready to check on the kids, you might find them enjoying the frozen treats at the Pāpālua Shave Ice kiosk!
Activities and Amenities
Families staying at Aulani can enjoy days of poolside fun thanks to the nine unique water areas around the resort. There are pools, play areas, coral reefs, and poolside cabanas to explore, as well as a lazy river and whirlpool spa.
More than 30 activities are included with each inclusive guest package, including complimentary activities for kids. However, some onsite activities and amenities may come at an additional charge, so be sure to check with hotel staff before checking out the spa areas.
2. Travaasa Hana – Maui, Hawaii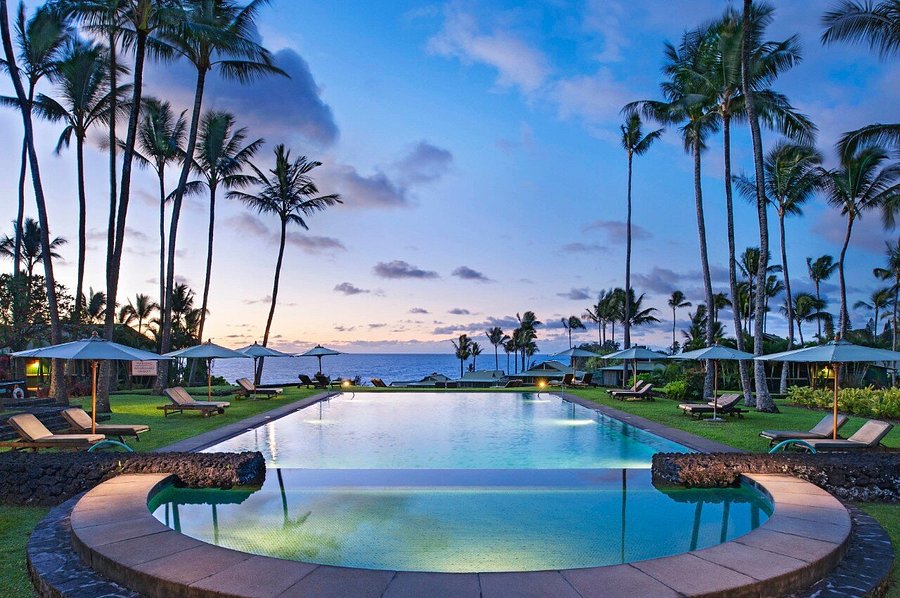 The Travaasa Hana, also called the Hyatt Hana-Maui Resort, is essentially a small community of elevated bungalows. These decadently outfitted dwellings are perfectly poised and positioned for gorgeous ocean views and are an ideal spot to enjoy a romantic Hawaiian sunset.
Room Types
These bungalows feature a near-identical interior space that's essentially a long, open space with doors at each end. Some rooms have dining areas and deep tubs, while others are a little simpler and minimalistic.
Essentially, you'll need to choose from sharing a bed with your partner and little one, or choosing a room with two beds to split amongst everyone. Still, this destination is better suited to childless families and parents with teenage kids.
Dining Options
Residents at this resort can choose to enjoy in-room dining, but they can also wander over to the Hana Ranch Restaurant to enjoy casual and locally-sourced meals. Still, dining options around this resort are somewhat limited due to its remote location.
Activities and Amenities
This resort doesn't offer a wide range of onsite activities. In fact, the primary attraction this resort promotes is its beach shuttle. But they do also provide visitors with information on other nearby landmarks and natural attractions.
The Travaasa Hana Hyatt Hana-Maui Resort is relatively remote. You're not going to find an overwhelming amount of tourist attractions near these quiet, scenic bungalows. Again, this resort is probably best for families with teen or adult children.
3. Embassy Suites by Hilton Waikiki Beach Walk – Oahu, Hawaii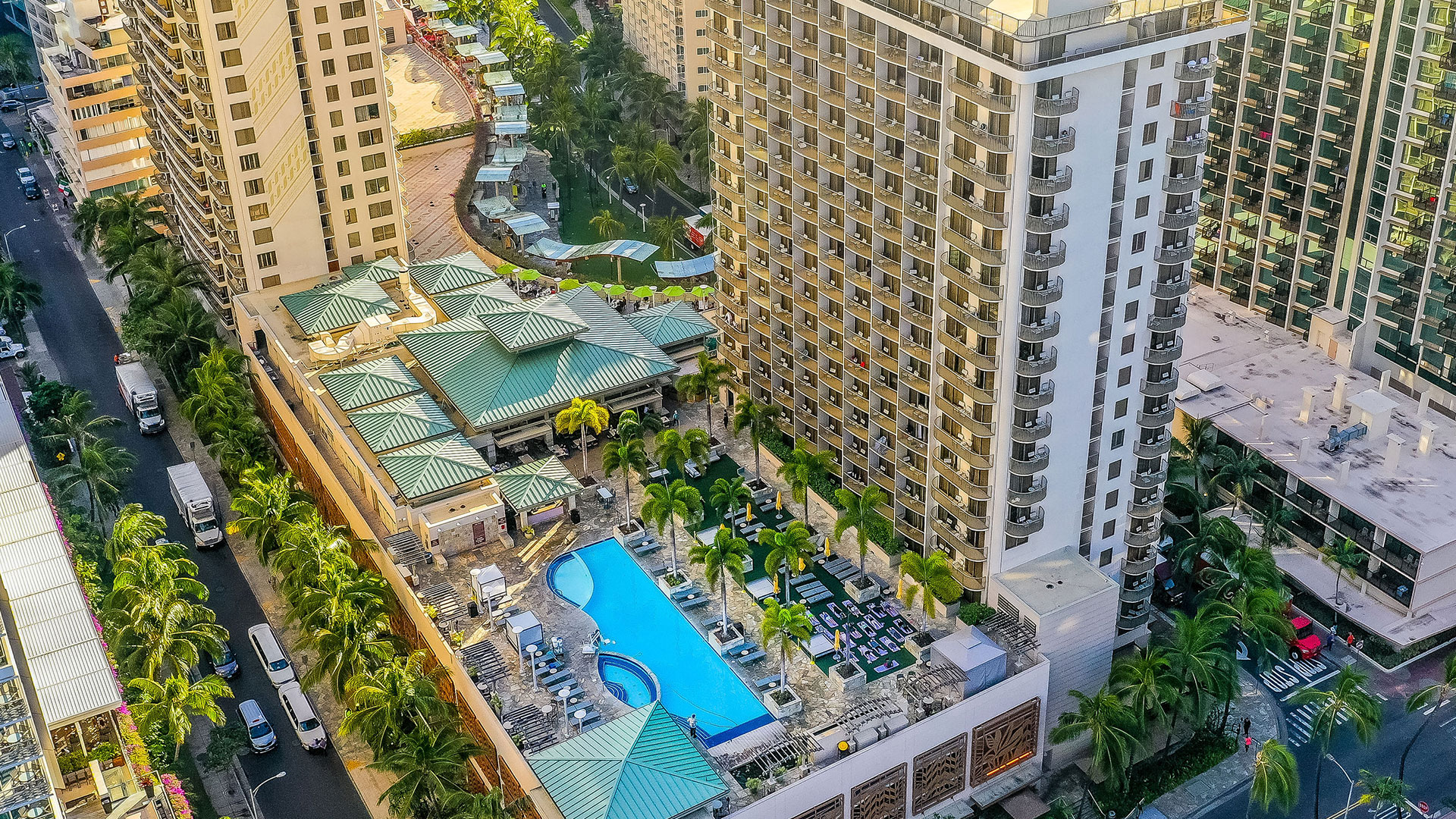 Every room at the Embassy Suites by Hilton Waikiki Beach Walk is a top-tier suite. Families looking to enjoy a conveniently located resort-style experience while in the heart of Oahu may want to take a second look at this option.
Room Types
Because every room in this hotel is a suite, the primary thing that guests will need to choose is their preferred view. There are ocean views, city views, and poolside views to choose from. If you're traveling in a part of four or more, you may enjoy the sleeper sofas in each room.
Dining Options
This resort-style hotel offers visitors the chance to enjoy a poolside bar and made-to-order breakfast that's delivered to each room. However, the bulk of dining opportunities are found immediately off property along the Waikiki Beach Walk area.
Activities and Amenities
Oahu is the most populated Hawaiian Island, and while it does offer some stunning views of natural landscapes and rolling waves, it's far more developed than other Hawaiian destinations. Consequently, this Embassy Suites may not be the ideal destination for visitors hoping to enjoy a more rustic Hawaiian experience.
That said, there are tons of shops and restaurants to explore along the Waikiki Beach Walk. And if your arms get tired from all your bags, you can take a break along the white sands of Waikiki Beach. Both are just a short distance from your suite!
4. Royal Lahaina Resort – Maui, Hawaii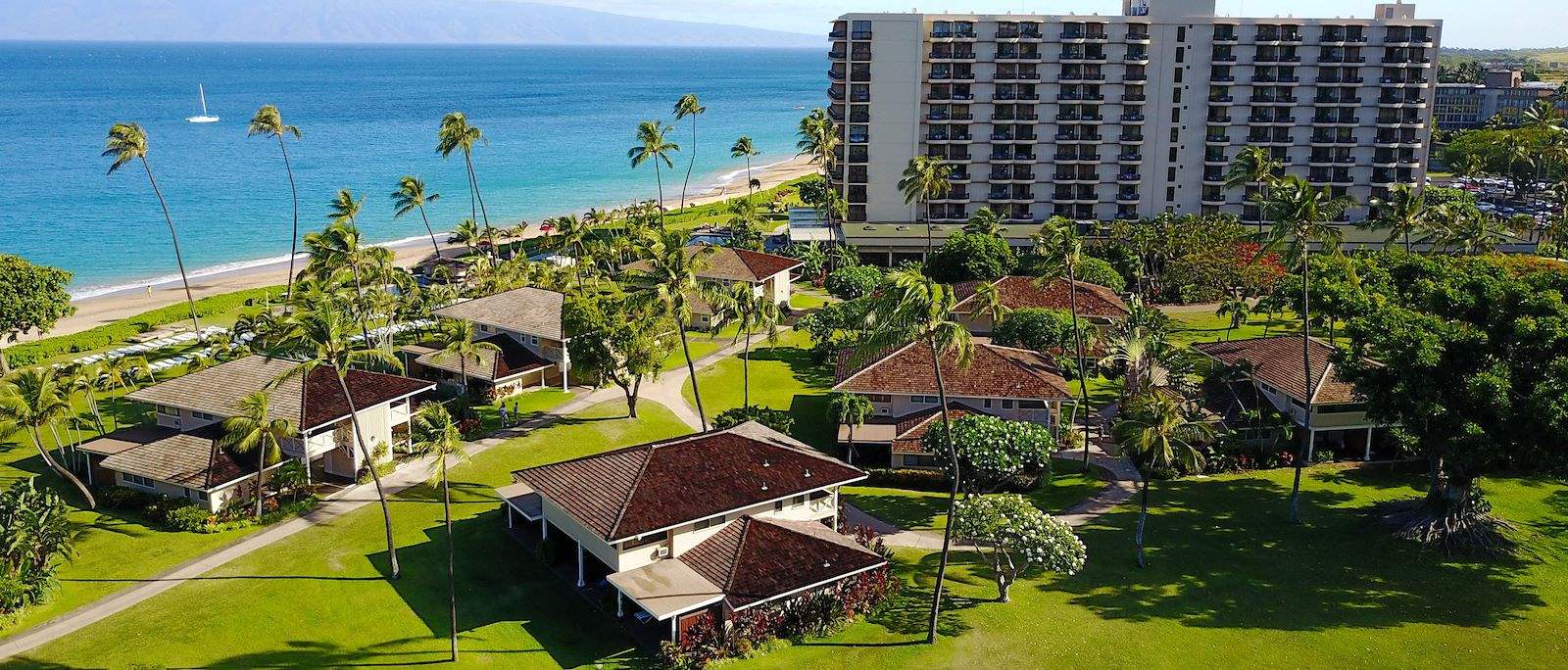 The Royal Lahaina Resort is a favorite among families with teens and adult children. That's because it's one of the more refined Hawaiian destinations, offering tennis, golf, and spa services to guests.
Because this resort is located in Maui, guests can also take advantage of the dozens of nearby activities, from zip lining to scuba diving. As such, Royal Lahaina Resort is a smart mix of ritzy elegance and adventurous fun.
Room Types
The rooms found at Royal Lahaina Resort are quite unique. There are humble Beach Cottages with open lanais and practical dining areas that are ideal for families of all sizes and types. But there are also standard hotel rooms and suites located within the heart of the resort's towers.
Dining Options
The main dining establishment at the Royal Lahaina Resort is the Royal Ocean Terrace Restaurant & Lounge. This well-decorated restaurant offers a wide variety of meals to fit every preference and they also offer a kids menu for little ones.
However, there's also a Beach Bar that serves adult beverages and the Royal Scoop, an ice cream shop that's perfect for kids of all ages. The Myths of Maui Luau combines live entertainment with beachside dining for a truly unforgettable experience.
Activities and Amenities
Onsite activities here include luaus, tennis, golf, and a fun Myths of Maui Luau event that includes food and beverages. There's also an adventure consultant who can help you schedule activities around Maui, and the relaxing Alana Spa to keep you ready for another day in paradise.
5. Royal Kona Resort – Big Island, Hawaii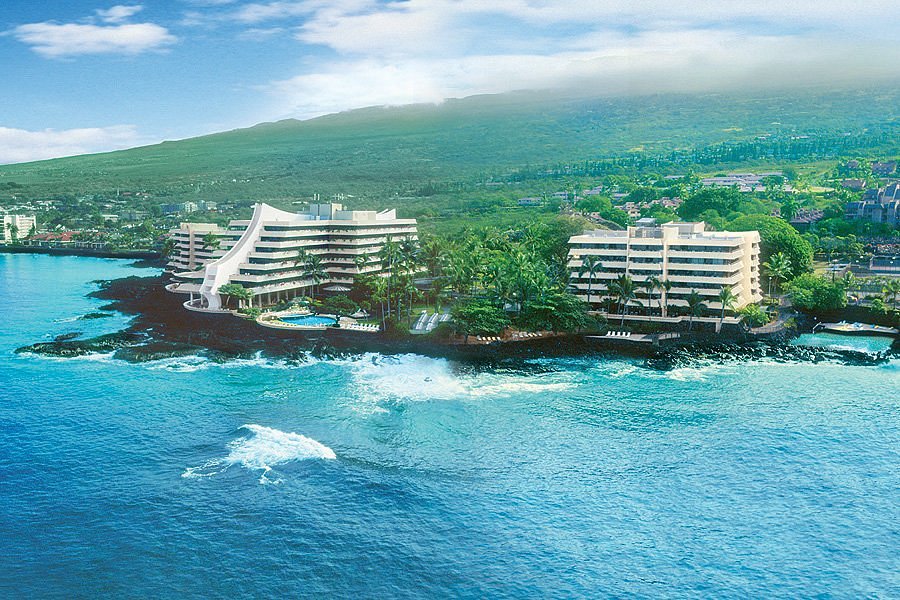 The Royal Kona Resort is similar to the Royal Lahaina Resort, as they're both owned by Hawaiian Hotels & Resorts. However, this resort is located on Big Island, a place notorious for its wild beauty and volcanic activity.
As such, you can expect a slightly less touristic experience when visiting Royal Kona Resort. That said, you can still find many iconic activities here, such as luaus, live music events, and onsite spas.
Room Types
There are two basic types of rooms that guests can choose from when booking a stay at the Royal Kona Resort. There are Guest Rooms, each of which comes with a balcony area. And then there are Corner King rooms, which are more expansive than standard guests rooms and typically feature wraparound balconies with stunning views.
Dining Options
Don's Mai Tai Bar is one of the more popular dining spots around the Royal Kona Resort, though it does focus more on adult beverages than entrees and desserts. If you're looking for a more well-rounded experience, you'll want to make time for the Don the Beachcomber Restaurant.
Not only is this restaurant decked out in some of the most beguiling and interesting decorations, it offers everything from nachos to poke bowls. There's also a kids menu available at this restaurant, preventing pint-sized meltdowns at the dinner table.
Activities and Amenities
Guests at the Royal Kona Resort can enjoy some peaceful morning yoga, live Hawaiian music, and a unique dining experience with the Voyagers of the Pacific Luau evening event. However, Big Island tends to be slightly less popular among travelers than Oahu or Maui.
If you choose this resort, come prepared to enjoy a little more solitude and rest. Take advantage of this resort's spa and kick back in its saltwater lagoon and pool. This resort is designed for rejuvenation, making it the better option for families that prefer relaxing over exploring.
6. Grand Wailea – Maui, Hawaii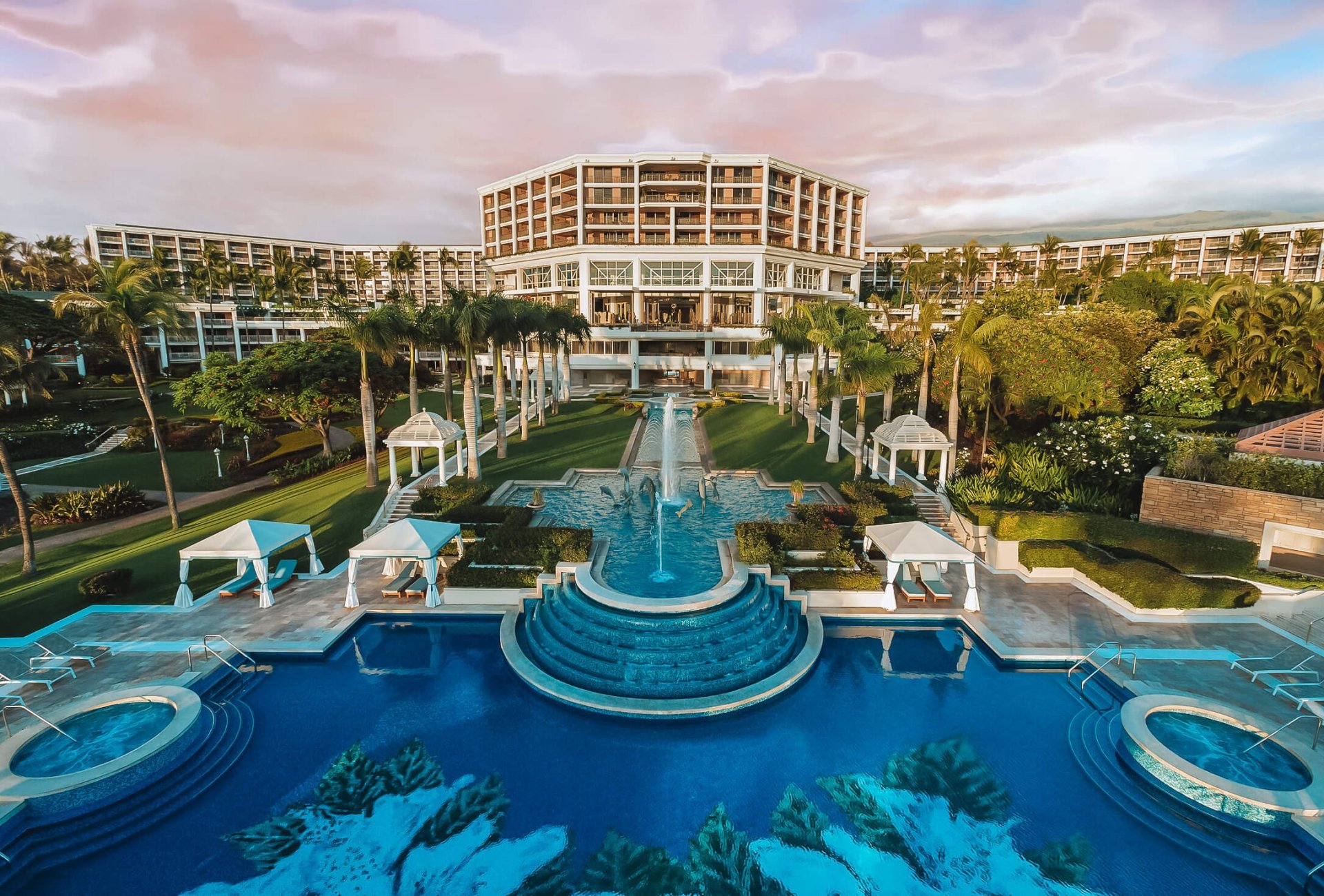 You don't need to travel all the way to the Bahamas to enjoy the look and feel of a tropical paradise. The Grand Wailea in Maui is one of the most palatial, classically-inspired resorts in Hawaii.
This resort is bound to take your breath away with its sprawling green lawns, swaying palm trees, and bright white poolside cabanas. Of course, it's not only designed to keep adults entertained. There are plenty of activities for kids and teens, ensuring that everyone enjoys their stay in Maui.
Room Types
You'll find guest rooms, suites, and villas available at the Grand Wailea. This means that you can choose from a variety of room sub-types, including those with garden views, terraces, and in-room kitchen areas.
There are also upgraded Napua Club rooms for those seeking a little extra touch of luxury. If you fall in love with the Grand Wailea, you can choose to become an elite club member to take advantage of room discounts during future vacations to Maui.
Dining Options
When you're in need of a mouthful of food, you can head over to the mouthful of a dining experience that is Humuhumunukunukuapua'a. They serve a mix of surf and turf, though their child-friendly options are lacking.
When dining with little ones, it may be better to visit the Bistro Molokini. They offer dine-in and take-out service and have a kid-approved 'keiki' menu. Naturally, when the kids fall asleep after the long day of play, parents can also enjoy cocktails by the pool.
Activities and Amenities
The Grand Wailea offers guests the chance to experience Hawaiian luaus and weekly cultural tours. This means that visitors can enjoy everything from late night fire dancing to ukulele playing.
There are also beachside yoga sessions, complimentary scuba lessons, and special treasure hunt adventures for little ones. The resort concierge is also available to help you and your family choose and plan off-site adventures.
Why Doesn't Hawaii Have A Large Number of All Inclusive Resorts?
The primary reason why Hawaii doesn't have a ton of all-inclusive family resorts is that it experiences little crime—especially violent crime. As such, visitors are welcome to travel throughout the islands freely and without fear for their safety.
Many resorts and hotels in Hawaii offer in-hotel dining opportunities and activities, but they also promote nearby attractions and landmarks. This freedom guarantees that travelers get a comprehensive taste of Hawaii's unique culture, cuisine, and natural beauty.
While this lack of all inclusive family resorts in Hawaii can be a drawback for some visitors, it's bound to be freeing for others. After all, when visiting Hawaii, you don't need to adhere to a strict resort-imposed itinerary. Instead, you can relax and explore the islands at your own pace.
Other destinations to consider for your all inclusive family vacation in the sun
If you're considering other resort options for your perfect all inclusive family vacation, we've got your options covered!
More about our TFVG Author
A seasoned traveller, Dad, and avid sports tourist, James foundered The Family Vacation Guide to share his expert vacation experiences- especially when it comes to being a travelling family man.
Featured in Travel articles such as Travel + Leisure, TripSavvy and SFGate, you know you're reading some of the best vacation tips online.