Hawaii is world-famous for its outstanding surfing opportunities, but not every place on the island chain is suitable for newcomers.
Here are the best surf spots for beginners in Hawaii. Whilst you're here, why not also check out our guide to the best paddleboarding spots in Hawaii?
The Best Spots to Learn to Surf in Oahu
Oahu is the third-largest island in Hawaii, but many people confuse it for Big Island because it's easily the most populated and diverse. Oahu has numerous shops and services readily accessible to people, with weather that offers some of the best surf spots for kids in Hawaii.
Waikiki Beach
Oahu is the heart of Hawaii, and Waikiki is the heart of Oahu. Waikiki beach is frequently full of people, but heading out onto the water gives plenty of room to move around. Even better, this area features the shops of many of Hawaii's best surf instructors, making it arguably one of the best places in the world for beginners to learn surfing.
As if the surfing qualities weren't good enough, Waikiki Beach is also a great vacation spot in general. Most of Oahu's best attractions are within 30 minutes of this beach, so you really can't go wrong with focusing here.
Alii Beach Park
Alii beach park covers about 19 acres on the northern side of Oahu. Although not quite as famous as Waikiki Beach, Alii Beach Park is an excellent choice for beginners due to its varied terrain. Beginners do best closer to the shore, but as people gain confidence, they can move a little further out.
This area is great to visit in winter when people start holding surfing contests. Hands-on experience is fantastic for kids, but many will also enjoy seeing professionals in action before they try surfing for themselves.
Pokai Bay
Pokai Bay is easily one of the best surf spots for beginners in Hawaii thanks to its natural design. A breakwater offshore makes this the best-protected beach on Oahu's western coast, offering calm waves even when other beaches are getting rough.
The entire park is about fifteen acres total. Even better, it's not as well-known as most of the other beaches on Oahu. Most people look for exciting beaches, so areas like Pokai Bay tend to be crowd-free even during the busiest times of the year. Between that and the calm waves, this is easily a top choice for surfing trips with kids.
Barbers Point
Set by the southwestern corner of Oahu, Barbers Point lies past an industrial area. It can get a little busy on the weekends, but it's usually calmer on weekdays. Barbers Point is more of a locals' beach than a tourist's beach, so this area doesn't have the same sorts of shops and restaurants you'll find on many parts of the island.
It also has relatively flexible surfing opportunities thanks to its position, where it can see both the western and southern waters. This area is better for a shorter day trip to learn surfing. If you want to have long lessons over several days, this isn't quite as good because it lacks the facilities you might want.
Queens and Canoes
Queens and Canoes are part of the broader Waikiki Beach area, which has about ten regions that the locals recognize. Queens and Canoes are right in the middle, with the Queens surf break being one of the best spots in all of Hawaii. That makes it quite desirable but also moderately crowded, so keep that in mind.
Canoes is almost immediately adjacent to Queens but serve as a more beginner-friendly area. It's only slightly less crowded, but you can turn this to your advantage when teaching kids by emphasizing the importance of paying attention to the water and staying on the lookout for other people.
Pua'ena Point
Set on the north side of the island, Pua'ena Point is suitable for beginners in the calmer months when the waves tend to be relaxed. It gets a bit too strong in the winter for beginners, however, so avoid this choice if that's when you plan to visit Hawaii.
Access is easy to this area, with plenty of parking in the adjacent Haleiwa Beach Park area. Try to avoid swimming here, though, as the water quality itself is a bit low, and there are some reefs to worry about. These aren't a concern if you're staying on a surfboard, but diving isn't practical here.
Chun's Reef
Chun's Reef is a long area on the north shore of Oahu, roughly two miles north of the popular Haleiwa Beach Park area. Named for a local family that frequented the area, Chun's Reef is notably free of problems like sea urchins and rocks that populate some other beaches. This makes it safer and easier for newcomers returning to shore.
Chun's Reef is a largely undeveloped area with few amenities to worry about. However, that also means it's far less crowded than some other beaches, giving you plenty of room to teach surfing without worrying too much about bumping into others.
Laniakea Beach
Lanaikea Beach is one of the most distinctive and unique locations on Oahu. Although rockier than some of the other beaches in the area, it has relatively pleasant waves for teaching beginners. However, the thing that stands out the most is the presence of all the green sea turtles relaxing and living in the area.
These turtles receive protection by law, so chasing and handling them in any way is illegal. Volunteers often staff the area and help teach visitors about the rules and regulations. You can watch the turtles from a distance, though. For their protection, try to avoid wearing any creams that could pollute the waters here.
Flat Island
Although arguably not part of Oahu proper, this four-acre offshore island sits about a quarter of a mile off the coast. There's little commercial traffic to the area unless you rent a boat, so most people here are other surfers, longboarders, kayakers, and people generally enjoying the waters.
Decent tradewinds tend to create great waves for new surfers. Try to arrive along the southwestern side of the island, which has a sandy area that's good for landing. The northern side of the island has a rougher reef, so it's better to avoid that spot when you're with beginning surfers.
The Best Spots to Learn to Surf in Maui
Maui is the second-largest island in Hawaii, but it has only a fraction of Oahu's population. Tourists still come here, but in far fewer numbers, making this a fantastic place to learn surfing without as many concerns about crowds.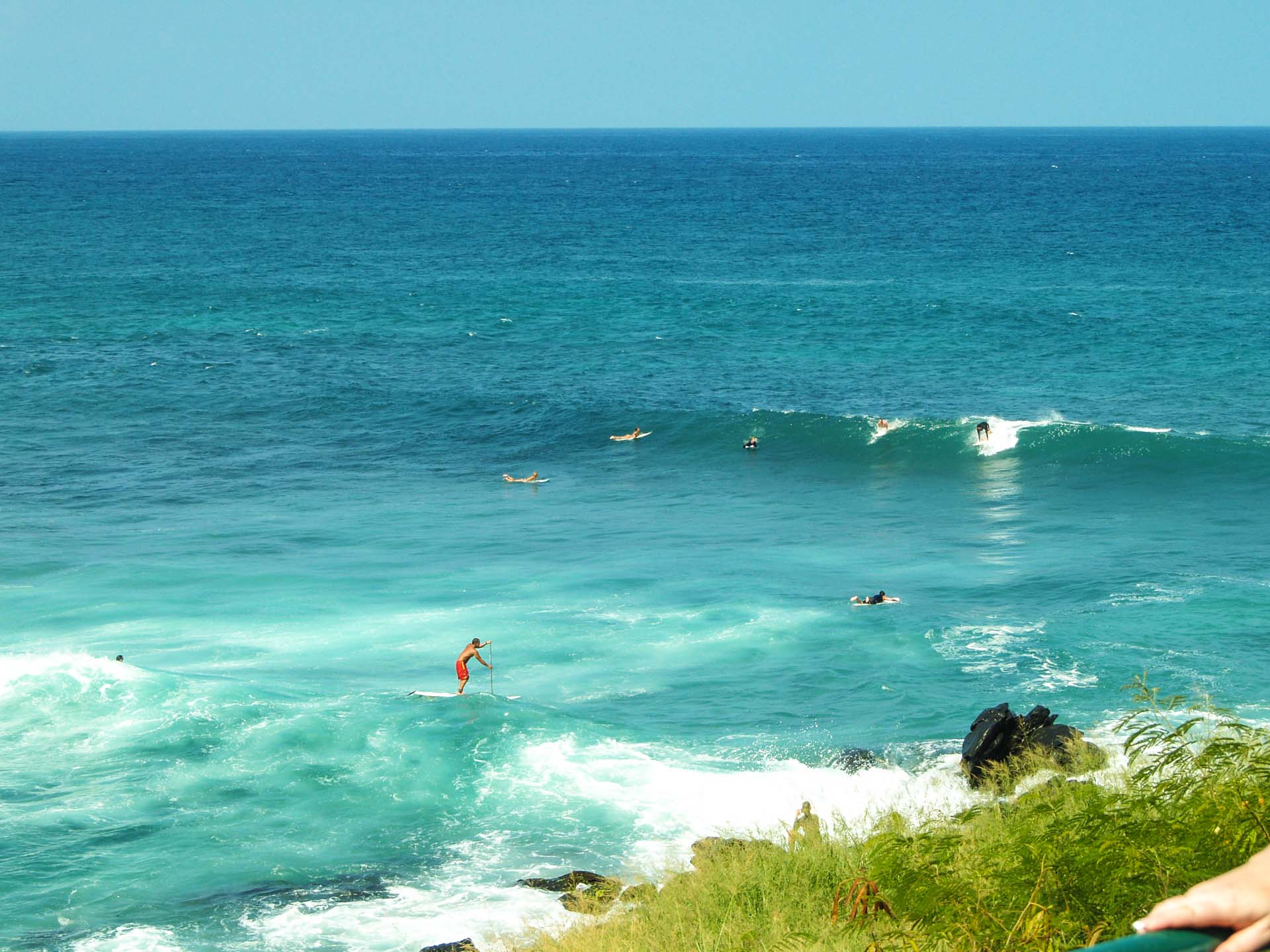 Hookipa Beach Park
Hookipa is one of the best surfing spots in Hawaii. It's especially popular with windsurfers, and you can see pros practicing on the waves throughout the year. There's also a good chance of seeing a professional tournament. Even regular board surfers can enjoy the waves here, though windsurfers have a clear advantage here.
Hookipa Beach Park is best when the waves are calmer. Amateurs should come back in if winds spring up and start building the waves larger, so teachers and family members should have at least moderate experience before visiting this area.
Ukumehame Beach Park
Set on the southern corner of Maui's northwestern section, Ukumehame Beach Park is a 3.5-acre area with facilities including picnic areas, water access, and restrooms. This is one of the smaller parks in Hawaii, with room for about twenty vehicles in the normal parking areas and some additional shoulder parking nearby.
This beach park is a top choice if you want to get as far from crowds as possible. If you arrive early in the day, you'll have the area almost entirely to yourselves, so you can focus on surfing without worrying too much about bumping into other people.
Kihei Cove
Kihei Cove is a reef break area offering consistent surfing opportunities. It has moderate rocky areas and quite a few sea urchins, but it's an excellent choice to visit in summer. Around June, roughly half of all waves are good for surfing. Most of the rest are too small for proper surfing but just right for beginners who might shy away from the big waves.
Another factor that makes this area nice is that it tends to have decent surfing waves regardless of the tides. That means you can go here practically anytime, rather than trying to catch a few good hours that may not work for your schedule.
Thousand Peaks
Thousand Peaks, or Papalaua Beach Park, is a narrow area set just off the highway. This is one of the best surf spots for beginners in Hawaii because it has a relatively rare feature: you can camp here. That means it's entirely possible to spend a few days right on the beach, rather than having to travel around the island to try and catch waves.
The area's name comes from the unusually high number of surf breaks that form when water goes over the shallow reefs. Beginners often come here to practice, so it's quite easy to find instructors and people with similar skill levels to talk to.
Launiupoko State Wayside Park
Launiupoko State Wayside Park is a beginner-friendly area on the western side of Maui. It's relatively small at about 350 feet long, but during the summer months, it seems long, consistent breaks that are ideal for surfing. Many surf schools operate in this area to take advantage of its geographic benefits.
The waves tend to be calm here because it's one of the last areas to get the trade winds. A small, protected wading pool area isn't suitable for surfing, but it is a great way to let especially small children enjoy the water without the danger of heading into the open areas.
Guardrails
Guardrails is the local name for a stretch of beach on the southwestern side of Maui's northwestern, mountainous section. It comes from being the stretch of land just past the guardrails on the road, approximately covering the area between mile markers 18 and 19.
This area can be challenging for beginners because getting into and out of the water involves navigating rocks and coral. Experienced surfers can help newcomers navigate it, however. There are no on-site amenities, but in many cases, there are only a handful of other people around at most.
Kaanapali Beach
Kaanapali Beach is set on the westernmost point of Maui's main island. This is a top choice as a family vacation area because it's the very first planned resort area in the state. It features outstanding shopping and educational opportunities, a nightly cliff diving celebration, and easy access to shops and teachers.
The beach itself is about three miles long, with excellently clear water and sand. This area isn't crowded, exactly, but it will be busier than many of Maui's other beaches.
The Best Spots to Learn to Surf in Kauai
Kauai is the oldest island in Hawaii and the fourth-largest in its chain. It's quite mountainous in the interior but also luxurious on the south and eastern sides, thanks to the presence of numerous high-quality resorts. 
Hanalei Bay Beach Park
Hanalei Bay Beach Park is a collection of four beaches in a rough ring shape. Each section provides different conditions, which makes it a fantastic place for people who want to learn to surf in different environments. Beginners do best around the piers, where surf tends to be somewhere between knee and chest-high over most of the year.
The early morning waves are especially smooth, so expect to see many locals enjoying things around that time. However, avoid this beach in summer. The crowds aren't a problem, but the bay itself becomes too calm for surfing.
Kiahuna Beach
Kiahuna Beach is set in the popular South Shore area, close to some plantation condominiums. The outlying reef area helps keep the waters calm, making this area broadly good for beginners and especially so while you're staying close to shore.
Parking is quite limited along this beach, but the nearby Poipu Beach Park has more options. Shade is generally limited here, so make sure you bring umbrellas or something else to help block the sun.
Shipwreck Beach
Set just to the side of Kauai's southernmost point by the Grand Hyatt Hotel, Shipwreck Beach is a popular surfing location with relatively consistent waves. It's a bit much for an absolute beginner, but it's a good second beach to visit for kids who are starting to get the hang of things and want to go somewhere more challenging.
This is also one of the most accessible beaches in the area since it's right next to a popular hotel. That means you can head out early in the morning to catch the waves and be back in your room in minutes.
Kealia
Kealia is a long beach on the east side of the island. The area generally has open access to ocean and wind swells, creating consistent waves and attracting plenty of experienced surfers. More importantly, this is a relatively rare beach staffed by lifeguards. They can help in emergencies and tell you where it's safest to surf at any time.
This beach has restrooms and showers, but it is a little further from residential areas than some of its competitors. Expect a short drive from areas on the eastern shore or a moderate drive if you're staying in one of the southern resorts.
The Best Spots to Learn to Surf on Big Island
The aptly named Big Island, or just the island of Hawaii, is about twice as big as all of the other islands put together. It's also one of the most startlingly diverse places on the planet, featuring areas ranging from polar tundra to hot and wet tropical sections.
Many visitors think they're going to Big Island when they're visiting Oahu, so make sure you check your travel information closely.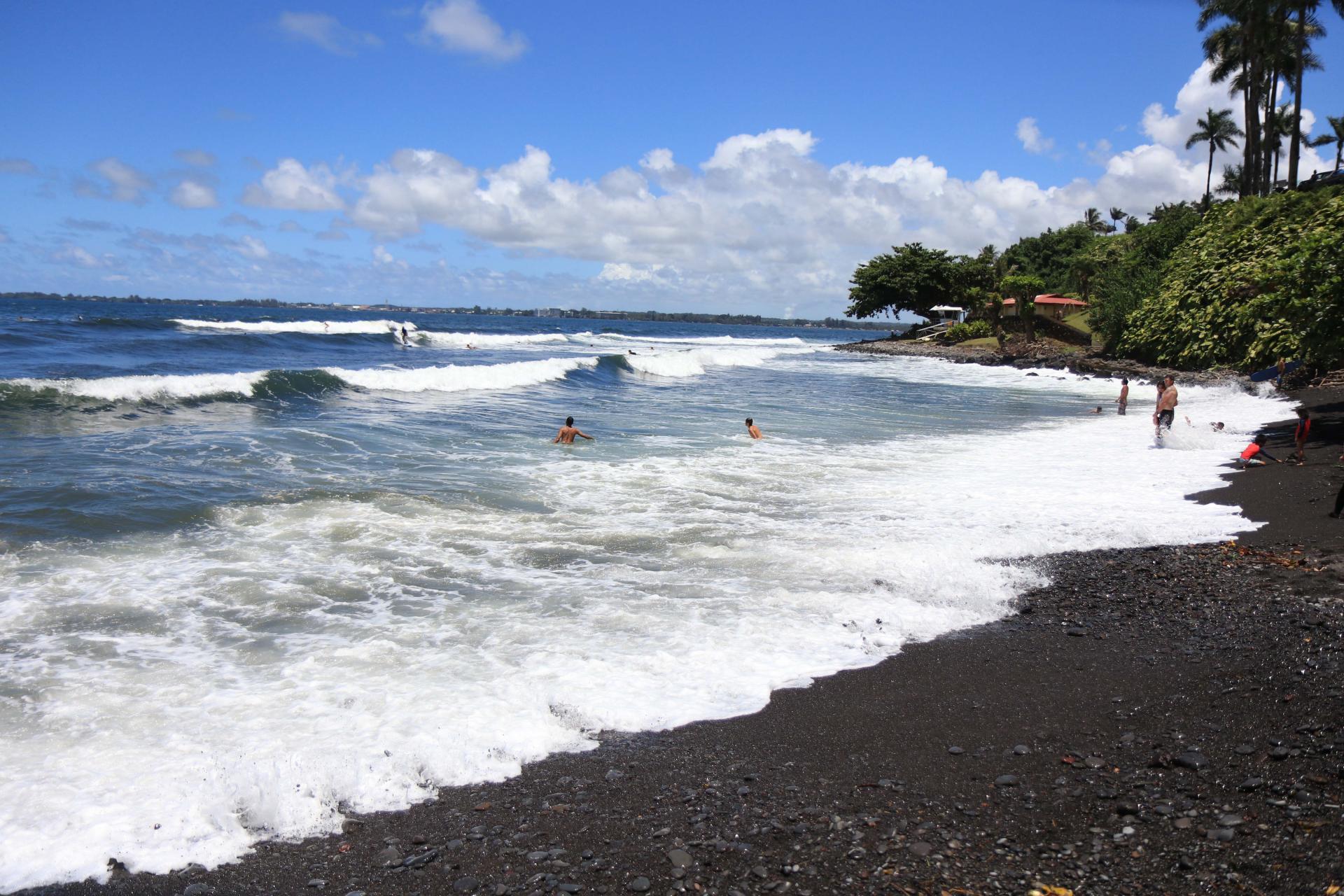 Honolii Beach Park
Honolii Beach Park, in the South Hilo area of the island, is a great spot for learning how to surf. Aside from being generally picturesque, it has relatively strong currents that produce waves large enough to attract experienced surfers without overwhelming newcomers. Pros tend to be friendly around here and can give tips for where and how children can enjoy the waves.
One thing to note is that accessing Honolii Beach Park requires navigating stairs. That's usually not a problem in the morning, but it could get rough if you're exhausted from a day of swimming.
Kahaluu Beach Park
Kahaluu Beach Park is a fantastic choice for beginning surfers. Waves break over the reef on the northern side of the bay, creating conditions that are ideal for newcomers. Meanwhile, heading just outside the reef provides waves averaging five feet tall, which are great for experienced surfers.
It's hard to overstate the value of being able to transition immediately to larger waves when kids are ready. As a bonus, this area is also great for swimming and snorkeling, and lifeguards are on duty to provide help as needed.
Anaehoomalu Bay
Anaehoomalu Bay is a relatively tranquil beach with a large area of sand to enjoy. It's moderately commercialized, with immediate access to a hotel and some rental options. There's also an on-site restaurant, which is great for replenishing your energy in the middle of the day.
If your kids are interested in Hawaiian culture, this beach is quite close to the Waikoloa Petroglyphs. These have helped shed some light on ancient history and culture in the area, offering a nice alternative activity once you're done with surfing.
More about our TFVG Author
A seasoned traveller, Dad, and avid sports tourist, James foundered The Family Vacation Guide to share his expert vacation experiences- especially when it comes to being a travelling family man.
Featured in Travel articles such as Travel + Leisure, TripSavvy and SFGate, you know you're reading some of the best vacation tips online.