It can be difficult to find a reason not to visit Hawaii. The island state has exquisite beaches, a welcoming spirit, and fun activities for couples, solo travelers, and families.
The beautiful state of Hawaii has a distinct culture to offer its tourists that fosters a sense of relaxation and go-with-the-flow attitudes. Many Americans get caught up in the hustle and bustle of busy schedules and work and the daily grind of life.
Escaping to the luscious, tropical chain of islands is a perfect getaway for you and your family. But how do you choose one of the islands? They're all right next to each other, but you still have to settle on which one you'll spend most of your time on.
When traveling with children, there is often more concern about staying in a safe and fun environment that isn't overrun with young partiers. No one wants their kids to feel left out of the vacation or bored.
What to Look for on a Family Vacation to Hawaii
If you want to ensure your trip to Hawaii is just as fantastic for your kids as it is for you, it's crucial to choose a family-friendly island. If the island has a lot to offer kids, you don't have to struggle to find activities or feel guilty they aren't doing something at all times.
When you're deciding where to stay with your family, look for the following things that can help keep kids entertained:
Hotel pools
Museums
Water parks
Casual restaurants
Shops and stores
Available excursions
While a relaxing week laying on a beach all day long may sound ideal to you, kids need more stimulation and will get bored if not given activities.
Oahu
Oahu is the main island of Hawaii, housing its capital, Honolulu, and most of its population. The island has more of a city vibe, while other islands show the more rural side of Hawaiin living.
The island is densely populated, so expect crowds and traffic, not ideal for small children or large families. But Oahu also has the only international airport in Hawaii, making traveling there and back simpler if you have small children.
Most excursions and worthwhile locations are nearby, so there isn't any need for hours in the rental car or long day trips around the island.
Beaches
Oahu has some of the most beautiful beaches in Hawaii. If you and your family love sun and surf, Oahu has a lot to offer. These are some of the best beaches you can visit in Oahu. Oahu is one of the most visited islands of Hawaii so expect crowds, lots of traffic, and busy beaches. This is a deal-breaker for some, but if it isn't for you, these three beaches are a must-visit.
Kailua Beach Park
A gorgeous stretch of soft sand with beautiful blue waves lapping at the shore, Kailua is a popular spot but isn't usually crowded, giving you and your family room to breathe. The Beach Park has a lifeguard on duty throughout the day, so you can feel better knowing your little ones have an extra pair of eyes on them.
The beach has showers and bathrooms, so you don't have to hold towels around one another and struggle to find some privacy on the beach.
Waikiki Beach
One of the most famous beaches in Hawaii, Waikiki is a picturesque beach that entices everyone to come and relax. They also have a lifeguard and changing rooms and facilities, so you don't need to convince your kids to rough it on this day trip.
From snorkeling to bodybuilding, this beach is brimming with activities and people. So if you don't love a crowded beach, you may want to try out a more secluded spot.
Sunset Beach
A smaller, lesser-known beach that will offer more privacy is Sunset Beach. As the name implies, this is a gorgeous location to enjoy a Hawaiin sunset, which continental states can only dream of.
The beach is much less populated because it flies under the radar, so if you and your family want a more private beach day, Sunset is the best option. However, there are still lifeguards and facilities for your safety and comfort. The beach also has picnic locations, so you can enjoy a packed dinner while you enjoy watching the sun go down.
Food
The food available on Oahu is better geared towards children because there are familiar options. If you have picky eaters, you can easily find a Ruby Tuesday or a Wendy's to keep everyone happy.
In addition, Oahu has amazing and casual Hawaiin restaurants and grills that offer kid-friendly food and atmospheres. However, Oahu is densely populated with heavy traffic, so you may need reservations if you go during busy seasons.
The island also has many upscale locations if you and your partner want to escape for a romantic dinner. When it comes to the food options, Oahu has a bit of everything so everyone can find what they want. But because of the density, restaurants can be crowded and have waits, which is not ideal for hungry toddlers.
Activities
Oahu has many activities to offer both kids and adults. There is no shortage of outdoor and indoor activities that you can enjoy as a family. From hiking trails to surfing lessons, if you find yourself bored on Oahu or unsure what to do, there is always a fun adventure awaiting you.
Honolulu Zoo
The Honolulu Zoo is a super fun place to take a big group of kids, so this is a must for larger families. The zoo has many animals you hope to see, like tigers, hippos, and elephants. What's more, because of the Hawaiin culture's attitude toward nature, the zoo also offers a lesson in caring for the outside world and appreciating its hospitality toward us.
The Honolulu Zoo can showcase rare tropical ecosystems that are difficult to sustain in other zoos. Not only are the animals here magnificent, but the plants and greenery are enchanting—the perfect place for loads of family pictures.
Waikiki Aquarium
If you want to explore and learn about the many species of fish that reside in Hawaii, the Waikiki Aquarium has much to offer. The aquarium has a seal exhibit, a chilling shark tank, and a fleet of green sea turtles that move ever so gracefully in their tanks.
The aquarium allows you and your family to understand how much Hawaaiins depend on the ocean and the sea life that comes from it. To live well, the Hawaiians ensure not to be too greedy with their land, prioritizing the wellness of these exotic animals and plants.
Faith Surf School
The Faith Surf School is an especially excellent excursion if you have rowdy teenagers or tweens looking to expel some energy. Not only does a day full of surfing exhaust you, but it gives an immense sense of victory and satisfaction when you manage to stand on your board.
Surfing is a traditional Hawaiin pastime, as they are blessed with rolling waves and gnarly oceans. If you are interested in surfing, you would be doing a disservice to not take advantage of your time on the islands that love to surf.
Hanauma Bay Nature Preserve
Once a volcanic crater that has transformed into a coral reef, the Hanuma Bay Preserve is an excellent opportunity to take in how beautiful Hawaiin nature is and get outdoors. The bay can fill up quickly with tourists eager to see the colorful and unique fish swimming among the coral.
While this is an incredible opportunity to be in nature, you must avoid harming or even touching the coral reef in any way. They are easily destroyed and are vital in maintaining the ocean's ecosystem.
Makapu'u Trail
Another great excursion to tucker out your kids, the Makapu'u Hiking Trail, is a quick and easy hike for a family. The trail is short enough that your kids won't feel the need to complain or moan, but the sights along this trail are beautiful. The breathtaking coastal views the trail offers are mesmerizing and sure to impress even your most stubborn child.
Big Island
The Big Island of Hawaii is exactly what it sounds like, a very big island. Because of the sheer size, it will take you longer to get around and complete activities. So if you are the kind of family that can't stand 45 minutes in a car or want to pack as much into each day as possible, this spot may not be ideal for your vacation.
The island has a mix of city and rural living, so you can experience both sides of the Hawaiin way of life. There are still familiar restaurants, but also local Hawaiin eateries where you can get a taste of local food.
One major pro of visiting the Big Island is the plethora of green sea turtles crawling around beaches! While you may be lucky enough to spot one on Oahu, or you can go to Waikiki Aquarium on Big Island, it's almost guaranteed you'll encounter them.
A possible con of Big Island is that it is home to an active volcano, which could potentially erupt at any moment and put a serious damper on your vacation. It could also disrupt your travel plans dramatically.
Beaches
The beaches on the Big Island are much more diverse than on Oahu. But that doesn't mean they're ideal for a family vacation. Check out the top three beaches on the Big Island and consider if they're suitable for your vacation. However, the shore can be rocky and the currents strong in some places, so be careful where you take small children.
Punaluʻu
The Punalu'u beach is well-known and often visited because of its stunning black sand shore. Black sand is a fantastic sight to behold if you've never seen a black beach. This unique experience could be a memorable moment for your children, no matter their age. Black sand beaches are also the best environment to spot sea turtles moseying along!
Intrigued? We've created a handy guide on the black sand beaches in Hawaii which will tell you everything you need to know.
The beach has a lifeguard on the weekends, but the water can be pretty choppy and rough, not ideal for small children or casual snorkeling. 
Papakolea
Another one of the dreamy beaches on the Big Island, Papakolea, is a green sand beach, another rare treasure. The beach is a bit of a journey to get to, but that's ideal if this is an entire day excursion. Bring snacks and lots of sunscreens and spend the whole day lounging about.
While there are no lifeguards, the are also few visitors because it is slightly challenging to get to. But this guarantees you and your family a serene and isolated beach day. This combination hike and beach trip is something people of all ages can enjoy and is perfect for families.
Hāpuna
It's hard to find a more beautiful beach than Hapuna. Hapuna is a classic white sand beach with clear water and plenty of fish. This beach is excellent for snorkeling, swimming, kayaking, bodyboarding, and so much more because the water is clear and calm.
As far as Hawaiin beaches go, this one is only moderately crowded most of the time, so you won't be sitting on top of strangers. The earlier you go, the better luck you will have to claim your territory. And this beach has lifeguards, so you can feel better letting your kids enjoy the ocean.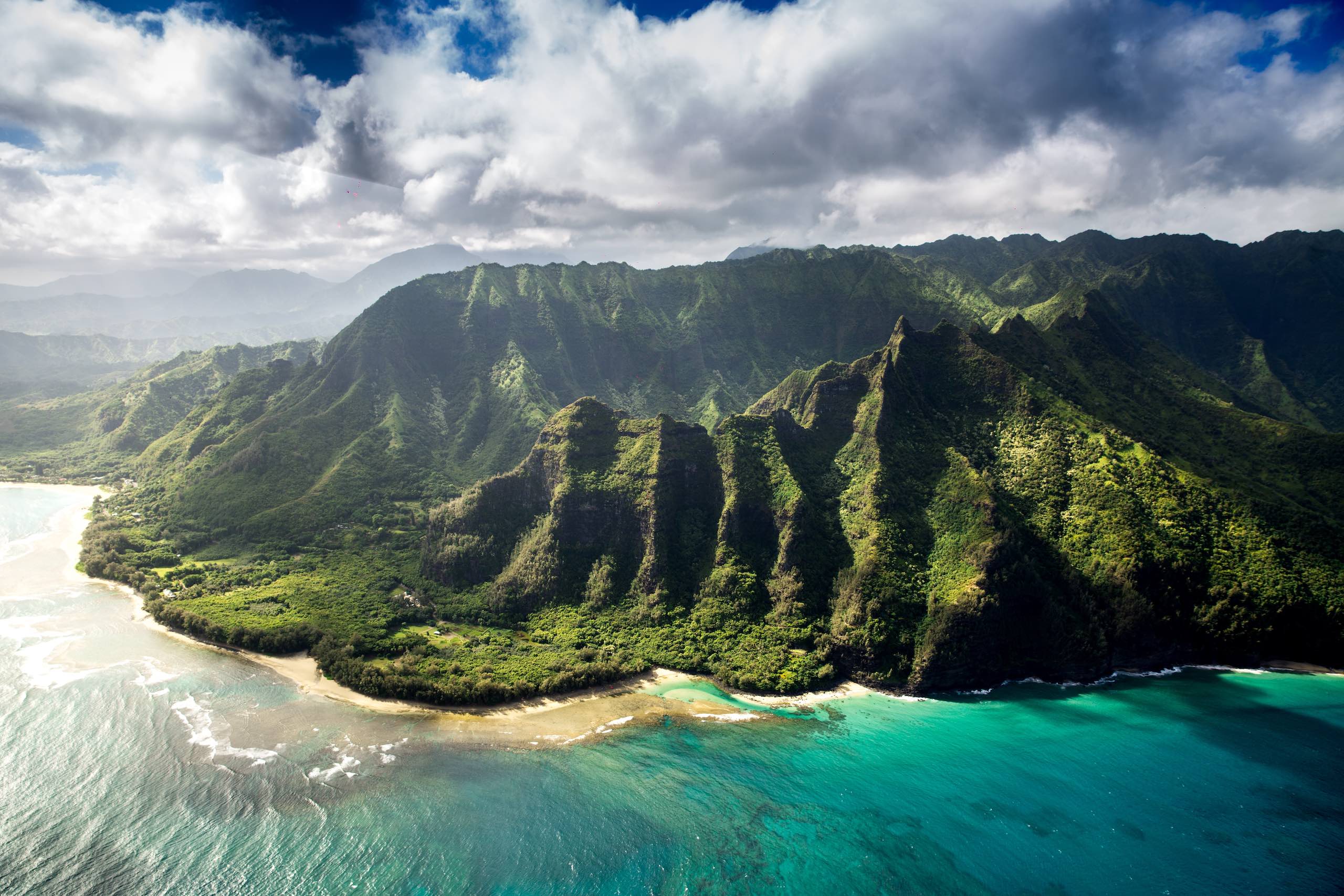 Food
The food on the Big Island compared to Oahu isn't too different. The most mentionable variance is you will happen upon many more mom-and-pop-style restaurants versus large, successful restaurants. So you'll likely experience the most authentic side of Hawaiin food and maybe even make some friends with locals.
However, if you have picky eaters, there are also chain restaurants on the island Like Ruth's Chris Steakhouse, Outback Steakhouse, and Tommy Bahamas. For the most part, dining will be less expensive on the Big Island, as it has fewer tourists frequent it.
Activities
There are many fun excursions you can do with your family on the Big Island. From daring adventures to tranquil ones, there is so much to do you may want to plan so that you don't miss anything. Whether you like a little risk or just want to relax in the beauty of Hawaii, the Big Island has something everyone can enjoy.
Spirit of Aloha Catamaran Sunset Sail
The Spirit of Aloha is a beautiful sailboat that is safe for all ages and can fit a large number of guests. Despite being an excursion, this activity is quite peaceful and could even be considered a relaxing trip. Obviously, you don't have to sail the boat, so just sit back and enjoy the sunset and the snacks and beverages offered by the crew.
This boat ride is a wonderful way to really take in the island's beauty and sail around, getting a feel for the environment. If you and your family love boating, this is a must-do excursion because the views and vibes are both brilliant.
The Hidden Craters Hike is a fascinating look at Hawaiian volcanic activity. The tour takes behind three locked gates you otherwise wouldn't be able to get through. You also go to Hualalai, Kona's infamous volcano that you'll never forget.
Learn all about volcanic activity on the Big Island and take a four-mile hike that will leave you pleasantly exhausted. You even get the opportunity to climb through a lava tube that just 200 years ago had boiling lava rushing through it. An educational and exhilarating excursion, this is an excellent family activity for all ages.
Kohala Zipline Adventure
Take your family to Kohala Zipline Adventure for an exciting and physical day. The zipline tour is three incredible hours of sailing through the lush mountain forests of the Big Island. The tour is guided by ziplining and safety experts and is available for anyone over the age of eight. So not toddlers or babies, but everyone else to come along!
The zipline runs along a dry river bed that leads to an active volcano, so enjoy that element of danger! Like the sailing trip, this adventure allows you to immerse yourself in the Hawaiin jungle and wildlife. As you sail far above, you and your kids will be amazed by the color and vibrancy of a Hawaiin forest.
Blue Hawaiian Waikoloa Helicopter Tours
Unfortunately, this excursion will only work for smaller families as, usually, no more than four people can fit in a helicopter. But if this is an option for your family, it is quite a magical experience. The Blue Hawaiin Helicopter Tours are a chance for you and your kids to fly around the island and see the Big Island from a spectacular view.
Of course, if you or anyone in your group has a fear of heights, this one isn't for you. But if you're brave enough, you get to soak in beautiful views of the still-active Kilauea volcano, black sand beaches, cratered volcanic badlands, majestic sea cliffs, the Kohala Mountains, magnificent waterfalls, thick rainforests, and ancient Hawaiian settlements.
Other Factors to Consider
While both islands have something different to offer families, there are other factors aside from the islands that can affect which island is best for your vacation. When planning your trip and choosing the ideal island, consider these factors as well.
Family Size
Many vacation excursions limit the number of participants. If you have a large family, make sure any activities planned can accommodate everyone, or you'll likely see some sour faces.
Excursions like scuba diving or helicopter rides are often limited to two to four people per guide, which may be difficult for a large family. On the other hand, snorkeling adventures and hiking trips usually have no person limit, so everyone can partake comfortably.
Family Age
If you have toddlers, they won't enjoy the same vacation and excursions as teenagers. This becomes quite tricky when you have a family of varying ages. Activities like museums or snorkeling can work for all ages, while jet skis and late-night dinners are not ideal for small children.
Duration of Visit
Consider what the best use of your time will be. If you visit for a week or two, there's more flexibility in how you can plan your vacation. But if you will be there less than a week, it's important to prioritize and compromise so everyone can enjoy the short time on the vacation.
Personal Preferences
Does your family have a thing for burgers? Do you hate museums but love mini-golf? Consider what your family enjoys doing together and plan around this. Search for specific activities you know everyone enjoys and can do as a family. If you all are interested in nature, plan lots of outdoor activities. If surfing sounds like torture, don't sign up for it!
You know your family best, so use your judgment to decide what activities will excite them and keep them engaged throughout the vacation. And if you and your family like to slow things down, don't feel guilty about designating time for relaxation and casual activities like a game of poker.
Which Island Is Ideal for You?
In the end, deciding which island is best for your family vacation is up to your family's interests and ages.
If you are from a city, you likely won't feel stressed navigating Oahu with small children, and the airport and proximity of everything can make your trip easier. For very young children, Oahu beaches are ideal with clear water, soft sand, and lifeguards. Plus kid-friendly activities like zoos and aquariums.
The Big Island is often better for teenagers who want to do many activities, explore Hawaii, and experience the country life of the island. If you have a very adventurous family, this is likely the best island for your trip.
No matter which island you choose, you are likely to have a marvelous and memorable vacation on the beautiful island of Hawaii.
More about our TFVG Author
A seasoned traveller, Dad, and avid sports tourist, James foundered The Family Vacation Guide to share his expert vacation experiences- especially when it comes to being a travelling family man.
Featured in Travel articles such as Travel + Leisure, TripSavvy and SFGate, you know you're reading some of the best vacation tips online.