The Kona coast of Hawaii is home to some of the most incredible and exciting marine life on the planet. From sea turtles to dolphins and humpback whales, the Big Island has plenty of wildlife for both visitors and locals to explore.
But if you're looking for a truly unforgettable experience during your trip to Hawaii, swimming with manta rays is one of the most exciting and memorable activities you can find.
The Kona coast of Hawaii is home to over 240 unique manta rays. With so many of these beautiful and awe-inspiring creatures just offshore of the island, a visit to Hawaii offers a one-of-a-kind opportunity to experience an up-close encounter with manta rays.
While most manta rays migrate during a specific time of year, the reef mantas in Kona can be found in the water year-round. No matter when you're planning on being in Hawaii, you can find a time to swim alongside these gentle giants with a nighttime manta ray tour.
If you want to discover manta rays through a unique snorkel or dive experience, it's important to know where to look and what to expect. Here is your guide to everything you need to know for the best experience swimming with manta rays in Hawaii.
Where To Swim With Manta Rays in Hawaii
With a wingspan of up to 14 ft, these extraordinary animals provide a thrilling underwater adventure for any snorkeler or diver.
The best places to swim with manta rays in Hawaii are at one of several feeding stations. Off the coast of Kailua-Kona, the bright lights from hotels and resorts attract plankton, manta rays' main source of food. The plankton draws a large congregation of manta rays to specific locations once the sun goes down.
When you go on a nighttime dive in Hawaii, tour operators will shine bright lights into the water to attract manta rays to the plankton, offering visitors an up-close experience with these incredible creatures swimming and gliding through the water as they eat.
There are three main feeding stations off the coast of Kona: Manta Village, Manta Heaven, and the Kohala Coast near Waikoloa Village.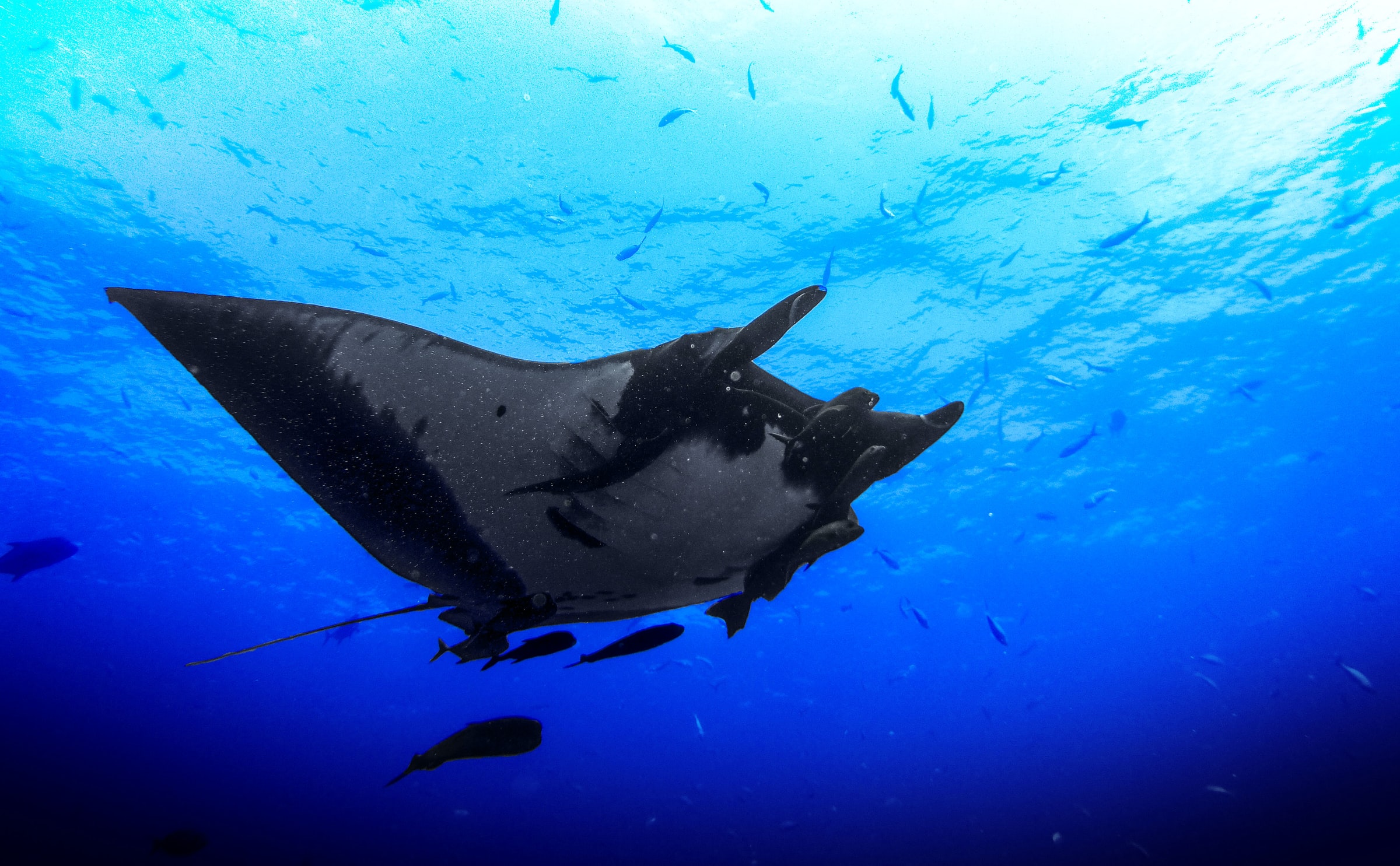 Manta Village
Located just off the coast of the Sheraton Kona Resort and Spa at Keauhou Bay, Manta Village is one of the best spots for manta ray sightings in Hawaii. This feeding spot is located about seven miles south of the Kona coast and is one of the most popular manta viewing locations for visitors today.
While there are plenty of sites where you can spot manta rays throughout Hawaii, Manta Village offers the most consistency and reliability. Charters at this feeding location boast a success rate of 96%, with an average of four manta ray sightings a night.
Since becoming the original manta ray dive location in the 1970s, Manta Village has remained a fantastic option for anyone looking for an up-close encounter with Hawaii's manta rays. The lights from the nearby resort attract plenty of marine plankton to the area, making this an extremely popular feeding location for rays after dark.
While some tour operators offer daytime dives after sundown is the best time to visit Manta Village. The area is home to a range of local tours and charters that provide visitors with everything they need to successfully and safely swim with manta rays.
The Sheraton Kona Resort and Spa is also home to the Manta Learning Center. If guests want to learn even more about these majestic animals they can stop by the learning center to discover more information about their anatomy, life cycle, and behavior.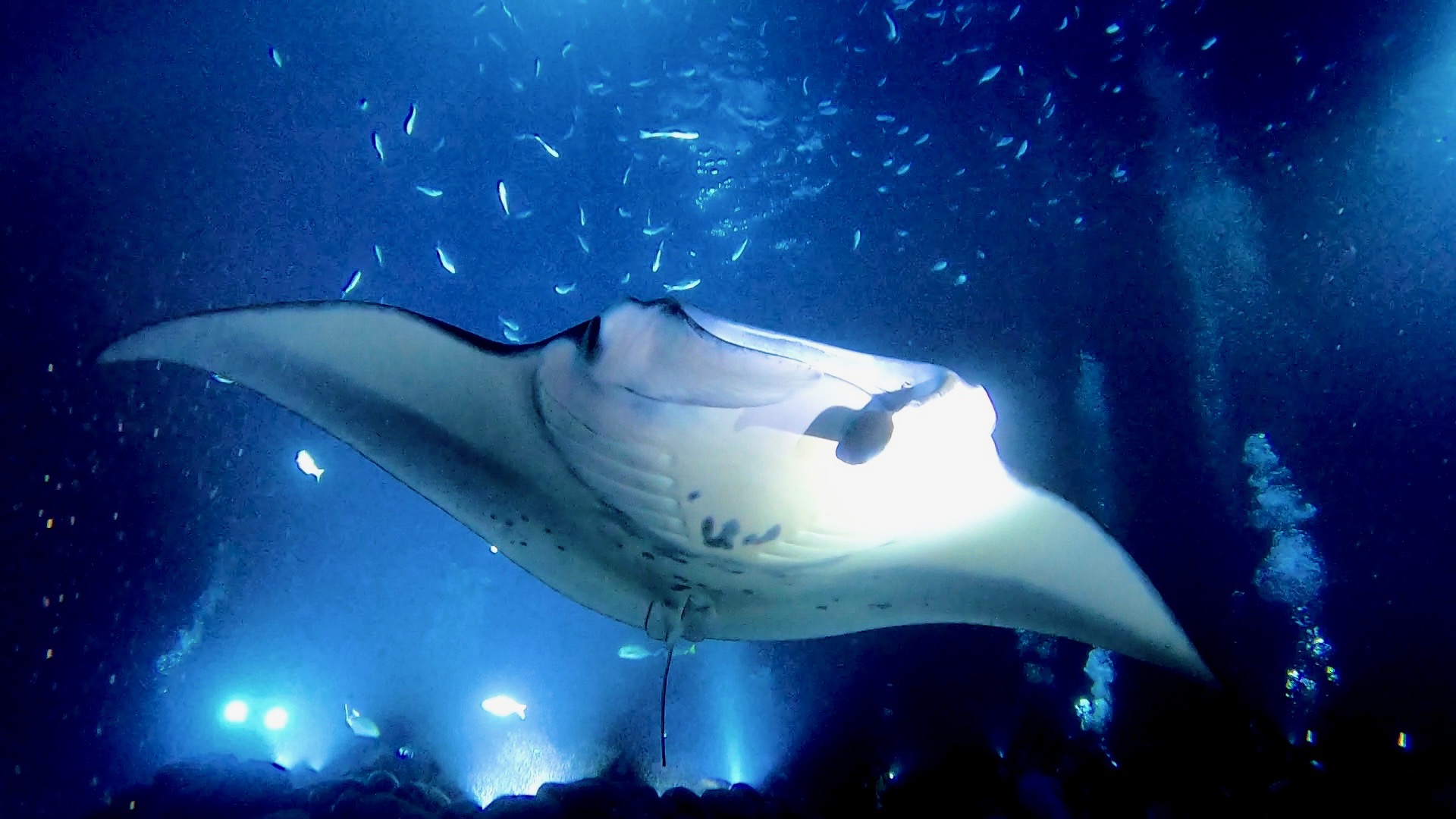 Manta Heaven
Manta Heaven is conveniently located just offshore from the Kona International Airport, near the northern coast of Kona.
With a 90% sighting success rate, Manta Heaven is slightly less consistent with ray sightings than Manta Village. However, this site is also known for having higher numbers of manta rays during dives, with an average of 11 manta sightings per trip.
Also known as Garden Eel Cove, Manta Heaven is a common spot for any visitor looking for a daytime dive. Before the sun goes down, divers can occasionally spot reef mantas, Hawaiian garden eels, and even dolphins.
When it gets dark, lights along the ocean floor and on dive boats attract more manta rays to this dive site, allowing divers to watch as they feed on plankton and glide through the water.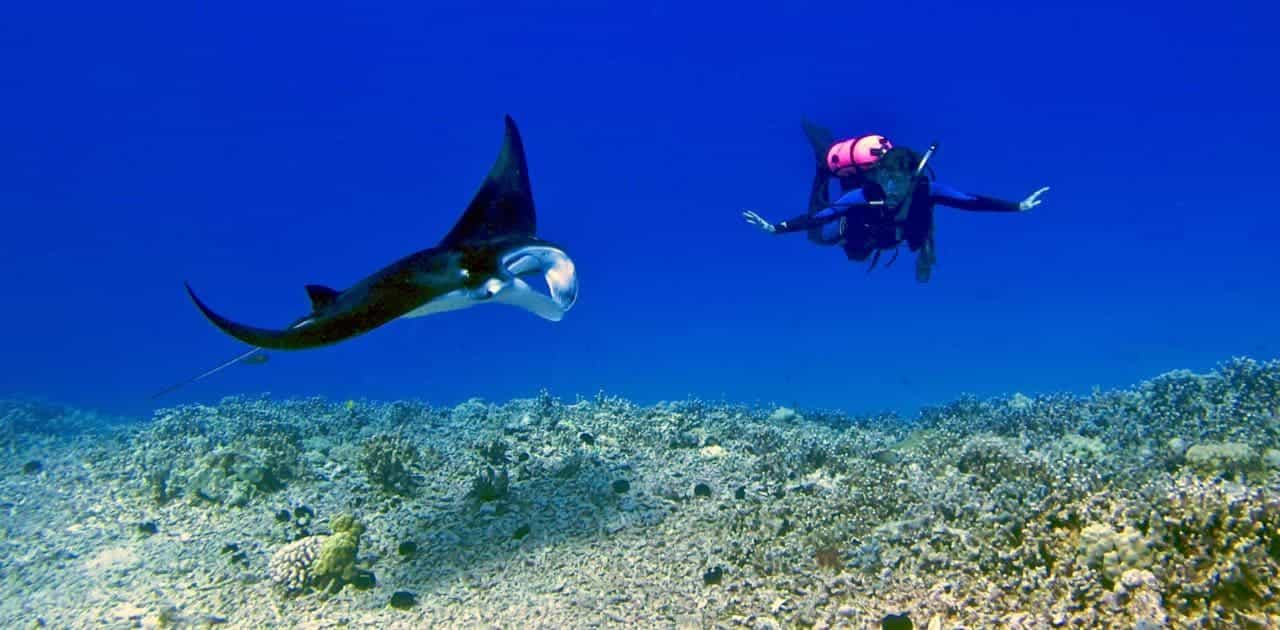 Kohala Coast
While Manta Heaven and Manta Village offer more consistent ray sightings, they've also become extremely popular over the years, and can often get crowded with tourists during nighttime snorkels or dives.
For anyone looking for a quieter, more peaceful experience, Kohala Coast offers a less crowded spot to swim with manta rays. This manta ray view area is located to the north of the Big Island near Waikoloa.
The Kohala Coast Resort shines a bright light off the shoreline, attracting manta rays to the shallow water. Sightings are less consistent at around 80%, but with a more private viewing experience and fewer tourists, this can be a great spot if you're looking for a quiet nighttime swim.
Manta Tours Around Hawaii
No matter which feeding location you choose, any of these manta ray viewing sights offer a unique opportunity to swim and explore underwater alongside some of Hawaii's most incredible wildlife.
And whether you're an experienced diver or a beginner snorkeler, there's plenty to enjoy throughout these three main locations. All of these sites offer guided dives at the ideal time and location to see manta rays as they visit a feeding site at night.
There are two main types of tours you should be aware of when looking at local tour operators: Snorkeling and diving.
Snorkeling
Snorkeling tours are extremely popular throughout manta viewing sites along the Kona coast and are designed for a wide range of ages and experience levels.
During snorkeling tours, you're given a board with lights attached to the bottom. These lights shine down towards the ocean floor, attracting plankton and manta rays. Snorkelers can watch from above as groups of manta rays gather and eat the plankton.
There are snorkeling tours designed for different experience levels, although all snorkelers must be able to swim.
Diving
Any visitors certified in scuba diving might be interested in a nighttime manta ray diving tour.
During these tours, lights from your guide and dive boats draw manta rays to the area. Divers can sit on the ocean floor to observe the manta rays and experience one-of-a-kind up-close interactions with marine life.
Best Tour Options for Swimming With Manta Rays
Here are some of the top recommendations for local tour operators for manta ray snorkels and dives along the Kona coast.
Based in Manta Village, SeaParadise offers one of the top tour experiences in Hawaii. This sunset snorkel tour departs from Keauhou Harbor and provides everything you need for a magical experience swimming with manta rays.
This tour includes:
Snorkeling from a luxury 50-foot trimaran
All necessary snorkeling gear and a wetsuit
Snacks and beverages on the trimaran
A manta guarantee with free re-booking if no manta rays are spotted
This two-hour tour is designed for visitors of any skill level or age, making this an ideal option for any families with kids visiting Hawaii. The snorkeling guests will all have a flotation device with an attached light, allowing them to look down at the bottom of the ocean and observe the majestic rays from the surface of the water.
SeaQuest Hawaii provides another great opportunity to explore the manta rays in the original manta viewing site of Manta Village.
This nighttime snorkel tour takes place in the warm, mild waters of Keauhou Bay. While the tour does require some previous swimming and snorkeling experience, everyone ages seven and up can enjoy this extraordinary nighttime adventure.
The cost of the tour includes wetsuits, flotation devices, and all of the required snorkeling gear. There's even hot chocolate and snacks for guests to enjoy on the boat to and from the viewing site.

If you want to explore the water while taking in the stunning Hawaii sunset views, The Manta Night Snorkel Charter Tour from Big Island Divers is a perfect choice. The 5 pm launch time allows you to enjoy the sunset from the charter and experience manta rays swimming and feeding at the surface after the sun goes down.
The tour operator also offers a late manta adventure if you're looking for a quieter, less crowded charter option.
There are options for both snorkeling and diving, so all experience and skill levels can enjoy these nighttime dives. However, some swimming and snorkeling experience is required for these tours.
Like SeaParadise, Big Island Divers also offers a manta guarantee and will take you back out on the water for free if no rays are spotted while snorkeling.
With a huge assortment of eco-adventures available to choose from, Manta Ray Dives of Hawaii offers something for everyone. And with a world-famous nighttime dive and snorkel boat, this tour is a great way to explore manta rays and their habitat with underwater dive lights.
The tour starts with a scenic sunset cruise on the way to the manta viewing location. Then, in water with a depth of 35-40 feet, both divers and snorkelers can safely watch the manta rays twist and spin through the water.
On this three hour tour, guests can enjoy:
A 40-foot dive boat with hot showers and an oversized swim platform
An included wetsuit and snorkel gear
High-quality dive equipment available for rent
Snacks and drinks provided on the boat
Snorkeling tours are available for any visitor over six years old, however, everyone must know how to swim before joining this manta ray encounter.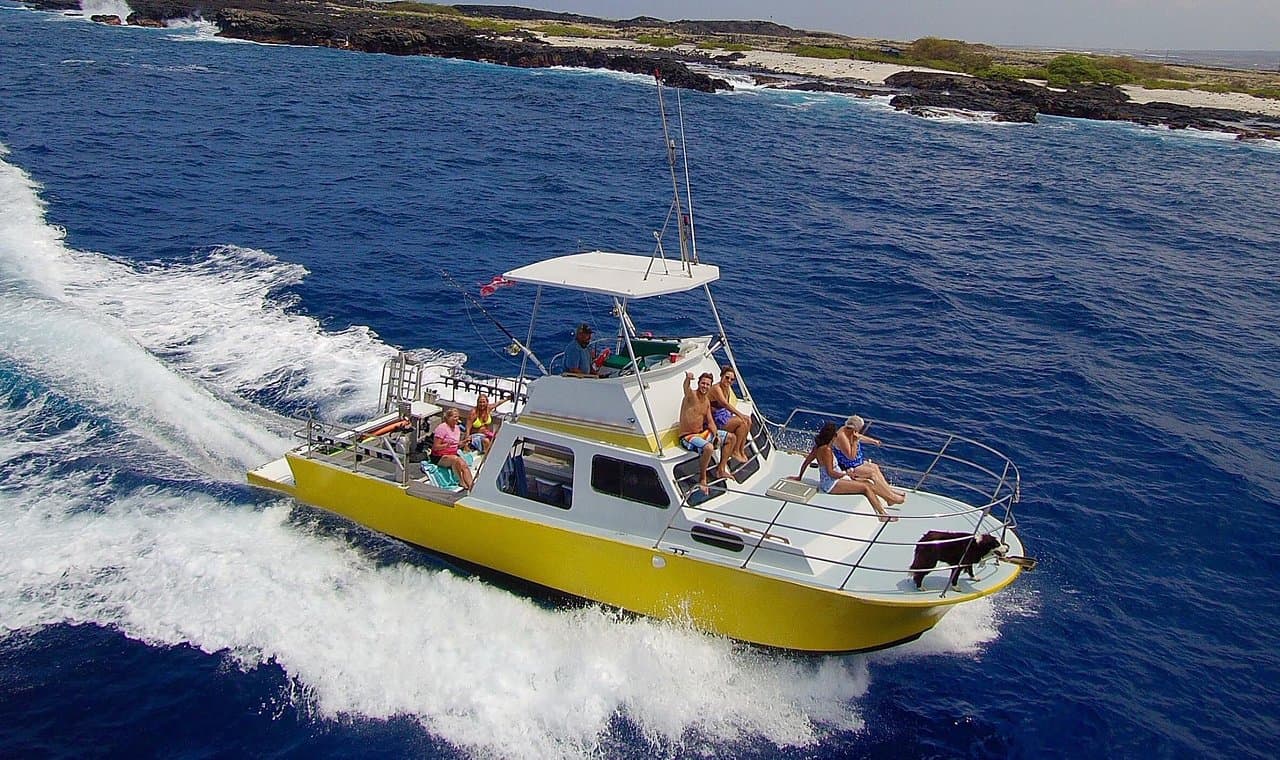 Torpedo Tours offers several different options for ways to watch manta rays flip and glide through Manta Heaven. But whether you choose to scuba dive or snorkel, these sunset swims with manta rays offer one of the most surreal and unique experiences you can find on the Big Island.
Torpedo Tours' manta ray viewing takes place in a calm, shallow bay around 30 feet deep. These tours include both divers and snorkelers, with mantas floating between them in the ocean as they dine on plankton.
This sunset charter tour is another great option for a variety of skill levels, as both certified divers and less experienced snorkelers can easily and safely take part in the experience.
Located on Waikoloa on the Kohala Coast, Sunlight on Water takes guests to some of the lesser-known manta ray viewing sites along the Kona coast.
While manta ray sightings are slightly less consistent at 85-90%, this tour offers several other benefits for visitors hoping to swim with rays. These include:
A ride to the site on a comfortable 40-foot vessel with shade and warm showers
Wet suits, snorkel gear, and flotation devices included with the cost of the tour
Experienced CPR-certified crew as your guide in the water
Hot drinks on board the boat
Discounted tickets for children 12 and under
This tour is ideal for all ages and skill levels, and the guides often tie off to the back of the boat so guests can enjoy their experience with minimal swimming necessary.
Final Thoughts
With so many incredible opportunities to experience manta rays up close, it's no secret why swimming with these animals is one of the most popular attractions in Hawaii.
Between Manta Village, Manta Heaven, and the Kohala coast, there are so many places you can go to have an incredible adventure swimming alongside manta rays. And with a huge range of local tour operators near the major manta ray viewing sites, it's simple to find a tour that suits every preference, budget, and experience level.
Once you take a look through this guide and find the best option for you, you'll be ready to book your trip and enjoy a once-in-a-lifetime chance at a magical nighttime swim with Hawaii's manta rays.
More about our TFVG Author
A seasoned traveller, Dad, and avid sports tourist, James foundered The Family Vacation Guide to share his expert vacation experiences- especially when it comes to being a travelling family man.
Featured in Travel articles such as Travel + Leisure, TripSavvy and SFGate, you know you're reading some of the best vacation tips online.