Are you planning to travel to Hawaii? Hawaii is home to towering mountains, active volcanoes, tropical forests, surfing waves, golden-sand beaches, and stunning waterfalls. With all of these and more stunning features, a trip here is a dream come true for many families.
The state has entirely different customs and cultures when compared to the U.S. mainland. Moreover, Hawaii has a rich history, and many locals are usually more than happy to share their history and the island's beauty. It's not hard to see why many people consider Hawaii as their dream vacation.
Hawaii – The Perfect Place for Your Next Family Vacation
Families in the USA consistently rank Hawaii as a top family vacation destination. According to most reviews, the state is probably the most beautiful place in the world.
Each of the eight Islands of this state has its own Keiki-friendly features and unique personality. With this, Hawaii offers you and your family members a world of fun. Some places that you and your family are likely to enjoy include:
Waikiki
The North Shore
Ko Olina
Lahaina Town
Napali Coast
These are just a few places that most families visit in Hawaii. Feel free to explore new environments and the beautiful nature that Hawai provides.
Here are the top 10 reasons why Hawaii is the perfect destination for a family vacation:
Hawaii Has the Perfect Climate
Before traveling to Hawaii, you will probably want to know the climate or weather of this place.
The temperature in these islands tends to be consistent all year round. The state's proximity to the equator ensures its weather is always warm, with temperatures ranging from 78° F (25.6° C) to 88° F (29.4° C) during the day and about and about 68 ° F during the night.
However, this doesn't mean that the weather is always the same; the islands experience minor temperature changes throughout the year. Typically, Hawaiians experience two significant seasons, which are winter and summer.
Summer Season in Hawaii
The summer season marks the start of perfect and dry conditions. The season runs from April through October, and the weather during this month is satisfyingly warm.
If you like sweltering temperatures, visit the islands in August and September. During these months, temperatures can go as high as 90° F (32° C).
Winter Season in Hawaii
The winter season in this state occurs in November, December, January, February, and March. Although it's winter, there is not much difference between winter temperatures and summer temperatures. The average temperatures are about 78° F (25.6° C).
The significant difference between these seasons is that there is more rain across the islands during winter. Winter usually brings some of the best waves, which is why this season is popular among surfers.
That said, Hawaii is an all-year-round destination with great temperatures for various activities. It's worth noting that the hurricane season usually takes place in July, August, and September – but massive storms are infrequent.
Home to Some of the World's Most Luxurious & Relaxing Resorts
Hawaii has many hotels, from modest budget-friendly hotels for people who have time to explore to vast and beautiful resorts that can act as a destination within themselves. While most people believe Hawaii hotels are generally expensive, finding budget-friendly hotels isn't as hard as you may think.
Here are a few hotels that offer modest accommodations at affordable prices or see our guide to the best family resorts in Hawaii for more inspiration:
Grand Naniloa Hotel Hilo – From $132
Located on the island's eastern side, Grand Naniloa is one of the cheapest hotels to take your friends and family. It offers a sweeping ocean view, beautiful guest rooms, and other amenities that beach hotels provide.
Hotel Moloka'i – From $138
Hotel Moloka'i is an excellent destination for a long staycation. Located in Maui County, the hotel offers a full kitchen, stunning views, and a swimming pool.
Paradise Bay – from $150
Paradise Bay is in the northeastern part of O'ahu. Besides being an affordable hotel, Paradise Bay offers a lot of privacy and access to a full kitchen.
One of the World's Most Family-Friendly Destinations
Hawaii has something to offer for tourists of all interests, ages, and budgets. When it comes to family outdoor activities and exhilarating programs, you can never be disappointed. Some activities at this place that will help you bond with your family members include:
Surfing: Hawaii is one of the best spots for surfing, boogie boarding, and windsurfing. What's more, there are schools like Surf Academy Kealoha where you can learn with your kids how to surf.
Kid-friendly hike: Hiking is a great way to get everyone on their feet. The best places to hike with children are the Iliau nature loop trail, the Kailua ridge trail, Hawaii volcanoes national park, or Makapuu point lighthouse.
Helicopter tour to see volcanoes: Make it a memorable one! You can have views of the volcanoes and craters by taking helicopter tours.
Biking: Get to experience the Hawaiian Islands as a family on bikes. You can always hire road bikes, e-bikes, or mountain bikes from Bike Hawaii Tours.
Kauai Backcountry Mountain Tubing: Your whole family gets a chance to sit and float down an open canal and through several fascinating tunnels and flumes.
Ziplining: You can experience Hawaii-like birds by ziplining and enjoying breathtaking views.
Stunning Scenery Like You've Never Seen Before
When you visit The Big Island, your camera should always be ready. There are many gorgeous sceneries that every visitor wants to remember after seeing this place.
From state parks that allow visitors to walk in the Hawaiian royalty's footsteps to hidden sea caves that make you feel you're in a different world altogether.
Here are the most scenic spots in Hawaii:
Hawaii's Pololu Valley
In case you're up for a spectacular view while on this island, head to the Pololu Valley Lookout. The valley is right off the highway, but getting to it makes you feel you have traveled to a unique and secret spot. For a view you won't forget, head up the valley during sunset and follow the trails to the beaches during the day.
Maui's Road to Hana
Driving on this winding road lets you enjoy tall bamboo, waterfalls, and the sheer beauty that comes with turning the over 600 turns on the road. On the corner, you'll find something new that will shock or amaze you.
The 64-mile road allows visitors to stop along the way to see the dense jungle vines, powerful waves, and small towns.
Haleakalā Volcano
Most Hawaiians consider this place a highly spiritual place. The Haleakalā volcano is also known as aleakalā crater because of the high level of erosion that has taken place. The top of the volcano provides a great view of the island, especially during sunrise.
Lanai's Kaunolu
While Lanai isn't particularly green, it's rustic, rocky, and rugged. The place was once a village where the fishermen came to get their daily meal. Kaunolu is also a sacred place that offers a unique sport for viewing the sunset.
Waipio Valley Overlook
Also known as the valley of the king, several cliffs bind Waipio valley. With waterfalls dropping about 1,200 feet from the Kohala Mountains, the lush valley provides a breathtaking view.
Well, these are just a few of the magnificent sceneries you will enjoy during your visit to Hawaii. Other places to look out for include:
Big Island's Akaka Falls
Kauai's Wailua Falls
Kauai's Waimea Canyon
Pepeekeo Scenic Drive
Oahu's Ko'olau Mountains
Oahu's Hanauma Bay
Pristine Beaches You Will Never Want to Leave
When it comes to pristine beaches, Hawaii offers countless options. If you're trying to select the best beaches in Hawaii, your list will probably be unending. These beaches are among the many reasons tourists flock to the island.
The beaches offer a calm environment that you can enjoy with your entire family. Although it's hard to determine which beaches are the best, here is a list of some of the top beaches – those that most people visit.
Po'ipū Beach, Kauaʻi
Poʻipū beach is home to three beautiful crescents. Due to lifeguards and calm water, the island is a go-to destination for many families in the United States. You'll enjoy snorkeling, swimming, and surfing.
Big Beach, Maui
The big beach stretches about 100 feet wide from the shoreline. As the name suggests, it's one of the largest and most breathtaking beaches in Hawaii. However, the beach has strong shore breaks that can be dangerous to beginner swimmers and kids.
Hanalei Bay, Kauaʻi
Just like many people love Kaua'i, they sure love this beach. A crescent of golden sand lines this nearly 2-mile beach that starts from the source of the Hanalei River. Regardless of the section you visit, the beach offers an epic view of the valleys and ridges around this place.
Waikīkī Beach, O'ahu
If you have visited this beach, you can't deny its beauty and charm. It's a favorite for not only tourists but locals due to its gentle and inviting waves. It's also crescent-shaped and calm, which attracts many families.
Lanikai Beach, Oʻahu
Lanikai beach features the softest sand and bluest waters. If you are adventurous, you can kayak to the islets or hike to Lanikai Pillbox Trail and see the beach in its entirety.
The coastal strands of Hawaii come in a wide variety of textures and many hues. According to Hawaiian law, all beaches at this place are open to the public. So, feel free to visit a beach of your choice whenever you come to Hawaii.
Things to do for the Whole Family
Hawaii offers a wide variety of activities that the whole family can partake in. Ranging from hiking to surfing and everything in between, there are many to choose from during your visit.
Some of the most popular family-friendly attractions include:
Hawaii Volcanoes National Park
Pana'ewa Rainforest Zoo
Punalu'U Black Sand Beach
Laupahoehoe Train Museum
Dolphin Quest
Children's Discovery Center
Maui Ocean Center
Fantastic Food that Everyone will Love
Food is an extension of people's personal history, religion, culture, and ethnic feelings. As such, before you do anything around this place, you have to eat.
You probably already know that sharing a meal with family makes it taste better. How about enjoying new delicacies with your family? In Hawaii, you can't afford to miss out on the local Hawaiian Regional CuIsines.
Being an international meeting place of Chinese, Filipino, Japanese, Hawaiians, and many others, you can always taste something new. Initially, the food in Hawaii was mainly traditional food of these different cultures on the island.
But the most common is the Hawaii regional cuisine which is a creation of local infused ingredients with other cuisines of the world.
Hawaiian restaurants serve some of the best dishes at affordable prices. One best-known restaurant is no-frills-hole in the wall, which serves meals enough for a family.
You'll get to enjoy traditional dishes like steamed taro-leaf wrapped pork Lau Lau, Lomilomi, and haupia (a dessert made with coconut milk).
Even better, there is a daily farmers market, such as Sunshine Market in Koloa. This farmer market is where to shop for all the groceries, fruits, and other foodstuffs you'll require during your stay. The tropical produce in this place tastes better and, yes, even cheaper than in supermarkets.
Indeed, it will be a great place for you to introduce children to exotic fruits.
An Unforgettably Welcoming Culture
Are you a cultural diversity enthusiast? Then the Polynesian Cultural Center in La'ie town in Oahu is a must-visit. The Center is an excellent place for families to experience thousands of years' worth of culture and learn about the seven cultures of Polynesia. The seven cultures include Tonga, Fiji, Samoa Marques, New Zealand, Tahiti, and Hawaii.
There are various activities you can participate in at this place; playing traditional games, learning local dance moves, Samoan cooking, wood carving, or even watching documentaries.
You also get to enjoy some local delicacies and a traditional luau buffet. And best of all, you'll enjoy seeing young men climbing 40 -foot palm trees bare feet and performances from college students of Brigham Young University.
Those who don't participate in activities are not left out. They can just sit and watch the Polynesians canoe paddling for leisure or traveling across the small lake park. Another major attraction in Hawaii is the traditional attire of the Polynesian(lavalava).
The modes of dressing at this place will also amaze you. For instance, you'll find women wearing a flower tucked above their left ear to symbolize they are currently married or engaged, while on the right ear to show they are single.
Apart from Polynesians, you'll get to interact with people from different walks of life, as the island has attracted people from around the globe.
The Perfect Place to Spot all Different Types of Marine Life
Thanks to advancements in technology, you and your family can now get to watch marine life from the comfort of your home. But it's more exciting to view marine animals in their natural habitat.
Imagine seeing a group of dolphins leaping across the water or turtles nesting on a beach ‒ It can be an experience you'll never forget.
Explore Hawaii with your family and create beautiful memories of marine life, as much of its beauty is under the sea. The waters in Hawaii have green sea turtles, tropical fish, Hawaiian monk seals, reef fish, dolphins, whales, stingrays, and even a few sharks.
The good news is that the Maui Ocean Center offers scuba-certified tourists aged 15 years and above a chance to dive 20 feet underwater. Scuba diving gives you and your family an excellent opportunity to dive and see aquatic marine life and even record videos.
The area also caters to small children (third to eighth grade) by providing sleepovers, during which they can watch the nocturnal marine life.
More interesting are the whale-watching tours with chartered boats offered by various companies. Usually, between May and December, there are gentle humpback whales at the coastline of Kauai. The whales appear yearly in the warmer waters of Hawaii to breed and give birth.
Other places to view the whales include Poipu beach along the southern coast and Napali Coast in the north.
Experience Shave Ice
Your vacation in Hawaii can never be complete without a taste of the local shave ice. With the warm weather in the islands, everyone has something to help beat the heat. Be it a shave ice cone, cup, or bowl; you'll always find yourself or kids asking for more.
What leaves people craving for more are the traditional rainbow creations with creamy toppings. It will be exciting to devour the different flavors of vanilla, coconut, pineapple, guava, mango, strawberry, banana, or the local papaya flavor.
Some of the best shave ice in Hawaii include:
Original Big Island Shave Ice Co, Hawaii island
Ululani's Hawaiian Shave Ice, Maui
Matsumoto Shave ice, Oahu
Jojo's shave ice, Kauai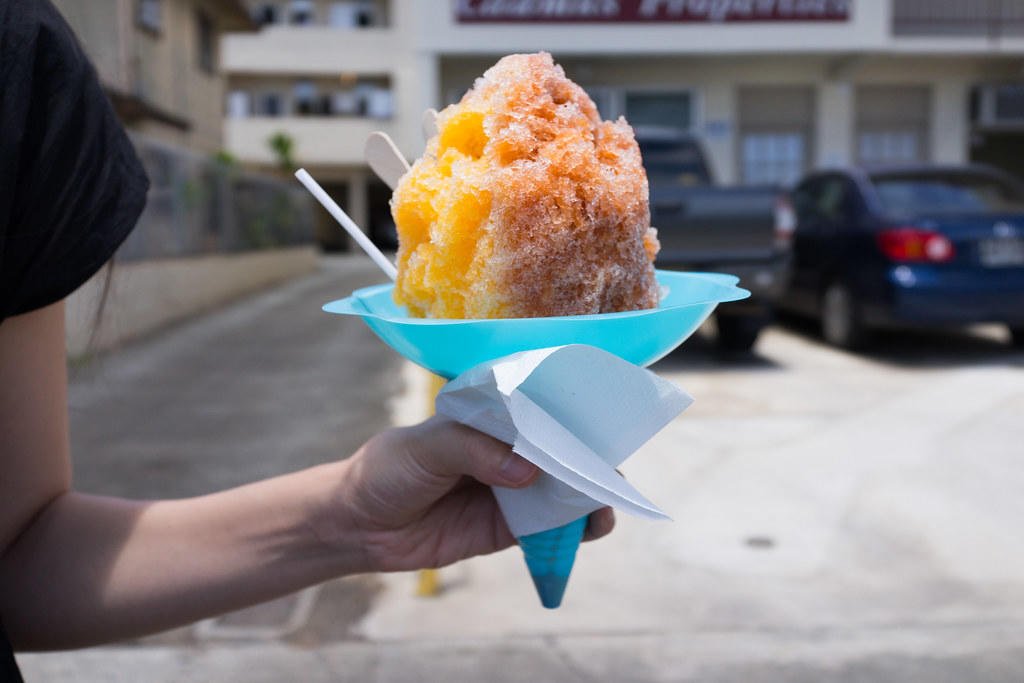 Final Thoughts
If you feel summer is knocking on your door, a quick search on the internet will let you know that Hawaii is the perfect place for your vacation. It's a popular travel destination for most Americans and even the rest of the world.
The Big Island has been a recurring top pick by travel agents, Travel + Leisure, Lonely Planet, and the United States Tour Operators Association.
You may have heard your family members or friends babble about one of their trips to Hawaii.
The Islands' calming atmosphere and tropical climate make it a special place. And other than exploring the islands, you will love the relaxed Hawaiian lifestyle.
Did you know that there are incredible black sand beaches in Hawaii? Our guide will tell you everything you need to know!
More about our TFVG Author
A seasoned traveller, Dad, and avid sports tourist, James foundered The Family Vacation Guide to share his expert vacation experiences- especially when it comes to being a travelling family man.
Featured in Travel articles such as Travel + Leisure, TripSavvy and SFGate, you know you're reading some of the best vacation tips online.