Chicago, Illinois is one of the greatest cities in the United States. It's famous for its world-class culinary scene, jazz music, and innovative architecture. There are plenty of accommodation options ranging from hotels to trendy hostels. The city center is where you'll find the most selections, although trendy new spots keep cropping up on the outskirts.
If you're planning a trip to Chicago, you will have numerous options for fun things to do and see. Whether you're a culture lover, a sports addict, or an outdoor enthusiast, there's something for everyone. Read on to learn more about the best places to stay in Chicago for families with kids.
1. Chicago Loop
Chicago Loop, which the magnificent Willis Tower dominates, has long been a favorite tourist destination. You'll find world-class attractions here, including shopping malls, eateries, theaters, parks, artwork, and architectural masterpieces.
One of the most iconic attractions in Chicago Loop is Grant Park. The place is home to the world-renowned Art Institute of Chicago and yearly events like the Taste of Chicago and Lollapalooza. The park's Buckingham Fountain is every photographer's paradise.
If you wish to learn about Chicago's architectural heritage, the Chicago Architecture Foundation should be on your itinerary. It features the city's accurate model, whereas the Chicago Cultural Center is open to the public and hosts cultural shows throughout the year.
If you're a food lover, the Adler Planetarium is a must-visit. The food trucks lining the Daley Plaza are sure to satisfy any craving.
You'll also find the legendary "Bean" in Millennium Park, now renamed "Cloud Gate." For a fascinating experience, you can book a boat tour offered by the Chicago Architecture Foundation along the Chicago River to see the city's famous skyline from a unique viewpoint.
Since most people call it Chicago's "downtown," the Loop is home to various accommodation options ranging from luxurious five-star restaurants to affordable hostels. As with any popular tourist destination, costs vary widely depending on the time of year, but it's worth keeping an eye out for online-only sales and ticket prices for upcoming events.
2. West Loop
The West Loop, formerly Chicago's manufacturing hub, is now one of the city's fanciest and culturally diverse neighborhoods. Immigration has been a defining factor in West Town's diversity, and its impact is commemorated through the neighborhood's myriad attractions.
The West Loop is considered Chicago's top eating destination, with multiple eateries serving American and international cuisines. Furthermore, the neighborhood has many nightclubs and entertainment joints that satisfy any party lover.
The French Market, located inside the Ogilvie train station, is ideal for upscale window shopping. You'll taste delicacies like Hawaiian poke bowls, lobster rolls, Belgian fries, and various pastries.
Nevertheless, the West Loop is known for its culinary offerings. On the other hand, the Arcade Emporium is a gamers' heaven featuring air hockey tables, pinball machines, and arcade games. You can also visit Brooklyn Boulders if you love rock climbing.
3. South Loop
Located on the Museum Campus, the neighborhood is home to some of the city's finest museums. You'll also experience the Jazz Showcase and blues legend Buddy Guy's Legends. Seasoned and upcoming artists come here to network and exhibit their work since the area draws locals, tourists, and college students for nighttime activities.
Your trip to Chicago would be incomplete without a stroll through South Loop's Prairie Avenue District. The district is known as "Millionaire's Row" since it serves as the residential area for most of the city's wealthy elites. You should also check McCormick Place Convention Center's trade shows. Football fanatics may catch a Bears game at Soldier Field.
If you want to go on a water taxi lake route tour, you'll land in front of Shedd Aquarium. The neighboring Field Museum is the perfect place to visit for a day of science-themed adventure. With its beautiful shoreline, the South Loop is home to some of the city's finest lodging options. However, rates tend to be on the pricier side during high seasons.
4. Magnificent Mile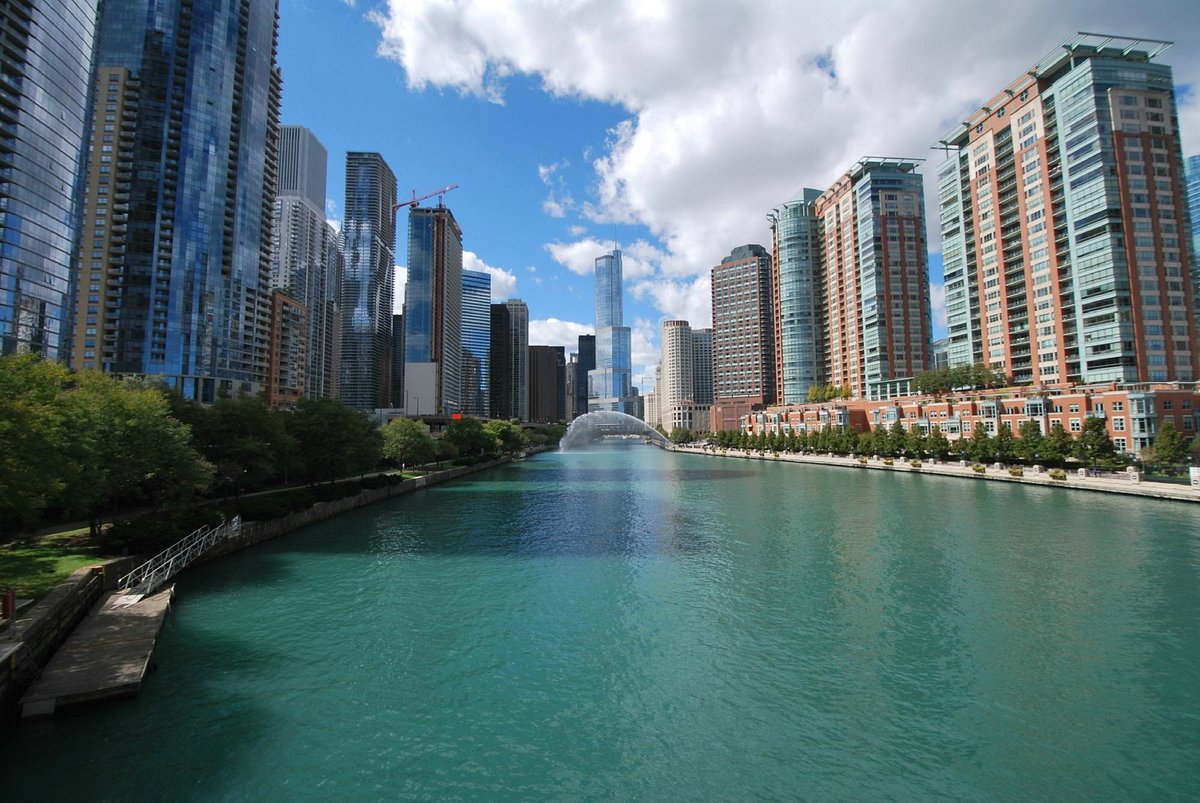 The place lives up to its name because it's home to Chicago's affluent shopping malls, hotels, castles, and ballrooms. Some notable landmarks you can admire include the John Hancock Center, the Wrigley Building skyscraper, and the Chicago Water Tower. The John Hancock Center also features a rooftop viewing spot and a cafeteria.
Richard H. Driehaus Museum stands in a mansion that dates to the nineteenth century. It features the world's extensive collection of Louis Comfort Tiffany works and Gilded Age art, fashion, and design collections. The museum's third-floor ballroom plays host to cocktail series, lectures, and cultural celebrations throughout the entire year.
The Newberry Library is a paradise for scholars thanks to its collection of well-preserved letters written by some of the most successful authors worldwide, ancient maps, and first editions of classic books, all accessible for viewing by the general public.
Even though the hotels along the Magnificent Mile have some of the most expensive rates in the city, you can still enjoy a delicious meal and a refreshing drink at iconic establishments like the Blackstone Hotel. The place has been a favorite spot for multiple United States presidents and the infamous Al Capone.
5. Lincoln Park
Situated on the North Lakeside, Lincoln Park is Chicago's most extensive park, besides being one of the city's affluent neighborhoods. Warmer months are perfect for spending time at the beach, and the Lincoln Park Conservatory offers visitors the chance to experience a magnificent paradise full of exotic plants and animals.
The Lincoln Park Zoo is a popular destination for people of all ages. Furthermore, the Chicago History Museum treats its guests to a big, climbable Chicago-style hot dog.
The Steppenwolf Theater Company, where actors like John Malkovich and Gary Sinise made their debut, is still operational. The less famous but equally worthwhile Theatre on the Lake has ongoing shows and events.
Lincoln Park's lily pond, pavilion, and expansive green render it an ideal picnicking spot, but the park is also a major attraction.
6. River North
The lively neighborhood near North Side is home to many trendy boutiques, cafes, and rooftop bars. The neighborhood is also known for its innovative architecture and exceptional art galleries.
You can have a fantastic experience by strolling the Chicago Riverwalk and taking in the sights. You can also deviate from the path and explore the MART, which is home to numerous art galleries and design studios.
The Navy Pier is a popular destination throughout the summer. Its surrounding Pier Park provides families with various activities, including an IMAX theater, classic rides, mini golf, and cruise tours.
The Museum of Broadcast Communications and the world-famous House of Blues are must-visits for music fans. If you want to learn about the city's culture or see some artwork, you should head to the Chicago Shakespeare Theater and Museum of Contemporary Art.
For those seeking lively nightlife, this is a top spot. You'll find some of Chicago's finest pubs and clubs. Prominent venues include the Redhead Piano Bar, while the Tortoise Supper Club is popular with jazz fans. A stay in one of the neighborhood's charming boutique hotels ensures you and your family have an incredibly romantic trip to Chicago.
7. Old Town
Old Town, a German immigrants' settlement in the 1850s, gives a vibe comparable to going back in time. The historic district of Old Town in Chicago is one of the top places to visit in the city due to its stunning Victorian buildings, peaceful tree-lined avenues, and exciting nightlife.
Renowned for producing future stars like John Belushi, Tina Fey, and Stephen Colbert, the Second City Theater is a must-see, whereas the Zanies features the likes of Aziz Ansari.
The Old Town Pour House, conveniently located next to Second City, always has at least ninety beers on tap. In addition, the neighboring area has multiple shops and restaurants serving nothing but the best cuisines.
The International Museum of Surgical Science is one-of-a-kind in Chicago, and its gift shop is full of interesting items. If you are interested in medicine or anatomy, you'll want to check it out. You can also host weddings and other family events at the museum. The museum is always open from Monday to Saturday.
8. Airport Area
Some cities consider the airport's vicinity a wasteland reserved for layovers. However, Chicago is among those golden gems that feature a lot of attractions close to the airport. The area surrounding O'Hare International is home to multiple restaurants, so food lovers can sample famous Chicago dishes such as deep-dish pizza and hotdogs.
The Brunswick Zone features 48 bowling lanes and is a popular attraction among bowling experts. Golfers will appreciate Lake Park Golf Course's convenient location just 10 minutes from the airport. Both attractions offer a wide selection of food, drinks, and light entertainment options.
About 5 miles from O'Hare, you'll find the Schiller Woods, a stretch of woodland and swamp spanning 8,000 acres and has natural grassland.
Hikers can enjoy the stretch's multiple trails and native flora and fauna. The CTA Blue Line connecting O'Hare to the neighborhood renders it easy to find accommodations just off the airport stretch. The options are cheaper than the hotels closer to the city's central business district.
9. Lakeview
Tourists seeking a less hectic, more authentic Chicago experience will find what they're searching for in the quiet Lakeview neighborhood. You can easily spend a day or more in Lakeview since there are many dining options, such as the world-famous Wiener's Circle and historic theaters like the Vic.
Besides open markets, there are many shops and boutiques along Broadway where you may purchase high-quality used clothing, instruments, and home furnishings. The Chicago Music Exchange is home to one of the world's most extensive collections of vintage guitars. The exhibition is sure to fascinate anybody with an interest in music.
Lakeview's fancy bars and live performances make it the perfect place to stay in Chicago. Furthermore, with Lake Michigan's strategic location in the neighborhood, you'll enjoy easy access to boating, golfing, and picnicking destinations.
You may opt to stroll Lake Michigan and enjoy the lakeshore pathway, sailing harbor, and tennis courts. For baseball fans, you'll want to check out Wrigleyville because it's home to the renowned Wrigley Field and the Chicago Cubs. Multiple basketball courts are also here, so your kids can enjoy games as you explore Chicago.
10. Theater District
Some of America's finest actors and comedians began their careers in Chicago's Theater District. So, anyone who's a fan of the live theater will want to see a performance at one of the landmark venues, including:
The Goodman Theater. It's Chicago's biggest and longest-running non-profit theater and has won multiple Tony Awards.
Cadillac Palace. It features a Versailles-like setting.
James M. Nederlander Theater. It's an opulent movie theater set up in the early 20th century.
CIBC Theater. The theater was initially a comedy club when it opened its doors in 1906. You can purchase tickets online to visit the theater with a large family.
If you're visiting Chicago and want to explore major landmarks, it's advisable to take a tour of the city's Theater District. You'll get an opportunity to experience the historical center of the city's performance scene. You'll also get a behind-the-scenes glance at Chicago's most extravagant performance spaces and architectural wonders.
11. Wicker Park
Wicker Park is a great place to stay if you enjoy staying in eccentric, colorful neighborhoods. Independent music venues, nightclubs, and distinct art galleries render it an excellent place for folks who like leaning toward the odd and unconventional. You can take the 606, a converted rail line now open to walkers, to get a perfect viewpoint of the entire region.
Wicker Park has to be on your to-do list if you want to experience a unique culture in Chicago. It's overflowing with antique shops, bookstores, and a thriving art gallery community. If you happen to be in the area in September, you'll get a chance to enjoy the Around the Coyote Fall Arts Festival.
If you're a food lover, you'll adore this neighborhood for the handcrafted beverages at the Violet Hour, noodle joints, contemporary coffee shops, and other hidden cafeterias.
12. Logan Square
Artists and young professionals make up the majority of the population of the Logan Square neighborhood, which is in the city's northwest region.
The tranquil neighborhood is home to stunning buildings, picturesque parks, and a superb selection of nightlife options. The quaint Sunday farmer's market, held there from May to October, also contributes to the area's popularity.
Your visit to Chicago will not be memorable without checking out Best Intentions in Logan Square. It's a cocktail bar run by two bartending brothers with many years of experience. It has been named by Distiller Magazine as one of the best 22 bars worldwide.
You'll also appreciate the Illinois Centennial Monument, beautiful limestone buildings, and well-known street paintings. Furthermore, there's plenty to choose from in terms of dining. Visitors and residents can satisfy their cravings at one of the city's many deep-dish pizza joints or fusion eateries serving noodles and other Asian specialties.
Accommodation rates are expensive, but you can find affordable hostels. Consider booking your accommodation in advance to save money.
13. Near North Side
Staying in Chicago's Near North Side is an excellent choice if you're looking for a sleek and stylish vacation. Despite the Great Chicago Fire's damage to the neighborhood, it has undergone renovation.
You'll need two days to explore Merchandise Mart's martini bars, restaurants, and antique shops. You can head to Navy Pier and watch a film in the IMAX theater for a day or two.
Other popular activities in this area include playing mini golf, taking a spin on the Ferris wheel, exploring the Chicago Children's Museum, navigating the Chicago funhouse maze, and enjoying a boat trip.
If you're a music lover, you may want to visit the Museum of Contemporary Art and Chicago Shakespeare Theater. Furthermore, the neighborhood has a lovely night scene due to multiple bars and nightclubs.
14. Chinatown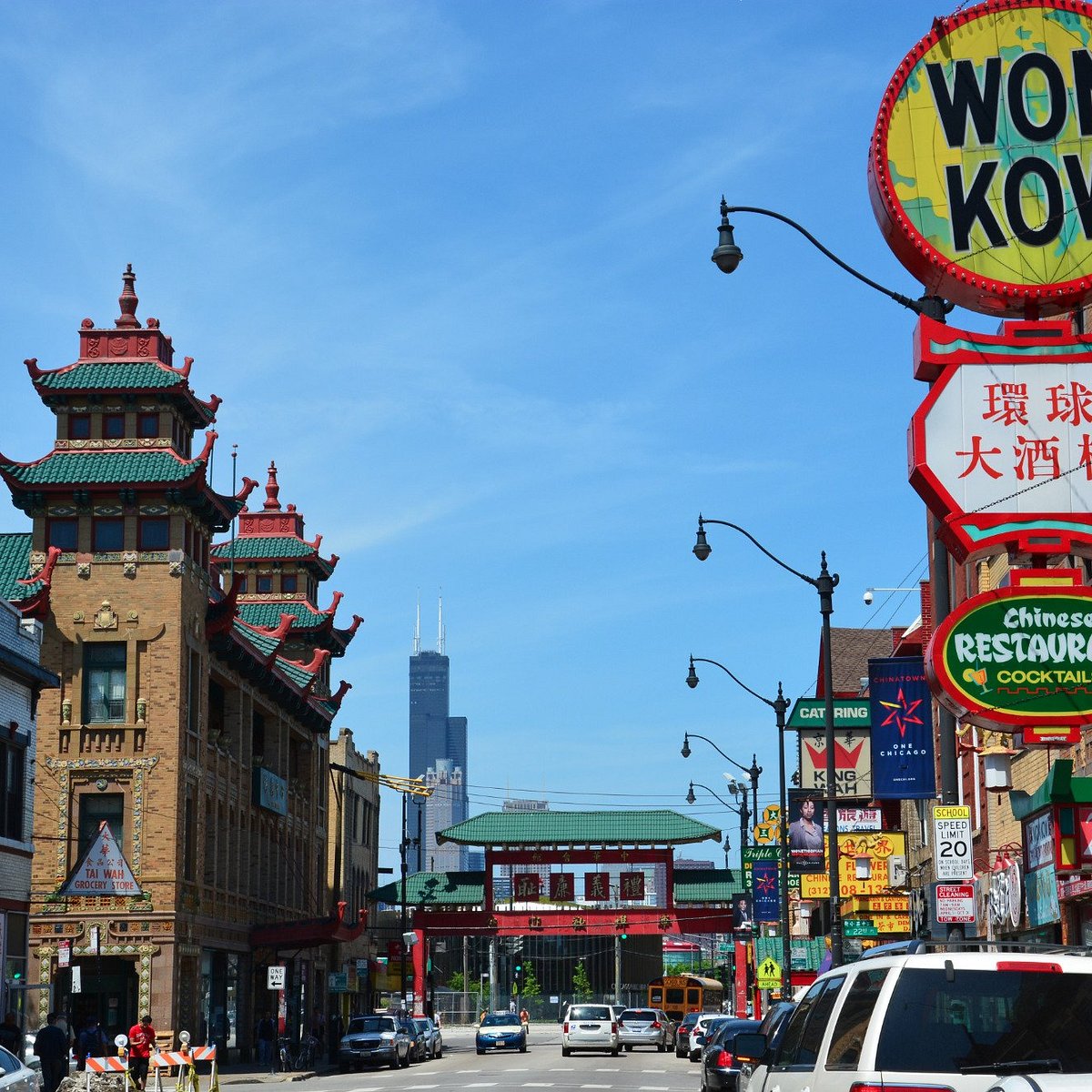 Located east of Pilsen, Chinatown is a vibrant neighborhood with fantastic cuisine and unique culture. The area's history dates back more than a hundred years and is the only known cultural and community hub of Chicago's Chinese population.
The intersection of W. Cermak Road and S. Wentworth Avenue marks the start of the area's central business district. Here, a big, fancy gate greets locals and tourists alike.
You'll find colorful antique shops, Chinese groceries, eateries, and bakeries along the main road. Therefore, if you visit Chinatown, you should do so while hungry to sample all the delectable cuisines.
Another place of interest in the area is the Pui Tak Center, a historical landmark with exquisite architecture. You may also make your way to the Art Gallery and marvel at a collection of artworks created by Asian artists.
Remember to stop by the Chinatown Square Mall while you're in town. Here, multiple eateries and boutiques line in a stunning, pedestrian-friendly environment. Grab some bubble tea and look at the Chinese zodiac statues in the mall's center to see if any correspond with your birthday.
Ping Tom Memorial Park provides a breathtaking view of the city and the Chicago River. Once a deserted rail yard, it has now been transformed into a lush landscape that provides a beautiful environment for activities such as strolling, picnics, and kayaking. Visitors congregate here during summer to attend movie screenings or enjoy dance performances.
15. Hyde Park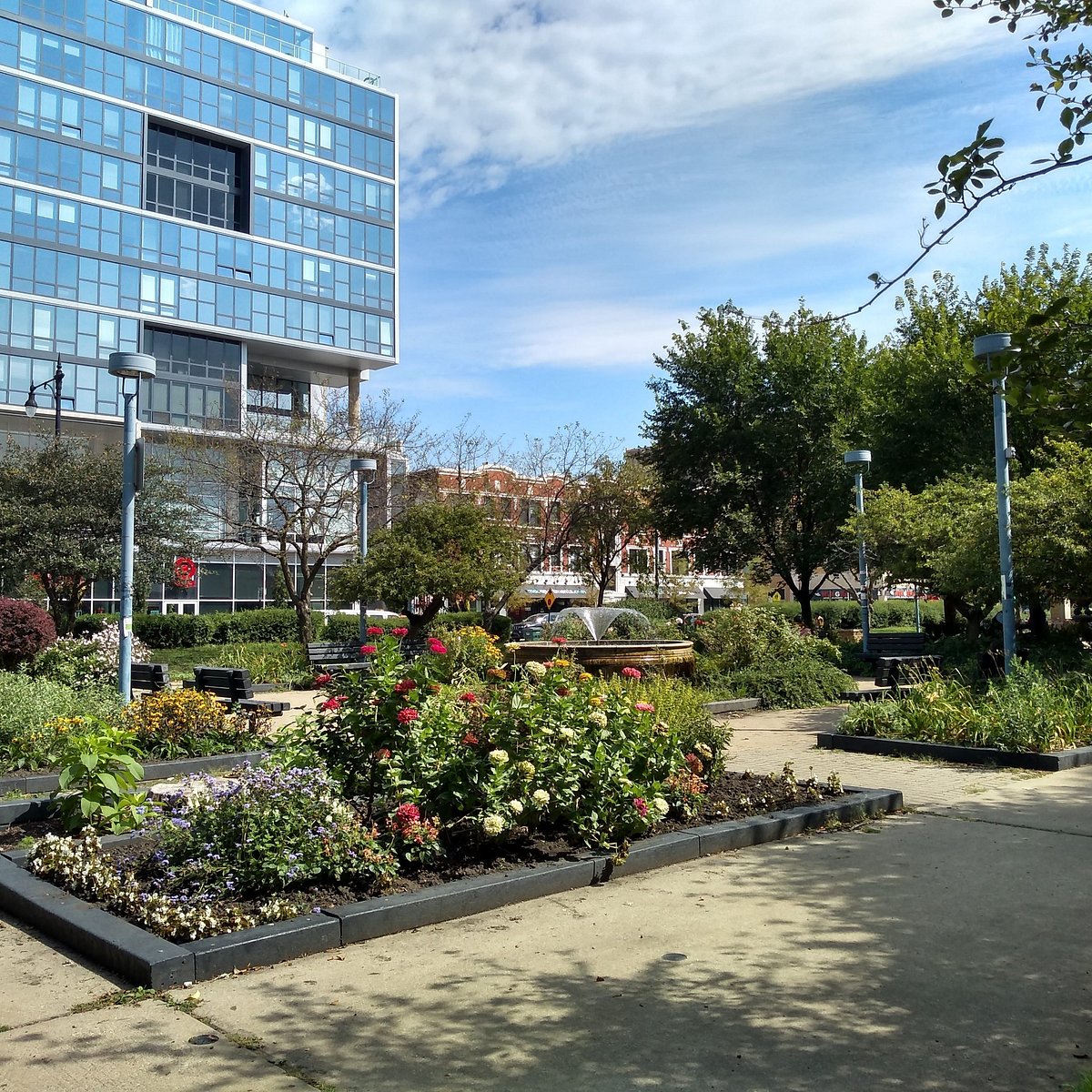 The neighborhood is located on the city's western end and is home to the University of Chicago campus. The neighborhood is perfect for tourists of all ages seeking to sample Chicago's cuisine, culture, and landmarks.
The University of Chicago features notable Gothic buildings, including the Court Theater and the Smart Museum of Art, which offers free admission. You'll also have access to plenty of contemporary amenities.
The area is home to the first museum dedicated to studying African American culture and history, the DuSable Museum, and the UNESCO World Heritage Site Robie House, designed by Frank Lloyd Wright. Further east, the Museum of Science and Industry serves as a cultural and educational hub.
16. Pilsen
Forbes magazine ranked Pilsen as one of the "12 coolest neighborhoods around the world" in 2018 for a good cause. The area has a sizable Latino population and is home to a bustling arts and cultural scene. The Lower West Side is home to a mix of historical landmarks, modern apartment complexes, and condos.
Most buildings around the neighborhood feature vibrant paintings. You'll also explore different museums, theaters, and entertainment venues.
The National Museum of Mexican Art features an excellent permanent collection that contains 10,000 pieces, rotating exhibits, and family-friendly workshops. And the best part is that they don't charge an entry fee. The Thalia Hall is a historic theater famous for hosting different comedians and creative arts. There are also many Mexican restaurants.
17. Andersonville
Andersonville, a neighborhood on the Far North Side, might be small but has many tourist attractions and activities. As you make your way along the busy Clark Street corridor, you'll come across quaint bars, eateries, and theaters where you can enjoy comedic and magical performances.
Andersonville Galleria is home to dozens of local merchants selling everything from jewelry and clothing to candles, paper items, prints, and furniture. When you're ready to take a breather, local favorites like Rattleback Records and Scout are just a few blocks away.
18. Bronzeville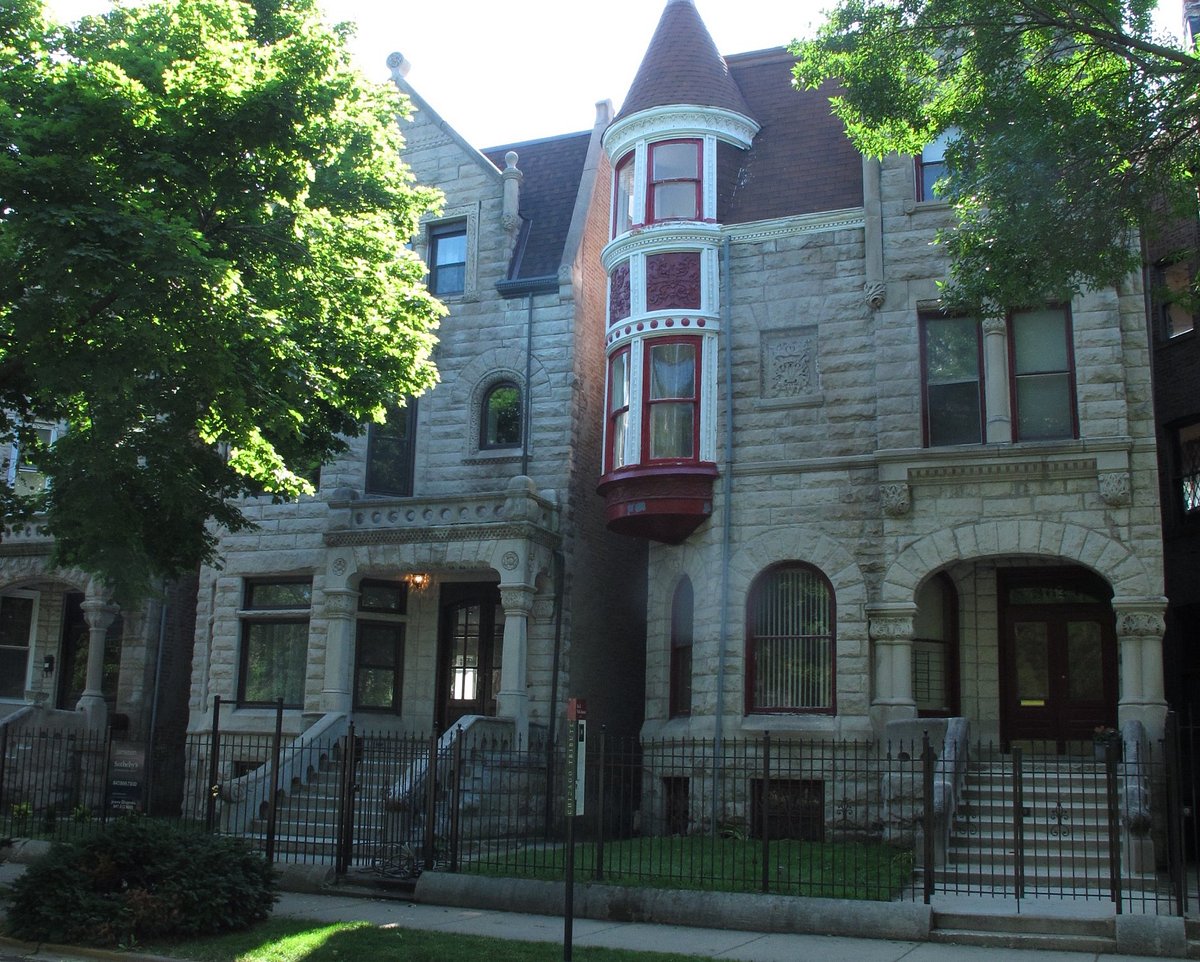 As one of the best places to stay in Chicago for families with kids, Bronzeville is the hub of Chicago's version of the Harlem Renaissance during the 20th century.
The neighborhood is on the south side and is a former home to legendary figures like Richard Wright and Ida B. Wells. Chicago's Bud Billiken Parade, the biggest African American parade in the United States, happens here in August.
Despite the neighborhood's lengthy economic woes since the Great Depression, it's presently witnessing a comeback. Besides the contemporary eateries and boutiques cropping up, the neighborhood is now reclaiming its status as an arts hub thanks to stunning public art installations.
You'll also find the Bronzeville Art District, a collection of six visual arts spaces in Bronzeville. If you wish to learn more about Bronzeville Art District's artwork, they offer a free trolley tour to visitors.
19. Wrigleyville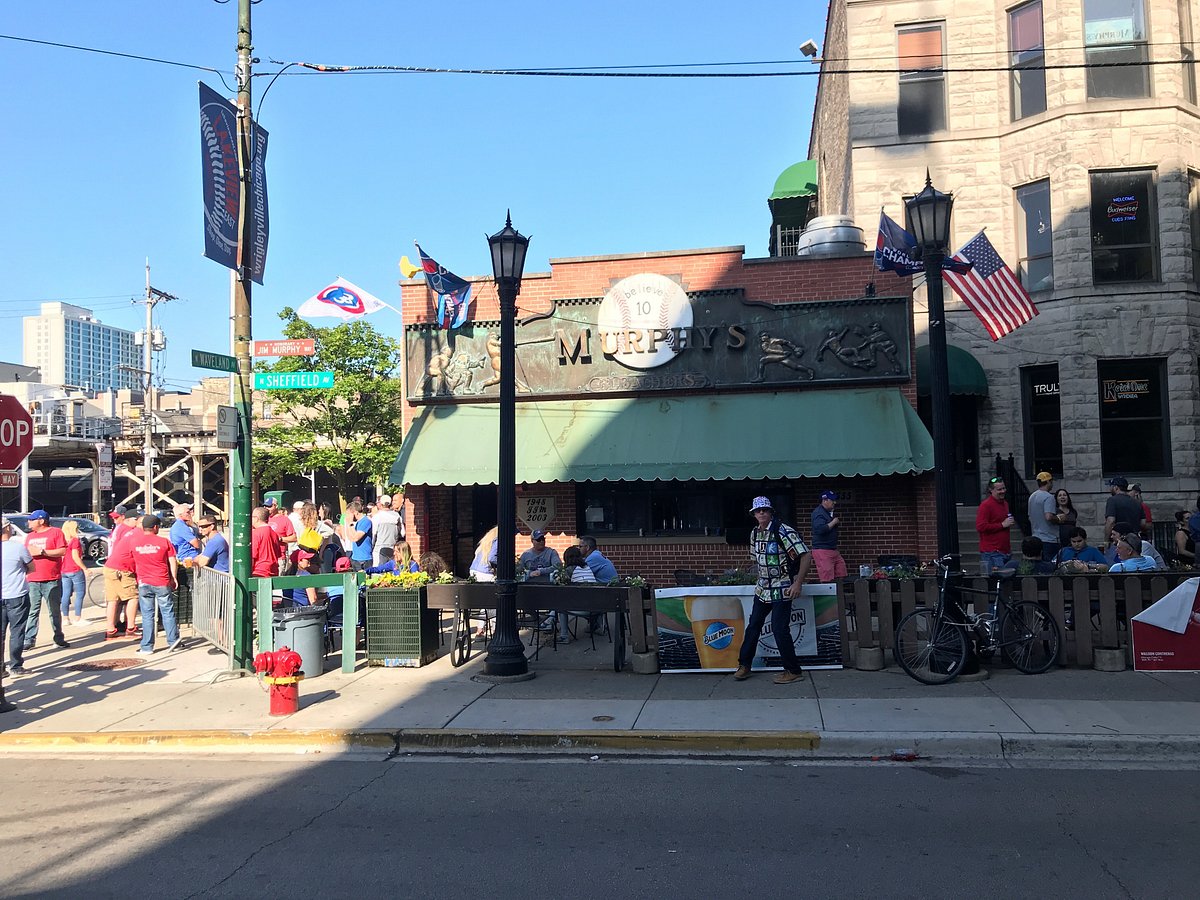 Located on the city's North Side, Wrigleyville is a baseball lover's paradise because it's home to Chicago Cubs' Wrigley Field. There are plenty of places for spectators to eat and drink in the adjacent stadium's vicinity.
Since the Cubs' victory in the World Series in 2016, the neighborhood has undergone a complete transformation. Brand new hotels, lodgings, pubs, and boutiques seem to be opening daily.
20. Bridgeport
The neighborhood is home to Guaranteed Rate Stadium, where the Chicago White Sox play their game. It's the perfect destination if you want to watch a game, whether you do so inside the stadium or at any of the numerous Sox bars lining the streets.
Furthermore, you'll explore Bridgeport Art Center, a renowned art and entertainment venue. It's also universally known as one of Chicago's culturally diverse neighborhoods.
21. Oak Park
The beautiful Oak Park has always been a part of the wider Chicago urban sprawl, though it lies outside the city's western limit, around nine miles west of the Loop. The neighborhood's lush streets are home to small parks and quaint cafes.
You'll also find fascinating attractions, including the Ernest Hemingway Birthplace Museum and the Frank Lloyd Wright Home and Studio. Wright was also the designing force behind the neighboring Unity Temple, regarded as the "first modern building in the world."
22. Irving Park
Besides being one of the best places to stay in Chicago, Irving Park is home to some of the best Chicago architectural attractions, including Victorian palaces and ancient bungalows.
The first thing you should do in the neighborhood explores the Villa District. The city's landmark comprises 126 bungalows spread across seven blocks and inspired by Arts & Crafts and Prairie School.
You may stop by ERIS, a boutique brewery operated by women, and enjoy a drink in an artsy yet relaxing setting. You might also go for a relaxing stroll along the riverfront at Horner Park or explore the plant-based food options at Kale My Name, a vegan restaurant that has won multiple awards.
Final Thoughts
Chicago is a favorite tourist destination in North America because it's a great sports town, boasts some of the most renowned architectural designs in the United States, and has a fascinating cuisine scene. However, choosing the best places to stay in Chicago may prove difficult due to its size. That means traveling to Chicago may require more preparation than usual.
Given the number of attractions, activities, and sights open for exploration, you'll want to create a more convenient itinerary. Most of Chicago's famous attractions and venues give their visitors special discounts. Furthermore, most neighborhoods' accommodations offer guided tours and services specifically tailored to your needs.
We hope our article on the best places to stay in Chicago provided helpful insights.
More about our TFVG Author