Chicago has long been known as Second City. But when it comes to finding a great place to stay, this city is second to none.
Chicago has numerous options for the discerning traveler, whether it be for business or pleasure. The only problem is that so many options are available, you might find it difficult to choose just one.
Then again, you may want to try more than one. With that in mind, check out this list of the 14 best Chicago family hotels. You'll find hotels with a wide variety of amenities for the whole family: kids, teenagers, adults.
Most of these hotels are located within the downtown corridor, close to a large swath of Chicago's most famous attractions. Others are in some of Chicago's storied neighborhoods.
So, if you're planning to visit Chicago soon, you can discover a hotel close to your destination.
Before you make your reservation, take a moment to look through this list first. It will lead you to several properties where a fun-filled stay is guaranteed in one of America's great cities.
Completely renovated and redeveloped in 2013, this 452-room lifestyle hotel combines an old-world, historic structure with a modern, 22-story glass tower.
The original beaux-arts building turns 100 in 2023 and is among the "Big Four" skyscrapers surrounding the Michigan Avenue Bridge. You can't help but notice the combination of classic and contemporary design while on a boat tour of the Chicago River.
Parents and children will love how conveniently it's located near the Chicago Loop, Millennium Park, Merchandise Mart, the Art Institute, and West Randolph Street restaurants.
LondonHouse offers special packages for bed and breakfast stays, spa stays, and wedding stays. All rooms include the use of the hotel's fitness center and business center. Plus, it offers 25,000 square feet of meeting space and ballrooms for an elegant Chicago wedding.
After a day of sightseeing or business meetings, guests can unwind at the hotel's rooftop bar and restaurant and order some cocktails and appetizers. Then you'll have a bird's eye view as the Magnificent Mile's nightlife emerges.
Warm colors, dark woods, plush textiles, and floor-to-ceiling windows greet visitors to The Langham.
They allow guests to experience a deeply relaxing stay, all while seeing a panorama of downtown Chicago's skyline and river. Each room includes all the modern amenities one would expect in a luxurious downtown stay.
The on-site restaurant and bar area offers seasonal American tastings, as well as afternoon tea service. The hotel's exercise studio includes modern conveniences, plus there's an indoor pool for lap swimming.
At the end of an eventful day, kids will want to check out one of the hotel's board games and enjoy some family competition before hunkering down for the night.
The Langham has built a generous play space where kids can build with Lincoln Logs, strum a kids-sized electric guitar, or draw on a large whiteboard.
Families can stage a personal movie night in the hotel's cinema suite. A 111-inch screen and popcorn greet groups of up to a dozen in comfortable reclining leather seats.
Located on the edge of the swanky and Swedish Andersonville neighborhood of Chicago, the Guesthouse is a welcoming part of the Clark Street corridor. It's also close to Uptown, Ravenswood, and Lincoln Square.
This makes it an ideal hotel to base any exploration of the Windy City's unique boutiques, upscale restaurants, craft breweries, and neighborhood entertainment. You can enjoy an immersive Chicago experience from an immersive Chicago location.
Families will appreciate that they can bring their dogs to this escape. In addition, it offers a charging station for electric cars, a rooftop deck, a fitness center, and a business center.
But maybe the most unique aspect of the Guesthouse is an intimate space called the Club Room.
It offers a venue for modest weddings, book signings, or other gatherings with a fireplace, crystal lighting fixtures, leather seats, and décor of Chicago's history. Groups of up to 48 can reserve this amenity.
At 1,389 feet, the Trump Hotel & Tower in Chicago is the seventh-tallest building in America and the 30th tallest in the world.
It's second only to Willis Tower (more commonly known as Sears Tower) among Chicago's famous skyscrapers. Owners say it served as the inspiration for the famous Burj Khalifa in Dubai.
Guests will find all the comforts expected in a Trump property: luxurious accommodations, business meeting space, delicious restaurants, and sky-high views.
But Trump International goes a couple of steps further.
For example, this isn't just a pet-friendly hotel; it's a pet-savvy hotel. Guests can arrange for gourmet dog treats, plush beds, bottled water, and toys. Plus, the hotel will provide owners with a map of excellent pet-friendly parks to walk their four-legged friends. Really, the best.
And don't leave the kids behind. Trump International has a kids' program that includes a special in-room dining menu, coloring book, sunglasses, flashlight, children-sized robes and slippers, and bubble bath oil. Your kids will have as terrific a time as you do.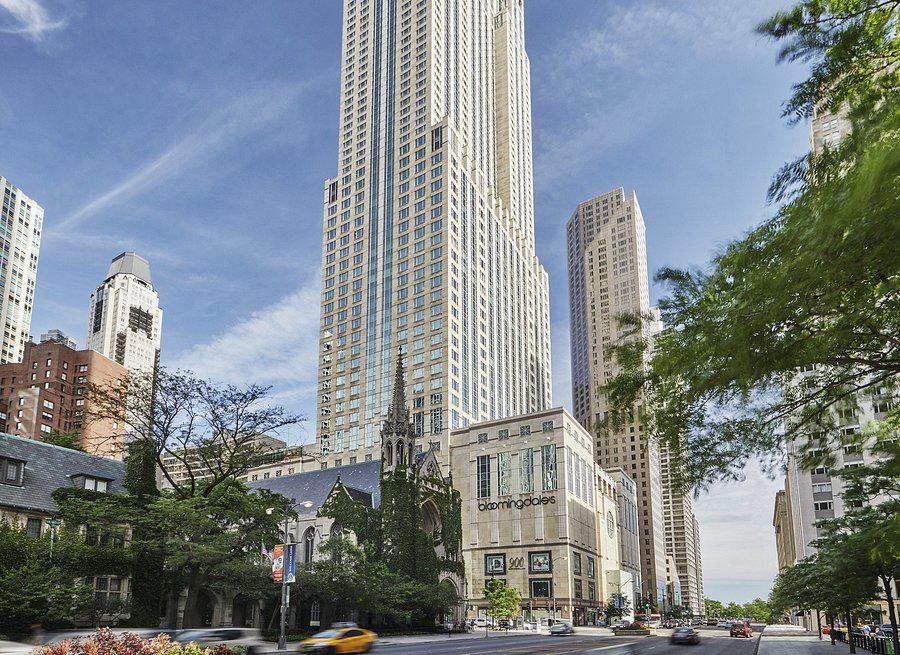 This grand hotel is one of the few properties where guests can enjoy views of Lake Michigan, the Magnificent Mile, and the glistening Chicago skyline all at the same time.
It's located among the Second City's architectural wonders. The concierge can help you decide on a tour of some of Chicago's landmark buildings, whether you enjoy the Art Deco period or have a Postmodern bent.
It's also a luxurious place to base any family tour of the city's top attractions. The Art Institute of Chicago, the Museum of Science and Industry, and the Lincoln Park Zoo are all within a short distance of this iconic hotel.
Weekends are always fun and festive at the Four Seasons. Live performers take the stage each Thursday, Friday, and Saturday nights, and on Sundays during the brunch hours. Listen to jazz, South American guitars, or an eclectic mix of funk and house music.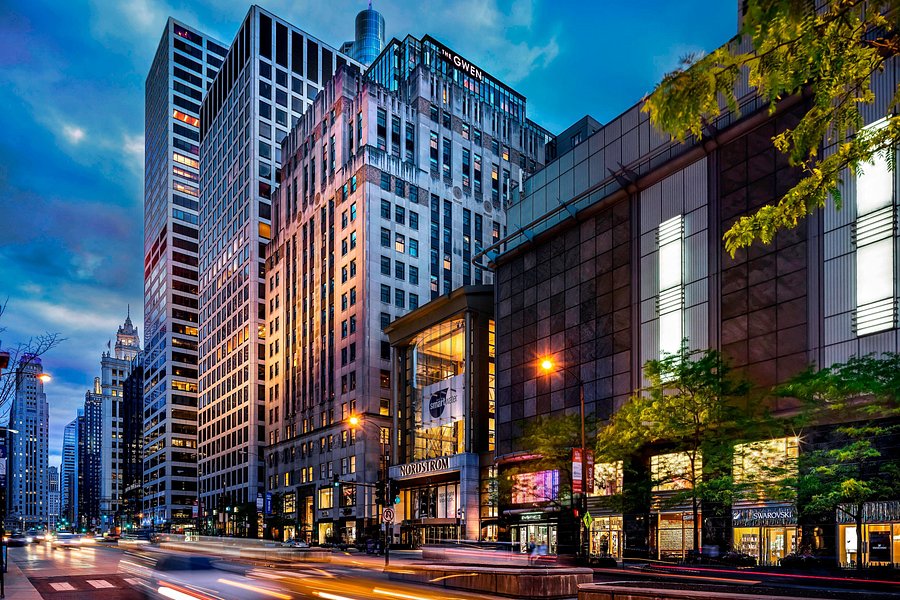 Here's an upscale but fun hotel named for Gwen Lux, a pioneering female sculptor of 1930s Chicago. This retreat offers its guests sunset views and verdant greenery.
It's also known for its daily alcohol-infused tea parties with champagne, prosecco, smoked salmon, traditional sandwiches, and dark chocolate tarts for dessert.
Weekends may be more fun for children, though. Start with a sweet and savory brunch in the main restaurant. Next, celebrate the sport of curling.
Learn to throw stones and sweep on the recently opened rink at the rooftop bar. Finally, consider a special kind of stay on the 16th floor—a night of glamping. In addition to a multi-room suite, visitors can rest in a glamping tent on a 1,000-square foot terrace balcony.
Once the kids are asleep, parents may want to taste-test some specialty drinks inspired by tarot cards Gwen Lux drew back in the day. Discover their significance during your stay.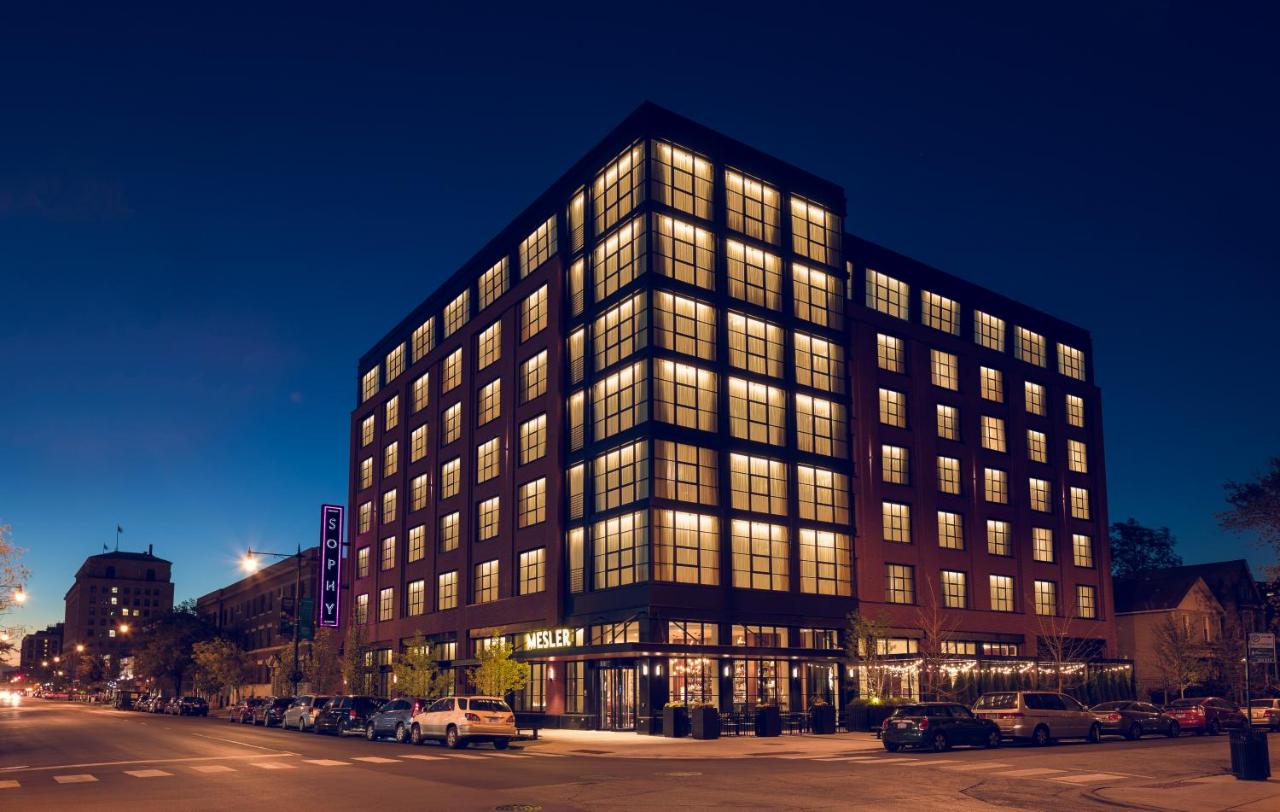 "Bad Bad Leroy Brown" isn't the only thing on the South Side of Chicago. The eclectic, art-infused Sophy Hotel can now lay claim to this burgeoning section of the Second City as well.
This Hyde Park boutique hotel is near historic Jackson Park, the Smart Museum of Art, and the Midway Plaisance, where the World's Columbian Exposition is housed.
Guest rooms combine Hyde Park's renaissance as an academic and artistic center. Visitors are treated to hardwood floors, marble restrooms, and walk-in showers. Each room includes bold art choices and comfortable beds.
Kids will love the SO Chicago package. It includes a coupon for the Mesler Kitchen restaurant, admission to 360 Views of Chicago, a ride on the city's highest roller coaster type ride known as TILT, and a commemorative photo.
All you need to do is get the tickets to a Cubs game at Wrigley Field, and you're all set for a genuinely captivating Chicago experience.
When staying at the Peninsula, you'll be taken to the faraway lands of the Far East. Asian hospitality has permeated every aspect of service in this hotel.
Three on-site bars/restaurants offer a variety of Asian cuisine, including Szechwan prawns, rice noodles with shrimp and steak, and a generous selection of 20 types of dim sum. A special cocktail in honor of the hotel's 20th anniversary features a combination of jasmine pearl tea, French lavender, and champagne.
The hotel also offers its families a series of cultural escapes, known as the Peninsula Academy. These include curated boat cruises on the Chicago River, a tour of the city's famous skyscrapers, or a peek inside some of Chicago's historic neighborhoods.
Tours are offered in several languages, and visitors are given the opportunity to sample local shops and boutiques.
If you're looking for a unique way to celebrate the Chicago Cubs' recent World Series victory after more than a century, this is the place. It's right across the street from the famed Wrigley Field. Hear the crack of the bat and smell the popcorn. Kids, don't forget to bring your glove.
The architectural designs of Zachary Taylor Davis inspired the hotel. Davis is the Chicago native who conceived Wrigley Field's look.
Rooms are bigger than average for a Chicago hotel and come with fixtures from Wrigleyville-inspired locations. Many have a view of the old ballpark itself.
But even if you're not a Cubs fan—or baseball fan—you will enjoy the vibe of Wrigleyville. It's the bustling neighborhood that surrounds the stadium with breweries, shops, and other delights. The Chicago Critics Film Festival is located here. It celebrates movies and honors famed critic Roger Ebert.
Or, wait until it gets cold enough for your children to enjoy the outdoor ice rink. You can pretend you're one of the Blackhawks chasing down a puck at breakneck speed.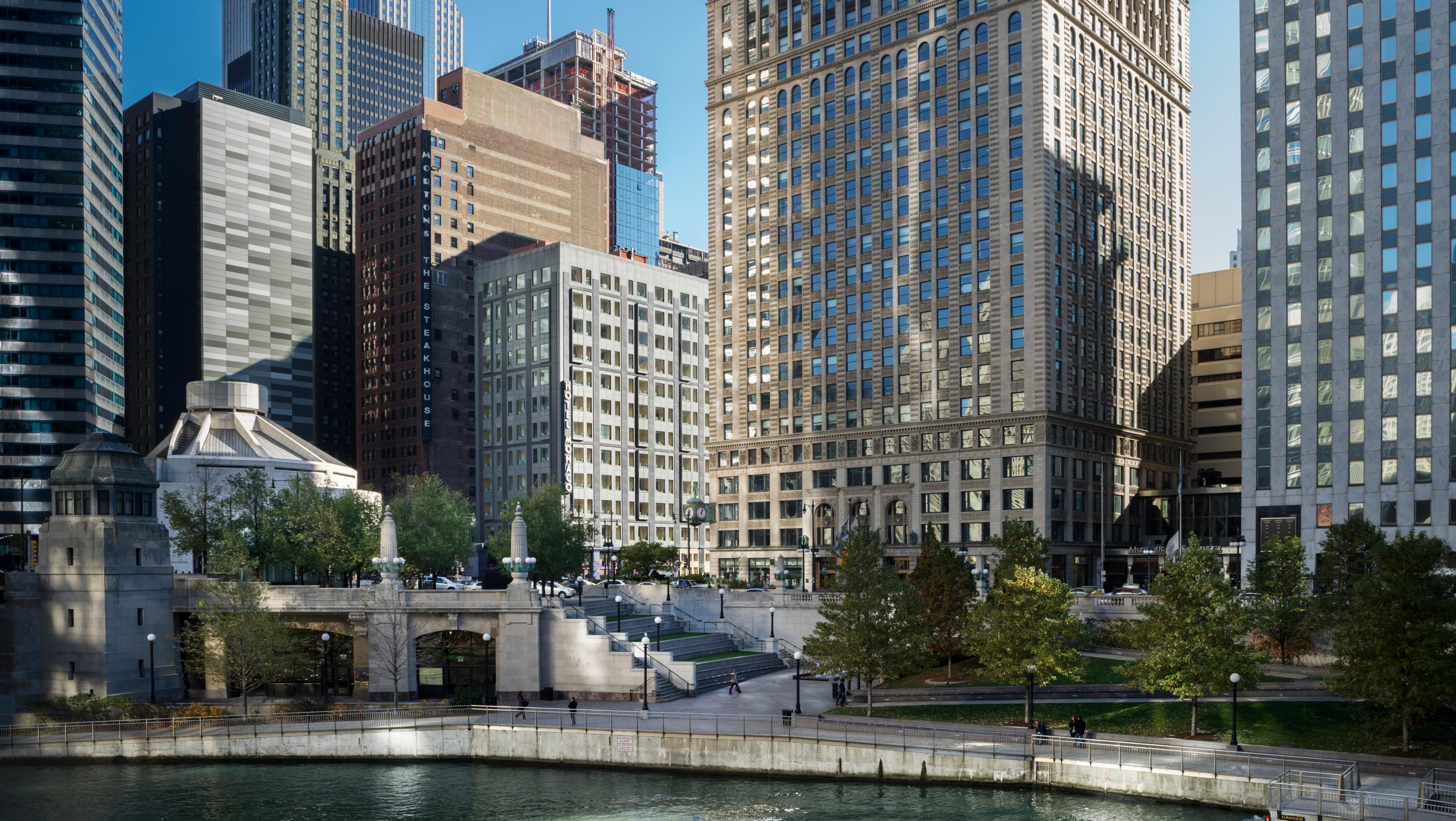 The Hotel Monaco is situated almost directly in the center of downtown Chicago's famous Loop.
In less than ten minutes, you and your kids can walk to the Art Institute of Chicago, the American Writers Museum, the Daley Center, and all the shopping and dining options of Block 37.
The building began as a hat factory. Artistic details of this history have been sprinkled throughout the guest rooms and common areas.
Speaking of the guest rooms and suites, recent renovations feature tall ceilings, bay windows, walk-in showers, and yoga mats. Many rooms and suites offer a picturesque view of the Chicago River.
The Kimpton is another pet-friendly hotel. But this property takes it a bit further, offering free stays to all types of pets, including dogs, cats, birds, and reptiles.
Finally, before you turn in for the night, let your kids try a pint of specialty ice cream the hotel offers. It's the best way to end the day.
With just two words, "Waldorf Astoria," you know you have found a luxurious stay in the heart of Chicago. Amenities at this upscale hotel include complimentary newspapers, access to a lap pool, fitness center, shoeshine service, and bedside books to read.
In addition, the hotel offers its guests a Volvo for quick trips within one mile of the property.
If you're looking to stay somewhere slightly different, you might consider one of the hotel's corner suites. With southwestern and southeastern views, you won't need two rooms to witness the Chicago River and the bustle of downtown.
And if you need to find something for the kids to do, don't forget to utilize one of the hotel's concierges. They'll find those extra touches you want to make your family stay in Chicago a memorable one.
Teenagers will enjoy this urban escape in one of America's most metropolitan cities. Inside the reimagined West Loop lies the Ace Hotel, where hipsters unwind.
Guest rooms are called "Small," "Medium," and "Large." Each style comes complete with organic cotton sheets, flat-screen TVs, and a stocked mini-bar. Visitors are then encouraged to dine and drink at the "Lobby," which is the name of the hotel's year-round rooftop bar.
While in the Lobby, be prepared to let your teen engage in some stimulating conversation during Hot Takes, a bi-weekly roundtable discussion. Or they can listen to hip hop, funk, and EDM during a series of performances held each month.
And if you want to know what's going on at the Ace, sign up for the A-List before you come. You'll receive information on specials, pop-up events, and more.
Whether for business or pleasure, the pet-friendly Loews has it all for a relaxing experience. The hotel boasts 400 guest rooms and suites, a 24-hour business center, a 24-hour fitness center, and a warm lap pool.
The décor is modern and open, with orderly spaces of ivory and gray. In-room coffeemakers provide one delicious cup at a time.
Families can access PlayStation consoles, iPads with pre-loaded games, and pool toys. Dogs and cats can enjoy room service menus, special bedding, water bowls, and treats. In addition, the hotel provides pet owners with walking routes and sitting services.
When it's time to eat, consider "Flavor by Loews." It's a curated meal that features entrees, desserts, and drinks from local partners. Included are some locally-sourced honey, fruits and vegetables, and craft beer.
Another hotel that reimagined an established Chicago building, this time one that dates back to the early 1900s. It has been lovingly redeveloped into a home away from home.
The Viceroy is an elegant retreat inside Chicago's famous and historic Gold Coast area. Guests are surrounded by the aging brick and terracotta elements of several Industrial Revolution-era homes and the patina of the city's heritage.
The hotel offers 180 guest rooms filled with gold and black décor that evokes the Art Deco period of a century past. Its rooftop bar, named Devereaux, offers specialty cocktails just steps away from the rooftop pool.
Your kids will appreciate that the hotel has created its own Spotify playlist. It fills the void and eases each guest's transition to the downtown Chicago vibe. So, let them pop in their headphones and begin to unwind.
Final Thoughts
As the third-largest city in America, Chicago has a collection of hotel possibilities for those making their first visit. Or those who've been many times before.
Families can enjoy museums, tours, pro sports, skyscrapers, funky neighborhoods, and world-class shopping scattered throughout the Windy City. Tote along a camera or cell phone, and remember to grab those unforgettable photos.
And when you finish your day of exploring, remember an abundance of excellent hotels exist to provide a relaxing experience for everyone in your family.
So, if you ever find yourself visiting the Second City, utilize the guide above to the best hotels in Chicago to help you and your family decide where to spend a fun-filled stay. You'll be thankful you did.
More about our TFVG Author
A seasoned traveller, Dad, and avid sports tourist, James foundered The Family Vacation Guide to share his expert vacation experiences- especially when it comes to being a travelling family man.
Featured in Travel articles such as Travel + Leisure, TripSavvy and SFGate, you know you're reading some of the best vacation tips online.