Chicago is a beautiful city that attracts millions of tourists each year. There are so many activities to do year-round, so you can visit at nearly any time. However, there are definitely some times of the year that are more favorable for tourists.
Tourism is busiest during the summer months. However, we believe that the best time to visit Chicago is in the late spring. Chicago summers can be very hot and humid, while winters can hit freezing temperatures and experience heavy snowfalls.
Since summer and winter in Chicago can have extreme weather, you may enjoy visiting sometime in between. Since fall and spring are also off-seasons for tourism, there are fewer chances of waiting in long lines or getting stuck in crowded places.
Chicago has so much to offer, so we've made a list of travel ideas for every season. Make sure to use this helpful guide to help you plan your next trip to Chicago.
Why not also check out our guide to the best Chicago family hotels?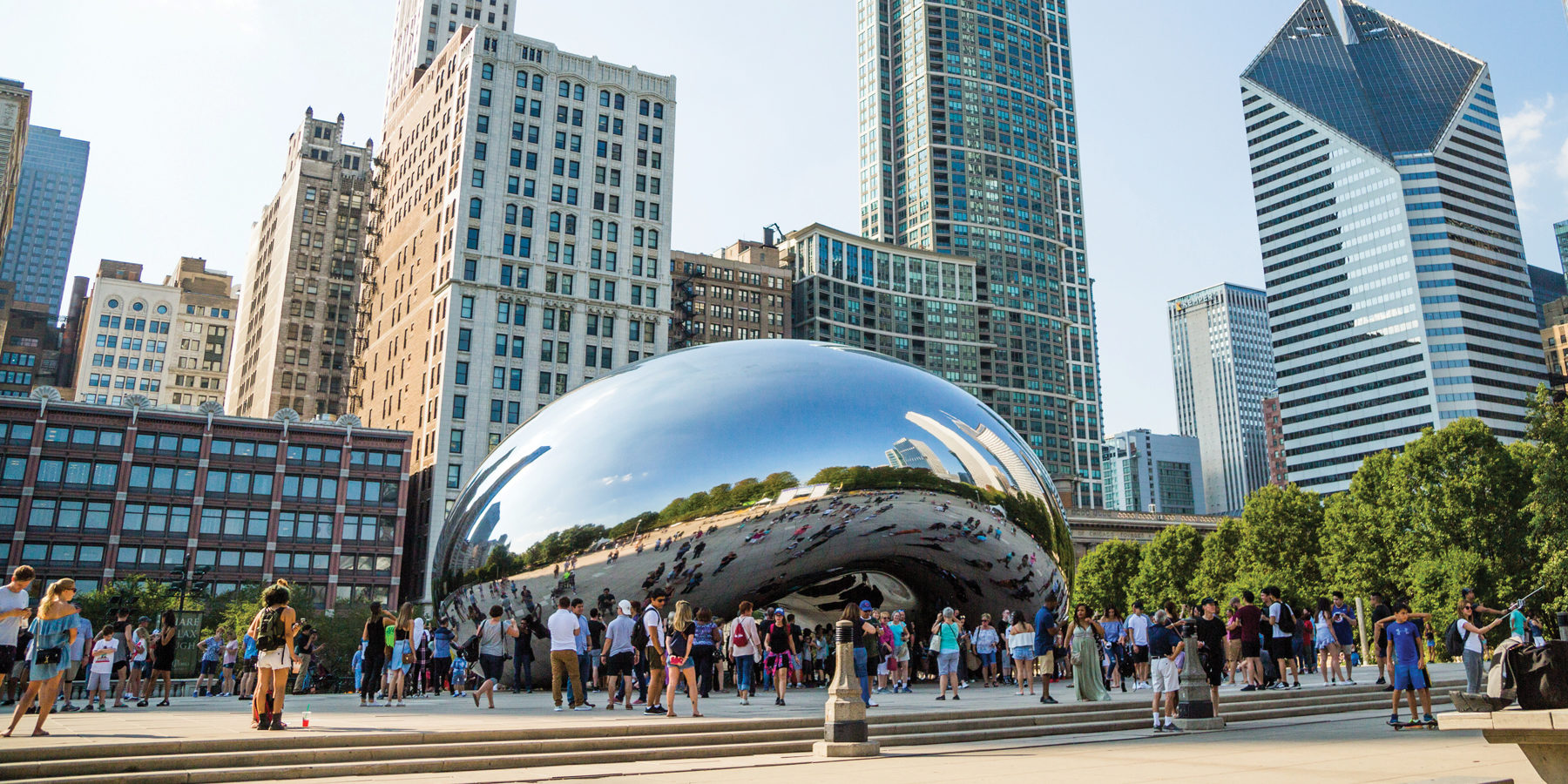 Best Time to Visit: Late Spring 
No one welcomes spring as much as Chicagoans because it's a respite after enduring the city's cold and windy winters.
There are plenty of ways that Chicago celebrates and welcomes spring, so if you just ask around, you'll find many events. It's also a great time to visit because it's just before tourist season, so you have fewer chances of encountering overcrowded places.
Shopping
Chicago has a lot of outdoor shopping areas. You can walk along the Magnificent Mile, which has over 450 retailers. There are also plenty of shops to explore on State Street.
If you're in the smaller neighborhoods, you can find plenty of local boutiques and small businesses with fun and unique collections. Bucktown and Wicker Park are two notable neighborhoods with interesting finds.
You can visit Myopic Books, which is a vast vintage bookstore. It's also worth stopping by Asrai Garden, which always has an eclectic selection of items on sale.
Farmers market season also begins in late spring. So, if you're visiting in May, make sure to start your mornings perusing through various stalls to purchase fresh food, produce and unique artisan goods from local businesses.
Many locals and tourists alike particularly enjoy the Lincoln Park Farmers Market. It's located right by the free zoo, Lincoln Park Zoo, so it's easy to visit both locations in one day.
Sports
Baseball season begins in spring, and Chicago is full of die-hard baseball fans. Head to the South Side of Chicago to watch the White Sox play at the Guaranteed Rate Field. Or, you can head north to Wrigleyville to cheer on the Cubs.
Many Chicago sports fans have love-hate relationships with their sports teams, so they know how to have a good time at sporting events regardless of how their teams perform.
St. Patrick's Day Celebrations
St. Patrick's Day is a beloved holiday for many Chicagoans. Every year, the whole Chicago River gets dyed green, and you can enjoy this bright green spectacle in various ways. There are entryways to the Riverwalk near every bridge crossing the river. You can also rent kayaks, boats, or ride a water taxi.
The entire skyline also turns green at night, so find a good vantage point along the lake to catch this picturesque scene.
One of the highlights of St. Patrick's Day celebrations is the Chicago St. Patrick's Day Parade. It lasts for three hours, and you can join in with others to watch the parade floats, Irish river dancers, and bagpipers proudly share their Irish heritage.
There are also many other festivals and bar crawls that happen throughout the day.
Flower Shows
Chicago has several notable flower shows that gardeners, horticulture enthusiasts, and plant parents will enjoy. The Chicago Flower & Garden Show kicks off spring gardening for Chicagoans. There are many vendors, displays, and educational experiences that inspire projects for many gardeners.
The Garfield Park Conservatory also has an annual flower show that's on display throughout spring. The theme changes every year, so it's always worth visiting and getting lost in the conservatory's two acres of gardens and landscapes.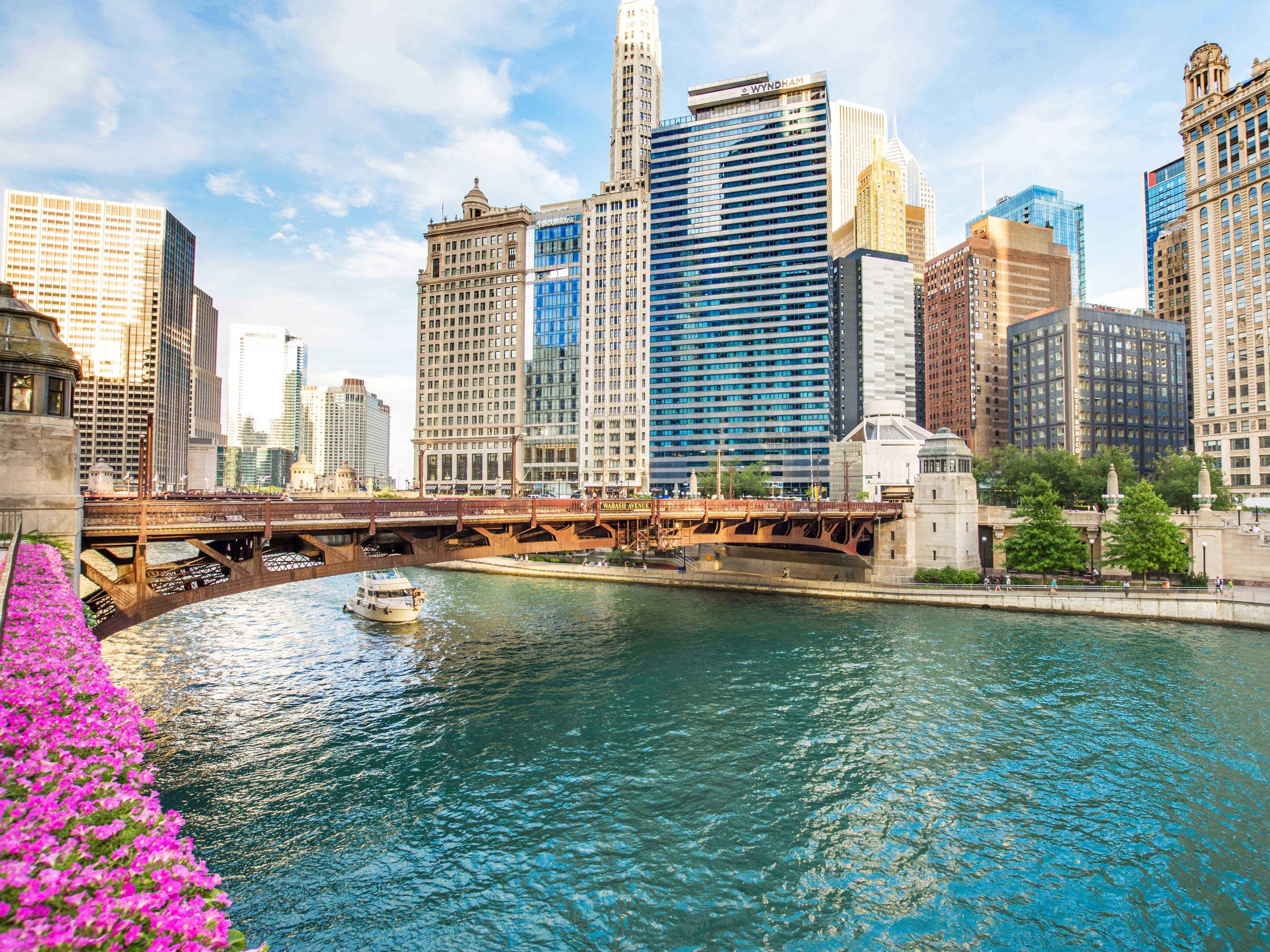 Things to Do in the Summer
Summer is the busiest time of the year, and tourists from all over the world come to visit and enjoy all that the city offers. You can spend the day relaxing and sunbathing at one of 26 public beaches along the vast Lake Michigan or strolling along the Lakefront Trail.
If you enjoy festivals and outdoor events, you'll love vacationing in Chicago in the summer. There's an event happening nearly every night, so you're guaranteed to have fun celebrating just about anything in life.
You can join in with locals as they celebrate Independence Day and watch Navy Pier's beautiful fireworks show that takes place over the lake. Chicago also has fun and exciting Pride Month celebrations, including the Chicago Pride Parade and Pride at the Park.
Food Festivals
There's more to Chicago's food scene than just Midwestern comfort food. Many foodies travel to Chicago to experience its diverse food culture and fine dining events.
Summer hosts one of Chicago's most significant food events, the Taste of Chicago. All of Chicago's local restaurants gather in one place, and you can sample some of the city's best and most iconic dishes all in one day.
In particular, the West Loop has some of the best restaurants in the city, and you can try them all at the Taste of Randolph. There's also live music while you eat, so this is definitely an event that engages all your senses.
Park Events
Millennium Park also hosts many different free events throughout the summer. Whenever you have downtime in your schedule, stop by this park to participate in events such as SummerDance, or the Summer Music Series and Summer Film Series.
Music festival lovers will also enjoy Lollapalooza, which takes place at Grant Park in the middle of summer.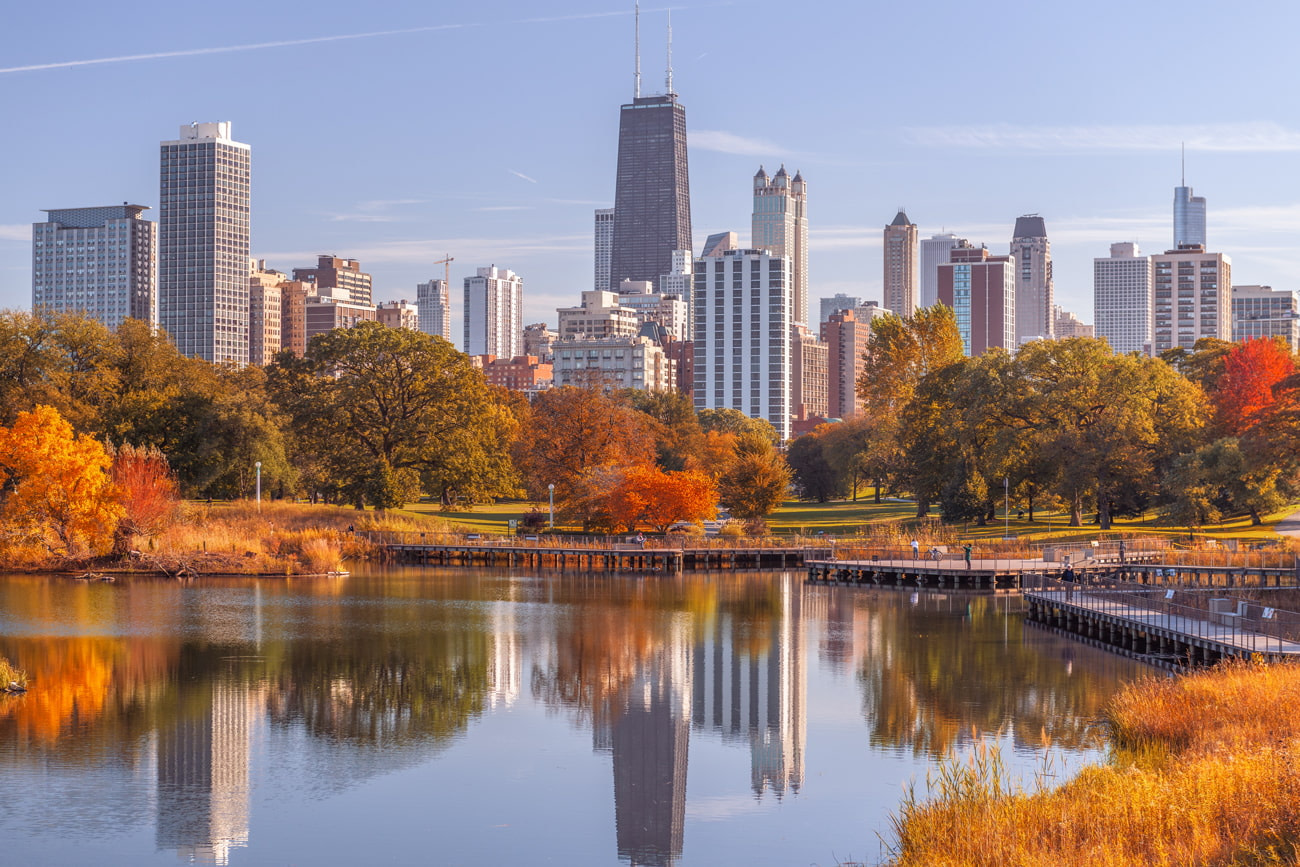 Things to Do in the Fall
Fall is also another welcomed season in Chicago because it provides cooling relief from the hot and humid summer days. Fall in Chicago is buzzing with energy as the holidays start to roll in, so the fun keeps going, even as summer ends.
Holiday Celebrations
There are plenty of holiday events that take place throughout the city. If you're visiting around Halloween, schedule a Chicago Ghost Tour to learn more about the more haunted side of the city's history. You can also stop by the family-friendly Arts in the Dark, an evening parade that showcases local artists' works.
Once Halloween is over, Thanksgiving festivities kick in. You can watch the annual Chicago Thanksgiving Parade that runs throughout the downtown area. Many restaurants also create a special Thanksgiving menu. So, if you're celebrating away from home, there are plenty of delicious options available for you.
Festivals
Oktoberfest is one of Chicago's most popular fall celebrations, and you can find many events taking place in different neighborhoods. The St. Alphonsus Church Oktoberfest and German-American Oktoberfest are some of the most popular celebrations.
You can enjoy craft beers and traditional German dishes at these festivals. The German-American Oktoberfest is family-friendly, and there are many games and shows for everyone to enjoy.
Sports
Football season and basketball season start in the fall. It's always a fun experience watching the Bears playing at Soldier Field Stadium or the Bulls at the United Center. We just can't stress how much Chicagoans love their sports teams. Even their undying loyalty is an event to experience in itself.
Restaurants and Dining
Chicago Gourmet is a high-end food festival that takes place every fall. You can sample dishes from some of the city's top restaurants or watch cooking demos from celebrity chefs.
This festival also includes the Hamburger Hop, which brings all of the city's best burgers to one spot. You can taste and cast your vote to determine which restaurant has the best burger in Chicago.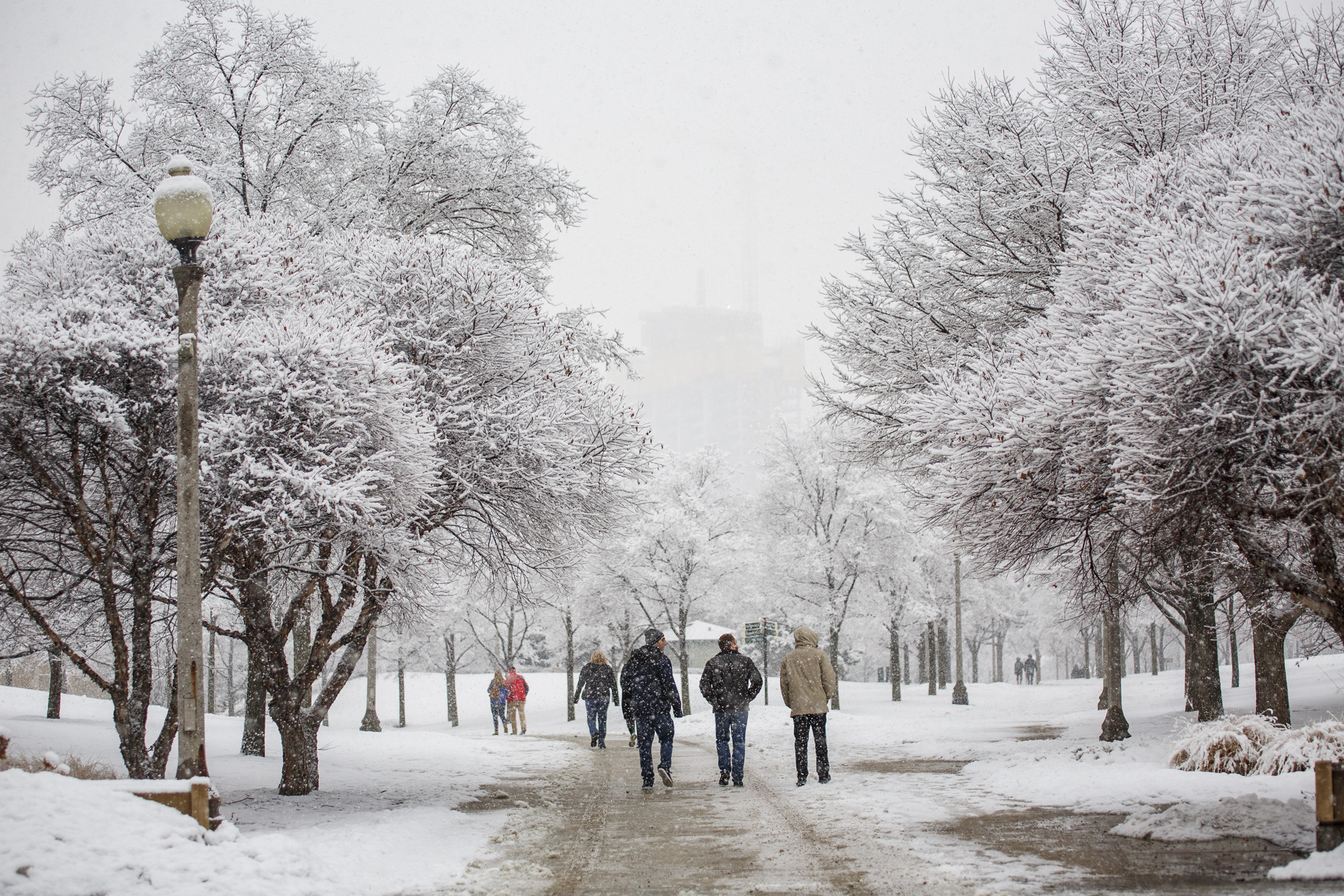 Things to Do in the Winter
Chicago winters aren't for the faint of heart, but Chicagoans do their best to keep the cold winter months fun. Travelers can take advantage of cheaper travel and lodging rates, and since there are still plenty of activities, winter can potentially be a great time to visit this city.
Holiday Celebrations
As the days fall shorter, Chicago pushes out a great effort to keep the city bright. Beautiful and extravagant holiday decorations get displayed on State Street and the Magnificent Mile. The Chicago Tree Lighting usually takes place near the end of November, and the tree stays lit throughout December.
The Christkindlmarket also gets set up, and you can enjoy shopping for German Christmas decorations or eating delicious food sold from various stalls. You can also visit Lincoln Park Zoo at night to admire the Zoo Lights.
Outdoor Ice Skating
The outdoor ice skating rinks also open up during the winter months. Popular outdoor ice skating rinks include the Maggie Daley Park Ice Skating Ribbon and Millennium Park. These rinks have skate rentals, and you can usually find a nearby spot that sells hot chocolate to keep you warm. These rinks are great for both a romantic date night or a fun outing with your family.
Restaurant Week
Foodies will be happy to know that Chicago hosts a grand Restaurant Week. Although the pandemic altered the schedule, Restaurant Week usually occurs in late winter. Many restaurants will have special tasting menus at discounted rates, so you can plan a whole trip just around food.
Sports
NHL season is in full swing during the winter. Stop by United Center to watch and cheer on the Blackhawks. They also share the same stadium with the Bulls, so you can potentially attend the two different sporting events in one vacation visit. 
Things to Do Year-Round
Chicago has many special events during certain times of the year. However, it's also a city full of culture. So, there are plenty of restaurants, museums, and music and art shows that you can experience at any time.
Restaurants
Chicago has a diverse population of people that represent many different ethnic backgrounds. You can have a genuinely delightful cultural, culinary experience when you visit the various neighborhoods.
Pilsen and Logan Square have a large Latin American population, so make sure to stop by restaurants, such as Cafe Con Leche and Simone's Bar, for delicious food and warm hospitality. You can also visit Chicago's Chinatown in Bridgeport and find great dim sum or hot pot places.
If you're craving authentic Mediterranean food, make sure to stop by Greek Town. You'll also find unforgettable dishes in Little Italy.
Of course, you can't forget about Chicago's famous dishes. If it's your first time in Chicago, it's a rite of passage to eat deep dish pizza, Italian beef, and Chicago-style hotdogs.
If you're craving deep dish pizza, stop by Pequod's or make a reservation at one of Lou Malnati's locations.
Redhot Ranch, Fatso's Last Stand, and Lulu's Hot Dogs are all iconic locations with savory and ridiculously loaded hotdogs.
Also, make sure to visit Portillo's, a local restaurant chain known for having one of the best Italian beef sandwiches in the city.
Museums
You can spend a whole vacation just visiting all of Chicago's noteworthy museums. Spend a day or two at the beautiful Museum Campus, which has the Field Museum, Shedd Aquarium, and Adler Planetarium conveniently situated right next to each other.
The Museum of Science and Industry is also a popular location for families because it has many interactive, educational exhibits.
If you're an art enthusiast, spending a day at the Art Institute of Chicago is a must. The Museum of Contemporary Art Chicago also has interesting and captivating art pieces that you can't find anywhere else.
Shows
Chicago has a wide offering of plays and musicals in its Theater District. If you're looking for a laugh, make sure to book tickets to Chicago's famous improv club, The Second City.
Tours
Chicago has an iconic skyline, and a lot of it is due to its rich architectural history. You can schedule a walking tour, but one of the best ways to experience and learn about Chicago's architecture is to go on a boat tour. Make sure to also stop by the Willis Tower and ride the elevator up to the Sky Deck to learn more about the city's architecture.
Final Thoughts
Overall, the best time to visit Chicago is anytime. There's something for everything in this bustling city, and you'll always feel welcomed by its Midwestern hospitality.
However, if you want to get the full experience without the stress of a high volume of tourists, the best time to visit is in the late spring. The weather's warm enough for you to spend an entire day exploring outside, and many events start to pick up again during this time.
More about our TFVG Author
A seasoned traveller, Dad, and avid sports tourist, James foundered The Family Vacation Guide to share his expert vacation experiences- especially when it comes to being a travelling family man.
Featured in Travel articles such as Travel + Leisure, TripSavvy and SFGate, you know you're reading some of the best vacation tips online.