Eating out does not have to be reserved for date night, as it is possible to take the kids to a sit-down dinner In Chicago without the stress or concern you might expect.
Many restaurants in Chicago are family-friendly, which means they not only accept children but are also made to be suitable for children. When traveling to Chicago, you do not have to stick with the same old fast food joints you could at home because they are easier, as many kid-friendly restaurants in the area will welcome the whole family.
No matter what kind of food you are into, there are going to be kid-friendly restaurants in Chicago for you. From Michelin star dishes to seafood cuisine, there is something to suit all taste buds with plenty of entertainment and smaller portions for the kids in Chicago.
The Top Kid Friendly Restaurants In Chicago
In this guide, we have used recommendations from other families to curate a list of the top 18 kid-friendly restaurants in Chicago.
We understand that traveling with little ones can be tricky, but with plenty of food options and many welcoming locations, you do not have to stress in Chicago.
There is certainly going to be something for everyone in this city, and this list will help you find the best food for everyone to enjoy.
1) Old Irving Brewing Co
Brewpubs are surprisingly some of the best places for families with kids, despite the fact not all of them welcome little ones. If you manage to find a kid-friendly brewpub, like Old Irving Brewing Co on 4419 W Montrose Ave, then you should jump at the chance of having some amazing fun, delicious beverages and enjoying a welcoming atmosphere.
Old Irving Brewing Co has a laid-back atmosphere during the day and a range of delicious food on offer for both adults and kids. The menus are full of burgers, sandwiches, and fried finger foods, making it a top spot for family fun. The adults will enjoy the great range of beer on offer, and there are plenty of beverages for the little ones too.
The kid's menu is full of favorites like chicken tenders, mac and cheese, and ice cream that is made on-site.
2) Etta
Located in Wicker Park, this American restaurant offers some of the best-loved food and is one of the best kid-friendly restaurants in Chicago for this reason.
Etta sees all kinds of clients, from large groups to date nights, ensuring there is going to be something for everyone. This restaurant has great food like homemade pasta dishes and pizza, as well as vegetarian options and the incredible pork shoulder, many of which are made in the wood-fired hearth.
The restaurant has many booths to offer privacy and to allow you to teach the kids how to sit at the table without worrying about interrupting anyone. This is a warm and welcoming diner that has a lot going on at all hours, making it a great spot for families in Chicago.
3) Smoque BBQ
Barbeque food offers a messy and hands-on experience which is why children love it.
Smoque BBQ, located at 3800 N Pulaski Road, is one of the best barbeque joints in Chicago, and it has a kids menu for your little ones to explore. The kids' menu features mini versions of the classic adults' dishes, like pulled pork and tiny brisket sandwiches, as well as the classic mac and cheese.
There is an outdoor patio that can be enjoyed during the summer months, as well as indoor seating at this Chicago steakhouse. This casual restaurant is suitable for families of all ages, and the outdoor seating allows for BYOB so you can kick back, relax and let the kids get a bit messy while enjoying this unique sit-down meal.
4) The Smith
The Smith is a welcoming and bright restaurant that is incredibly popular with all kinds of clientele in Chicago. This restaurant, located in River North, is a mini-chain restaurant that you might have passed by when exploring the area because it is fairly hidden.
The Smith is a mini chain from New York that offers a variety of food options to appeal to as wide an audience as possible. As well as a great adult menu, there is also a kids menu complete with pulled pork sandwiches, chicken tenders, mac and cheese, burgers, pizza, steak, fried chicken, salads, and a dessert menu.
Seating comes with coloring sheets and crayons to keep the little ones entertained as they wait for their food. High chairs are also available as well as a comfortable changing room for babies.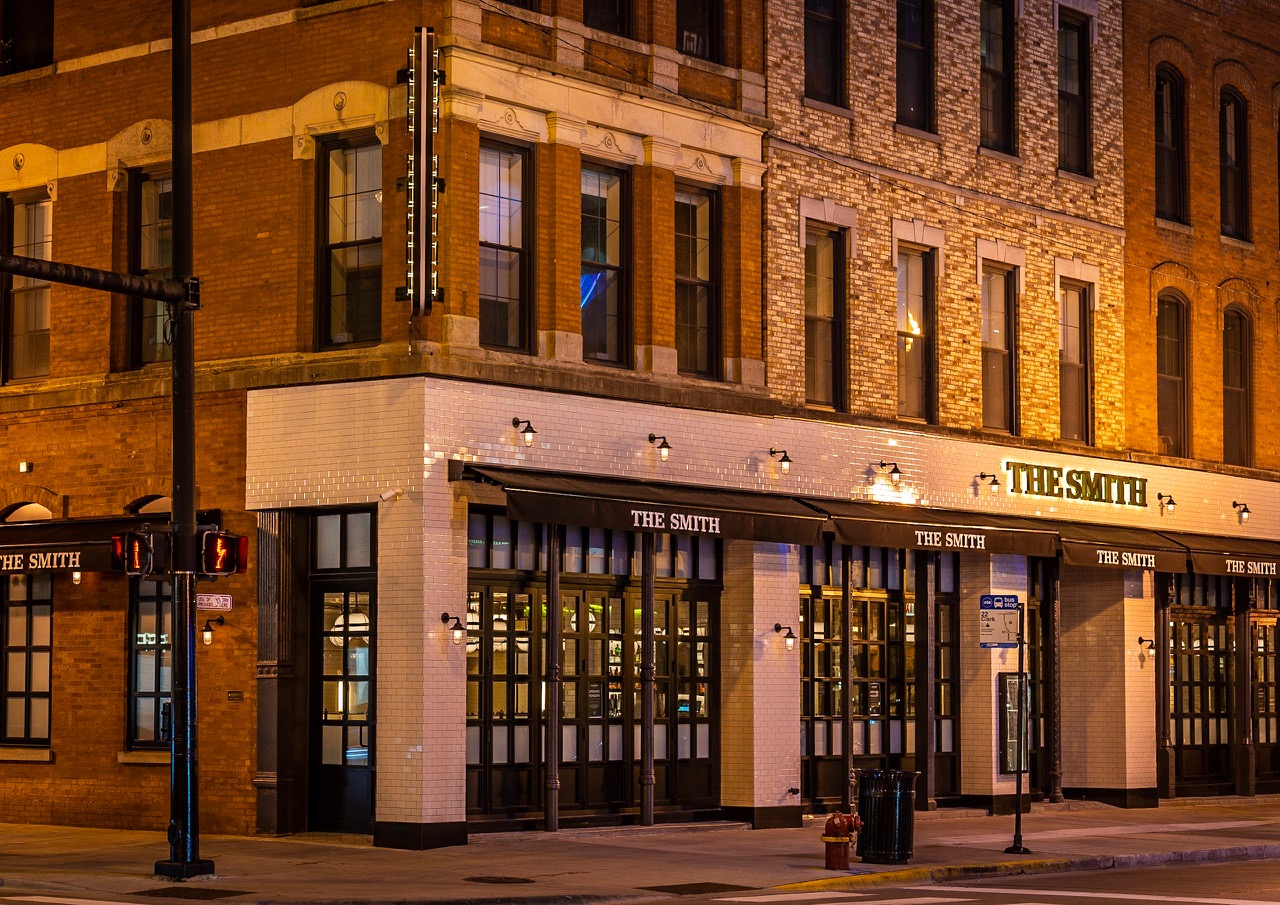 5) Crosby's Kitchen
This is one of the most popular kid-friendly restaurants in Chicago, specifically in the Southport Corridor. Located at 3455 N Southport Ave, Crosby's Kitchen is suitable for even the smallest children as many stroller-laden families visit this location.
This kid-friendly restaurant has an excellent kids menu, complete with grilled cheese, chicken fingers, PB&J, and other classics, as well as a full dessert menu.
The management at Crosby's Kitchen always pulls out the stops for the whole family, making a huge meal that can be enjoyed by everyone. The portion is great, and the food is picture-perfect.
All meals should be finished with the famous skillet cookie topped with ice cream for a sweet treat.
6) Canton Regio
Canton Regio is a Mexican spot in Pilsen that offers a fun, kid-friendly atmosphere. This kid-friendly restaurant looks like a cross between an old barn and a church, which may not be your first choice for family fun, but there is delicious food inside.
The high vaulted ceilings complete with saddles and wagon wheels on the walls create an old-timey but welcoming scene that is great for kids and adults alike.
The service is fast and patient, which is needed in this permanently loud restaurant as it is a favorite in Chicago. Not only are the patrons loud, but there is also a Mariachi band that is likely to be playing during your visit, which is perfect to drown out the squeals of your toddler.
Canton Regio has delicious Mexican food on offer, including queso fundido and fresh guacamole, as well as lots of grilled meats like tender steaks and fajitas.
No matter what you order, make sure to order extra of the homemade flour tortillas as they go with everything and will be gone quicker than you realize. Without them, it will not only be your toddler making all the noise!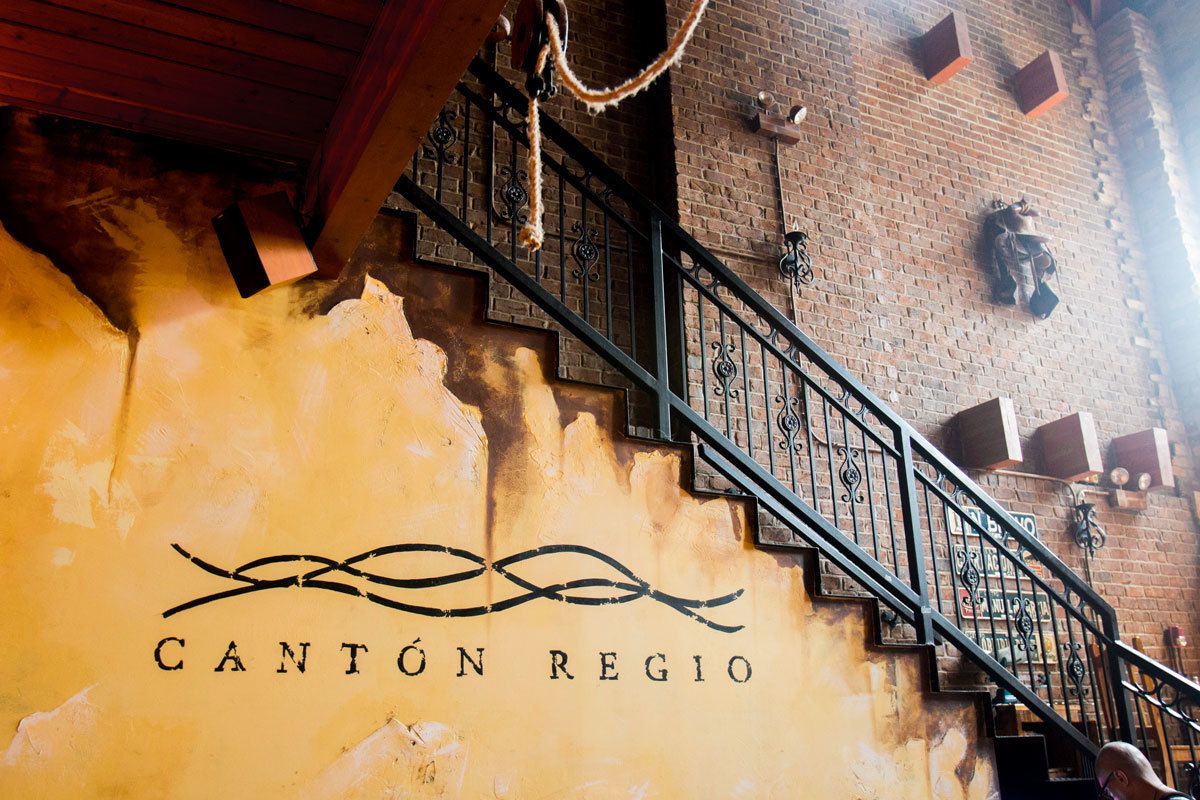 7) Parachute
Parachute, at 3500 N Elston Ave, Chicago, IL, is one of the best kid-friendly restaurants in the entire state because it is Michelin Starred.
While finding a kids' menu at a Michelin star restaurant may seem impossible, Parachute in Chicago, IL, pays special attention to parents, which makes it one of the best in the area for families. This restaurant goes above and beyond for families and kids, as the chefs, co-owners, and married couple Beverly Kim and Johnny Clark have also created the Lil Baby P food range.
Lil Baby P is a range of infant-friendly puree that comes in special flavors such as spiced pumpkin pie and sweet potato, helping you to give the kids a refined palette from an early age.
As the co-owners of Parachute are so dedicated to families, including running a non-profit for mothers working in the hospitality industry, you can expect a welcoming atmosphere.
If you want to have a nice meal during your trip to Chicago but do not want to leave the kids at home, the Parachute is the place to go. Kids can sit with you at the clothed table and enjoy some of the finer dishes on the menu.
8) Dutch and Doc's
Located in Wrigleyville, Chicago, IL, Dutch and Doc's is an all-day brasserie from the same owners of the famous Swift and Sons.
If you are familiar with the sister restaurant, then you will be aware of the high-quality food on offer at this joint and will be pleased to see the same top steaks on the menu at the Dutch and Doc's restaurant too. However, unlike Swift and Son's, children are welcome here, which means you can have a nice sit-down meal in Chicago.
The kids' menu has classics such as chicken nuggets and fun things like PB&J, as well as many other dishes which can be enjoyed by the adults in your group.
Dutch and Doc's is essentially an upscale sports bar, with a view of the stadium, and on non-game days kids can eat for free. There are other locations away from the stadium, including the one in West Loop and the one at 66 E Ohio St.
9) Iowcountry
When you think of a kid-friendly service, seafood may not be on your mind, but Iowcountry at 3343 N Clark St, Chicago IL, is here to change your mind.
If you are wanting to introduce your kids to new food items, this restaurant offers small plates and even has a kids menu that can get them started in seafood. Get them sat at the table and let them get their hands dirty with bags of seafood dressed to suit their tastes.
This is a popular restaurant in Chicago, IL, that also has a South Loop location.
10) Ina Mae Tavern and Packaged Goods
Ina Mae Tavern is a casual restaurant located in Wicker Park, Chicago, that serves New-Orleans inspired food.
There is a large menu that has a range of dishes on offer, including fried chicken and beignets. What makes this restaurant such a good option for families is the fun atmosphere as there is a larger bar area and an incredibly friendly service, making it a comfortable spot for busy families of all ages.
It is a great neighborhood spot in Chicago that is suitable for group dinners with children, and the kid's menu has plenty of options to choose from, such as hot dogs, Italian beef sandwiches, and chicken tenders.
11) Honey Butter Fried Chicken
Located at 3361 N Elston Ave, this is a wonderful restaurant that focuses on some of the most popular kid's food. In most cases, fried chicken and mac and cheese are winning dishes for children, but Honey Butter Fried Chicken takes things one step further with a full kid's menu.
There is a kid's meal that comes with chicken tenders, mac and cheese, and a sticker sheet to keep the little ones entertained as the adults have a well-deserved break.
Because of this welcoming atmosphere, Honey Butter Fried Chicken is one of the best restaurants for families in Chicago, offering their favorite things to eat as well as ongoing entertainment.
12) Harry Caray's 7th Innings Stretch
Located on the 7th floor of Water Tower Place, Michigan Ave, this kid-friendly restaurant is ideal for sports fans. The restaurant is decked out in sports memorabilia and has big-screen TVs so you can keep track of all the action while also enjoying some delicious food with the kids.
There is a kid's menu at this Water Tower Place, Michigan Avenue restaurant that has standard pizza, chicken nuggets, French fries, and mac and cheese. Adults can also enjoy oven-fired pizza, as well as hearty dishes like meatloaf and chicken pot pie.
This is a lively restaurant where you can eat and be entertained, sitting at a table under the big screen TVs. There are also options for dessert, making this one of the best spots in Chicago for families of all ages, and you can find it at Michigan Avenue.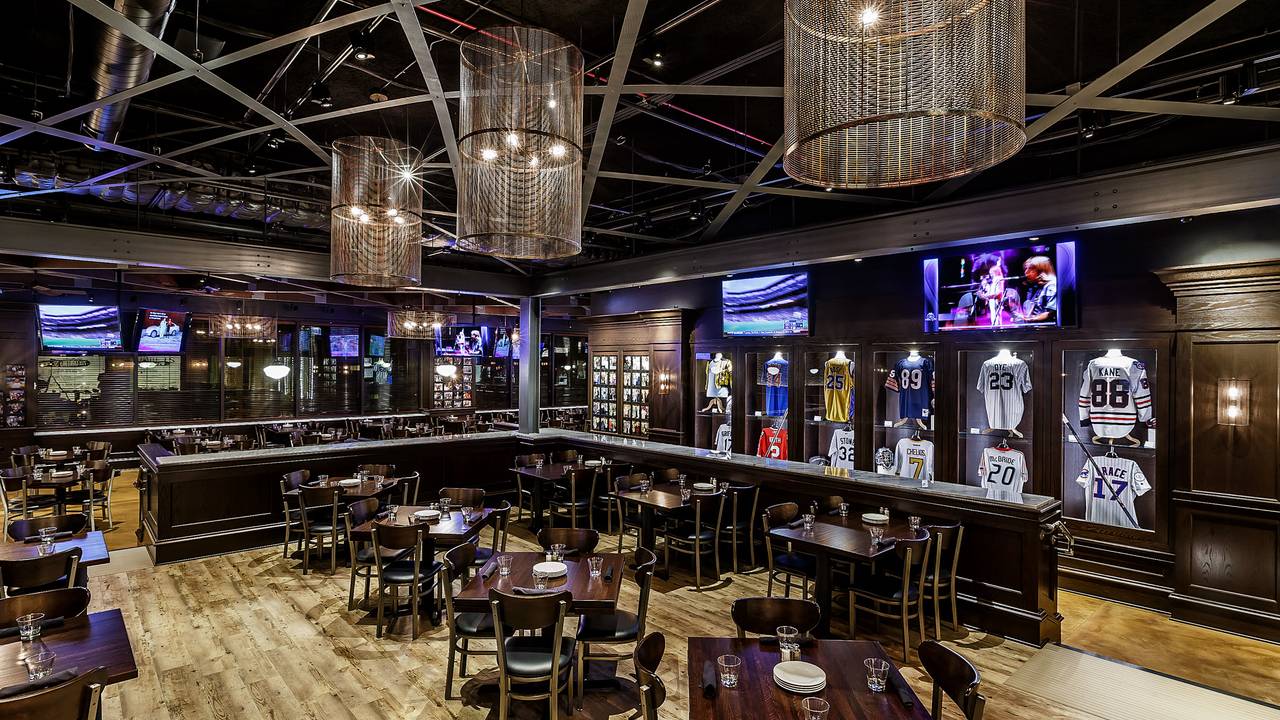 13) Lou Mitchell's
This is a classic diner located at West Loop, Chicago, IL, that serves breakfast and lunch throughout the day.
Breakfast includes some kid-friendly items like Milk Dud pancakes, with lunch items like buttered noodles and chicken fingers. Like all good restaurants, adults can eat like kids too at this West Loop diner as there is French toast smothered in syrup and fruit on the breakfast menu for a sweet start to your day in Chicago, IL.
14) Garrett Popcorn
When people recommend the best popcorn in Chicago, IL, they will be talking about Garrett's.
While there are many flavors on offer, in most cases, people will recommend the cheese and caramel popcorn mix that is a favorite for kids and adults alike across Chicago, IL. There are both sweet treats and savory flavors to choose from, ensuring there is something for everyone at this city institution.
Garrett Popcorn is not like any of the other kid-friendly restaurants in Chicago, IL we have included in this article as it is not a traditional sit-down eatery. Instead, this is a store, and there are several downtown as well as one at the O'Hare Airport (at 55 E Grand Ave), where you can browse the selection of flavors and eat popcorn until you are full.
There are also gluten-free options, making this a great spot for everyone.
15) Shake Shack
Shake Shack is a classic lunch spot for kids in Chicago, IL, and unlike many other fast food joints, it does not disappoint.
If you are dealing with picky eaters, this restaurant is ideal for kids as there is everything from burgers, flat-top dogs, crinkle-cut fries, and many other fast food items, as well as a dessert menu being served in the River North region.
The restaurant is known for its quick service, and this location in River North offers a fun environment which is why it is one of the best restaurants for a fast lunch with the kids. There are several Shake Shacks in the area, but this particular restaurant located across the street from Millennium Park is one of the best when you are on the go with kids.
16) Roots
Roots is a family-friendly pizza joint in Lincoln Square, Chicago, IL, and 744 S Dearborn St, Chicago. This is a wonderful place to take the kids, and you could even have a date night due to the welcoming atmosphere and long opening hours.
There is a lengthy menu on offer at this pizza restaurant, including options specifically for kids, all of which have been designed by local Chicago chefs from across the city. Kids will love the fact the pizza here is cut into rectangles instead of the classic triangle, and adults will appreciate the array of salads and sides.
The kids' menu also includes other options, such as hot dogs, mini corn dogs, grilled cheese, and Chicago dogs, as well as deep-dish pizza. Roots is known for offering some of the best pizza in Chicago, IL, and this Chicago institution is a must-try when in the city.
17) Chicago Pizza and Oven Grinder
If pizza is something you and the kids love, then check out this restaurant in the Lincoln Park neighborhood. This restaurant has some of the best pizza in Chicago, IL, and has a range of other Italian food on offer to ensure there is something for everyone.
Choose from deep-dish pizza and thin slices at this location, close to the Lincoln Park Zoo, making it a great spot for families of all ages. The kids' menu includes classics like grilled cheese, hot dog sandwiches, and fresh fruit for dessert.
18) Lola's Coney Island
Located at 2858 W Chicago Ave, this is the best joint in the city for fans of the classic hot dog.
This is a charming Detroit-style hot dog stand that is family-owned. The stand is named after the owner, Jesse Fakhoury, named it after his own daughter. If you think you have seen hot dogs, think again, as there are so many options at this location in Chicago, IL.
From Italian beef hot dogs to the iconic chili-smothered Coney Dog, there is so much to choose from which will please both kids and adults alike. Save room for the malts and floats, which are also on the menu, as these make the meal.
Summary
Chicago is home to some amazing kid-friendly restaurants, offering everything from breakfast to sit-down dinners to people of all ages.
In this guide, we have shared some of the best restaurants to be enjoyed with the kids and other options when it comes to food in the city. If you cannot decide where to go for lunch, there is one more option – The Revival Food Hall.
Like all good food halls, there are many options at this Chicago restaurant, and there are options from some of the best names in the city. There is kid-friendly dining included, and all dietary requirements, such as being gluten-free or vegetarian, can be found here.
No matter what kind of food you are into, there is going to be something for everyone in this city, and there are many amazing restaurants that will welcome you today.
More about our TFVG Author
A seasoned traveller, Dad, and avid sports tourist, James foundered The Family Vacation Guide to share his expert vacation experiences- especially when it comes to being a travelling family man.
Featured in Travel articles such as Travel + Leisure, TripSavvy and SFGate, you know you're reading some of the best vacation tips online.