Described as one of the 'best beach family vacations,' Ocean City is a great destination for the entire clan! Celebrated for its impressive three-mile boardwalk, saltwater taffy, and endless kid-friendly activities, there is something to suit both kids and adults.
Of course, part of the challenge when booking a family vacation is sourcing kid-friendly hotels in Ocean City that have the balance between functional and sophisticated just right.
To inspire you, we've listed 12 of the best Ocean City, Maryland family hotels!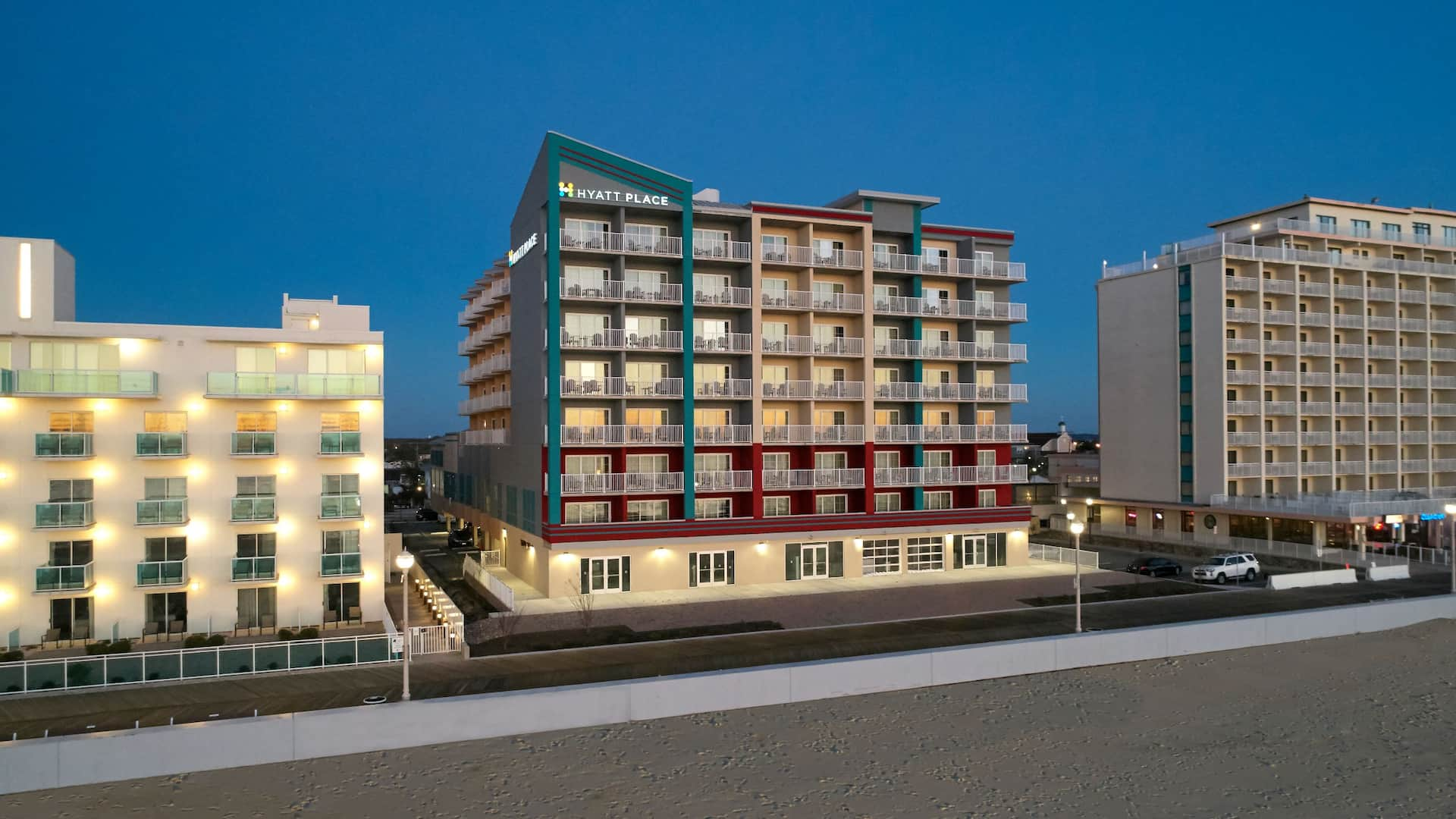 Situated adjacent to the renowned Ocean City MD Boardwalk, the first of our Ocean City hotels boasts a great location and is within walking distance to several must-see sights and sounds.
Rooms and suites are not only ample in size, but each also features a private balcony with a view of the stunning ocean. This Ocean City MD accommodation has not one but two spacious swimming pools (comprising an indoor pool and outdoor pool), an on-site bar with a beautiful veranda that overlooks the ocean, and a modern fitness center.
Other amenities include complimentary high-speed WiFi, a free breakfast comprising dishes to suit all ages, and numerous children's activities on-site meaning your little ones will never be short of things to entertain them. And that's not all, kids stay for free!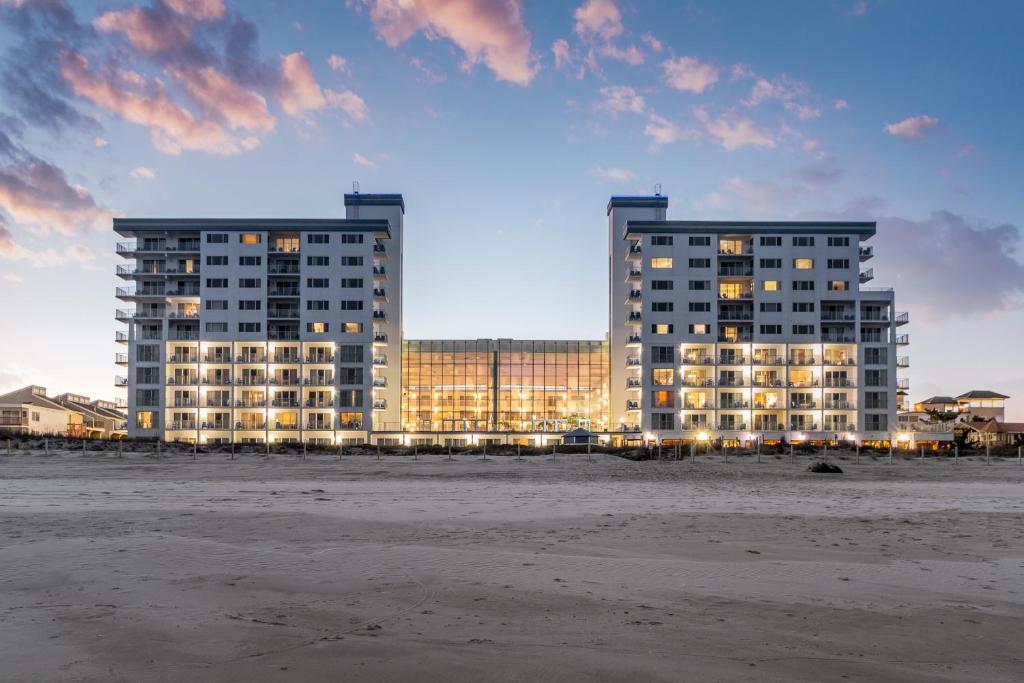 Here we have another Ocean City MD hotel that boasts a great location, right on the stunning sands of Ocean City Beach. The Princess Royale Oceanfront Resort boasts direct access to the picture-perfect beach, making it an excellent option for families wishing to relax and fill their days with swimming or daily strolls along the beautiful bay.
Close by, you'll discover the renowned boardwalk and a whole host of outdoor activities, comprising world-class golf, a beach volleyball court, fishing, kayaking, paddle boarding, horseback riding, and boating. So whether you're a fan of land-based or sea adventures, there is an activity to suit all.
The Princess Royale Oceanfront Resort is an experience in itself and offers a wide range of impressive amenities, as well as several culinary choices which can be sampled at the on-site restaurants and condo-style rooms – perfect for large families wishing to stay in the same space.
There is also an Olympic-size swimming pool in the vicinity – one of the largest in the city. This is manned by lifeguards, which allows you to relax knowing your kids are in safe hands.
Other amenities include a tropical atrium, game room facilities, and numerous entertainment options designed to keep the kids busy. This is one of the family-friendly hotels in Ocean City that has something for every age.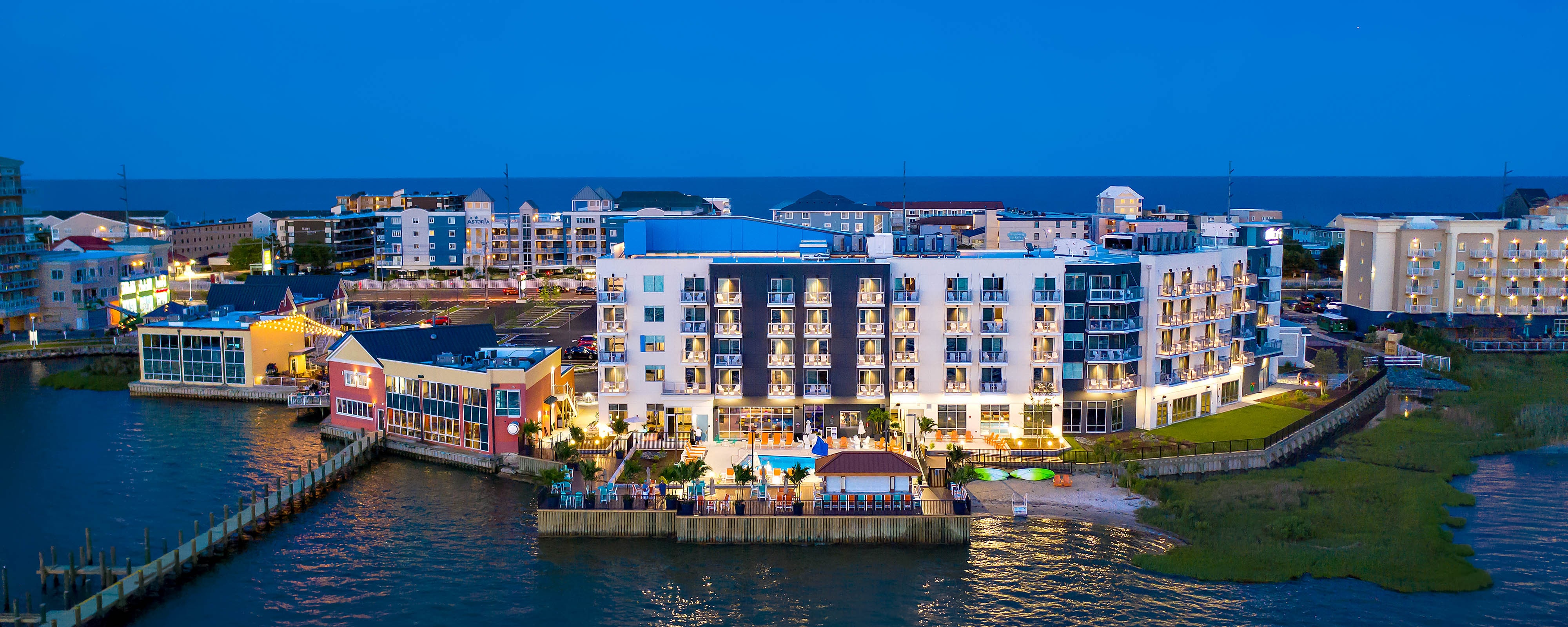 Celebrate your vacation in style at the Aloft Ocean City hotel, a contemporary, chic establishment situated on Ocean City's stunning bayside in Maryland. It's here you'll find yourself just moments away from the local beach, which spans an impressive ten miles.
Other nearby must-see attractions in Ocean City include an array of top eateries, a beach volleyball court, the renowned city boardwalk, and various family-friendly activities.
The property boasts direct beach access, an array of children's activities including a game room and on-demand films, should you and the kids wish to spend an evening in.
The Grand Hotel & Spa is an ideal option for those looking for a relaxing, quiet stay in Ocean City, yet one that still promises to be one of the family-friendly hotels in Ocean City.
The hotel itself is a stone's throw away from an assortment of the area's prevalent landmarks, including the Oceanic Fishing Pier, Northside Park, and the Ocean City Boardwalk.
The stylish rooms in the Grand Hotel Ocean City come complete with numerous amenities, like refrigerators, flat-screen TVs, free WiFi, and a kitchenette.
Hotel guests can also make use of room service, a 24-hour reception area, a kid-friendly swimming pool (both indoor and outdoor), free parking, game room facilities, and plentiful shops. In addition, the on-site restaurant provides a complimentary breakfast to all guests.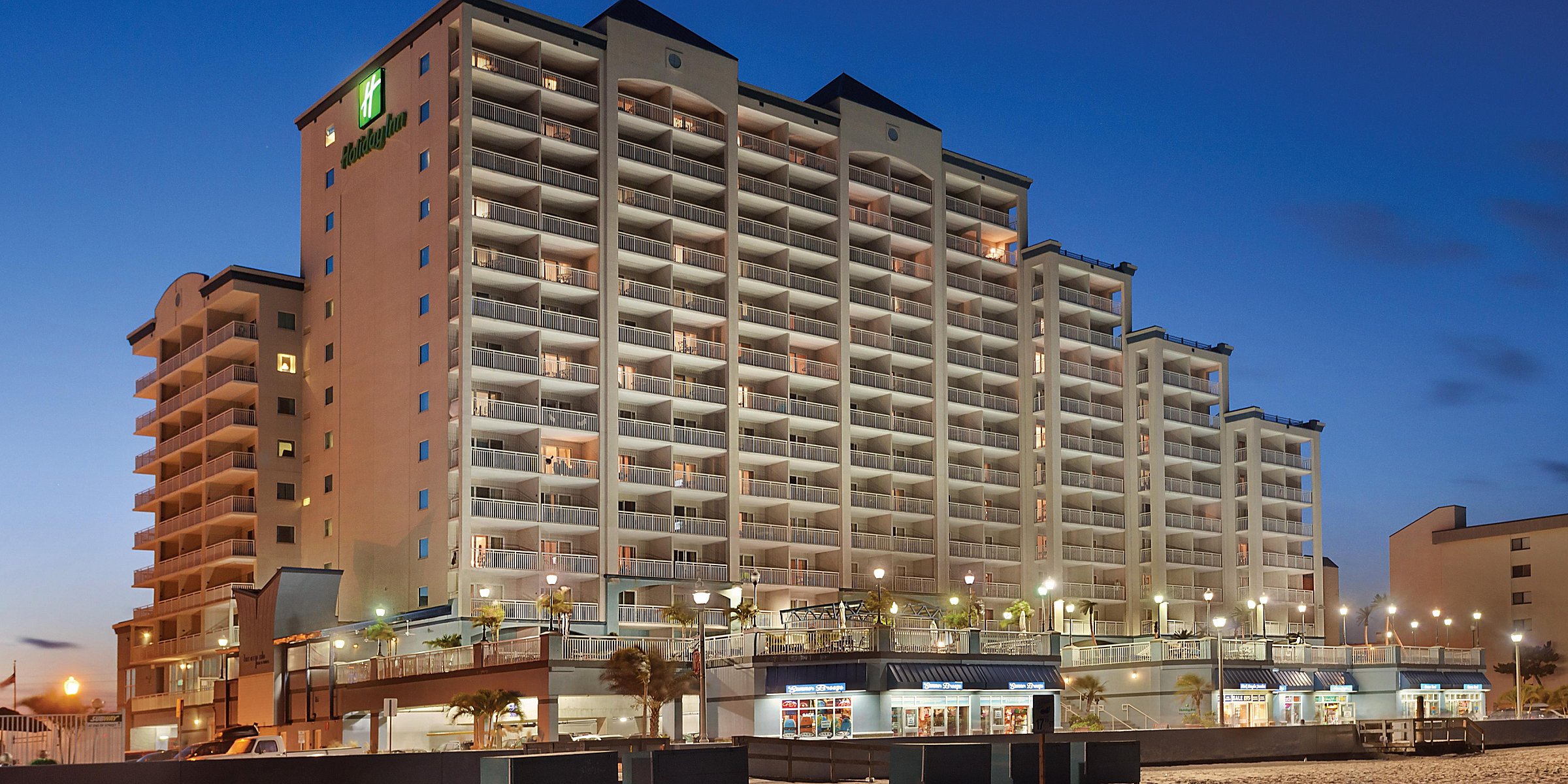 With stunning views of the Atlantic Ocean, the Holiday Inn Ocean City is an ideal spot to spend a family vacation. All rooms have recently been revamped, and the hotel boasts an impressive location – on the Ocean City Board and beach.
The Holiday Inn family-friendly hotel is an excellent option for larger groups, as the spacious suites consist of a bedroom, living area, and state-of-the-art kitchen, meaning you can choose between dining in or out. It's also a popular option for those traveling with younger children, as it means there is no need to book two rooms.
A major selling point? The Holiday Inn Ocean City balconies, which boast exquisite sunrise scenes. Other amenities include speedy WiFi, which is accessible from anywhere in the hotel, an indoor pool, which is open all year round.
The central pool in the hotel's picture-perfect grounds is enveloped by an ample-sized deck and is the perfect place to enjoy a spot of sunshine during the warmer months.
There is also an additional kid-friendly seasonal outdoor pool, located adjacent to a children's play area and activity center, comprising a lazy river, a game room, a slide, and fountains.
The stunning rooms boast 42-inch flat-screen TVs that feature a range of premium channels at no extra cost, including Disney and HBO. Other extras include a modern fitness center, guest laundry, ice cream shop, and meeting facilities.
Feeling peckish? Check out the Holiday Inn Coral Reef Cafe or Coral Reef Restaurant – a new addition to this Ocean City hotel. Both establishments can be found in the lobby. Alternatively, order an array of drinks and snacks from the Deep End Poolside Bar & Grill.
Described as one of the top family-friendly hotels in Ocean City, this non-smoking establishment boasts an array of contemporary rooms, a children's summer program, and the option to bring your pets – should you wish to travel with the entire family.
The Clarion Resort Fontainebleau Hotel in Ocean City also boasts a great location, right on the beach, with great Atlantic Ocean views.
This sophisticated Ocean City MD hotel is just a short distance from various famous landmarks, including the boardwalk and the beach. Other nearby must-see family attractions include the Jolly Roger Amusement park, the Ocean City Convention Center, a variety of restaurants, golf courses, and Splash Mountain.
Fancy a spot of shopping while in ocean City? Delaware is just a 20-minute drive away from the DoubleTree by Hilton and boasts tax-free shopping.
Family guest suites feature private balconies, a stylish sitting area, a fully equipped kitchen, free WiFi, and an impressive 55-inch HDTV – perfect for movie nights. There is also a kid-friendly heated pool and plenty of entertainment for the little ones, including a regular magician show.
If you're traveling to Ocean City with the entire clan, there is the option to book a family room or a bigger suite, and all guests are entitled to a complimentary DoubleTree Breakfast at this Ocean City, Maryland hotel.
For lunch, try the seasonal Sandshark Pool Bar, which also boasts an ample cocktail menu and picnic area. Come evening, sample any of the eclectic delights from The Marlin Moon Restaurant.
The Residence Inn by Marriott Ocean City is a high-end establishment and one that is situated directly on the waterfront.
Other nearby attractions, all of which are within walking distance, including the Route 90 Bridge, the Lighthouse Sound Golf Course, Seacrets Restaurant and Nightclub, and Fager's Island.
This Ocean City hotel is home to 150 stylishly-clad suites, all with tech-savvy features, and top-class amenities. The majority of rooms also offer epic views of the picture-perfect Bay.
Situated in the popular area of Midtown Ocean City, the Residence Inn by Marriott Ocean City is a great option for families wishing to explore everything this area has to offer. It's a good choice for larger groups, as many ample-sized suites come complete with additional sleeping and living areas, including a family lounge, as standard.
Other amenities comprise speedy wireless Internet, high-end kitchens decked out with everything you could need for a comfortable stay, and flat screens TVs – perfect for movie nights.
Guests can enjoy a daily complimentary breakfast in the shape of a hot buffet-style affair. There is also the option to buy snacks from The Market, which is open 24 hours a day, seven days per week.
The on-site restaurant, Bayview Bar and Grille, is a great spot to grab a sophisticated dinner, while the Tiki Bar and firepit is the perfect option for a pre or post-dinner drink, whilst watching the sunset.
Looking to embark on a sophisticated family getaway? The Courtyard by Marriott Ocean City Oceanfront is home to an array of stylish beachfront guest rooms (with queen and king beds, as well as pullout sofas), all of which feature balconies, a mini-fridge, and microwave (an asset to parents with young children), coffee makers, and high-speed free WiFi.
Have a large family? Opt for one of the many connecting rooms. This will give you the security of knowing the kids are close by, whilst also giving them their own space.
Situated on 15th Street on the celebrated Ocean City boardwalk, this is one of the best kid-friendly hotels in Ocean City. Hotel amenities include a fitness suite, various recreational activities, a pool complete with sunbathing deck, and an on-site restaurant.
It's here you can indulge in astounding Ocean City sunrises, picture-perfect afternoons, and upbeat nightlife. There is something for the whole family!
Discover the Eastern Shore in Ocean City, Maryland by booking a stay at the sophisticated Cambria Ocean City hotel. Of all the suites Ocean City has to offer, these stunning resort-style rooms feature the best top-end amenities.
This Ocean City hotel boasts an on-site restaurant, a state-of-the-art fitness suite, a rooftop bar, and picture-perfect views of the waterfront. There is also a quirky outdoor area complete with fire pits, an indoor pool, which is heated all year round, and an outdoor pool that is open seasonally. Vacationing with younger children, be sure to check out the recently revamped playground – a family favorite!
If you fancy a drink or snack while lounging by the poolside, the Tiki Bar and Beach House Restaurant are the perfect spots to grab a light bite and refreshing beverage. If you're looking for the best-equipped suites Ocean City has to offer, look no further!
The Dunes Manor Hotel in Ocean City is home to not one but three unique buildings – all of which promise to provide a memorable experience for you and your family. The main building is situated directly on the beachfront and boasts an impressive oceanfront deck.
There are plenty of family activities to indulge in at the Dunes Manor Hotel, comprising live piano recitals, afternoon tea, an outdoor and indoor pool, and an array of stylish ocean-view Dunes suites ( all of which offer additional space for kids and their friends).
If you fancy a little kid-friendly fun, take a trip to the nearby Jolly Roger Amusement and Water Park, which is within walking distance from the Dunes Manor Hotel.
Whichever kid-friendly hotel in Ocean City, MD you pick, you're guaranteed a fabulous stay in the Dunes Suites.
The Comfort Suites Ocean City hotel is aptly named as it offers the utmost comfort.
Here, you will discover an array of top hotel amenities and services, including a game room, a high-tech fitness center, and a seasonal outdoor pool. The outdoor pools at the Comfort Suites Ocean City offer the perfect place to cool down in the summer months.
This is an excellent hotel in Ocean City, Maryland for the entire family, especially those looking for the best family hotels that boast kid-friendly entertainment on-site.
In Summary
Ocean City is a great destination to visit for both parents and kids. You'll find an array of family activities and hot spots, including the famed three-mile boardwalk and a handful of eateries here.
There's also a pristine stretch of white sands, totaling an impressive ten miles, as well as waves perfect for boogie boarding, so it is little wonder Ocean City, MD, draws in families from all over the world every year.
Ocean City has been designed with a family trip in mind and boasts a series of activities suited to adults and children, including outdoor pools, a basketball court, an outlet mall, nature walks, water parks, and more.
On top of this, expect to discover a wide selection of family-friendly hotels in Ocean City, from the Hampton Inn to the Fairfield Inn to the Howard Johnson Plaza Hotel. There are kid-friendly hotels here to suit all styles and tastes.
Most kid-friendly hotels in Ocean City boast free cancellation, separate living quarters, hot tub facilities, two pools, a private beach, and the option to pay the lowest nightly price when you book online.
More about our TFVG Author
A seasoned traveller, Dad, and avid sports tourist, James foundered The Family Vacation Guide to share his expert vacation experiences- especially when it comes to being a travelling family man.
Featured in Travel articles such as Travel + Leisure, TripSavvy and SFGate, you know you're reading some of the best vacation tips online.