Looking to make a splash on your next vacation? There are some fantastic adventures awaiting you and your family in Michigan when you stay in one of the many waterpark hotels in the state.
Whether you're looking for some of the country's largest water slides, to a variety of fun activities, this list caters for all of that and more.
In this guide, you'll find twelve of the best waterpark hotels in Michigan to add to your bucket list this year and beyond. There's nothing quite like the thrill and adrenaline-charged experience of a waterpark!
Family is everything and not all hotels across the world will understand the need for a family-friendly environment. For Great Wolf Lodge in Traverse City, offering an experience for all of the family is an expectation they will live up to.
Located near some popular landmarks in Traverse City such as the Boardman River Boardwalk and Dennos Museum Center, there are plenty of kid-friendly activities to try out beyond the resort itself.
One of the great benefits when staying at Great Wolf Lodge waterpark is the vast amenities that the hotel offers. The guest rooms boast a flat-screen TV, a kitchenette, and only the very best in air conditioning.
Get online easily with free WiFi to distract the kids as you enjoy the outdoor pool or cozy lounge area.
However, it's also important for families to disconnect from the online world and reconnect with their loved ones.
If you're looking to explore Traverse City, there are plenty of restaurants a short walk away like Trattoria Stella and Spanglish. For local sightseeing, explore The Botanic Garden or the World's Largest Cherry Pie Pan – a must for any food enthusiasts!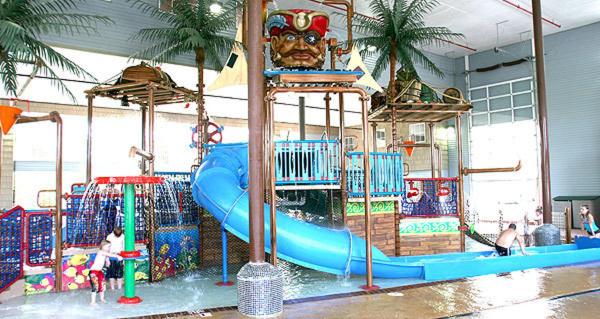 There's a family getaway that's perfect for any waterpark lovers and that's the Crown Choice Inn & Suites Lakeview & Waterpark. With a stately appearance, the hotel is ready to accommodate your visit with a 24-hour front desk in operation for those late nights or early morning arrivals.
A relaxing break is provided when staying at the Crown Choice Inn, with an abundance of amenities. Guest rooms have all the features that you'd expect in a modern hotel and free WiFi is available throughout the resort.
For both the youngsters and those wanting to connect with their inner child, the Pirate's Adventure Indoor Waterpark has everything your kids need for a whirlwind experience. Featuring three thrilling waterslides, a pirate tipping bucket, water geysers, and more. With 72,000 gallons of indoor waterpark to enjoy, it's sure to wipe out even the most energetic little ones!
We also suggest you check out the Shepler's Lighthouse Cruises, a popular attraction for all guests to visit. Try out the Animal Tracks for adventure golf courses and don't forget the Adrenaline Falls Adventure Zipline for all those adrenaline junkies.
Spectacular views and surroundings await with the Bridge Vista Beach Hotel and Convention Center. This lakeside resort looks out on the beautiful landscape of Mackinac Island & the world's 24th-longest main span, Mackinac Bridge.
Enjoy these wonderful views from the comfort of your own private balcony or get the sand in between your toes on one of the sugar sand beaches.
For family fun, there's unlimited access to a whopping three indoor water parks. They also have heated indoor pools and an oversized whirlpool. Complete with spas and saunas, you'll have everything you need for both a thrill-seeking and relaxing vacation. Added extras include guest laundry, in-room coffee, irons, and boards to meet all your requirements.
The hotel features a free breakfast each morning served up in its own bridge view restaurant. The resort is close to downtown shopping, the Island Ferries, and plenty of nearby attractions to keep you entertained during your trip.
A fully serviced destination, Lakeside Resort is music to the ears of parents with young children. It's a great place to unplug and unwind from daily life in the beautiful area of Houghton Lake in Michigan.
You'll find pet-friendly, all-suites that cater to every type of family looking for a spacious stay for their next vacation. As a 100% smoke-free hotel, there's no need to worry about your little ones. First-aid trained staff are available 24 hours a day so you can rest assured you'll be looked after.
Relax at the end of an adventurous day in one of the many guest rooms, featuring refrigerators, microwaves, coffee makers, and TVs.
If you're the type of person that's looking for fun activities then the boat rentals available in the local area make for a great day out. Be sure to check out Wellington Farm as well as Higgins Lake and State Park. There are also amenities on-site to stay active including pool tables and a fitness center.
For the kids, you've got the Pirates Cove mini-golf course and for those looking for a splash-tastic experience, Lakeside Resort has one of the best water parks that you'll find. Featuring a water slide, indoor pool, and hot tubs, you can keep everyone entertained.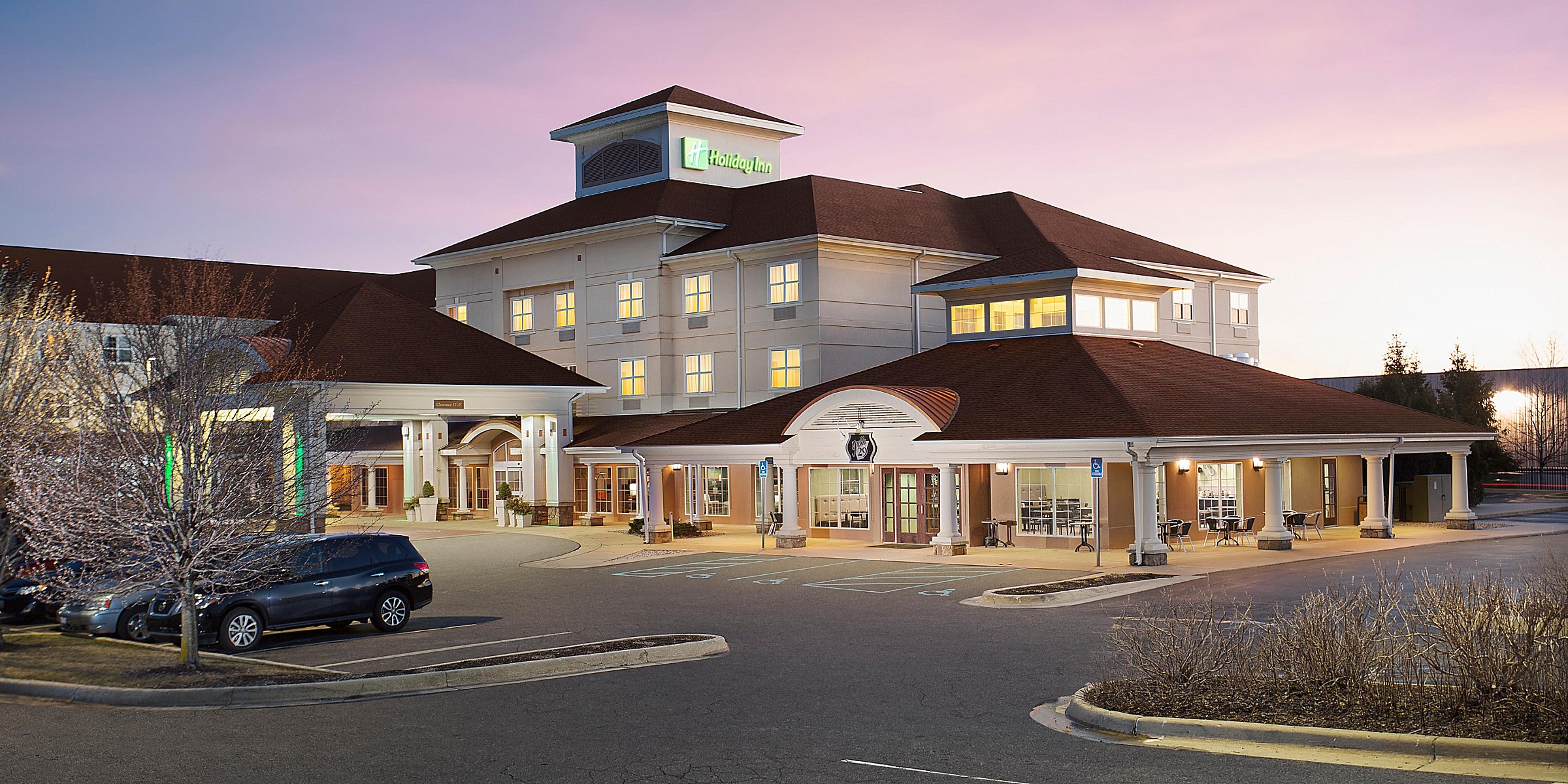 For convenience and a brand that many rely on for a comfortable stay, Holiday Inn Grand Rapids is a great place to rest up for a few days.
Home of The Little Dip Splash pad, it's an ideal location to bring a family to in order to explore the wonderful sights of Michigan. This hotel is situated minutes away from some of the major attractions and only a fifteen-minute drive to Gerald R. Ford International Airport.
Head down to the Grand Rapids, learn about local history at the Gerald R. Ford Museum or stay outdoors in the Fredrick Meijer Gardens. Once you and your family have exhausted all of the hotspots, relax in one of the 79 guest rooms available.
For water parks in Michigan, the Holiday Inn doesn't disappoint. With an indoor splash pad, activity pool, and vortex pool, there are hours of fun available for you and the family.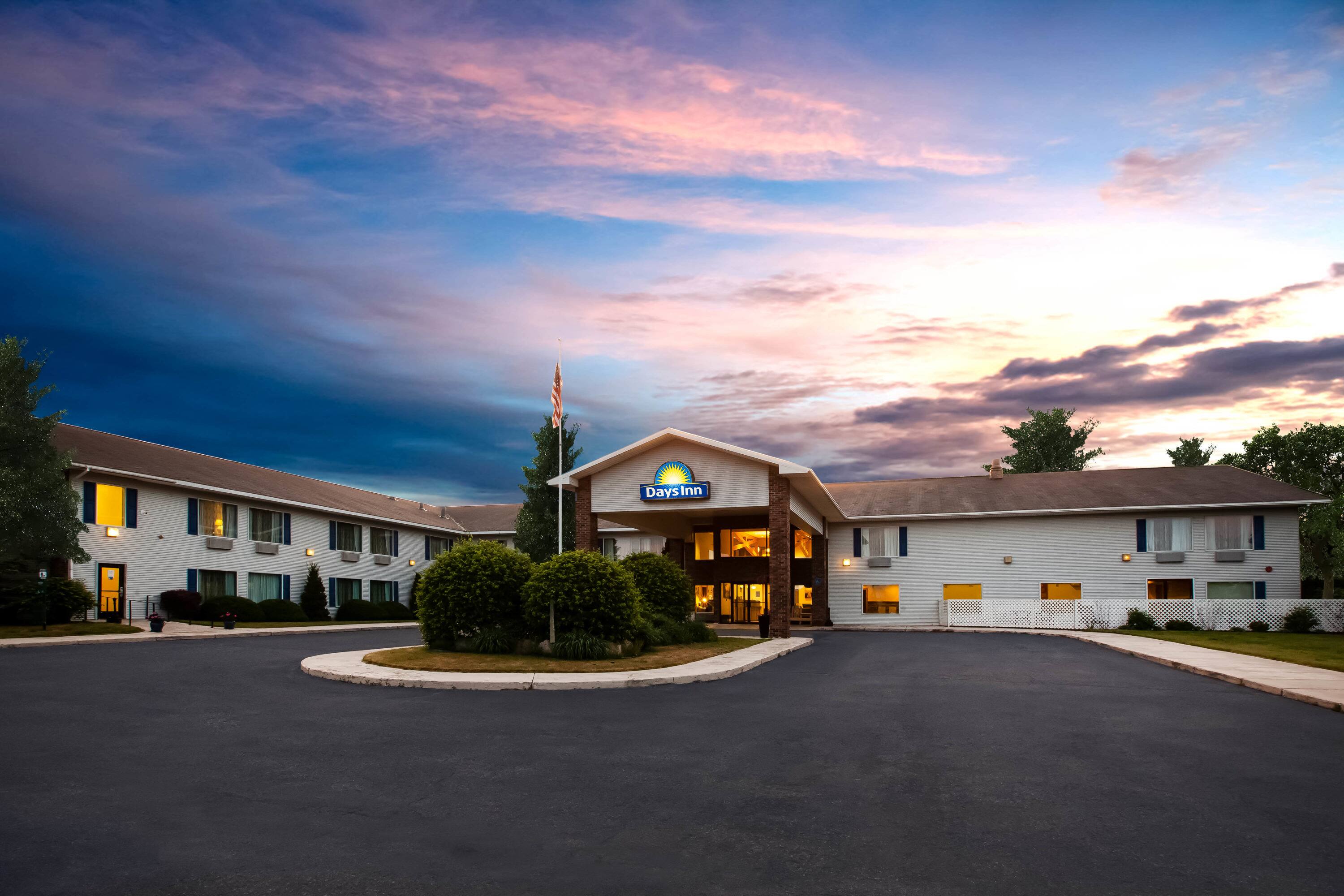 Days Inn by Wyndham Cadillac is one of the favorites for waterpark hotels in Michigan. Adventures in Cadillac start from the moment you make your way through the hotel's front doors!
You'll be welcomed by friendly smiles and a family-friendly environment that has everything you need for your family's next trip away. Located off Highway 131, it's within easy reach to all the local area attractions including the William Mitchell State Park.
While staying at the Days Inn, you'll get access to all the required amenities as well as room service and a 24-hour front desk in operation so no request is unaided. Whilst it might not have the biggest selection when it comes to a water park, it does have a great indoor pool and hot tub to take advantage of.
Guests arriving in cars have access to free parking, making it super easy to unload the family luggage.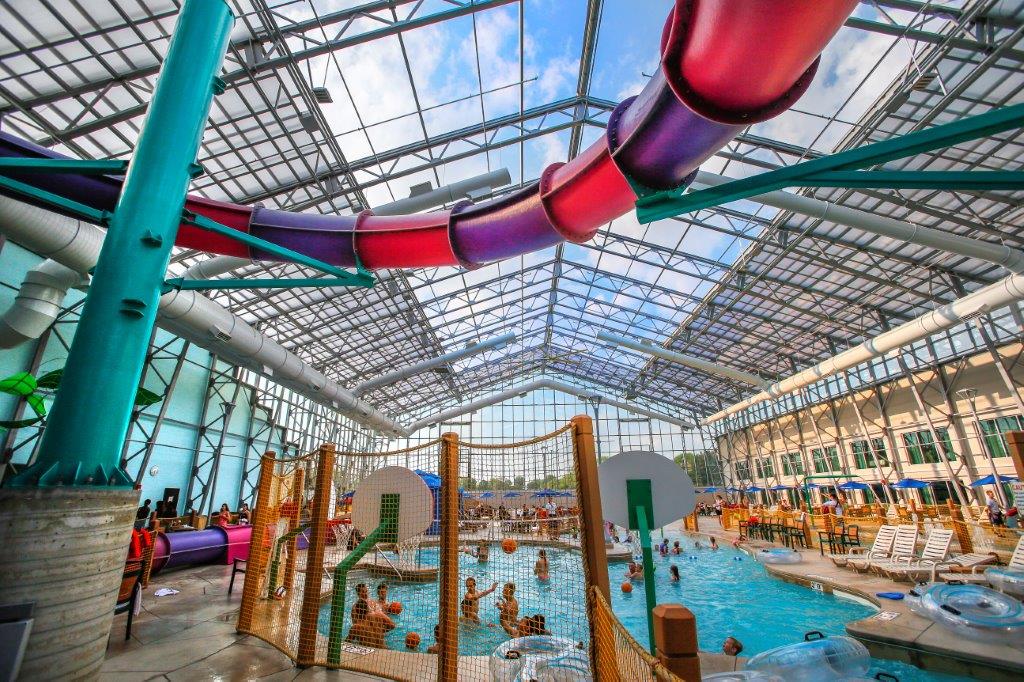 Nothing sounds more blissful than a vacation by the sea, right? Fairview Beachfront Inn & Waterpark is the perfect choice for those heading over to Mackinaw City. Every amenity included enhances your stay for a trip that all the family will remember.
Providing ease for all families is a priority for Fairview, offering plush guest rooms with all the standard hotel features you'd expect from free WiFi to a mini-bar refrigerator. It also offers express check-in and check-out, meaning you can enjoy a seamless vacation from start to finish.
Unlimited access for all the family is offered at the hotel's sister property for indoor water parks. Have hours of fun on the water slides as well as in the oversized whirlpool big enough to fit all the family in! It's a great pick for those looking for water parks in Michigan.
If that's not enough to whet your appetite, Mackinaw City offers an array of cuisines from Blue Water Mexican Cantina to The Hook Lakeside Grill. For those looking to explore beyond the resort, you've got some great Mackinaw City attractions, like the Old Mackinac Point Lighthouse and downtown's shopping district.
You needn't go far if you're after a truly authentic Bavarian experience. The Bavarian Inn Lodge is one of the most popular picks of Michigan hotels. This German-inspired hotel is found on the banks of the Cass River and provides a picturesque setting that will have you believing you've arrived in Europe.
Bavarian Inn Lodge is in the heart of downtown Frankenmuth, a must-visit for anyone new to the area. The warm Bavarian Inn hospitality is what makes this one of the favorites for many. As a family, you'll enjoy exceedingly good customer service, home-cooked meals, and cozy beds to wrap up in at the end of a long day.
With 360 European-themed guest rooms to choose from, you'll be spoilt for choice. The water park is what makes this hotel a great one for all the family. There are four indoor pools to pick from, including three whirlpools and two large waterslides.
When you've had enough of the water, make use of the other fun activities. Whether that's the 160+ video and redemption games, pool tables, or air hockey. There's a two-story Children's Village play area for the little ones, whilst adults can enjoy the two lounges, restaurants, and gift shops.
Bavarian Inn Lodge is the place to be, whether your kids are a fan of the water park, or you're looking for a European escape within the US.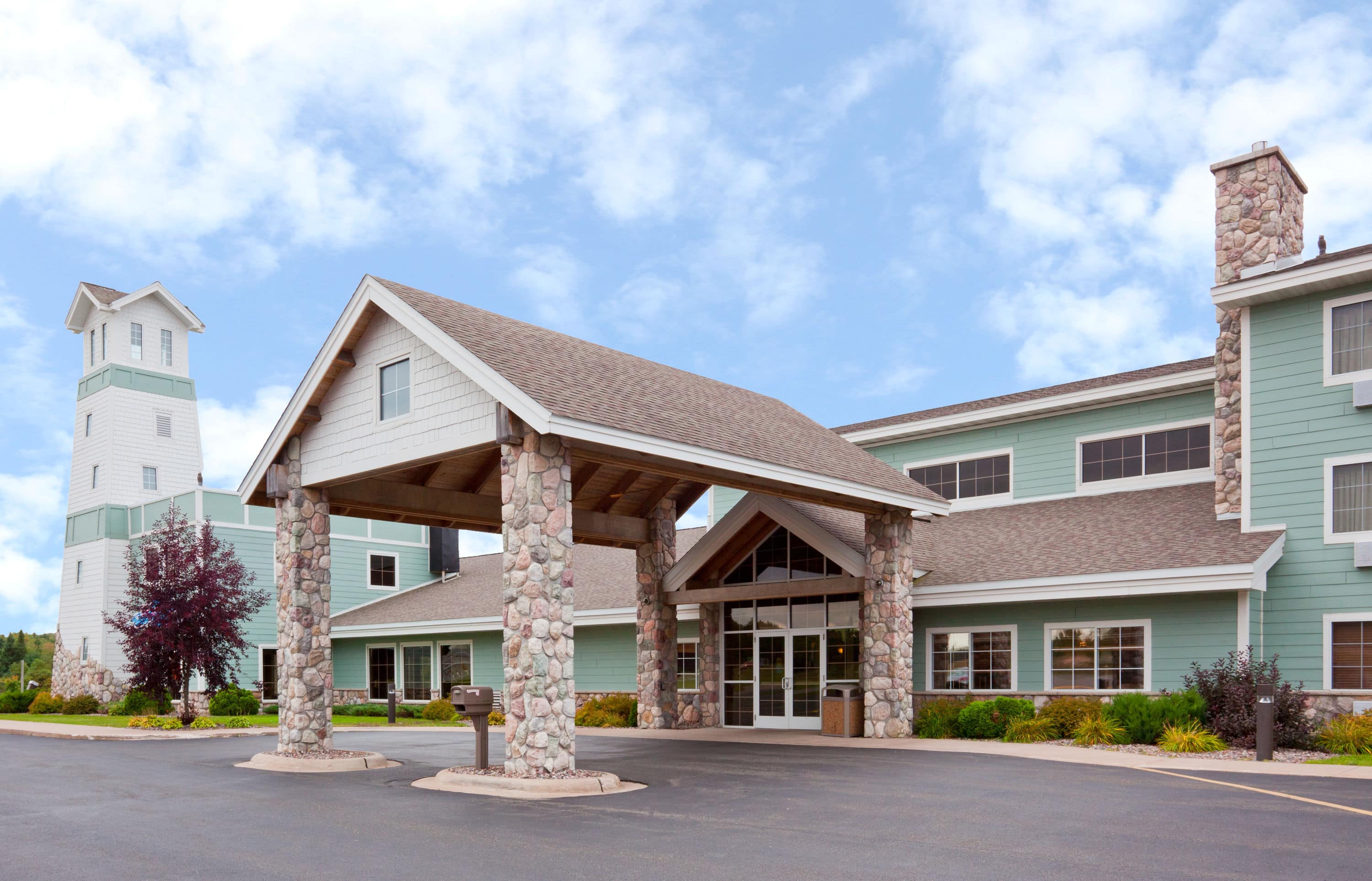 Embrace the great outdoors at AmericInn Lodge and Suites of Munising Michigan. Just a few miles away from the shores of Lake Superior, you and your family can explore the wonderful Upper Peninsula surroundings.
Make the best memories on your family vacation with many local attractions and outdoor activities to choose from. Relax and kick up your feet in one of the many comfortable guest rooms available once you've peaked at the end of the day.
The indoor water park has a mammoth 100-foot waterslide to take advantage of or you could just ease back into a hot tub. Indulge in a free breakfast and enjoy homestyle eggs, bagels, muffins, and a whole lot more. You'll need the fuel to take advantage of the wonderful hikes and kayaking opportunities nearby.
At Marriott's Fairfield Inn, a unique hotel experience is delivered for all families who book a trip to Michigan.
Fairfield Inn has the same excellence in style and delivery in customer service that many come to expect from a Marriott hotel. The accommodation provided offers all the best amenities to keep you and your family happy during your stay.
Enjoy Surfari Joe's Indoor Water Park featuring a water slide, lazy river, and Pygmy Pond for the little swimmers. It's truly one of the best water parks in Michigan and your kids will be entertained for hours on end!
Take a walk along Lake Michigan's shoreline or check out the Curious Kids Museum to inspire and educate your youngsters.
Who said a university isn't a great place for a trip away with the family? Courtyard Mt. Pleasant is located at Central Michigan University and provides a 'home away from home' experience.
This family-friendly hotel has everything you could need for a stress-free trip. From air-conditioned rooms to 24-hour front desk services, no request will be too big or too small. Guests can enjoy the pool within the hotel, as well as the breakfast options that are readily available to kickstart your day ahead.
Locals recommend you experience some of the delicious rib dishes down at Mountain Town Station or Lone Star Steakhouse & Saloon. Any explorers will love the variety of local attractions available that you can walk or drive to.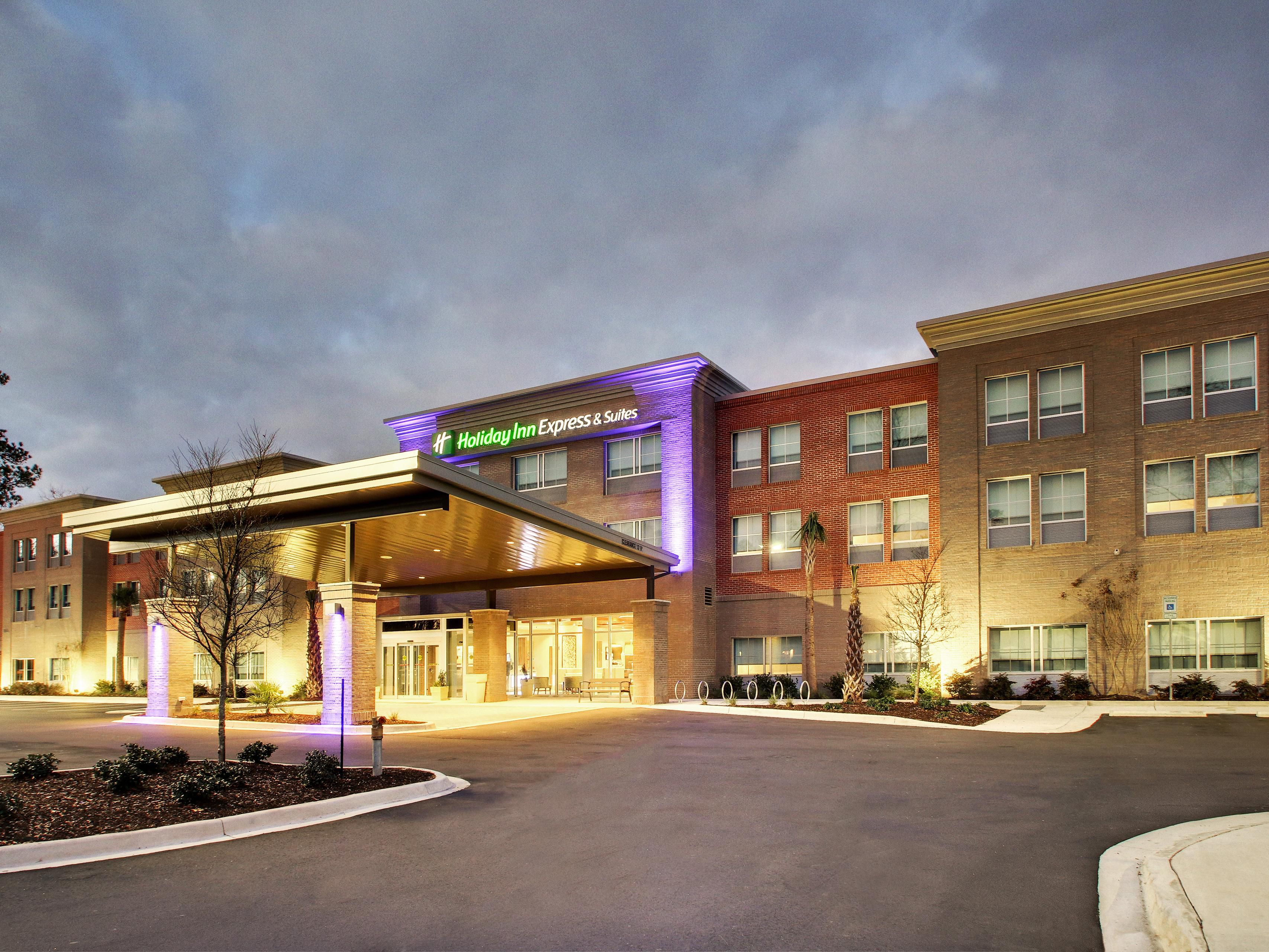 Holiday Inn at Mount Pleasant will surely deliver an exceptional experience for your next family vacation. Offering a perfect location for both business and leisure, it's a great spot to bring the kids and do a bit of work if required!
Enjoy the Toast to Toast Full Service restaurant before heading over to the pool or bar for the day. Play on award-winning golf courses or explore the rich history of the American Indian Museum.
With a selection of family rooms, Holiday Inn has everything required from air conditioning, housekeeping, and room service, as well as complimentary toiletries of course. The Holiday Inn is the perfect spot for a family getaway!
In Summary
There are some fantastic indoor waterpark hotels in Michigan to choose from when vacationing in this state. If you're looking for an escape that's a little bit different, we highly recommend booking one of these water park hotels.
More about our TFVG Author
A seasoned traveller, Dad, and avid sports tourist, James foundered The Family Vacation Guide to share his expert vacation experiences- especially when it comes to being a travelling family man.
Featured in Travel articles such as Travel + Leisure, TripSavvy and SFGate, you know you're reading some of the best vacation tips online.