Branson, Missouri, is a treasure trove of entertaining and memorable activities, not only for you but also for your teens.
Branson attractions will pull teenagers from their phones and into some quality family time by promising a plentitude of fun-filled activities that will have you wanting to revisit Branson again and again!
Read on to discover 12 of the best things to do in Branson with teenagers.
Silver Dollar City Theme Park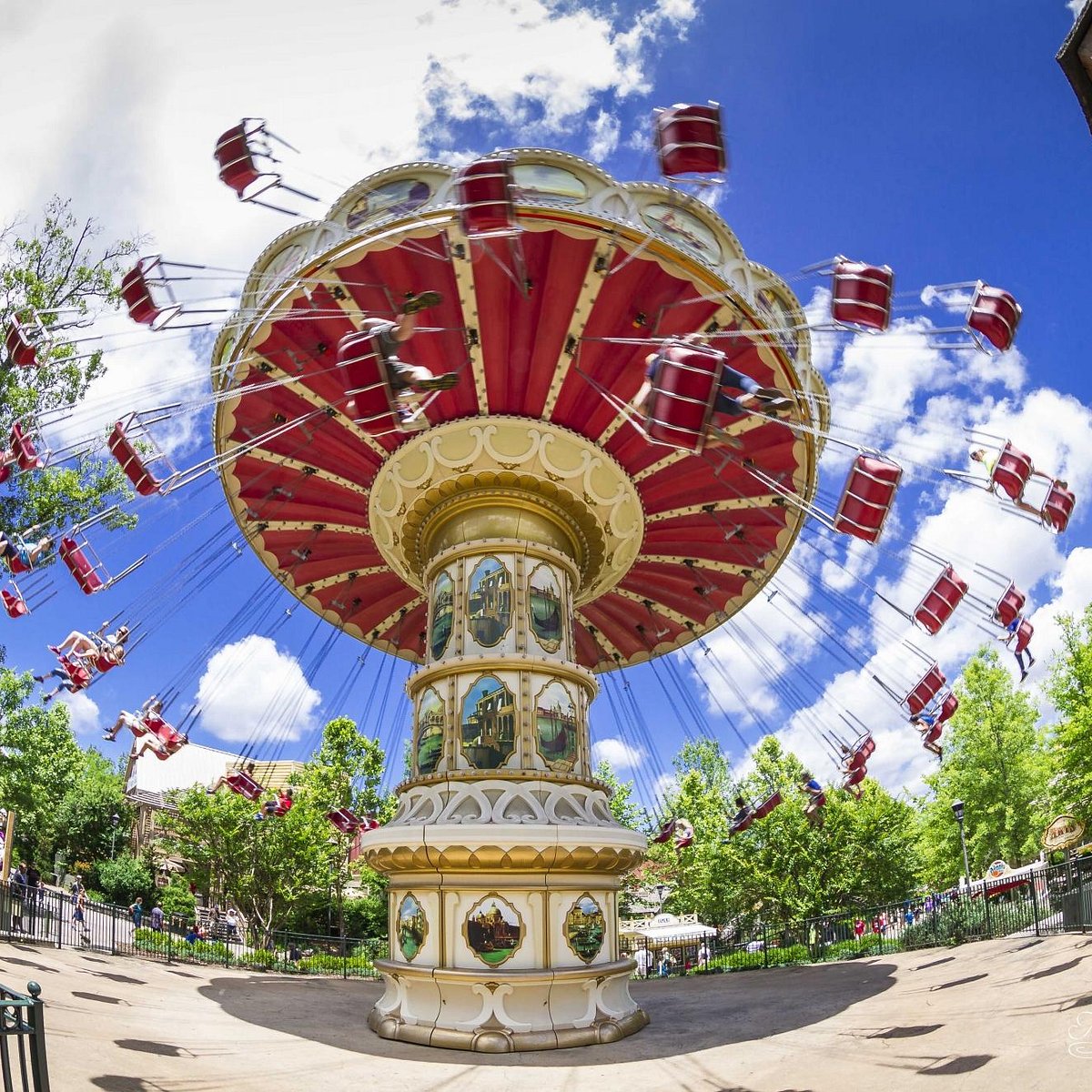 Located at Marvel Cave, Silver Dollar City theme park is your ticket to a whole day of family fun! It has been open since 1960 and is around to provide timeless fun from March until December every year.
With a unique period theme of the 1880s, you and your family will have the opportunity to travel back in time to the Old West. Beyond the 40 rides they offer, there are also craftsmen showcases, which will have something for everyone in the family!
Beyond delicious eats and craftsmen demonstrations, there are also live shows and concerts rotating throughout the year! Check the schedule for when you're planning to visit to see who is coming to the stage!
Craftsmen Fun
While your teen might be reluctant to learn while on vacation, the immersive interactions within the park from the craftsmen demonstrations will leave them in awe. Watch someone make candy, candles, soap, blown glass, pottery, leather, and so much more! These shows are special to Silver Dollar City, making it a one-of-a-kind, unique experience!
Sweets and Eats
Silver Dollar City also has an assortment of yummy food to try out and enjoy through their impressive 15 food venues. Head to Hatfield's Tater Patch or the Rivertown Smokehouse for good old-fashioned brisket or country potatoes! Do you have teens with a sweet tooth? Step right up to the Farmer's Market to dine on their world-famous elephant ears or some tasty fried Oreos on a stick.
Showboat Branson Belle
Another exciting attraction for you and your teens is the cruise and show experience aboard the Showboat Branson Belle! While only built in the 1990s, the vessel is designed to resemble a classic riverboat of the 19th Century.
Embark on a two-hour boat ride across Table Rock Lake and get close and personal with the beautiful scenery.
You and your family will have the opportunity to walk around the boat, sit outside, or take a seat at your table to absorb the incredible sights and sounds on the lake. In addition, you and your teens can find some souvenirs while shopping at Branson Belle's dock, White River Landing, before and after you return from your waterside adventure.
Your trip includes a three-course meal, with two menus to choose from, including the General Seating Menu and the Captain's Club Menu. The entertainment feature rotates, promising either live music, dancing, comedy sketches, or magic, of course!
White Water
White Water Water Park is the perfect way for the whole family to cool down in the hot Missouri heat! Voted one of America's Best Outdoor water parks, White Water has plenty of rides for everyone to enjoy.
If your teens are daredevils, they can plummet down Kalani Towers Drop Slides, which features a 300 feet long drop and a speed of over 40 mph. Should you be looking to invest in more family time, Ohana Falls offers a raft ride that you can all enjoy together.
To find some peace and serenity, the Aloha River at Hula-Hula Bay shares a calm lazy river-esque attraction complete with geysers, an awesome 30-foot Tiki Water tower, and fountains galore. These three rides are part of the nine awesome water adventures, which all have a charming tropical theme.
Titanic Museum Attraction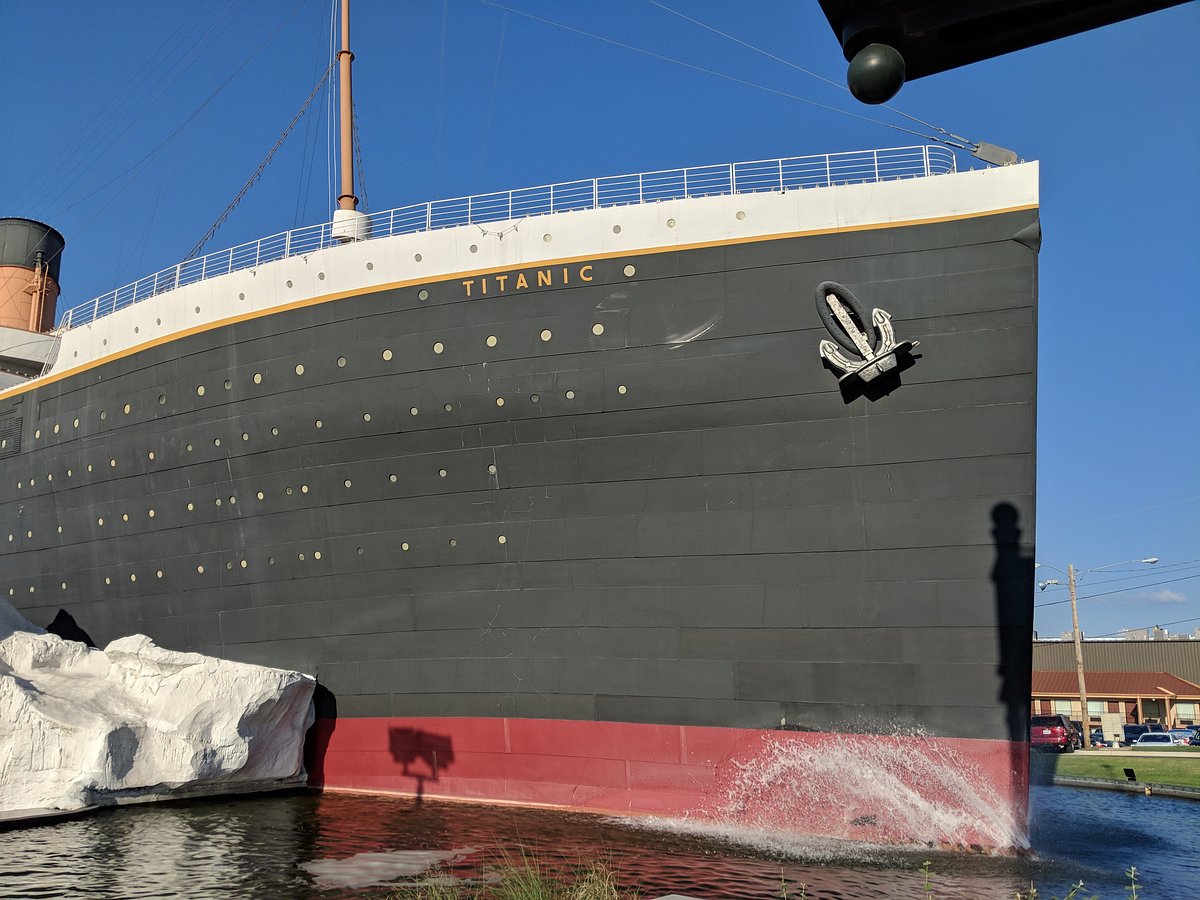 For an unforgettable historical experience, visiting the Titanic Museum is a must! It is the world's largest Titanic Museum attraction and allows you and your teens to fully immerse yourselves in the extraordinary and tragic history of the R.M.S. Titanic.
From the first steps into the museum, you and your family will get to step into history as you'll receive boarding passes belonging to actual passengers who were on the ill-fated ship more than a century ago. Pose and take pictures in front of the iconic grand staircase and walk through to see 400+ artifacts recovered from the ship and its passengers.
The Titanic Branson is extremely interactive, with an opportunity to explore through replicated halls and parlors of the ship. Witness the frigid temperatures by touching a real iceberg and dipping your hand into 28-degree water. At the end of the tour, you and your family can discover whether your personas survived the fatal crash all those years ago.
Hollywood Wax Museum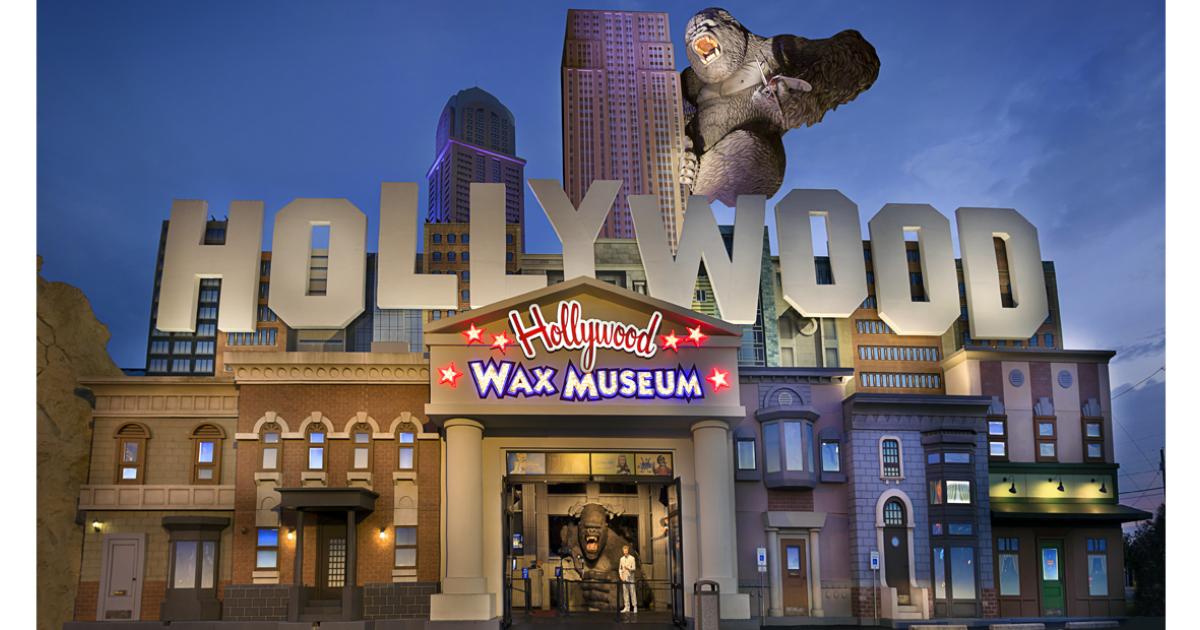 Branson has long attracted famous names, so it's no surprise that the city has its own wax museum full of celebrities! The Hollywood Wax Museum has been in operation for more than 20 years and features two stories of wax figures, all iconic stars of film, television, sports, and the music industry. Most exciting of all, visitors can place votes in to see who the next new idol should be!
Open year-round, Hollywood Wax Museum has numerous costumes and props for you to use while posing with your favorite idols. Want it to look like you married your favorite celebrity? They've got a costume wedding dress for that! Or perhaps you would like to take a selfie with President Barack Obama? You can do that!
Beyond the life-like figures and props, the museum also gives you and your family some historical background so you can learn all about your favorite wax icons.
To make a day out of it, you can also take advantage of the Castle of Chaos, a unique 5D theater that shares two different shows with patrons. It's an interactive game that will bring out everyone's competitive streaks, so keep that in mind!
If you're not feeling for the 5D theater, you can take the family outside and enjoy the sunshine with the attraction's very own "Shoot for the Stars" mini-golf course!
With a red carpet and a personal agent, you and your teens will walk through the 18 steps to becoming a Hollywood star! Fun-themed holes titled "Glamour Headshots," "Paparazzi Attack," "Movie Set" and more will gift you giggles and lifelong memories as you and your family try to play the part of beloved celebrities.
Branson Aquarium at the Boardwalk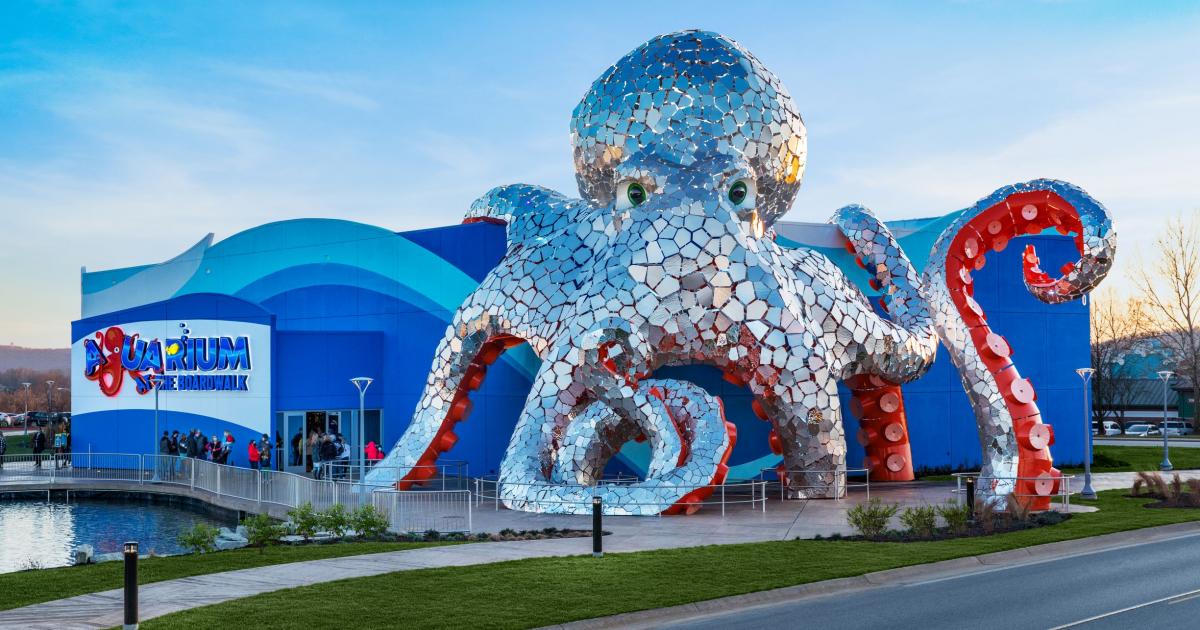 A perfect attraction for a rainy day, the Branson Aquarium will captivate you with its wonderful, diverse exhibits. Your family will have the chance to come into close contact with some of the most interesting and beautiful creatures on the planet.
Your teenagers can delight in touch pools, where they'll be able to feel manta rays, sharks, crabs, starfish, and other sea creatures. In a water tunnel stroll, everyone will get to feel like they're swimming in the ocean with numerous watery friends. The jelly infinity room is another must-see as you'll be able to gaze at jellies while they glow and change colors under rainbow lights.
Branson Aquarium also features fun photo-ops your teens will be rushing to post on social media, starting with the beautiful mosaic octopus hanging out right outside! Inside, the Mermaid Palace will leave them begging to take selfies with you!
Ripley's Believe It or Not Attractions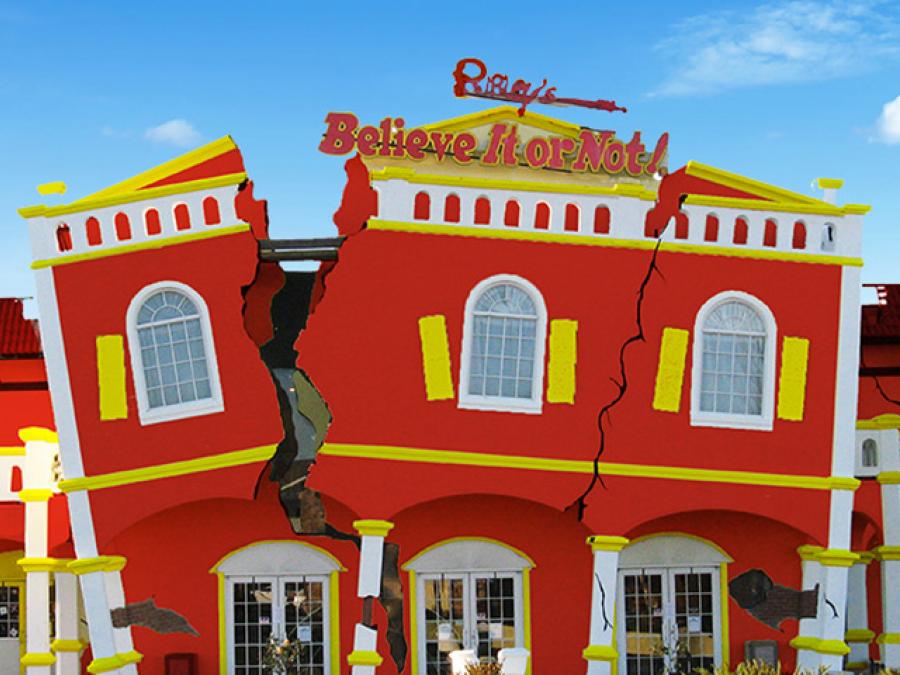 Ripley's Believe It or Not is your family's first step to hours of entertainment in Branson. Teenagers will be intrigued by the eight different galleries showcasing odd artifacts that may be too weird to believe.
There are more than 500+ oddities at Ripley's, so you are sure to have a full day here. Your teens won't get enough of the crazy and absurd attractions; a pop-tart foil T-rex is bound to get them all the likes on Instagram!
Ripley's Believe it Or Not attractions have been wowing, entertaining and shocking patrons (in a good way) in Branson since 1994. Many of the attractions are interactive, and Ripley's does not mind if your teens decide to touch some of the objects on display.
If you and your family are looking for more hands-on fun, take a chance at Ripley's Super Fun Park.
It has activities to entertain all ages, so your teens can pick and choose to make the most of your day! Challenge your teens to a duel in a laser tag free-for-all, race to see who gets out of the interactive outdoor maze first, and test your reflexes with the Smash Dash!
Fritz's Adventure
Fritz's Adventure is the perfect solution for some indoor active family fun. With 19 different attractions in their 80,000 square foot premises, you and your teenagers are bound to find activities everyone will enjoy!
Take to the sky (or the ceiling) with the Indoor Treetops Zipline course, featuring a few different obstacle courses sure to get your adrenaline rushing! With aerial bridges and Fritz's city wall, you can have a fun time catching views from up above while also challenging yourselves to make it to the top.
Warped walls will allow you to walk on walls and conquering the laser maze will have your teens feeling like secret agents. Underground tunnels will let you further explore Fritz's many exciting adventures!
Branson Scenic Railway
One of the most fun things to do in Branson with teenagers is to take a leisurely Branson scenic railway ride. It's an opportunity to embark on a great adventure for you and your family to see some of the most beautiful views of the Ozark Mountains available! The ride runs for about an hour and 45 minutes, letting passengers capture some unique sights only accessible on train tracks.
The Branson ride is designed to make travelers feel as if they have stepped back in time to the glory days of rail. With a collection of ten unique stagecoaches to help transport you and everyone in your party, your train will take you either north or south into the beautiful Ozark mountains and give a view of Lake Taneycomo.
Your tour guides will delve into the rich history of the mountains by sharing stories about the wildlife, landscape features, the impact of the freight trains, and how they shaped the communities surrounding the tracks.
For an extra special experience, you can book a 5 pm train ride on Saturdays (from April through October) when the exclusive dinner train is offered. A four-course candle-lit meal reminiscent of the traditional meal cars will delight everyone at your party and will allow your imagination to soar as you watch the changing sites from the dining car windows.
Horseback Riding
Take a step closer to nature by heading into the wilds on horseback! No experience is required, and a short lesson will be provided to put you and any nervous new riders at ease. Your teens will enjoy the photo ops and the experience, whether it's their first ride or tenth! Here are the best horseback riding locations in Branson.
Bear Creek Trail
Bear Creek Trail has been organizing family fun and adventures since 1954. Your horseback ride will offer fantastic views you'll be unable to see anywhere else! Each ride can last between one to two hours, giving you time to choose the sights you want to see with your family.
Ozark Mountain Trail Rides
Ozark Mountain trail rides feature shaded trails and tame horses to take you through beautiful landscapes. You will be accompanied by 30 horses on your trail, so there's more than enough for the whole family to embark! The tour will last approximately 30 minutes, but that is more than enough time to ensure your experience is an unforgettable one!
Shepherd of the Hills Adventure Park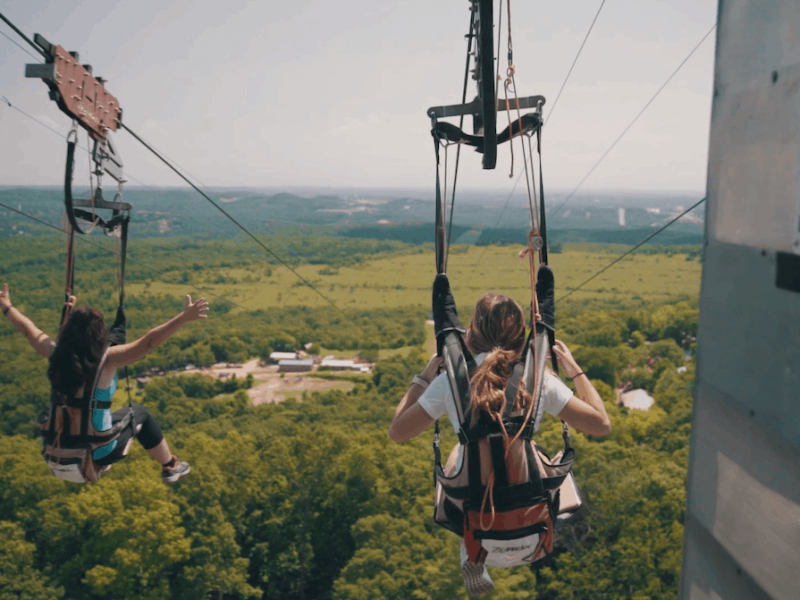 More fun can be had at the Shepherd of the Hills Adventure Park! No matter what your and your teens' interests are, this adventure park is teeming with activities for all ages.
Do you have a teen who is something of an adrenaline junkie? They'll love the roller coaster rides and ziplining challenges! If you're looking for something more leisurely, there is a chance to dine and shop at a more gentle place.
Ziplining and Sky Trek Challenge
If your teenagers are looking for a thrill, look no further than Shepherd of the Hills! Two zipline courses are sure to make them smile as they fly through the sky, viewing the spectacular sights below. The courses last between an hour and a half to two hours, and best of all, they feature a beginner tour if you have nervous zipliners not ready for things to be extreme.
Beyond the incredible thrills of the Zipline Canopy Tour and the Vigilante Extreme Ziprider, there's the Sky Trek Challenge Ropes Course, where you can try your wits at a fun obstacle course high in the sky.
Copperhead Mountain Coaster
Who doesn't love roller coasters? Copperhead Mountain Coaster is just one of the many exhilarating rides Shepherd Hills Adventure Parks has to entice your family. If you can keep your eyes open, you'll get to witness incredible scenery as you fly down twisty curves and loops throughout the gorgeous Ozark mountains.
Live Shows
Live shows are a popular and frequent activity throughout Branson, but Shepherd of the Hills has several impressive options that will knock your teen's socks off! Depending on the time of your visit, holiday shows such as "A Shepherd Christmas Carol" and "A Christmas Story" will give your vacation a festive quality.
During other parts of the year, you and your young detectives can try to solve the crime in the "Whodunnit Murder Mystery." Alternatively, giggle your guts out with "Funny Farm Dinner Feud," and be awed with musical performances from "Great American Chuck Diner," All of your shows come with an authentic cowboy meal, hearty and delicious.
Shopping
Shepherd of the Hills also maintains several locally-owned stores offering a variety of souvenirs and crafts to remember your vacation. These include stores dedicated to arts, knitting, and home decor. Your teen can even indulge their sweet tooth with some delicious jam and honey.
Dolly Parton's Stampede Dinner Attraction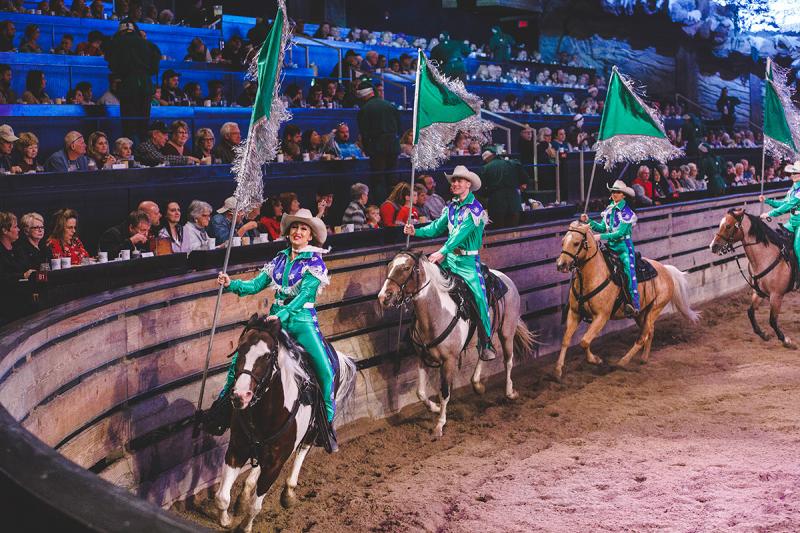 Dolly Parton's Stampede Dinner will be a rootin', tootin', dining experience you and your teens will never forget!
Your experience begins with a four-course meal to satisfy your home cooking cravings! Buttery biscuits, crispy chicken, corn, baked potato, and a specialty dessert will make your taste buds sing. Dietary restrictions? No worries, gluten-free and vegetarian menus are also available.
The Stampede Dinner features a 32-horse show and a horse walk you can embark on before or after the show to get up close and personal with all the stars. Horse stunts will enchant your family, and the Canine Capers (exclusive to Branson) offers a quirky display you won't soon forget.
Conclusion
So, now you have an impressive list of things to do in Branson with teenagers. In this unique, fun-filled city, there are endless attractions that you and your teens will enjoy doing together, no matter your interests. The memories and moments you share will last a lifetime, delighting your family for years to come.
More about our TFVG Author
A seasoned traveller, Dad, and avid sports tourist, James foundered The Family Vacation Guide to share his expert vacation experiences- especially when it comes to being a travelling family man.
Featured in Travel articles such as Travel + Leisure, TripSavvy and SFGate, you know you're reading some of the best vacation tips online.