Missouri is known for its delectable barbecue and fascinating agricultural history. And Branson has explicitly made a name for itself due to the vast amount of recreation and activities it provides—including some exciting water parks right in your hotel!
Here are the seven best water parks hotels in Branson, MO.
1. Grand Country Resort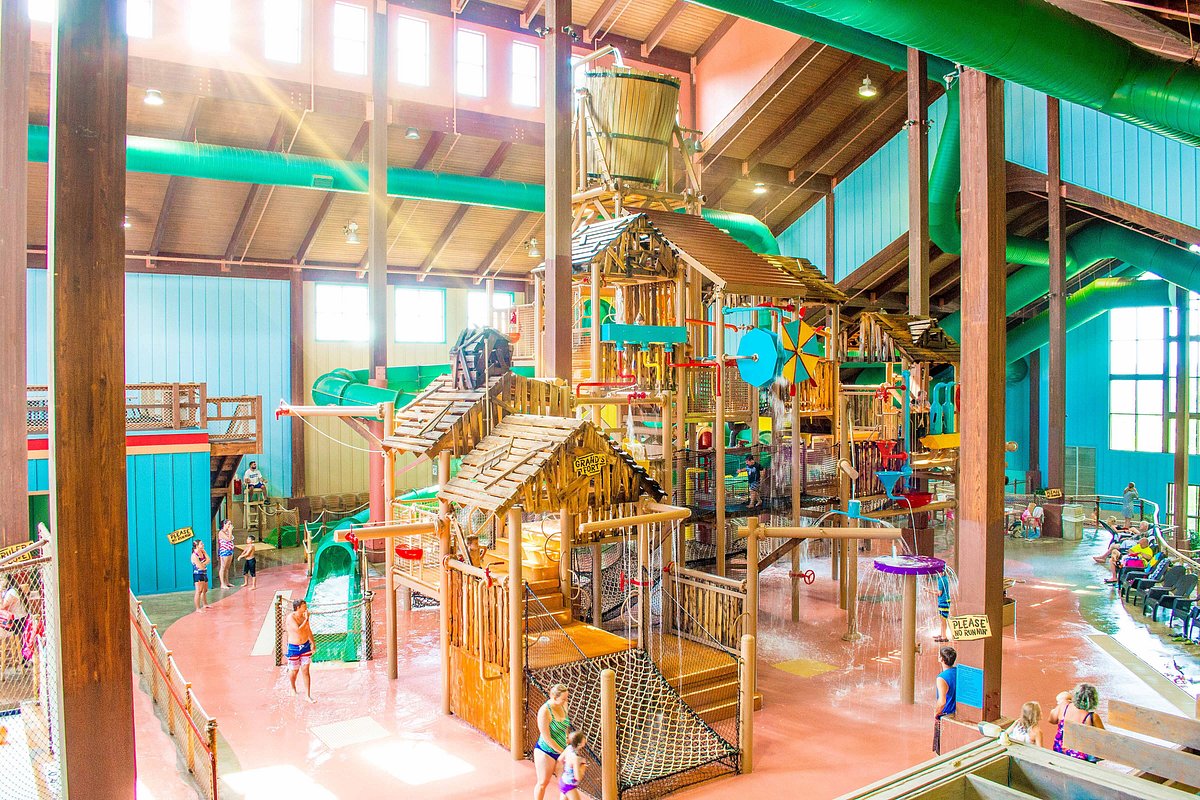 Grand Country Resort is a popular 3-star resort with a highly-rated onsite waterpark and is close to Brandon's Wild World, a wildlife park, and The Branson Coaster, a roller coaster amusement park.
As you might've already guessed, there's no way you or your family will get bored at this fun and fascinating location!
Let's start with the waterpark, called Splash Country Indoor and Outdoor Waterpark. It features a lazy river, hot tubs, a mini golf area, a pool basketball, and of course, multiple thrilling water slides. People also highly enjoy the 1,000-gallon tipping bucket that soaks everyone nearby!
And if you need a quick break from all the slipping, sliding, and splashing, you can head to one of the four restaurants. You have various options. Have a quick bite, grab a sweet dessert, share a pizza, or sit down for a more upscale dinner.
When you're ready to have fun again but want to stay dry, there are plenty of onsite options for that as well.
You can check out what they call the "Fun Spot" and have a blast in the arcade, play laser tag with the family, or try out virtual reality in Hologate, the hotel's newest "Fun Spot" experience.
They also feature not just one but three different mini-golf areas. One is outdoors, two are indoors, and one of the indoor mini golf areas is unique because it uses a black light to create a vibrant, neon scene.
Finally, the resort's indoor go-karting and bumper car options are also highly popular. Needless to say, you won't have trouble staying entertained at Grand Country Resort.
2. Stormy Point Village
Stormy Point Village is a sprawling, 3.5-star resort with cottages inspired by Cape Code. There are two separate areas you can stay in—one on Cape Cape Drive and the other on Stormy Point Road right on Table Rock Lake.
Either way, you'll get access to one of the best water parks in Branson, featuring a highly interactive kids' pool, a big blue water slide, and a playground within the pool that kids will love.
You can also use the exercise room, enjoy the hot tub, soak in the indoor swimming pool, or go fishing.
There are three dining options onsite—Salty Dog Cafe, Lighthouse Bar & Grill, and a cocktail lounge. However, you'll also be able to easily access restaurants around Branson.
Outside of the resort, you'll be close to several amazing Branson attractions, such as:
The Butterfly Palace & Rainforest Adventure
Hollywood Wax Museum
Silver Dollar City
Ripley's Believe It or Not!
Branson Ferris Wheel
and more.
And when you're ready to return to the hotel to relax, you and your family or group can stay close together in a spacious 2- 3- or 4-bedroom cottage.
3. Branson Hillside Hotel by Vacation Club Rentals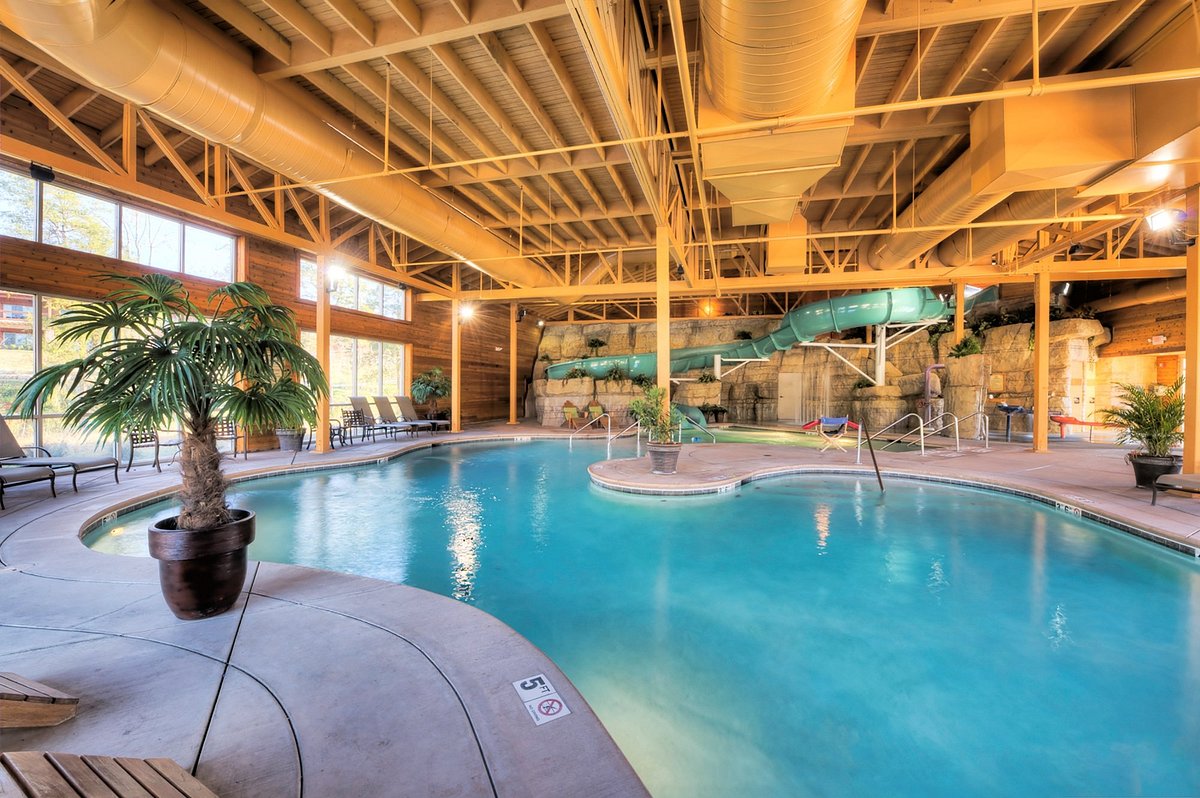 The Branson Hillside Hotel is a casual, relaxed hotel featuring a fun water area perfect for kids. They will love the massive pool and the fun water slide that swirls above it.
At this waterpark, called Splash-a-Torium, there's just one waterslide, but it's so fun that your kids will surely have a blast, and adults can also try it out!
This hotel offers vacation packages, so you won't have to spend too much time sorting out your accommodations, entertainment, and meals. They'll have you covered so you can enjoy a stress-free trip.
And speaking of entertainment, there's also a theater right on the grounds, where you and the family can enjoy plays and musical performances.
If you want to switch things up but still have fun (while staying dry), you can try out the Hillside's miniature golf and start some friendly competition.
Beyond this Branson resort, there are plenty of things to see and do in Branson. Nearby, you can explore the Marvel Cave, go kayaking in Table Rock Lake, or check out WonderWorks, an educational amusement park.
4. Still Waters Resort
Still Waters Resort is a gorgeous 3-star hotel with a bright and inviting outdoor waterpark. This resort is the perfect place to stay for a slightly more relaxing feel while enjoying two massive water slides outside called Oasis Plunge and Zume the Flume.
Given its lakeside location, you'll be able to experience the joys of kayaking the lake, and the resort provides free access to the kayaks. You can also rent a boat directly from the hotel and have a longer trip around the surrounding lake.
They also provide free access to paddle boards, inner tubes, cane fishing, and aqua cycles, so enjoying the lake in whatever way you please will be easy.
Even more, there are tons of fun activities for the whole family to enjoy onside, such as karaoke, golfing, cycling, volleyball, and board games. When you want to have an outdoor adventure, the staff will gladly help you plan a hiking trip on the surrounding hiking trails.
If all of this adventure makes you hungry, you can enjoy their on-property pizza joint called Pizza World or order some tacos from Shady Taco.
But their accommodation stands out the most, especially for family and group trips, because their rooms are so spacious. You can get up to 6-bedroom condominiums, so there should be no problem finding enough room.
And some of the condos are complete with a kitchen, dishwasher, microwave, stove, utensils, and even washers and dryers in select units. These features make Still Waters an excellent choice for not just a vacation but an extended summer staycation.
5. Branson Waterpark Hotel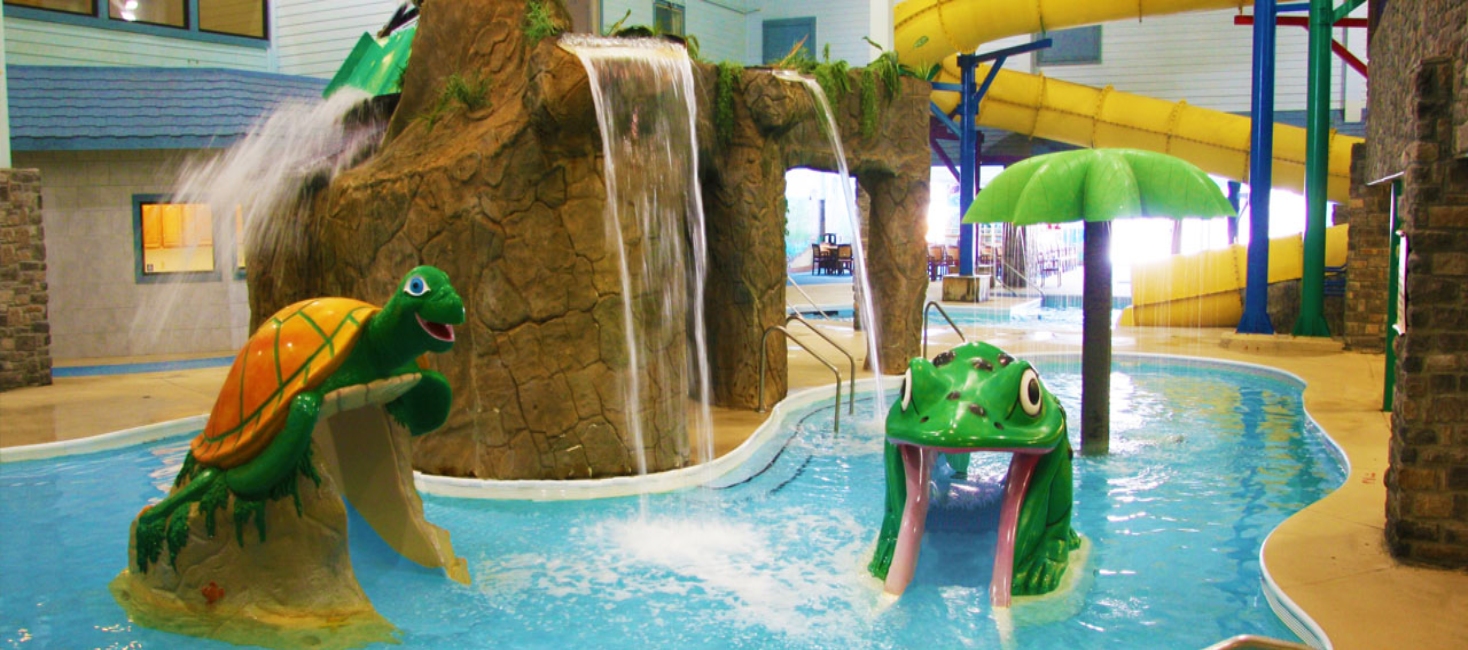 Branson Waterpark Hotel is one of the best water park hotels in Branson, MO, for an affordable and comfortable stay.
You can choose different adventures while staying here, whether enjoying the onsite water park, hiking around the gorgeous nearby nature trails, enjoying live music shows in town, or exploring local artisan boutiques.
The waterpark has some of the best pools, fountains, waterslides, and other water features, making it hard to leave once you're in!
The rooms at Branson Waterpark Hotel are simple but well-appointed, with flat-screen TVs, complimentary toiletries, and bunk-bed options for kids.
Overall, the Branson Waterpark Hotel is a relaxed place to stay where you can find a balance between enjoying onsite activities and exploring the surrounding Branson area.
6. Lodges at Timber Ridge by Welk Resorts
Lodges at Timber Ridge is a 3-star resort offering a high-end, rustic-luxury feel. It's located near the Branson Hillside Hotel and shares the Splash-a-Torium with it because they are both run by Vacation Club Rentals.
That said, the waterpark here is indoors, making it accessible all year. It features a gigantic green waterslide and a mini waterfall area that seems simple but can keep your family entertained for hours.
This resort also has a mini golf area, game room, and fitness center, so everyone can find something they like.
Additionally, many people appreciate that there is a large heated indoor pool and a hot tub for the colder months, but also an outdoor pool that's open during the warmer seasons.
Regarding accommodation, Lodges at Timber Ridge offers unique, cozy, and convenient rooms with fully-equipped kitchens, large dining spaces for everyone to gather for meals, and cozy fireplaces and private patios in select lodges.
No matter which room you book, you'll fall in love with the gorgeous stone floors and elegant granite counters.
7. Castle Rock Resort and Water Park
Last but not least is Castle Rock Resort and Water Park, a 3-star hotel with straightforward rooms and lots of places to relax, eat, and play.
The waterpark features a gigantic, yellow, winding tube water slide that's hard to ignore and even harder not to take a second, third, and fourth ride on! There are also multiple pools, both indoor and outdoor, so everyone can find a section of the park they enjoy the most.
People enjoy the relaxation of the lazy river, where you can feel stress-free thanks to the on-duty lifeguards.
Outside the waterpark, Castle Rock offers an arcade open 24 hours and features a range of fun games. There's also a gift shop you can stop at to purchase some memorabilia for your friends back home and a restaurant called the Tower Grill.
The rooms are simple yet spacious and cozy. We recommend booking one of the Tower Family Suites for the most spacious and well-equipped choices, as they have microwaves, fridges, and larger bathroom areas making it quicker for the whole crew to get ready each day.
Frequently Asked Questions
Have some questions regarding the best water park hotels in Branson and Branson in general? We hope these answers will help guide you in planning the perfect trip!
What do hotels with water parks in Branson typically offer?
Hotels with water parks in Branson typically offer:
A variety of pools
Waterslides
Lazy rivers
Onsite restaurants
Family-friendly suites
Many hotels also offer additional attractions and activities, such as a fitness center, an arcade, or a karaoke room. They may offer kayaking, fishing, boating, or aquatic cycling opportunities if it's by the lake.
What is the best water park hotel in Branson?
The number one water park hotel in Branson is Grand Country Resort. The park, called Splash Country, features a range of indoor and outdoor pools, waterslides, a lazy river, a toddler pool, hot tubs, and other activities that the whole family will enjoy.
Can you go to Splash Country Water Park without staying there?
Yes, you can visit Splash Country Water Park without staying at the resort by purchasing a day pass. The day passes are $15 per person.
What are the hours for Splash Country?
On weekdays, Splash Country is open from 2:00 pm to 9:00 pm. On the weekends, Splash Country is open for longer: 10 am to 10 pm on Saturday and 10 am to 9 pm on Sunday.
Conclusion
Now that you know about Branson's best water park hotels, it's time to start planning your trip!
No matter which water park hotel you choose, you're sure to have a blast splishing and splashing your way around the waterpark.
But don't forget to leave some time to check out the other attractions Branson offers, such as live shows, kayaking, hiking, shopping, and more!
More about our TFVG Author