People may not consider Missouri when they think of idyllic vacation locations, but the Show-Me State has more to offer than people think. 
There are gorgeous lakes and delicious restaurants, and they're known for having some of the best barbecue ribs in the world.
To make the experience as perfect as possible, stay at one of these spectacular resorts that love hosting families and offer plenty to do for everyone.
As fifteen of the best family resorts in Missouri, you're sure to have a memorable and fun vacation at any one of these spots.
The Lodge of Four Seasons is right on the Lake of the Ozarks and has an elegant but playful atmosphere perfect for a family vacation. The resort is huge and known for its fun concerts and live events throughout the summer.
The resort focuses on lining up exciting activities for families to take part in together, as well as opportunities for them to enjoy their vacation separately.
The rooms are spacious and comfortable, and they offer joint suites, ideal for large families that don't want to be on top of one another the entire trip.
There are restaurants and bars on-site, a lovely rooftop you can relax on, and a gorgeous golf course the whole family can enjoy together.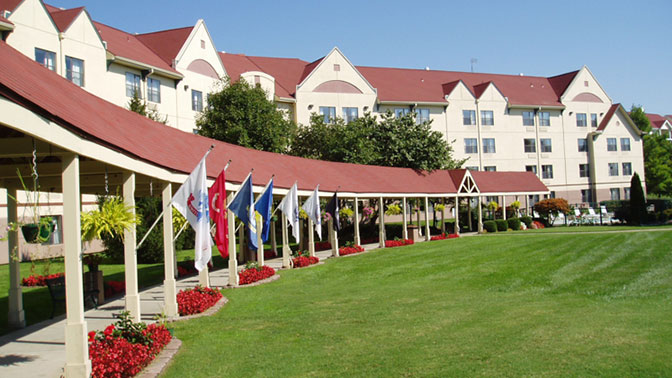 The Branson Hillside Hotel is a stunning resort with a massive pool and a beautiful atmosphere for a family vacation. The boutique hotel was started by a family who loved to vacation in Branson and wanted to offer the perfect place for other families to enjoy what the area offers.
There are many fun things to do as a family in the Branson area, from the Natural History Museum to train tours to exciting theme parks.
You'll never have a dull day when you stay at this resort, and people report the staff couldn't be friendlier or more accommodating. They foster a lovely family vibe where people of all ages are welcome.
The Margaritaville Lake Resort is a marvelous place to stay with a family or couple. While the name Margaritaville implies it has a party scene, it's a very soothing and relaxed environment. But yes, there are margaritas!
It's right on the Lake of the Ozarks, offering incredible views of the water and surrounding forest. There is a beautiful pool, but you can also rent a boat and launch right off the hotel's docks, explore the beauty of the lake and take a refreshing dip.
This resort is ideal for the outdoorsy family that wants to enjoy the nature of Missouri and do exhilarating activities like jet skiing, boating, swimming, and more.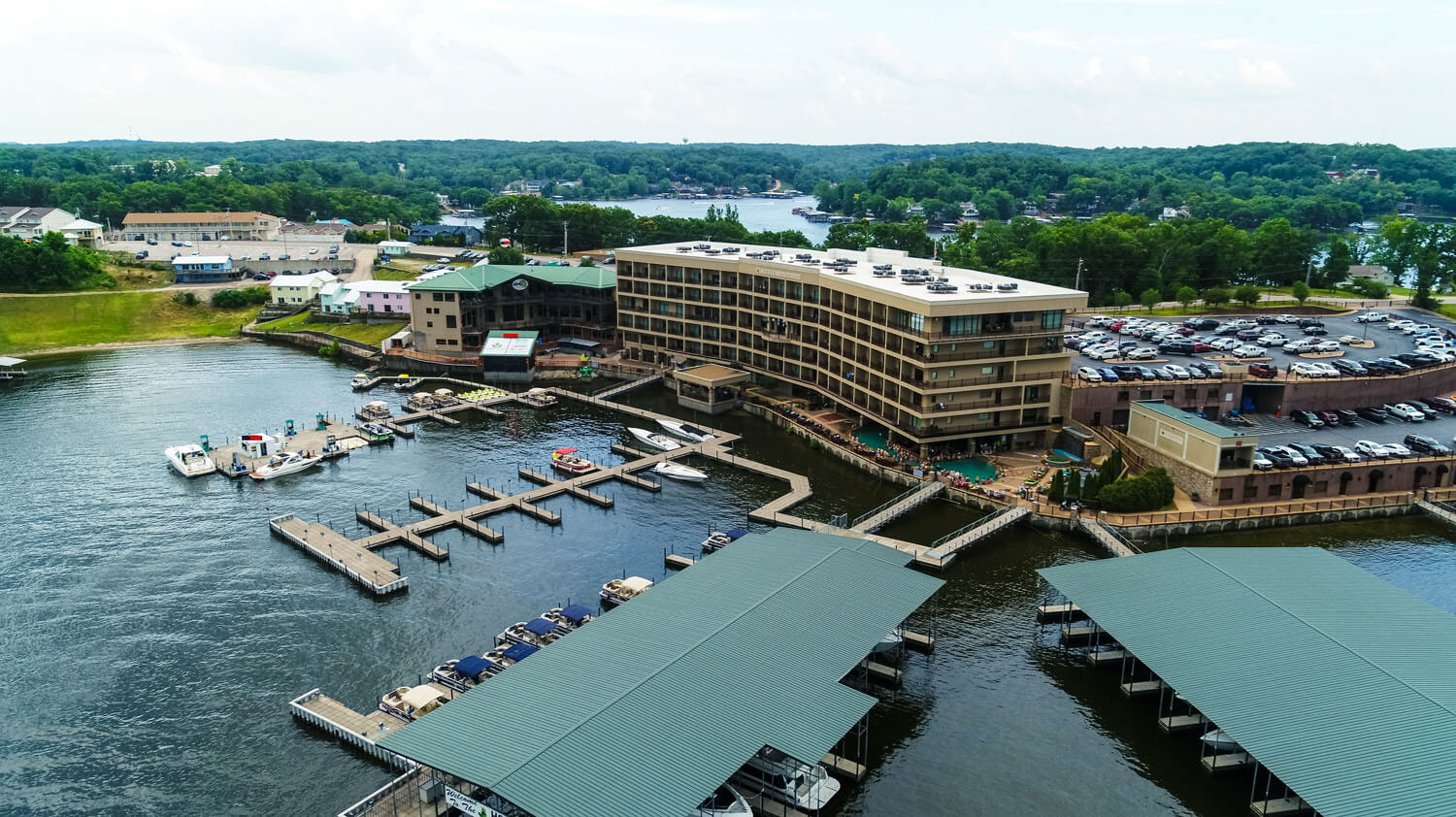 As the name suggests, the Camden on the Lake Resort is right on the Lake of the Ozarks. The hotel is a full resort and yacht club with loads of shopping options for those less interested in exploring the outdoors.
This resort is super luxurious, with a spa and high-end dining options. There's a swim-up bar where you can live out your dream vacation. While this is a family resort, it's better suited to families looking for ultimate relaxation rather than a family full of high-energy little kids.
So if you're trying to plan a family trip for hard-to-please teenagers, this resort will check all their boxes and ensure everyone has a fantastic vacation.
Another fabulous resort on the Lake of the Ozarks is the Lodge at Port Arrowhead. This resort has a little bit of everything Missouri vacationing has to offer. There are exciting water activities to partake in on the lake, like tubing, wakeboarding, water skiing, or jet skiing.
But there's also a serene indoor pool if the weather isn't ideal. The rooms are spacious and beautiful, and the staff has exemplified incredible attention to detail. They want to make every aspect and moment of your Missouri vacation impeccable.
They are a pet-friendly resort, so you can bring your furry family members too! And if you have little kids, there is a colorful outdoor playground and indoor game room so they can have fun while you relax by the cozy outdoor fireplace.
The Lodges at Timber Ridge are a fantastic place to stay in Branson. They have a lot to offer families that want to enjoy every second of their vacation and stay busy with fun activities.
Not only are there exhilarating things to do like run around the indoor water park and pool, but there are in-room activities you can enjoy while relaxing. There are s'mores kits you can purchase at the front desk and make gooey chocolatey s'mores from the comfort of your room.
When you stay here, you're sure to make lasting and lovely memories with your family, even if you hold up in your room enjoying each other's company.
The Regalia Hotel is a place for fun and relaxation, despite the conference center. There is an insanely large pool with a bar right in the middle so you can enjoy drinks while the kiddos swim around and soak up the sun.
The resort itself is breathtaking, and they offer elegant room service and top-notch customer service. This hotel is an excellent place if you want a luxury vacation with all the bells and whistles, from beautiful fine dining to a high-end gym facility.
The only thing some people say is missing is a relaxing spa, but if a facial wasn't on your must-do list for this vacation, you'll have a spectacular time.
The Alhonna Resort is a beautiful place to stay in Missouri with loads of enjoyable activities. It isn't as luxurious and high-end as some of the other resorts on this list, offering a more comfortable and homey vibe for those that want to enjoy the scenery and Missouri nature.
The lodging is more cabin-style than hotel rooms, so you can step outside right from your room and drink your coffee in the fresh Missouri air.
There's an on-site restaurant called Bobber's and Blue Cat Lounge, offering casual dining with some super tasty dishes. They're open most of the day, so you can grab a filling breakfast before a fun-filled day or end your day with a delicious dinner.
The Stillwaters Resort is the perfect place to take a group of kids on vacation as there are loads of water activities to do right at the resort. The resort is directly on Table Rock Lake, minutes away from exciting Silver Dollar City along Indian Point Road.
So you can spend the whole trip held up in the resort having fun, or you can easily travel and explore the area around Table Rock Lake. This resort is also more casual than luxurious for people looking for a simple but joyous vacation in Missouri.
But there is a fun outdoor water park on the property to keep the kids entertained, as well as three swimming pools. The resort has lakefront condos perfect for large families as some of them have as many as six bedrooms.
The Grand Country Waterpark Resort is geared toward family fun with plenty of activities for kids. As the name suggests, the resort features a massive waterpark with speedy slides and lazy rivers.
There is a colorful and exhilarating indoor arcade that will keep everyone busy for hours on end, and there are even virtual reality games that will transport you into a new world. You can play laser tag or zoom around in bumper cars.
There are so many activities on the property, so this is one of the most popular choices for a Missouri family vacation. Play a competitive round of mini-golf or relax by the pool. The best part is everyone can do their own thing without leaving the resort!
The Cliffs Resort is ideal for someone looking for a longer vacation because they have stunning condos with full kitchens or kitchenettes to meet your needs.
They recently changed their setup, so now the condos are owned individually and available to rent through Airbnb or VRBO; nevertheless, it's still a delightful place to vacation.
Many condos even have their own fireplaces and king-sized beds, making them one of the most comfortable resorts in Missouri for families. You can swim in the beautiful infinity edge pool or lounge by the luxury outdoor fireplace.
The resort offers incredible views, and they even have a Ferris wheel on site so you can enjoy the scenery of Table Rock Lake from the tippy top.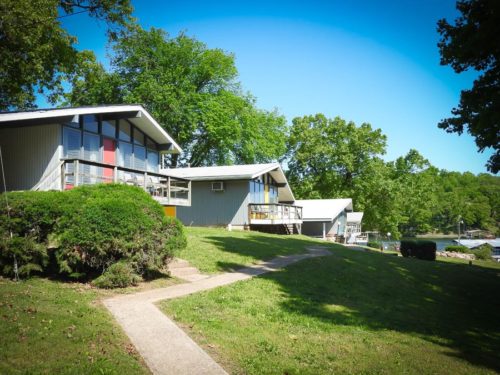 Rock Harbor Resort is nestled on Cape Hollow Cove at Lake of the Ozarks, offering lovely views and a cozy stay. The resort is a fantastic place for families that love an outdoor adventure.
They offer canoes, pontoons, and fishing boats for rent, so you can enjoy the lake to the fullest. It's also a wonderful spot for people that love to fish, as they have a freshwater cleaning station and frequently host entertaining fishing tournaments.
There are heated pools, along with a cozy patio and a large fireplace. There is even a recreation room with games like pool for the days you don't want to go outside. This place is idyllic for someone that wants to enjoy nature and get away from the hustle and bustle of daily life.
Thousand Hills Resort has a beautiful rustic yet luxury aesthetic that will make you feel at home but also on a lavish vacation. It's the perfect balance between woodsy cabins and a five-star hotel with plush comforters. It has everything you could need.
This is one of the best Missouri family resorts for a large group, so if you have many kids or families coming along, this may be the perfect place to book your stay.
There is full concierge service, and the staff is eager to fulfill all your needs and wants to make your stay everything you hoped it would be. And there's a massive golf course right on the property, so you can have a fun game with your whole family on a sunny Missouri day.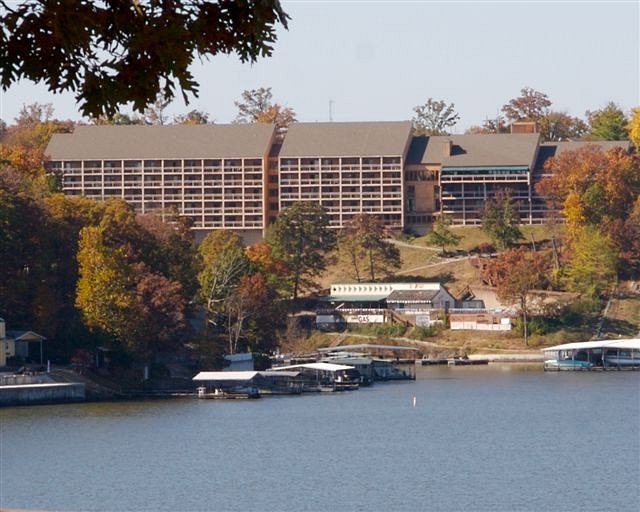 The Inn at Grand Glaize is one of the more casual resorts on the Lake of the Ozarks. It is in a secluded cove just a quarter-mile west of the Grand Glaize Bridge.
It has a funky tiki bar and restaurant where you can enjoy an island vibe after a day on the scenic lake. There is plenty of shopping on the property and close by, so you can buy affordable souvenirs to remember this trip forever.
There's an outdoor pool, a wellness center, and a fully-equipped gym in the inn, so you don't have to gain any vacation weight if you don't want to. Enjoy the hot sauna or the indoor whirlpool, or get out and rent a boat to explore the lake!
The Rockwood Resort Motel isn't the fanciest resort, but it is super family-friendly and affordable for a group that wants to enjoy the Lake of the Ozarks and Missouri nature.
The motel resort isn't directly on the lake, but it is just a short walk from it, less than 15 minutes. And if you want to go for a dip without leaving the resort, they have a large and comfortable pool.
The resort offers the best balance of comfort and affordability, so you can enjoy Missouri without breaking the bank. The resort is charming and quaint and is family-owned, so you're treated like family when you stay there.
Final Note
Whether you want an outdoorsy experience, a relaxing luxury vacation, or a budget-friendly, convenient trip, these spots are some of the best family resorts in Missouri.
Don't stay at a bland hotel when you can have an unforgettable family vacation at one of these stellar resorts.
More about our TFVG Author
A seasoned traveller, Dad, and avid sports tourist, James foundered The Family Vacation Guide to share his expert vacation experiences- especially when it comes to being a travelling family man.
Featured in Travel articles such as Travel + Leisure, TripSavvy and SFGate, you know you're reading some of the best vacation tips online.