Are you spending your family vacation in Las Vegas or there on a short trip from LA or elsewhere?
Whatever your reasons for visiting Las Vegas, you can't miss out on the tastiest and sweetest desserts located all over the city.
You'll find the most delicious desserts in Vegas, whether you love chocolate cake, ice cream sundaes, milkshakes, flan, or even croissants.
Check out the list we've put together below featuring the 21 best desserts in Las Vegas. Let's get started!
1. Tiramisu Cheesecake from Giada
This impressive four-layer cheesecake will blow your mind. The cake has gold and rich colours with layers soaked in Kahlúa and espresso flavours. The layers include vanilla mascarpone and salted caramel cheesecake. The cheesecake includes chocolatey espresso beans on top, with gorgeous chocolate strands coming down the sides.
Giada De Laurentiis' The Cromwell restaurant sells as many as 700 slices of tiramisu cheesecake every month. You'll feel like a king or queen anytime you bite Giada's incredible tiramisu cheesecake.
2. Flower Pot Cake from Jardin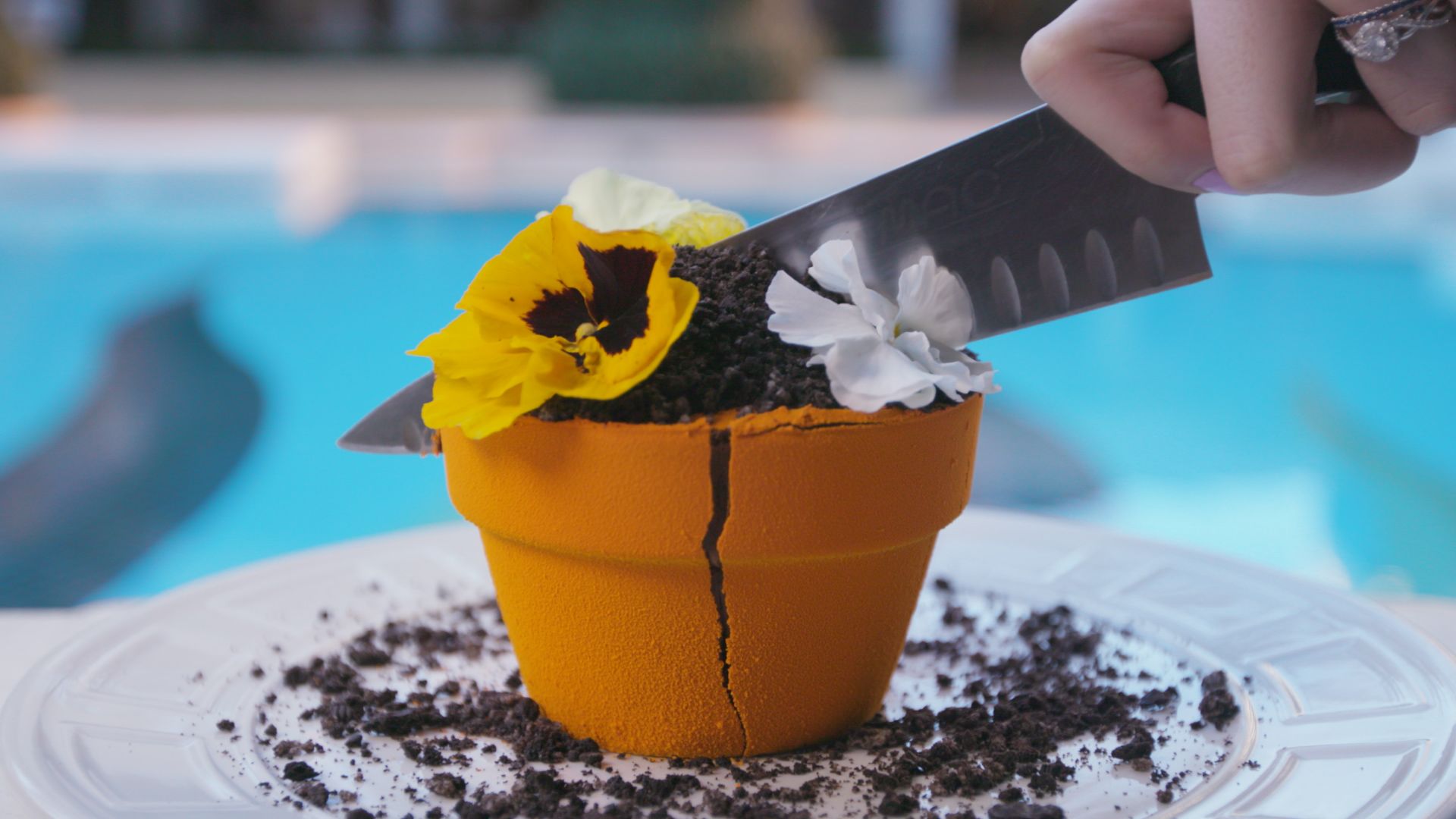 The trend of hyper-realistic cakes is all the rage today. The flower pot cake from Jardin in Las Vegas looks so real that you'll wonder, "Is it cake?"
The menu from Jardin lists the dessert as Fleur, which means flower in French. The small flower pot is a perfectly warm, dark-orange colour. The flowers on top are yellow and different shades of purple. The middle section looks precisely like black-coloured dirt but is actually cake.
Yet, inside the flower pot, you'll find layers of chocolate mousse, chocolate cake, and raspberry jam.
3. Churro Fried Ice Cream Pops from Chica
Do you love a great churro? Las Vegas features these delicious churro-fried ice cream pops at the Chica restaurant. The churro fried ice cream pops are perfect desserts in the city of Vegas. On hot summer days, you will love these frozen desserts.
If ice cream is your favourite dessert, you should try these ice cream pops. Everyone loves the caramel flavour and the cinnamon sugar coating on top. The sugary treat will leave your mouth watering.
4. Cheesecake Challenge from Guy Fieri's Vegas Kitchen & Bar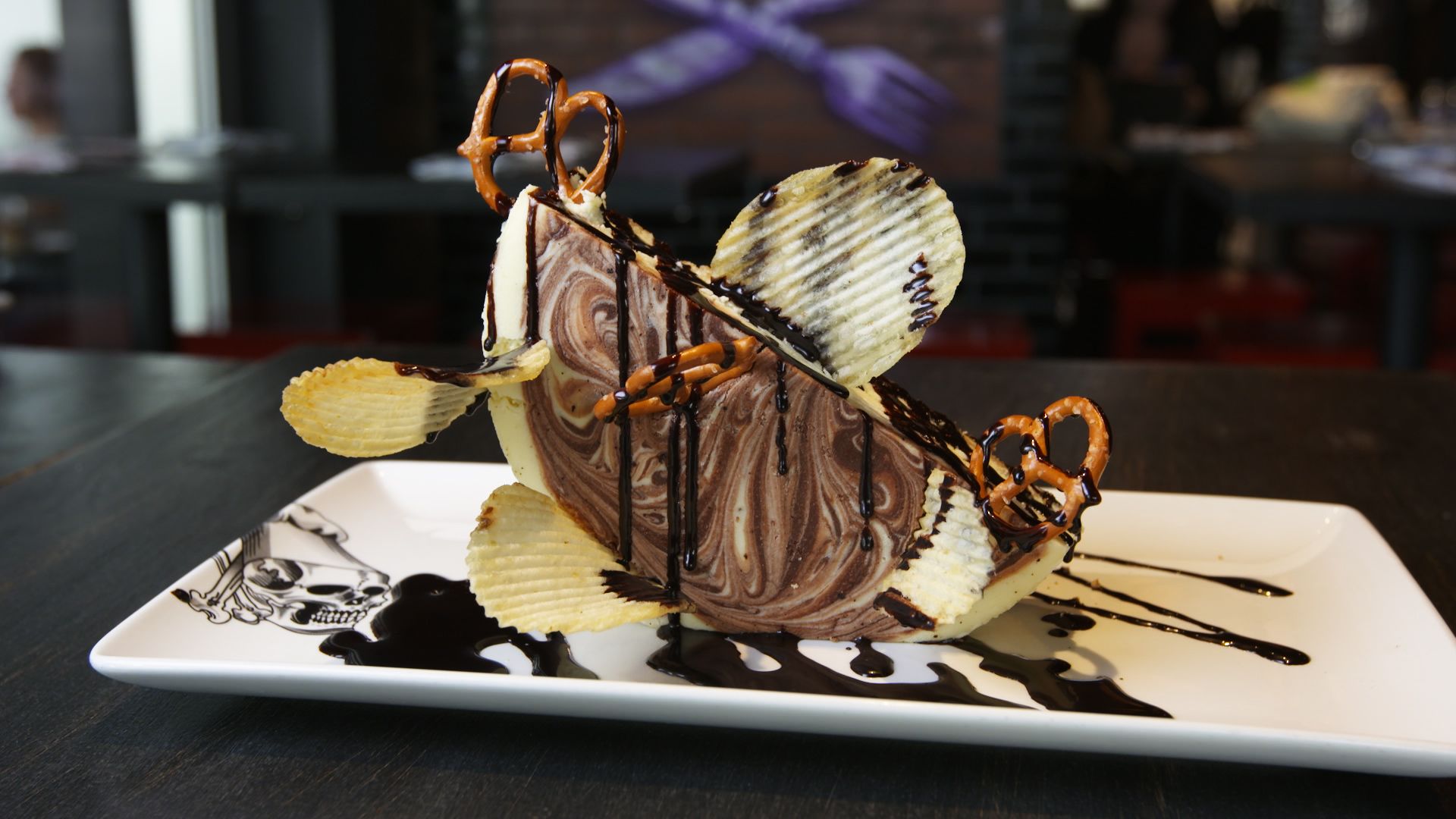 If you want a challenge for your dessert, then try the Guy Fieri Cheesecake Challenge. The dessert is also fun to munch on and incredibly delicious.
When the waiter brings out this outstanding dessert, you'll see half a cheesecake – literally! The cake holds plenty of potato chips, pretzels, and hot fudge. So, if you favor taking on tons of sugar and calories, then the challenge is meant for a daredevil like you. You won't ever forget trying to eat half a cheesecake in Vegas!
5. 8 Man Milkshake from Fiddlestix
Don't try to order the 8 Man Milkshake just for yourself. You'll need plenty of help to finish the gigantic milkshake from Fiddlestix. The whole thing comes in a giant trifle bowl, which can hold as much as a tub of ice cream. The 8 Man Milkshake comes with deep-fried Oreo cookies, plenty of alcohol, and whipped cream.
The cooks also put rainbow sprinkles all around the bowl and on top of the milkshake to give it a bit more color and pizzazz.
6. Sinatra Hat from the Sinatra Restaurant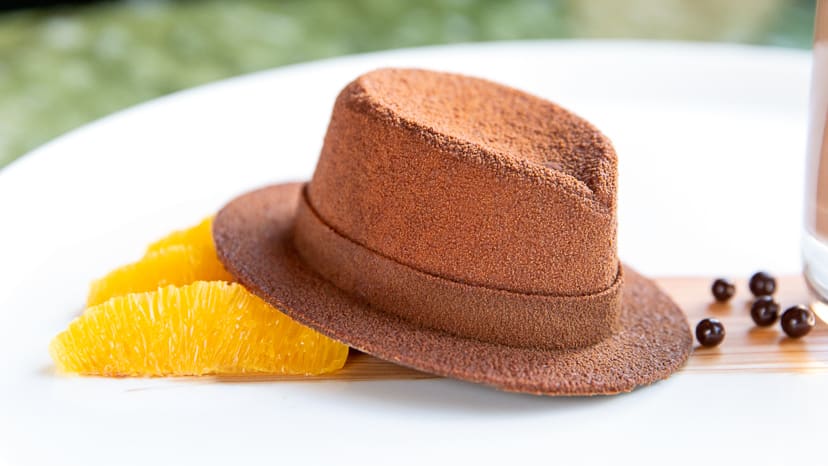 Who doesn't love the music of Frank Sinatra? To give the amazing musician the honor he deserves, a restaurant in his name has created the Sinatra Hat dessert for anyone to try.
Las Vegas, after all, holds a special place for Frank Sinatra. As such, the dessert had to feature Sinatra's iconic hat. The bakers make the Sinatra Hat out of chocolate mousse. It comes with a milk chocolate panna cotta on top of orange slices.
7. Lobster Tails from Carlo's Bakery
Carlo's Bakery was featured on television for many years and has gained quite a reputation. As such, the lobster tails from Carlo's Bakery are some of the most popular desserts in all of Las Vegas.
These lobster tails have been perfected over the last century when the bakery first opened. The delicious pastry includes French cream, a sweet custard, and whipped cream inside. The bakers even sprinkle some powdered sugar on top.
If you have a sweet tooth, lobster tails from Carlo's Bakery are sure to satisfy it.
8. Tao Asian Bistro's Huge Fortune Cookie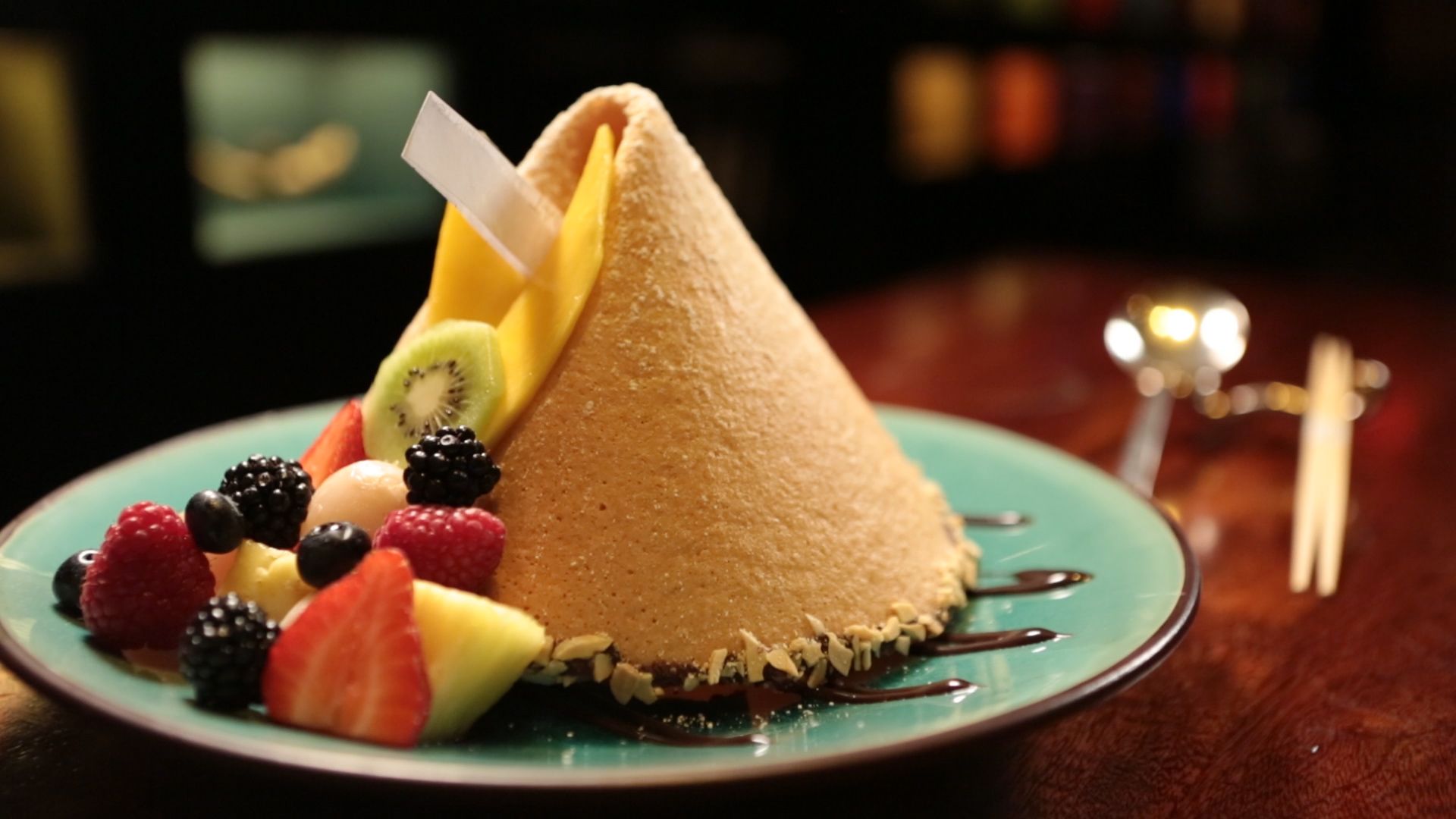 If you love Asian food and like to end your night with a fortune cookie, then this dessert from Tao Asian Bistro at the Venetian will please you. You are sure to love the dark chocolate and white chocolate mousse flavors. The chefs fill half the plate with fresh, sweet fruit like:
Strawberries
Raspberries
Kiwis
Starfruit
Blackberries
You'll also enjoy reading the fun fortune inside. The gigantic fortune cookie is a perfect way to end dinner. Enjoy your dessert!
9. Titanic Sundae from Carmine's Eatery
Carmine's at the Forum Shops at Caesars serves the Titanic Sundae, which is a huge tower of ice cream atop a dinner plate. The Titanic Sundae includes six scoops of ice cream the size of tennis balls. The ice cream scoops are put on top of a layer of chocolate cake.
The sundae comes with strawberries, other fruit, hot fudge, and whipped cream. Several chocolate wafer straws are stuck on top for a more fun look.
10. Giada's Lemon Ricotta Cookies
If you're looking for a more simple yet delicious dessert in Las Vegas, try the lemon ricotta cookies from Giada De Laurentiis' The Cromwell restaurant. The cookies have a lemon glaze on top and ingredients like ricotta cheese and lemon juice.
These sweet, light-yellow cookies will melt in your mouth the second you try them. They're yet another great cookie to have with a glass of milk. Whether you're Santa or not, you are sure to enjoy the lemon ricotta cookies from The Cromwell restaurant.
11. 24-Layer Chocolate Cake from the Strip House
How much do you love a soft and gooey chocolate cake? The best chocolate cake just melts in your mouth and gives you the perfect sweet taste that you can feel from your taste buds to your toes. The Strip House at Planet Hollywood Resort in Las Vegas created the perfect 24-layer chocolate cake for you to try.
The cake includes 11 layers of chocolate filling with 12 layers of chocolate cake. The bakers made the last layer on top of a French semisweet chocolate ganache. Yum!
12. Jaleo's Flan Dessert
The Jaleo eatery in Las Vegas features a delicious flan dessert. José Andrés, the founder of Jaleo, remembers the flan recipe from his childhood when his mother used to make the dessert.
The flan makes tiny air bubbles when cooked in a scorching oven. However, the imperfections bring back childhood memories for Andrés. The sweet flavors from the flan come alive with the peaches and whipped cream on the side.
It's an excellent dessert to try after a fun night seeing a show in Vegas, it's an excellent dessert to try.
13. Mt. Fuji Dessert from Sweets Raku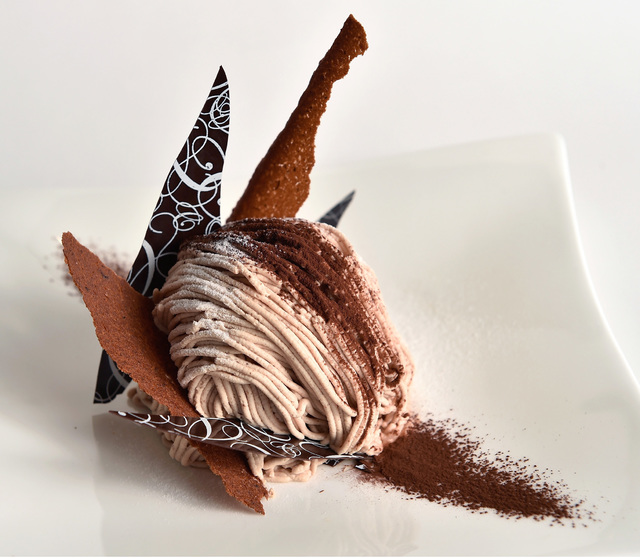 Sweets Raku brings out some of the most novel French and Japanese desserts you'll ever find. The Mt. Fuji dessert includes a sponge cake with chestnut cream and chestnut paste. The dessert is topped with cinnamon cookies and Hennessy ice cream.
Here, you can watch the bakers assemble your dessert behind the bar while you sip on a nice, tall glass of wine. The cookies may look like shards of glass, but they taste deliciously sweet.
14. The Banana Cream Pie from Emeril's New Orleans Fish House
Emeril Lagasse's New Orleans Fish House and Delmonico Steakhouse at the Palazzo feature the most delicious banana cream pie you'll ever try. Since the New Orleans Fish House first opened, the banana cream dessert has been a significant part of the menu.
The recipe uses up to three pounds of bananas. So, if you love the fruit, get the dessert when you're in Vegas. The chocolate flakes and whipped cream will melt in your mouth. The soft and smooth texture will surely leave you satisfied.
15. Catch's Hit Me Chocolate Cake
The hotel Aria includes the Catch restaurant, where you can find one of the best desserts in all of Las Vegas. The Hit Me Chocolate Cake will impress even the most jaded of your friends.
The first layer is a yummy fudge brownie. Then you'll find a layer of cookie crumbs and white chocolate ice cream. Chocolate cake makes up the next layer with white chocolate ganache dipped in milk chocolate topping the entire dessert. Enjoy!
16. Crazy Shakes from Black Tap
One of the most popular Las Vegas spots for unique food is Black Tap. The place opened recently and has provided fun and flavorful food ever since.
The crazy shakes here are absolutely to die for! Some even have cake slices as a garnish, while others have cookies and candies on the sides. The crazy shakes are so delicious that you won't want to put down the dessert.
You may have trouble picking the flavor you want, but any crazy shakes available will not disappoint.
17. Gordon Ramsay Steak Restaurant's Sticky Toffee Pudding
Gordon Ramsay features the sticky toffee pudding dessert at all of his eateries, including the Gordon Ramsay Steak Restaurant in Las Vegas.
Sometimes you can get the dessert as a pudding push-pop or as a toffee pudding shake. The decadent dessert is one to try whenever you go to Vegas. The classic British dessert doesn't disappoint! The gooey taste comes with delicious flavors. The sticky toffee pudding consists of buttery, melt-in-your-mouth ingredients. Enjoy your dessert!
18. Custard Desserts from Luv-it Frozen Custard of Las Vegas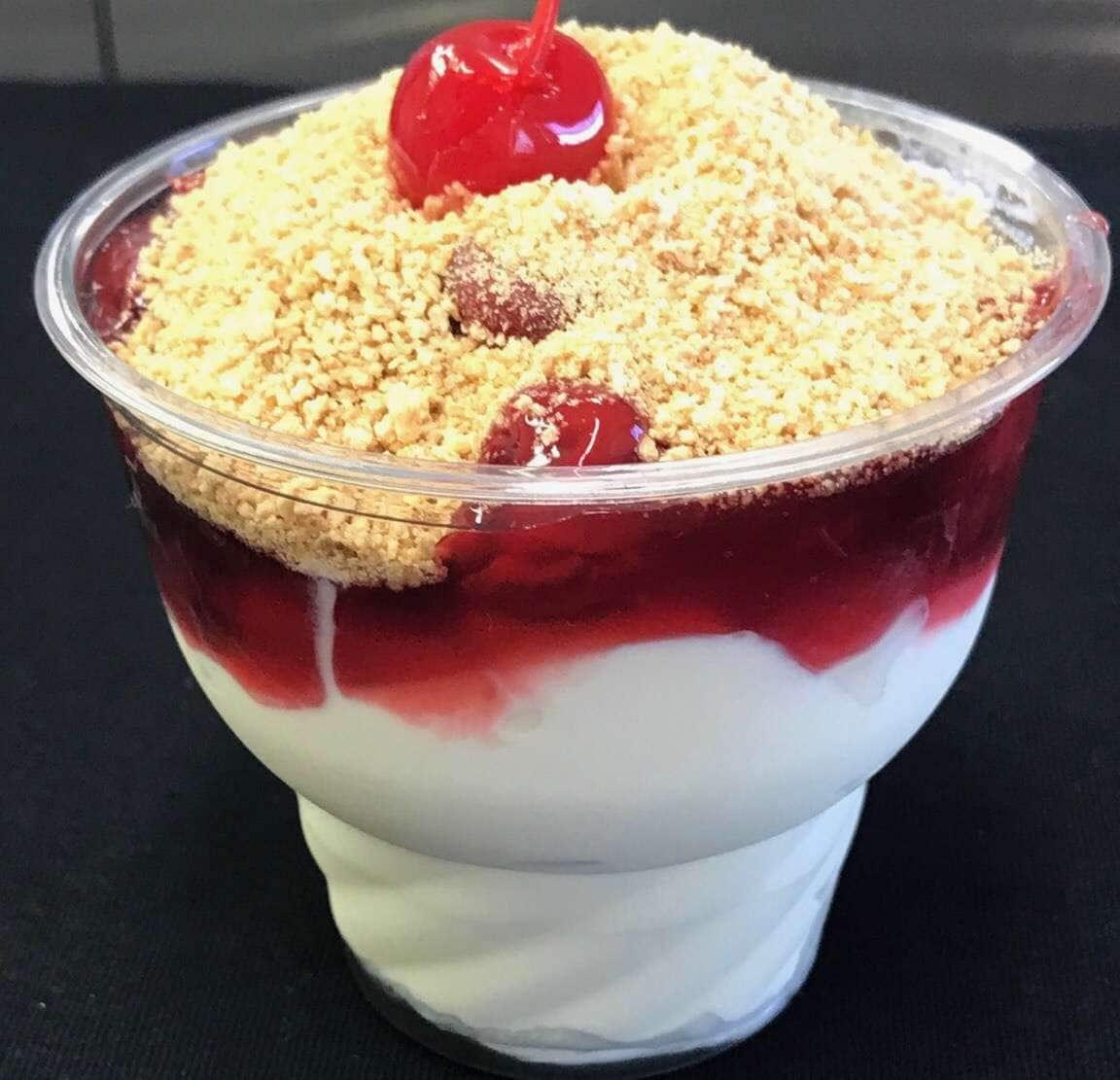 If you love frozen desserts like ice cream or frozen yogurt, try some frozen vanilla custard desserts. The Luv-it Frozen Custard bakery has some of the best desserts in Las Vegas.
The smooth and creamy desserts have a genuinely delicious and sweet taste. The treat is perfectly whipped for a smooth texture. If you're in Vegas during the hot summer months, then get yourself a cool treat at Luv-it Frozen Custard of Las Vegas.
19. Chocolate Almond Croissant from Bouchon Bakery
Bouchon Bakery at The Venetian in Vegas has numerous amazing desserts for you to try. In particular, the chocolate almond croissant is a perfect combination of flaky, soft textures and sweet, chocolatey tastes. It also has a nutty flavour due to the almonds sprinkled throughout.
The crunch of the almonds matches the softness of the croissant perfectly. If you're craving a delicious pastry, you can find it at Bouchon Bakery.
20. Italian Rainbow Cake from Giada
Italian rainbow cake from Giada at The Cromwell restaurant is truly an exquisite dessert that you won't soon forget. The cake is full of colors like red, yellow, and green. The white chocolate and dark chocolate frosting make the Italian rainbow cake taste divine.
The light buttercream and spongecake gooeyness make this cake stand out from the rest. You'll love it!
21. Pineapple Carpaccio from Hell's Kitchen
Hell's Kitchen serves a Pineapple Carpaccio that is truly amazing and unique. You'll even see a liquid nitrogen cloud when served the dessert. The pineapple carpaccio comes with passion fruit, coconut sorbet, and thin pineapple slices. The unique flavors of citrus foam and coriander also make the dessert stand out.
The presentation is incredible, and the taste is divine. You won't regret ordering the pineapple carpaccio.
Final Word
If you're spending your vacation in Las Vegas, make sure to enjoy the shows and check out the casinos. Yet, you can't go without a meal. To finish off a delicious dinner, go out and grab any one of these amazing desserts.
You have your pick of any treat you'd like, ranging from ice cream sundaes and chocolate cakes to flan, cheesecake, and frozen custards. You'll love trying any of these sweet and tasty desserts in Vegas!
Check out these other articles about vacationing in Las Vegas:
More about our TFVG Author
Karly is a The Family Vacation Guide guest travel contributor.