The nightlife, clubs, and casinos seems to be all that people usually think of when they hear Las Vegas. It is almost impossible for someone to believe that there are other things that you can do in Vegas apart from gambling and partying. But over time, Las Vegas has become a more family-friendly destination.
I know you are probably wondering, "What? Taking your kids to Vegas!". Yes, Las Vegas has a host of water parks that will surely have you and your family gripped with adventure and great memories, especially during the summertime when temperatures hit extreme highs.
Read on to discover some of the best water parks in Las Vegas.
Cowabunga Bay
If you are looking to spend one of your summer days with your family in Las Vegas, then Cowabunga Bay is the place for you. Located on 900 Galleria Drive, Henderson, Nevada, the premier water park assures all thrill-seekers a substantial serving of thrill and excitement.
The park is usually operational Mon-Sun from 11 am to 7 pm, although it may be necessary to make prior bookings before visiting.
On the premises, there are over 20 regular slides, 9 water slides, 4 surf and swimming pools, lazy rivers, sandy beaches, along with the world's largest man-made wave standing at a record 72 feet.
Within the water park is also a children's area – the Kids Cove – for the younger kids and so much more. Most of the slides in this park are full of twists and turns, which will assuredly leave you with adrenaline pumping through your entire body.
Even if you are just looking to cool down and relax, Cowabunga Bay has got you covered. They even have a VIP Cabana if you are seeking a more private and exclusive experience.
The water park also serves treats and meals for those who might have worked up an appetite during the entire slipping and sliding experience. They even have a shop where you can get gear and even souvenirs to carry home from the visit.
So if you are planning a holiday to Vegas with your family, Cowabunga Bay might be one of the best locations to consider whether you are in for a fun and thrill-filled stay or a more tranquil visit. It is advisable that you visit the park's official website or call to confirm operations before visiting.
Wet 'n' Wild
Wet 'n' Wild is one of the top family attractions in Las Vegas. Located on 7055 S Fort Apache Road, Las Vegas, Nevada, just 20 minutes from the iconic Las Vegas strip of the I-215, the park promises something for everyone.
For whole family fun or for epic thrill and adrenaline, the park has it all. The water park is operational Mon-Sun from 10.30 am to 8 pm, although it may be necessary to make prior bookings before visiting.
Sitting on 33.5 acres (13.5 ha), you are assured that there is something for everyone. There are a total of 26 water slides and attractions within the park, with some of the biggest and most extreme slides in Nevada with some of the world's tightest banking turns that make adrenaline coarse through your body.
The park is a huge tourist attraction, and it draws visitors from all around the globe.
If you seek to have a more exclusive stay, you can book a VIP cabana. This expansive water park also has friendly staff to help accommodate all of your needs during your visit. The park features plenty of interactive spots which range from extreme thrill-seeking to more calm and kid-friendly areas.
For the convenience of visitors, the park also offers options for foods and drinks as well as a gift shop where you can purchase all you need, from collectibles and souvenirs to swim gear and towels.
Next time you are in Vegas or if you are planning a summer family trip to the Nevada area, consider dropping by Wet 'n' Wild, and you certainly won't regret the experience. It may be necessary to visit the park's website or call before going down to the park.
Mandalay Bay Beach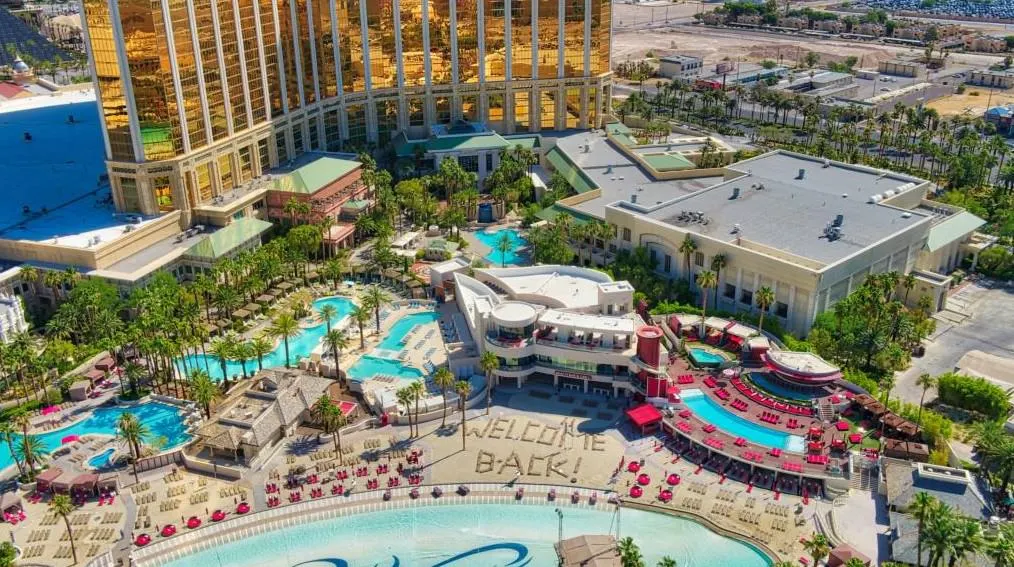 Only in Las Vegas could something unique and magical like Mandalay Bay Beach exists. Mandalay Bay Beach is an 11 acre (4.5 ha) tropical oasis, complete with eight pools, a three-story casino, lazy river, "toptional" adult pool, and white-sandy beach. On Mandalay Bay Beach, you'll find any kind of adventure you're seeking.
Located on 3950 S. Las Vegas Boulevard, Las Vegas, Nevada is the world-famous aquatic playground located on a faux 'beach'. Whether you want to swim, splash, soak or simply get some sun, you can experience it all on your terms at Mandalay Bay Beach.
The establishment was created with a little something for everyone in mind. It is no surprise the place never experiences a shortage of visitors.
Mandalay Bay Beach tries to make the stays as special as possible for its visitors. They offer visitors an option to stay in one of their 100-plus cabanas, villas, bungalows, and day beds. Whether you want to go for a swim, drink, gamble, you can do it all without ever having to leave Mandalay Bay.
You can head over to the Beach Bar & Grill for some delicious food and amazing cocktails as well.
Whatever type of experience you are looking for – chill, exclusive, party, family-friendly – Mandalay Bay offers it all. The establishment is usually operational Mon-Sun from 6 am to 8.30 pm. Prior bookings may, however, be necessary.
The Tank
If you are looking to have some really amazing family time in Vegas, then The Tank is undoubtedly an incredible selection. This unique attraction is located at The Golden Nugget on 129 East Fremont Street, Las Vegas, Nevada. The tank is open to non-hotel guests for a fee and promises a once in a lifetime experience.
So what makes The Tank unique? Well, to start with, the name "The Tank" is actually a 200,000-gallon shark tank aquarium. Yes, with real sharks! For ultimate adrenaline junkies, you can slide down through the shark tank into the main pool via a 30-foot water slide.
The main pool is fitted with multiple faux waterfalls that offer a serene swimming experience. And you can access the main pool without going through the shark tank slide, too, so you can breathe out a sigh of relief if the idea of being transported through a tank full of sharks doesn't appeal to you.
Apart from the gigantic aquarium, there are 17 private cabanas over three separate floors with Jacuzzis and a variety of water slides. There is also a more private 21 and older pool known as The Hideout for those who would like a smaller but still exciting session.
For the kids, or even for adults with a curiosity for marine life, there is a behind-the-scenes tour hosted by marine biologists who will definitely offer you some incredible and mind-blowing facts on the different aquatic species in the tank.
The Tank is an overall great location with several exciting activities, dining, and sightseeing. This is definitely one place you should visit for a memorable trip to Las Vegas. Visit their website for more information concerning rates and bookings.
The Aqua Park at Lake Las Vegas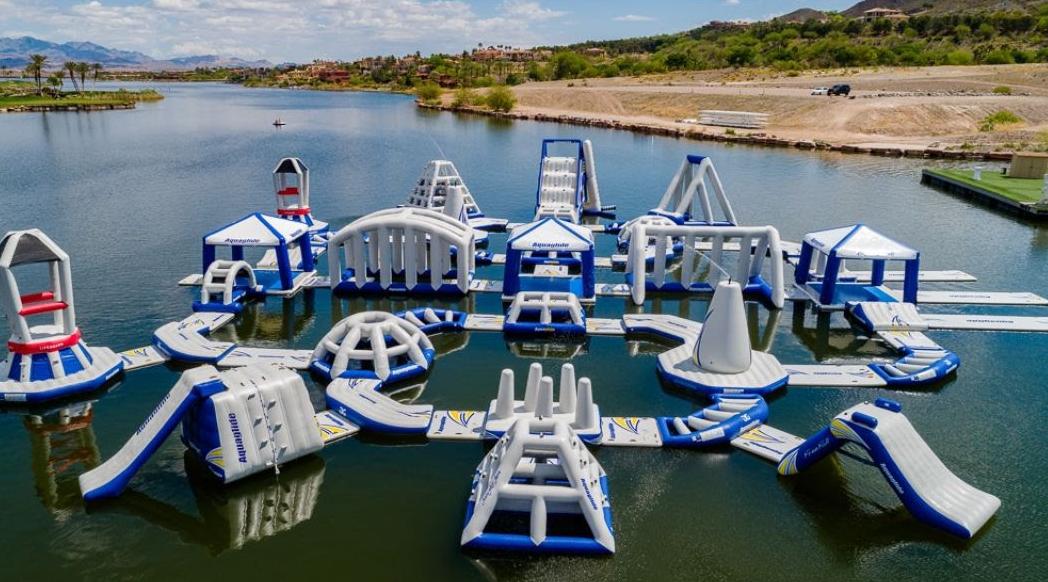 Unlike anything you have ever seen before, The Aqua Park is an actual water park on the water. This giant inflatable water park is located on Lake Las Vegas, and it is surely one place you will want to bring the family. The Aqua Park is part of Las Vegas Water Sports and is located at 20 Costa Di Lago Street, Henderson, Nevada. This epic park is like a massive obstacle course on the lake, and it is definitely an attraction for individuals of all ages.
Swings, ramps, jumping pads, runways, trampolines, slides, bridges, and more can be found across the whole 40,000 square foot park, which is one of Nevada's most remarkable summer destinations. You can describe it as a floating playground.
The surrounding lake also offers an incredible and refreshing ambiance, making it the perfect spot to cool off while creating some amazing memories. The park has both easy and challenging sections, which allow you to indulge in plenty of fun activities.
Typical sessions run for 45 minutes, but you can also book a two-session, 90-minute pass too on the park's website. There are also memberships available for season passes if you think that you will be frequenting Las Vegas Water Sports often.
For amazing family time or even if you just want to indulge your inner child, visit the Aqua Park and get a feel of this unique location. Check the website or call prior to visiting so that you can get any important details.
Walnut Water Park
Walnut Water Park is located in the Northeast part of Las Vegas on 3075 N. Walnut Road, Las Vegas, Nevada. The park is a Clark County park option that is usually open during the summer months. The park offers a great half-day outing and is a great place to visit with the kids on a hot summer day.
Aside from the water park, the property also has a playground, a walking trail, and a sports area. During the summer, the park is operational on Tuesdays and Thursdays from 12 pm to 5 pm. It is also open on Sundays from 12 pm to 8 pm. You can visit their website to book and confirm operations before visiting.
The Splash Zone at Circus Circus
The Splash Zone at Circus Circus Las Vegas offers over an acre of fun and wholesome excitement. Access to the Splash Zone and Pool complex is exclusive to Circus Circus-Las Vegas' registered guests unless on a few occasions when the management allows limited-time access to the public at a fee.
It features a 50-foot slide tower as well as an interactive water play space at the splash pad. The Splash Zone is usually open from 9 am to 5 pm for hotel guests.
Located on 2880 S. Las Vegas Boulevard, Las Vegas, Nevada, the attraction is an all-ages water playground that allows you to have some great family fun time during your stay. With water cannons, rain trees, spill buckets, and more, you are guaranteed a full fun experience at the Splash Zone. You can also have a swim in one of the two refreshing pools and relaxing whirlpools.
There are also a limited number of cabanas available starting from $100, which are usually available on a first come, first serve basis. It is also possible to reserve a cabana at the Splash Zone check-in desk.
Circus Circus is a great location that offers amazing value for the budget-conscious family, and it is a great place to visit during the summertime to cool off. For an amazing stay in Las Vegas topped off with some little splash and family water fun then Circus Circus is the place for you. For bookings and more information, you can visit their website.
Cambridge Water Park
Cambridge Water Park is a sanitary and pleasant water park in Las Vegas that provides a stimulating and energetic environment for kids and adults alike.
In contrast to the grand glitzy hotel pools and massive water parks, Cambridge Water Park is more on the scale of local parks and recreation. It is located at 3930 Cambridge Street, Las Vegas, Nevada. The park is a Clark County option that is usually open during the summertime.
For a modest $2 for kids aged 3-17 years or $3 for adults 18 years and above, you can have some fun and cool off at the Cambridge Water Park during the hot summer months. It is advisable that you check their website for updated information and whether they are open before visiting.
Desert Breeze Aquatic Facility
Desert Breeze Aquatic Facility is another Clark County pool facility that is a great place to visit when on a budget. The place offers some amazing family water fun at very affordable prices. The facility is located at 8275 Spring Mountain Road, Las Vegas, Nevada.
The outdoor water park is usually open during summertime while the indoor pool is accessible throughout the year.
The water park features a relatively small entryway, two slides, and a play structure within the water, making it an ideal play space for children. The indoor pool is frequently used for training, but there are set aside days when it is used for recreation.
Rates for children 3-17 years are $2 and $3 for adults above 18 years. There is also an option of purchasing a summer pass for families of up to four individuals. It is wise to visit their website for information about the opening before visiting.
Red Ridge Park Kids Water Park
Last but not least, located on 7027 S. El Capitan Way, Las Vegas, Nevada, is the Red Ridge Water Park. The water park is the perfect destination for a fun outing for the kids. Apart from the large splash pad, which is the main feature of the water park, there are over 20 acres of rolling hills, play, and picnic grounds.
There are also sports amenities such as a large lighted outdoor basketball court, baseball diamonds, a disc golf course and two little league fields.
This entire area promises to keep your young ones engaged and gives them a chance to sweat and cool off during the summertime. It is advisable that you check their website for information or call prior to visiting for any information concerning the park and operation hours.
Conclusion
The heat in Las Vegas during summer usually reaches some extreme highs and what better way to cool off than water parks. From traditional water parks to hotel pools and mega water parks, this round-up of some of the best water parks in Las Vegas, Nevada, ensures that there is a little of something for everyone.
Even though many of the water parks listed in this review are only open during the peak summer months, there are a couple of listings that are open all year round which you can visit.
Whatever your budget or style, Las Vegas promises a watery adventure waiting for you. So next time you are planning to visit Las Vegas, including one of these parks in your schedule, and you certainly will not regret it! And as always, don't forget to check the specific park's website or call prior to visiting in case of any changes.
Other fantastic water parks to consider for some family fun
If you're hoping to find some more of the best water parks, our round-up below will be the perfect place to start.