While Las Vegas isn't necessarily known for being a family-friendly hotspot, bringing your kids to the strip is possible.
In addition, many casinos in the area are kid-friendly.
Think arcade games, playrooms, aquariums, and fast food. Although gambling and adult activities are off the table, enjoyment is possible for the whole family.
Here are five of the most kid-friendly casinos in Las Vegas, Nevada.
1. Mandalay Bay Resort and Casino
The Mandalay Bay Resort and Casino looks exquisite. The resort includes a shark reef with over a million gallons of seawater and 2,000 marine life species. So let Mandalay Bay be your next vacation getaway if your kids love underwater creatures.
First, your kids will love the aquarium, home to one of the biggest in the country. Spend hours with sharks, up close and personal. Above and all around, sea creatures will ignite excitement. Look for activities such as feeding sea turtles and stingrays.
Visit the Polar Journey
Polar Journey is an interactive virtual exhibit. See eight incredible sights of Antarctica and Arctic regions as the movie plays for you and your kids.
However, it's not your average movie as it contains touchable walls with high-tech screens. Along with the film also comes realistic textures and temperatures to simulate the real deal. So take a break from the hot weather and cool off.
Mandalay Bay Beach
The beach is waiting! Mandalay Bay Beach provides a highly rated aquatic playground with cabanas and plenty of sand. Spend fun in the sun by the wave pool, relax in the lagoon, and go down the scenic lazy river.
Mandalay Bay has one of the best ocean view experiences, with plenty of outdoor thrills that you and your kids will adore. There is a 48-inch height requirement for inner tubes and wave pools. The hotel also provides life jackets to ensure safety precautions.
If you want to see a top-notch aquarium and arctic exhibits and relax in a lagoon, the Mandalay Bay Resort and Casino is fantastic.
2. Mirage Hotel and Casino
The Mirage Hotel and Casino may not look too exciting; however, there's something even better brewing in the beautiful outdoors.
An unexpected volcano erupts every night. See smoke among the palm trees as drums play louder until the eruption. It makes for an enticing event and is quite a kid-friendly experience.
You may forget the attraction is free, as the artificial volcano ignites flames and lava in front of your kid's eyes.
During the day, don't be afraid to have fun in the sun. Nothing says kid-friendly like pools, lagoons, waterfalls, and rafts. The Mirage Hotel and Casino has plenty of options. However, stay clear from the adult pool, where clothing is optional.
Luckily, there are kid-friendly options indoors and outdoors to occupy little ones.
Shark Reef Aquarium
The Shark Reef Aquarium is another kid-friendly must-see. Again, your kids will have much to explore with 20,000 gallons of water and over 2,000 sea creature species.
You and your kid can feed the following sea animals safely:
Stingrays, for five and up
Sea turtles, 13 and older
Sharks, 13 and older
For the animal-lover, there's much more to uncover. The Secret Garden and Dolphin Habitat are up next on the kid-friendly list.
Secret Garden and Dolphin Habitat
Siegfried and Roy's interactive exhibit is more than just your typical zoo. It's an experience.
During the Dolphin Habitat, you can touch, feed, and take photos with a bottlenose dolphin. With print and digital photo options, tickets are $79 per child and $100 for adults.
Safety guidelines to remember include:
Kids 10 years old can participate alone
Kids 4-9 must be with an adult
No infant holding during participation
Last but not least, get ready to see lions, leopards, and tigers. But, don't worry, as all animals stay behind the fence.
See Cirque du Soleil
While many adult Vegas shows invade the strip, the Cirque du Soleil LOVE show is an excellent addition to your kid-friendly stay. If your kid is five and up, they can attend.
Enjoy 90 minutes of vivid sights and impeccable sounds from The Beatles. The legendary, world-class show provides major thrills to last a lifetime. See roller skating, acrobatics, trampoline jumps, and spectacular backdrops.
Attend the music revolution and create life-long memories no matter your age or family demographics.
The Mirage Hotel and Casino has plenty of marine life, animals, and its little waterpark. Stay in the sun during the day, and watch a kid-friendly show by night.
3. Excalibur Hotel and Casino
Looking from the outside, the Excalibur Hotel and Casino is fit for a king. The hotel is medieval-themed and even looks like a castle. The aesthetic is perfect for kids.
Tournament of Kings
The Tournament of King is a grand-themed dinner and show experience. Enjoy medieval-themed costumes, real horse riding, and knights. The Tournament of Kings is a replica of old England from start to finish.
The theater seats 900 guests at a time, and the show is kid-friendly for all ages. After the battle, dinner includes a delicious three-course meal.
Partake in traditional food, including Cornish game hens, roasted potatoes, corn on the cob, apple square, and dinner roll.
Enjoy beautiful music and look at different themed characters. Then, have fun while eating with your hands in proper medieval fashion. That's right. No silverware is needed.
There's a lot of action to unpack between the one-of-a-kind pyrotechnics and sword battles. Every detail is sure to fulfill excitement, and it's not scary.
The Tournament of Kings tickets starts at nearly $42, in addition to a tax and service fee. If you want to see the medieval show without the food option, that's possible. Tickets start at nearly $45 per person, plus the tax and service fee for the dinnerless option.
The best part is, if your child is three and younger, they get in free. However, they must sit on your lap throughout the show.
Fun Dungeon
Let the games begin at the Fun Dungeon. A place where you earn tickets and receive prizes. Overall, you can choose from 200 games, 60 arcade games, and ten sports games.
While there are adult gaming options, the Fun Dungeon includes ten Kiddle Land Games. Also, play the world's biggest Pacman.
Your kids will appreciate the tasty food and drink options with Orange Julius and Dairy Queen.
If you love a good theme with food and excitement, then the Excalibur Hotel and Casino is for you and your family.
4. Circus Circus Hotel and Casino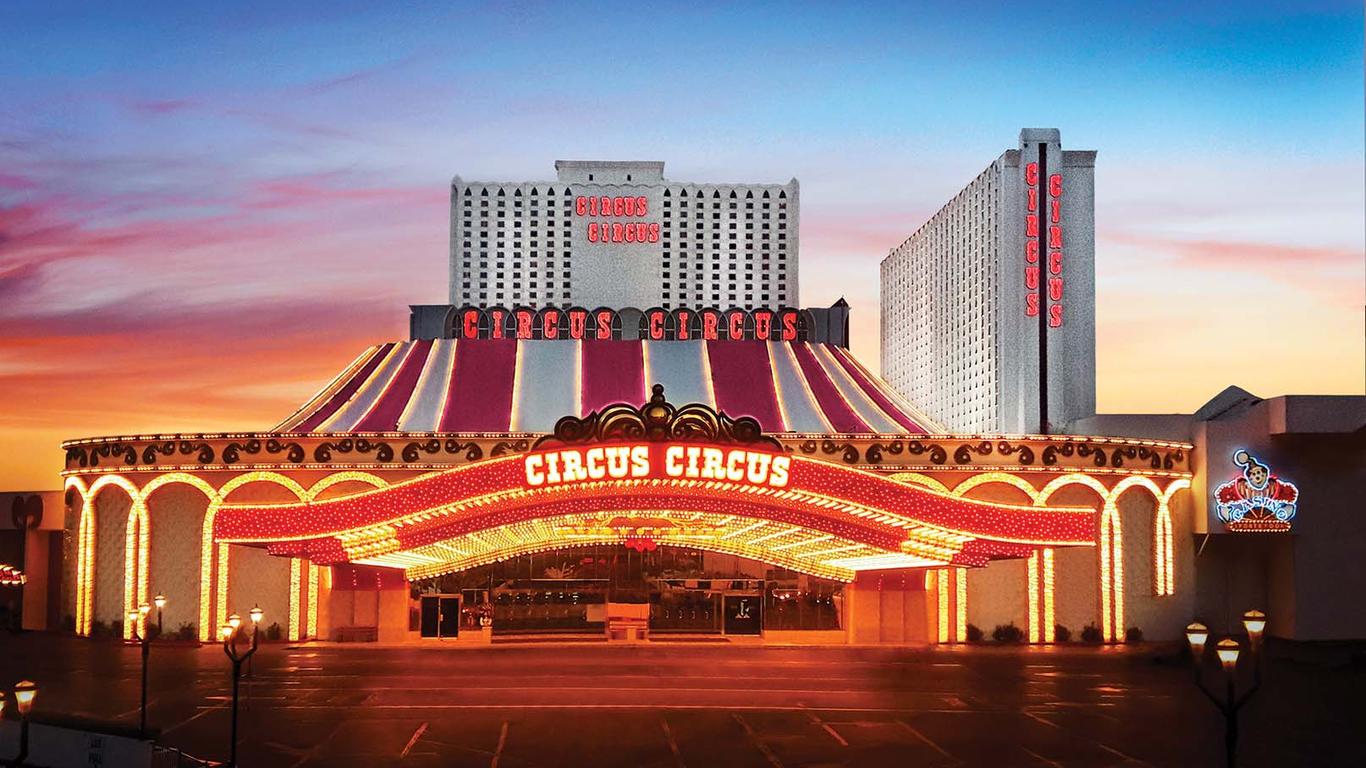 The theme of the hotel says it all. The hotel looks like a circus tent from the outside and is unique.
The Circus Circus Hotel and Casino is for everyone, not just adults. Also, the Las Vegas casino incorporates clowns, magic tricks, balloons, and rides.
Adventuredome Rides
Step inside the five-acre amusement park, which is entirely indoors. Experience a variety of attractions like go-kart racing, and hop on the Canyon Blaster or El Loco roller coasters if you feel extra daring.
There are height restrictions for the bigger coasters, but there are rides for the little kids as well, including:
Canyon Cars, 42-inch requirement
Sand Pirates, 33-inch requirement
B.C. Bus, 36-inch minimum
Circus Carousel, 42-inch minimum
Junior rides include Frog Hopper and Thunderbirds. Both rides require a 36-inch minimum to ride.
Ride all day for $60 for anyone over 48 inches tall, and tickets for kids under 48 inches are $30.
Adventuredome Activities
The Xtreme Zone includes indoor bungee jumping and mountain climbing. There's also a mini-bowling alley designed for kids.
Take your kid to the Batman Laser Challenge for Batman and comic lovers. It's the best of both worlds, laser tag mixed with your kid's favorite superhero.
Wind down with low-key activities including darts, balloon bust, mini basketball, and a free clown show. The virtual reality room also includes ten games.
After a long day, relax with a kid-friendly movie at the FX Theatre. See movies in 4D with familiar family favorites with a new twist. Movies showing right now include Ice Age and Scooby-Doo.
Carnival Midway
Midway is the area for adults and kids who love games and prizes. Enjoy 200 modern and classic arcade games while seeing a free circus act on the nearby stage around 1:30 PM.
Splash Pad
While the hotel offers pools, whirlpools, and a 50-foot water slide, the splash pad is perfect for kids. Enjoy a water playground designed with waterfalls, splash buckets, cannons, and rain trees.
Circus Circus Snacks
Visit kid-favorite places like Krispy Kreme and Auntie Anne's. Then, grab a fast bite to eat and enjoy deli sandwiches, nachos, gelato, hot dogs, burgers, fries, and chicken tenders.
The Circus Circus Hotel and Casino is excellent for rides, adventure, gaming, and movies. You won't want to miss the opportunity to thrill and chill at this themed hotel.
5. New York-New York Hotel and Casino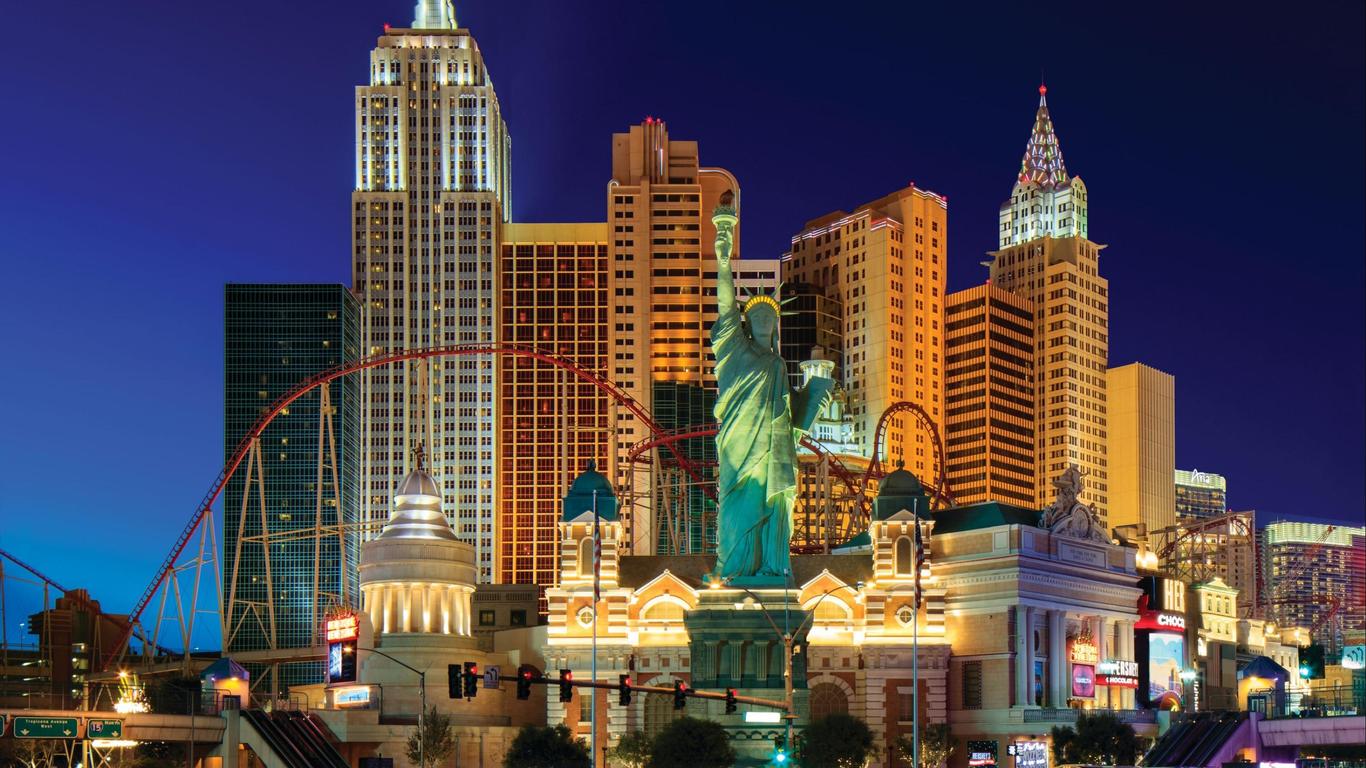 Browse the mini New York City sights without flying to the east coast. The New York-themed hotel and casino include kid-friendly activities, views, and delicious chocolate.
The Big Apple Arcade
Discover The Big Apple Arcade, including games such as NBA fever, air hockey, and classic Skee-Ball machines.
There are three packages to choose from, including:
Central Park Pack $49
Manhattan Pack, $79
The Big Apple Pack, a hefty $149
The Central Park Pack includes one roller coaster ticket, 100 arcade credits, and 100 redemption points. In addition, grab a free hot dog and drink, along with a plush toy.
The Manhattan Pack includes two roller coaster tickets, and 200 credits, in addition to 200 redemption points. Also, receive two t-shirts and two hot dogs and drinks with your purchase.
Last but not least is The Big Apple Pack option. The biggest package includes four roller coaster tickets, 400 arcade credits, and 400 redemption points. In addition, grab four t-shirts and a giant plush toy. With this supreme package, you won't go hungry with four hot dogs and drinks.
The Big Apple Coaster
If you or your older kid love amusement parks like Six Flags, The Big Apple Coaster is a must. Every year, around 1.4 million people ride this fun-filled roller coaster.
Kids must pass a height requirement of 4'6. So if you have older kids who love adventure, get ready for a crazy, heart-stopping ride filled with twirls and loops. The Big Apple Coaster speeds to 67 miles an hour and 180-degree twists and turns. The very top reaches a staggering 203 feet.
Hershey's Chocolate World
Explore a two-story chocolate fantasy world. The chocolate store provides an interactive experience for visitors. See all the sweet treats, souvenirs, and attractions.
Hershey's Chocolate World includes over 800 chocolates and types of candy and is one of the most popular destinations in Las Vegas. Sticking with the New York theme, visit the Statue of Liberty chocolate sculpture. An entire masterpiece made with around 800 pounds of pure milk chocolate.
One of the interactive experiences includes customizing your chocolate bars. Visit the Hershey's Wrap Happiness, Hershey's Bake Shoppe, Jolly Rancher Flavor Wall, and Hershey's Kisses flavor wall.
Whether you love the scenery of the New York City skyline, love classic games, daredevil coasters, or are a huge chocolate fan, the New York-New York Hotel and Casino is a winner.
Las Vegas is home to particularly unique hotels, especially kid-friendly ones for the entire family.
Final Takeaways
While there are hundreds of hotels and casinos in Las Vegas, not all of them are kid-friendly. However, many hotels and casinos offer spectacular experiences for all ages. Las Vegas isn't just an adult getaway but is a vacation spot for families.
Las Vegas provides excellent attention to detail for themes and aesthetics. You can instantly walk into another world.
This hotel and casinos set the bar high from aquatic and volcano experiences to medieval times, circus, and New York-themed atmospheres.
Whether your kid loves soaking by the pool or craves games and adventure, there's something for everyone.
Your guide to five of the most kid-friendly casinos in Las Vegas is complete, and now your next family vacation awaits!
More about our TFVG Author
A seasoned traveller, Dad, and avid sports tourist, James foundered The Family Vacation Guide to share his expert vacation experiences- especially when it comes to being a travelling family man.
Featured in Travel articles such as Travel + Leisure, TripSavvy and SFGate, you know you're reading some of the best vacation tips online.