Outlet malls are considered to be a dying breed to some, and many have shut down in the last decade due to a lack of business and customers.
So many people order things online these days, but there is no substitute for trying on clothes and seeing things in-person before you make a purchase.
If you're still one of the few that prefer to venture to outlets to buy your clothes and other items at the best prices, this is a list of the top outlet malls in New Jersey. If you find yourself in the Garden State, check out one of these excellent options.
The Mills at Jersey Gardens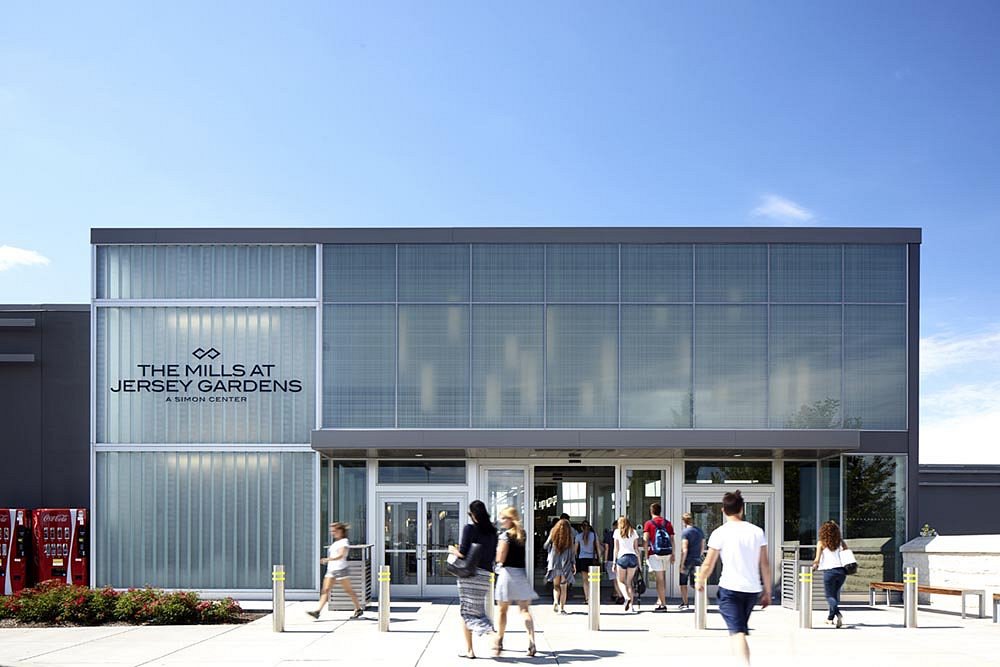 The Mills at Jersey Gardens, also called Jersey Gardens, is a two-level outlet mall in Elizabeth, New Jersey. Jersey Gardens is a Simon mall, so it has most of the standard stores you would expect an outlet mall to have. There's a Marshall's, a Burlington Coat Factory, a Saks Fifth Avenue, and more. There is also a cinema inside the mall so you can catch a movie when you're finished shopping!
But the real gem of the Jersey Gardens are the factory-direct stores where you can buy the best products from Sephora, Saks, Coach, Victoria's Secret, and many more at lower prices than at regular malls.
You can have a retro dining experience at Johnny Rockets, or you can have the delicious appetizer trios at Applebee's. From shoe stores to technology stores, this mall has everything and a friendly atmosphere.
Jersey Shore Premium Outlets
The Jersey Shore Premium Outlets is not too far from the beautiful but sometimes dirty Jersey Shore. However, with the outlet's beautiful marble floors and bright atmosphere, you'll forget all about the boardwalk and beach! This outlet mall is a true paradise for the savvy shopper. They have deals on some of the best brands and fabulous dining spots to check out!
If you were catching some rays and exploring the boardwalk, you may notice that while they have small and unique boutiques, the Jersey Shore outlets are where you can do the real shopping. There are many popular brands, like Yankee Candle, Bath and Body Works, Adidas, Michael Kors, and more.
This mall is far from dying out, as they continue to upgrade the building and add new and exciting stores to keep their customers coming back. The outlet has mall staples like Auntie Anne's Pretzels and Urban Pizza, so you don't have to go hungry while browsing the stores.
Gloucester Premium Outlets
The Gloucester Premium Outlets are in Blackwood, New Jersey, offering outdoor outlets for the ideal shopping trip on a sunny day. Another Simon mall, these outlets feature so many wonderful stores and dining options. While outdoor malls aren't ideal in the colder months or on rainy days, this massive mall is perfect for those sunny days when you want to shop and enjoy the sunshine.
This mall has a wide array of shops and stores offering discounted products compared to other locations. Specifically, they have a wonderful selection of athletic stores, such as Nike, Under Armor, Columbia, and more. And these are factory outlets, so the prices are much lower on the same items you can find in standard stores.
While some outlet malls can be unattractive and offer bottom-of-the-barrel outlet stores, the Gloucester Premium Outlets do the exact opposite. If you love high-end brands and don't want to sacrifice your style just to save some money, you can get the best of both worlds at this outlet mall. They also go beyond just Cinnabon and Auntie Anne's Pretzels, offering Jamaican cuisine and a quaint little ice cream shop!
Woodbury Commons
Woodbury Commons is technically located in New York, but it mostly consists of New Jersians because of its proximity to the state line. Many New Jersey residents consider this their go-to mall, so it qualified for this list. 
Woodbury is all about the sales. So if you are on the hunt for a good deal or discount, you have a high chance of saving some money by shopping at Woodbury Commons. They sometimes hold 30+ hour frenzied shopping events, like Midnight Madness or Extra Festive Holiday Shopping. So you can go crazy finding the best deals all through the night.
One of the best offers at Woodbury Commons is the discounted prices on the factory-direct outerwear. Big jackets and winter gear can cost a pretty penny. Woodbury Commons has outlets of stores like Moose Knuckles that make luxury jackets. Now, you can get these excellent items for far less.
Tanger Outlets Atlantic City 
If you need a break from the slot machines or the poker table and have some newly-won money to burn, head to Tanger Outlets. The massive mall has designer brands, as well as affordable stores. You can stop at this mall whether you need a new pair of sneakers or a red carpet dress.
Despite their luxurious aesthetic, they offer plenty of deals. They have a J.Crew, Ralph Lauren, Yankee Candle, Reebok, Hugo Boss, and more. If you join the Tanger Club, you get exclusive deals at nearly all the stores in the mall.
The Tanger insider club will send you frequent deals at many of their affordable and high-end stores. You can get BOGO coupons or percentages off your entire purchase, in addition to the already reduced factory-direct prices.
Some of the super expensive brands like Tory Burch appear in this outlet mall, so you can get the latest fashions for incredible prices. Many people assume outlet malls have concrete floors and dim lighting, but at Tanger Outlets, you get to take advantage of super sales while still walking around a fabulous mall that sacrifices nothing in terms of the shopping experience.
Liberty Village Outlets
The Liberty Village Outlets, also called the Flemington Outlets, boasts a few wonderful stores and a calming aesthetic for shoppers. They offer high-end stores and mid-range shops, leaving behind the more affordable options for the luxury options.
The outlet also has around ten stores, so it isn't a massive selection. But if you want quality over quantity, this is the mall for you.
This mall is attractive to both young and older shoppers because of the luxurious stores in the building. The biggest bummer about the Liberty Village Outlets is that there are no dining options within the mall, but there are restaurants nearby.
If you love designer styles and high-end fashion but still want to find good sales, the Liberty Village Outlets are one of the best outlet malls in New Jersey. Sometimes outlet malls aren't the most luxurious buildings, but instead, they can be rundown or bland. But these outlets have the vibrancy that standard malls have, but with all the stores you love.
Final Note on New Jersey Outlet Malls
New Jersey has so many excellent outlet malls to offer locals and tourists. If you want to have a shopping day by the Jersey Shore or buy some new clothes with your winnings from Atlantic City, any one of these malls will suit your needs.
Outlet malls are a gift to the avid consumer, as you can get the stylish threads you want without breaking the bank. New Jersey offers some of the best outlet malls because they don't sacrifice much in the name of a good deal, so you still have a lovely shopping experience while keeping your wallet full.
Hopefully, this list has opened your eyes to the incredible shopping centers that Jersey offers.
More about our TFVG Author
A seasoned traveller, Dad, and avid sports tourist, James foundered The Family Vacation Guide to share his expert vacation experiences- especially when it comes to being a travelling family man.
Featured in Travel articles such as Travel + Leisure, TripSavvy and SFGate, you know you're reading some of the best vacation tips online.