Not only was Lake Placid once the home of the Winter Olympics years ago, but these beautiful Adirondack mountains were also the perfect vacation spot for families looking to enjoy the outdoors.
Snow-covered mountain peaks, freshwater lakes, gorgeous landscapes, and clean, crisp mountain air are just a few of the luxuries to enjoy vacationing in Lake Placid. So whether you're looking to go on an adventure, hit a golf ball or two, or simply want to kick back and relax at a spa, Lake Placid has something to offer for everyone.
Is your family a fan of sports? Be sure to check out the Lake Placid calendar of events before booking your vacation. Lake Placid hosts a variety of marathons and sporting events throughout the year.
You want to make sure you choose the best resort to accommodate your needs. Below we've listed the best Lake Placid resorts for families. The entire list is only made up of highly rated resorts so that you won't be surprised by any lousy one-star hotels. This list includes both affordable and high-end resorts to fit your budget and personal needs. 
Mirror Lake Inn Resort & Spa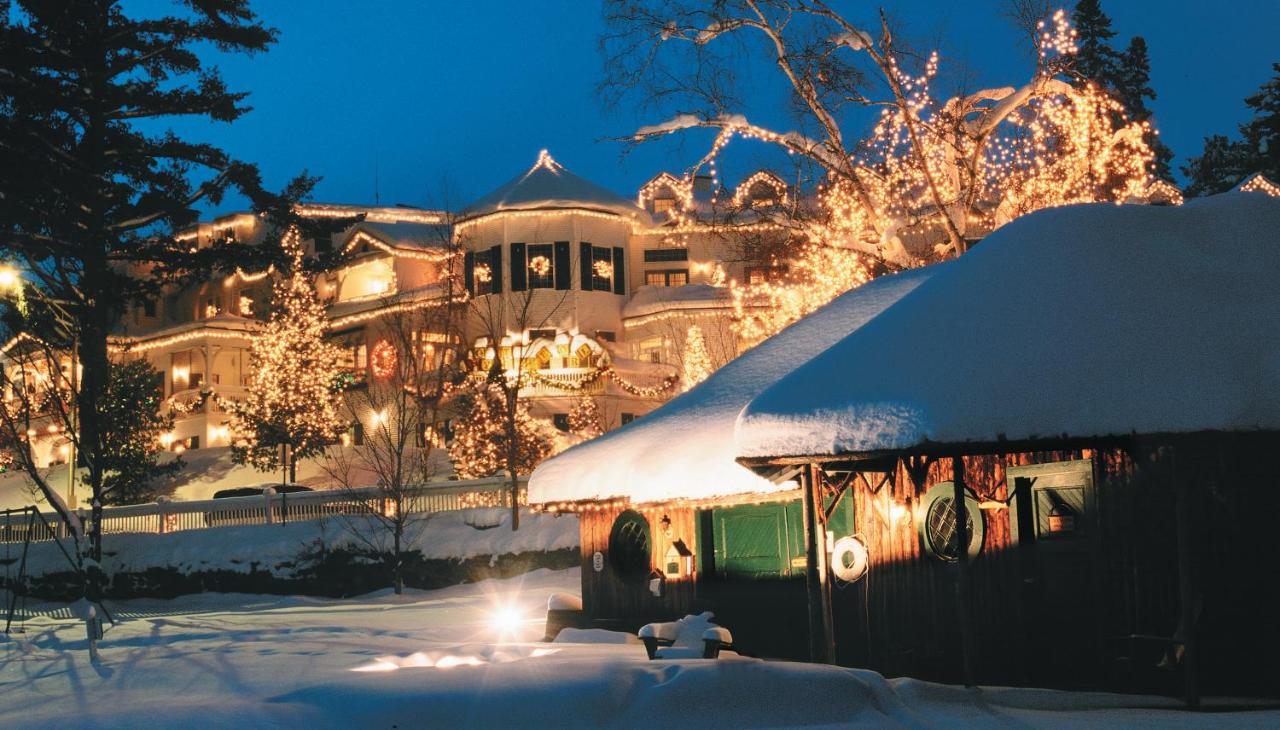 If the cozy cabin atmosphere is what you crave, Mirror Lake Inn Resort and Spa is the place to go. A historical favorite in Lake Placid, Mirror Lake Inn used to be a private home in the 1880s and opened its doors to the public in 1923.
This seven-acre resort is located right in the Adirondack Mountains. If you want a vacation where you don't have to travel to find things to do, look no farther than Mirror Lake Inn.
To say this all-inclusive resort has it all would be an understatement. You can enjoy riding bikes, swimming – indoors and outdoors – and tennis. They also have many outdoor activities for those craving adventures, including golf, hiking trails, kayaking, rocking climbing, and horseback riding.
If you'd rather stay cozy and do something quiet and relaxing, you can enjoy the sauna or visit their on-site library.
The rooms are nothing short of spectacular, offering stone fireplaces and balconies as well as the usual amenities such as a refrigerator, cable T.V., and DVD player.
Adirondack Premier Properties
A more peaceful and secluded vacation can be found at the Adirondack Premier Properties. These properties offer a variety of rentals, so you'll feel like you're staying in your own vacation home instead of a single hotel room.
Renting a whole cabin or having a condo to yourself may be ideal for larger families.
They offer cabins and luxury condos located at the Village Center or Whiteface Inn Club. Their condo locations have activities to enjoy like tennis courts, fitness centers, swimmings pools, and hot tubs.
There's still plenty of nearby activities to keep you and your little ones busy. Build a sandcastle at the beach, rent a boat for the day, go skiing or canoeing, just to name a few.
Each property location is fully furnished, has a fully functional kitchen, wireless internet, flat-screen T.V.s. You can also bring your fur-babies because these properties are pet-friendly.
Wildwood on the Lake
This cozy little retreat is right on Lake Placid and offers a variety of lodging options. You can choose a room by the pool or the lake, and they also offer efficiency suites. If you have a bigger family or just want more room and privacy, renting a one or two-bedroom cabin is an option as well.
Enjoy the surrounding lake in a variety of ways. Wildwood on the Lake offers plenty of water activities such as swimming, hanging on the beach, boating, canoeing, freshwater fishing, kayaking, and whitewater rafting. They offer guided fishing tours too!
If you want to have that classic camping experience roasting marshmallows while exchanging stories by a fire, they have fire pits perfect for that.
The amenities vary depending on the type of lodge, but they provide flatscreen T.V.s, coffee makers, DVD players, and Wifi for the more basic creature comforts. The cabins have more features like kitchenettes, a fireplace, and picnic tables.
Golden Arrow Lakeside Resort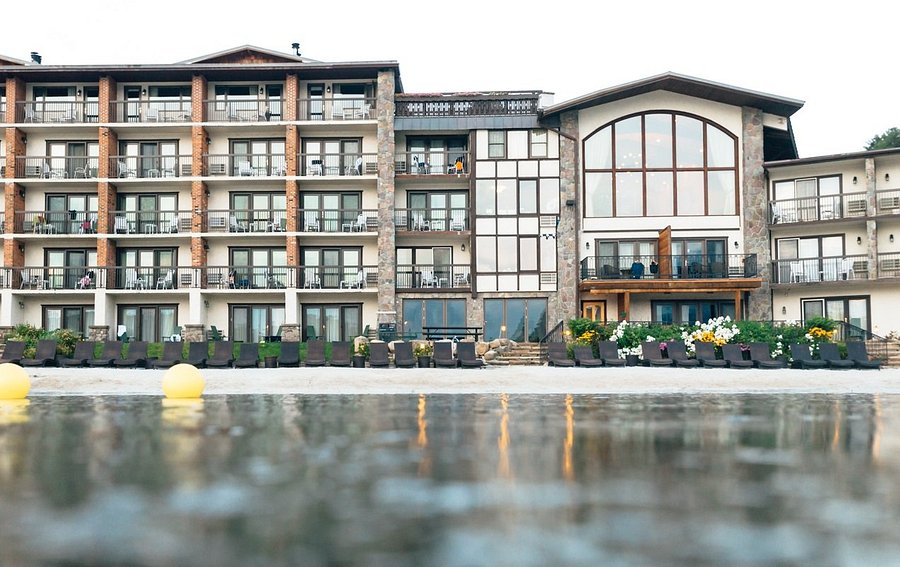 If you love our planet as much as you love to vacation, you're going to want to stay at the Golden Arrow Lakeside Resort. They were the first resort in the U.S. to receive an Audubon International highest Eco-Hotel rating.
This smoke-free resort provides a whole new level of peace of mind with its green roof, solar panels, and in-room recycling program.
Golden Arrow is the only resort sitting right on Mirror Lake. Enjoy the white sandy beach or go out on the lake. They offer complimentary kayaks and canoes in the summer and dog sledding in the winter.
Offering loads of on-site entertainment, Golden Arrow is one of the few resorts to offer activities specifically for kids. You can also play racquetball, swim in the heated pool, go on a hike, or go ice skating in their private rink.
At the end of the day, you can kick back and relax in a jacuzzi tub, sit by the fireplace, or watch some T.V. Each room has a balcony so you can enjoy the lake view from your room.
Placid Bay Inn
Let's face it, going on a family vacation is a fantastic venture together until it's not. This is why staying at a resort that offers childcare is a necessity for parents. And that's what you get at Placid Bay Inn, along with other arts and crafts and kid's activities.
Placid Bay Inn makes it easy to find activities to enjoy together as a family and also gives parents some much-needed vacation time of their own.
Offering a concierge service, you can feel secure knowing you don't have to plan everything yourself. This place is honestly a mom-heaven on earth.
They also offer rock climbing, horseback riding, a seasonal swimming pool, and various boating activities in the summer. In the winter, you can enjoy snowmobiling, cross country skiing snowboarding, ice fishing, and ice skating.
Depending on if you rent a room or a cabin, you get a kitchenette or a full kitchen and a fireplace. Enjoy the Wifi and Cable T.V. while you wind down at night, and be sure to take advantage of that room service.
The Whiteface Lodge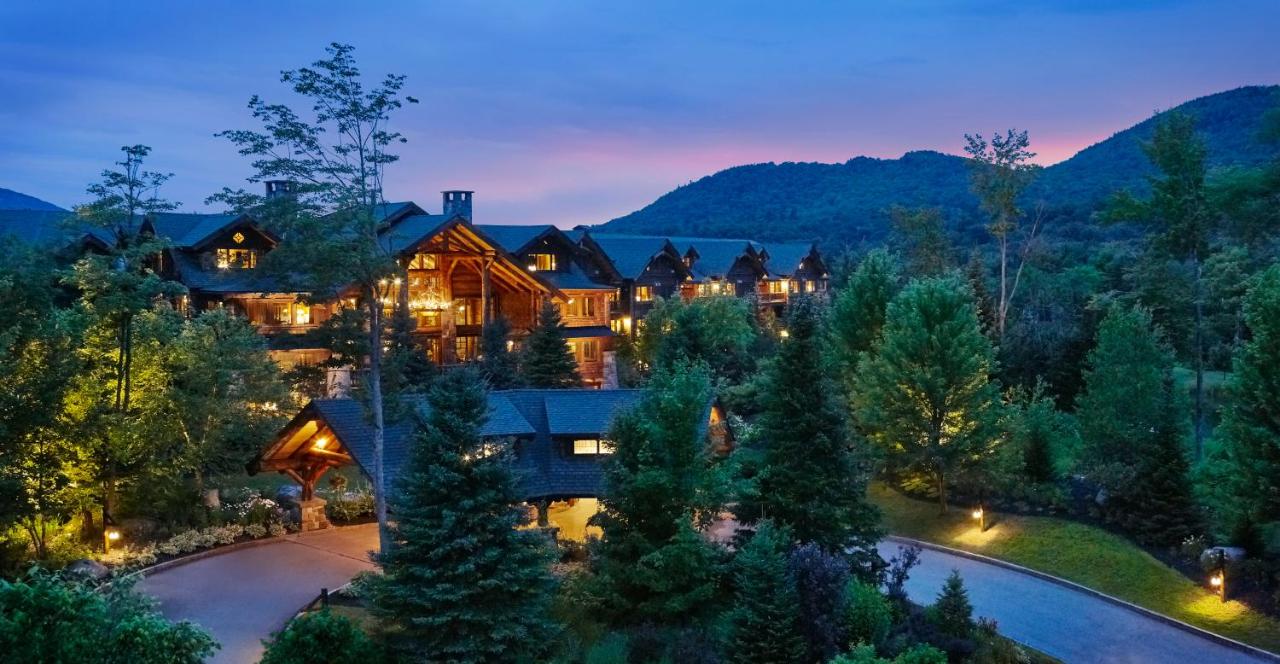 If you're looking for luxury with a rustic atmosphere, look no further. The Whiteface Lodge receives top accolades in an array of categories, including Top Luxury Resorts in the Northwest and the number one spot in Top 10 Lake Placid Resorts. They've even been listed as one of "The World's Best Places to Stay" by Conde Nast Traveler.
Enjoy being treated like royalty on your stay at Whiteface Lodge. Whether that is eating at their gourmet restaurant KANU or treating yourself to a spa day filled with massages and relaxing facials, you are sure to feel like a king or queen after your stay.
The luxury doesn't stop with adults. The kids can enjoy their little slice of paradise at Camp Kanu or go swimming in the pool and play games in the arcade.
There's also plenty of outdoor activity to indulge such as rock climbing, boating, cross country skiing, fishing, kayaking, volleyball, and horseback riding. It doesn't matter what time of year you visit. There is a variety of things to do for every season.
Since rustic luxury is what Whiteface Lodge is known for, it's only fair that their rooms come with certain expectations. And they don't disappoint. Every single room has a fully equipped kitchen, including a range, microwave, and refrigerator. You'll also enjoy the jetted bathtubs, and most rooms have a fireplace.
High Peaks Resort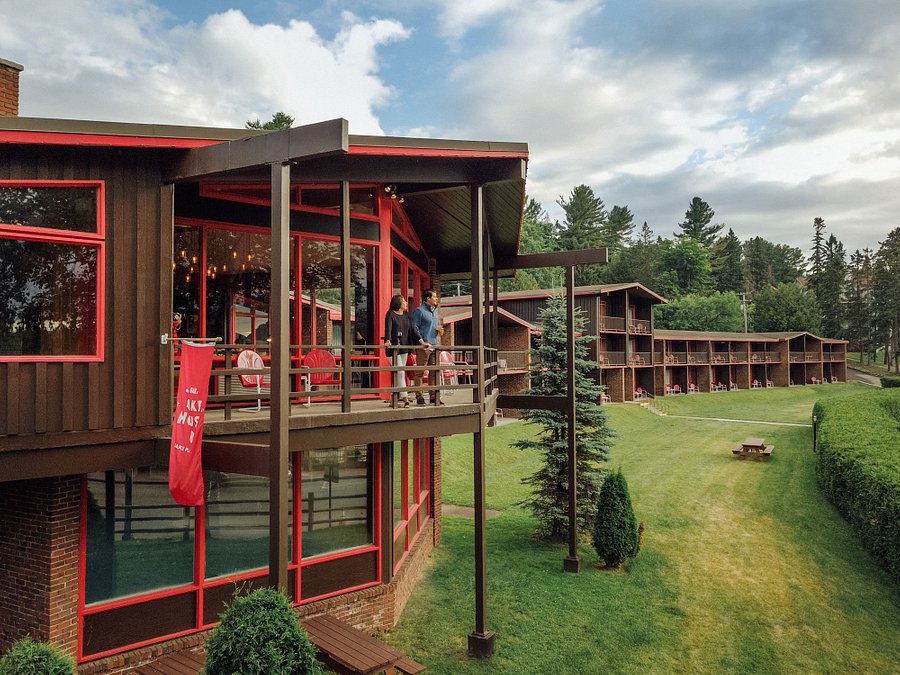 For those who prefer high-end luxury with a modern feel, High Peaks Resort fits the bill. The entire resort is filled with upscale ambiance, and the beautiful view of the Adirondack Mountains in the background amplifies that.
High Peaks Resort sits right in the 3,000 acre Adirondack Mountains filled with waterfalls and hiking trails, as well as Mirror Lake. The resort also is at the center of the Olympic Village.
Along with the usual hiking and kayaking that other resorts have to offer, High Peak offers ATV and four-wheeler riding, sailing, and theme parks.
They also offer an array of services such as a luxurious full-service spa, fitness programs, catering, and concierge.
High Peaks Resort is pet-friendly with some restrictions, and each room comes with a fireplace. Enjoy the lake view or mountain view from a patio or balcony and relax with a bath in a whirlpool tub.
Hotel North Woods
This historic hotel is nestled right in downtown Lake Placid. Enjoy everything Lake Placid has to offer without having to travel far. Surrounded by boutiques, gift shops, and restaurants, you could spend the day walking and sightseeing in the beautiful town of Lake Placid.
Lake Mirror is just a five-minute walk from Hotel North Woods so that you can find a ton of activities on the lake, such as whitewater rafting, kayaking, and swimming.
In the winter months, get your fill of skiing, snowboarding, and riding snowmobiles at Whiteface Mountain.
And because this hotel is right at the heart of downtown Lake Placid, there is no limit to what you can do. Nearby there are golf courses, the marina, fishing piers, a beach, and all the water activities you can imagine.
The hotel has two restaurants, a sidewalk cafe, and a rooftop bar so you can indulge and be entertained to your heart's content.
Being one of the most affordable resorts in Lake Placid, the room amenities are what you'd find in a typical hotel. They provide Wi-Fi, flat-screen T.V.s, cable, continental breakfast, a balcony, and a microwave. But don't let the affordability fool you. They still made the list of Top 10 Lake Placid Resorts, as well as a few other boastful accolades.
Conclusion
Lake Placid is a beautiful vacation spot for families and offer an array of activities for all ages. If you want to take your family skiing, or hiking, or simply want to relax in the outdoor scenery, your family will find something to love at Lake Placid.
If you love outdoor adventure and want to soak up nature and wildlife, this will quickly become a family-favorite vacation spot.