A New York cheesecake combines cream cheese, heavy cream, or sour cream and offers a dense yet creamy consistency. Many restaurants in the city have their recipes and methods for making cheesecakes. A cheesecake is often topped with strawberries, cherries, or chocolate sauce.
Cheesecakes exist around the world. The New York-style cheesecake has been developed by immigrants reimagining their traditional recipes for a new audience. The origin of the New York cheesecake, made with cream cheese, is often attributed to Arnold Reuben in 1929. He was the owner of Reuben's Restaurant in New York City.
Today restaurants across the city make some of the best cheesecakes in New York City. Review this comprehensive list of the best locations for cheesecake in the city! 
Eileen's Special Cheesecake
17 Cleveland Pl, New York, NY
Eileen's Special Cheesecake is a well-established bakeshop that bakes and sells cheesecakes and other sweet treats. The bakery also specializes in mail-order cheesecake delivery. Eileen's Special Cheesecake is open every day at 11:00 am. Eileen first began making her famous cheesecakes in 1974, and the bakery continues serving desserts to this day.
Eileen's Special Cheesecake has been featured in Food & Wine magazine for having one of the best cheesecakes in the United States. Notably, the restaurant can make gluten-free cheesecakes upon request. Follow Eileen's Special Cheesecake on social media for the most up-to-date information about the classic NYC cheesecake eatery.
Harbs
198 Ninth Ave, Chelsea, New York, NY
Harbs in Chelsea is a women-owned restaurant that focuses on serving cakes and Japanese-style sandwiches. Other menu items include exotic teas and coffees. Harbs is open every day at 11:00 am. Each cake is crafted from the freshest ingredients and is made daily.
Harbs' New York cheesecake is a delicious combination of cream cheese and sour cream, which is then baked to perfection. The Harbs cheesecake is reasonably priced at ten dollars. Harbs is a great place for lunch or dinner with a tasty and sweet treat for dessert!
K. Rico Steakhouse
772 Ninth Ave, New York, NY
The K.Rico Steakhouse in Hell's Kitchen, New York, is an upscale eatery for steaks and other Latin cuisine. The restaurant has a patio and additional sidewalk seating. The restaurant is open at 5:00 pm between Wednesday and Sunday.
While the restaurant serves a full dinner, one of the menu highlights is the dessert menu. The New York Strawberry Cheesecake has a graham cracker crust, and it is served with fresh cream, mixed berries, and strawberry coulis. Reviewers rave about both the filet mignon and the strawberry cheesecake.
Junior's Restaurant & Bakery
386 Flatbush Ave Ext, Brooklyn, NY
Located near Fort Greene Park in Brooklyn, New York, Junior's Restaurant & Bakery is one of the best places for cheesecake in the city. In 1950, Harry Rosen opened Junior's, and it has been serving up cheesecake ever since. Even President Barack Obama has visited Junior's!
The bakery has various that customers can order, either in person or online, for delivery, including a perfectly plain New York cheesecake, a white chocolate strawberry cheesecake, a carrot cake cheesecake, a red velvet cheesecake, and many more options. The bakery also makes cheesecake samplers and seasonal offerings.
La Cheesecake
126-06 14th Ave, Queens, Flushing, NY
La Cheesecake is located in the College Point neighbourhood, and it is open between Thursday and Sunday. It is a long-standing, straightforward bakery that creates pastries, pies, and York-style cheesecakes.
For about thirty years, the bakery has served a classic cheesecake done well. Cheesecake flavours include strawberry, chocolate chip, amaretto, blueberry, pineapple, espresso, Oreo, and black forest. The bakery makes cookie and dessert trays to order for events and even has the technology to superimpose a photograph onto a cake! 
S&S Cheesecake
222 W 238th St, The Bronx, NY 10463
S&S Cheesecake is near Van Cortlandt Park by the 238th Street metro stop. The bakery is open Monday through Friday between 6:00 am and 3:00 pm. S&S Cheesecake offers a variety of flavours and can ship your cheesecake across the country. 
S&S Cheesecake has been making cheesecakes for more than fifty years. While the plain New York cheesecake is a must-try, other flavours include chocolate mousse, strawberry, cherry, and pineapple. When the cakes are shipped, the fruits are blended into the cake for secure travelling, but if you purchase in person, the fruit flavours are spread on top! 
Keki Modern Cakes
79 Mott St, Chinatown, New York, NY
Keki Modern Cakes in Chinatown is a hole-in-the-wall Japanese bakery. The bakery is open every day until 7:00 pm. The slogan for Keki Modern Cakes is "Foreign. Fresh. Fun." and that is exactly what the bakery delivers. The bakery opened in 2017 with an aim to maintain the local heritage and bring something new to the table.
Notably, the baker makes "The Original" Bouncy cheesecake, which is a combination of New York cheesecake flavours and Japanese cooking techniques. The bakery also produces unique cake flavours like cookies and cream, strawberry, and green tea. 
Pasticceria Rocco
243 Bleecker St #4438, New York, NY
Pasticceria Rocco is a bakery near Washington Square Park that serves cheesecake, baked goods, and espresso. It is open at 7:30 am daily, with extended hours on the weekend. The shop was established in 1974 and is still a landmark bakery in the West Village.
Pasticceria Rocco serves breakfast and lunch, including parfaits, sandwiches, and paninis, but residents and visitors alike visit the bakery for its amazing cheesecake. Patrons can purchase a seven-inch New York-style cheesecake or branch out and try an Italian cheesecake. Additionally, guests can add a cheesecake-flavored shot to their coffee! 
Peacefood Cafe
460 Amsterdam Ave, New York, NY
Peacefood Cafe is an eatery that primarily serves raw and vegan sandwiches and desserts, including cheesecake! The restaurant is located in the Upper West Side community and is open daily between 11:30 am and 9:00 pm.
Guests can buy a slice of the gluten-free strawberry cheesecake or peanut butter cheesecake. The bakery also makes a unique and tasty raw cashew cream cheesecake made with cashew, lemon juice, coconut oil, and agave in an almond and cashew crust. It is the perfect place in New York to enjoy cheesecake if you have specific dietary needs.
Breads Bakery
Multiple Locations – Union Square, Lincoln Center, Bryant Park
Breads Bakery is open every day between 7:00 am and 8:00 pm. Customers can pre-order cheesecakes online, and the bakery does provide nationwide shipping for all bakery orders. Breads Bakery has been highlighted by The New York Times, Thrillist, and Gotham Magazine.
At any of the bakeries, you can purchase a Classic New York-style cheesecake slice for about eight dollars, or you can purchase the entire cheesecake for less than fifty dollars. If you can pre-order from the bakery, there are many more cheesecake options like cheesecake babka, chocolate cheesecake tart, cheesecake bun, and a rhubarb cheesecake and basil tart.
Mah-Ze-Dahr
28 Greenwich Ave, New York, NY
Mah-Ze-Dahr is situated in the West Village and is affiliated with Tom Colicchio. It is open daily and serves either from 7:00 am or 8:00 am. The name of the bakery is a word from another language that describes the essence of taste. The bakery partners with La Colombe coffee roasters, so even the coffee is fresh and delicious.
The Heavenly Cheesecake is a classic New York-style cheesecake with a chocolate cookie crust. The cheesecake itself has distinct flavours of lemon zest and vanilla bean, which complement and enhance the flavour of the chocolate cookie crust–it is a perfect bite of cheesecake that can be delivered right to your home. 
Veniero's Pasticceria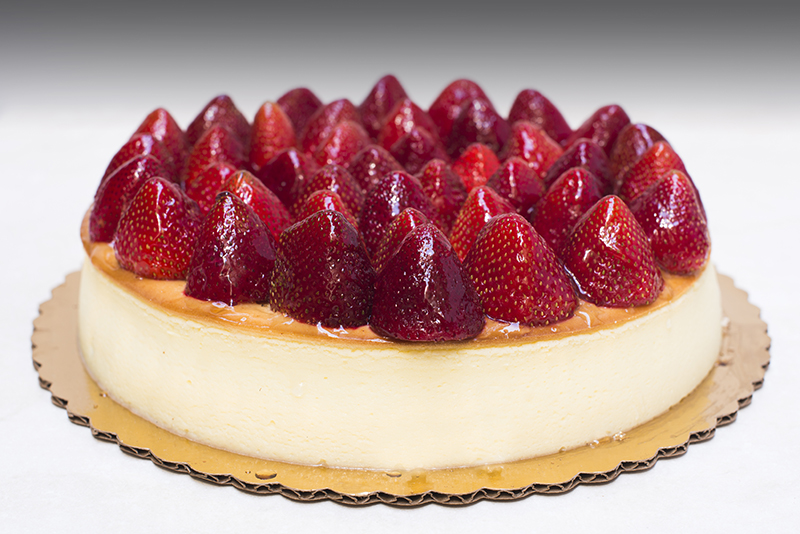 342 E 11th St, New York, NY
Veniero's Pasticceria was founded in the mid-1980s. It is an Italian bakery that serves cannoli, cheesecake, and coffee. The building has a breathtaking stained-glass ceiling, which establishes an awe-inspiring atmosphere. The bakery is open between 8:00 am and 10:00 pm every day. Veniero's Pasticceria is situated in the Ukrainian Village, near Tompkins Square Park.
In addition, Veniero's Pasticceria ships desserts across the country. The New York cheesecake is delicious, and the strawberry cheesecake is topped with full strawberries. For special occasions, the bakery makes a heart-shaped cheesecake.
Ferrara Bakery & Cafe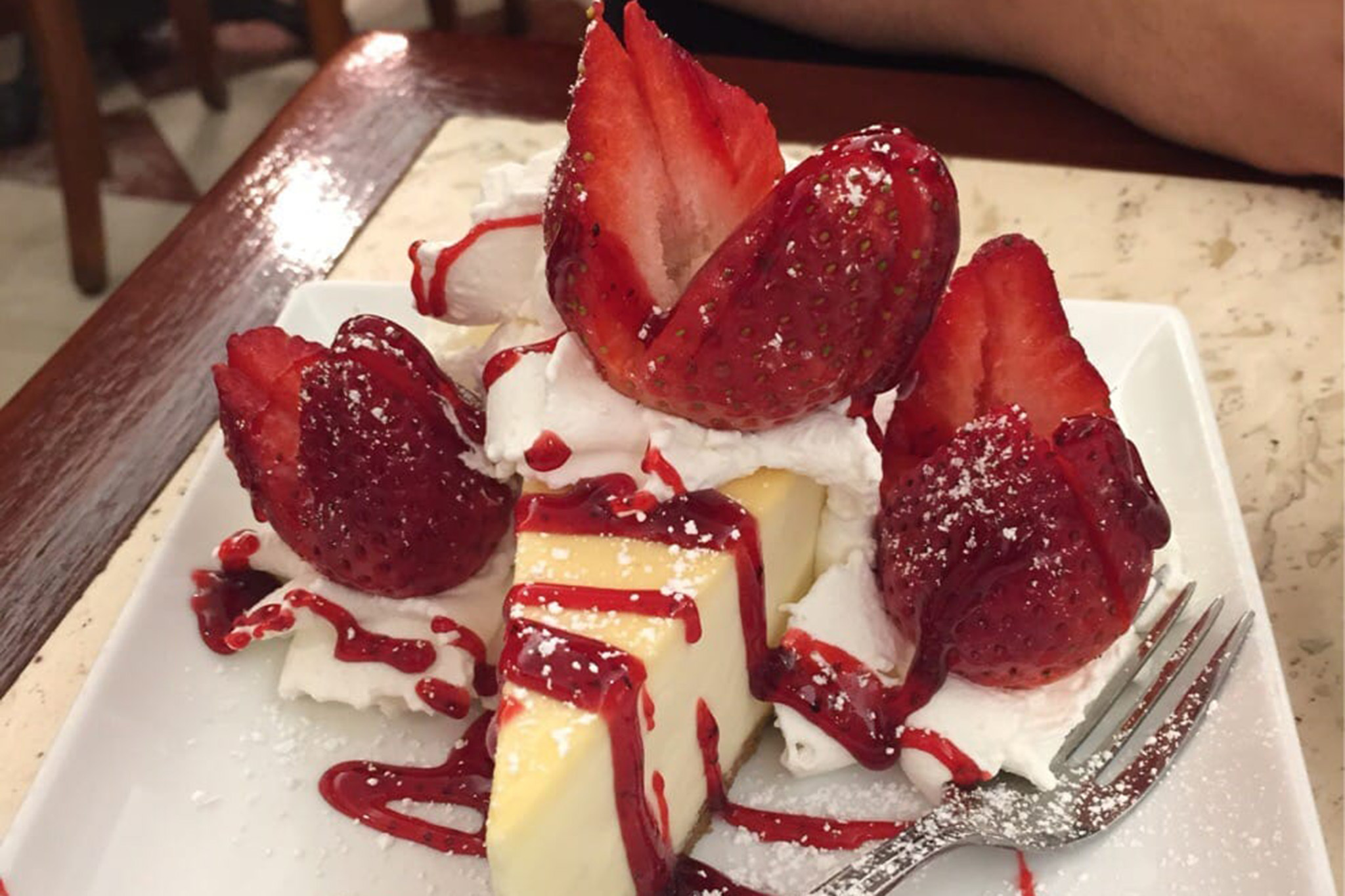 195 Grand St, New York, NY 10013
In the heart of Little Italy, Ferrara Bakery & Cafe makes a famous cannoli, tasty cheesecake, and other Italian desserts. Ferrara Bakery & Cafe opened in 1892 and has been serving the community since. The cheesecake is one of the best in New York City.
The New York cheesecake is served with a graham cracker crust. Also, try the Torta Di Ricotta, or the "Italian Cheesecake," made with ricotta cheese. The bakery also makes miniature cakes that customers can purchase in groups of three.
Magnolia Bakery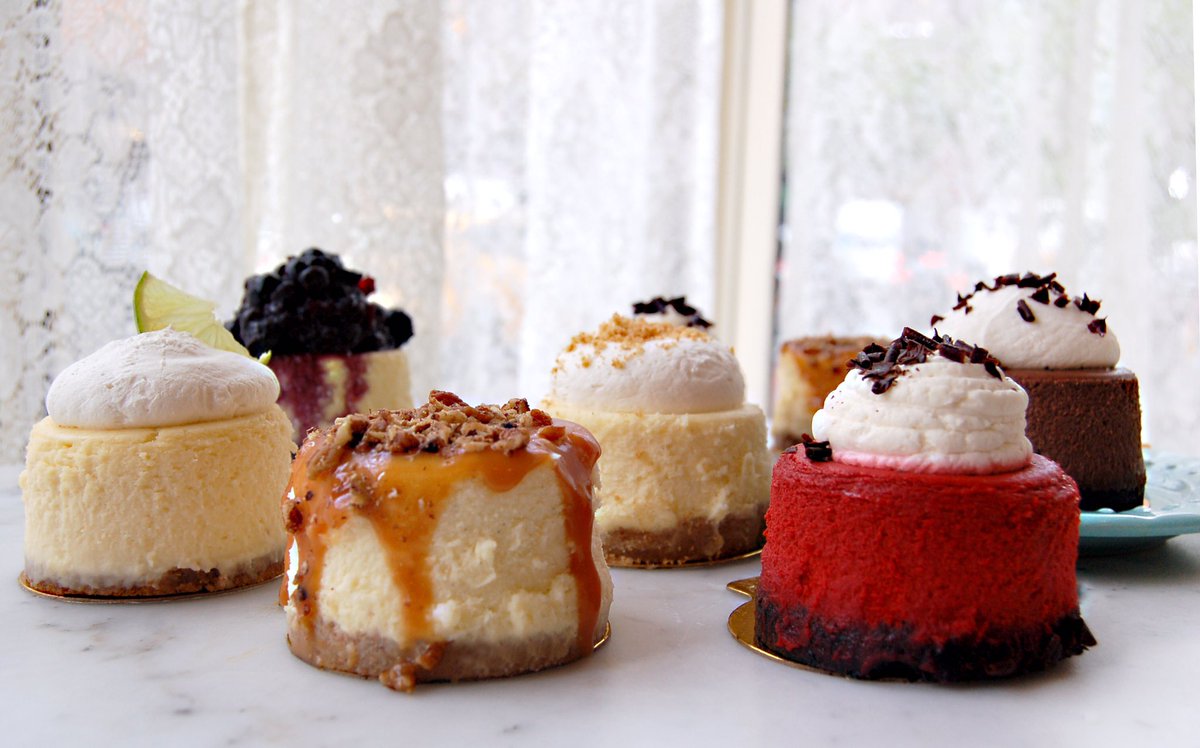 401 Bleecker Street and West 11th Street, New York, NY
200 Columbus Avenue at 69th Street, New York, NY
Magnolia Bakery is a comfortable location for baked desserts and specializes in various creative cupcakes. Magnolia Bakery has multiple locations and serves customers every day across New York City and the country. For people who enjoy flavoured cheesecakes, this is the spot to visit! 
Try the Blueberry Cheesecake with blueberries topping a vanilla bean-infused cheesecake, or the Key Lime Cheesecake that is made with fresh key lime juice and topped with whipped cream. Another fan favourite is the Caramel Pecan Cheesecake with a graham cracker crust. 
Chikalicious Dessert Bar
201-203 E 10th St, New York, NY
Chikalicious Dessert Bar serves creative desserts with an optional wine pairing. The dessert bar is open Thursday through Sunday. The restaurant's social media page offers the most up-to-date information about specials and tasty wines. The menu shifts regularly depending on the season.
The Fromage Blanc Island Cheesecake is one of the menu's signature items, and the dessert bar pairs an Il Santo Zari, a sweet dessert wine, with the dessert. Notably, the dessert bar also serves a tasting menu for a fun and sweet night out!
Final Thoughts
Cheesecake is a popular dessert across the United States, but only New York has its name affiliated with the tasty dessert. So whether you plan to visit New York City or you are a resident of Manhattan, finding a delicious New York-style cheesecake is easy if you follow the recommendations contained in this comprehensive list.
Additionally, many people across the country can enjoy a New York cheesecake by ordering from one of the bakeries listed above and choosing home delivery! Enjoy a slice today! 
Check out these other fantastic articles about vacationing in NYC!
More about our TFVG Author
Karly is a The Family Vacation Guide guest travel contributor.