Times Square is one of the top attractions for every family's New York itinerary, and with good reason. Also referred to as the "crossroads of the world," Times Square is the most iconic square on earth and the definition of sensory overload. 
A whopping 400,000 tourists a day flock to Times Square's art installations, street performances, and the iconic panorama of skyscrapers shrouded in brightly lit billboards. Times Square is also near various other attractions like Rockefeller Center, Broadway Theater District, and Central Park.
With so many of Manhattan's main attractions within walking distance of Times Square, you can count on a spectacular food scene in and around Times Square. There are dozens of family-friendly restaurants that adults and kids will love that run the gamut of cuisines from classic American to family-style Italian.
We've compiled a list of the best kid-friendly restaurants in Times Square for you and your family to eat a delicious meal in a cozy and friendly atmosphere.
18 Best Family Restaurants in Times Square
Whether you're looking for BBQ or pizza, fancy or casual, our list of the 18 best family restaurants has all the best spots to dine as a family while you hit all the attractions on your New York bucket list.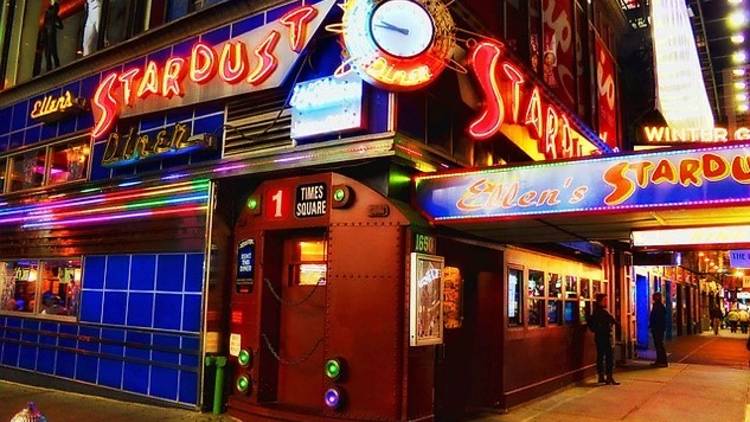 1650 Broadway
NY, NY 10019
If Times Square is a key cultural attraction in New York City, then a diner is a quintessential New York eating experience. Ellen's Stardust Diner is the epitome of an old-school diner in the heart of Midtown, replete with flashy lit signs, vinyl booths and chairs, and cool 1950's memorabilia lining the walls.
New York-native founders Ellen and Irving Strum opened their first diner in front of City Hall in the 60's thanks to Ellen's success as a New York beauty queen. Ellen's Stardust Diner strives to offer the same 1950's feel along with delicious diner food that runs the comfort food gamut from giant pancakes and French toast to chicken pot pie and meatloaf.
672 Ninth Avenue
New York, NY 10036
Located in Hell's Kitchen, halfway between the Space Museum and Times Square, Amy's Bread has been serving delectable French-style pastries, cakes, bread, and cupcakes in a friendly and cute café since 1992. Parents can enjoy an expertly crafted coffee or espresso drink while kids can indulge in a giant cupcake to fuel another few hours of sightseeing.
Amy's Bread isn't just a bakery as they also serve breakfast and lunch meals, featuring quiche, pizza, sandwiches, and salads. They also make fresh sourdough bagels every day that are seriously delicious.
200 West 44th Street
New York, NY 10036
Carmine's has been a New York institution for the past 30 years as the neighborhood's favorite family-style Italian restaurant. You and your family can dine as you do at home, ordering enormous, family-sized dishes of house-made pasta, hearty meat, and fish dishes, and mouthwatering desserts for the whole family to share.
You can find all the family classics at Carmine's like cheese ravioli, classic spaghetti and meatballs, and chicken parmesan to name a few. The best part is that you can tase multiple dishes since they're all meant to be shared.
Broadway and 45th
New York, NY 10036
Originating in Brooklyn in the 1950's, Junior's restaurant is a bakery and American grille with a fun, family-friendly atmosphere that will transport you back in time. They're known for their amazing New York-style gram cracker crust cheesecakes covered in fresh strawberries and smothered in strawberry syrup, which is sure to be a crowd-pleaser in your family. If you're looking for meals, Junior's has some of the best deli sandwiches in town, not to mention a full menu of breakfast, burgers, and so much more.
The dining room is painted with a brightly colored mural of the Brooklyn dodger stadium and decorated with tons of old baseball memorabilia that harken back to the owner and founder Harry Rosen's glory days as a Dodgers fan in his home neighborhood of Brooklyn.
151 West 46th Street
New York, NY 10036
Havana Central is a tropical fiesta for the whole family, specializing in Cuban cuisine and located a short walk from Times Square, Rockefeller Center, and Central Park. Their vibrantly colored dining room and a wide array of delicious tropical cocktails like mojitos and daiquiris adorned with little paper umbrellas offer a warm and entertaining atmosphere to enjoy a family-style Cuban meal.
Havana Central offers family bundles, discounted prices on a package of dishes to be shared family-style. Whether you want Cuban sandwiches, empanadas, or guava glazed ribs, you can get a bit of everything in a moderately priced family bundle.
311 W 48th St
New York, NY 10036
With Family & Friends in the title, you know that Patzeria is a welcoming Italian restaurant that caters to family and group dining. Patzeria Family and Friends has a vast menu of hearty breakfast plates, hero sandwiches, pasta, pizza, and entrees that are both kid-friendly and budget-friendly.
Their delicious homemade lasagna is a favorite among customers, but their thick-crusted, deep-dish square Sicilian-style pizza is the real star of the show. 
614 9th Avenue
New York, NY 10036
Located only two blocks from Times Square, Westway Diner is a classic no-frills New York-style diner with a cozy atmosphere, an old-fashioned counter with bar stools, and plenty of large comfortable booths to enjoy all the diner classics.
The menu serves all the best comfort foods you'd expect from a diner served in hearty portions. Breakfast is served all day with plate-sized pancakes, waffles, omelets, and continental breakfast plates.
320 Park Avenue
51st & Park
New York, NY 10022
The Little Beet is a 100% vegetarian, plant-based restaurant offering nutritious and delicious dishes that the whole family will love. All ingredients are locally and sustainably sourced from New York farms, so you can feel ethically satisfied and well-nourished when you dine at The Little Beet.
The wonderfully colorful plates of salads and bowls are almost too pretty to eat. You can choose from chef's favorites or build your own bowl from a wide selection of veggies, grains, and plant-based proteins.
355 West 46th St
New York, NY 10036
Located in Hell's Kitchen's famous restaurant row, Becco is a family-owned and operated Italian restaurant that offers a refined yet inviting atmosphere for families looking for a fancier dinner option. Parents can choose from an award-winning wine list with a full section for 35$ bottles.
They also offer delicious seasonal cocktails.
Becco's innovative entrée menu, house-made pasta dishes, and antipasti like fried mozzarella sandwiches with pesto and sun-dried tomato are at once sophisticated and kid-friendly.  
600 11th Avenue (between 44th and 45th)
New York, NY 10036
For all Batman lovers young and old, Gotham may be a fictional city, but we all know that DC Comics drew their inspiration from New York City. Consequently, so did the founders of Gotham West Market, a modern outdoor-indoor food court in the heart of Hell's Kitchen.
Food markets are fun and enticing attractions to wander through, and this award-winning food market has a selection of food stands, counters, and restaurants as diverse as New York City itself. Featured vendors at Gotham West Market are Don Wagyu and Sushi on Jones, La Palapa Taco Bar, Mikey Likes It Ice Cream, NYC Velo, Dell'Anima, and our personal favorite, Corner Slice NY-style gourmet pizza.
325 West 42 St.
New York, NY 10036
Named for the beautiful nymph from Greek mythology and the Greek word for laurel, or bay leaf for culinary purposes, Dafni Greek Taverna is an inviting family-owned Greek restaurant in a warm industrial-chic space with wood floors, exposed beams, and brick walls.
Greek food is a delicious smorgasbord of shareable small plates called mezze, featuring a slew of delicious dips like hummus, babaganoush, and tzatziki along with other delicacies like dolmades, mint and rice wrapped in edible leaves, and Spanakopita, savory spinach and feta pie wrapped in buttery filo dough.
147 West 43rd Street
New York, NY 10036
Voted one of the top ten Italian restaurants in NYC by both TripAdvisor and OpenTable, Tony's Di Napoli is a classic Family-style Italian eatery replete with red and white plaid tablecloths and comfortable leather booths.
Tony's has a classic Italian menu of antipasti, pasta, salads, and meat and seafood entrees all served in generous portions for the whole family to share. Their signature dishes are eggplant parmigiana and sausage meatballs, but every dish is spectacular.
691 Eighth Avenue
Between W 43rd St and W 44th St
New York, NY 10036
There's nothing more family-friendly than a good old-fashioned burger and a shake. Shake Shack may be a national treasure, but its over-the-top Times Square location is unlike any other. Its giant, flashy sign fits right in with the iconic Times Square façade, and the enormous dining hall and kitchen is a bustling, fun environment to enjoy America's favorite meal with your family.
152 West 44th Street
New York, NY 10036
The founders of Carmine's, another favorite on our list, bring you New York's original southern-style BBQ joint that has earned national acclaim as one of the top 10 BBQ joints in the nation. Their unique slow-smoked meats use a combination of hickory, oak, and fruitwood.
They serve every style of Southern comfort food from classic Texas-style brisket and chili to North Carolina pulled pork, to Creole and Cajun fried catfish and collard greens.
620 8th Avenue at 41st St,
New York, NY 10018
Schnipper's Quality Kitchen is a classic American restaurant owned and run by the Schnipper brothers since 2009. The brothers' have decades of experience in the restaurant business and have traveled across the U.S. to find the best dishes to inspire their scratch-made menu.
Their menu has both healthy choices for Mom and Dad like salads and grain bowls as well as kid-approved comfort foods like burgers, chicken tenders, and their signature dish, the almighty Sloppy Joe.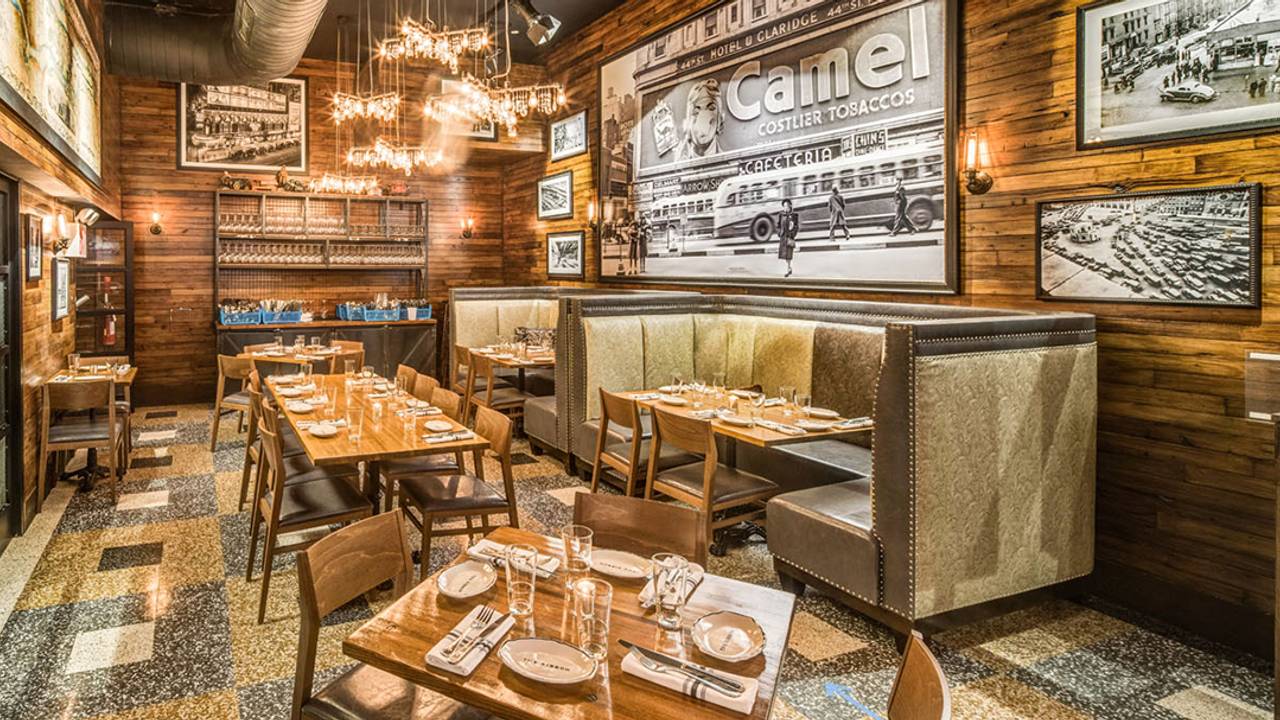 220 West 44th Street
NYC 10036
While most steakhouses are fine-dining establishments that may feel a little stuffy for family dining, Bacall's Family Steakhouse is full of personality and whimsy. Its enormous dining room is a period piece, beckoning the glamour and pizazz of 1940's Hollywood. There are nightly comedy and music performances to enjoy with your meal, and all food is served in large portions to be shared family-style.
Unlike the classic American steakhouse, Bacall's is a Romanian-Jewish Steakhouse, offering traditional dishes like Challah, matzo ball soup, and stuffed cabbage, not to mention Kosher-cuts of beef.
1501 Broadway
New York, NY 10036
Your family can make a full night of it at the Hard Rock Café in Times Square, one of the Big Apple's largest clubs and restaurants. The Hard Rock seats over 700 people and has a fun shop full of Rock n Roll memorabilia to peruse before or after your meal.
You can always count on a great soundtrack to serenade your meal at Hard Rock, and despite a full cocktail bar for adults, the Hard Rock Café has earned a spot on OpenTable's Top 50 Kid-Friendly restaurants.
260 W. 44th Street
New York, NY 10036
Not your average slice shop, John's Pizzeria is a two-story New York-style pizzeria, serving delicious traditional whole pies out of a giant coal-fired brick oven. John's is like a classic New York pizza joint on steroids with all the Italian American favorites like pasta, calzones, hero sandwiches, and buffalo wings.
The friendly and lively dining room is inside an old warehouse-style building with stained glass windows and a giant mural on the back wall.
A seasoned traveller, Dad, and avid sports tourist, James foundered The Family Vacation Guide to share his expert vacation experiences- especially when it comes to being a travelling family man.
Featured in Travel articles such as Travel + Leisure, TripSavvy and SFGate, you know you're reading some of the best vacation tips online.