If you're planning a vacation to Hawaii and plan to fly out of New York, you may be wondering about how long the flight is.
This article will break down how long it will take to fly straight from New York to Hawaii with no stops. 
How Long Is the Flight?
The average flight time from New York To Hawaii is about 11 hours. This time includes taxiing in and out of the airport, so it is technically about 10 hours and 45 minutes in the air total.
Flying east to west will take less time. So, to fly from Hawaii back to New York will only be about 10.5 hours.
How Far Is NY From Hawaii?
The flight from New York to Hawaii is 4983 miles long. New York to Hawaii is one of the longest domestic flights you can take, excluding flights to Alaska.
New York Airports
There are three main airports people in New York use. You are most likely to fly in and out of JFK, but below are all three with short descriptions.
1. John F. Kennedy International Airport (JFK)
JFK is the airport in New York that most people go to because it is convenient to reach by public transportation, and it's massive. Many flights to Hawaii come out of JFK, even if they have layovers at LAX.
2. LaGuardia Airport (LGA)
LaGuardia is not quite as popular as JFK, but they have almost the same flight offerings and airlines. Some people say flights in and out of LaGuardia are slightly cheaper, but this is not guaranteed.
3. Newark International Airport (EWR)
Newark airport is technically in New Jersey, but many people consider it a New York airport. If you are driving to New York to get on a flight to Hawaii, consider Newark instead, as it is usually less busy and offers similar flights.
Hawaiian Airports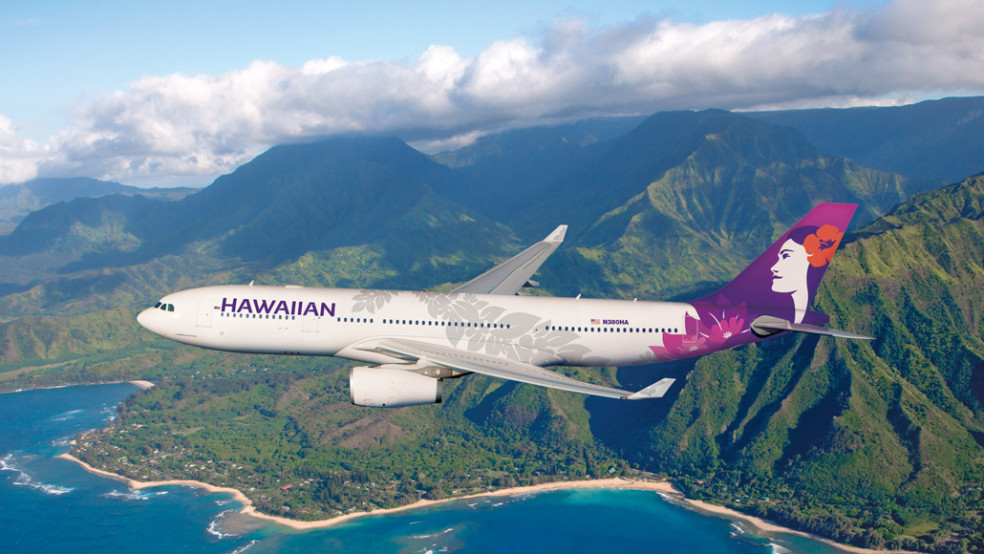 There is more than just one Hawaiian airport that you can fly into, so consider which one you have booked when determining your exact flight time. Check out the main Hawaiian airports below and how they differ.
1. The Daniel K. Inouye International Airport (HNL)
The Daniel K. Inouye airport is the busiest and the largest airport in Hawaii. It is located on the island of Oahu, right by Waikiki beach, which is a super hot tourist spot. This airport is the most commonly flown into because it is an international airport and sees many flights in a day.
2. Hilo International Airport (ITO)
Hilo is another international airport in Hawaii. This airport is on the Big Island of Hawaii on the east side and is less common for a tourist than the Daniel K. Inouye. However, it is still a major airport on the islands. Few people vacation on Big Island, making some flights cheaper at this airport.
3. Kona International Airport (KOA)
Kona airport is also on the Big Island of Hawaii. This airport is on the Westside, so it splits its business with the Hilo airport, catering to all that visit the Big Island. Having two airports on the main island make it much easier to keep planes moving smoothly and prevents excessive traffic on one side of the island.
4. Maui's Kahului Airport (OGG)
On the island of Maui is the Kahului airport. Kahului only travels between the islands of Hawaii, so most tourists only use these planes to island-hop. Most people use this airport to travel between Honolulu and the main airports. But they will also run flights between Honolulu and LAX, as this flight is not too long or inconvenient.
5. Lihue Airport (LIH)
The Lihue airport is on the island of Kauai. You will not be able to fly into this airport from New York as it only does local trips around the islands, mostly for locals or tourists sightseeing. But they also randomly perform flights to and from Canada but not very often.
6. Molokai Airport (MKK)
Molokai is the name of one of the smaller islands in Hawaii and also the name of their airport. Molokai airport only flies back and forth from Honolulu, so you cannot fly into this airport from New York or anywhere but Hawaii. People love to visit Molokai for the tranquil and relaxing atmosphere and pace.
7. Lanai Airport (LNY)
Lanai is the smallest airport in Hawaii, only flying to Honolulu and back. The airport acts more like a shuttle station and is very rural. If you fly to Lanai, expect a taste of what local life is like in Hawaii away from all the tourists. 
Can I Take a Boat from New York to Hawaii?
There are no ferries or standard boats that will go from New York to the islands of Hawaii. However, you can take a cruise out of New York and land in Hawaii! These cruises are not direct and usually take days or weeks to arrive at their destination. So, if you envisioned a long vacation on the Hawaiian islands, a cruise will not allow you enough time to enjoy the state.
The following are cruise lines that run cruises from New York to Hawaii. If flying isn't your thing, but you still want to experience the immense beauty of Hawaii, consider booking a cruise with one of these companies:
Royal Caribbean International
Airlines That Fly to Hawaii From New York
To help you book your flight and get ready for your trip, these are the airlines that fly from New York to Hawaii:
Hawaiin Airlines
Southwest
American Airlines
United
Alaska Airlines
Delta
Jet Blue
Final Note
As discussed, the journey straight from New York to Hawaii is around 11 hours, almost half of a whole day. However, many airlines will not have a plethora of direct flights from New York to the Hawaiian Islands.
It is extremely common for flights from New York to Hawaii to have a layover at LAX, the closest continental airport to Hawaii. Keep this in mind when booking your flight, because it will mean adding at least an hour to your travel time.