North Carolina is a versatile state with a lot to offer in terms of cultural diversity, southern food, great beaches, higher education, and history.
But the mountains in North Carolina don't always get the credit they deserve. Namely, the Blue Ridge Mountains and the Great Smoky Mountains along the Appalachian Trail.
These mountains offer some of the most beautiful scenery in the country, with lush forests, waterfalls, and wildlife.
And while you can find great hiking, camping, and fishing in the mountains, they also offer a variety of resorts that the whole family can enjoy.
Staying in one of the resorts provides a fun, exciting way to get in touch with nature and have both an adventurous and relaxing time overall.
Here are 10 of the best family resorts in the North Carolina mountains.
The Omni Grove Park Inn, located in beautiful Asheville, North Carolina, is ranked #1 on Trip Advisor for best value family resorts in the North Carolina Mountains, and it's easy to see why.
This four-star resort that was built in 1913 among the Blue Ridge Mountains has homey, traditionally styled rooms, many of which have direct views of the mountains. It's a pretty massive establishment, with over 500 guest rooms and suites.
There is also a spa, an 18-hole golf course, six tennis courts, and a country club at this resort, so you can enjoy many different activities without even leaving the property.
The Omni Grove Park Inn also has four on-site restaurants serving locally-sourced meals and providing even more stunning views from the resort's grounds. You can choose whether to dine at their casual eateries, their formal dining areas, or both!
This location is especially fantastic to stay in during the holiday season, as they don't skimp on Christmas decorations, events, and general holiday cheer! For example, families love the annual Gingerbread competition.
The Chetola Resort in Blowing Rock is a family-friendly resort that's perfect for a winter getaway.
This resort is situated on 87 acres and has gorgeous mountain views, as it's right on the edge of the Blue Ridge Mountains.
There are a variety of rooms and suites available, all of which are decorated in a cozy lodge style that makes you feel right at home.
The Chetola Resort has an on-site spa, which offers a variety of treatments such as massages, facials, and even scalp treatments.
There's also a heated indoor pool, which is great for a winter dip, as well as a fire pit where friends, families, and not-so-strangers can gather around for Friday night bonfires.
Chetola is an excellent choice if you want to stay at a unique mountain resort that feels isolated and private while still having easy access to a nearby town.
When you're ready to get back into nature, you can enjoy the resort's paddle boats, kayaks, and fly fishing gear.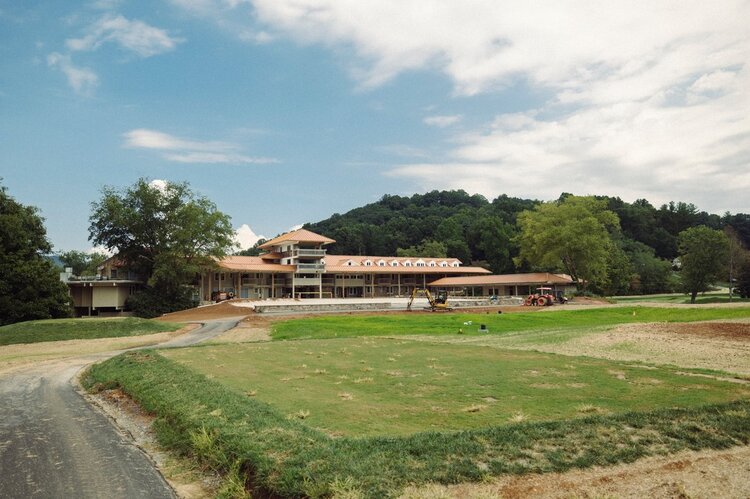 Waynesville Inn & Golf Club is a friendly, welcoming, and relatively casual resort in Waynesville, North Carolina, near the Blue Ridge Parkway.
This is the perfect family vacation spot for a golf-loving family, as the inn has not just one golf course but three golf courses plus a pro shop for any gear you might need.
Many rooms have direct mountain views and balconies attached for you to sit and enjoy them.
As the resort was built in 1926, the style of the rooms is a little old-fashioned and outdated. However, many families see this as a fair trade-off for the surrounding environment and fair prices.
There is also an outdoor pool for additional entertainment if you ever need a break from golfing and hiking.
Bluegreen Vacations Blue Ridge Village is a high-rated, country-style resort that's perfect for families for many reasons. The top one is all the amenities included within the spacious suites that make families feel right at home.
You'll have access to fully-equipped kitchens for preparing your own meals, cozy fireplaces for snuggling up and telling stories, and even washer/dryer units that are convenient for more extended stays.
Plus, the resort provides:
An indoor pool
A few tennis courts
A basketball court
A mini-golf course
Corn hole
Paddleboat
Lots of gorgeous outdoor relaxation spaces for the whole family to enjoy
But beyond the huge array of games and activities, the best part of this resort is still the scenic surroundings of forests and mountains.
You'll also have easy access to top-rated nature attractions such as Sugar Mountain and Pisgah National Park.
At Sugar Mountain, you can go on exciting hikes in the warm seasons and skiing in the winter. And Pisgah National Forest is a beautiful park filled with forests, rivers, and waterfalls.
The Esmeralda Inn is one of the most well-kept traditional mountain inns, even considering the need to rebuild and refurbish it after multiple fires throughout the years.
Located right along the Rocky Broad River, this inn has maintained its rustic, inviting charm with its spacious rooms, cozy fireplace, and outdoor hot tub.
The game room and the spa are two other highlights of this four-star hotel. You and your family can receive rejuvenating massages at the spa, which is especially delightful after plenty of hiking and trekking.
And in the game room, your family can bond over a game of pool, foosball, air hockey, or cards.
The staff at The Esmeralda are also something to write home about, as they are caring, attentive, and exceptionally kind. It's not uncommon for the chefs at the restaurant to pay guests a warm welcome, which is a pleasant touch that leaves people feeling truly at home.
Finally, The Esmeralda Inn is well-located. Not only will you have immediate river access, but you'll be a short drive away from Chimney Rock State Park, home of the fabulous Chimney Rock observation deck.
The Horse Shoe Farm in Hendersonville, North Carolina, is an award-winning family-friendly resort that's quite literally a breath of fresh air.
This 85-acre estate provides riverfront access, a relaxing spa, and convenient access to nearby Asheville.
It's an excellent, quiet location, perfect for a family bonding retreat. Families can stay in one of their spacious private homes; the smallest one sleeps up to four while the largest can sleep up to 14 people.
Additionally, there is a dining option on the estate that offers food made with locally-grown ingredients, many of which grew right on the estate itself!
Ultimately, this resort is an excellent choice for families looking to relax, bond, enjoy beautiful mountain and sunset views, make s'mores by the fire, and appreciate each other's company.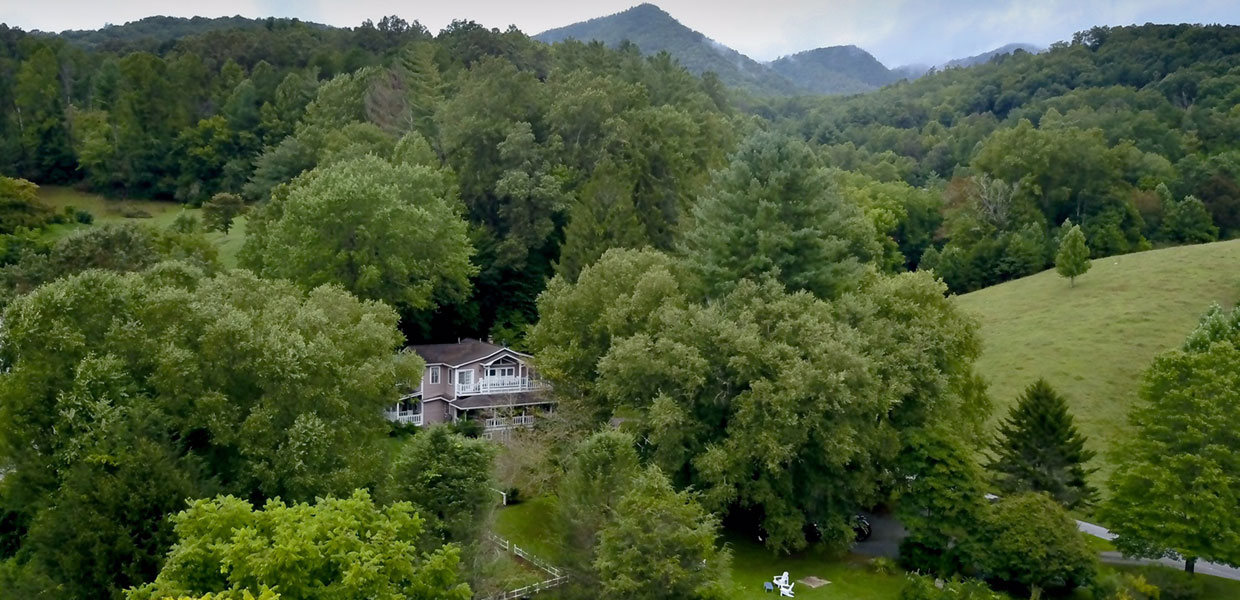 If you genuinely want guaranteed family bonding time in nature with little to no distractions, check out the Folkstone Inn.
Folkstone Inn is an ultra-charming bed and breakfast near Bryson City, North Carolina. You and your family will get cozy beds, surrounding forests, and yummy fresh cookies daily!
You won't have any access to TVs, which many parents greatly appreciate. It's nice to be able to guarantee little to no screen time on a mountain vacation.
Kids and adults alike love being on the farm and watching the animals – chickens, ducks, roosters, etc. – roaming around the house. It's also a nice touch that you'll be able to get farm-fresh eggs each morning.
Additionally, Folkstone Inn is one of the best locations for families to stay in if they want to visit the Smoky Mountain National Park.
You'll be minutes away from the Deep Creek entrance to the park, where you and your family can then enjoy hiking, wildlife viewing, waterfall viewing, and fishing.
If you're looking for more of an RV or tent resort than a cabin, hotel, or inn, look no further than Yogi Bear's Jellystone Park.
Yogi Bear's Jellystone Park Campground in Asheboro is one of the most popular campgrounds for families in the state.
What sets this campground apart is the long list of amenities and activities available for guests.
There is a playground, an outdoor pool (open May 6th to September 11th), a game room, mini-golf, fishing pounds, laser tag, and even a jumping pillow!

There are also themed activities and special events to add even more fun entertainment to your family vacation.
Your kids, especially the younger ones, will never be bored at Jellystone Park.
Additionally, the campground is pet-friendly, so you don't have to leave your furry family members at home.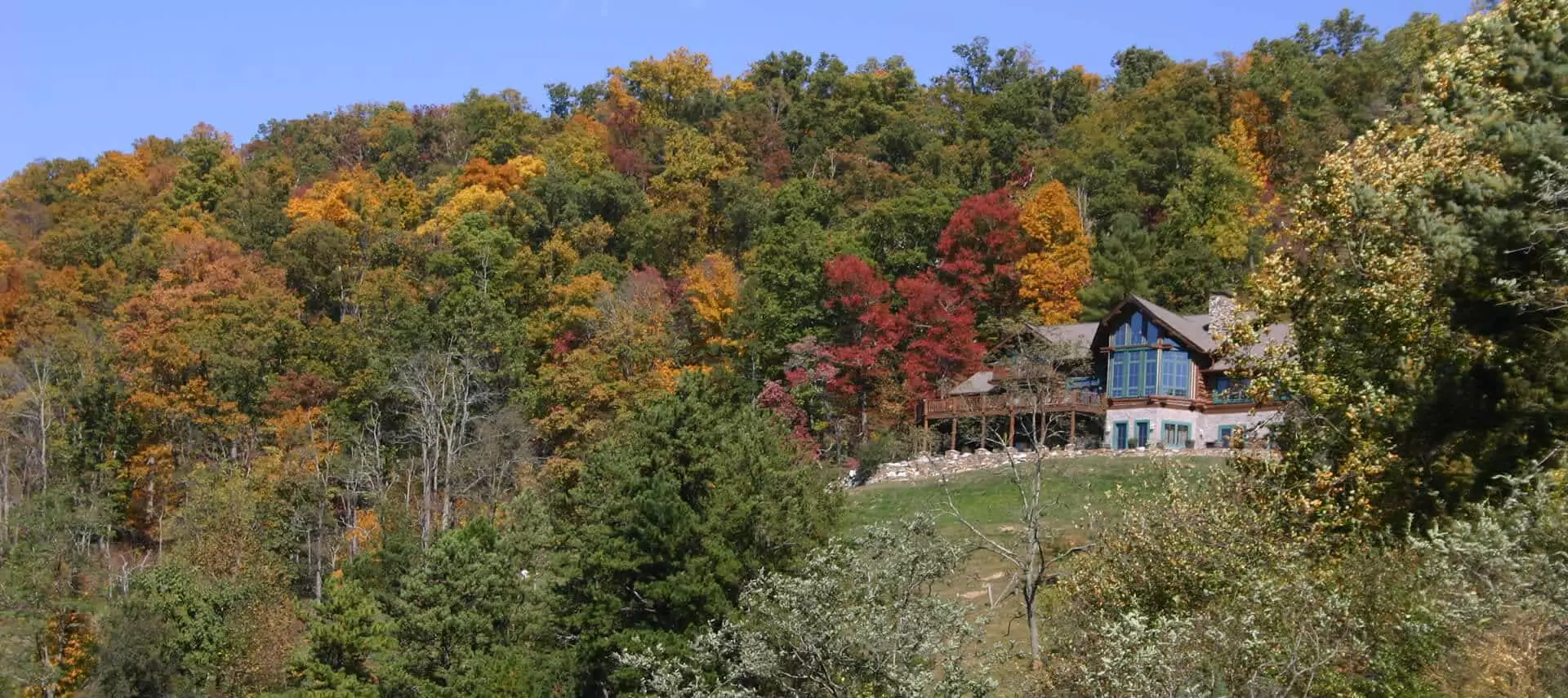 Wildberry Lodge is a charming woodsy lodge in Leicester, North Carolina, just 30 minutes outside Asheville. It's one of the best family resorts in the North Carolina Mountains due to its charming look and range of activities.
The rooms are designed in a way that's part rustic, part chic, making it a great place to stay for both adults and kids.
There are plenty of activities to enjoy at the lodge, such as soaking in the hot tub, relaxing in the sauna, playing pool in the game room, or hiking on on-site hiking trails.
Two other highlights of Wildberry Lodge are that it is women-owned and LGBTQ+ friendly, meaning that all families are welcome here.
Also, the lodge is close to the French Broad River and Marshall, where you can enjoy tubing, rafting, and kayaking.
Finally, this lodge's food is also noteworthy, especially their outstanding 4-course breakfast.
Lastly, Pisgah View Ranch is a quiet, sweet ranch resort that's excellent for a family mountain getaway.
The cabins are cozy, spacious, and rustic. They do not have TVs nor cell service in the rooms, which many families enjoy a break from, as it allows for more real bonding time.
Additionally, this lodge provides:
A swimming pool
A game room
A fishing pond
Easy access to short hikes nearby
Horseback riding activities that the kids will love
You will be close to restaurants in Asheville, but if you don't want to leave the ranch, you can get breakfast, lunch, dinner, and snacks right in their old-fashioned dining room.
Final Thoughts
If you want to enjoy genuine bonding with your family in a beautiful natural environment, head to one of these resorts in the mountains of NC.
Depending on what you and your family prefer, there is a range of things you can do at these resorts, such as hiking, kayaking, horseback riding, playing board games, fishing, and much more.
These are just some of the best family resorts in the North Carolina Mountains, and we hope this list helps you find the perfect place for your next family vacation.